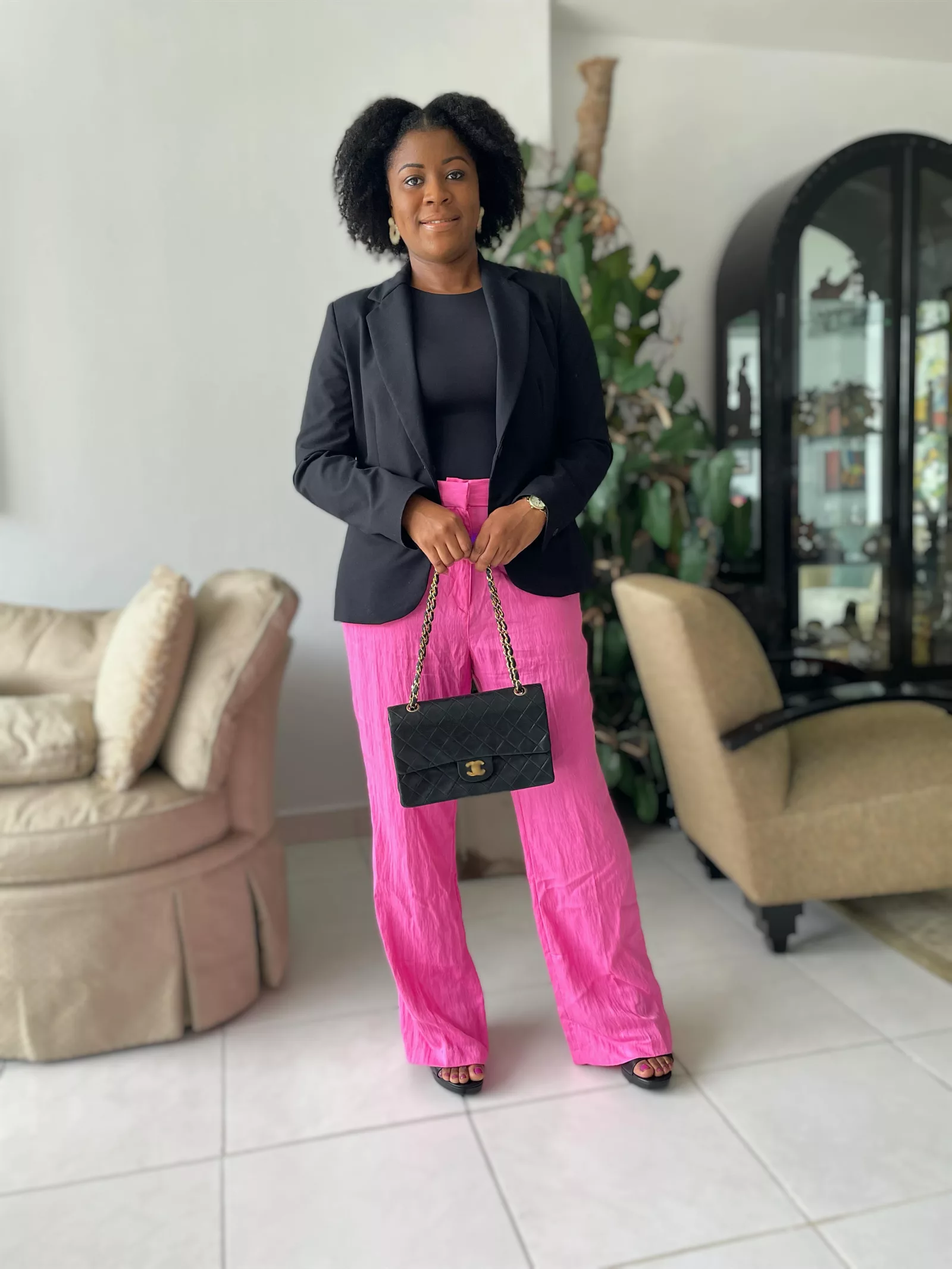 35+ Creative Blazer Outfits You Can Imitate For Any Occasion
Looking for ways to spruce up your wardrobe with some versatile blazer outfits? No need to look any further – we've got you covered!
Whether you're dressing for work, a night out, or something too special to keep casual, a stylish blazer can be the perfect addition to any outfit.
We are a participant in various affiliate marketing programs and may earn a commission for any purchases made through these links at no extra cost to you. Read full disclosure here.
If you're going for a classic and office-friendly look or looking to turn heads at a party, turning a blazer into your go-to layering piece with some simple styling hacks is easy and fun.
With the right pieces and accessories, you can create head-turning blazer outfits that are sure to make an impression.
Take a look at our 40 trendy and stylish blazer outfits, perfect for day or night. You'll be sure to love the results!
Choose the Right Blazer for Your Aesthetic
It all starts with finding the perfect blazer — the one that fits your personal style and wardrobe needs.
Think about different styles and looks ranging from classic structured pieces to oversized ones, as well as different textile fabrics such as linen, velvet, cotton-blend, and woolen.
Each has its own uniqueness, so be sure to choose one that best highlights your individual style.
Once you have your blazer, you can choose the right combination of accessories and pieces to complete the look.
Add Accessories for a Sophisticated Look
When you have found your blazer, it is time to add some accessories to complete the whole look.
Accessories make all the difference when it comes to creating a more stylish finish. A handbag and some jewelry can take a plain outfit to the next level.
Alternatively, you can choose statement accessories such as colorful scarves or necklaces that bring out the colors of your blazer.
It's important to accessorize subtly — remember less is more!
Layer Colors & Textures for Visual Interest
When styling a blazer outfit, layering is key to creating visual interest and adding dimension to your look.
Choose different colors and textures that complement one another and create a more eye-catching overall aesthetic.
For example, you can pair a solid colored button down with a patterned blazer for an interesting contrast.
Then add some texture by accessorizing with velvet or leather accessories to complete the look.
Layering is an easy and quick way to transform a simple outfit into something truly remarkable!
Style With Shoes & Bags That Complement Your Blazer Outfits
When creating a polished look, don't overlook the importance of the right accessories.
Shoes and bags can take an outfit from average to outstanding in no time at all. To find the perfect shoes, consider what kind of blazer you're wearing.
If your blazer is a solid color, opt for patterned or colorful shoes that will help bring out the color in your blazer.
On the other hand, if you're wearing a printed blazer, opt for neutral toned shoes and bags that won't compete with your statement piece.
Make It Unique – Try Different Hairstyles and Makeup Ideas
To make sure your blazer outfit stands out, experiment with different hairstyles and makeup ideas.
Consider pairing a classic updo with a structured blazer for more formal events or add drama to your look with bold eyeshadow and statement jewelry for a stylish night out.
When looking for hair accessories, don't be afraid to mix metals – such as gold and silver earrings – to add dimension to your ensemble. The key is to have fun and make the look yours!
How To Style Your Blazer Outfits + Ideas and Inspiration
Find the perfect combination that fits your style, whatever it may be.
Layer an Oversized Blazer Over a Tank Top
An oversized blazer is a must have! Layer the look over your favorite white tank top and slip into some high-waisted trousers or an A-line skirt for a simple stylish ensemble.
You can even add a statement belt or necklace to dress up your blazer outfits!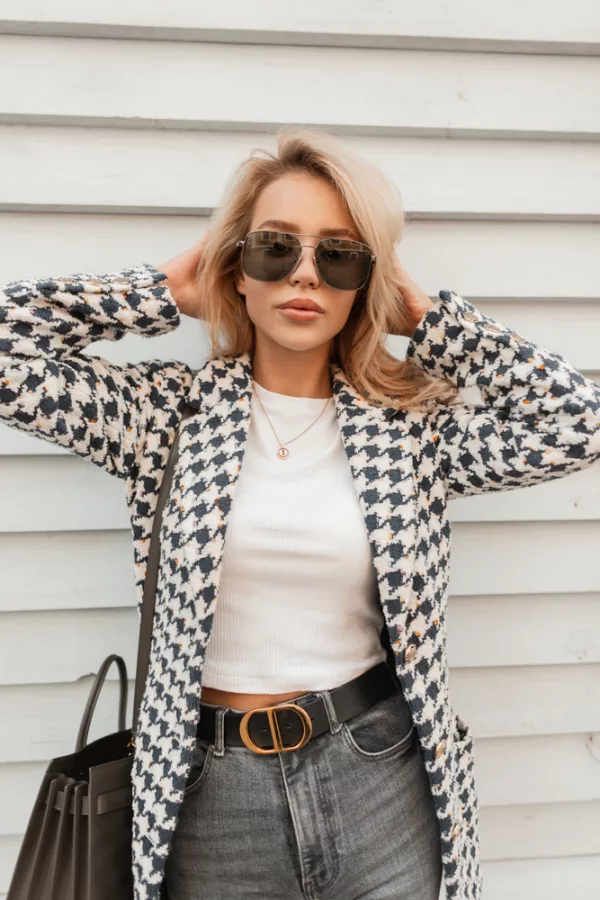 Make the Blazer a Statement with Bold Colors and Prints
Make a bold fashion statement by choosing blazers with bold colors and prints, such as floral and polka dots.
If you have an eccentric style, this look is perfect for you! Don't be afraid to mix several clashing but complementary prints.
Layer an animal print blazer over a similar colored top or dress to break up the look and add some interesting contrast.
You can also experiment with mixing and matching solid bold colors.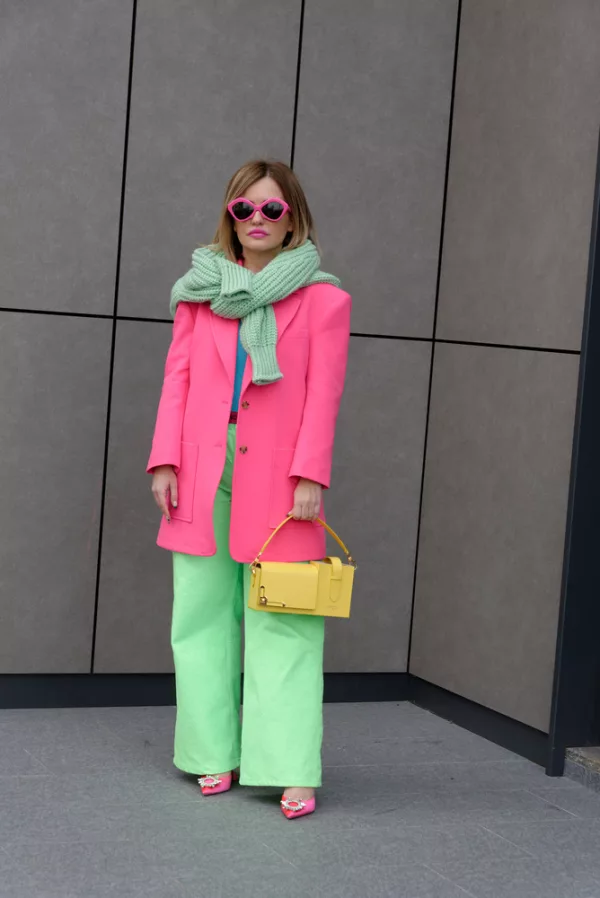 The Minimalist White Blazer Outfit
If you're a minimalist type of chic then this may be the perfect blazer outfit for you.
An all white tailored blazer over a black and white graphic tee with a pair of faux leather joggers.
Keep it simple with a black chain body strap bag, sunglasses and black and white trainers.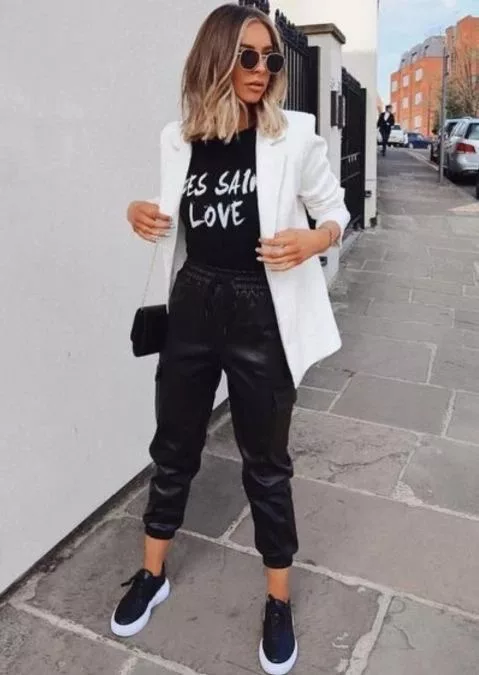 Powerful Blazer Outfit Pants Suit
This is how you command attention! Get all eyes on you with a glossy, electrifying blue blazer pants suit.
Top it off with an electric blue mid-calf boots, oversized sunglasses and a black mini bag.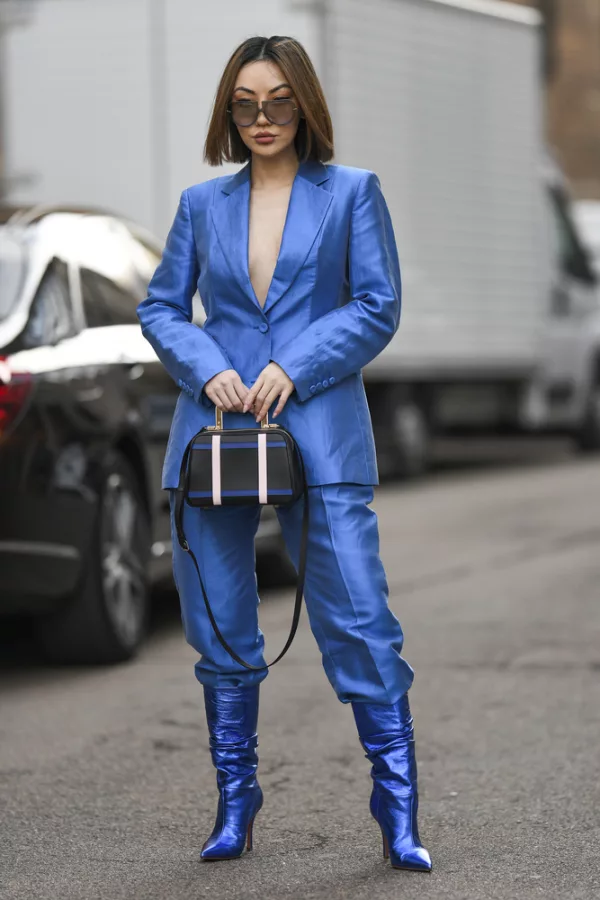 Opt For An Unstructured Blazer Outfit
To break away from the traditional structured style of blazer outfits, consider opting for an unstructured look.
Ditch fitted trousers for some culottes and wear a pair of black-heeled pumps.
To instantly transform your look from office-appropriate to street style approved, switch out the pumps for a pair of loafers or sandals.
Finish off your ensemble with a playful scarf, sunglasses or some statement earrings!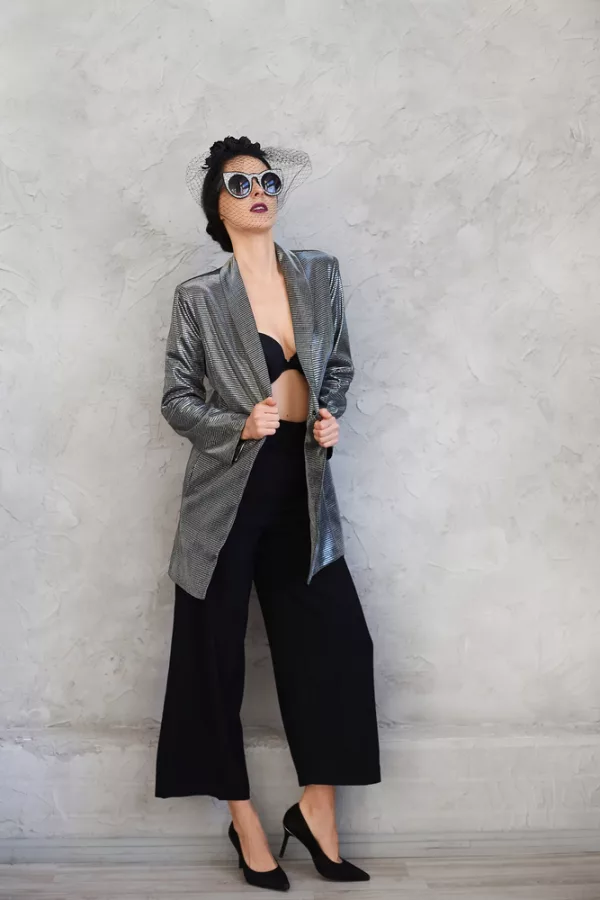 Structured Woman Business Look: Tailored Blazer + Print Top + Khaki Tousers
Dress for success in this tailored blazer outfit, featuring khaki pants and an animal print top.
The fitted blazer adds structure to the look and instantly makes it more polished.
Add minimal jewelry for a subtle yet sophisticated finish. Complete the look with a black headband, animal print sunglasses and a statement handbag.
Go from the office to after-work drinks seamlessly with this stylish look!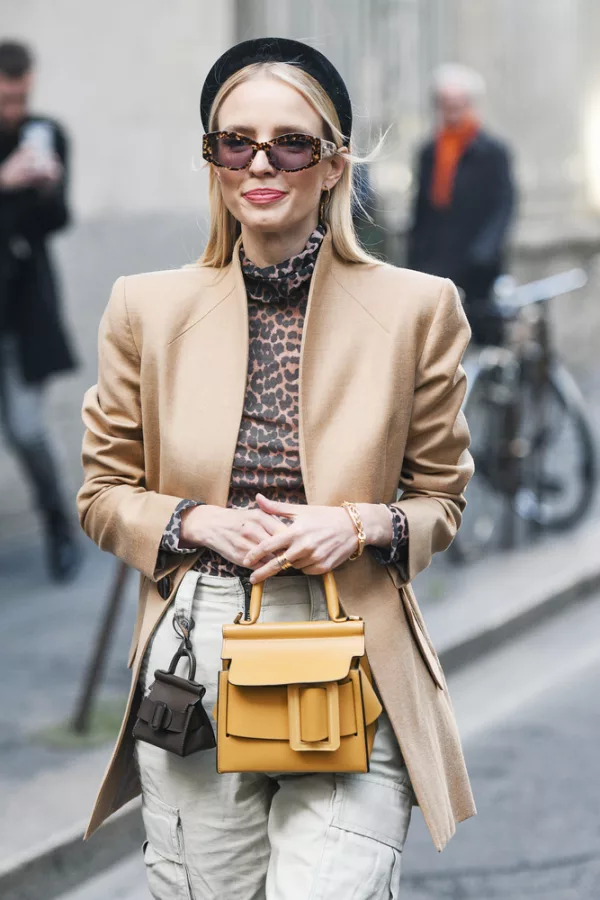 Business Casual Blazer Outfits
A blazer is the perfect way to dress up a casual look for the office. For a young, cool aesthetic, pair your blazer with a classic white button-up shirt and straight-leg trousers.
Related: How To Wear The Oversized Shirt Trend
The white button up shirt can be substituted for a white tee and the trousers with a pair of jeans.
Top off this sophisticated outfit with pumps, booties, a pair of loafters or sneakers.
Layer on a statement belt to complete the look while still keeping it professional enough for even the most conservative office!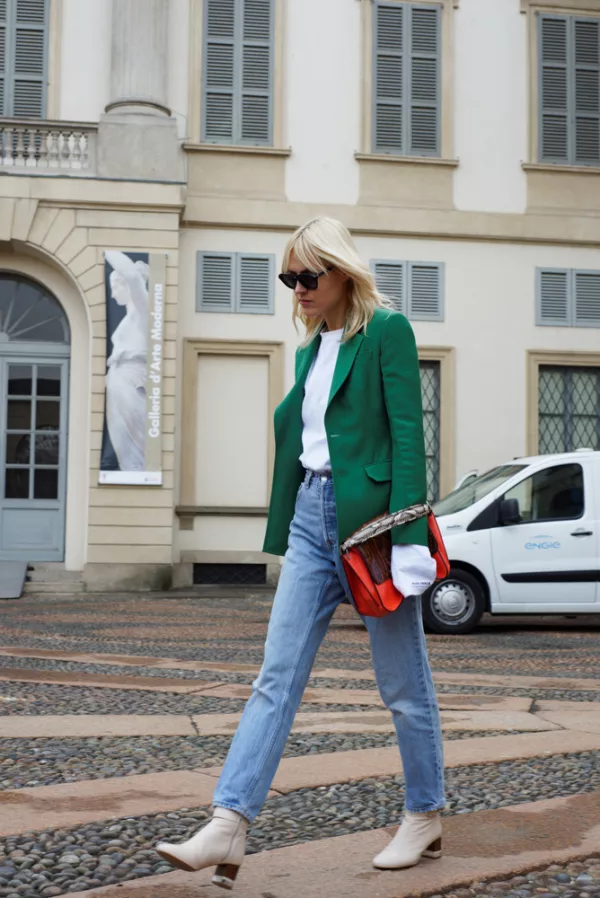 Cool & Classy: Print Blazer + Graphic Tee + Relaxed Fit Jeans
Step out of your style comfort zone by combining the cool classic blazer with a graphic tee and relaxed fit jeans.
Pair this modern print blazer with light blue jeans, a printed t-shirt, and crisp white sneakers for an on-trend look that will turn heads this season.
The print blazer can also be paired with the graphic tee, black jeans and sneakers or loafers.
Add chic aviators or statement earrings to complete the fun look.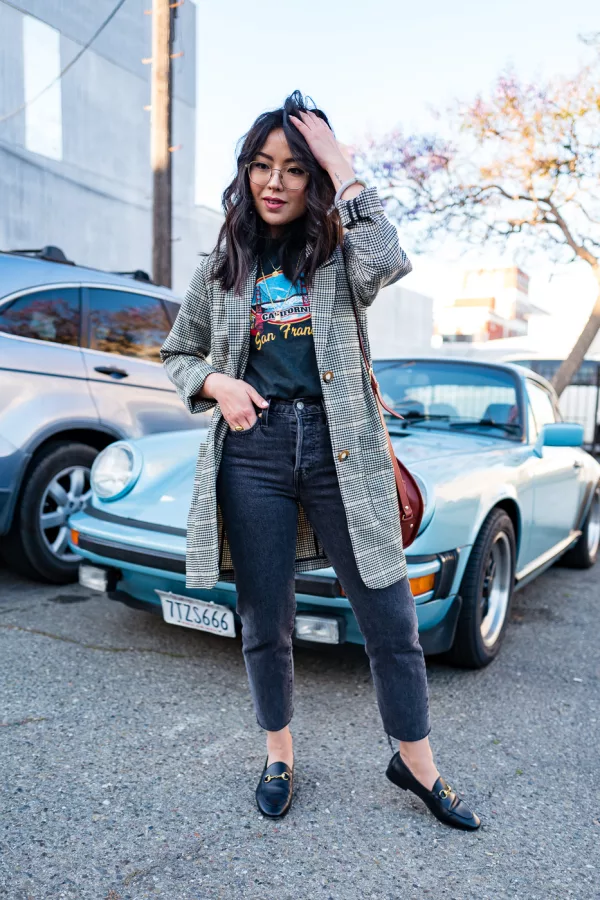 Layer Your Blazer Prominently Over an Impressive Evening Look
Beat evening boredom with this creative ensemble consisting of an impressive pleated floral maxi dress, heeled mules, and an on-trend solid color blazer.
The blazer should be placed over the dress to highlight the other elements of your look, while allowing it to make a statement of its own.
Finish the look off with a mini bag and minimal jewelry that match your outfit.
Heading to an office party during the Springtime? This might be the perfect blazer outfit idea for you!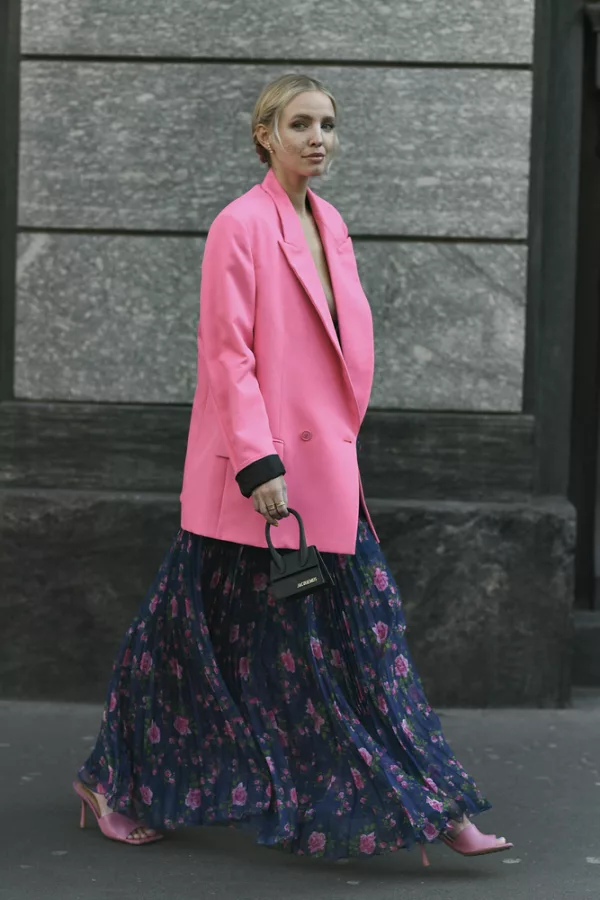 Pinstripes Double-breasted Blazer Pants Suit
Show off a bit of skin by wearing a crop top inside of your pinstripes double-breasted blazer pants suit.
Keep it simple with dainty jewelry, sunglasses and a statement handbag.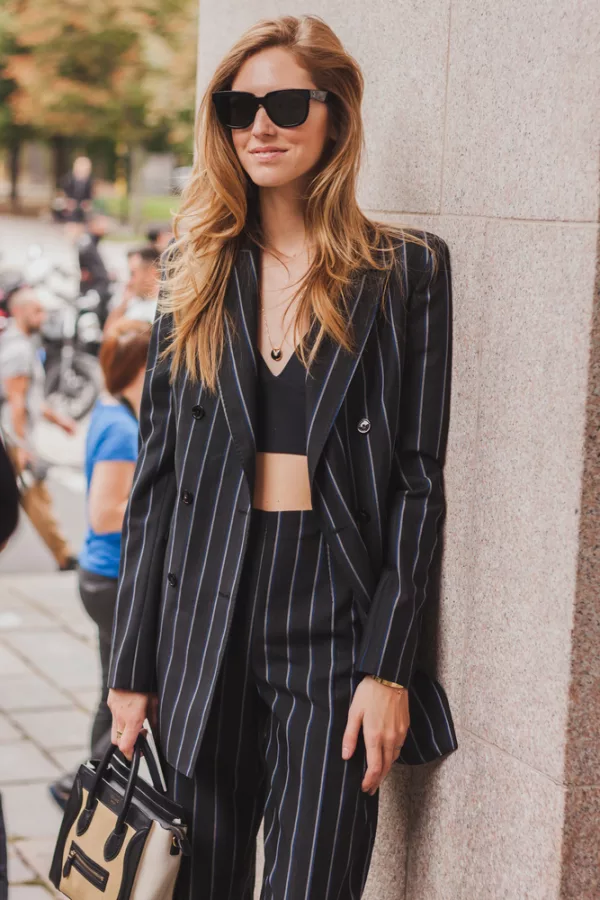 Create a Monochrome Look with a Matching Blazer and Pants
For an easy way to look chic and put-together, pair a matching blazer with matching trousers.
To pull off this effortless Classic look, chose a neutral color palette in shades of black or camel.
Keep your accessories minimal, add a few layered necklaces and you're ready to go!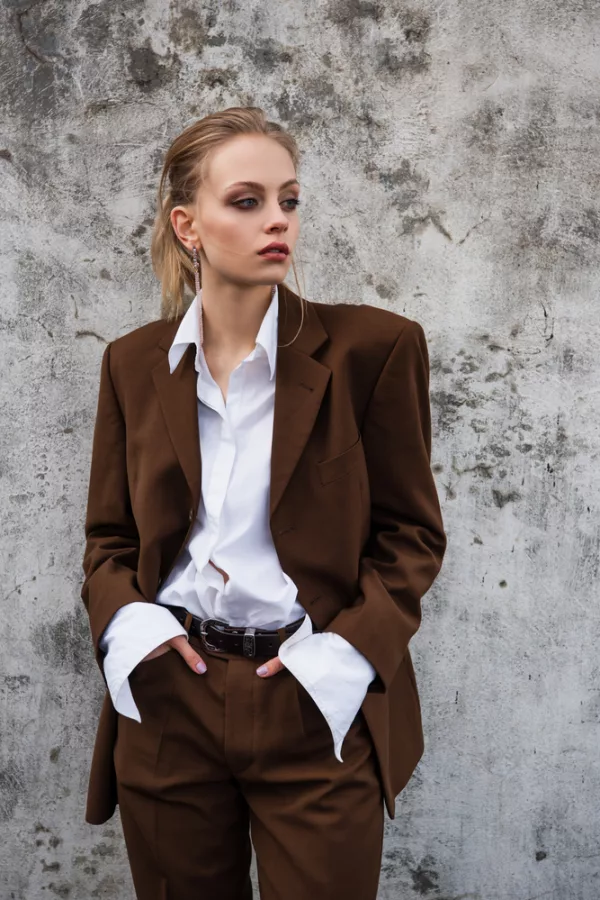 Faux Leather Blazer with Shorts
Layer a black turtle neck sweater with a black faux leather jacket styled with a constrasting color faux leather shorts.
Add a minimal necklace, dark sunglasses and a handbag to complete the look.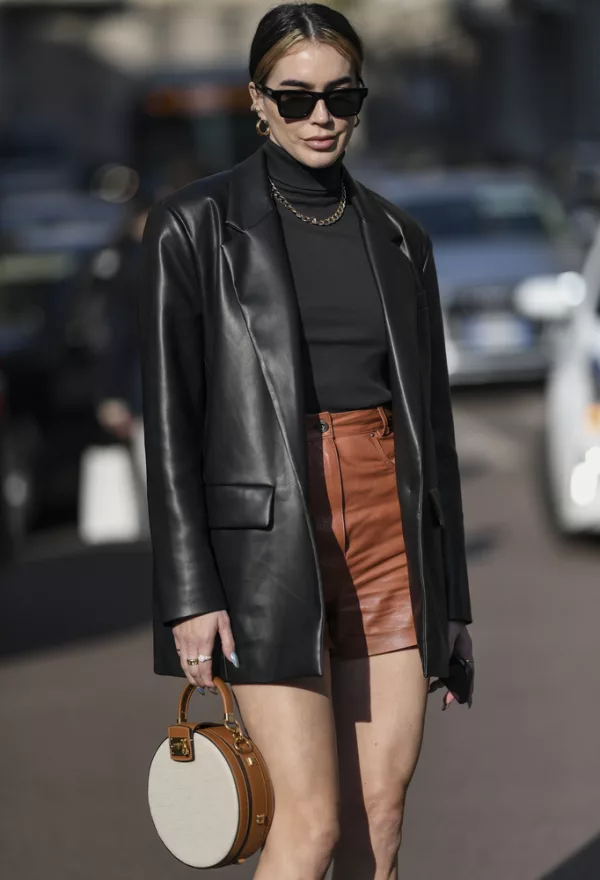 Pastel Colored Blazer Outfits
When it comes time for a more casual occasion, a pastel-colored blazer makes for an ideal choice.
To create an edgy look, wear a classic white camisole, light faded distressed jeans, and patent pumps to complete the look.
Alternatively, you can ditch the inner camisole top or pair your pastel blazer outfit with white sneakers instead.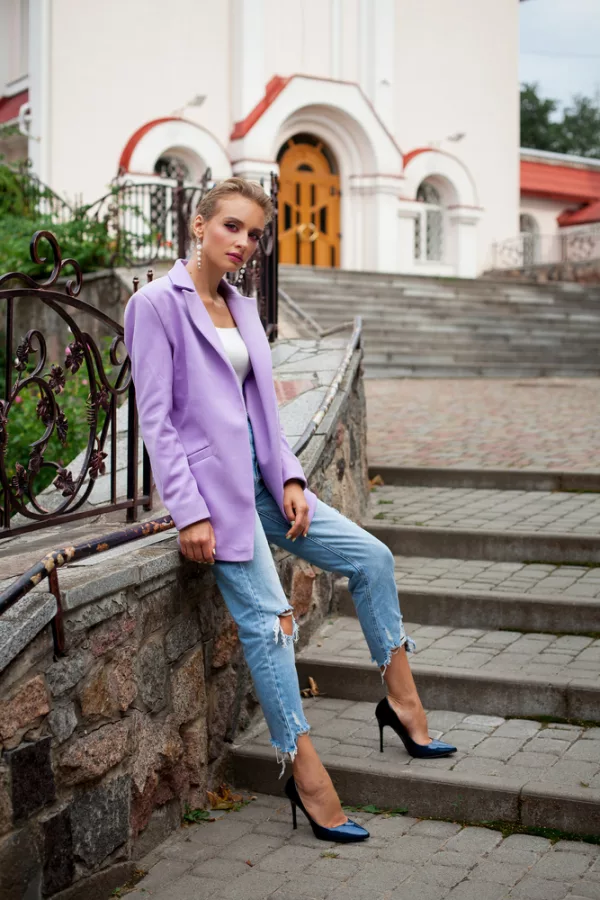 Keeping It Classy – All Black Blazer Outfits: Black Tailored Blazer with A Black Midi Faux Leather Skirt
To create a vogue look, try a black structured blazer over a faux leather midi skirt.
A pair of black and tan pumps, a black satchel and large black aviator sunglasses.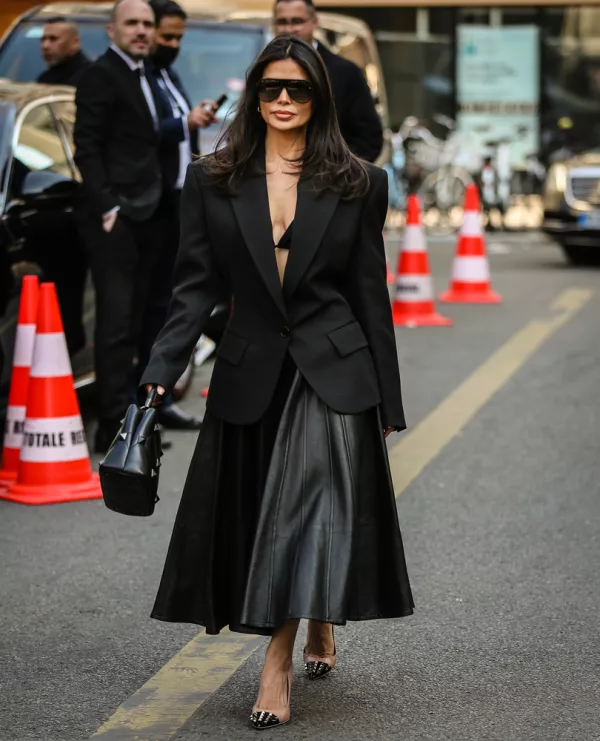 An Oversized Blazer Dress
If your oversized tailored blazer is long enough to cover more than just your buns then turn it into a blazer dress.
In that way you get multiple looks out of the same blazer worn with different things.
For instance, choose a bold color oversized blazer and cinch your waistline with a black leather belt with gold finishes.
For added sophistication wear a pair of black slingbacks, bold gold earrings and a pair of black oversized sunglasses.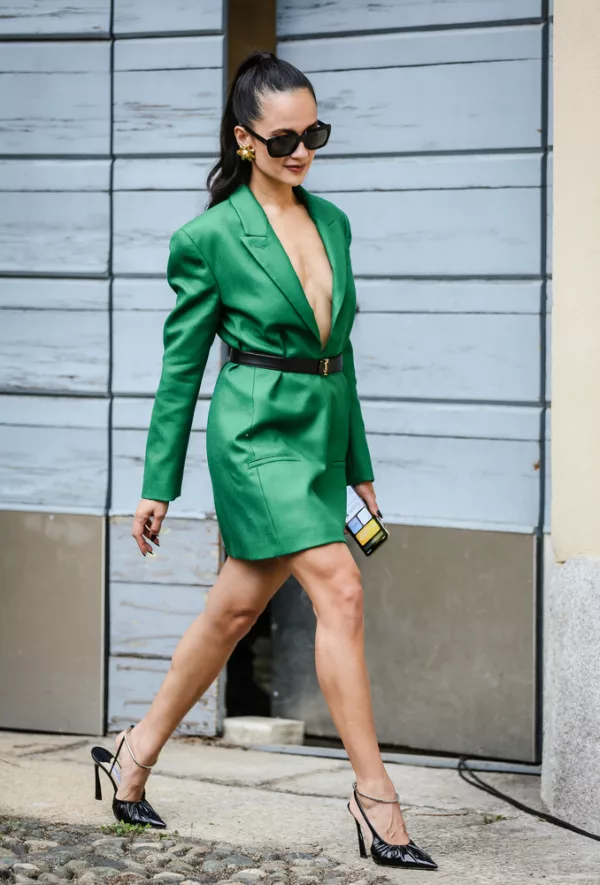 Velvet Blazer With a Cropped Top and Denim Shorts
For an edgy and voguish outfit, mix velvet with denim materials. Start off with a camel velvet blazer, this will add dimension and texture to the look.
Layer it up with a cropped top to give the outfit a sense of femininity while keeping it classy.
To complete the look, opt for some blue denim shorts. You can also swap out the shorts for skinny jeans and the cropped top with a bodysuit– that's if you want something more on the not-too-revealing side.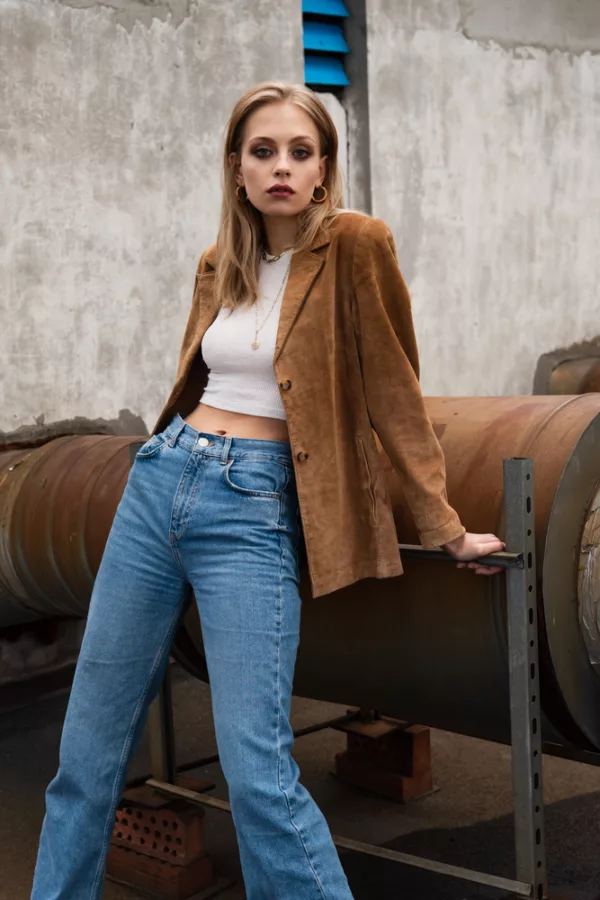 Tailored Trouser and Blazer
For a classic, polished look for the office or casual drinks with friends, try pairing your blazer and trousers in the same color palette.
Choose a slim fit tailored trouser and add an oversized blazer to complete the look.
Try neutral hues like beige or black to keep it timeless.
Conversely, be bold with tweed or patterned palazzo pants and contrast with a classic black blazer.
Accessorize with subtle jewelry or colourful bags to make an impressive statement.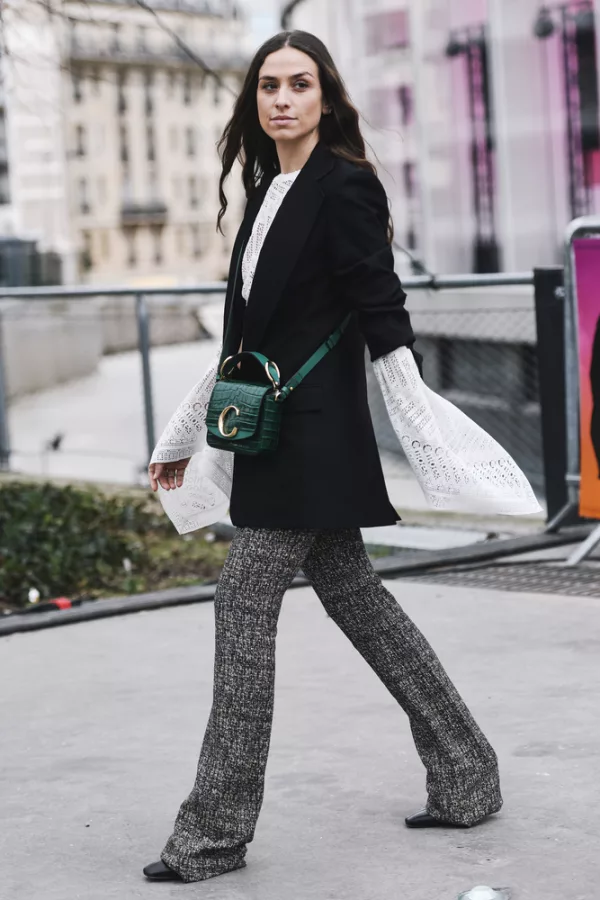 Pantsuit and Matching Blazer
Get suited up with a full blazer ensemble.
Nothing says business more than a pantsuit, especially when paired with a matching blazer!
Wear an unconventional color like bright yellow to turn things up a notch.
Tone down the look with dainty jewelry, a mini handbag and some sneakers.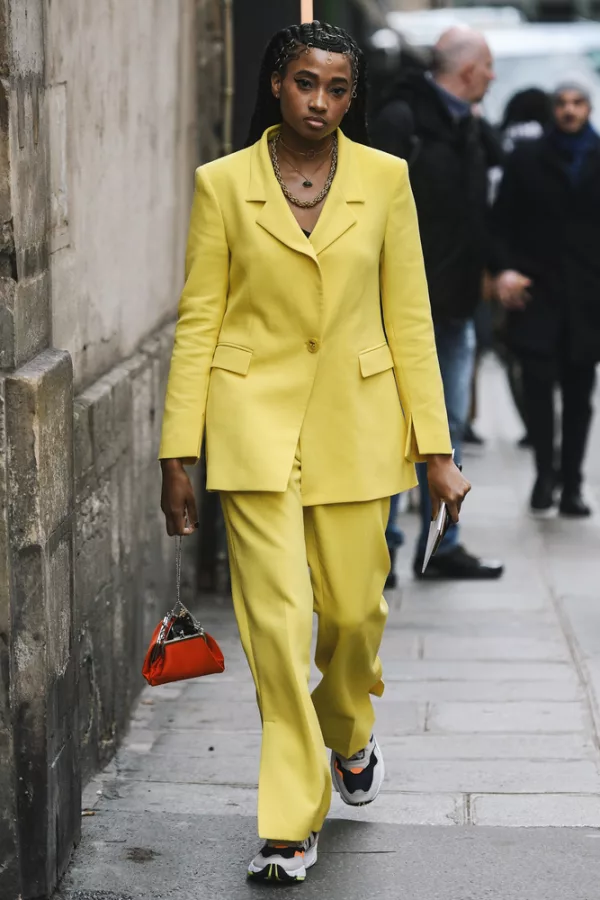 Leather On Leather Blazer Outfits
This outfit is perfect to wear on a chilly autumn day. Layer a black faux leather blazer over a white camisole.
Finish off the ensemble with a faux leather midi skirt in tan and tall, black combat boots.
Accessorize with black sunglasses, a chunky gold necklace and earrings, with a black statement handbag.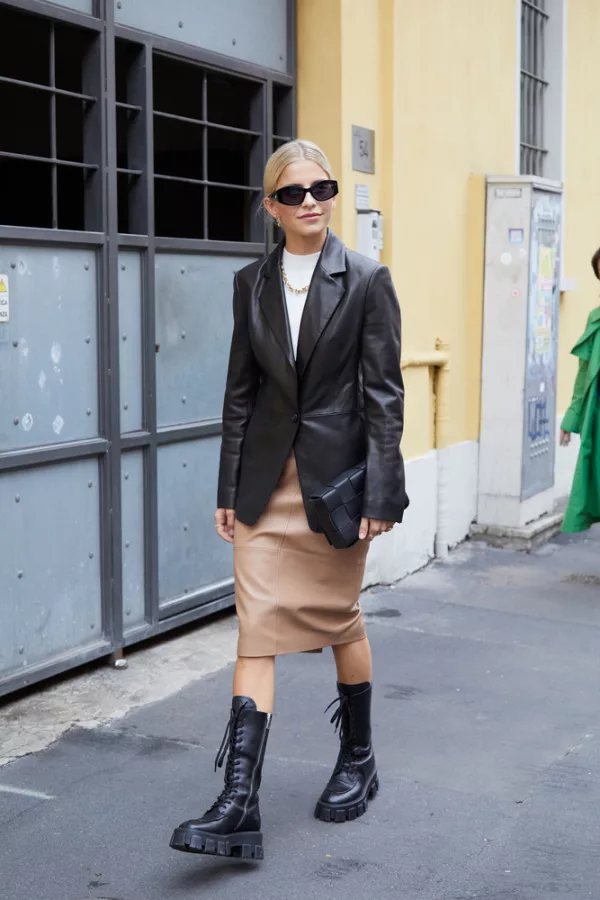 Oversized Blazer with Shorts
Have fun with the blazer and shorts combination. To make it look cool, combine a loose fitting blazer with a pair of statement shorts.
The idea is to be playful yet stylish.
Finish off the look by pairing the outfit with tall boots, or ankle booties and don't forget a coordinating bag to complete the look.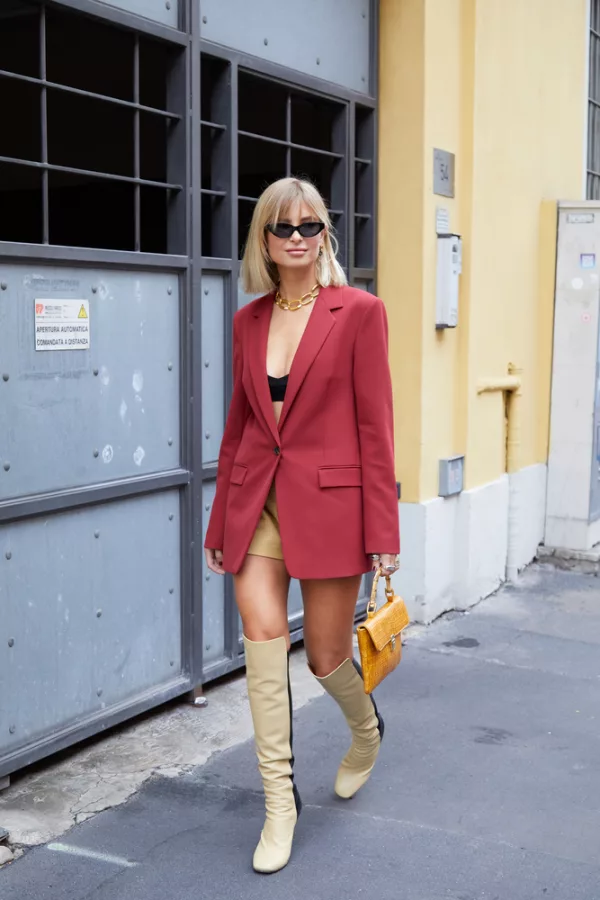 Wide Leg Pants Blazer Outfits
What better way to pair your oversized blazer than with a black bodysuit, white wide leg pants and dainty jewelry.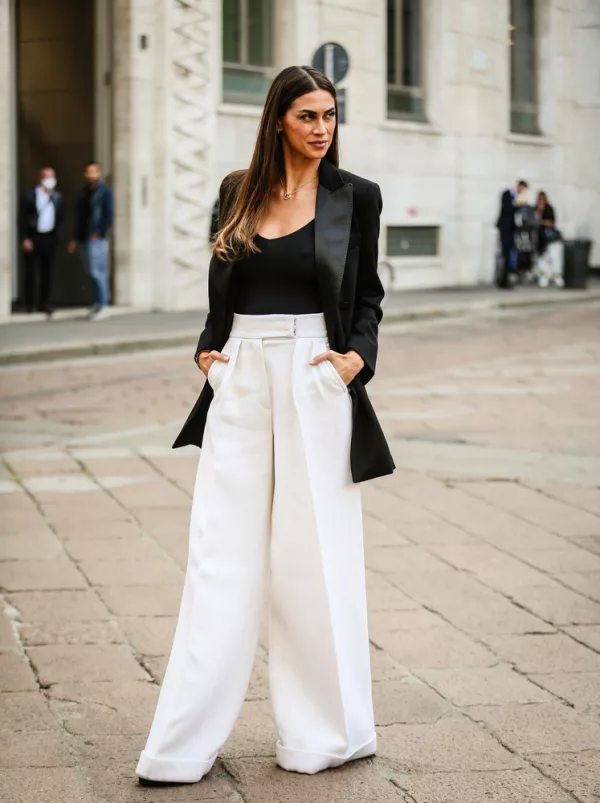 Nighttime Chic: Double Breasted Blazer + Lace Cami Top & Velvet Trousers
Amp up your evening look with a classic double-breasted blazer and an alluring lace cami top.
The combination of the electric blue blazer coat with matching velvet trousers is stunning and will suit most body shapes.
Finish off the look with suede pointed-toe heels, statement sunglasses and gold dangle earrings.
You'll be ready to hit whatever party awaits you!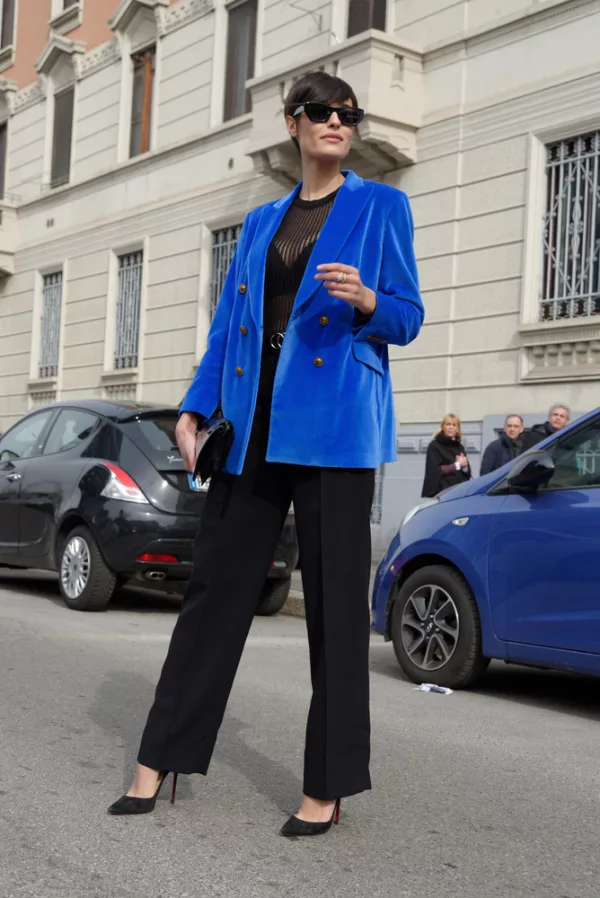 Checked Blazer With T-Shirt and Jeans or Leggings
For a fun and effortless look, pair a checked blazer with a classic white t-shirt. Match it with slim fitted jeans or black faux leather leggings.
Add a pop of color with vivid loafers, or for something more subtle, go for patent ankle booties in neutral.
Accessorize this outfit further with some gold hoop earrings to create the perfect blend of style and comfort.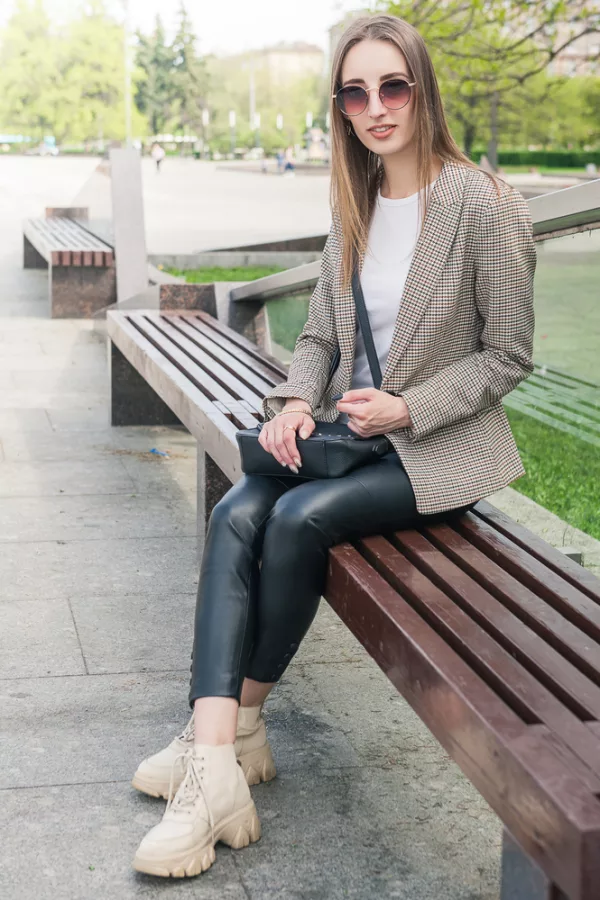 Black Blazer With A Bodysuit and Wide Leg Pants
Another fun way to wear a classic black blazer is by matching it up with a black bodysuit and add some color with a bright pink wide leg pants.
Complete the look with black strappy heels, bold earrings and a black statement purse.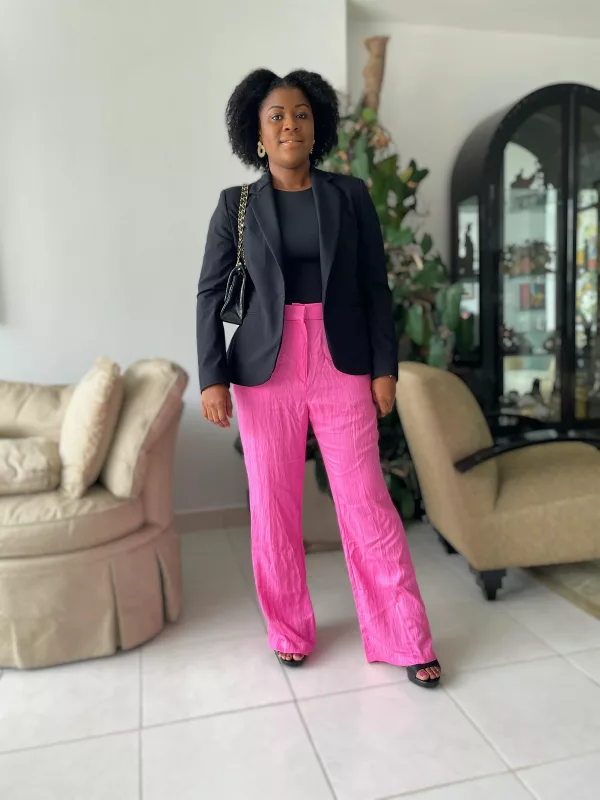 Brighten Up Your Look With a Pop Of Color
For days when you want to look smart without looking too formal, wear a printed blazer over a bright solid color top, with a pair of dark colored pants and shoes to match.
Complete the look with sunglasses and a handbag. The idea is to draw attention towards your top half while making sure that it also looks balanced by matching it with solid-colored bottoms.
Wear your hair down or pull it up into an elegant bun, apply some neutral makeup and you're all set!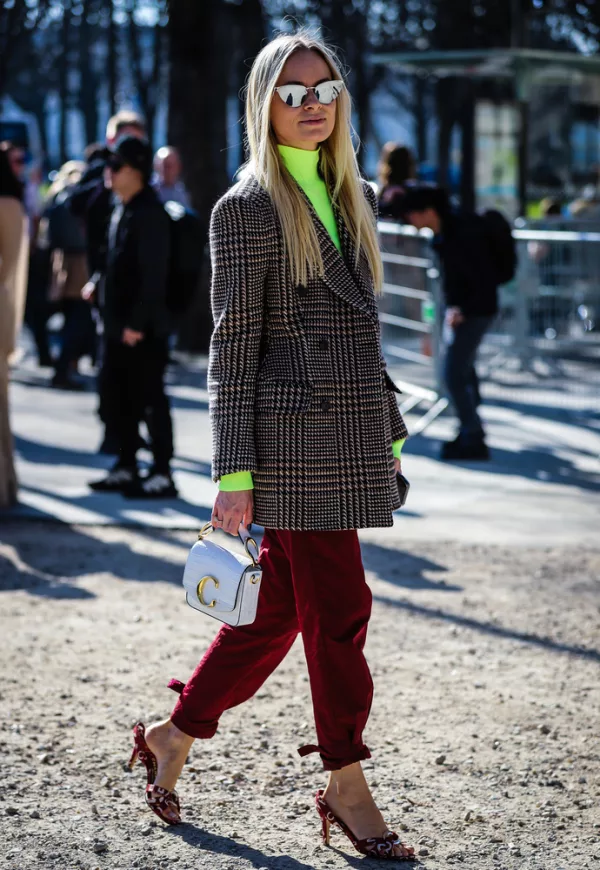 Office Look with a Black Blazer
Elevate your office wardrobe with a black, tapered blazer to command the boardroom.
Begin by pairing it with traditional black trousers for a smart and formal look.
Alternatively use a pair of skinny pants in a contrasting color.
To add some flair, choose an eye-catching top that enhances the colour of your chosen blazer – like a crisp white or neutral blouse depending on the vibe you're aiming for.
Lastly, accessorize with small but meaningful accessories such as pearl stud earrings with necklace to match.
Or use a tan and black handbag with a matching black sandals.
You'll be looking chic and ready to tackle any business meeting in no time!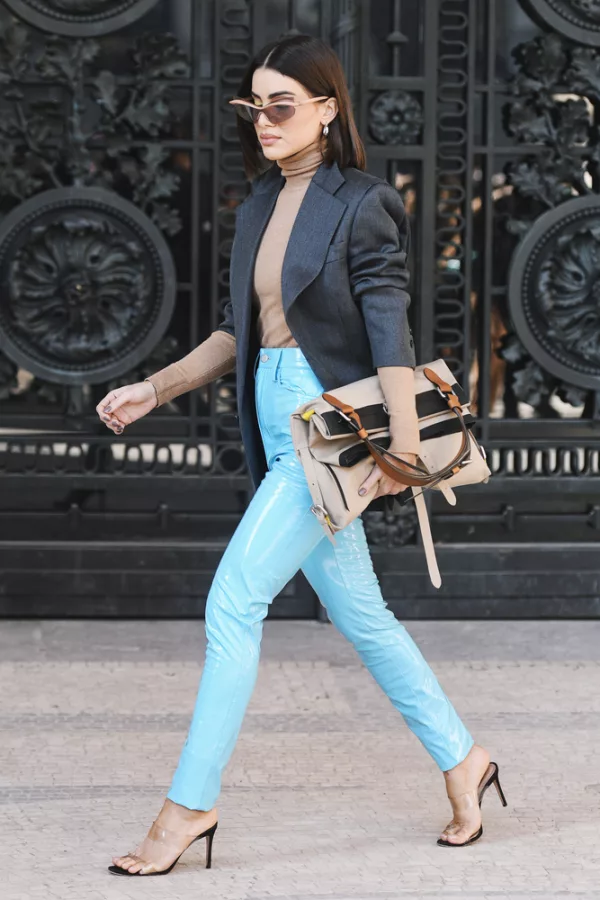 Monochrome Blazer Outfits
The combination of sophisticated pastel purple and bright pink will give you an effortlessly polished look that's perfect for any spring gathering or brunch with friends!
To add even more fun to the ensemble, choose accessories in bold hues like coral earrings or a vibrant scarf.
Lastly, wear low heeled pumps with black over-the-knee socks.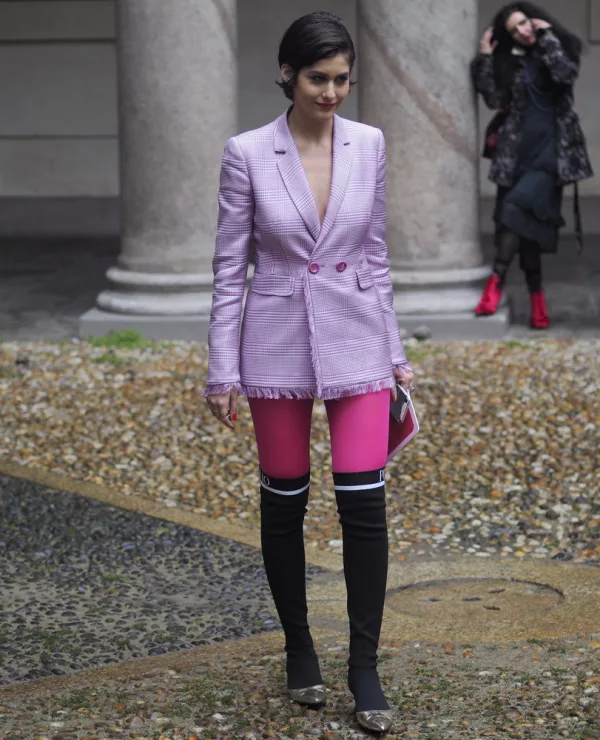 Make A Bold Statement with Textures
If you can pull it off, try wearing a black textured statement blazer over a white blouse and pair it up with snakeskin trousers.
Top it off with black and white sunglasses and a layered necklace.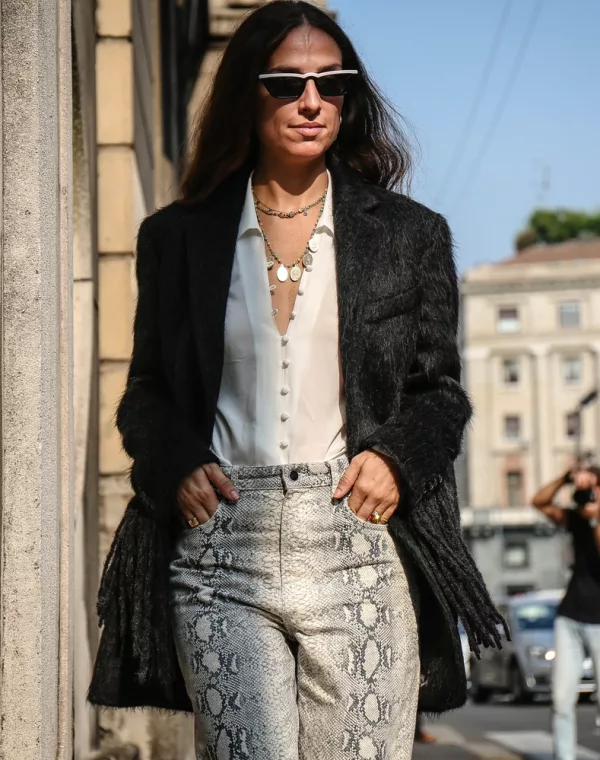 Checked Blazer and Neutrals Look
If you're looking for a feminine and classic way to wear a blazer, layer on a checked blazer with some neutral hues.
This look is perfect for date night or an outdoor brunch.
Pick out a neutral-colored camisole or turtle neck sweater and black faux leather shorts to serve as the base of your outfit.
Add on the checked blazer to elevate the ensemble and accessorize it with a mini bag, some sunglasses and minimal jewelry pieces that will add the right amount of elegance.
The leather shorts can be swapped for faux leather leggings, skinny jeans, a mini skirt or another trousers of your choice.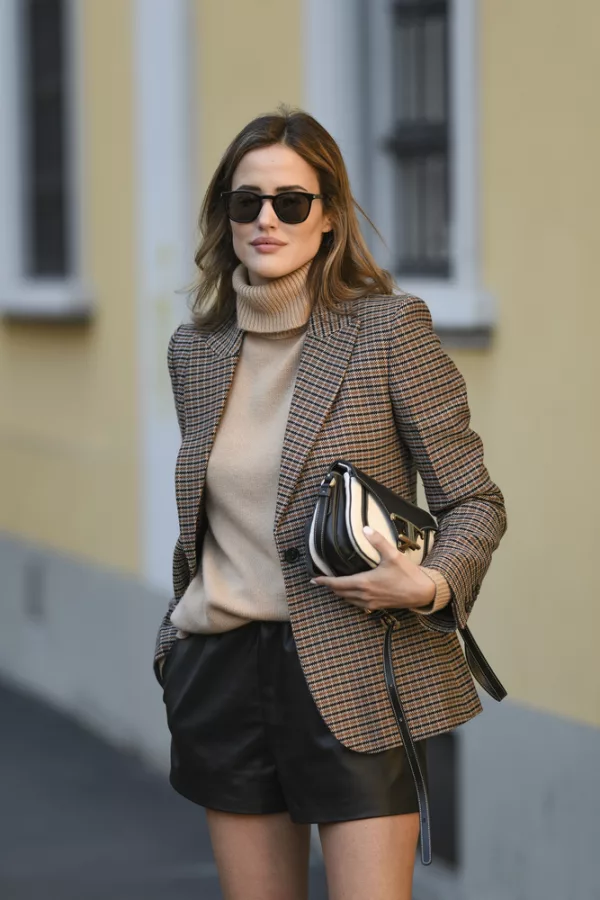 Oversized Blazer and Wide-Leg Trouser Combination
For a look that is guaranteed to turn heads, opt for an oversized blazer and wide-leg trousers combo.
This outfit will show off your style confidence and can be styled in any direction.
Choose a bold color blazer that's best suited for the occasion and season. Pair it with some classic white wide leg trousers.
Accessorize this ensemble with a pair of statement heels, bold accessories and you'll be ready to take on the day!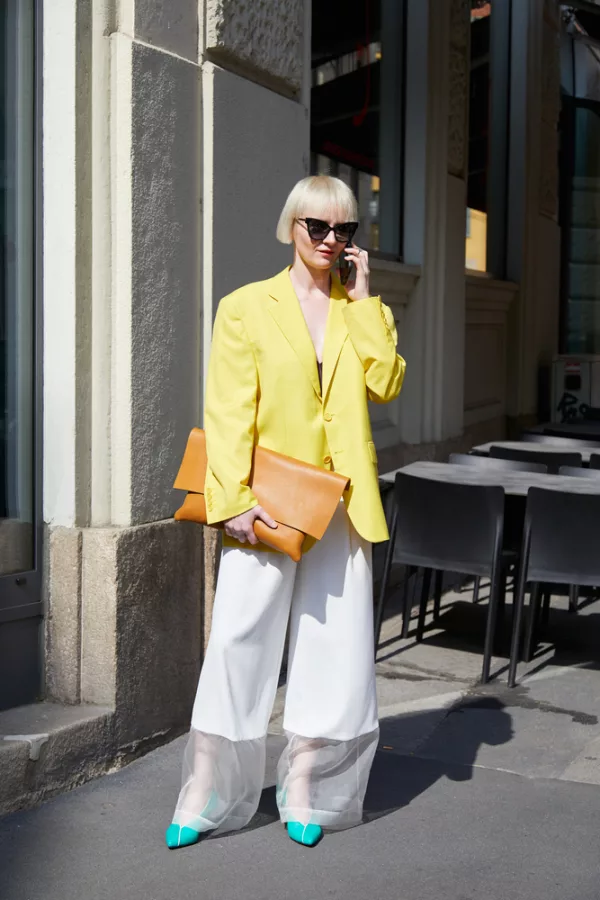 Wear a Blazer as an Open Jacket Over a Mini Dress
A mini dress with a blazer as an open jacket is the perfect way to create a flirty and feminine look.
Highlight your curves with a fitted blazer to perfectly define your waistline. Or a loose fitting blazer for a more relaxed look.
Add monochromatic heeled sandals and grab your favorite black crossbody bag for the ultimate night-out look.
Conversely, finish off the look with stockings and ankle booties.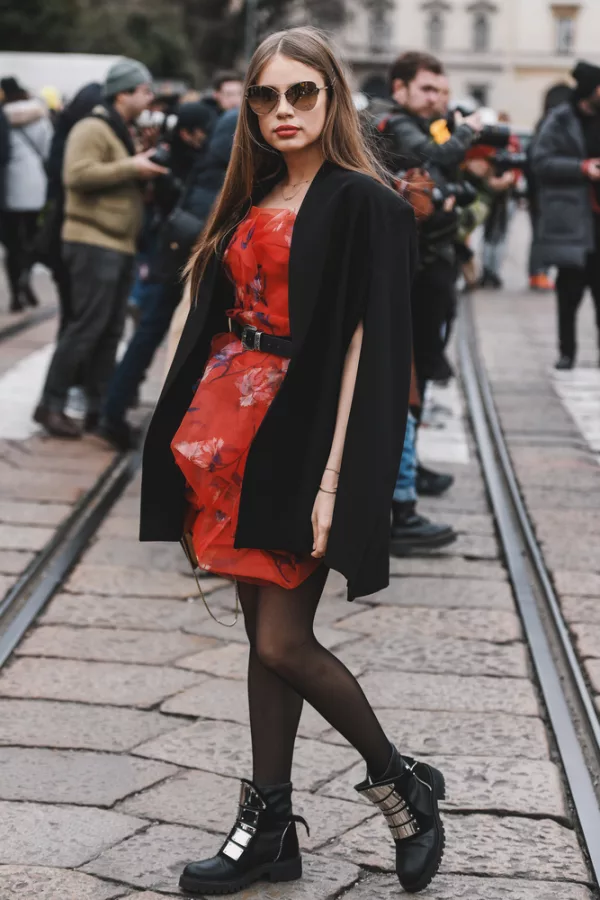 Tailored Blazer with Jeans
Go for a tailored style blazer but this time in a classic hue like blue, black or grey and accessorize to turn heads.
Consider wearing statement earrings and a graphic top that will draw attention up top, allowing your sophisticated ensemble to shine through.
To keep it professional yet playful, team with neutral low heels that add an unexpected twist to your look.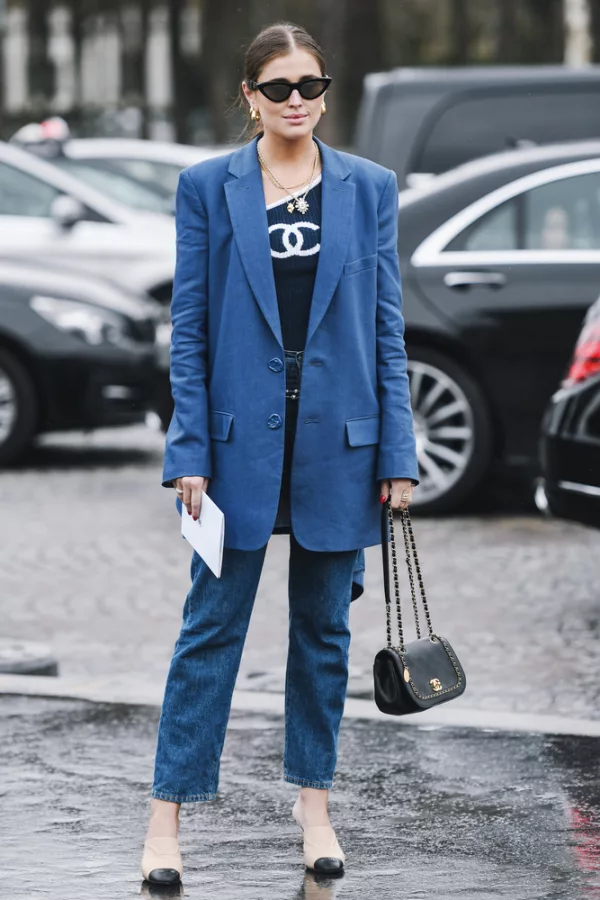 Leather Pants and Cropped Blazer
For a classic, polished look for the office or casual drinks with friends, try pairing your blazer and trousers in the same color palette.
Choose a regular fit faux leather trouser and add a cropped, slightly oversized blazer to complete the look.
Layer over a neutral hue top or turtleneck sweater like beige or white, to keep it timeless.
Or be bold with black palazzo pants and contrast with a classic black and white blazer.
Accessorize with subtle jewelry or a colourful bag to make an impressive statement.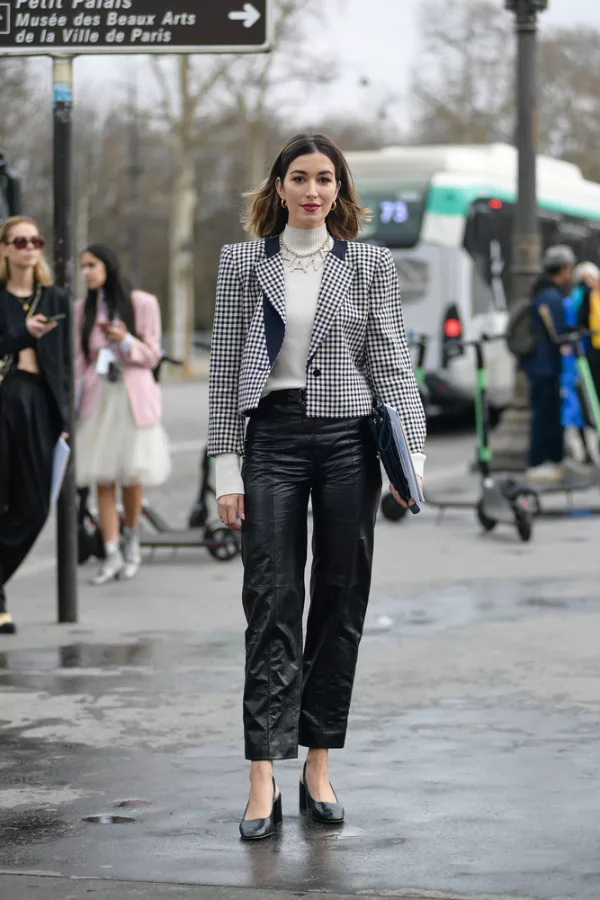 Festive Blazer Outfits
An all green blazer outfit is ideal for the Christmas and New Year holidays.
If you're heading to an end of year holiday Christmas party or NYE party with friends, you can try a blazer pants or skirt suit in a festive color.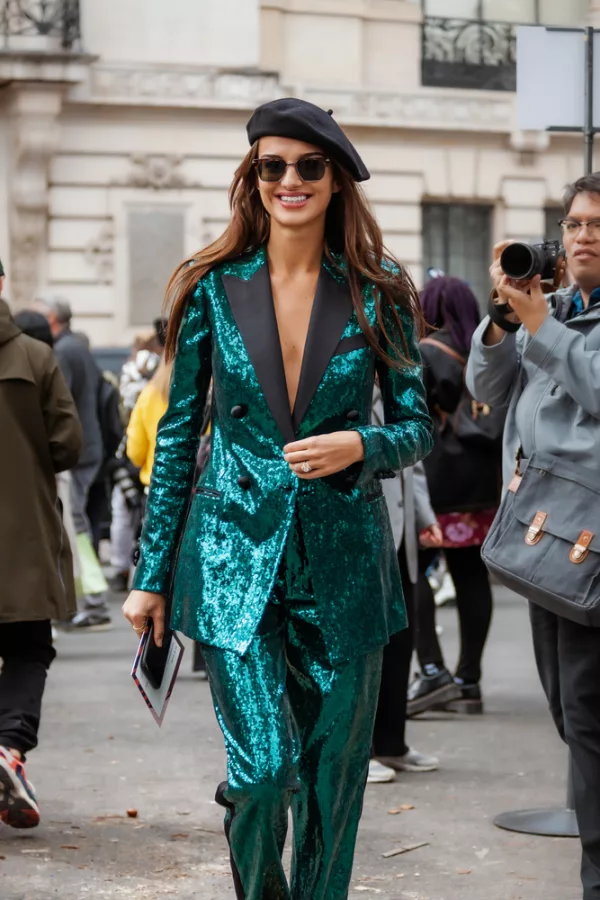 Solid with Stripes
A good way to tone done a striped pants is by balancing it off with a solid color blazer over a black top or sweater.
Finish off the outfit with daring sunglasses, ankle booties and a statement bag.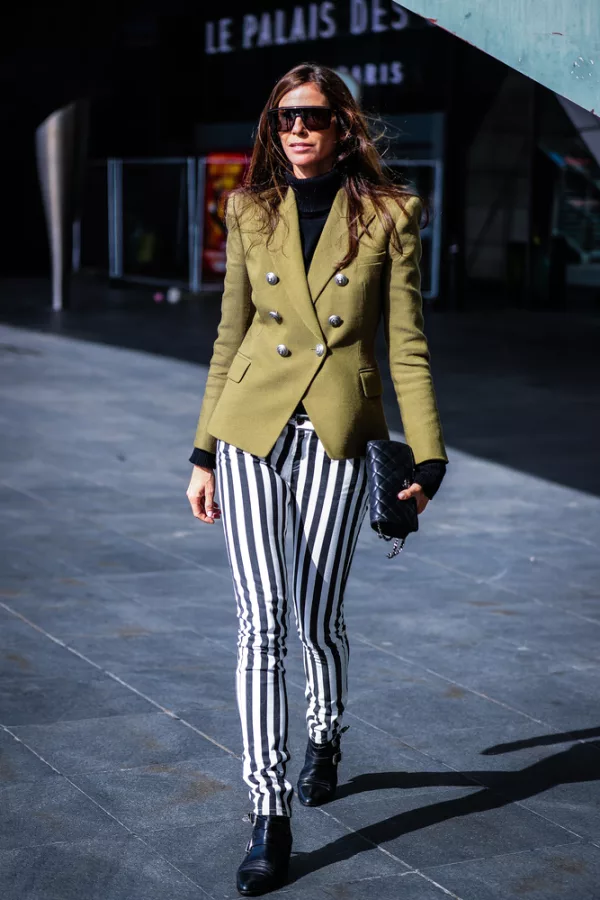 Leather Blazer Outfit with Asymmetric Mini Skirt
Into more of an eclectic style? You might want to explore an all blue leather mini skirt blazer outfit with a bit of a twist.
Swap out a basic mini skirt for one with an asymmetric cut instead and layer your faux leather jacket over a white button down shirt.
For added sexy, add a costume bra and finish off the look with with a white over the knee boots, white sunglasses and a white mini bag.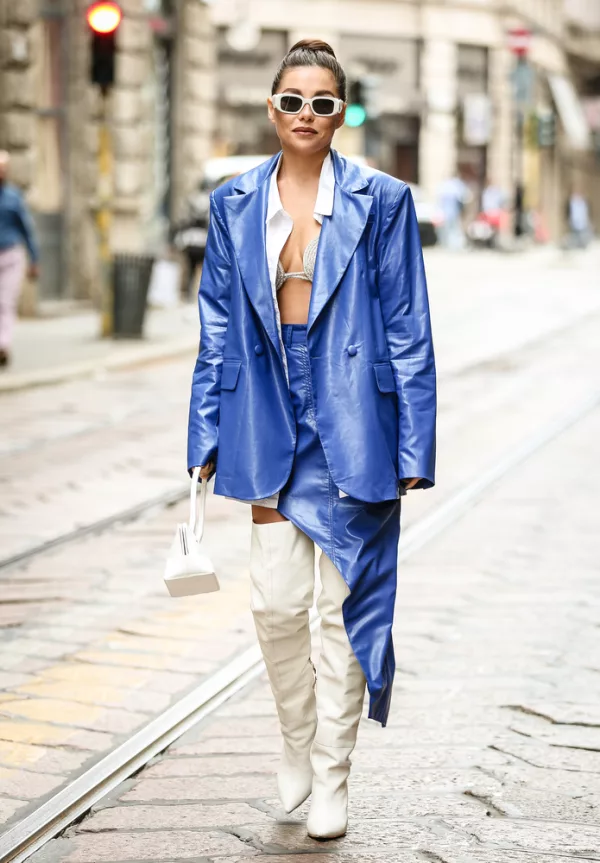 Keeping It Basic
Sometimes basic means simple. Pair a grey checked oversized blazer with a white graphic tee and medium blue straight cut jeans.
Add a light blue handbag, bold lips, some hoop earrings and cat eye sunglasses.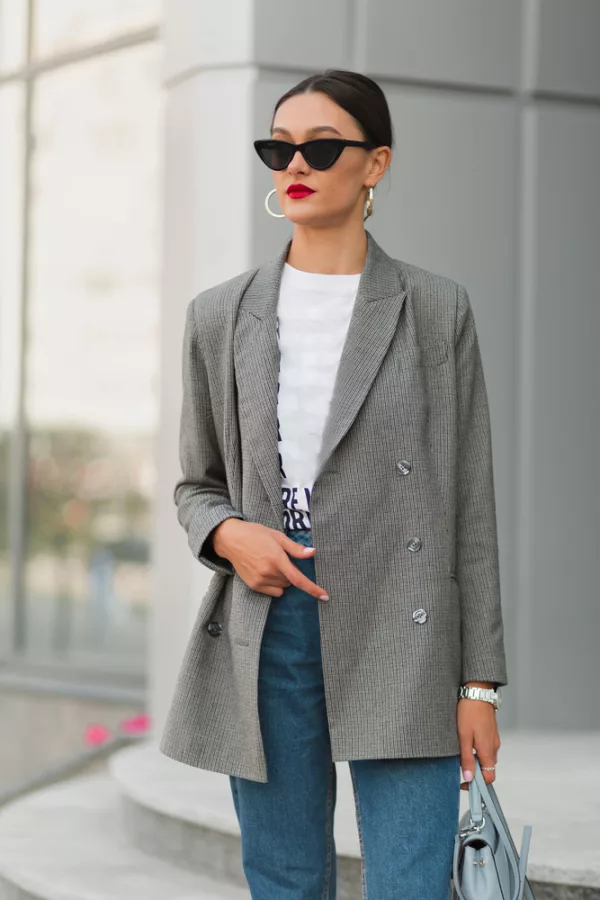 Satin meets Leather
If you're a pro at mixing textures then this blazer outfit should peak your interest.
Layer a black faux leather vest over an animal print long sleeve satin shirt, followed by a black tailored velvet or satin blazer over the vest.
Complete the look with black tailored trousers, a black headband and wide framed transparent sunglasses.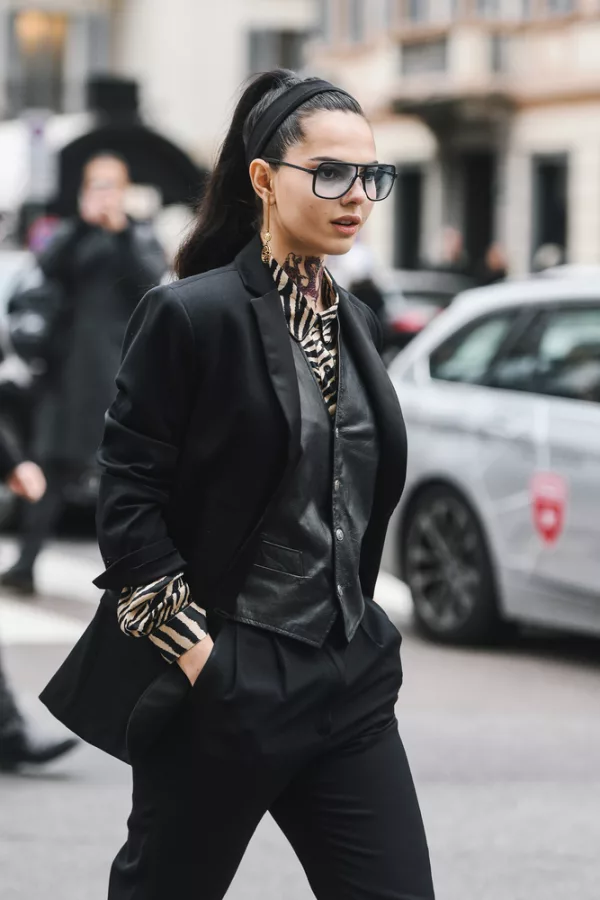 Pink Blazer over Denim on Denim
What a way to spruce up your denim on denim outfit.
Try styling an oversized bold pink structured blazer over a blue denim chambray shirt and blue mom jeans.
Accessorize with candy pink shoes and a blue handbag.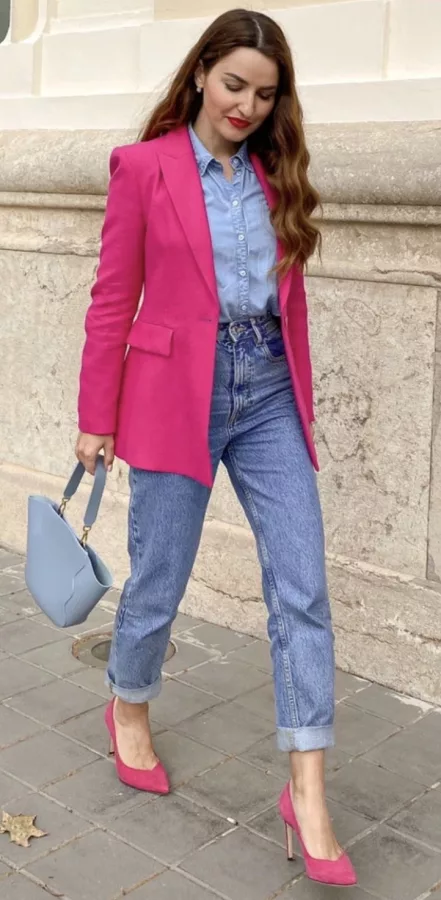 Designer Logo Blazer Outfits
Pair a textured designer logo blazer with faux leather trousers and sock booties.
Complete the ensemble with a chunky necklace, oversized sunglasses and a designer bag.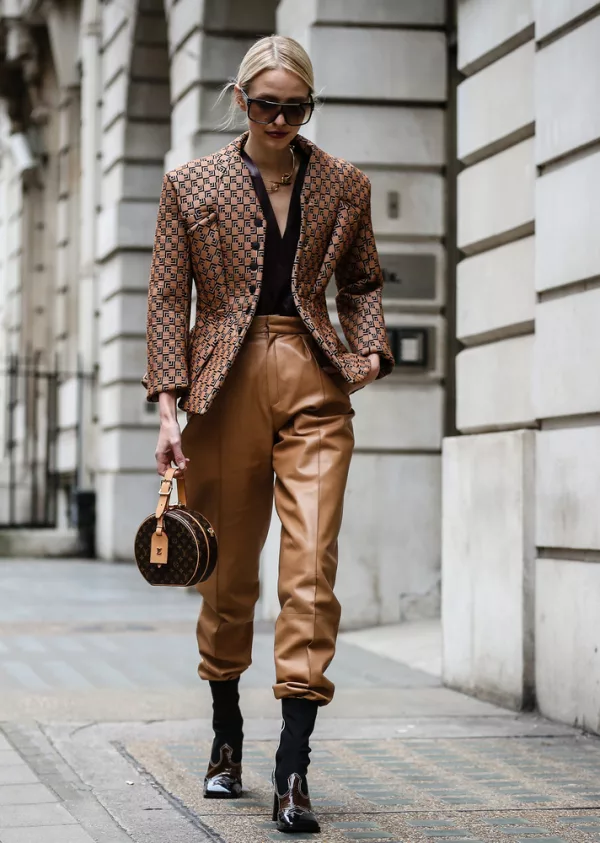 Wrapping Up Cute Blazer Outfits Ideas
Looking for on-trend blazer outfit ideas? Whether you're aiming for an ultra-casual daytime look, a sleek ensemble for the office, or both, you're sure to find something special in this guide.
With 40 unique combinations to choose from, you won't run out of stylish blazer looks anytime soon!
Now you can step up your wardrobe game with this guide on how to style your blazer outfits for any style and occasion!
Shop Editor's Picks

Shevy
Hi! I'm Shevy! I'm the Founder and Managing Editor of Travel Beauty Blog est. 2016. I am also the Founder of Shevy Studio Marketing Agency where I work with entrepreneurs and bloggers on SEO/Content Strategy, Web Design and Consultancy.