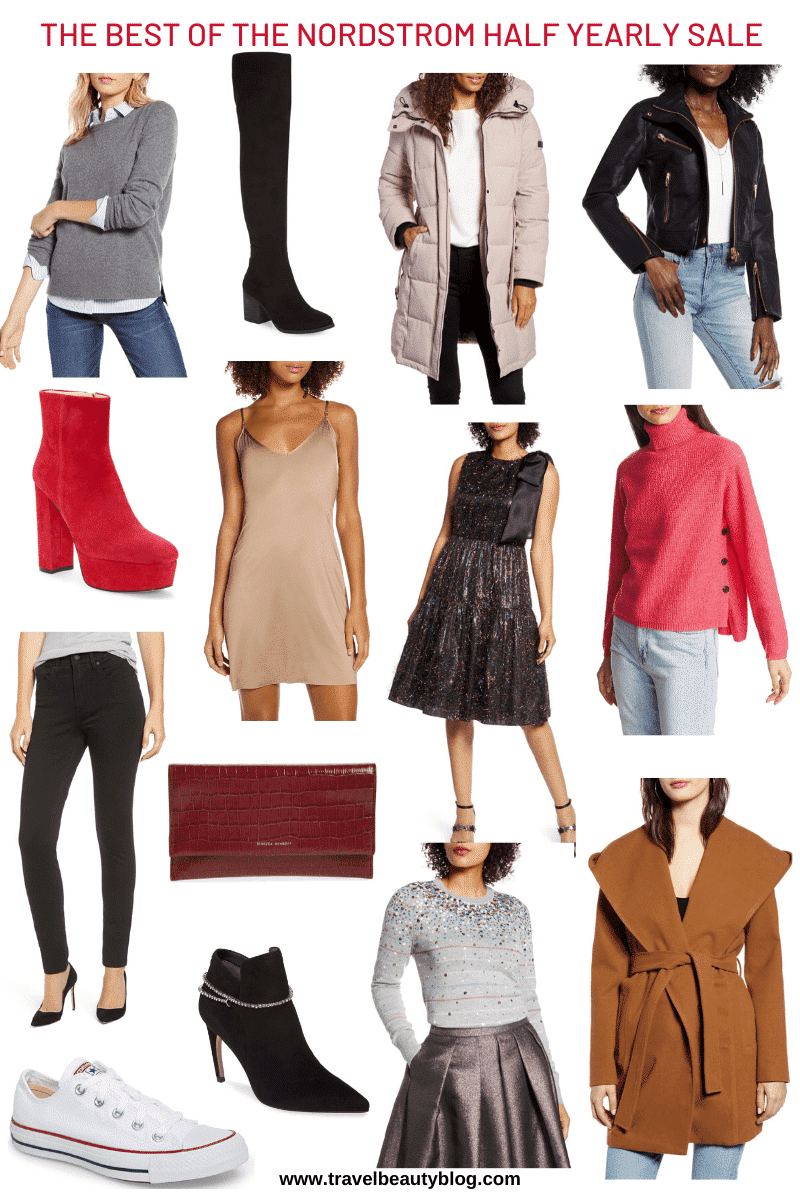 Last Updated on 1 year by Shevy
*I earn a small commission if you purchase through any of my links at no extra cost to you*
The Nordstrom Half Yearly Sale
The Nordstrom half yearly sale is back again and its even bigger and better. I am a bit late to the Nordstrom sale this year as I've had a busy holiday season. In this post, I'm rounding up the best sweaters, coats, jackets, tops and other best selling items from the sale.
This is your chance to start stocking up on your spring outfits and essentials because the prices won't be this good by the time Spring comes around. Hurry because the sale ends on January 02, 2020 and everything will be back to full price.
Check out their half yearly sale from earlier this year.
The Best Of The Nordstrom Half Yearly Sale 2019
This Halogen cashmere sweater is available in 12 colours and costs a measly $66
BP faux suede boots comes in black and taupe, has a short side zip and retails for under $60.
If you haven't found the perfect winter yet then look no further than this beautiful Sam Edelman puffer coat.
BLANKNYC is iconic for their faux leather Moto jackets and I love the accented gold zippers on this one.
The Vince Camuto red boots is suitable to wear during the holiday season to keep your feet cute but warm.
Sleep in luxury this holidays with this slinky knit chemise that also comes in black for under $80.
Looking for a last minute New Years eve party dress then this festive dress could be the ideal one.
Can't have too many sweaters especially during the winter season.
Can't have a sale without getting a pair of Levi's jeans.
This Rebecca Minkoff clutch could be a nice Valentine's Day gift for a friend or colleague.
Sneakers are a must-have for every wardrobe and you can wear this pair of converse on a casual day out.
Love this black faux suede bootie from Sam Edelman.
New Years eve is just a few days away and this metallic stripe sweater will create the best NYE casual look.
A coat that is appropriate both for going to work or to somewhere fancy.
Be sure to take advantage of the Nordstrom half yearly sale. Remember the sale ends on January 02, 2020 after which everything increases.
Shevy
Hi! I'm Shevy! I'm the Founder and Managing Editor of Travel Beauty Blog est. 2016. I am also the Founder of Shevy Studio Marketing Agency where I work with entrepreneurs and bloggers on SEO/Content Strategy, Web Design and Consultancy.