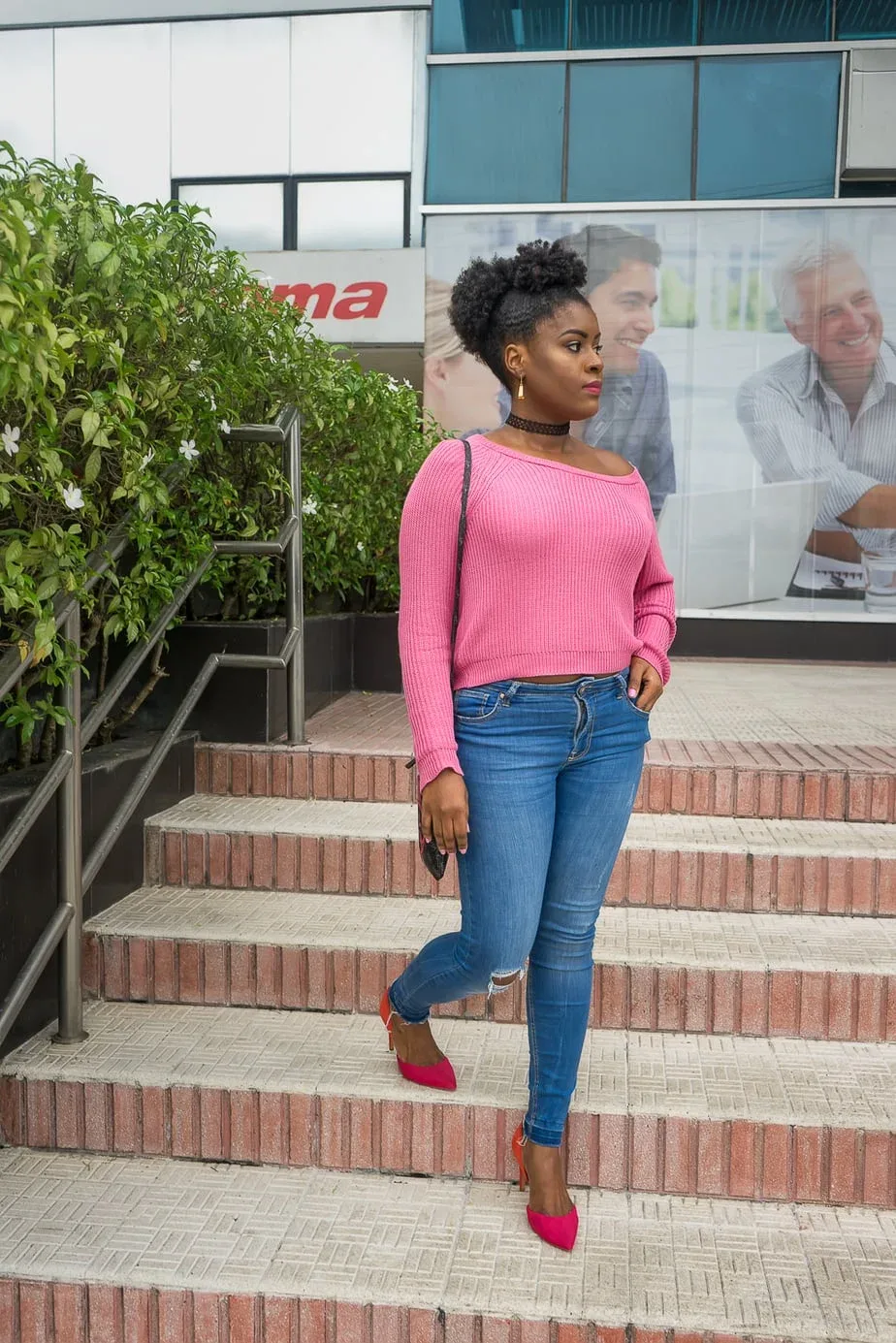 Last Updated on 7 months by Shevy
What To Wear With Sweaters + 28 Sweater Outfit Ideas For Inspiration
Whether you're looking for something warm or cool, these sweaters are sure to keep you comfortable. We've rounded up what to wear with sweaters plus 28 amazing sweater outfit ideas for fall and winter.
Knit sweaters can be paired with jeans, skirts, leggings, leather pants etc. The options are endless when it comes to styling sweaters as they can be used on its own or for layering over your other clothing.
We are a participant in various affiliate marketing programs and may earn a commission for any purchases made through these links at no extra cost to you. Read full disclosure here.
You can also wear them for various occasions such as to work or going out, without looking under-dressed.
Related: 11 Simple Transitional Summer To Fall Outfits + Ideas
These women's knit sweaters come in many shapes and sizes, so there's no need to feel limited by any particular style.
So if you're looking for something classic, trendy, or casual, discover what to wear with sweaters where you'll find some fall and winter fashion inspiration.
Get ready to be cozy and stylish all season long.
The Classic Look
A classic sweater is one of those pieces that never goes out of style. It's versatile enough to wear year round, whether you want to dress it up or down.
So if you prefer a simple pullover or a sweater with intricate details, there's something for everyone.
You can pair it with jeans and flats for a casual day at work, or add a scarf and heels for a night out.
Looking for something new to try this season? Check out our guide on what to wear with sweaters during the cooler months.
What To Wear With Sweaters For Fall and Winter:
Under A Trench Coat
A cowlneck sweater under a trench coat. Styled with jeans, a trench coat, statement bag, gloves and a hat.
Pair with Jeans and Knee High Boots
Your sweater don't need to be over the top or expensive, as a matter of fact, you just need to pair it with a good pair of jeans.
A knitted cardigan is a versatile piece that can go with just about anything. It's also perfect for pairing with jeans.
Try wearing a knitted cardigan with a pair of jeans. You'll still feel stylish while showing off your unique sense of style.
A Knit Sweater over a Mini Dress with Stockings
If you're looking for ways to mix things up when it comes to your wardrobe, try wearing a knit sweater over a mini dress.
Finish off the look with a coat, black stockings and tall boots.
This will give your outfit an updated, classy feel, while adding some warmth to your ensemble.
The Oversized Sweater with a Beanie
I personally like the oversized sweater for a comfier, relaxed, cozier look and feel. This look is ideal for lounging at home or out running errands.
Related: The Best Womens Winter Coats For The Fall/Winter Season
What To Wear With Sweaters: A Patterned Sweater
If you want to add some interest to your outfit, try using a striped, knitted or a patterned one.
For instance, if you love stripes, knits, or prefer polka dots, you could opt for either one.
Knit sweaters are such a wardrobe staple because they're easy to wear and comfortable. They also come in a variety of styles, colors, and patterns.
A striped cardigan would give off a casual vibe while still being stylish, giving your outfit a new dynamic.
Pair your striped or patterned sweaters with jeans or even leggings for a dressed down look.
Layered Under A Down Coat
Layer your sweater under a puffy down coat and complete the outfit with a pair of jeans, a hat and a tote bag.
A Sweater with Leather Bomber Jacket and Ankle Booties
Whatever your preference is, whether its ankle booties, mules, over-the-knee boots, pumps or sneakers, keep it classy.
Depending on the color of your sweater then you'll be able to decide on a color shoe.
Black is always the safest to wear if you do not have an exact color to match your outfit.
To copy this outfit, style your knit sweater under a black leather bomber jacket and ankle booties.
Sweater with a Mini Skirt
A puffy sleeves sweater with a faux leather mini skirt and a pair of black mules. Complemented with a white double pearl necklace and matching bead earrings.
What To Wear With Sweaters – A Statement Bag
If you decide to use a bag or purse it should either contrast with the outfit or add a pop of color to it. Go for a statement bag that complements your outfit.
Shop What To Wear With Sweaters

Faux Leather Leggings and Over-The-Knee Boots
A cowlneck knitted sweater under a black coat paired with black faux leather leggings and over the knee boots. Finished off with black sunglasses and a belt.
What To Wear With Sweaters: Dress It Up With Accessories
No one like boring accessories, so spice up your look with some a layered necklace and a cute pair of earrings.
Related: The Best Amazon Women Fall Fashion Finds Under $100
Complete the look with an oversized coat, a pair of statement sunglasses, a waist belt and a watch.
Sweater with a Capri Pants: Monochrome
Wear your sweater monochrome style. Try styling a light pink off the shoulder sweater with a bold pink Capri pants.
Complete the look with a contrasting pair of heels, boots or booties.
Sweater with Faux Leather Skirt
A casual day at the office, during the holidays look. Wear a white layered sleeves sweater with a black leather skirt and a pair of silver pumps.
What To Wear With Sweaters: A Balloon Sleeves Sweater with Shorts
Not sure how to sport your balloon sleeves sweater? Throw on a cute pair of loose-fitting shorts and statement earrings to match.
If the weather is chilly you may want to wear a leggings or stockings underneath your shorts.
What To Wear With Sweaters: A Turtleneck Sweater with a Hat and Trench Coat
For extra warmth, wear your turtleneck sweater belted, with a midi skirt. Add a long trench coat, ankle booties, a hat and a handbag.
Striped Sweater with Combat Boots
On a chill, casual day wear your striped sweater with skinny jeans, combat boots, sunglasses and a bag. Have a coat on hand should it get too cold while out.
Turtleneck Sweater with an Oversized Blazer
Want to add a pop of color to your black turtleneck sweater? Throw it on with a pair of jeans and complete the outfit with a bold oversized blazer.
What To Wear With Sweaters: A Checked Pleated Skirt
If a solid color pleated skirt is too basic then turn things up a notch by opting for a plaid one instead.
Tuck your turtleneck sweater inside the skirt and complete the ensemble with a complementary short trench coat.
What To Wear With Sweaters: Statement Sweater with Joggers
Perhaps your sweater is a bit extra with distressed details and balloon sleeves. If that's the case you may tone down the look with black joggers or trousers.
Related: The Best Dupe Doc Martens, Alternatives + Lookalike Boots
Sweater with a Midi Skirt and Knee High Suede Boots
Want to try something a bit different? Use a contrasting color sweater and skirt together with a pair of black suede knee-high boots.
Add a bright color lipstick and a tan or gray handbag.
What To Wear With Sweaters: A Knit Funnel Neck Sweater with Plaid Trousers
A knitted funnel neck sweater with plaid trousers make a good work outfit.
Oversized Turtleneck Sweater with Polka Dots Trousers
Looking for some holiday outfit inspo? Try pairing a burgundy oversized turtleneck sweater with a matching silky polka dot pants.
Add a belt to cinch the bagginess of the sweater and complete with pumps.
What To Wear With Sweaters: V Neck Sweater Vest with Skinny Jeans
For a slightly different look wear a knitted v-neck sweater vest over a classic white oversized shirt with skinny jeans and a trench coat.
Complete your outfit with a pair of combat boots and a bag of choice.
What To Wear With Sweaters: Ribbed Turtleneck Sweater with Pleated Midi Skirt
A ribbed turtleneck sweater tucked into a pleated midi skirt, finished with black suede ankle booties.
Statement Sleeves Sweater with Striped Pants
Another office look: white statement sleeves sweater with a striped black and white trousers.
Off The Shoulder Cropped Sweater with Skinny Jeans
On a casual day out style your off-the-shoulder sweater with skinny jeans and statement blocked heels.
What To Wear With Sweaters: Knitted Crewneck Sweater with Skirt
Another way to incorporate fall-themed colors into your wardrobe. This green knitted sweater and skirt outfit is ideal for the office or for a business meeting.
Related: How To Style A White T Shirt And Jeans Outfit Without Looking Basic
What To Wear With Sweaters: Fuzzy Crewneck Sweater with a Neck Scarf
What a fun way to wear your fuzzy crewneck sweater and jeans outfit. Dress it up with a neck scarf, a hat and black over-the-knee leather boots.
Different Styles Of Sweaters
Puff Sleeve & Balloon Sleeve
My favourite of the trend is the puff sleeve because they are easy to style and its less dramatic. I decided to style my puff sleeve sweater top with a mini faux leather skirt. You can opt for this style or for an edgy look style it with a pair of jeans and boots.
Balloon sleeve is somewhat similar but looks more like an extension of the puff sleeve if that makes sense.
Layered Sleeve
Take it up a notch from the puff sleeve to the layered sleeve. To achieve this look you can use an oversized sweater that you already in your wardrobe to layer over a top. Or invest in a sweater that has extra textures on the arms.
Off The Shoulder
If you want to show off a little shoulders without revealing too much then this style is for you. Great for casual trips to the mall or on date nights. The thing about the off-the-shoulder trend is that you do not necessarily need to buy in to the style.
Simply use an oversized sweater that you already have to create this look. Similar to this trend is the one shoulder, open shoulder and cold shoulder styles.
Bell Sleeves
Whenever I see bell sleeves I immediately think retro with a modern, chic twist. The key to nailing this statement sleeve trend is keeping the remainder of your look minimal.
Turtleneck
Crewneck
Cashmere
Pullover
Hoodie
Wrapping Up What To Wear With Sweaters
The possibilities are endless when it comes to choosing your favourite style. From cashmere to knits, cowl necks, chunky, over-sized, cropped, and the list goes on. 
Additionally they are comfortable, light weight, and breathable which makes them suitable for the cooler temperatures as well.
Invest in some classy, quality sweaters and with the right care, they will last for a number of years.
You have over 20 outfit ideas on what to wear with sweaters for your next occasion. What are your favorite type of sweaters to wear for fall and winter? Save
Save
Shop Editor's Picks

Shevy
Hi! I'm Shevy! I'm the Founder and Managing Editor of Travel Beauty Blog est. 2016. I am also the Founder of Shevy Studio Marketing Agency where I work with entrepreneurs and bloggers on SEO/Content Strategy, Web Design and Consultancy.