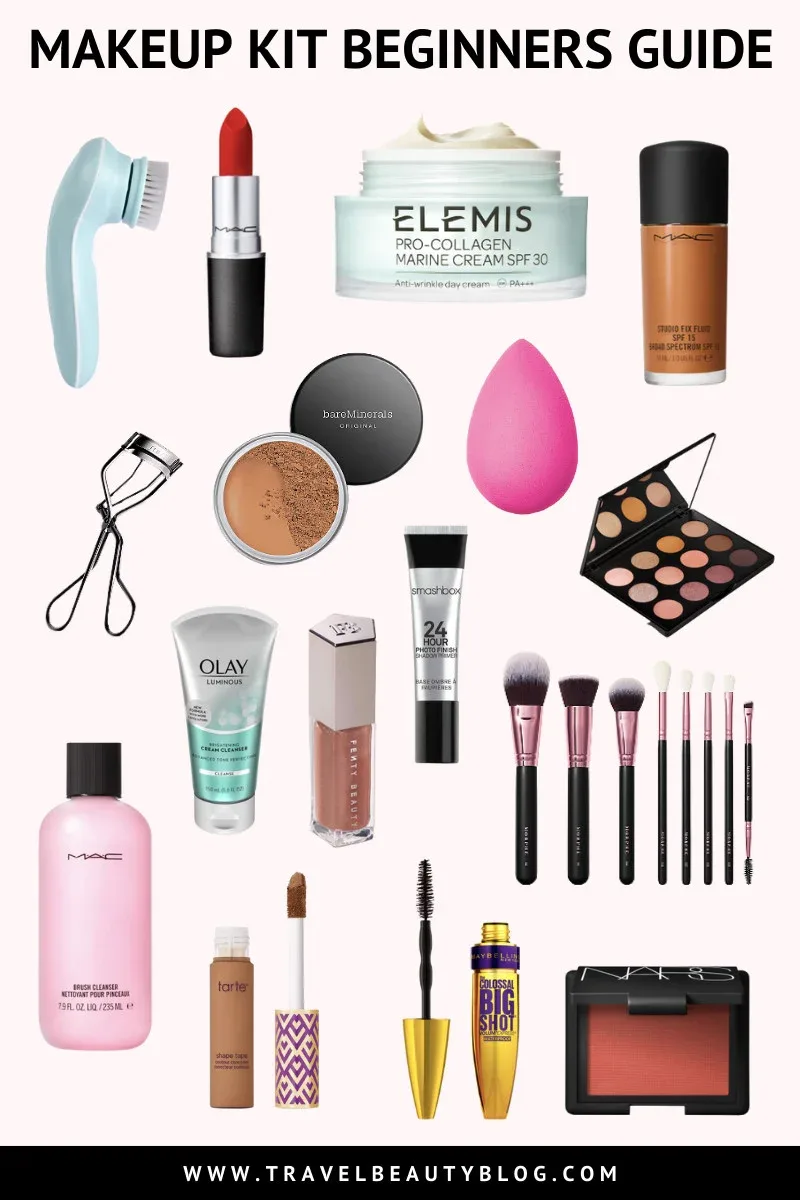 Last Updated on 6 months by Shevy
The Makeup Kit Beginners Guide – What Every Beginner Needs In Their Makeup Kit
Makeup come in many different sizes and shapes, so there's no need to worry that you won't find something that fits your needs.
Not only does this makeup kit beginners guide includes what every beginner needs in their makeup kit. But also, some helpful tips on how to choose the right makeup.
Back when I started wearing makeup, which was at the start of my corporate job, I had zero knowledge when it came to makeup.
I was clueless about what products to purchase first, how to apply them properly, let alone, how to start building a makeup collection.
It wasn't until years later when Instagram and YouTube beauty bloggers were popping, that I started learning more about makeup and its application.
Fast forward to today, I've come a long way since then. Although, looking back now, I realized how much money I wasted buying unnecessary makeup.
On the brighter side, I've also learned a lot about my skin and what products work best for my skin type.
Related: The Best Drugstore Makeup Under $20
If you are a beginner, trying to figure out what you need and where to start, this ultimate makeup kit beginners guide will help you to put your kit together without feeling overwhelmed.
Another thing is that you don't need expensive makeup to start off with. In fact, there are plenty of affordable options that will give you great results.
Makeup Kit Beginners Guide: First Things First, Let's Start With Your Face
Before investing in any makeup products, always ensure to read the ingredients contained in them, and choose the ones that are formulated for your skin type. E.g: dry, oily, sensitive, normal to oily, combination or normal to dry.
If you have dry skin you should opt for dewy finish foundations and powders as opposed to matte ones that may further dry out your face.
So let's get into the makeup kit beginners guide.
The Makeup Kit Beginners Guide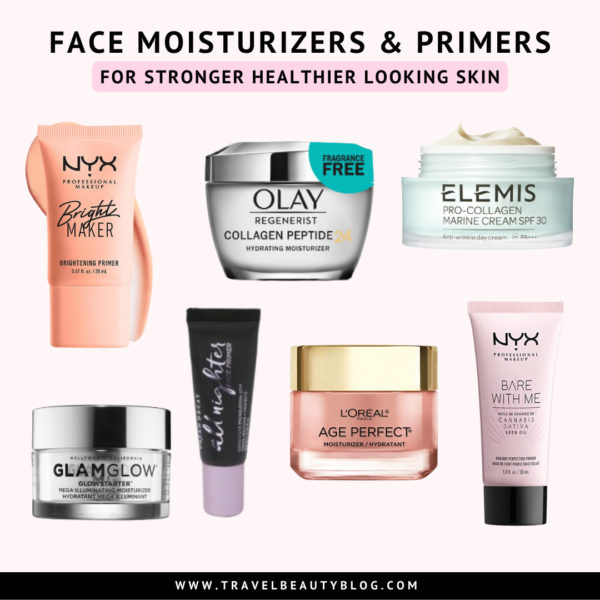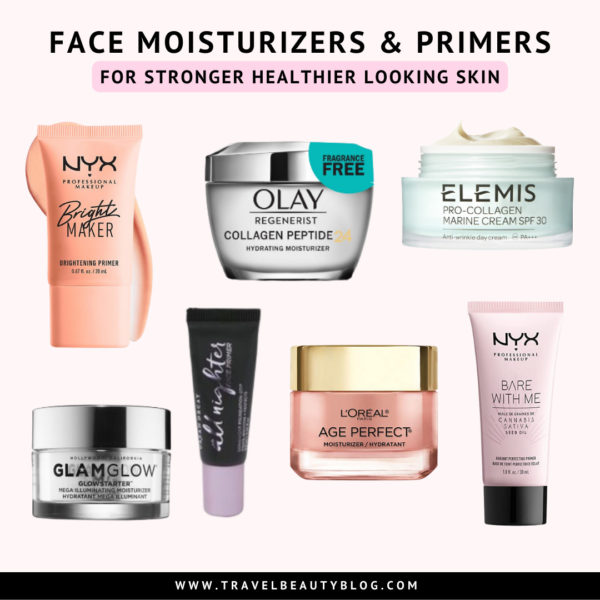 NYX Brightening Primer // Olay Hydrating Moisturizer // Elemis Marine Creme // GLAMGLOW Illuminating Moisturizer // Urban Decay Face Primer // L'oreal Age Perfect Moisturizer // NYX Bare With Me Primer
FACE MOISTURIZERS
First, you would need something to protect your face from all the makeup that you will be wearing. By that, I mean a face moisturizer with an SPF and a makeup primer.
Not only would they help your makeup apply smoothly, last longer, prevent caking and give you a flawless finish. But more importantly, safeguard your face from impurities getting into and clogging your pores.
Related: The Best Skincare Dupes For Luxury Brands
FACE PRIMERS
If you're looking to start using makeup, then you should invest in a good quality foundation primer.
This will ensure that your foundation goes on smoothly and evenly. You can use a brush or sponge applicator to apply the product.
When it comes to face moisturizers and primers, from high end to drugstore ones, the options are endless.
Makeup Kit Beginners Guide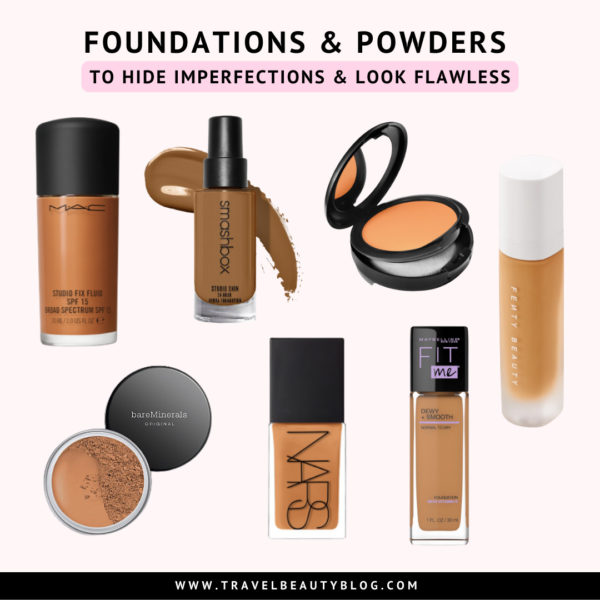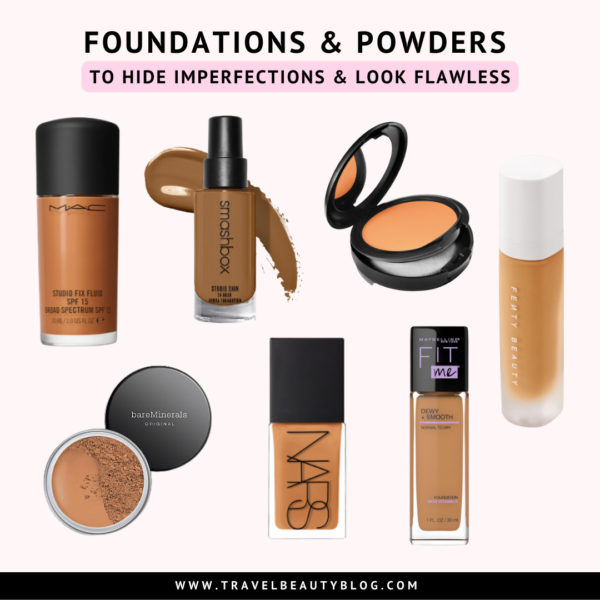 MAC Studio Fix Liquid Foundation // Smashbox Skin Foundation // MAC Studio Fix Powder Foundation // Fenty Beauty Pro Filt'r Foundation // BareMinerals Loose Foundation // Nars Liquid Foundation // Maybelline Fit Me Dewy Foundation
FOUNDATIONS: LIQUID, CREAM, STICK
Foundations come in different formulas and textures, each designed to provide coverage and enhance certain features of skin. They also vary in price, ranging from $10 to more than $50 per bottle.
They usually come in bottles or tubes (liquid foundations) or in sticks (stick foundation or cream foundation).
When getting started with building your makeup kit, I highly recommend that you visit a pro makeup store to have your skin tested for your perfect-match foundation.
POWDERS: MOOSE, PRESSED, LOOSE
Powders on the other hand, normally come in containers and there is a choice of either a loose or pressed powder.
Most beginners tend to start off with a pressed powder and eventually explore their options with liquid foundations.
Like when I first started wearing makeup, I only used a pressed powder. Years later I switched to Maybelline matte mousse foundation and shortly after that, the MAC studio fix pressed powder.
Eventually I moved on to using the MAC Studio Fix Liquid Foundation and since then I never went back to using powders unless its a bronzer. When ever I do use a pressed powder, it's in a darker shade, strictly for contouring.
Most makeup brands today provide products with light, full or buildable coverage. So you can get your exact coverage or go with a buildable coverage to achieve different coverages according to your needs or preference.
When it comes to choosing a foundation it all comes down to your preference between liquid, moose, pressed or loose powder and the type of coverage you want to achieve, i.e. light, medium or full coverage.
Regardless of the foundation or powder type you choose, they all do the same job more or less. The main differences are the application and the end result. The final result may vary a little based on the application method used.
Makeup Kit Beginners Guide: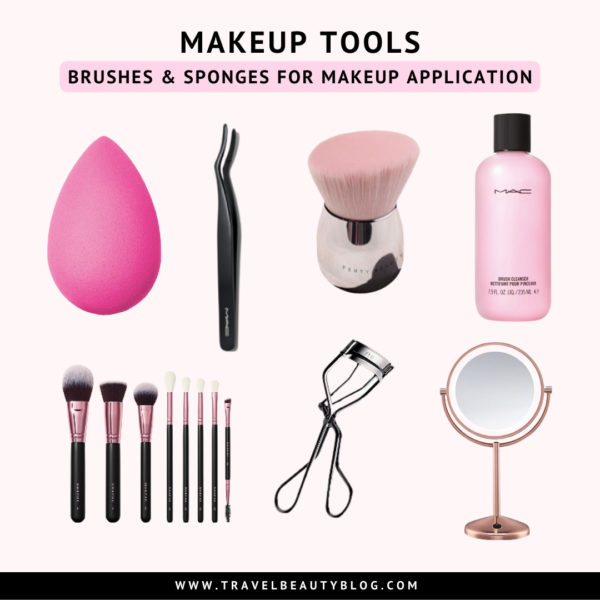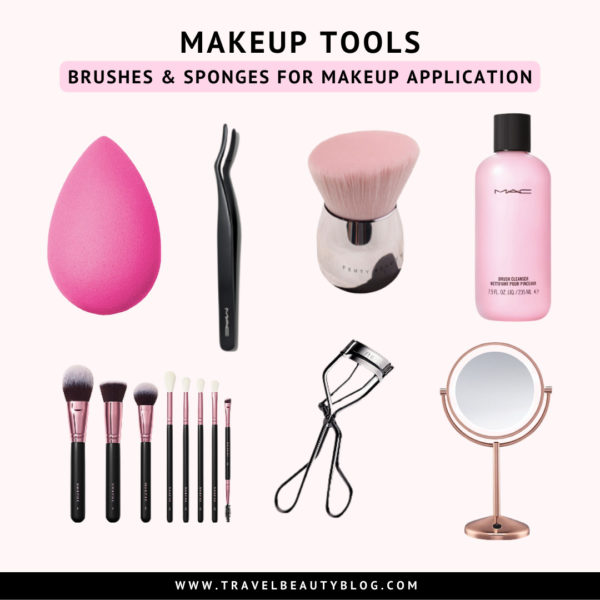 BeautyBlender Makeup Sponge // MAC Lash Applicator // Fenty Beauty Kabuki Brush // MAC Brush Cleanser // Morphe Makeup Brush Set // Shiseido Eyelash Curler // Conair Make-up Mirror
MAKEUP TOOLS: SPONGES, APPLICATORS, BRUSHES ETC.
You need the proper tools to apply your makeup and each one has their advantages and disadvantages, which I won't get into in this post.
Different tools give you a different application but it comes down to personal preferences.
For applying foundation and powders, some people prefer beauty sponges while others like to use brushes.
Nonetheless, you should experience with different tools to see which ones you're most comfortable and happy with.
Makeup Kit Beginners Guide: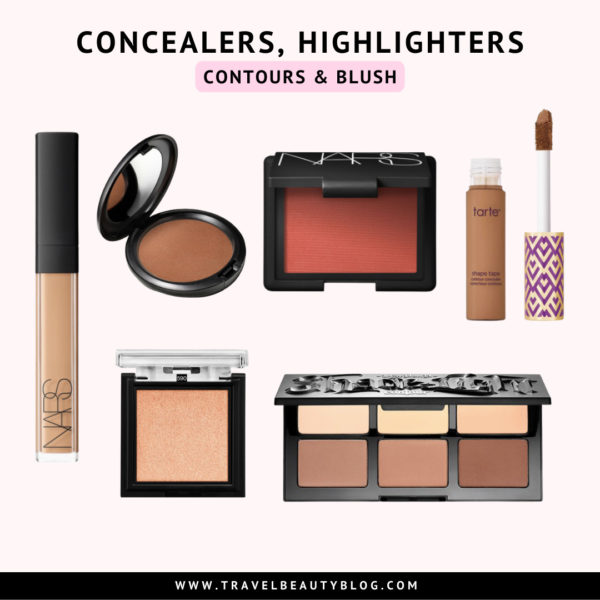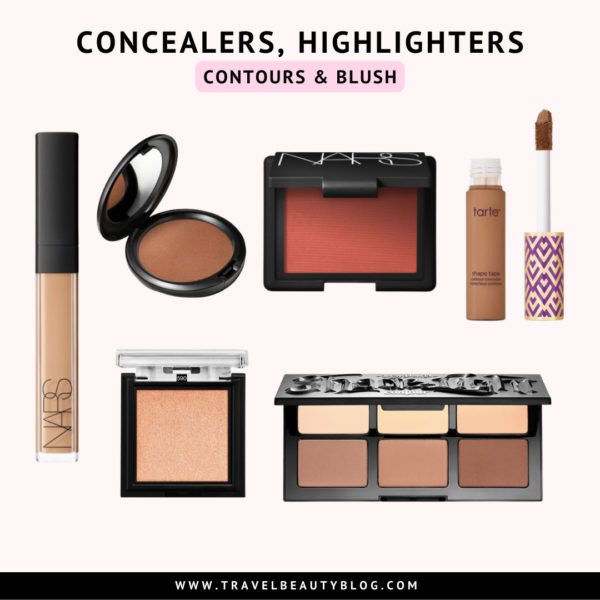 Nars Creamy Concealer // MAC Bronzing Powder // Nars Blush // Tarte Shape Tape Concealer // Cover Girl Glow Highlighter // KVD Beauty Contour Palette
CONCEALERS
Concealers are used to cover blemishes, dark circles, and other imperfections. However, a concealer isn't as effective at covering large areas of skin as foundations.
They come in a variety of shades and formulas but there are two main categories of concealers: liquid and cream.
Liquid concealers are usually lighter in color and less thick than creams. Cream concealers tend to be thicker and darker.
For this purpose, your concealer should match your foundation shade.
Related: The Ultimate Guide To The Best Summer Beauty Products
A Concealer can also be used for narrowing areas on your face that you want to make appear smaller. In which case, would normally be a few shades lighter than your complexion/foundation.
Alternatively, you may also use your concealer for defining your brows or as an eye-shadow primer.
CONTOURS / BRONZING POWDERS
Contours or bronzing powders are used together with concealers for sculpting your face to create the effect of shadow and light.
This is done by using makeup that is slightly lighter and darker than your skin colour.
A contour is typically slightly darker than your skin color to add definition to the face.
BLUSHES & HIGHLIGHTERS
Use a blush on your upper cheekbones in order to give your face a nice, soft touch.
Finish off your makeup with a highlighter for adding a glow to your cheekbones, forehead, nose bridge and chin.
Makeup Kit Beginners Guide: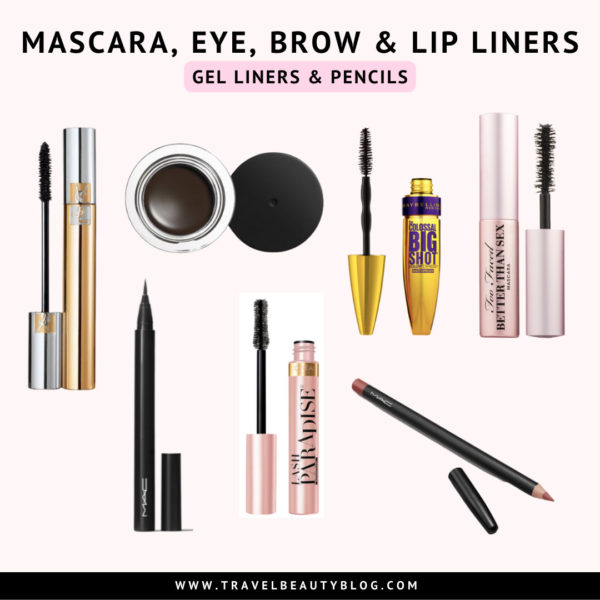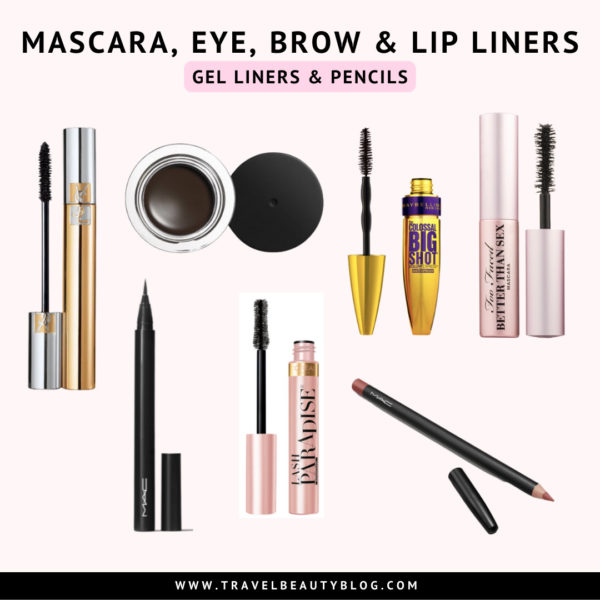 YSL Volumizing Mascara // E.L.F. Liner & Brow Cream // Maybelline Big Shot Mascara // Too Faced Volumizing Mascara // MAC 24-Hour Liner // L'Oreal Voluminous Mascara // MAC Lip Pencil
MASCARA
To make sure your lashes pop, or to give them a nice, elongated, full and flattering look, use a good mascara.
There are several different kinds of mascaras available, so choose one based on how much volume you need.
Lengthening mascaras will add length while volumizing ones will thicken and lengthen lashes.
EYE LINERS and BROW PENCILS: GEL vs LIQUID
Eye liners come in pencil, cream and liquid forms. Use a black or brown eye pencil liner for lining the inner eyes and a cream or liquid liner for the eye lids, to create a dramatic look.
Lastly, you can use a dark brown brow pencil for outlining and filling in your brows. Both eye and brow pencils can be used interchangeably.
While pencil and cream liners are easier to use, liquid liners look really nice but require a bit of skill to apply.
If you don't know what you're doing it can get messy really quickly. So for newbies, I suggest getting started with pencil and cream liners.
LIP LINERS
Before applying your lip color, try using a lip liner. Starting with the line of the lips working your way onto the lips.
Pick a liner in the same shade or one that matches your lipstick. This will help define your lips and keep them looking fresh throughout the day.
Makeup Kit Beginners Guide: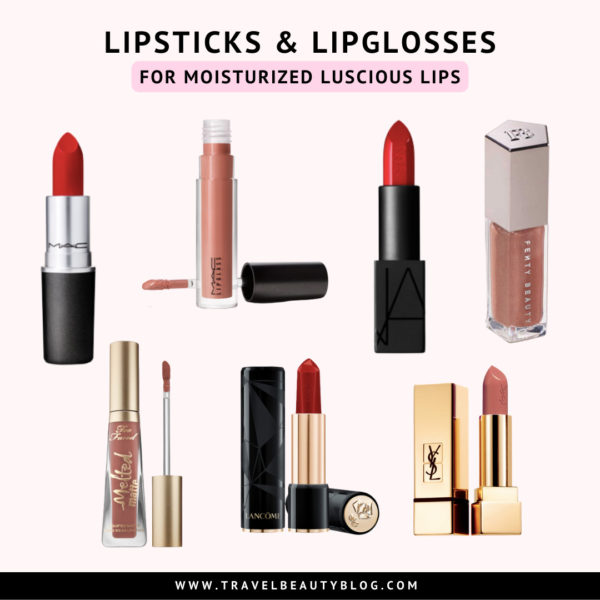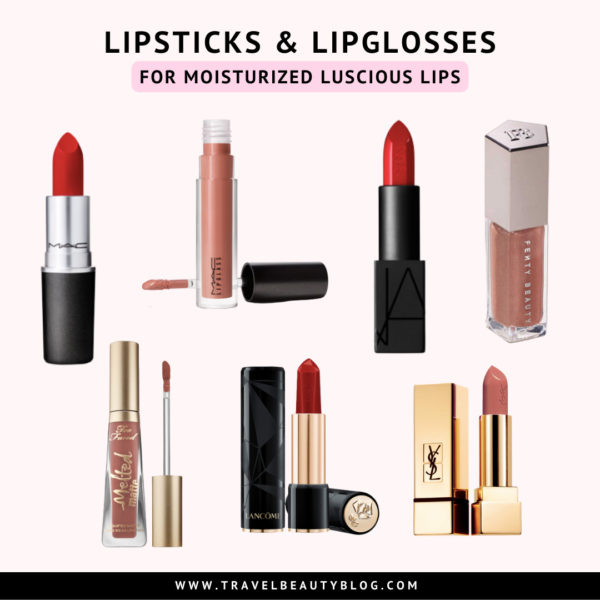 MAC Retro Matte Lipstick // MAC Lipglass // Nars Audacious Lipstick // Fenty Beauty Gloss Bomb // Too Faced Matte Liquid Lipstick // Lancôme Cream Lipstick // YSL Satin Lipstick
LIPSTICKS
If you're looking for a new lip color, try using a matte formula instead of a glossy one.
Matte formulas tend to last longer and won't transfer onto clothing as easily.
Lipsticks also provide more coverage than glosses do.
Remember to only apply one layer of lipstick at a time, as too much can dry out your lips.
Related: THE BEST AND MY FAVORITE FALL LIPSTICK COLORS
LIPGLOSSES
Instead of using a lipstick you may use a lipgloss to finish off your face.
Some days you may wish to wear one over the other or, you may want to use them simultaneously.
In case of the latter, apply one light coat of matte lipstick in a color of your choice, followed by a coat of lip gloss over it.
Makeup Kit Beginners Guide: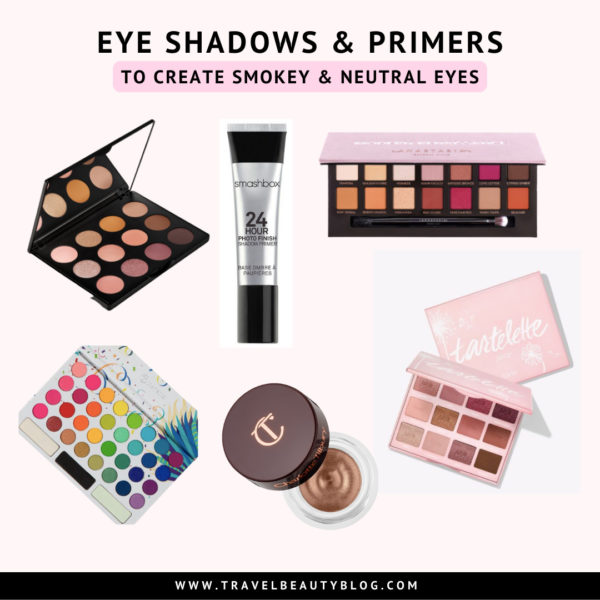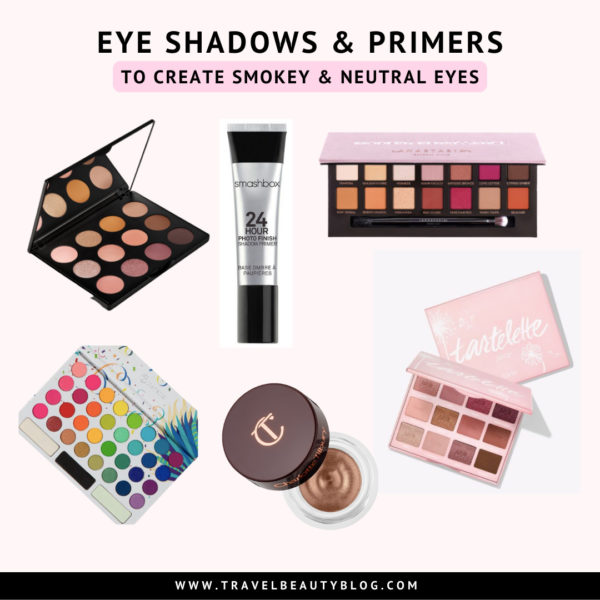 MAC Nude Eye Shadow Palette // Smashbox Eye Shadow Primer // Anastasia Modern Renaissance Eyeshadow Palette // BH Cosmetics Take Me Back To Brazil Palette // Charlotte Tilbury Eyes To Mesmerize Cream Eyeshadow // Tarte Juicy Amazonian Clay Palette
EYE SHADOWS
Having 1 or 2 eye shadow palettes that contain a wide variety of colours is essential to your makeup kit so that you can achieve many looks from them.
You'll want to have one palette with neutral and earthy tones and another with vibrant colours.
Ensure both palettes have a mixture of matte and metallic colors, so that you can create looks for different occasions.
EYE PRIMERS
For a smoother application of your eye shadow it is recommended that you apply eye primer to your lids prior to application.
Eye shadow primers are also used for longer wear, to prevent fallout from getting into your eyes, or to make them pop.
Makeup Kit Beginners Guide: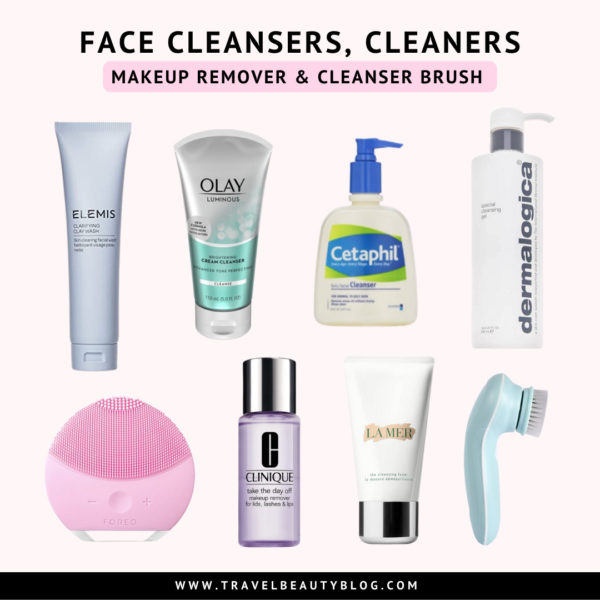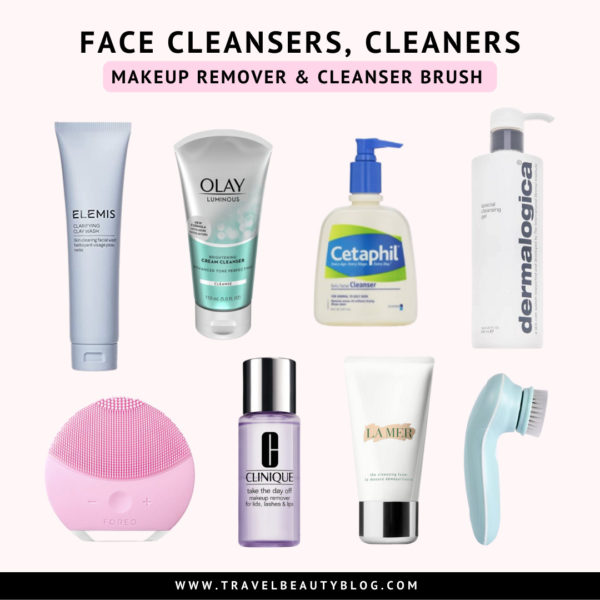 ELEMIS Daily Face Cleanser // Olay Luminous Brightening Cream Face Cleanser // Cetaphil Face Wash Daily Cleanser // Dermalogica Special Cleansing Gel // Foreo Facial Cleansing Device // Clinique Makeup Remover // LA MER The Cleansing Foam Face Cleanser // Rechargeable Pink Facial Cleansing Brush 
FACE CLEANSERS
Taking care of your skin is equally important as using the right beauty products for your skin type/condition.
If you're venturing into the world of makeup, it is necessary to have a face cleanser to remove the makeup and dirt from your face.
Related: 20 Steps For Skin Care Routine – Best Remedies For Clear Skin
Have at least one gentle face cleanser for daily use and an exfoliating cleanser for deep cleansing.
MAKEUP REMOVERS
To cleanse or remove dirt and makeup from your face use a face cleanser, a makeup remover, makeup wipes or micellar water.
To wash your face you can use your hands or a facial brush to get into the pores for a thorough cleaning.
Makeup Kit Beginners Guide: Optional Items To Have In Your Beginner's Makeup Kit:
These are other items you may wish to invest in but are not necessary when now starting a makeup collection.
After you have finished building your makeup starter kit you can buy more items as desired.
Wrapping Up The Ultimate Makeup Kit Beginners Guide
With our ultimate makeup kit beginners guide we hope that you feel more confident to start your makeup starter kit. It's okay to start with small sampler size products until you figure out what's best for your skin.
Then you can move on to full product sizes once you've found your perfect match.
Earn Cash Back When Shopping For Beauty Products Mentioned In The Makeup Kit Beginners Guide:
You can shop any of these beauty products through Ebates and earn cash back on all orders.
If you already purchase makeup online then you have nothing to lose by signing up.
There are tons of retailers and brands on there too so it doesn't have to be only makeup.
Shop Editor's Picks
Shevy
Hi! I'm Shevy! I'm the Founder and Managing Editor of Travel Beauty Blog est. 2016. I am also the Founder of Shevy Studio Marketing Agency where I work with entrepreneurs and bloggers on SEO/Content Strategy, Web Design and Consultancy.