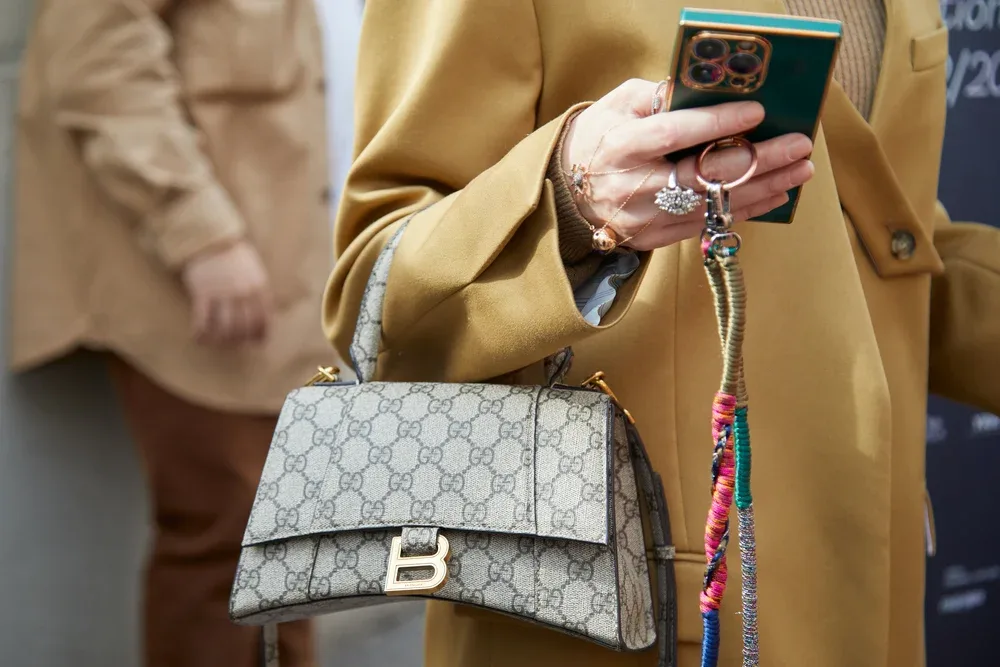 Last Updated on 7 months by Shevy
Make A Statement With These Mini Designer Bags
It is no secret that the 90's and 00's vibes are in right now and teeny tiny mini designer bags are no exception. If you're a tote bag type of gal, it could be quite the challenge getting on board with this trend.
But if you're guilty of carrying around way too much junk then this could be a great way to ensure you only take the bare minimum with you.
Read along to discover some of the best designer mini bags for 2023 and beyond. In a wide selection of designs including hobo, mini shoulder bags, mini leather totes, and bucket bags.
From top designer brands like Jacquemus, Balenciaga, Bottega Veneta, YSL and Versace, just to name a few.
We are a participant in various affiliate marketing programs and may earn a commission for any purchases made through these links at no extra cost to you. Read full disclosure here.
Although some itty-bitty mini bags are impractical and may be barely able to store more than a credit card and lipstick, like the Jacquemus Signature Mini Le Chiquito Leather Top Handle Bag.
There are a lot more mini designer bags that are capable of holding all your daily essentials like your phone, keys, cash, lipstick and sunglasses.
Top Handle / Shoulder Style Mini Designer Bags
This section features mini designer bags that can only be handheld. However, you'll want to check out the other category below for more style options.
Bottega Veneta – The Teen Jodie Woven Leather Hobo Bag
It feels like just last year we were going crazy over the Bottega Veneta Chain Cassette Bag. Our attention has quickly turned to its predecessor and new bag in town: the now popular woven Jodie Hobo Bag. One of my favorite mini designer bags for this season
Whether you're just going out to run a couple of errands, getting ready for a girls night out or attending a formal event.
The versality of the knotted handle Bottega Veneta Jodie Hobo Bag is not the only attraction that makes it a must-have statement piece for your wardrobe.
Saint Laurent Petite Le 5 A 7 Leather Hobo Bag
The Saint Laurent petite shoulder bag in black embossed leather with gold YSL hardware embodies classic.
It is perfectly sized to hold all your basics and can be held in hand or worn on the shoulder.
JW PEI Gabbi Ruched Hobo Handbag
I wanted to include some budget-friendly options in my picks of the best mini designer bags and luckily I was able to find this beauty — the JW PEI Gabbi Ruched Hobo Bag.
A beautiful croissant-shaped ruched hobo bag by JW PEI which ticks off all the boxes. Minimalistic, 90's vibe, chic, versatile and affordable.
Balenciaga Le Cagole Mini leather shoulder bag
This crinkled effect It Bag from Balenciaga features studded hardware and a chain strap to wear on the shoulders or in hand. It also comes with a leather strap to wear crossbody style.
Coach Pillow Tabby Ombré Leather Shoulder Bag
Coach Pillow Tabby ombré leather shoulder bag, crafted in a colorful gradient ombre leather speaks elegance.
It can be worn 3 ways, thanks to its two detachable straps in different lengths – to carry by hand, styled as a shoulder bag or wear as a crossbody.
Jimmy Choo Bonny Malibu Satin Bag with Twisted Handle
On the topic of mini designer bags and sophistication, the Jimmy Choo Bonny Malibu Satin bag is a combination of both. The perfect bag for special events like weddings, dinners and receptions.
Mango Double Strap Basket Bag
If you're heading to the beach, pool, to a family kick back, or going on vacation this summer, avoid overpacking and take this medium sized Mango Woven Basket Bag with you.
The bag features a double handle, a long removable strap, interior cotton lining and an adjustable closure. An alternative to the Chloé Small Basket Woven Crossbody bag.
Bottega Veneta Cassette Mini leather crossbody bag
The smaller the bag, the better they said, and the woven Bottega Veneta Cassette Mini leather bag is a great example of that. This micro crossbody bag in Kiwi yellow is an update to the fashion house's signature intrecciato technique.
Balenciaga XS Hourglass Croc-Embossed Leather Top Handle Bag
A Crocodile-embossed calfskin leather shoulder bag with silvertone hardware with a removable shoulder strap and top handle. One of Balenciaga's iconic pieces – the Hourglass Crocodile Embossed leather bag.
By Far Micro Cush Leather Mini Bag
I absolutely love this Micro Cush Leather mini bag from By Far. It is a celebration of the micro bag trend, scaled down to perfection to hold the fundamentals.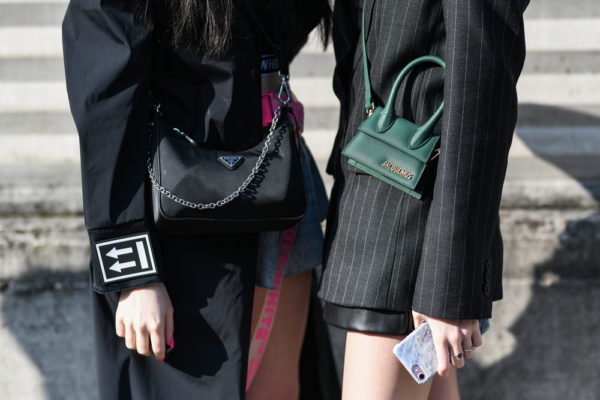 Crossbody / Handheld Style Mini Designer Bags
This section features mini designer bags that are a bit more versatile and can be used either as a crossbody or handheld bag/purse.
Jacquemus Signature Mini Le Chiquito Leather Top Handle Bag
I don't think it gets any smaller than the Jacquemus Signature Mini Le Chiquito Leather Top Handle Bag – a celebrity and influencer favorite. But this beautiful iconic piece features a long strap, top handles, and gold hardware.
Another one of our favorite must-have mini designer bags. The Jacquemus mini leather tote comes in more colors than I can count on one hand, and in two distinctive sizes: medium and a teeny tiny doll size.
Quite frankly, I remember a couple of years ago Jacquemus being one of the first (if not the first) designer brands to make itty-bitty mini bags a comeback.
As time passed the trend became widely accepted and could be seen everywhere — on and off the catwalks and runways.
Versace Mini La Medusa Chain Leather Top Handle Bag
Not to be mistaken for the regular Versace La Medusa leather tote, a key distinction to note with this Versace Top Handle Bag is the short chain top handle and the noticeably slimmer shape.
Alexander McQueen Medium The Curve Leather Bucket Bag
Bucket bags are back in style but this time with a twist. Like this Alexander McQueen Bucket bag which has a classic bucket shape.
Features intertwining patches at the front and an adjustable strap that can be worn over the shoulder or as a crossbody.
LOEWE Hammock Small leather shoulder bag
Keeping on brand with summer, is the small Loewe Hammock leather bag. Although relatively tiny, it has more than enough room to carry more than the basic necessities.
JW Anderson Twister Nano leather shoulder bag
I can't get over how cute this bubblegum pink nano-size JW Anderson Twister bag is. A mini designer bag that is big enough to carry the simple things like cards, keys, and a lipstick.
Wrapping Up The Best Mini Designer Bags
My top 3 picks for the best mini designer bags for 2023 and beyond goes to the Bottega Veneta Jodie Hobo Bag followed by the Jacquemus Signature Mini Le Chiquito Leather Top Handle Bag and lastly the By Far Micro Cush Leather mini bag.
Every one of these mini designer bags has their individual characteristics and you should choose the one that suits your needs best.
Shevy
Hi! I'm Shevy! I'm the Founder and Managing Editor of Travel Beauty Blog est. 2016. I am also the Founder of Shevy Studio Marketing Agency where I work with entrepreneurs and bloggers on SEO/Content Strategy, Web Design and Consultancy.