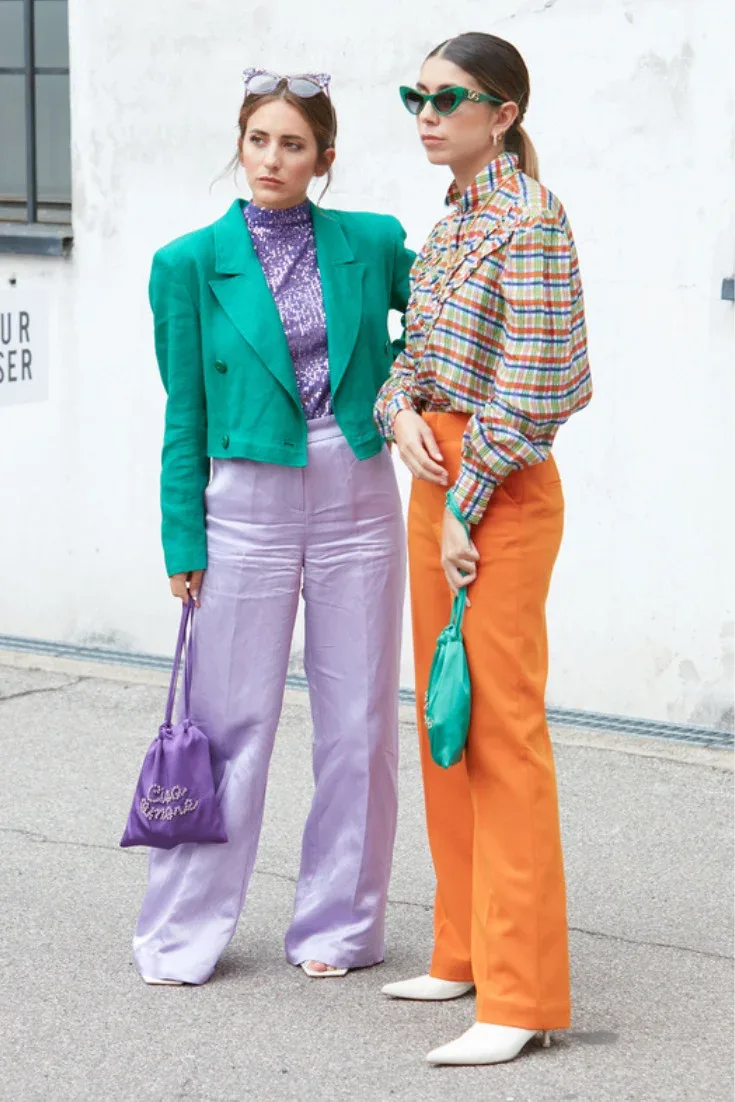 Last Updated on 5 months by Shevy
The Best Ways To Style A Wide Leg Pants Outfit In (year)
A wide leg pants outfit is a great choice for any occasion, whether you're going to work, running errands, or just hanging out at home.
The palazzo pant is a timeless wardrobe staple and it is an easy way to add some extra length to your look without having to go through the trouble of wearing heels.
We are a participant in various affiliate marketing programs and may earn a commission for any purchases made through these links at no extra cost to you. Read full disclosure here.
Perhaps you are looking for some new ways to dress up your existing pieces in your wardrobe. Or for some styling inspiration to create fresh looks this season.
If so, then get inspired by these amazing wide leg pants outfit styling tips you can easily imitate on a budget!
Styling Tips for a Wide Leg Pants Outfit
Start with a solid color top
If you start with a solid color top, you'll avoid having to worry about matching patterns and colors.
Mix patterns and textures
Add texture by layering different fabrics together. Try mixing patterned and plain pieces, or even adding a contrasting fabric to make your outfit pop.
Like a solid color top matched with a textured or patterned wide leg pants.
Try different colors and styles
If you're not sure what style of wide leg pants to wear, try experimenting with different colors.
You can also choose a more neutral shade so that you won't have to worry about making sure everything matches perfectly.
However, don't be afraid to experiment with bold colors.
Pair it with a blazer or jacket
A blazer or jacket will help make your wide leg pants outfit stand out. Pair your wide leg trousers with a solid color jacket or blazer and finish off the look with a cute pair of shoes.
Style it with a button down shirt
If you're not sure how to style your wide leg pants, try pairing them with an oversized button down shirt.
Add some length with heels
Add some length with a pair of blocked heels for a chic look or keep it elegantly casual with a pair of strappy sandals.
Accessorize
Lastly, add accessories like a watch, belt, purse, sunglasses and fashion jewelry to give your wide leg pants outfit more interest.
20+ Wide Leg Pants Outfit Ideas To Copy Now
All Pink Wide Leg Pants Outfit
A solid bold pink wide leg pants styled with a matching pink turtleneck sweater top and open-front pink cardigan. The perfect wide leg pants outfit for the fall and winter months.
Complete the look with an oversized white frame sunglasses, gold chunky chain necklace, tan clutch and a pair of tan heels.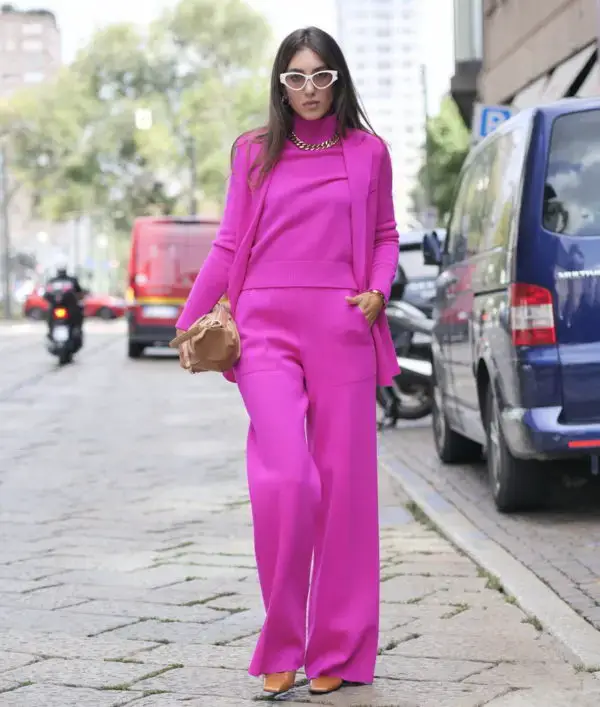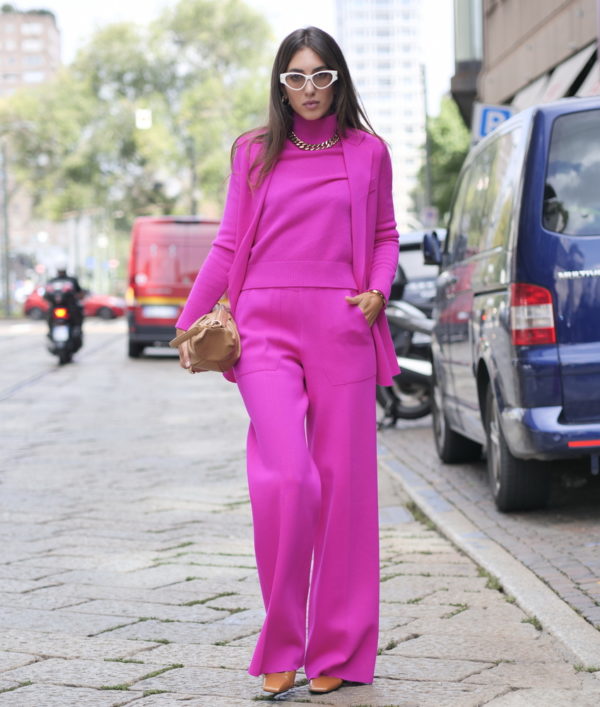 Wide Leg Pants with a Bodysuit
Try wearing a white wide leg pants with a black one-shoulder bodysuit layered under a black oversized trench coat.
This model decided to accessorize with a black headscarf, sunglasses and white ankle booties.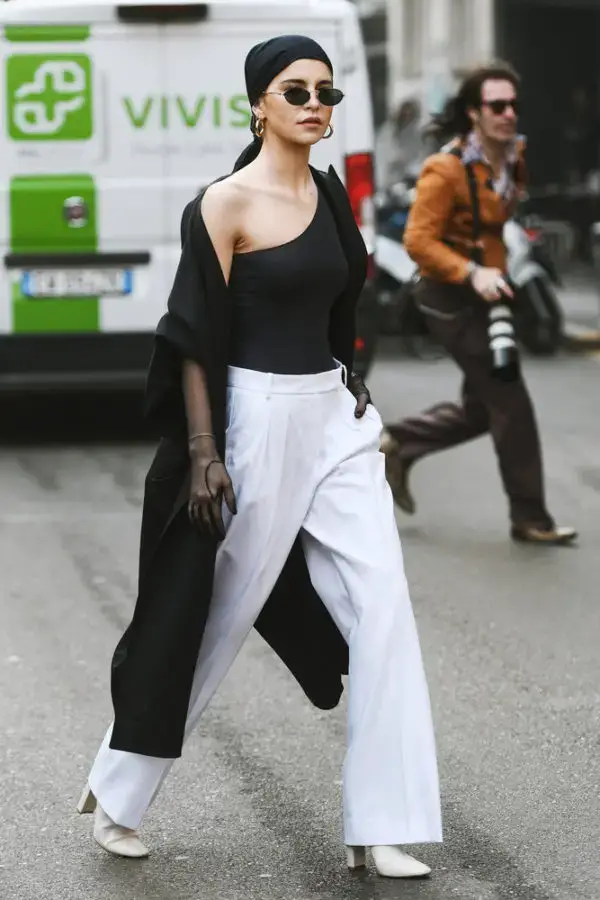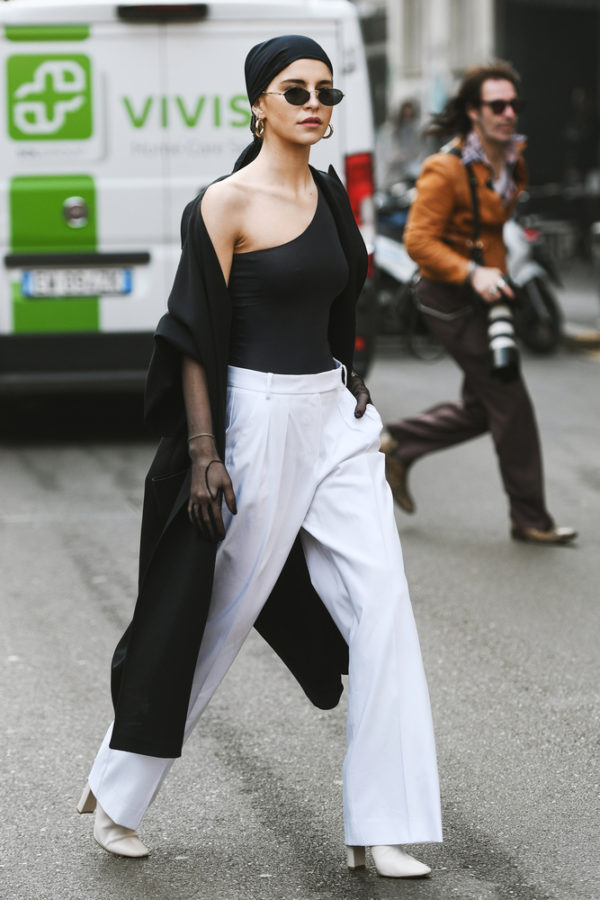 One-Shoulder Floral Top with White Palazzo Pants
A white wide leg pants with a short sleeve, one-shoulder floral top as styled by Stella from adore-Fashion.
Keep things simple by wearing a pair of black or white strappy sandals – a great look for the Spring/Summer months.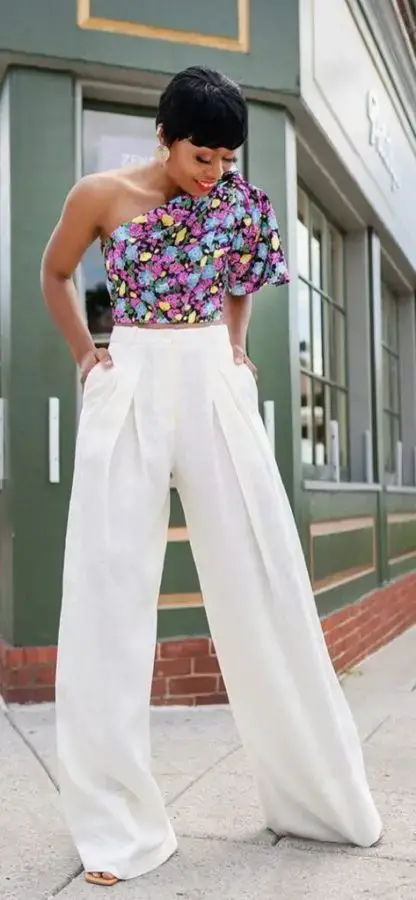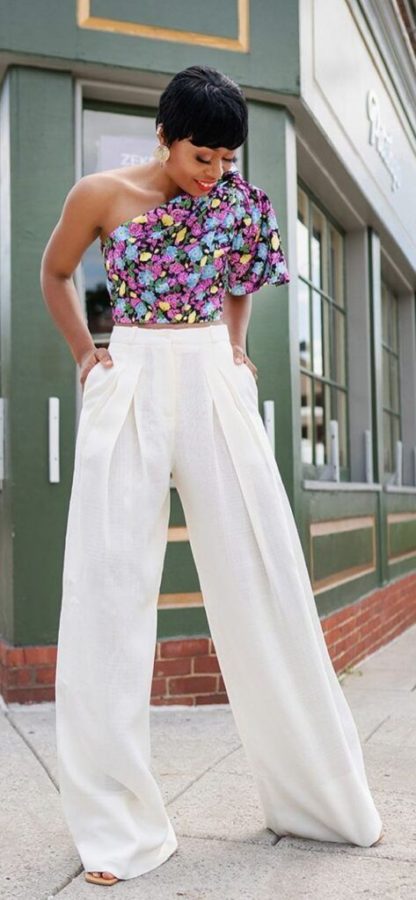 The Neutral Look: Khaki Wide Leg Pants
Pair a wide leg khaki trousers with a turtle neck sweater for a laidback, casual look. Finish it off with a thing leather belt, statement necklace, sunglasses and white pointy-toe heels.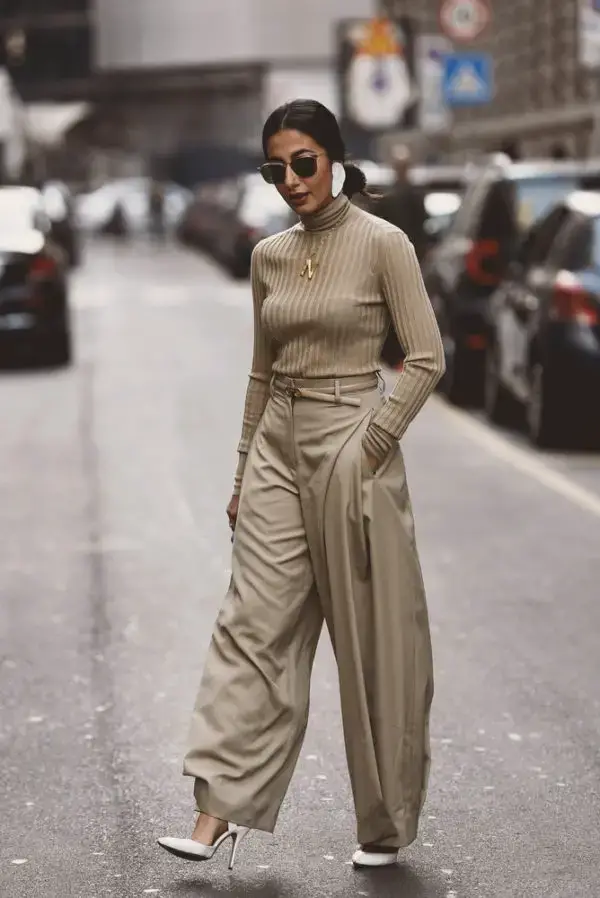 Black Wide Leg Pants Outfit with a Lace Top
Dress up a pair of black wide leg pants with a black sheer long sleeve lace blouse for a more formal look.
This is a simply yet elegant look that is perfect for a night out, dinner date or special event.
Complete the ensemble with statement sunglasses, a clutch and a pair of black pumps.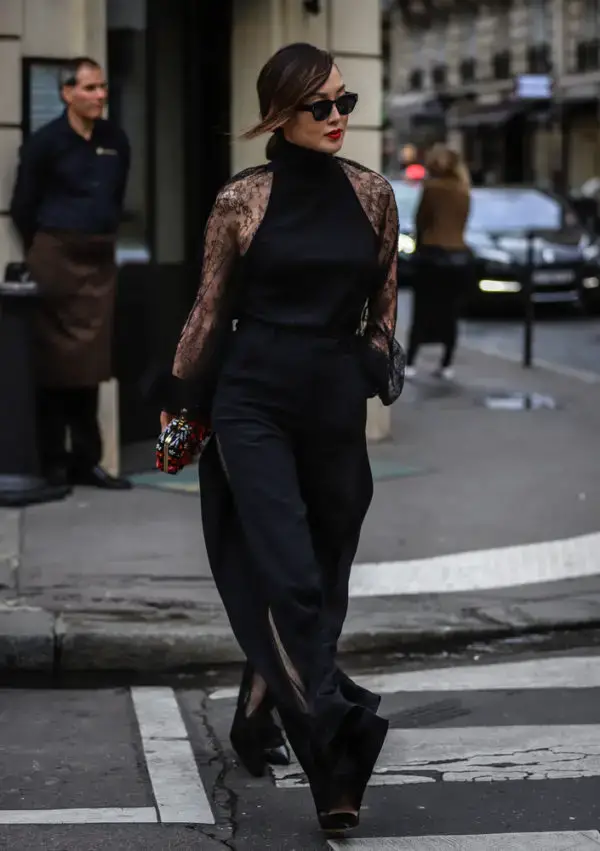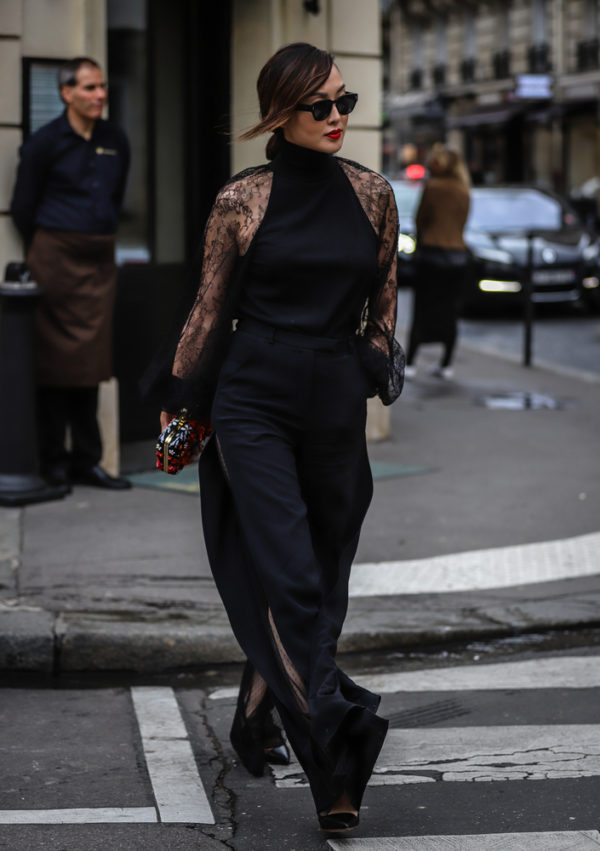 Holiday Aesthetic: Orange Wide Leg Pants with Sequins Blazer
To create a daytime party, formal look during the fall and holiday seasons, opt for an oversized gold sequins blazer over a white vest, paired with dark orange trousers.
An orange tint oversized sunglasses, bold necklace, a white handbag and white strappy sandals to deck-off the look.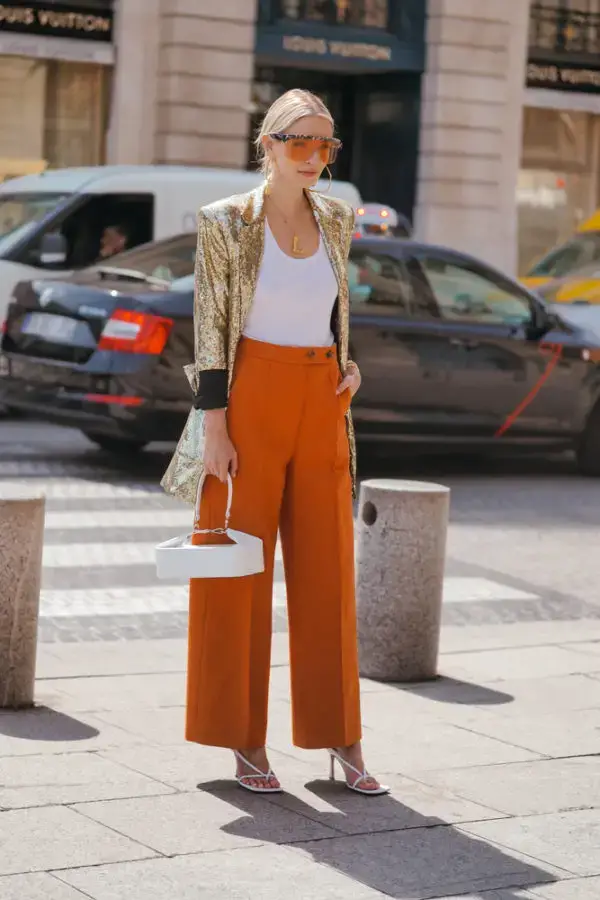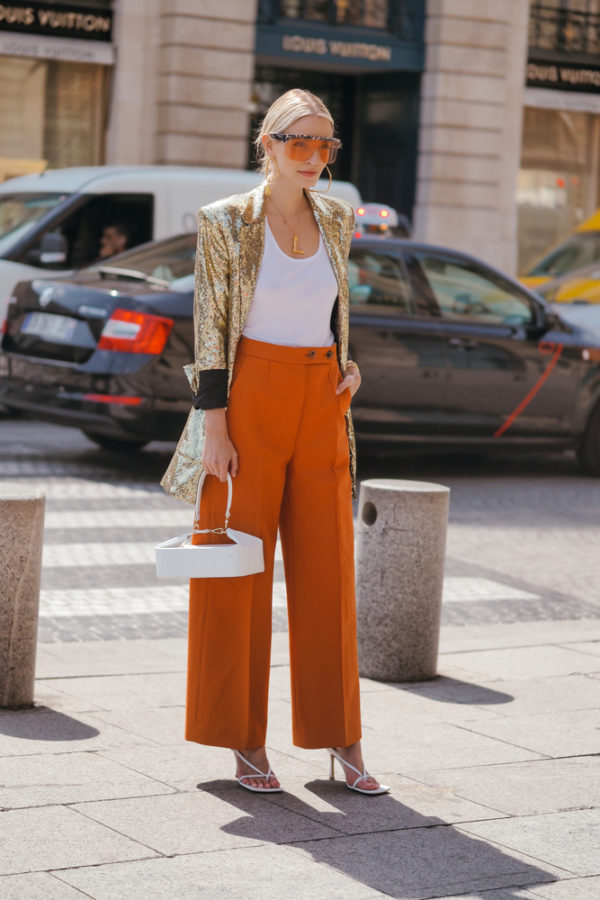 Business Casual: Tailored Patterned Wide Leg Pants Suit
A patterned wide leg pants outfit or tailored suit can be worn to the office or in business settings.
For a pop of color, style your patterned wide leg pants suit with a contrasting pair of statement heels.
Use a handbag or satchel that complements the color of the shoe. Optionally, wear matching sunglasses to tone down the look and draw more attention to the eyes.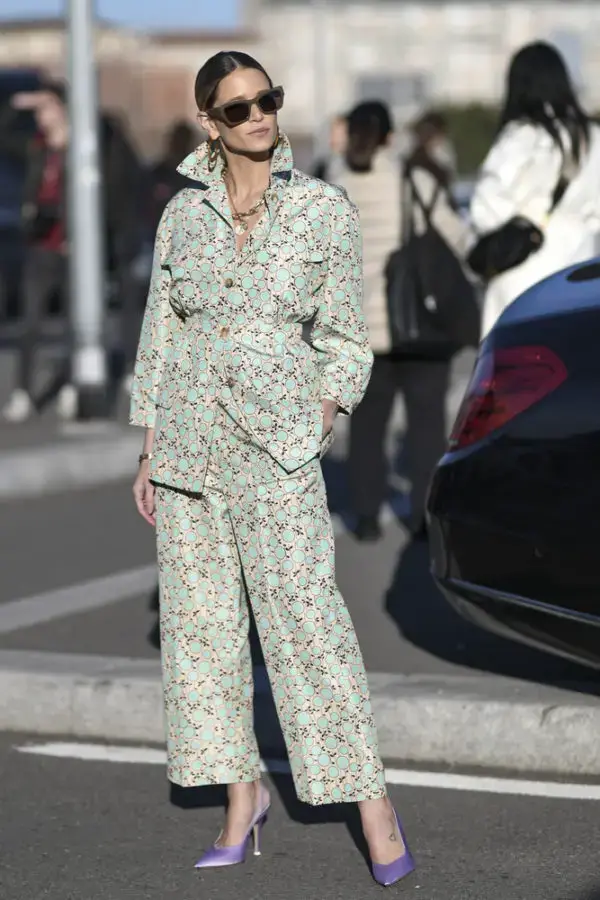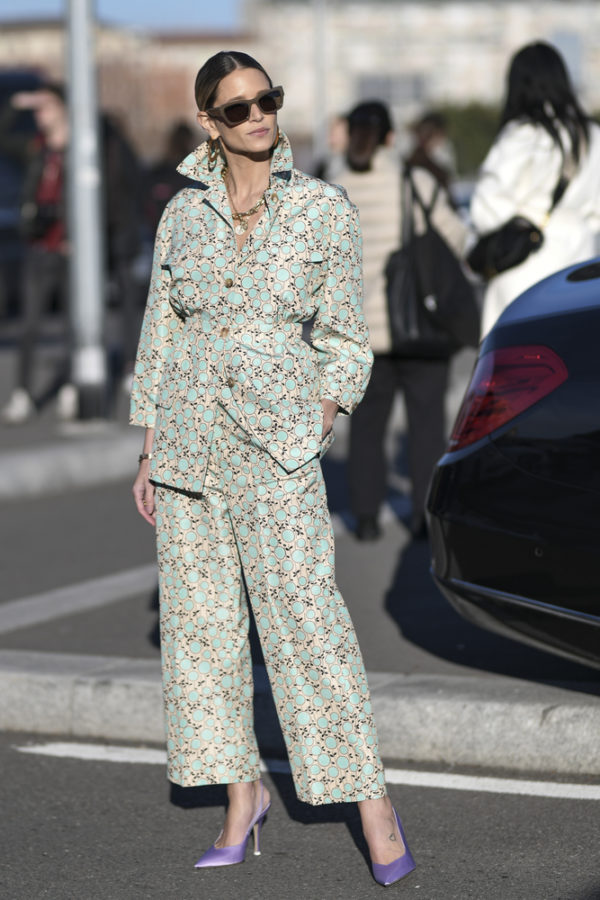 The Fierce Look: Platform Ankle Boots with Wide Leg Pants
If you're looking for an easy way to add some height to your legs, try wearing platform block heel ankle boots.
They'll give you a little extra lift without having to break into a sweat, while still looking cute.
If you love wide legged pants, then you should definitely try wearing ankle boots with them.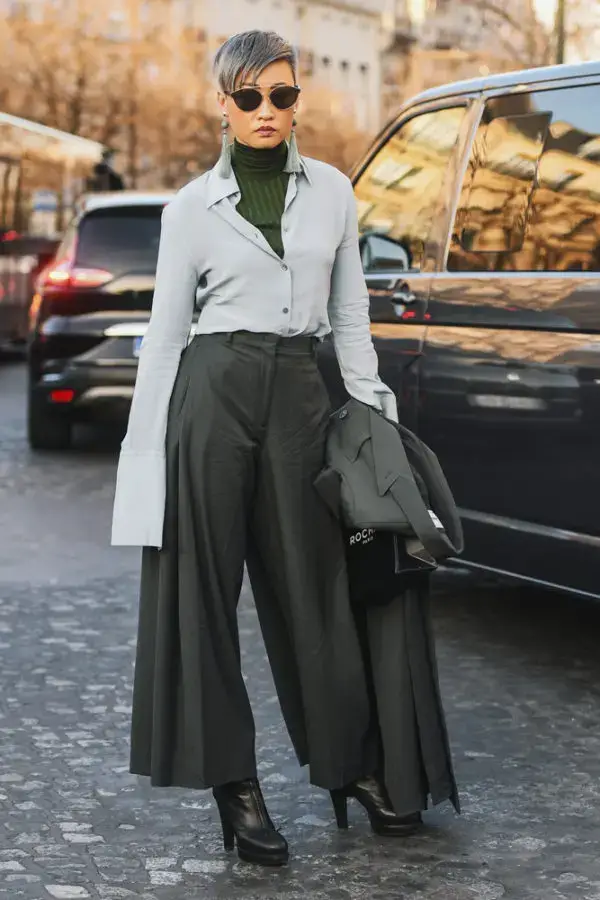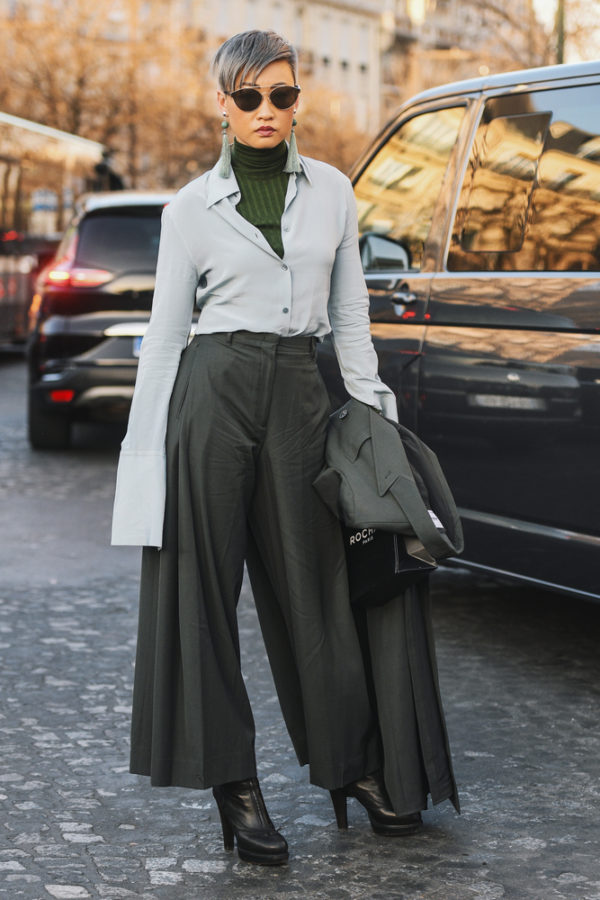 90's Wide Leg Jeans with Abstract Print Kimono
Change things up a bit and instead of a regular wide leg pants, try blue 90's wide leg jeans with a white top.
Layered under a light-weight printed kimono and finished off with a white pair of pumps.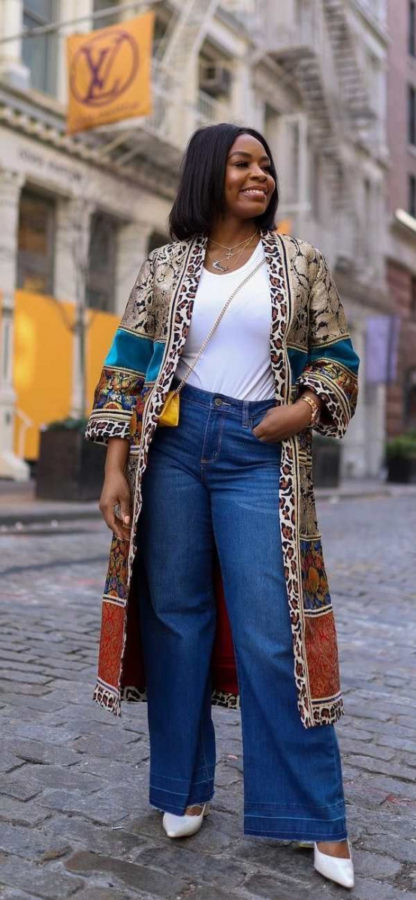 The Office Look: Wide Leg Pants with a Blazer
For a business casual look, wear a wide leg pants suit with a coordinating blouse.
Throw on a pair of black pumps and a complementary color bag.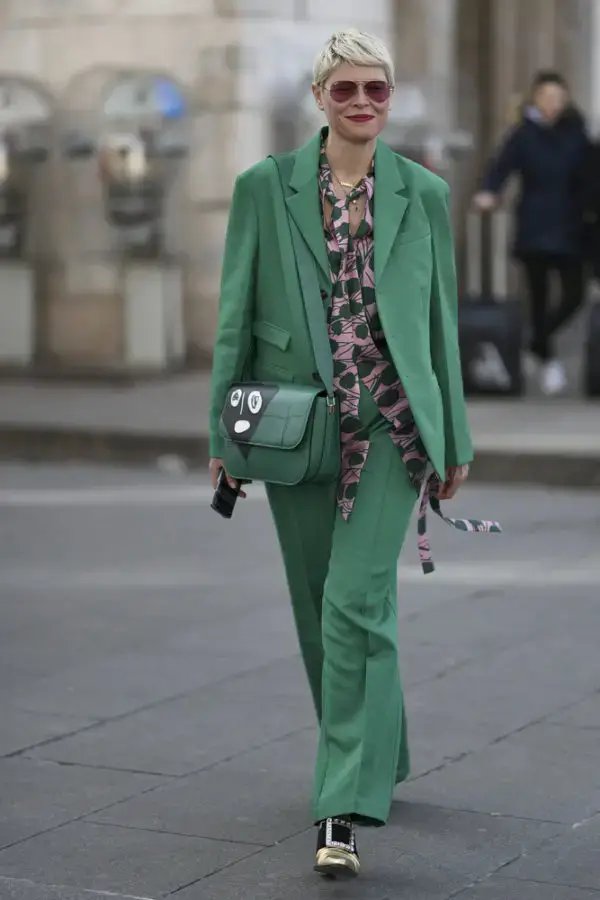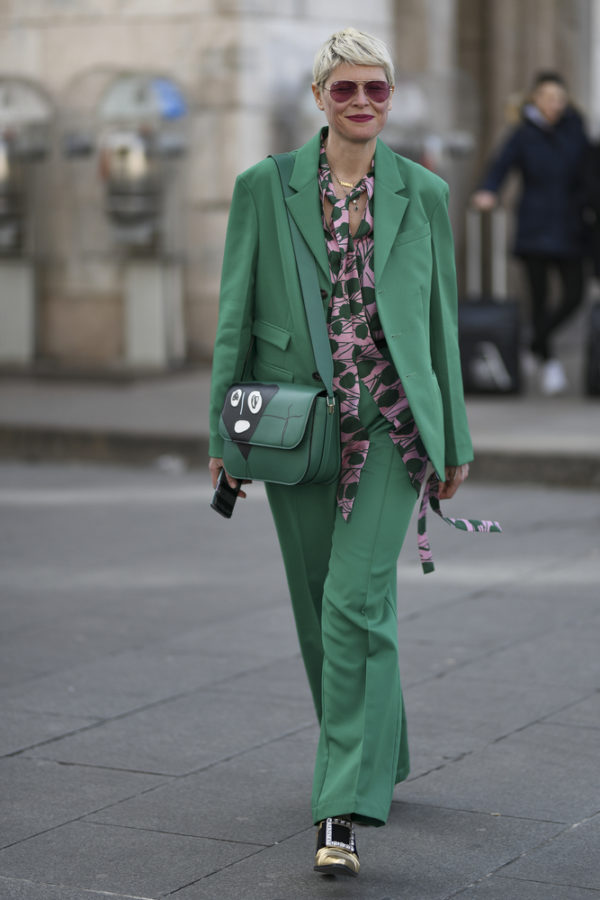 Capsule Wardrobe Edition: Wide Leg Linen Pants Outfit
If you're the type of person who sticks to your capsule wardrobe basics you can try the linen on linen look.
By pairing a linen blazer or jacket with a wide leg linen pants. Use a thin belt to draw in your curves.
Complete the ensemble with a canvas bag and a pair of classic cap toe mules.
The Classic Black Look: Leather Wide Leg Pants
Instead of wearing boring all black, add some color to your wide leg pants outfit by using bright accessories or a colored top.
A pair of black faux leather seam wide leg pants with noticeably white stitch details.
Paired with a simple black blazer, over a red and black shirt or blouse will make you feel classy and put together.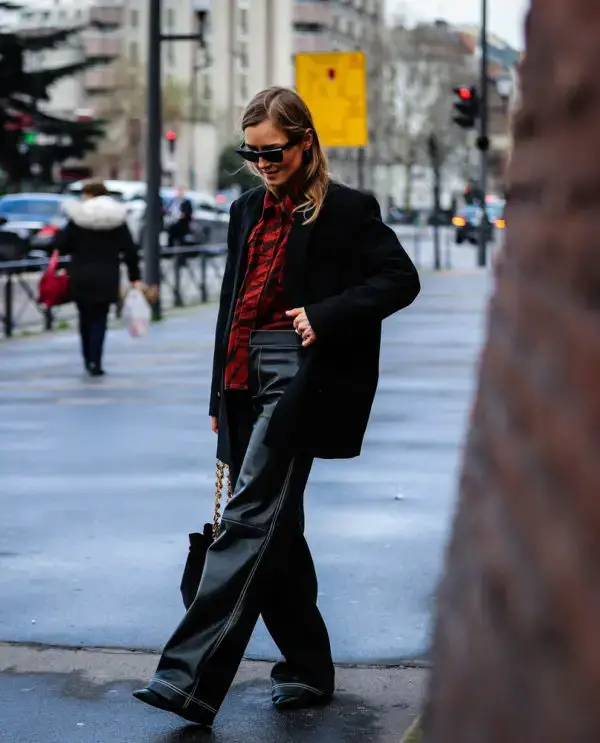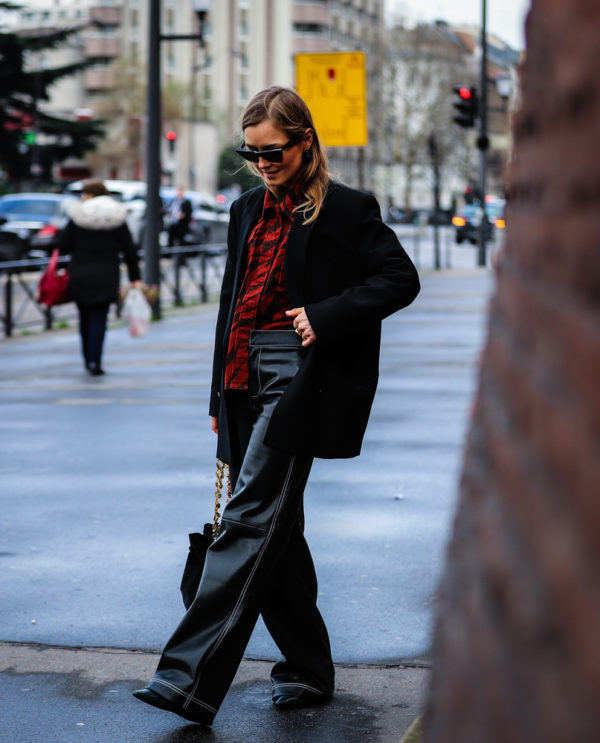 Solid Color Wide Leg Pants Blazer Suit
If you're in the mood to keep things coordinated and tone down try an all brown wide leg pants blazer suit outfit.
Complete the fit with matching brown heeled platform sandals and minimal accessories.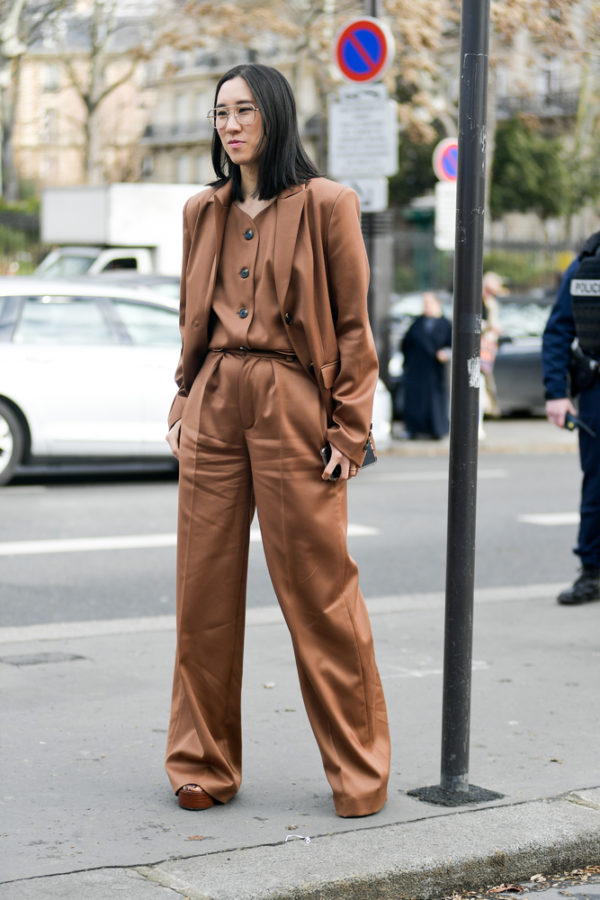 Denim Jacket with White Wide Leg Pants
White wide leg pants with a fitted blue denim shirt tucked in on one side, rolled up at the sleeves and slightly unbuttoned.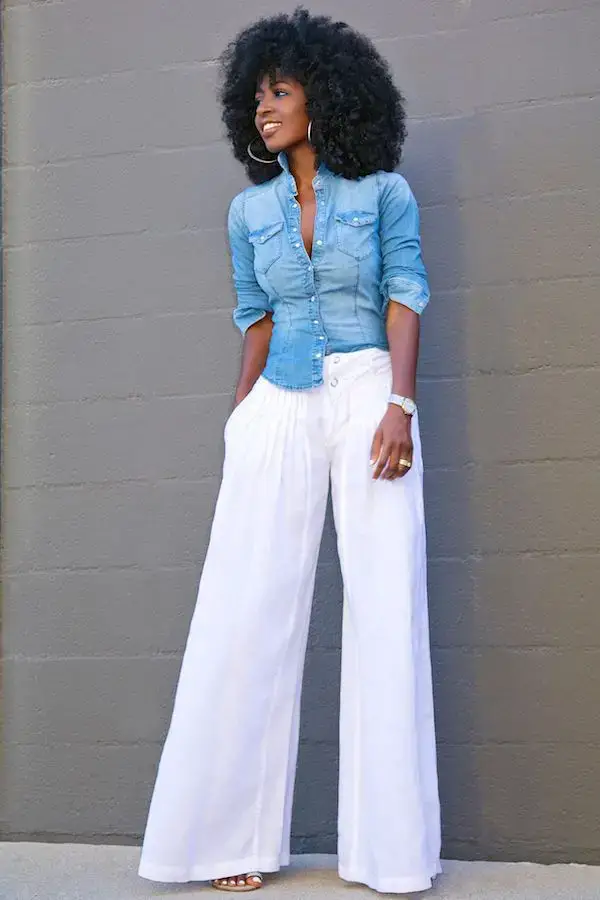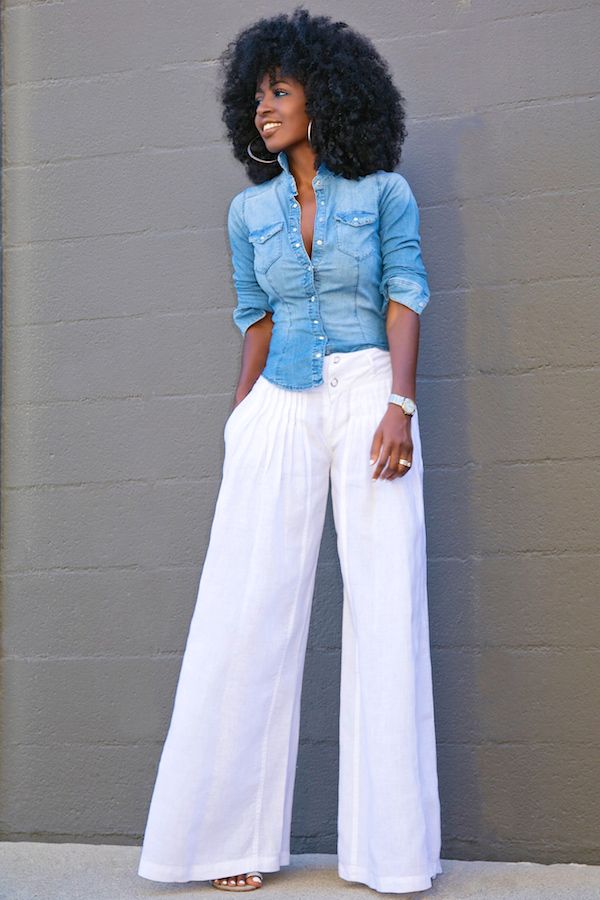 Trainers with a Wide Leg Pants Outfit
A black wide-legged trousers, white jersey top, nude tailored coat and black adidas trainers.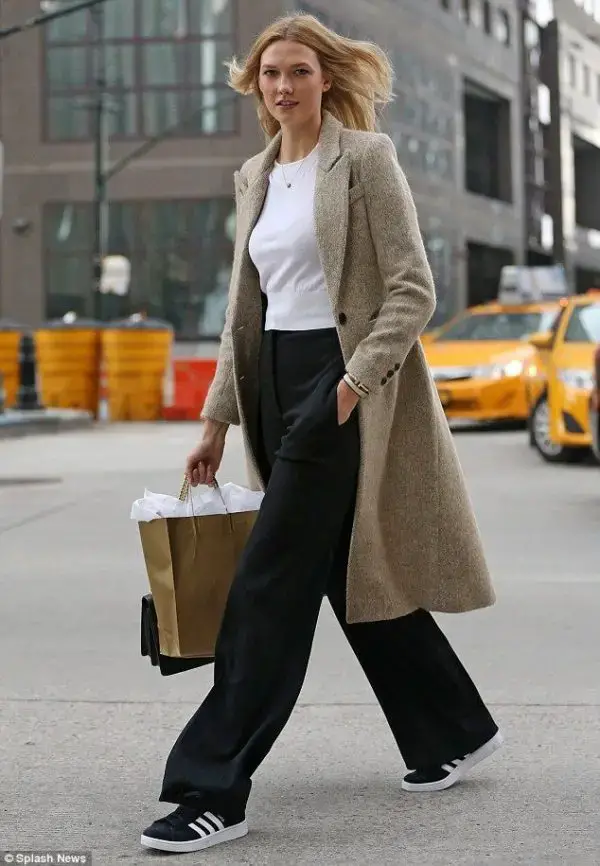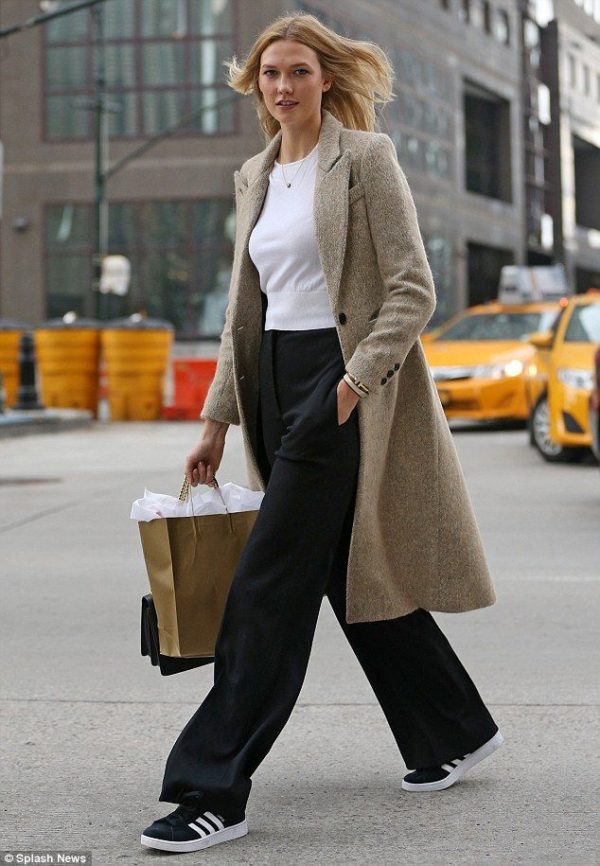 Double Breasted Blazer with Velvet Wide Leg Pants
Blue cropped corduroy wide leg pants suit with the double breasted jacket tucked inside the belted trousers.
Complete the look with bold and eccentric accessories and black strappy heels.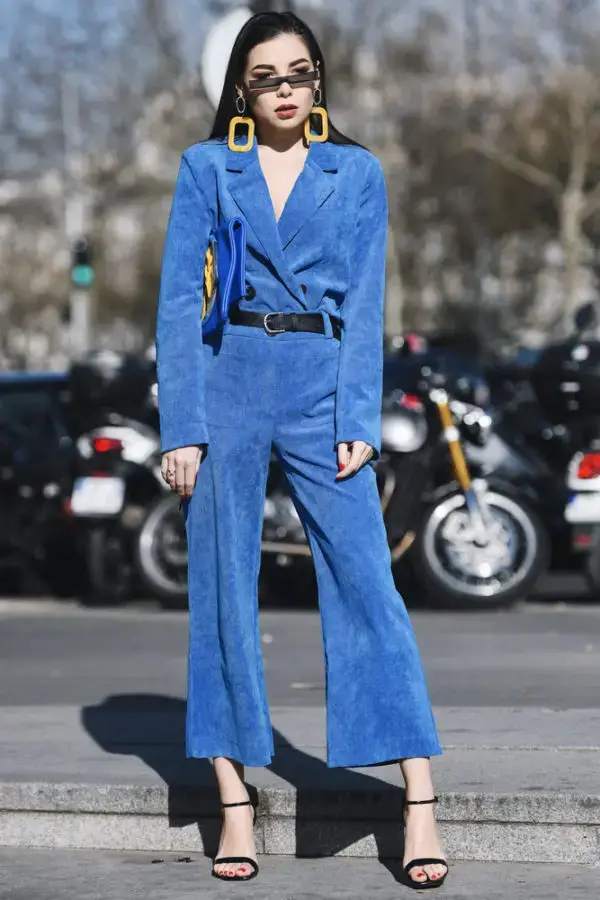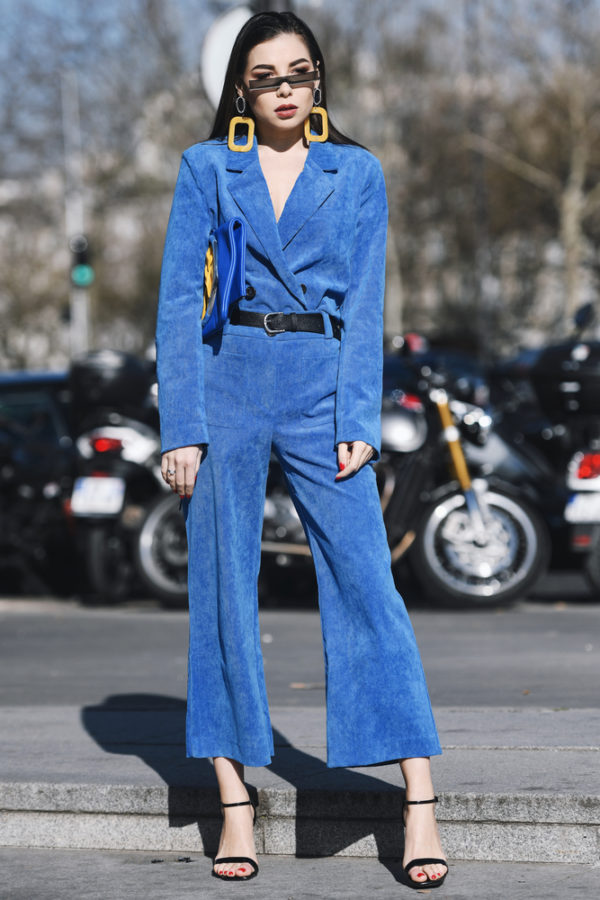 Elegant Wide Leg Pants Outfit with a Satin Suit Jacket
What a funky way to wear your satin wide leg pants outfit: tied at the ankles, styled with a nude camisole top and a light pink satin suit jacket.
Topped off with a daring, antique necklace, a nude oversized clutch and nude or pale pink heels, making it more flattering and stylish.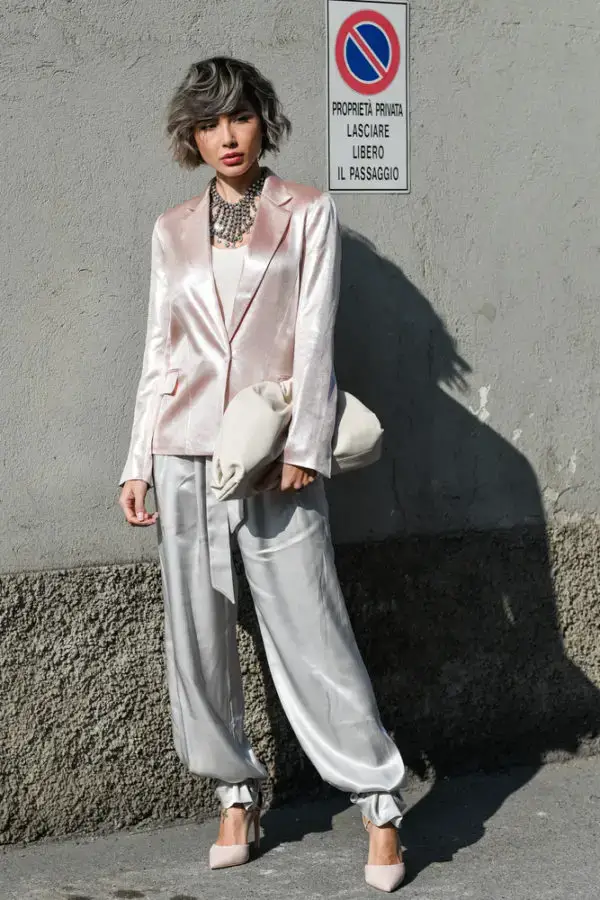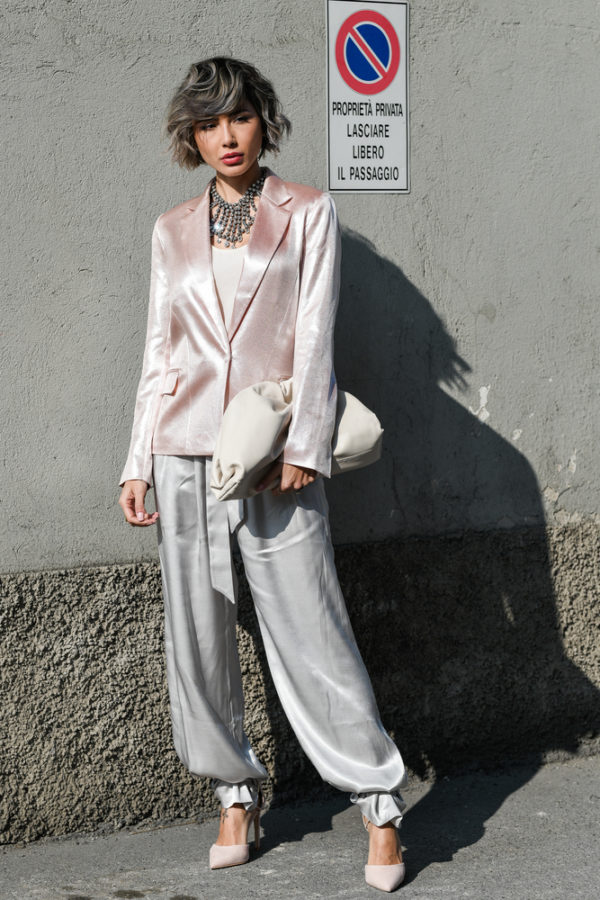 Black Wide Leg Jeans with Leather Coat
Try pairing black wide leg jeans with a black turtle neck top layered under a tan leather blend coat.
Finish it off with a pair of matching tan ankle booties, a white crossbody bag and brown sunglasses.
A great way to sport the wide leg pants outfit trend for fall/winter.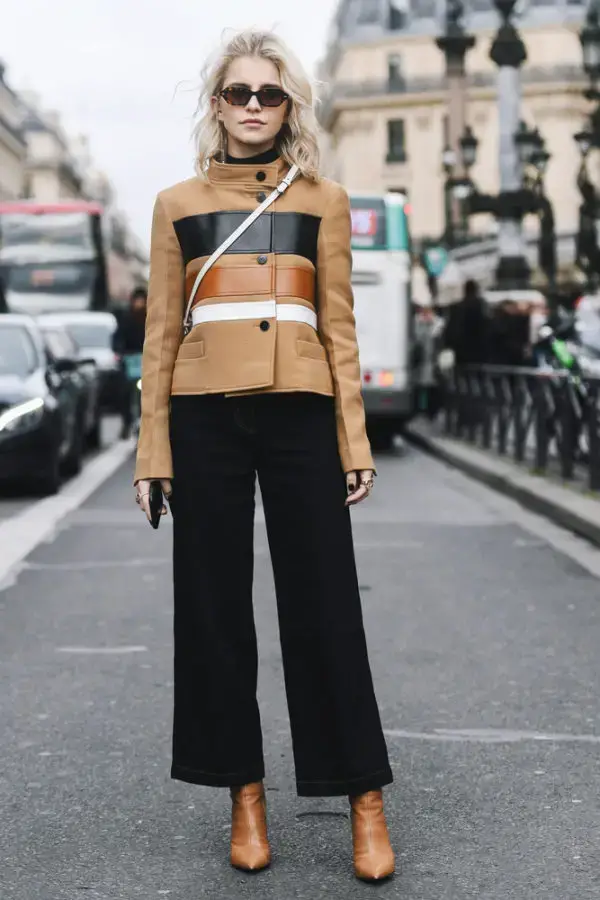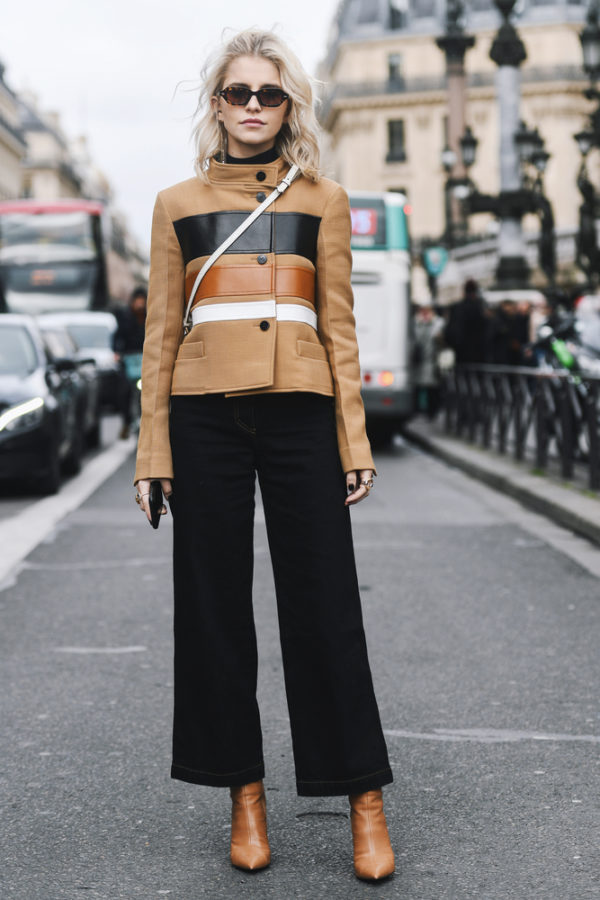 Plaid Wide Leg Pants Outfit
Another 3-piece wide leg pants outfit but this time its an all plaid wide leg pants with a matching inner piece and open-front blazer.
Decked with an oversized zebra print clutch, cat eye sunglasses and black mesh lace up sandals.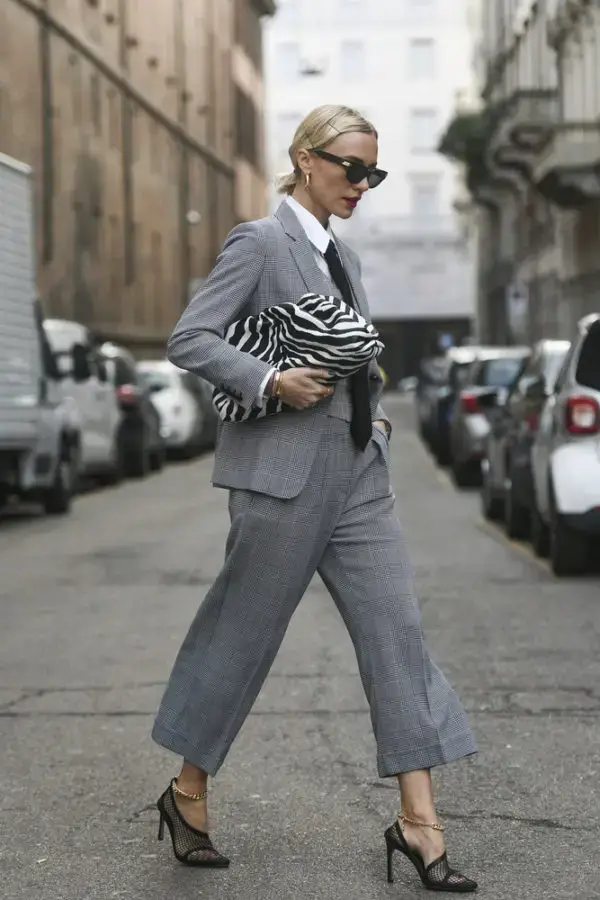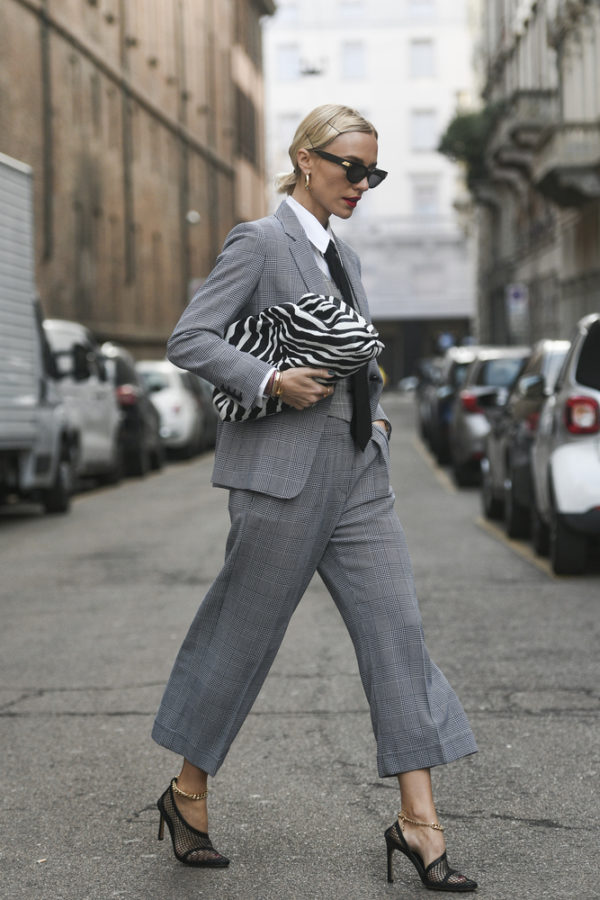 Heading To Brunch: High Waist Wide Leg Pants Outfit with Knitted Cropped Sweater
Heading to brunch with your girlfriends? How about a black high waist wide leg pants with an off-the-shoulder, cable knit cropped sweater.
Accessorize with nude strappy heels, a mini bag and a layered, gold chain-link necklace.
This look is also great for a night out – just switch out the heels for a pair of comfortable shoes.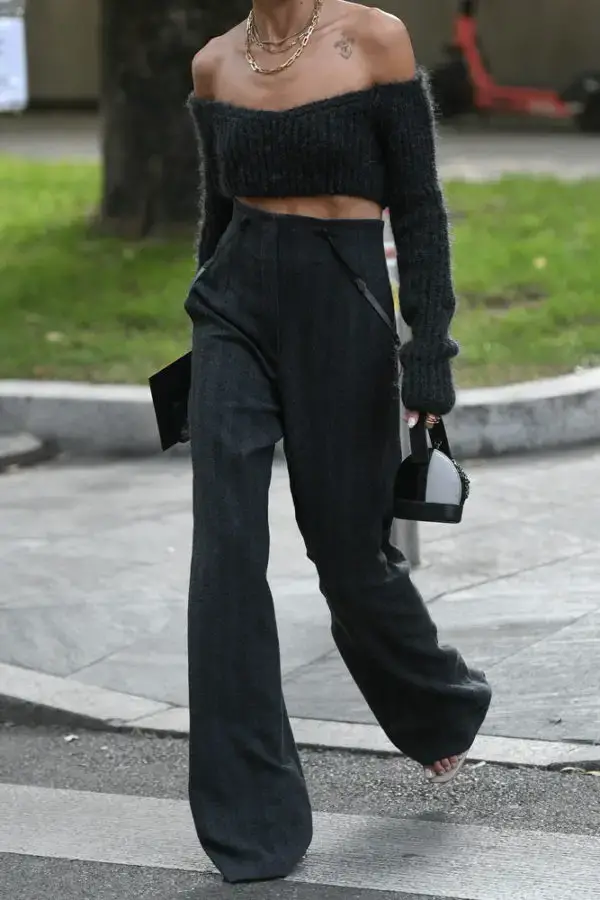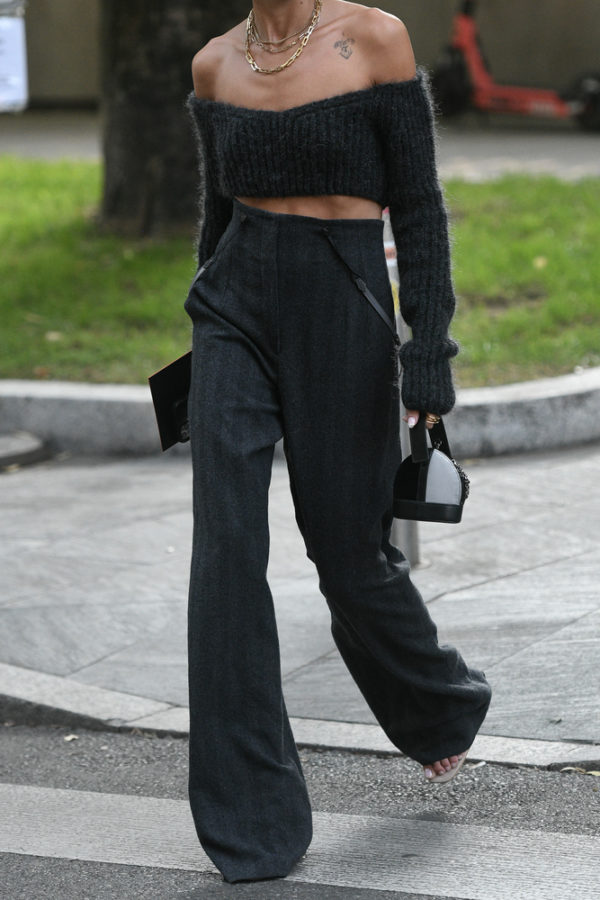 A Modern Take with White: White T-Shirt with Midi Wide Leg Pants
If you're looking for something different than what you usually see, try a midi white wide leg pants.
They're versatile enough to work with just about any top. Style it with a white t-shirt or a bold color blouse to add some color to an otherwise neutral ensemble.
Complement the outfit with oversized sunglasses, a tan handbag and a pair of tan pumps.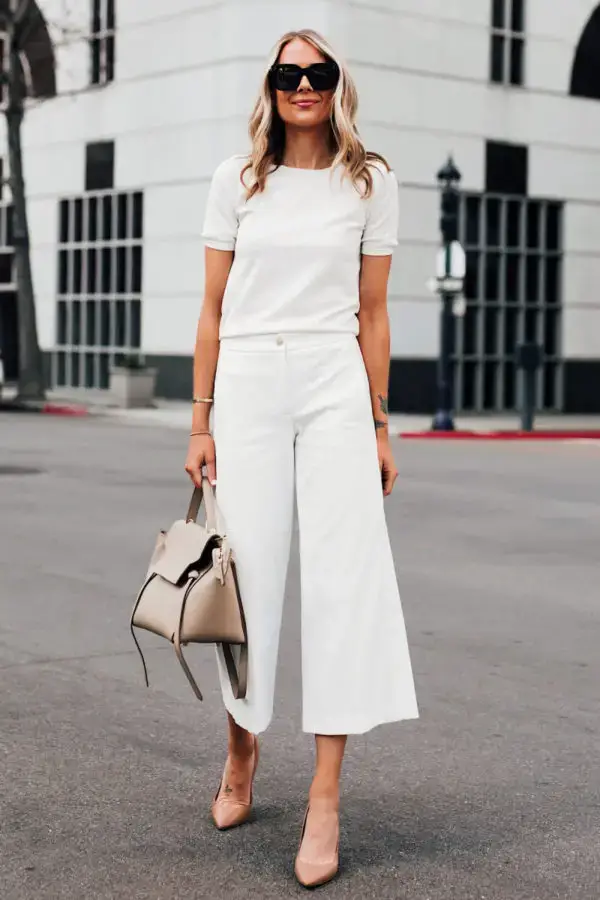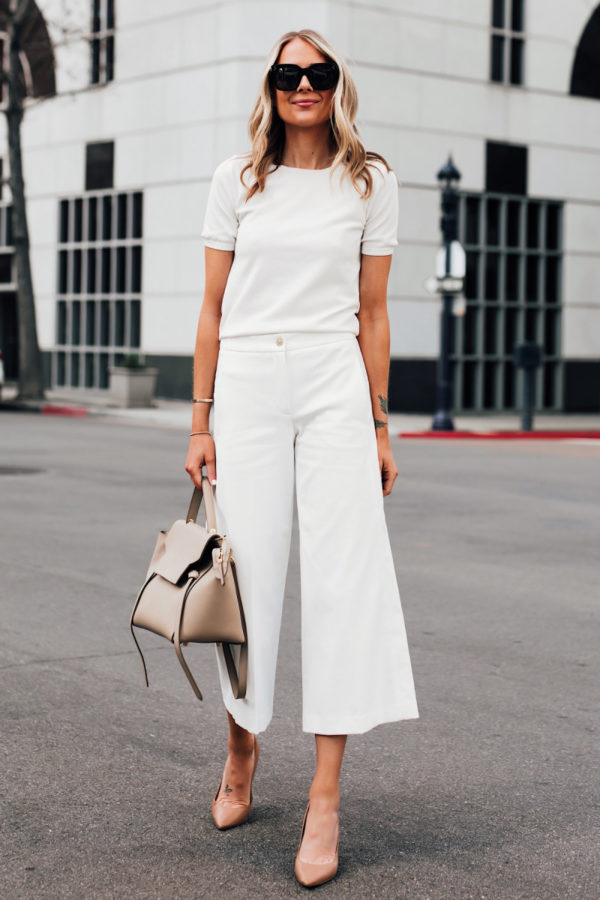 Cropped Top with Wide Leg Pants
Black cropped tailored wide leg trousers with a black cropped top and black blazer. Styled with a checked coat, a red crossbody bag, a black hat, oversized cat-eye sunglasses and animal print pumps.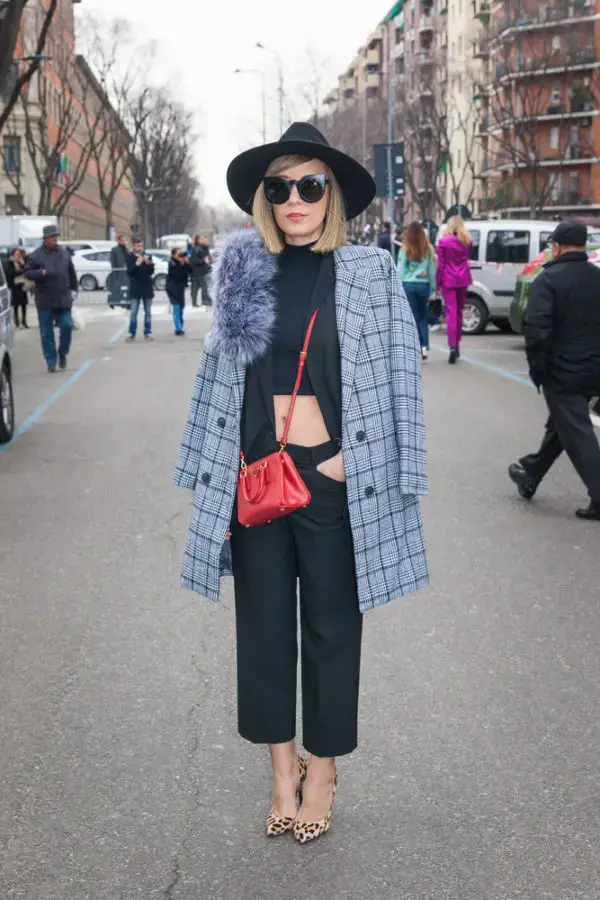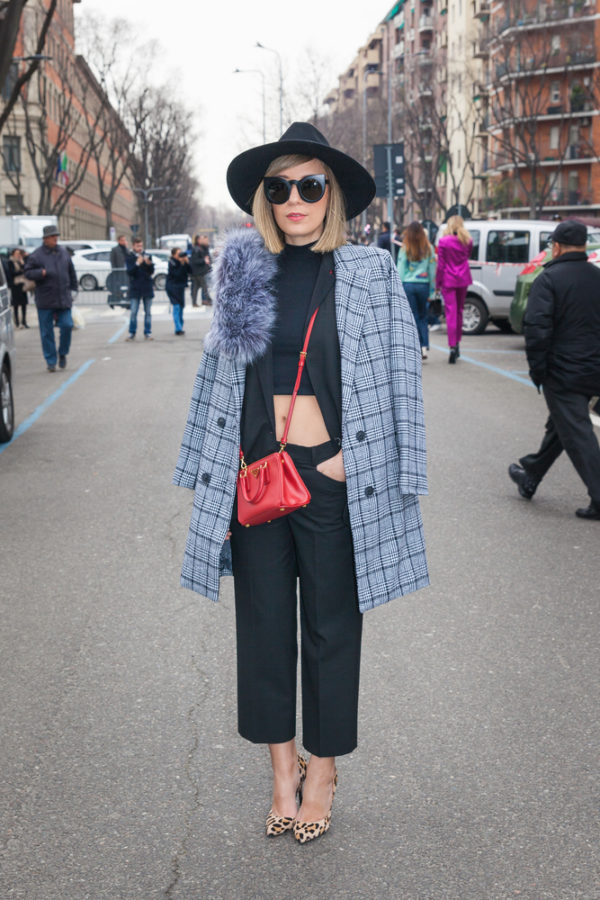 Knitted Sweater with Wide Leg Trousers
Tuck a brown knitted sweater inside of tan trousers styled with contrasting accessories.
Minimal jewelry, beige pumps, a white handbag and a large white sunglasses.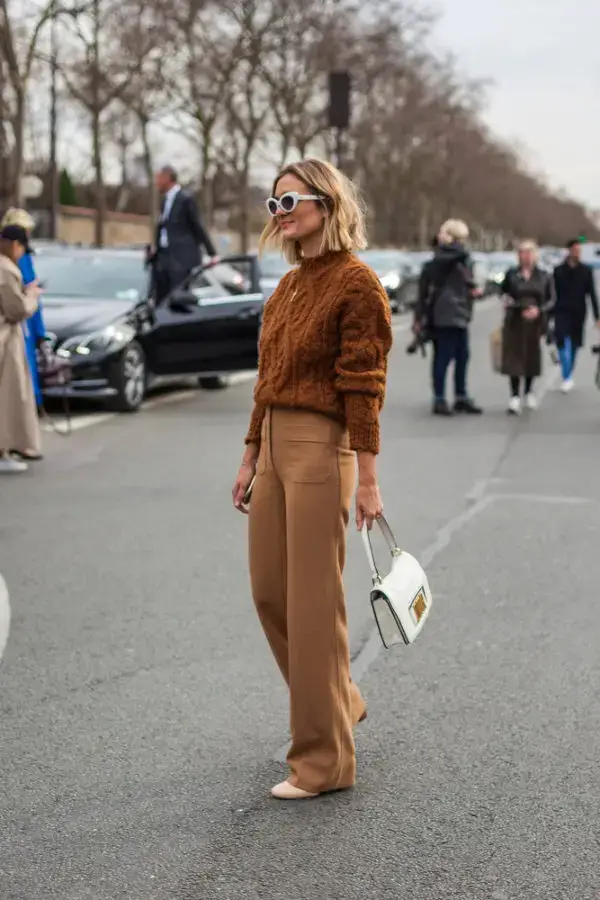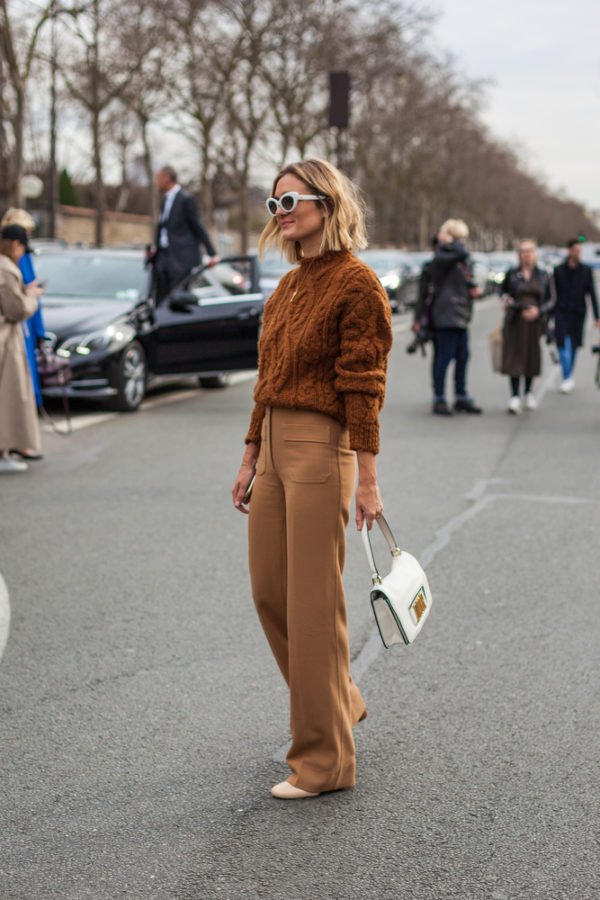 Mini Cropped Top with Paper bag Wide Leg Pants
Want to show a little skin? Opt for a mini cropped top with a pair of khaki paper bag wide leg pants.
Conclude the ensemble with black kitten heels and a red shoulder bag.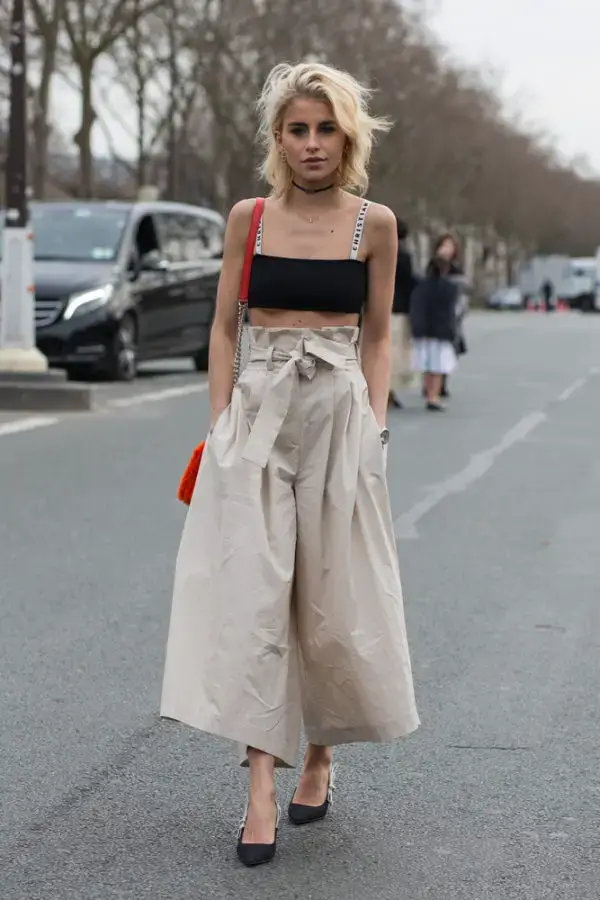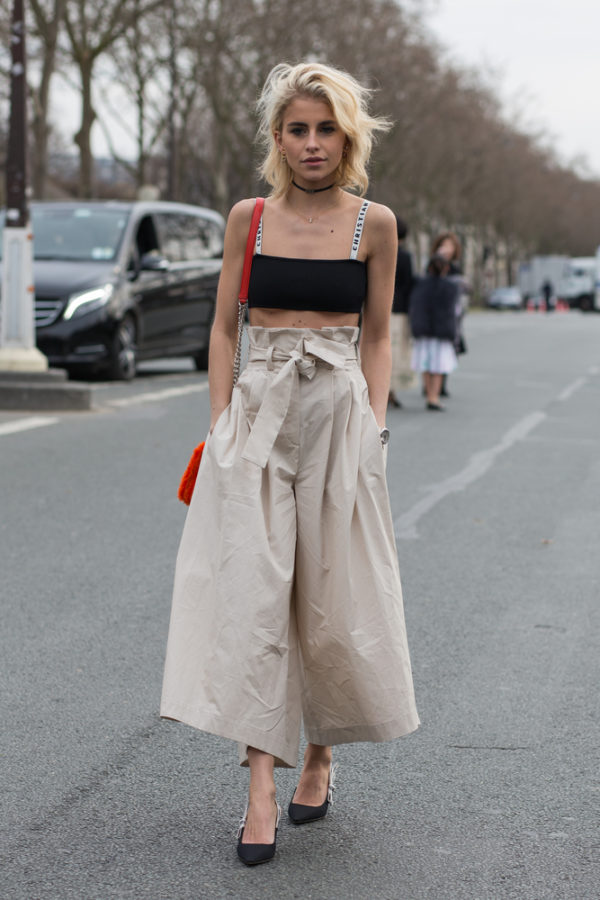 Wrapping Up How To Style A Wide Leg Pants Outfit
Start off with the right fit wide leg pants – find a pair of palazzo pants that fits your body well. This will help ensure that you look flattering when you wear them.
A solid colored top with a patterned or textured wide leg trousers will help balance out the boldness of the pants. You can add a pop of color to your ensemble by adding a bright color scarf.
Finish off your wide leg pants outfit with some high-heeled shoes, ankle boots or strappy sandals. Additionally, you can also add chunky earrings or a statement necklace to complete the look.
Shop Editor's Picks
Shevy
Hi! I'm Shevy! I'm the Founder and Managing Editor of Travel Beauty Blog est. 2016. I am also the Founder of Shevy Studio Marketing Agency where I work with entrepreneurs and bloggers on SEO/Content Strategy, Web Design and Consultancy.