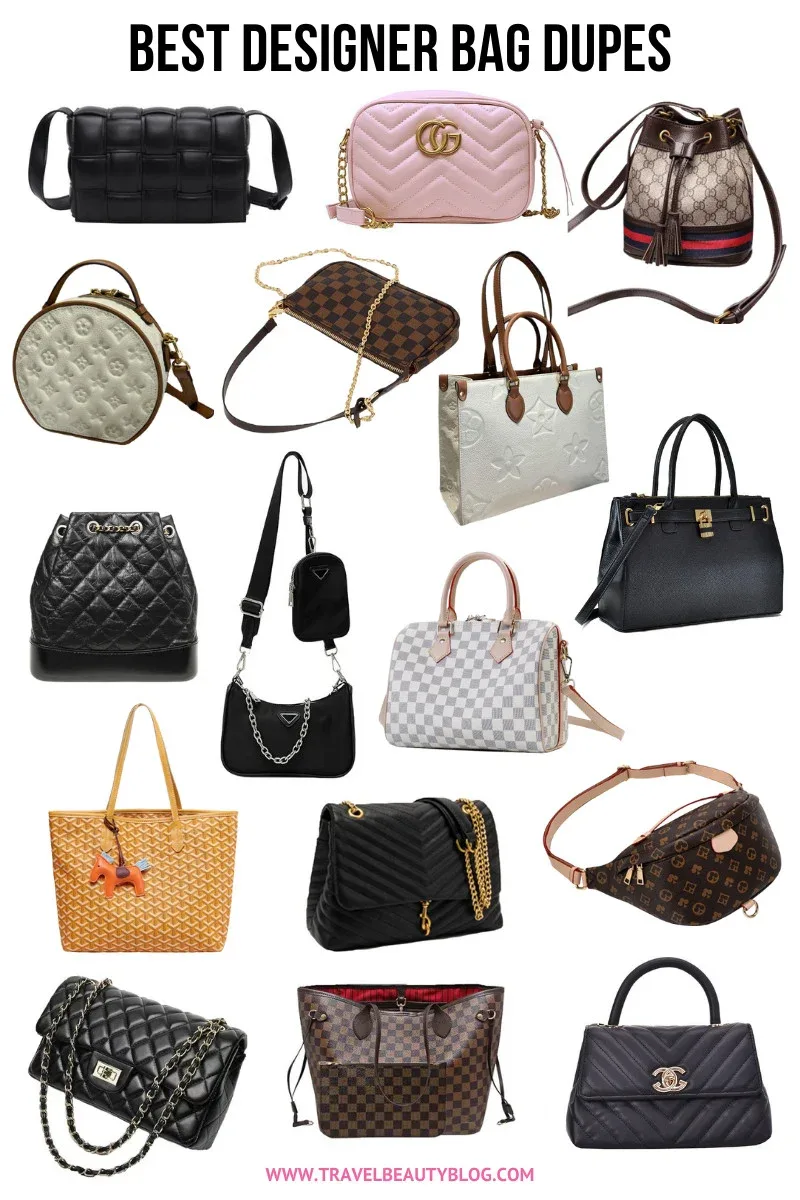 Last Updated on 2 months by Shevy
Designer Bag Dupes And Look Alikes 2023
One of the main benefits of buying designer bag dupes is that you can get the luxury look for less. Some people would rather buy designer look alikes until they can afford the authentic one. While others prefer designer dupes so that they can still get the look but spend wisely.
So there is absolutely no pressure to spend thousands of dollars on designer items unless you really love the brand. In fact, I recommend that you get the designer bag dupe before investing thousands, to really see how much you enjoy it.
We are a participant in various affiliate marketing programs and may earn a commission for any purchases made through these links at no extra cost to you. Read full disclosure here.
On the flip side though, designer dupes can't and won't ever compare to the real thing. But as I mentioned in my Valentino Shoes Dupes post, there are pros and cons of buying designer dupe items. So now let's explore the best designer dupes 2023.
Bottega Veneta Dupes: The Bottega Veneta Cassette Bag Dupe
One of the hottest and most sought after designer bag dupes is the Bottega Veneta Cassette bag dupe. The Bottega Veneta dupe version is available in 4 colors while the original comes in 6 colors.
The Bottega Veneta Cassette Dupe Bag $69 vs Bottega Veneta The Chain Cassette Bag $4,500.
Goyard Tote Bag Dupe
Although Goyard has been around for many years, they have become somewhat popular the past couple of years. Mainly for their tote and travel bags.
Related: The Best Cartier Inspired Bracelets
The Goyard Tote Dupe Bag $59 vs Goyard Yellow Goyardine Coated Canvas St. Louis PM Tote $1,300.
Louis Vuitton Dupes
White Louis Vuitton large monogram dupe $159 vs Louis Vuitton Reverse Monogram Giant OnTheGo GM $3,200.
Louis Vuitton BumBag dupe $139 vs authentic Louis Vuitton BumBag $2,500
Louis Vuitton Petite Boite Chapeau dupe bag $159 vs the real Louis Vuitton Monogram Canvas Petite Boite Chapeau Bag $3,800
Louis Vuitton Large Logo dupe bag $159 vs the authentic Louis Vuitton OnTheGo Tote Monogram Empreinte Giant GM $4,100
Louis Vuitton dupe bag $89 vs the Louis Vuitton Speedy Handbag Damier 30 for $1,300
Louis Vuitton dupe pouch $89 vs Louis Vuitton Pochette Accessoires Monogram Canvas $955
You can also get the LV Neverfull dupe from Walmart here for under $50.
Related: 10+ Golden Goose Dupes For Cheap
Chanel Dupe Bags
The Chanel Classic Double Flap bag is one of most popular designer purses on the market. Equally so is the lookalike Classic Chanel dupe bag.
You can get the quilted Chanel Classic Flap bag look alike for $79 and the authentic Chanel Classic Double Flap Bag Quilted Lambskin Medium for $5,300.
Chanel Small Bucket bag dupe $128 vs the real Chanel CC Chain Drawstring Bucket Bag Quilted Caviar Small $5,300
Up next we have the Chanel Chevron Top Handle dupe bag $69 vs the authentic Chanel Classic Top Handle Flap Bag Quilted Caviar Jumbo $4,200
Gucci Bag Dupes
The Gucci Matelasse bag is another highly sought after designer bags, especially amongst bloggers and influencers. This Gucci lookalike Chevron Matelasse dupe bag costs $68 vs the original Gucci GG Marmont Shoulder Bag Matelasse Leather Mini costs $1,300.
Gucci look alike Canvas Bucket Bag $86 vs original Gucci Classic Bucket Bag GG Canvas Medium $1,100
Related: A GUIDE TO THE BEST KNOCK OFF BIRKENSTOCKS
Shop Designer Bag Dupes
Prada Dupe Bag
If you are into Prada bags you may find this Prada Crossbody Nylon Chain bag dupe for $82 very appealing, vs the real Prada Mini Nylon Crossbody bag for a whopping EUR $1,150.
Related: 13 Ways To Style A Black Skirt
Saint Laurent YSL Bag Dupe
This lookalike Saint Laurent YSL bag costs $79 whereas the authentic Saint Laurent Medium Loulou Matelassé Leather Shoulder Bag costs $2,600. The YSL dupe bag is a far cry from what the original bag looks like but its still a decent Saint Laurent alternative.
Hermes Birkin Bag Dupe
Imagine how many things you can buy with $20k because that is the average price of a Hermes Birkin bag! The Hermes Birkin dupe bag costs a mere $36 while the original Hermes Black Taurillon Clemence Leather Gold Finished Birkin 35 Bag costs a whopping $15,000.
Related: HOW TO MAKE THE BEST SUMMER CAPSULE WARDROBE EASILY
What I love most about this Hermes lookalike Birkin bag is that it looks very similar to the real thing. Its one of my favorite designer bag dupes of all time!
Shop Designer Bags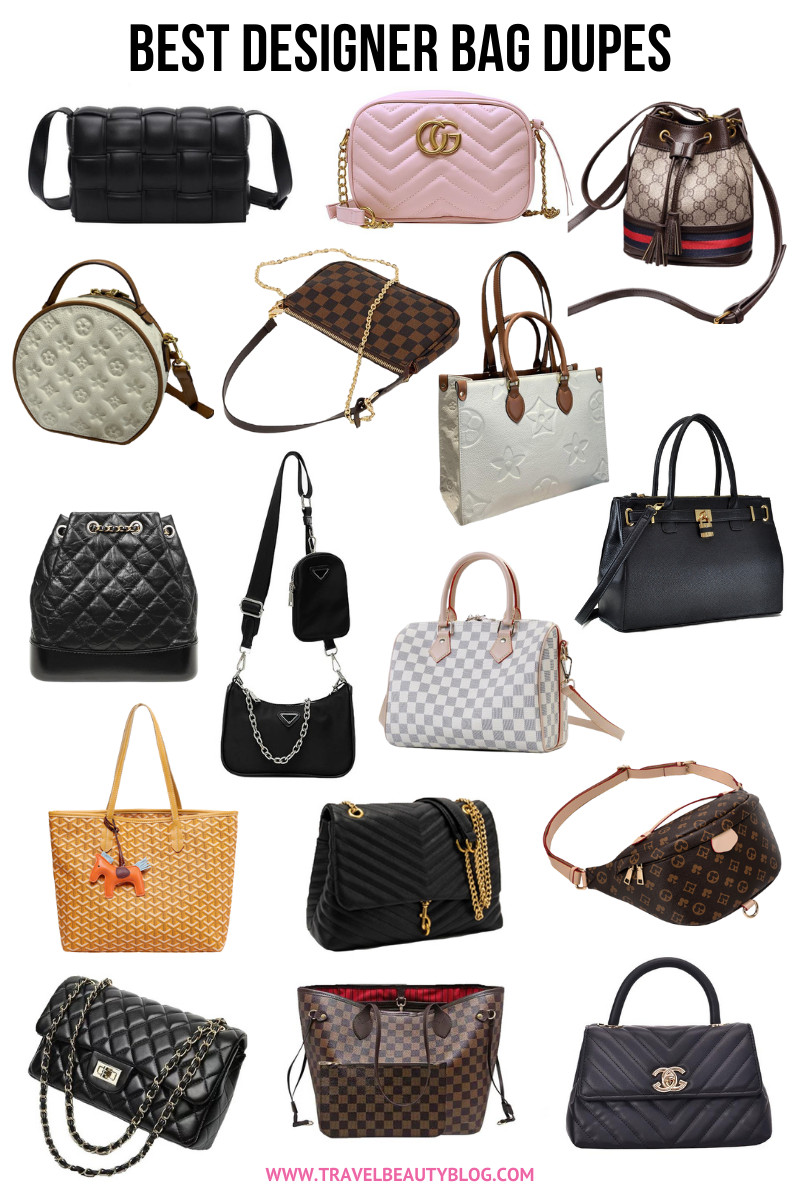 Designer Bag Dupes FAQs
 
What Is A Dupe Purse?

A designer dupe purse or bag is basically an identical copy or look alike to the original version. It's more like a designer-inspired version and should not bear any logo resembling that of the authentic brand.
Where Can I Find Designer Dupes?
There are various places online that sells designer dupes and lookalikes such as Amazon, Walmart, Overstock, DhGate, Etsy, Goodnight Macaroon, Baginc, Ali Express and so much more!
The best part is that most of them sell high quality designer dupes. You can find a dupe for almost any brand and product from the above-mentioned best designer dupes website 2023.
Does Amazon Sell Fake Designer Handbags?
Amazon themselves stated that they do not encourage the sale of fake designer items on their marketplace. I myself haven't seen any fake designer bags per say.
But what I have observed from doing my own personal shopping is that there are tons of shops that sell designer lookalikes and handbag dupes on there. However, they may be a bit difficult to spot since they and are not listed with the obvious Brand names.
What Is The Cheapest Luxury Bag?
You will find some of the most affordable luxury designer dupes bags from the following best designer dupes website 2023:
Gucci
Givenchy
Furla
Louis Vuitton
Marc Jacobs
Dolce & Gabbana
Coach
Michael Kors
Salvatore Ferragamo
Where can I buy authentic designer bags for less?
You can buy authentic designer bags both new and used from various retailers and consignment shops such as:
The Real Real
Rebag
MyTheresa
Net A Porter
Fashion Phile
Vestiaire Collective
Farfetch
Tradesy
Poshmark
Wrapping Up
That sums up the best designer bag dupes of 2023 and good luck finding your favorites!
Read Next: The Best Kendra Scoot Look Alike Necklace For Cheap
Shevy
Hi! I'm Shevy! I'm the Founder and Managing Editor of Travel Beauty Blog est. 2016. I am also the Founder of Shevy Studio Marketing Agency where I work with entrepreneurs and bloggers on SEO/Content Strategy, Web Design and Consultancy.