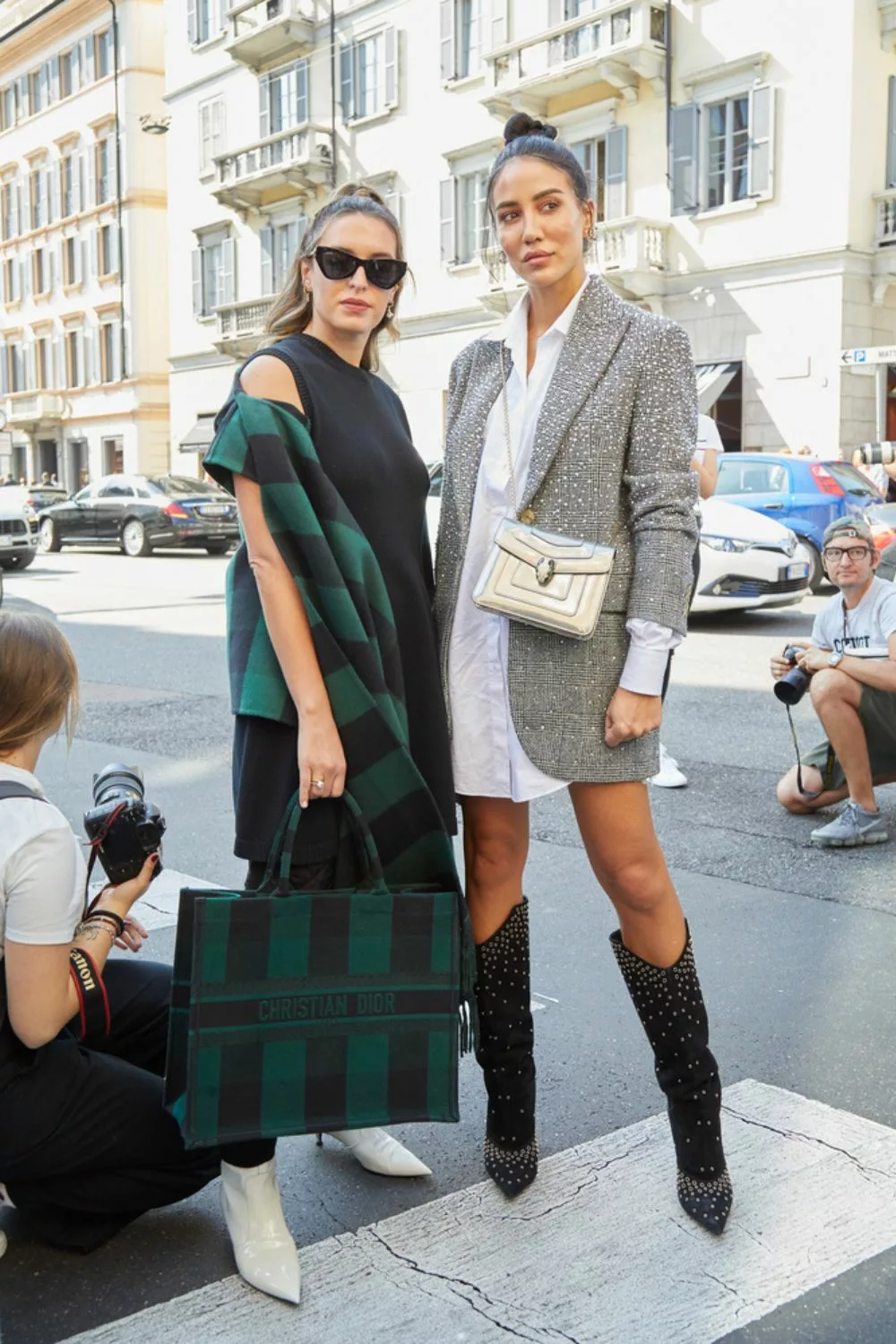 How to Start a Fashion Blog In 2023 + Insider Tips
If you have a passion for fashion and a desire to share your style and insights with the world, starting a fashion blog can be a great way to express yourself and connect with like-minded individuals.
The fashion industry has witnessed a significant shift towards the digital landscape, making it an opportune time to start a fashion blog.
Fashion blogging in particular has become a thriving industry, offering countless opportunities for creative individuals to express their style, share their passion, and potentially turn their hobby into a profitable venture.
We are a participant in various affiliate marketing programs and may earn a commission for any purchases made through these links at no extra cost to you. Read full disclosure here.
With the right strategy and dedication, you can transform your passion for fashion into a thriving online platform.
But where do you begin? 
In this comprehensive guide, we will walk you through the essential steps on how to start a fashion blog successfully. 
From choosing a niche to promoting your content, and establishing yourself as a fashion influencer.
The Cost of Getting Started
Starting a blog can range from being relatively affordable to requiring a moderate investment, depending on your goals or choices.
Costs may include domain registration (around $10 to $15 per year), website hosting (starting at $3 to $10 per month), website design or theme customization, photography equipment, marketing tools, and promotional activities.
Start with a budget-friendly approach and gradually invest in upgrading your blog as you progress.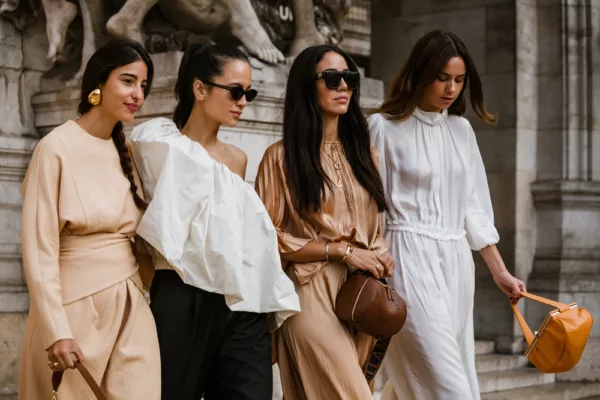 A Comprehensive Guide on How to Start a Fashion Blog
Define your niche and target audience
Before you start your fashion blog, it's important to define your niche and target audience.
What type of fashion do you want to focus on?
Are you interested in high-end designer fashion, street style, sustainable fashion, or something else?
Once you've defined your niche, think about who your target audience is.
Who do you want to reach with your content?
Are you targeting young women interested in affordable fashion, or are you aiming for a more mature audience interested in luxury fashion?
Defining your niche and target audience will help you create content that resonates with your readers and sets you apart from other fashion bloggers.
Choose a blogging platform
Once you've defined your niche and target audience, it's time to choose a blogging platform.
There are many blogging platforms to choose from, including WordPress (self-hosted), Blogger, and Squarespace.
Consider the features and customization options of each platform before making a decision.
Obtain a Domain Name
Choosing a memorable and unique domain name is the first step in establishing your fashion blog's online presence.
Select a name that aligns with your style, brand and niche, while being easy to remember and spell.
A domain name that is available and not already in use by another blogger or business.
Choose a reliable domain registrar to secure your domain name like Namecheap, SiteGround, or Bluehost to secure your chosen domain.
Acquire website hosting
After acquiring your domain name, it's time to choose a reliable web hosting provider.
You'll need website hosting services to make your blog accessible to visitors. 
Opt for a hosting plan that offers good uptime, fast loading speeds, and excellent customer support.
Popular hosting options include Bluehost, SiteGround, and NameCheap.
Compare different hosting providers and select one that suits your needs in terms of affordability, speed, and customer support.
Although you can purchase your domain name and hosting plan together from the same provider, I always recommend using separate companies. 
One for your domain name and another for hosting only.
However, if you're just getting started then it may be easier for you to purchase an all-in-one package from the same host.
Create a visually appealing website design
Your fashion blog's website design is crucial to attracting and retaining readers.
Choose a clean, modern, responsive layout that is easy to navigate and showcases your content.
Don't forget to optimize your website for mobile devices, as many readers will be accessing your blog on their phones or tablets. (You can do this by ensuring your website theme/template is responsive).
Use high-quality images and graphics to enhance your posts and make your blog visually appealing.
Consider using a color scheme that reflects your brand and niche.
If you're not confident in your design skills, consider hiring a professional web designer or using a website builder with pre-designed templates.
Develop a content strategy and editorial calendar
Once you have your fashion blog set up, it's important to develop a content strategy and editorial calendar.
This will help you stay organized and consistent with your posting schedule, which is crucial for building a loyal audience.
Start by brainstorming blog topics and themes that align with your brand and niche.
Consider what your readers are interested in and what type of content will provide value to them.
Then, create a schedule for when you will publish each post and stick to it.
You can use tools like Google Calendar or Trello to keep track of your editorial calendar and stay on top of deadlines.
Invest in Blogging Tools
Utilize blogging tools to streamline your workflow and enhance your blog's functionality.
Tools like Adobe, Google Analytics, Canva, Hootsuite and Elementor can assist with tracking blog traffic, creating graphics, managing social media scheduling and creating landing pages.
Produce quality Photography
High-quality, visually appealing images are crucial for a fashion blog.
Invest in a good camera or smartphone with a high-resolution camera and practice your photography skills.
Learn basic photography skills and editing techniques to showcase your fashion sense effectively. 
Experiment with different lighting techniques, compositions, and editing tools to create captivating visuals.
Alternatively, you may want to consider hiring a professional blog photographer.
Compelling visuals will help captivate and retain your audience.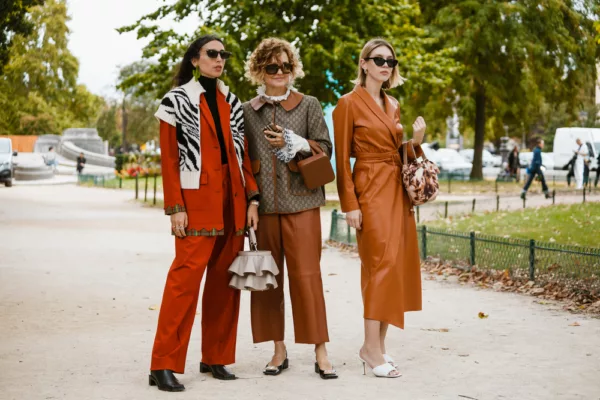 Invest in Editorial and Stock Photos
Stock photos are images that are licensed for commercial use, and they can be an excellent resource for bloggers and content creators.
By investing in stock photos, you can access a vast library of high-quality images that they can use to enhance their content and create a more professional look.
Sites like PixiStock, DepositPhotos and Ivory Mix offer high-quality stock photographs for various niches.
Factors to consider when investing in stock photos:
1. Quality of images – Look for high-quality images that are visually appealing and relevant to your content.
2. Cost – Consider the cost of purchasing stock photos and whether it fits within your budget.
3. Licensing terms – Understand the licensing terms and restrictions of the stock photos you purchase to ensure they meet your needs.
4. Usefulness to your content – Ensure that the stock photos you purchase are relevant to your content and can enhance your blog's visual appeal.
Overall, investing in stock photos can be beneficial for a fashion blogger, as it provides access to a vast library of high-quality images that can enhance their content's visual appeal.
However, it is essential to consider the above factors to ensure that the investment is worthwhile.
Grow your Blog Traffic
Increasing blog traffic requires a multifaceted approach.
To increase blog traffic, optimize your content for search engines by creating high-quality content that resonates with your target audience and implementing search engine optimization (SEO) techniques. 
Additionally, engage with your audience through comments, share your content on social media, through email newsletters, and collaborate with other bloggers to expand your reach.
Incorporate Search Engine Optimization (SEO) Strategies and Keyword Research Tools
Search engine optimization (SEO) plays a vital role in increasing your blog's visibility and attracting organic traffic on search engines like Google.
Research relevant keywords using tools like Ahrefs, SemRush or MOZ.
Optimize your blog's structure, loading speed and layout.
Use engaging meta tags, descriptive URLs, create compelling and keyword-rich content, and build authoritative backlinks.
Implementing SEO best practices will help your fashion blog rank higher in search engine results.
Promote your blog through Social Media and Networking
Once you have created your fashion blog and started publishing content, it's important to promote it through social media and networking. 
Create social media accounts on platforms like Instagram, Pinterest, YouTube and Facebook to promote your fashion blog and engage with your audience by responding to comments and messages.
Use appropriate hashtags to expand your reach. 
You can also join fashion blogger communities and groups on Facebook to connect with other bloggers and share your content.
Additionally, attending fashion events and networking with other industry professionals can help you to build relationships and gain exposure for your blog.
Remember, building a successful fashion blog takes time and effort, but with dedication and persistence, you can stand out in the crowded blogosphere.
Establish an email list
Having an email list is important as a fashion blogger.
It allows for a direct way to communicate and improve engagement with your audience.
As well as to build relationships with brands and help them promote their products to your subscribers.
One of the biggest mistakes I made as a blogger was not starting an email list sooner.
You can share your latest blog posts, fashion tips, new product launches, offerings and affiliate products directly with them.
You can also ask for feedback, conduct surveys, and run polls to better understand your subscribers' preferences and needs.
Having a loyal audience who trusts your opinion is vital for the success of a fashion blogger.
In summary, starting an email list is important as a fashion blogger because it helps you build relationships with your audience, increase traffic to your blog, monetize your content, build relationships with brands, and improve engagement.
Guidelines on how to start an email list as a blogger:
1. Choose a reliable email marketing service such as Mailchimp, ConvertKit, or Constant Contact.
Choose one that meets your needs in terms of features, pricing, and ease of use.
2. Create a signup form: Most email marketing services offer customizable signup forms that you can embed on your website or social media profiles.
Make sure your form is attractive and easy to fill out, and be clear about what subscribers can expect to receive from you.
3. Offer incentives: To encourage people to sign up for your list, offer a valuable incentive, such as a free e-book, a discount code, or exclusive content.
4. Promote your list: Spread the word about your email list on your blog, social media, and other channels. Include a call-to-action inviting people to sign up, and explain the benefits of joining.
5. Send regular emails: Once you've built your list, it's important to keep your subscribers engaged by sending regular emails.
This could be a weekly newsletter, updates on your latest blog posts, or exclusive content for subscribers only.
6. Analyze your results: Use the analytics provided by your email marketing service to track your open rates, click-through rates, and other metrics.
This will help you understand what's working and what's not, and make adjustments to improve your email marketing efforts.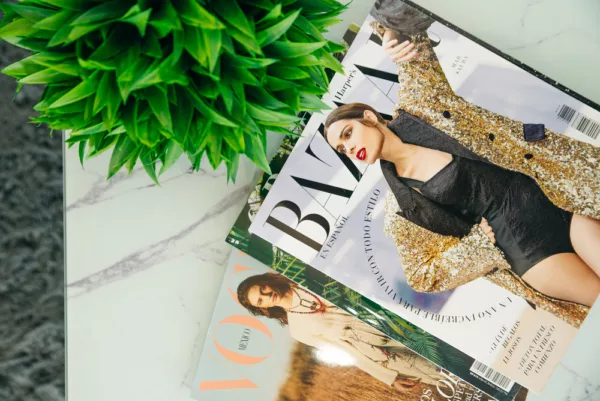 Source more Ideas for your Fashion Blog
Inspiration for fashion blog content can come from various sources.
Stay updated with fashion trends, follow industry influencers, attend fashion events, explore fashion magazines, online communities and observe runway shows and street style trends.
These are some great ways to gather inspiration for outfit posts, trend analysis, styling tips, and fashion news.
Additionally, listen to your audience's feedback and incorporate their suggestions to create relevant and engaging content.
Outreach through Link Building Techniques
Link building is essential for improving your blog's search engine ranking and attracting organic traffic.
Enhance your blog's visibility and search engine rankings by implementing effective link building strategies.
Guest posting on other fashion blogs, participating in fashion forums, and reaching out to fashion influencers for collaborations can help you acquire valuable backlinks.
Focus on providing valuable content that others would naturally want to link to.
Diversify your Earning Potential
Fashion blogging can be monetized in various ways, allowing you to earn income as your blog grows.
Some common revenue streams for fashion bloggers include sponsored posts, affiliate marketing, brand collaborations, display advertising, selling products or services and more.
As your blog grows and your influence increases, so does your earning potential.
Diversifying your income streams can enhance your financial stability as a fashion blogger.
Explore various ways to make money as a Fashion Blogger
Affiliate Marketing
Affiliate marketing allows you to earn commissions by promoting products or services on your blog.
Sign up for fashion-related affiliate programs with fashion retailers and strategically incorporate affiliate links into your blog posts.
I highly recommend joining the platform RewardStyle also known as LTK Creator (formerly LikeToKnow.It).
When your readers make purchases through these links, you earn a percentage of the sale.
Ensure that your recommendations align with your personal style and cater to your audience's interests.
Related: How To Start A Business Without Money
Brand Collaboration and Sponsorship
As your blog gains traction, brands may approach you for collaborations or sponsorships.
Collaborating with fashion brands can provide exposure, new opportunities, and financial benefits. 
Engage in sponsored collaborations by creating compelling content that seamlessly integrates the brand's products or services.
Maintain authenticity by partnering with brands that align with your style and values.
Brand Outreach
Similar to brand collaboration, brand outreach is where you as the blogger actively reach out to brands, PR agencies, and other bloggers that align with your blog goals and values, for collaboration or sponsorship.
Craft professional and personalized pitches that demonstrate how partnering with your blog can benefit their brand.
Highlight your blog's unique features, audience demographics, and past successful collaborations.
You can also build personal relationships with brands and industry professionals in order to expand your network, by attending industry events, fashion weeks, and networking conferences
This can further lead to more potential collaborations and brand partnerships.
Offering Services or Products to complement your Fashion Blog
Expand your blog's revenue potential by offering services or products that complement your fashion blog.
Consider offering services or products that align with your expertise and audience's needs like personal styling services, fashion consulting, online courses, e-books, or launching your fashion line.
Diversifying your offerings can create additional income streams and further establish your authority in the fashion industry.
Display Advertising
In addition to the above methods, fashion bloggers can explore other revenue streams like display advertising, such as Google AdSense or Ezoic, which places ads on your blog and pays you based on clicks or impressions. 
As your blog traffic grows, so does your revenue from ads.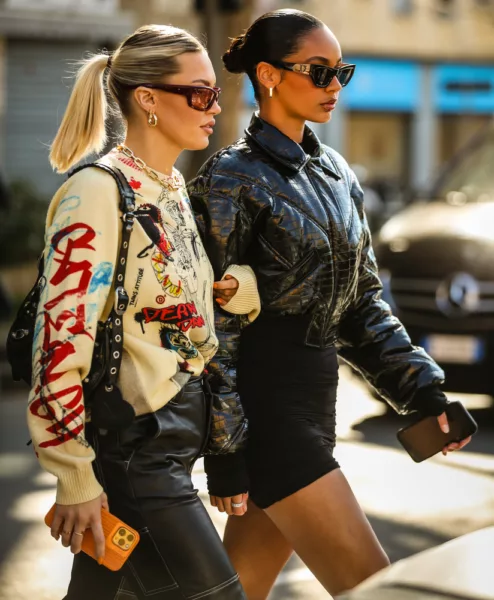 Become a Fashion Influencer by blogging full time
If you aspire to blog full-time and become a fashion influencer, focus on consistently delivering high-quality content, nurturing your audience, and building your personal brand.
As your influence grows, you can secure more lucrative brand partnerships, fashion events, speaking engagements, brand ambassadorships and sponsorships.
Transitioning to full-time blogging requires dedication, perseverance, and strategic planning.
With consistent effort and a growing audience, you can transition from part-time blogging to a full-time career.
Consider the Pros and Cons of Being a Fashion Blogger
Pros:
Creative outlet for passion for fashion
Opportunity to build a personal brand and connect with like-minded individuals
Potential for earning a full-time income and gaining recognition in the industry
Access to exciting collaborations and fashion events
Accomplish the dream of working with your favorite designers, brands or retailers
Cons:
Highly competitive industry, requiring consistent effort to stand out
Consistent effort and time commitment required
Income can be unpredictable, especially in the beginning
Constant need to stay up-to-date with fashion trends and industry changes
Initial challenges in building a loyal audience and monetizing your blog
Wrapping Up How to Start a Fashion Blog
Starting a fashion blog is an exciting journey that allows you to share your passion for fashion with a global audience.
It requires passion, dedication, and a strategic approach.
By following the steps outlined in this comprehensive guide, you can lay a strong foundation for your blog's success.
Remember to stay dedicated, be authentic, and consistently deliver high-quality content to create a thriving fashion blog that resonates with readers and opens doors to exciting opportunities in the fashion industry.
Success may take time, but with perseverance and continuous learning, you can build a flourishing fashion blog and establish yourself as a prominent fashion influencer.
Shevy
Hi! I'm Shevy! I'm the Founder and Managing Editor of Travel Beauty Blog est. 2016. I am also the Founder of Shevy Studio Marketing Agency where I work with entrepreneurs and bloggers on SEO/Content Strategy, Web Design and Consultancy.