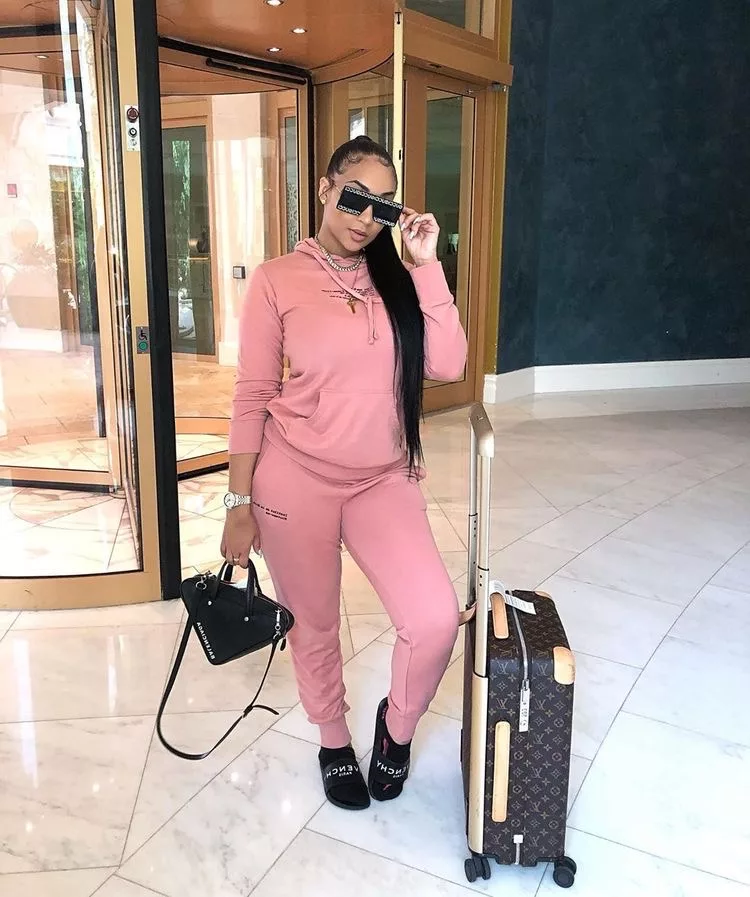 Last Updated on 2 months by Shevy
37 Chic, Casual Airport Outfits To Travel In Style And Comfort
Traveling by plane can be a long and tiring experience for many people, but that doesn't mean you have to sacrifice style in the process.
With these 15 outfits for the airport, you can look cute and stylish while still remaining practical and comfortable during your journey.
We are a participant in various affiliate marketing programs and may earn a commission for any purchases made through these links at no extra cost to you. Read full disclosure here.
Some people prefer to dress in sweats, leggings and joggers, while others opt for jeans and dresses.
What may be dressy for you may be considered casual for someone else and vice versa.
Related: 40 Stylish Blazer Outfits Ideas For Daytime And Nighttime Wear
However, personal preferences should not be frowned upon for choosing one over the other.
Say goodbye to boring airport outfits and hello to elevated travel style!
How To Prepare For Your Next Air Travel
Comfort is essential
When it comes to air travel, comfort should be your top priority.
You'll likely be sitting down for a long period of time and navigating through crowds, so make sure your outfit is both comfortable and practical.
Opt for loose-fitting clothes made from soft and breathable fabrics such as cotton or linen.
Leggings or joggers paired with a cozy sweater or oversized t-shirt are great options for staying comfy during the flight.
Remember to also wear comfortable shoes that are easy to slip on and off as you move through security checkpoints.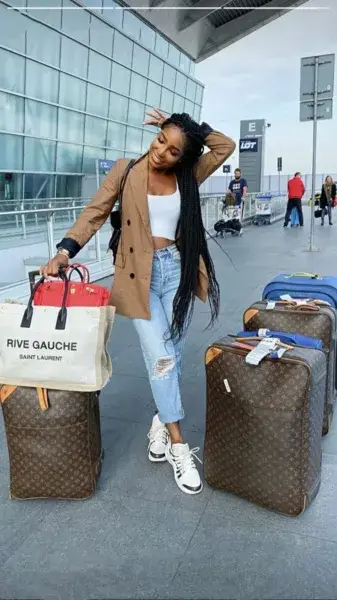 Dress in Layers
One of the keys to creating comfortable outfits for the airport is dressing in layers.
The temperature can vary greatly between the airport, airplane, and your final destination, so it's important to have options.
Start with a comfortable base layer such as leggings and a t-shirt, then add a cozy sweater or cardigan for warmth.
Finally, top it off with a stylish jacket or blazer that can be easily removed if needed.
By layering your clothing, you'll stay comfortable no matter what temperature you encounter on your travels.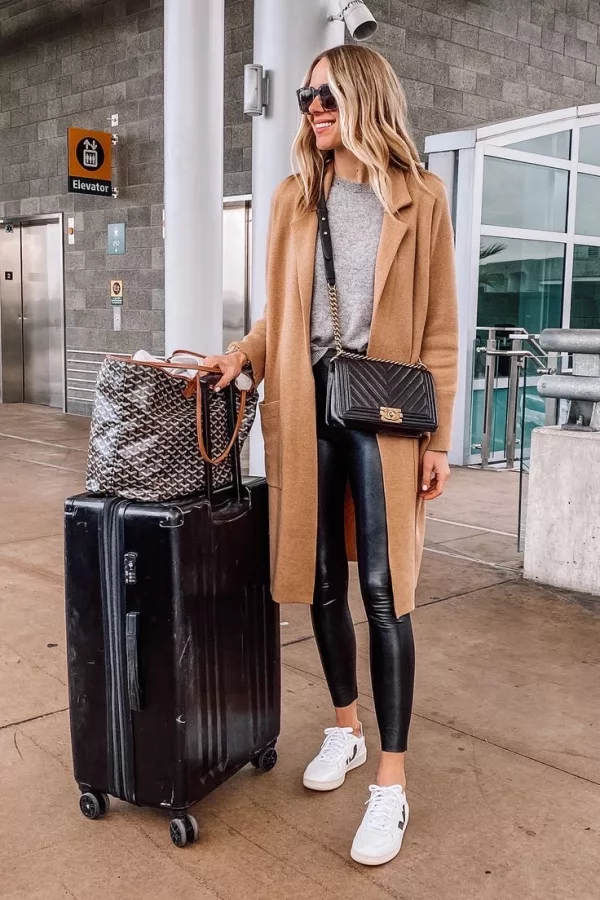 Prepare for Unpredictable cabin temperature
One thing that can make air travel uncomfortable is the unpredictable temperatures in the cabin.
So layering can definitely help you to be prepared for the flight.
It's always a good idea to bring extra clothing so you can adjust to the temperature changes.
Consider packing a lightweight jacket or cardigan that you can easily slip on or off depending on how warm or cold it is inside the plane.
Scarves, hoodies, and wraps are also great layering pieces that can add both style and functionality to your travel outfit.
Just remember not to overdo it with too many layers, as this can become bulky and take up valuable space in your carry-on bag.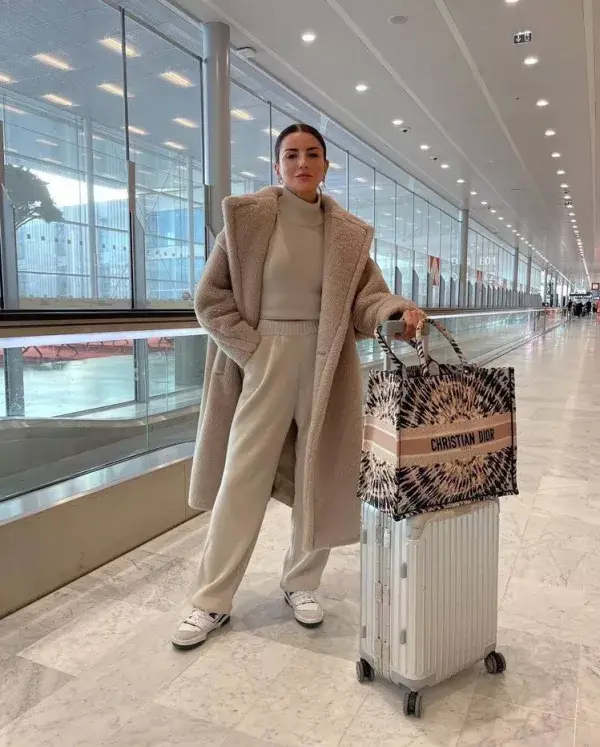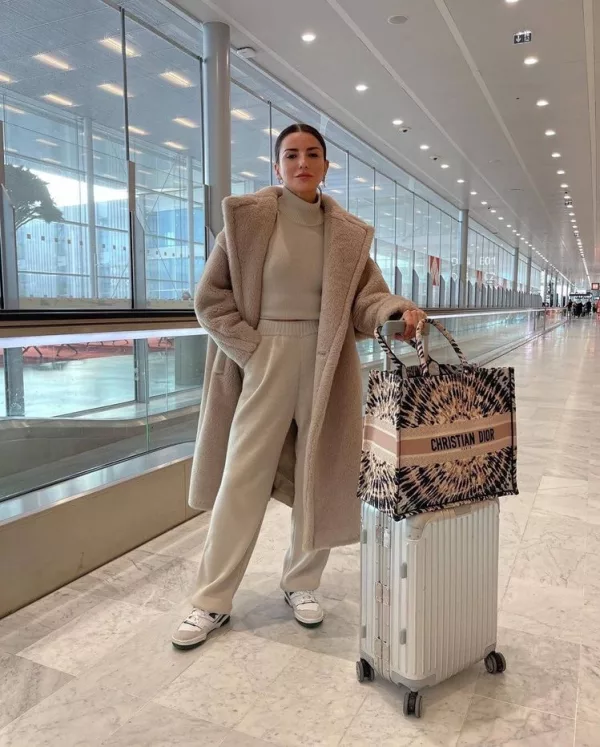 Choose Practical Shoes
When it comes to airport outfits, it's important to prioritize practicality over fashion.
One of the most crucial elements of a travel outfit is the shoes.
Comfortable and easy-to-wear footwear is essential for navigating through security checkpoints, running to catch a flight, and walking across crowded terminals.
Opt for sneakers, loafers, slip-on flats or shoes with minimal laces that won't hold you up at security. These are all great options that are both comfortable and fashionable.
When traveling by air, the last thing you want to deal with is the hassle of laces, buckles or straps on your shoes.
Avoid heels or any other uncomfortable footwear that may result in sore feet after long hours of travel.
Remember, practical doesn't have to mean sacrificing style – there are plenty of stylish and comfortable shoe options on the market.
So, choose a pair that not only looks good but also provides adequate cushioning and support for your feet.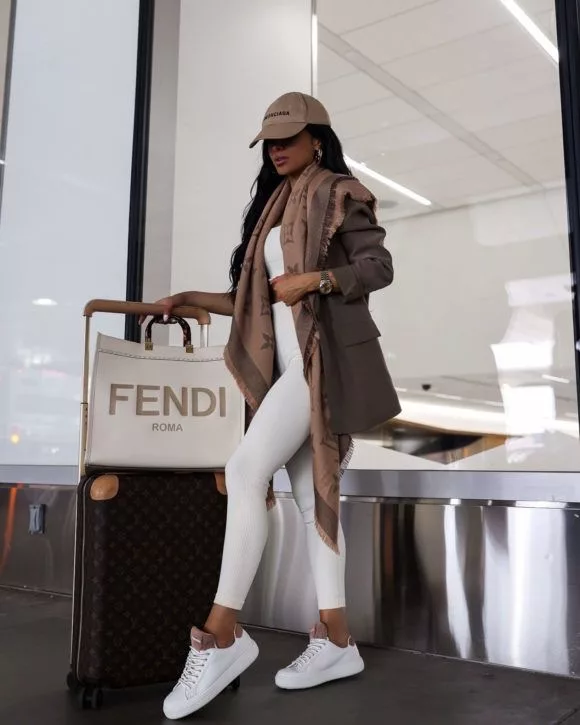 Consider the climate and destination
When planning your outfits for the airport, it's important to consider the climate and destination you will be traveling to.
If you are heading to a warmer location, opt for lighter fabrics like cotton or linen.
On the other hand, if you're headed somewhere chilly, make sure to layer up with scarves, jackets, and sweaters that can be easily removed for security screening.
It's also important to take into account any cultural norms or dress codes in your destination.
Check online travel guides or consult with locals to ensure that your attire is respectful and appropriate in your chosen locale.
By considering these factors, you can create a comfortable and stylish airport outfit that is perfectly suited to your destination.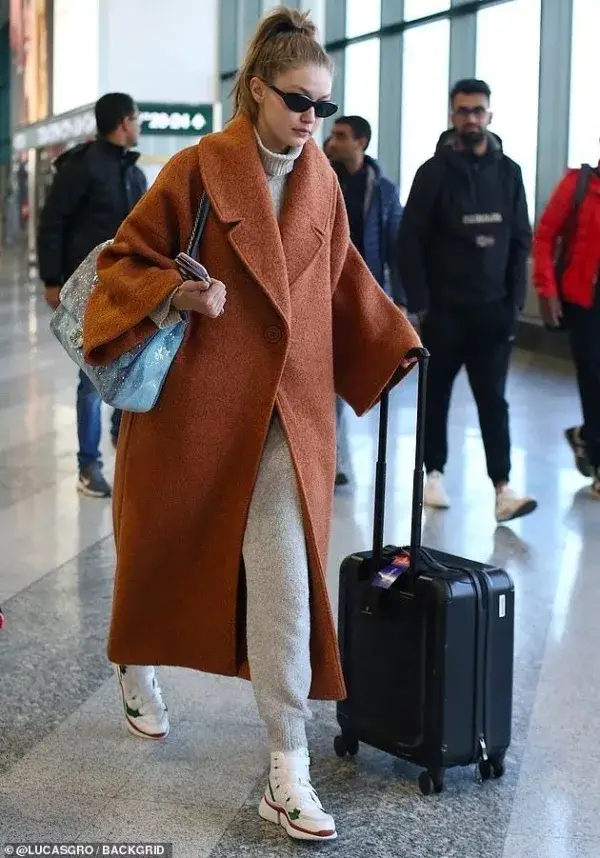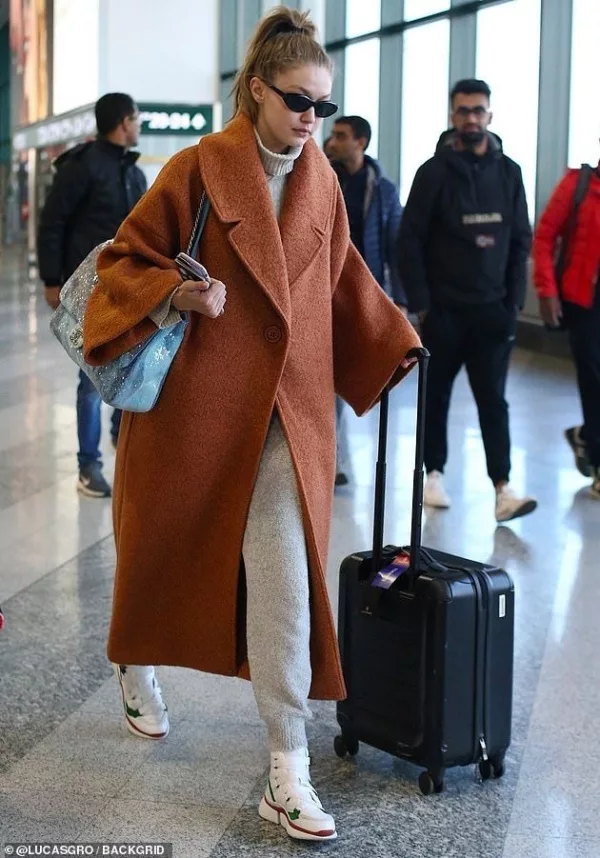 Pack a Travel-Friendly Bag
Choosing the right bag is key for comfortable and hassle-free travel.
Look for a bag that can accommodate all of your essentials, but is also lightweight and easy to maneuver.
A backpack or tote bag can be a great option as they are comfortable to carry and provide ample space for any necessary items such as water bottles, snacks, books or electronic devices.
Related: 17 Stylish Summer Beach Bags For Women
Make sure to check with your airline carrier regarding their size and weight restrictions before packing your bag to avoid any inconvenience at the airport.
Remember, a travel-friendly bag doesn't have to sacrifice style – opt for a trendy travel bag that complements your outfit while providing functionality on the go.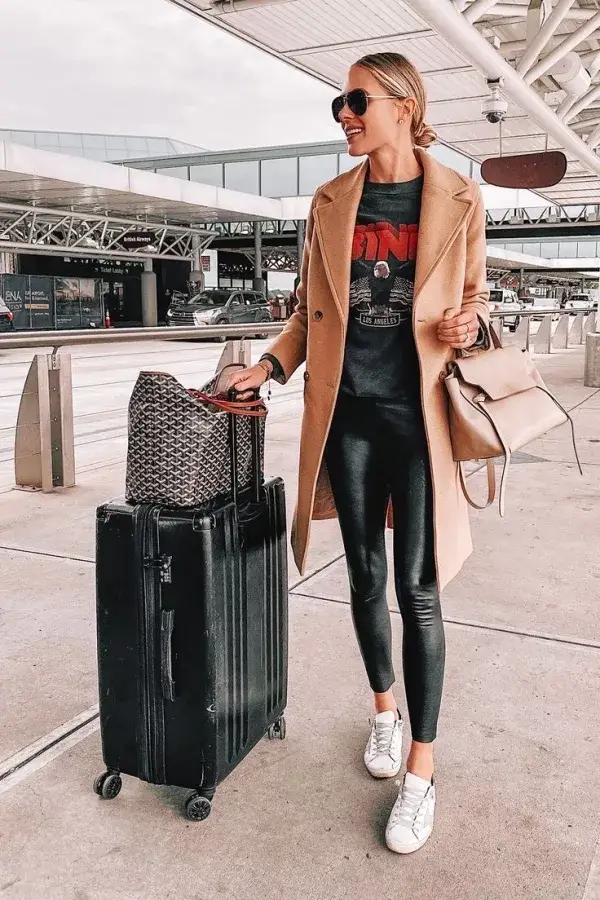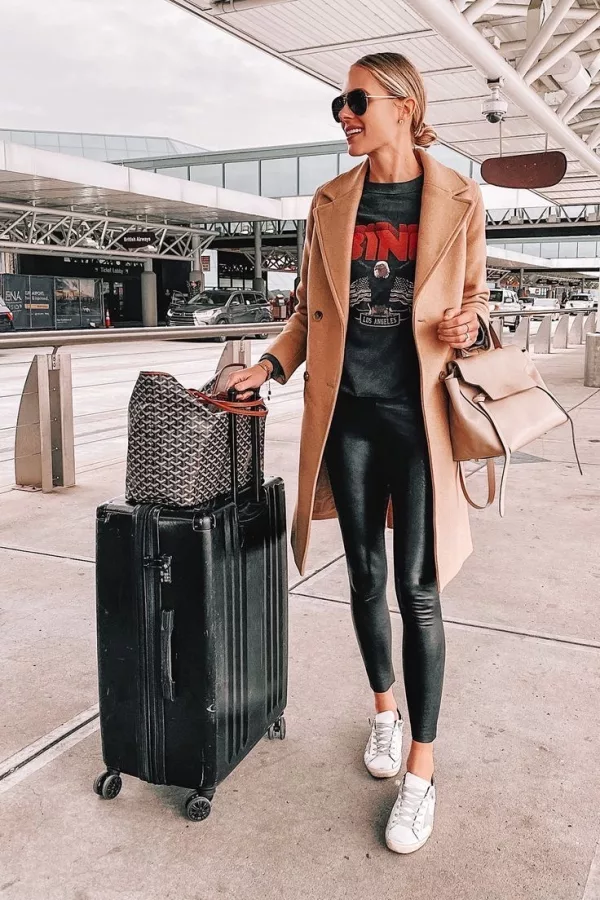 Shop Outfits For The Airport – Comfy and Stylish Airport Outfits

Cute and Practical Outfits For The Airport
Start with comfortable basics
When it comes to airport outfits, comfort is key.
So start with comfortable basics like leggings, sweatpants or joggers paired with a cozy t-shirt or sweater.
Opt for breathable and stretchy materials that allow freedom of movement and make you feel at ease during long flights.
Remember to also wear comfortable shoes, as you will be doing a lot of walking and standing in airports.
Sneakers or flats are a great option that can be both stylish and practical for your travel day.
Once you have your comfortable base outfit, you can add some fashionable accessories to complete the look.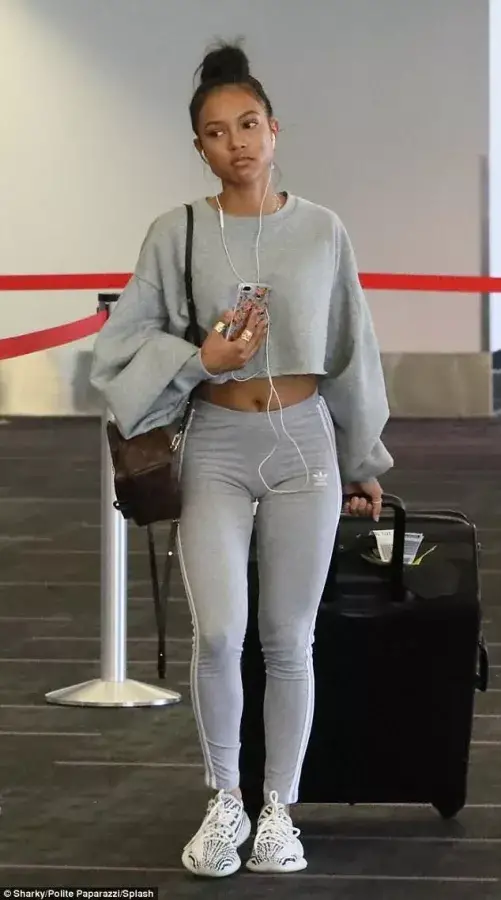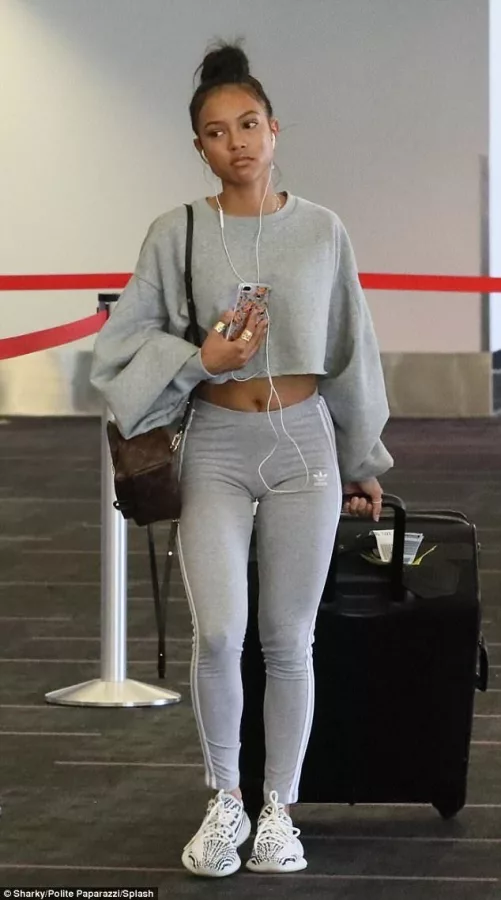 A crossbody bag to keep your hands free
A crossbody bag is the perfect accessory to keep your hands free when traveling through the airport.
Not only is it practical, but it can also be a stylish addition to your outfit.
Opt for a bag with multiple compartments to keep your essential items easily accessible, such as your passport, boarding pass, and phone.
It's important to note that larger bags may be subject to additional security checks, so choose wisely based on the length of your journey and what you need to carry with you.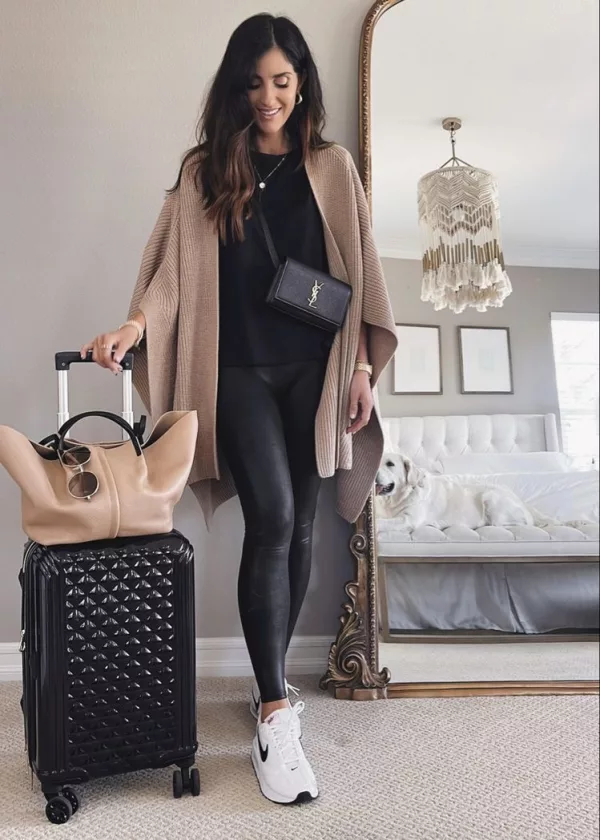 Relaxed Denim and a Cozy Knit Sweater
One of the most comfortable and practical outfits for air travel is a pair of relaxed-fit jeans paired with a cozy knit sweater.
With plenty of legroom and breathability, jeans will keep you comfortable without restricting your movement during long flights.
A knit sweater not only looks great but also adds an extra layer of warmth, making it easy to deal with fluctuating temperatures on the plane.
You can complete this look with a pair of flats or slip-on sneakers for effortless style and comfort.
Just ensure that your outfit is easy to put on and take off so that going through security checkpoints at the airport is hassle-free!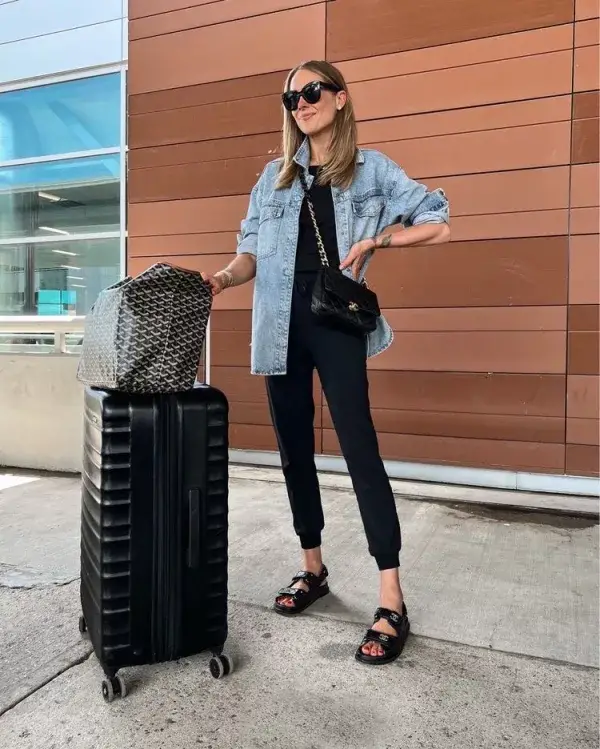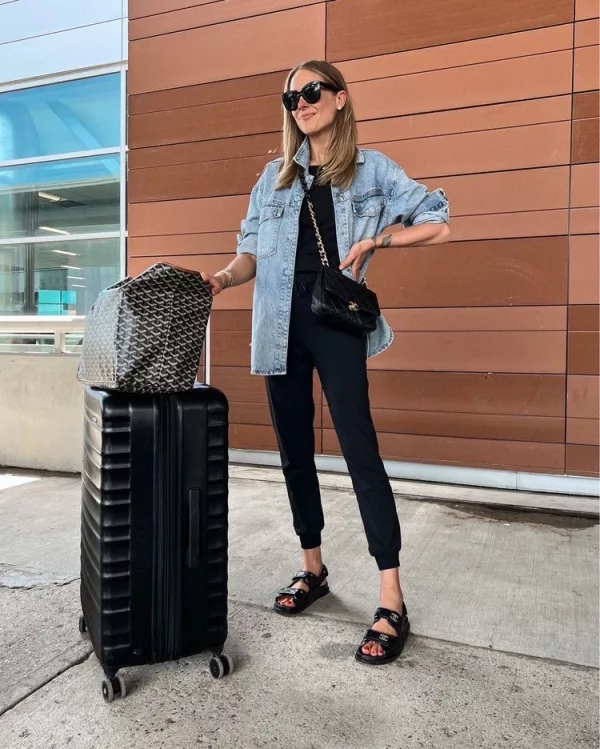 The Classic Jeans and T-Shirt Combo
The classic jeans and t-shirt combo is a timeless look that never goes out of style, making it a perfect outfit for air travel.
Aside from being practical, this outfit can also be dressed up or down depending on your preference.
Pair your favorite comfortable jeans with a fitted t-shirt for a simple yet chic look.
To add some personality to your outfit, consider opting for a graphic tee or a shirt with an interesting print.
Complete the look with sneakers or ankle boots for added comfort and style.
This outfit is not only easy to wear but also practical for a long day of travel.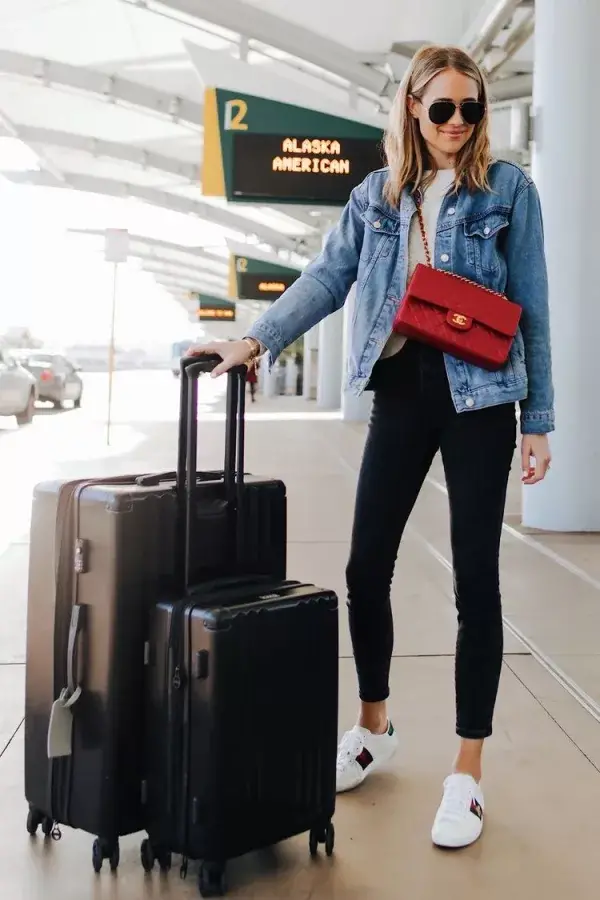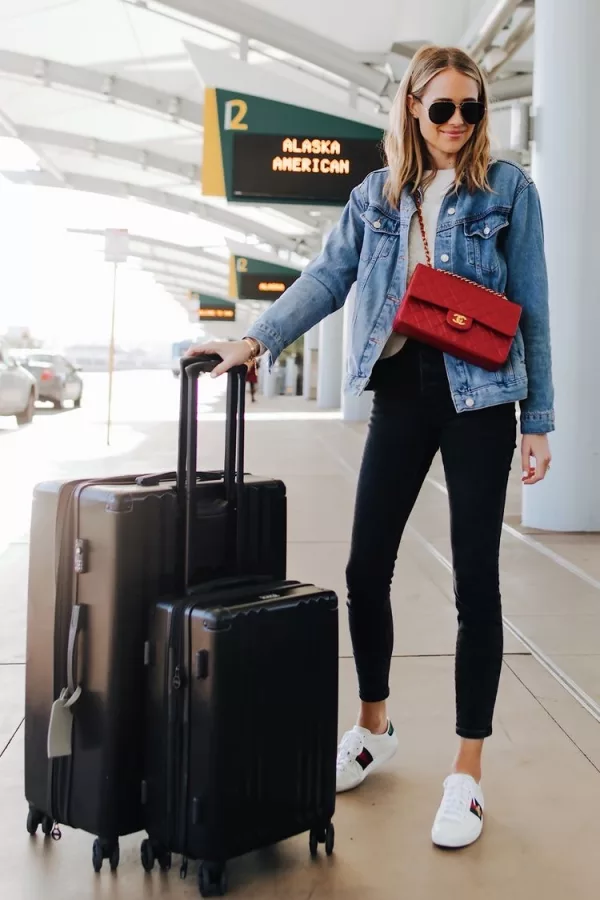 Sweatpants and Sneakers
Can't go wrong with sweatpants and sweatshirts as they are comfortable and easy to slip on. You can wear them with a pair of sneakers or even heels.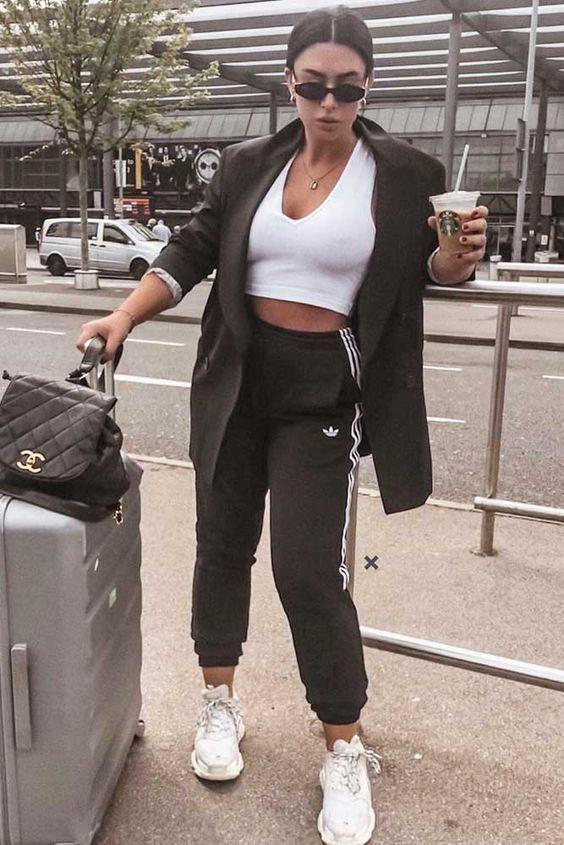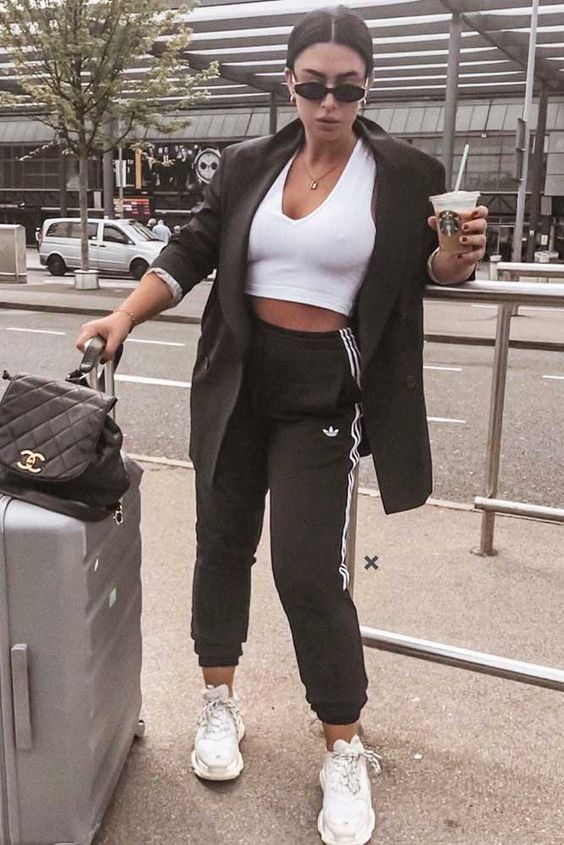 The Classic Sweatsuit
The classic sweatsuit is a perfect choice for a comfortable flight.
Whether you opt for matching sweatpants and hoodie or mix and match with a different color, a soft and cozy sweatsuit can make all the difference.
Pair it with some slip-on sneakers or comfy slides, and you're good to go.
Related: 40 Stylish Blazer Outfits Ideas For Daytime And Nighttime Wear
Plus, if your destination is on the chilly side, you can easily layer up with a jacket or scarf over your sweatsuit.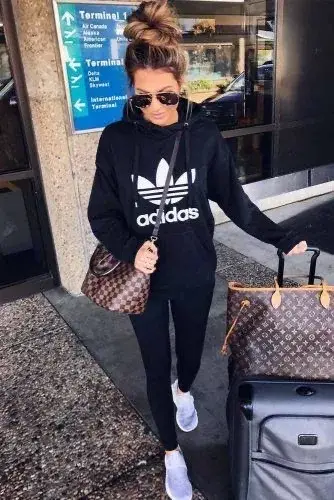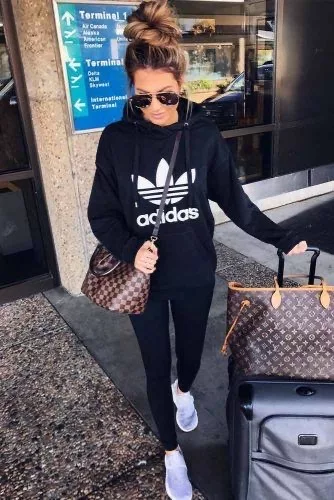 Leggings and Sandals
The next best thing after sweats is a pair of leggings. These are super lightweight and requires minimal effort to style. You can pair them with a pretty blouse, basic t-shirt, bomber jacket, denim jacket or a sweater.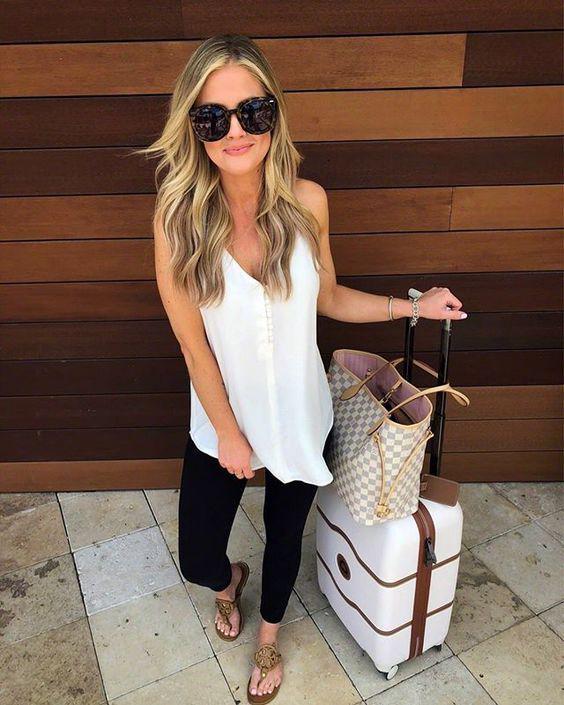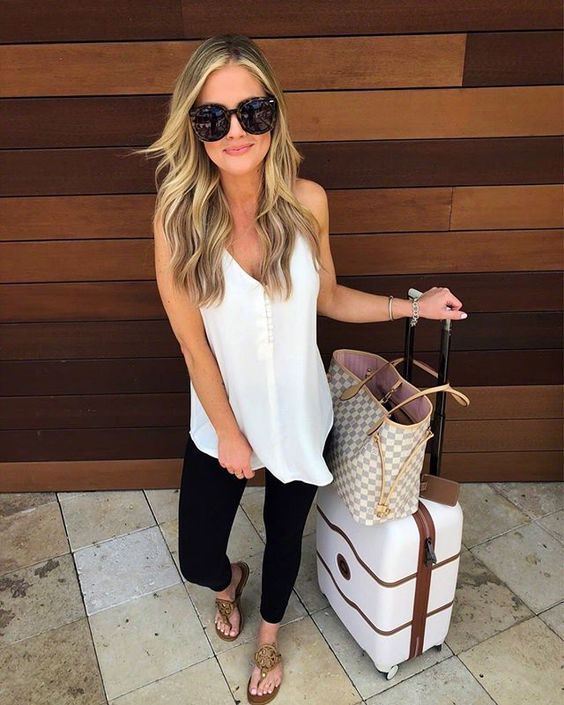 Related: More Things To Complete My Summer Wishlist

Comfy Sneakers with Jeans
Photo Source: StealTheLookBR
One of the best things you can do for yourself when travelling is wearing comfortable shoes such as sneakers. They are the most obvious shoes to wear because they are made for a lot of walking.
Related: 10+ Best Golden Goose Dupe Sneakers On A Budget
Apart from that they also keep your feet nice and cozy on a cold flight. My favourite pair to wear is my black and white Adidas sneakers, although a little heavy they are quite comfy. Or a pair of Golden Goose sneakers (my second choice).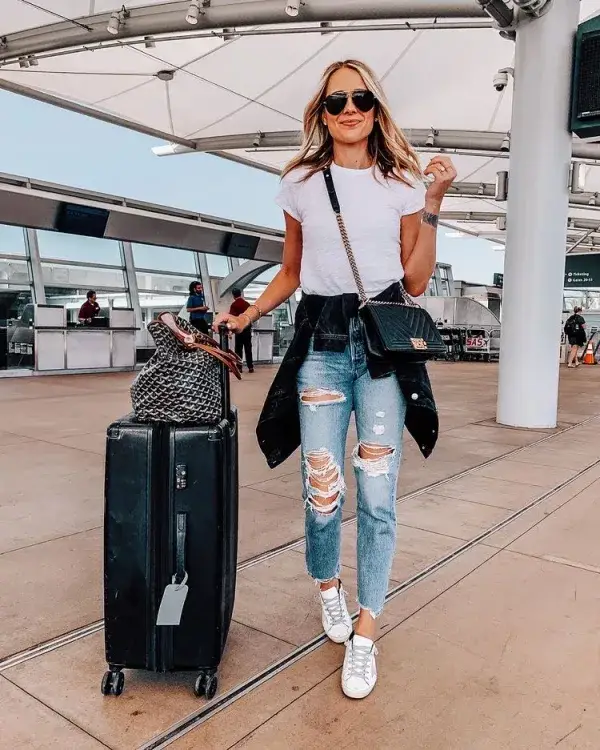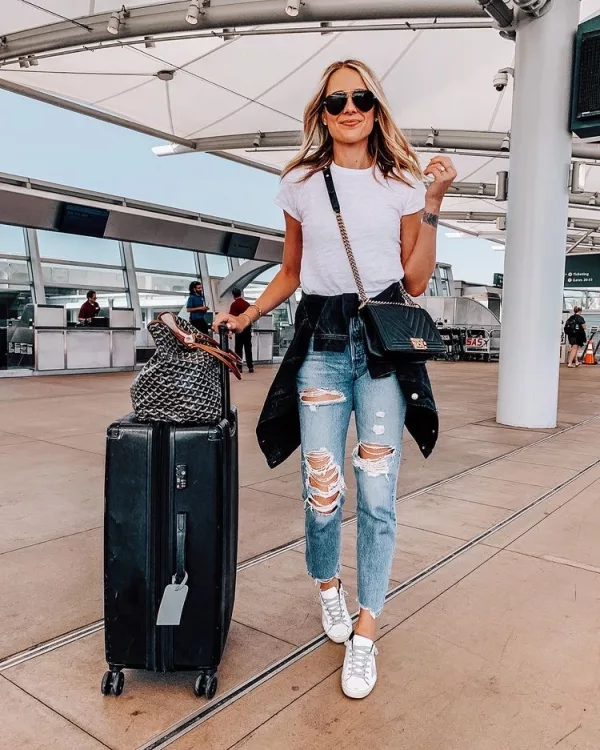 Jeans and Oversized Coat
Denim outfits effortlessly deliver both style and comfort. Jeans are easy to style and matches with literally anything.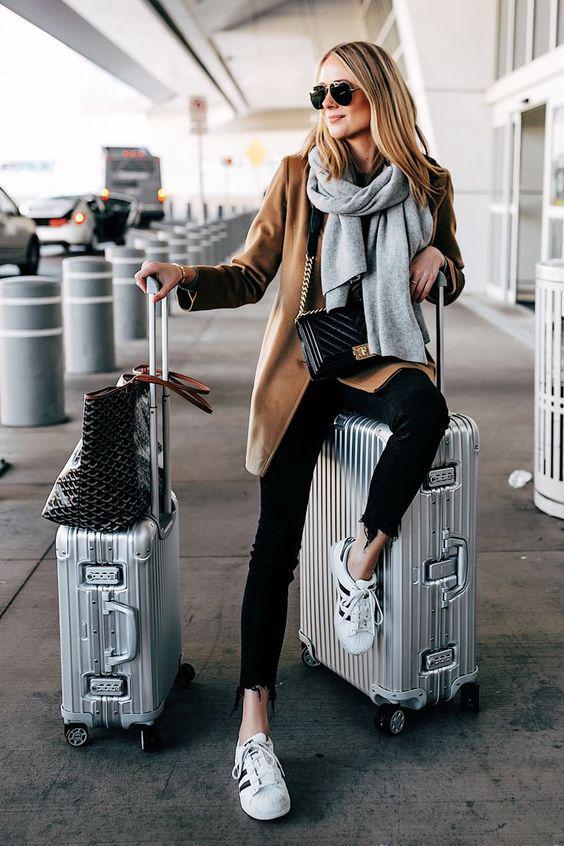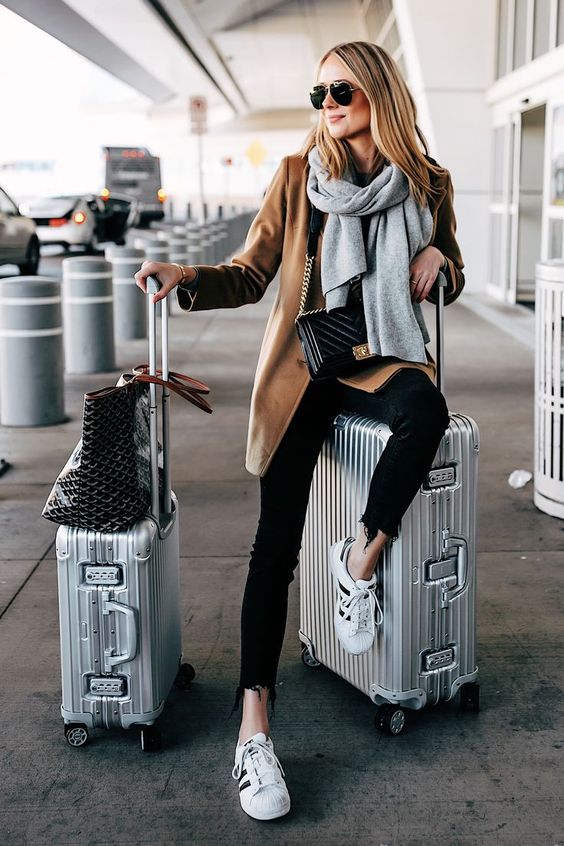 Leggings and Oversized Tunic
Leggings are another staple for a comfortable flight outfit.
They're stretchy and move with you, making it easy to get cozy in your seat without feeling restricted.
Pair them with an oversized tunic or sweater for a chic yet comfortable look.
To elevate the outfit even more, add some ankle boots or sneakers and accessorize with a scarf or statement necklace.
Not only will you be stylish, but you'll also feel comfy during your travels.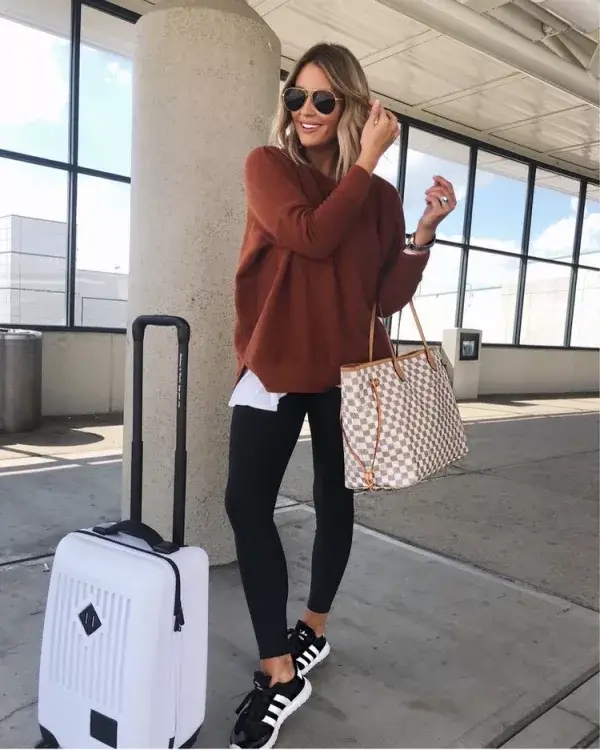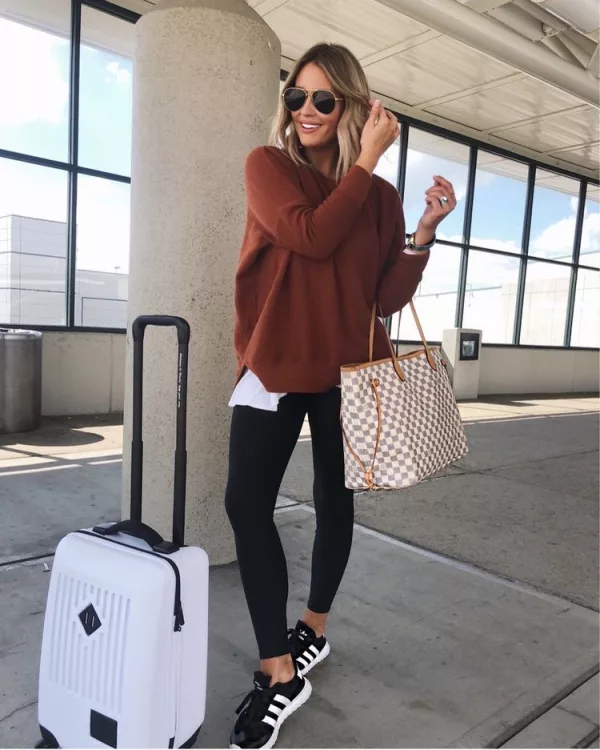 Joggers with Long Sleeve Sweater
Not in the mood for sweat pants, jeans or leggings but want to be comfortable at the airport? Then your next best bet is a pair of loose fitting joggers.
Joggers make some of the best airport outfits and best outfit for travelling on the whole.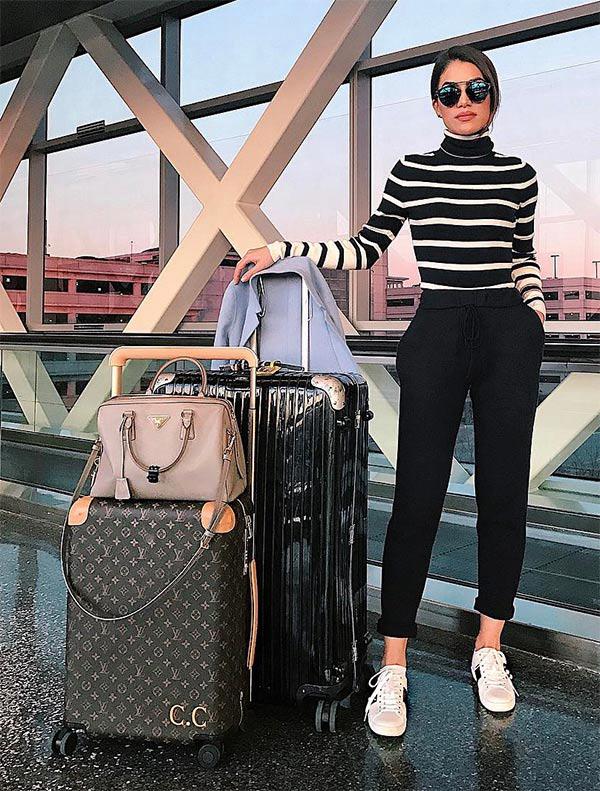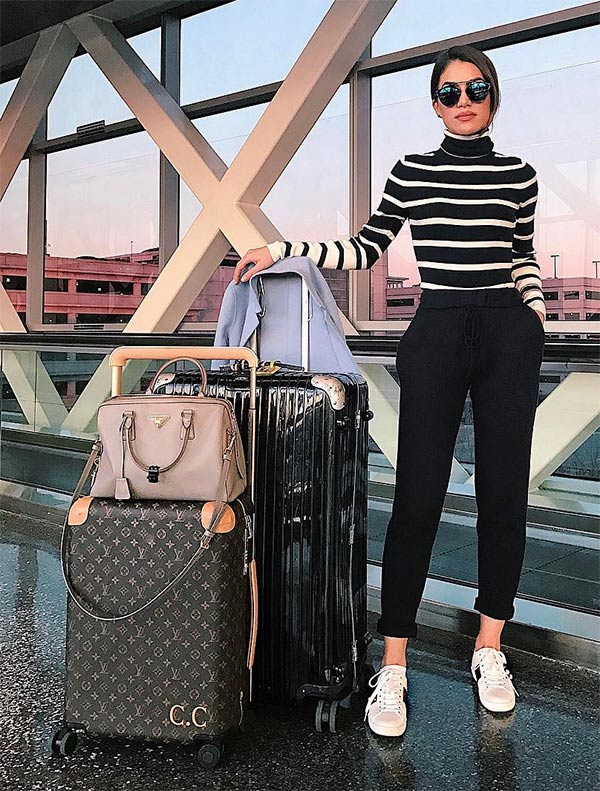 Loose-fitting Jumpsuit With Sneakers
If you're looking for a comfortable yet stylish outfit idea for your next flight, consider wearing a loose-fitting jumpsuit with sneakers.
The jumpsuit will provide breathability and a relaxed fit, while the sneakers will allow you to walk around the airport with ease.
Pair the jumpsuit with a denim or leather jacket for an added layer of warmth, and accessorize with a cross-body bag or tote to keep your essentials close at hand.
This outfit is perfect for those who want to travel in both comfort and style.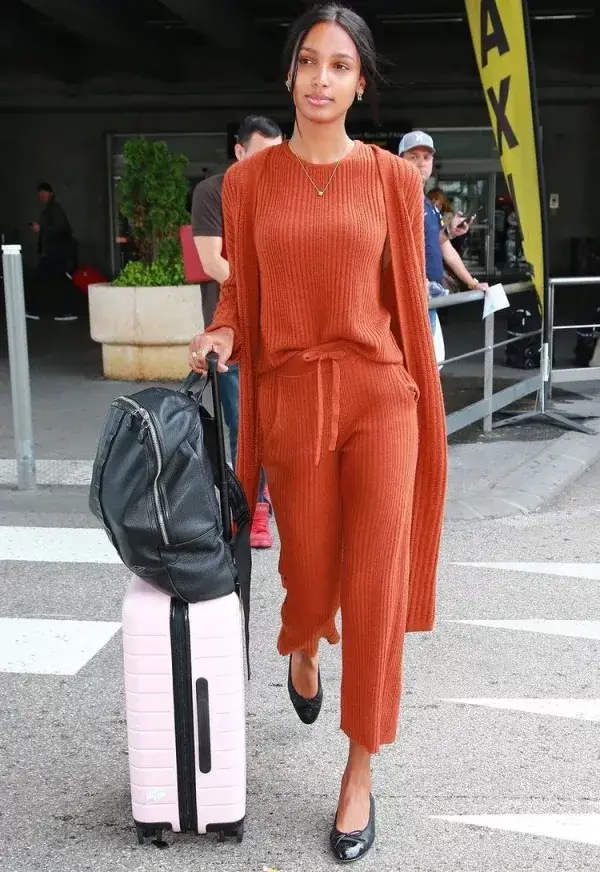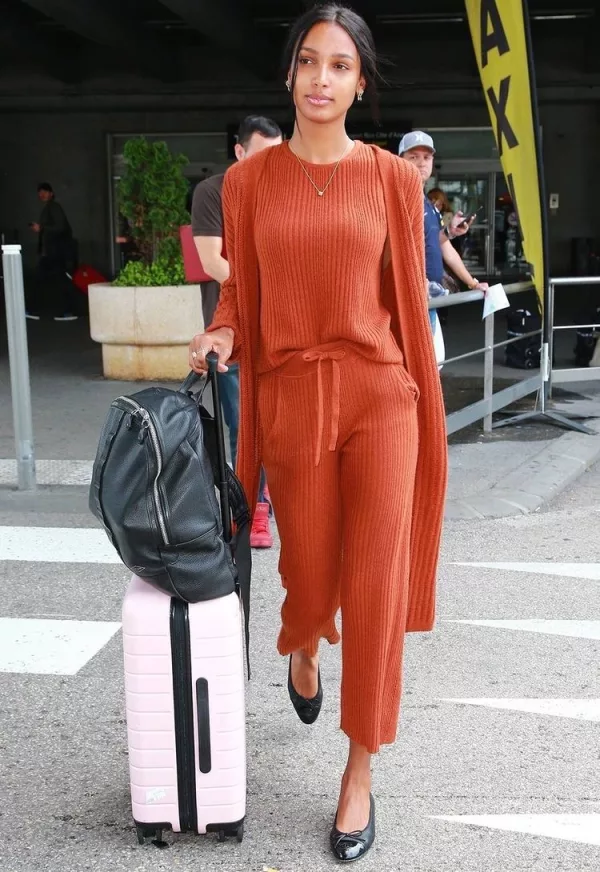 Ballerina Flats & Mules
The next best thing to sneakers is flats. Flats or a pair of mules can be both stylish and comfortable. A great alternative to wear during the winter months is UGG boots.
Related: Best Ugg Lookalike Boots That Are Great Quality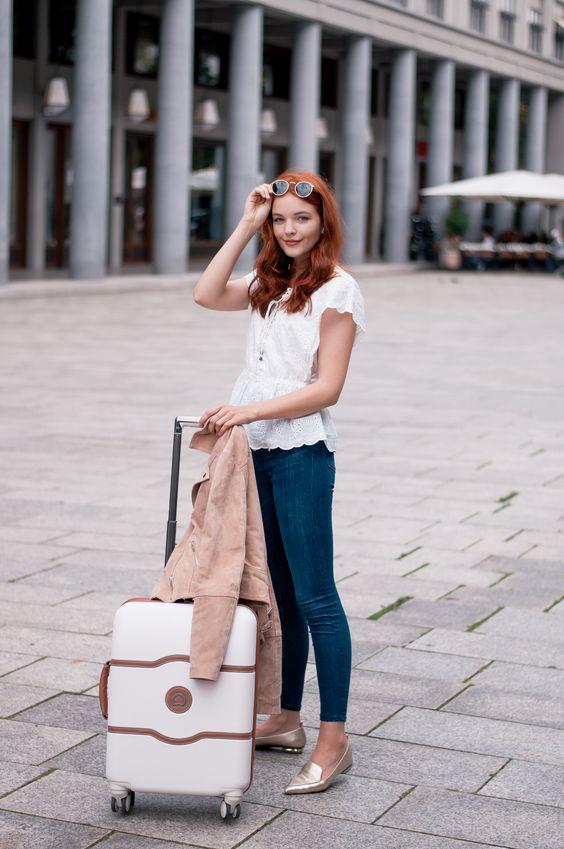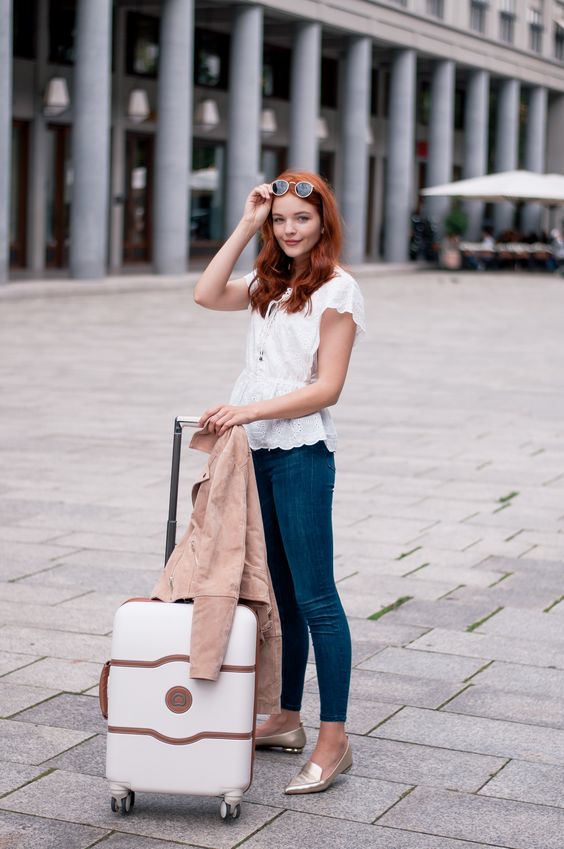 Best Outfits For The Airport: Mini Dresses
I love wearing cute short dresses and midi dresses when travelling. No need to dress like you are going to a wedding reception. Classy but simple and effective should be the main goal.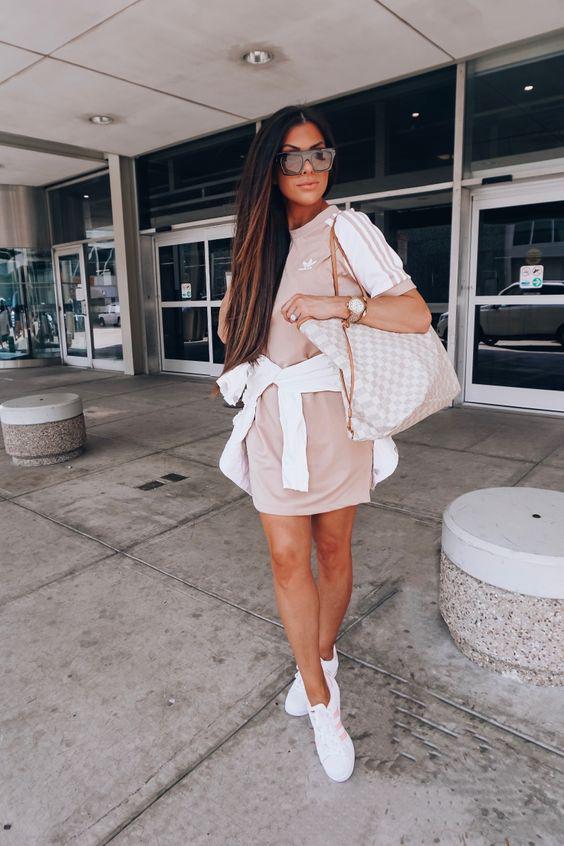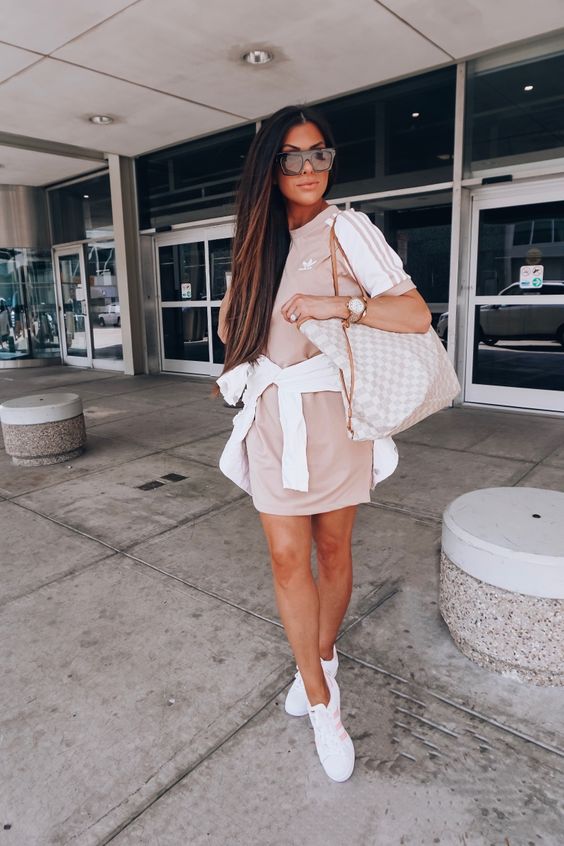 Wide-leg Pants with Teddy Coat
Another great outfit option for your next flight is a pair of wide-leg pants paired with a matching shirt and teddy coat.
This combination provides both comfort and elegance, making it perfect for any type of trip.
The loose-fitting pants will allow you to move around easily, while the teddy coat provides an extra touch of warmth.
Complete the outfit with trainers, a carryon and hand luggage.
With this outfit, you'll be comfortable, stylish, and ready to take on any adventure that comes your way!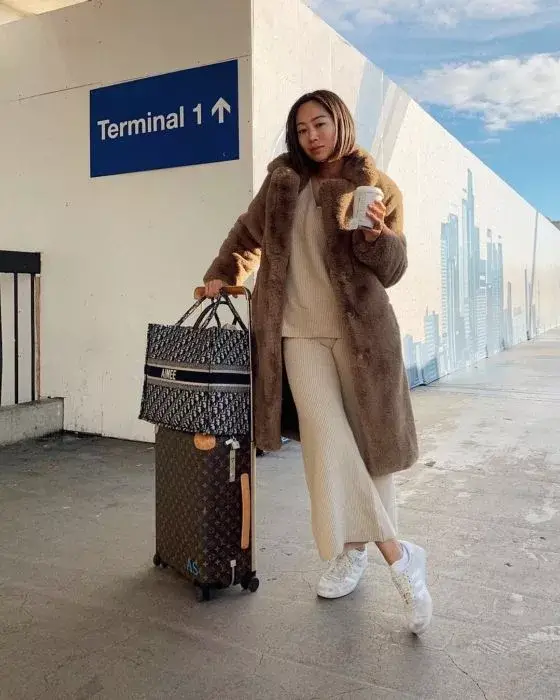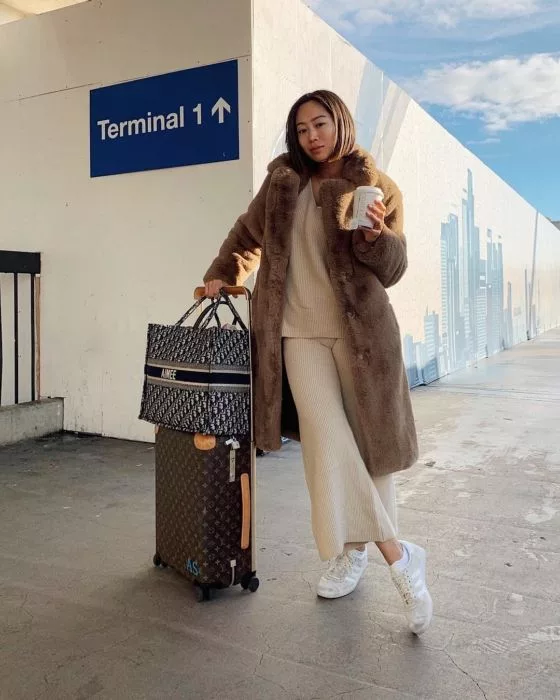 Oversized Cropped Sweatshirts with Leggings
Airports are usually very cold as well as most flights. Wearing a long sleeve sweatshirt or sweater is a great way to be prepared if you did not carry a jacket with you.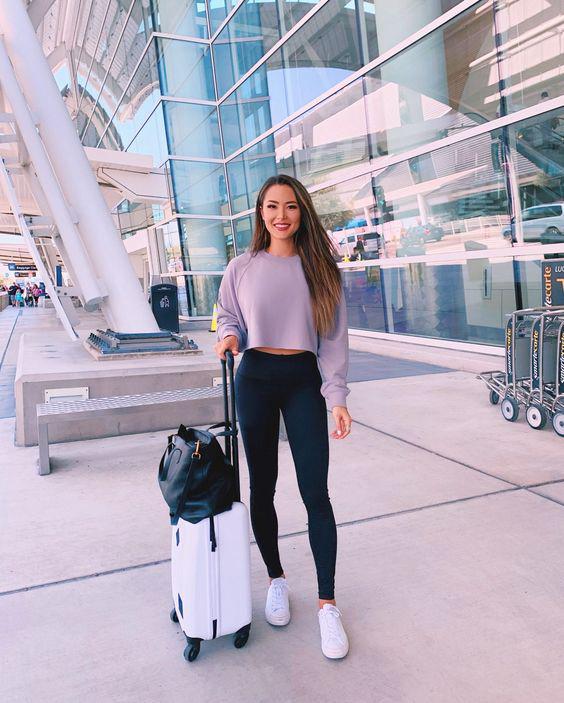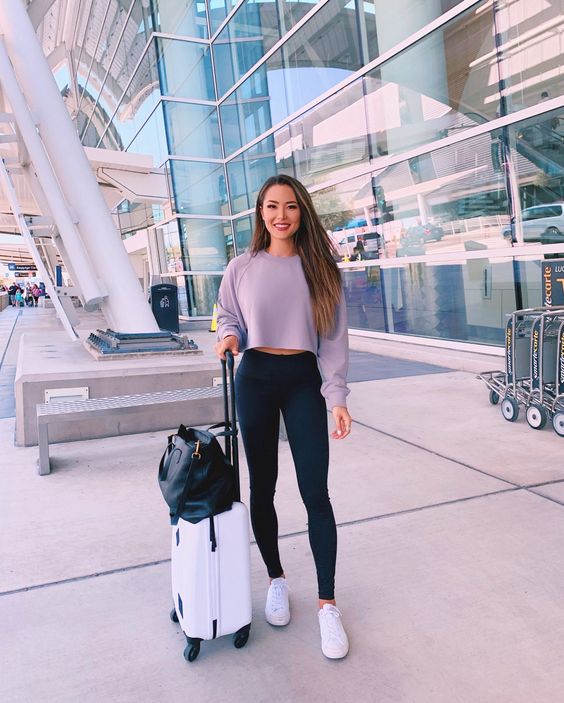 Comfy Short Pants Set with Sneakers
If you must travel in shorts, choose one that's loose-fitting and comfy. Like this cute Nike short pants and crop top set.
Complete the look with sneakers and a statement sunglasses.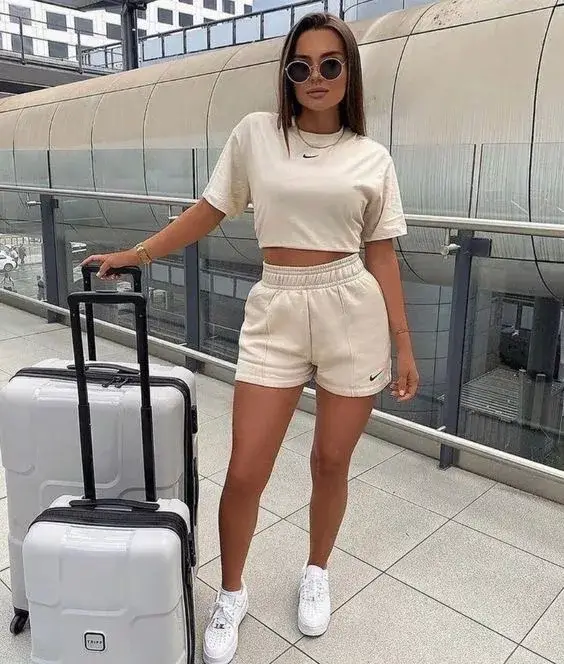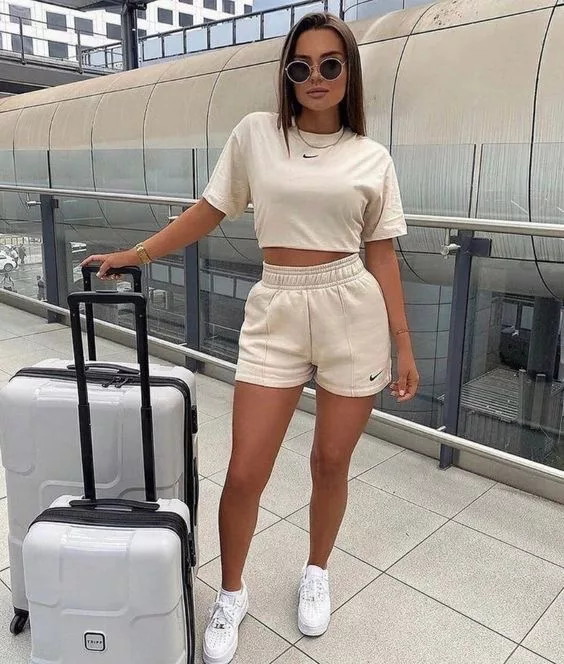 The Athleisure Look: Pair comfortable joggers with a cropped hoodie or a oversized t-shirt
If you crave comfort but still want to look stylish, the athleisure look is the perfect choice for your next flight.
Start with a pair of comfortable joggers in a neutral color like black, gray or navy blue.
Pair them with a cropped hoodie or an oversized t-shirt in a bright color to add some fun to your outfit.
Complete the look with a pair of sleek sneakers and you're good to go!
This outfit will not only keep you comfortable throughout your flight but also make you runway-ready as soon as you land.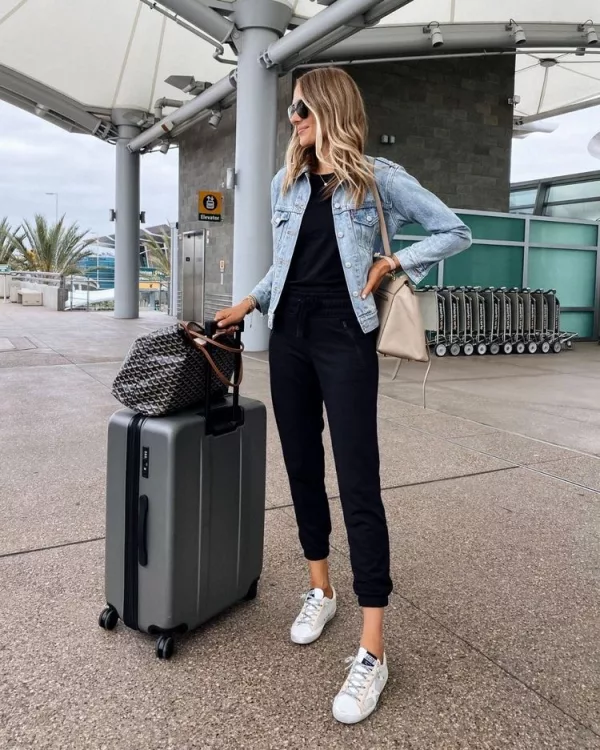 Appropriate Tote Bag & Carry On Luggage
A large tote bag like the Louis Vuitton Neverfull which can hold all your essentials and more. Together with a luggage of course, because who travels without baggage.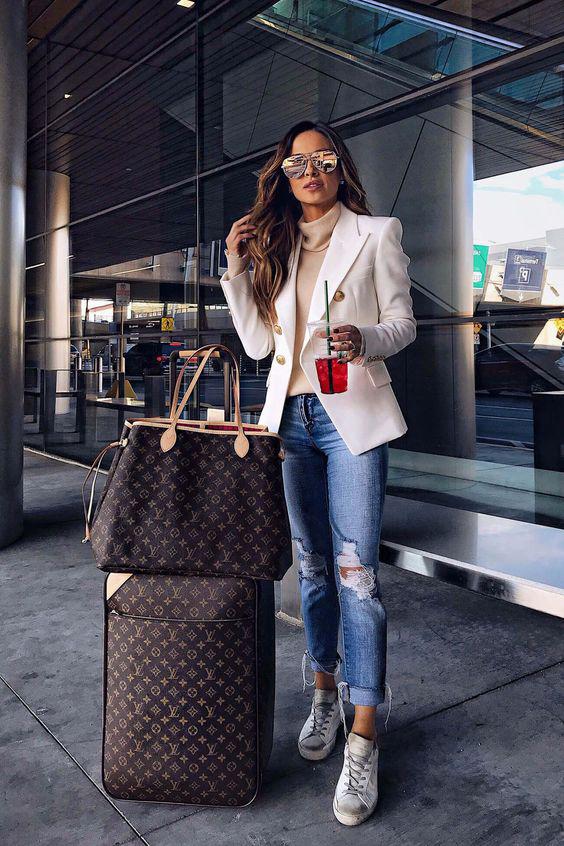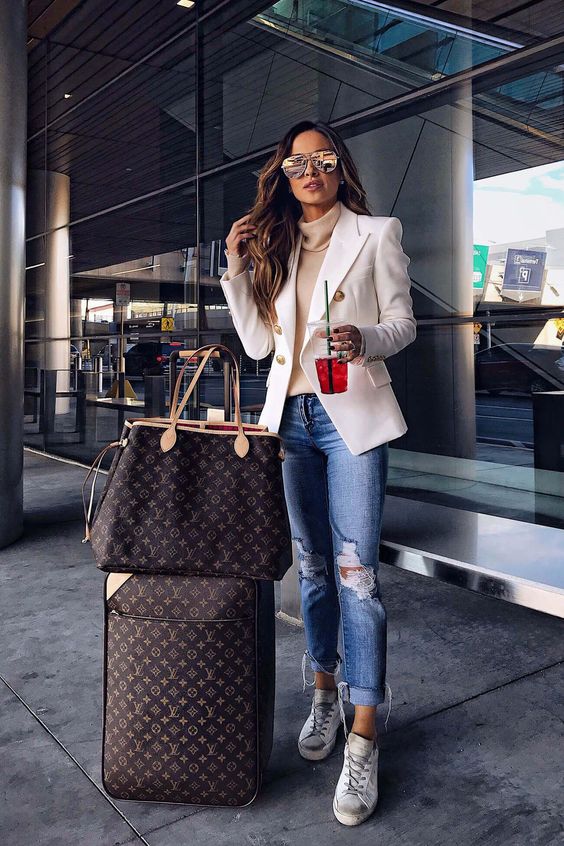 Open front Oversized Cardigan with Sandals
Instead of wearing flip flops try wearing a cute pair of sandals.
Related: How To Improve Your Look From Boring To Chic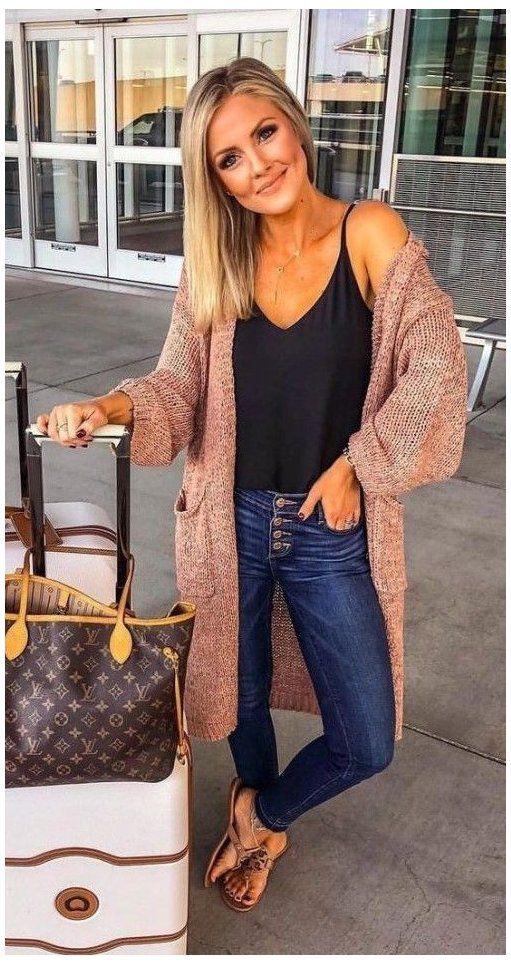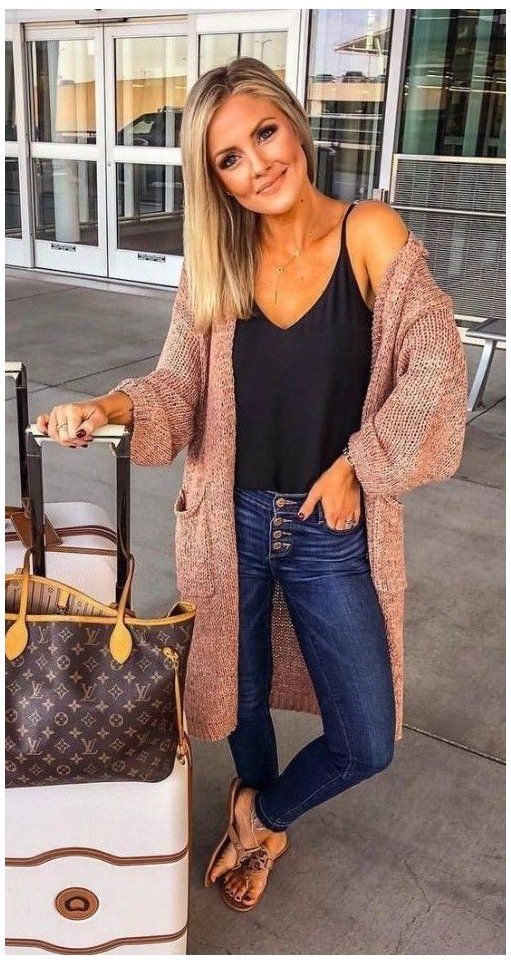 Skip the Complicated Outfits
While you may want to stand out with your airport ensemble, it's important to remember comfort and practicality.
Avoid wearing multiple layers or complicated outfits that may become a hassle during the security check or while sitting on the plane.
Long-line tops or dresses, bulky jackets, and tight pants are best avoided as they may cause discomfort and restrict movement.
Instead, opt for loose-fitting clothes made from comfortable fabrics like cotton that can move with you and keep you relaxed during your travels, helping you arrive at your destination feeling refreshed rather than constricted.
Leggings with a Cardigan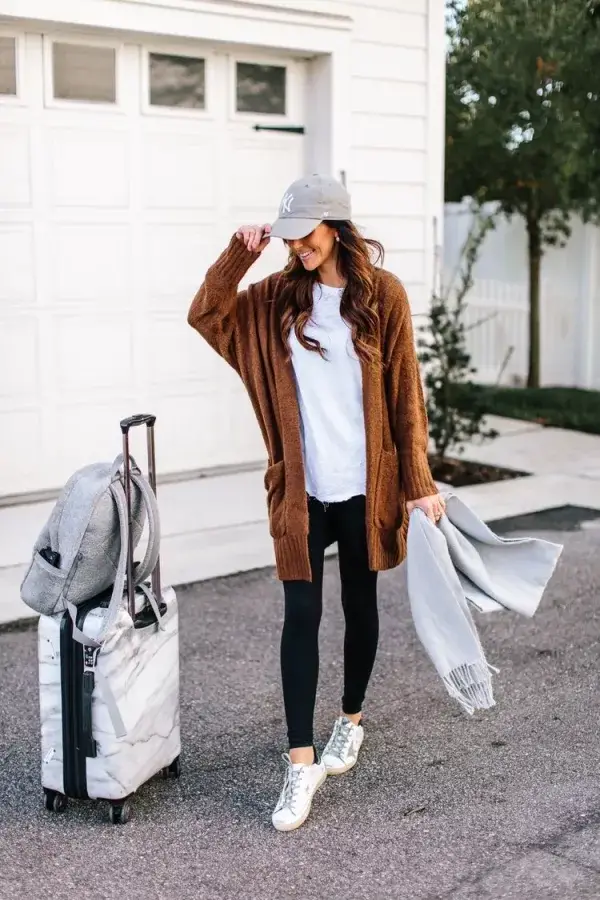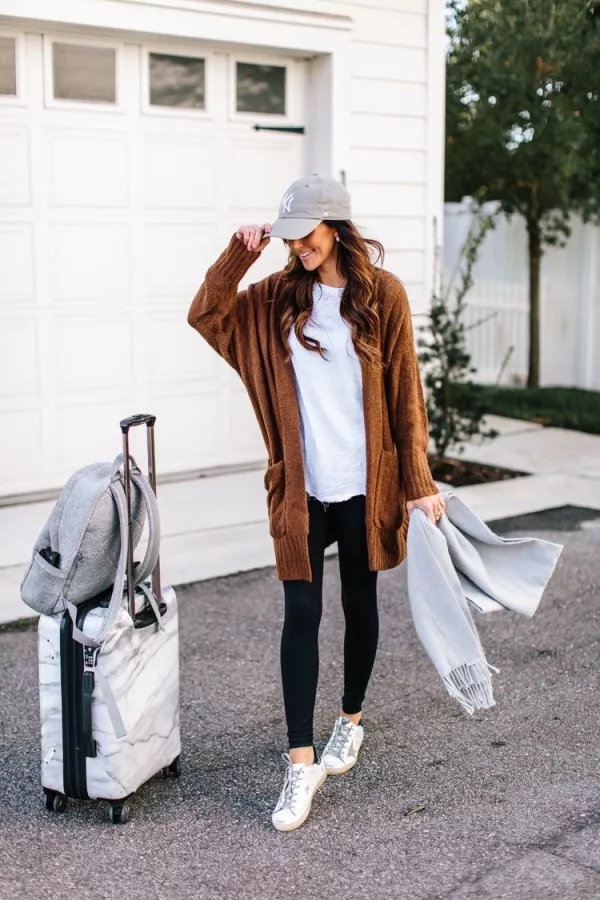 T-shirt with Jeans and Denim Jacket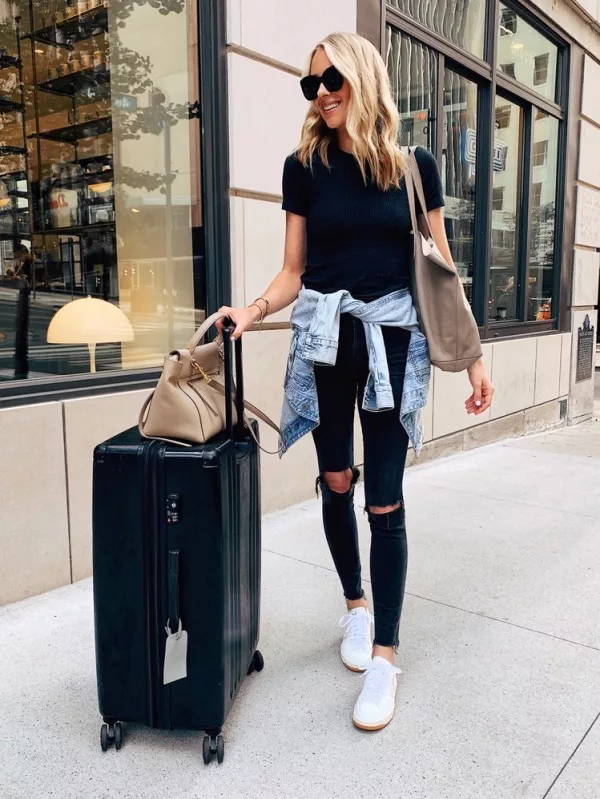 Jogger Pants with a Vest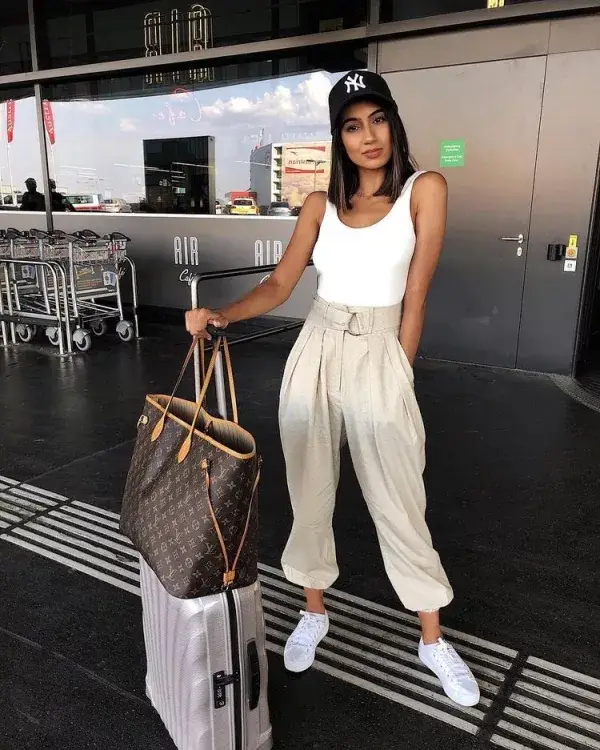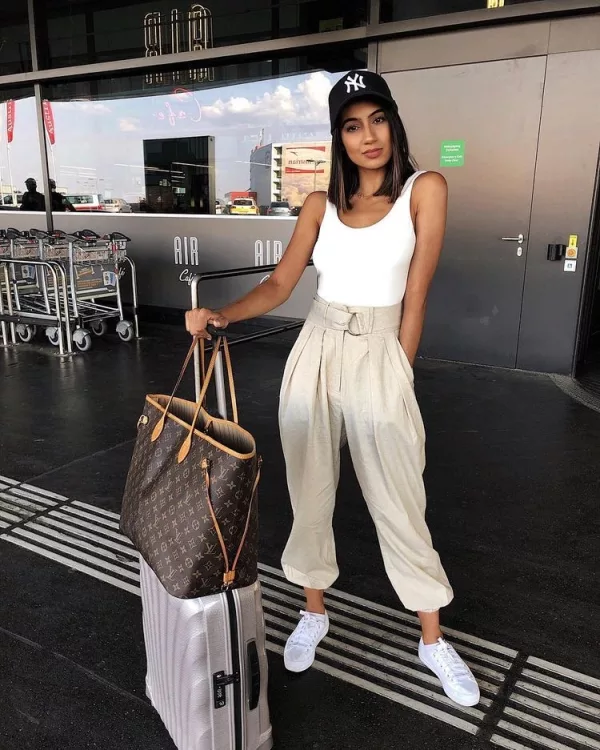 Long Sleeve Cardigan with Joggers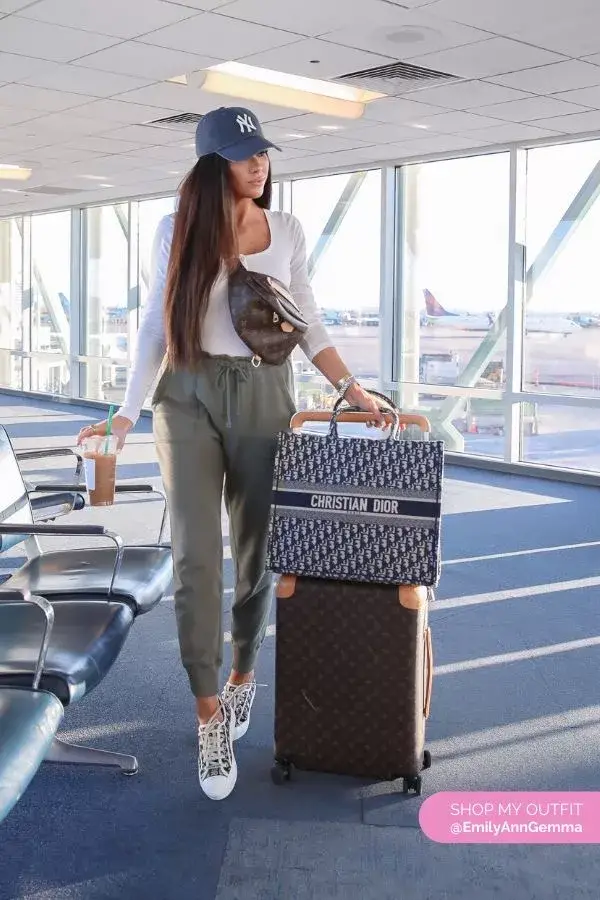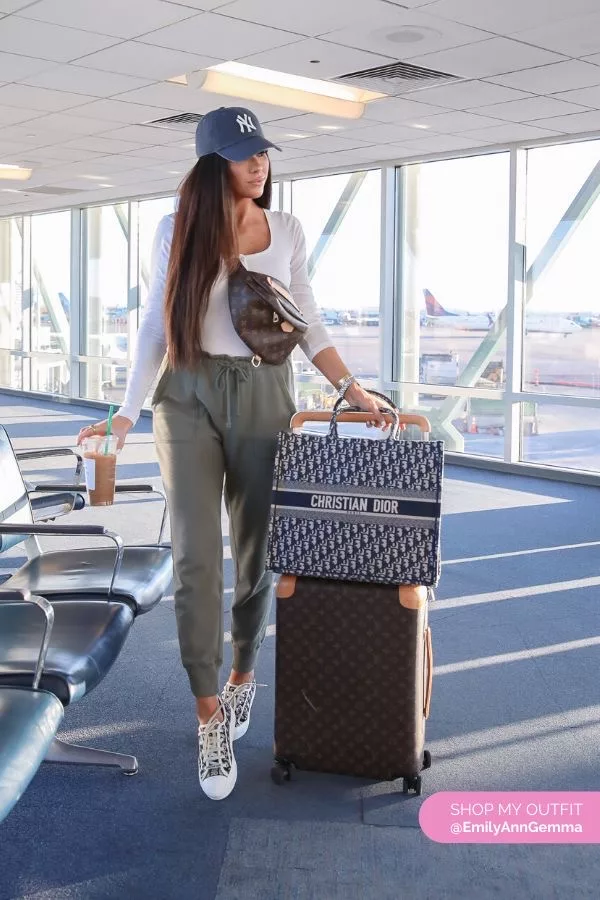 Jeans with a Coat and Scarf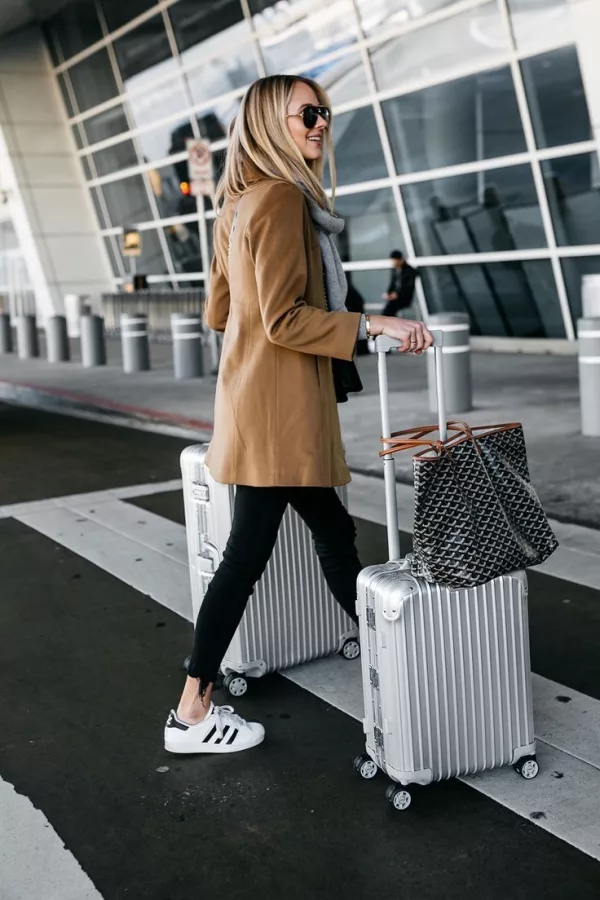 Long Trench Coat with Jeans and Turtleneck Sweater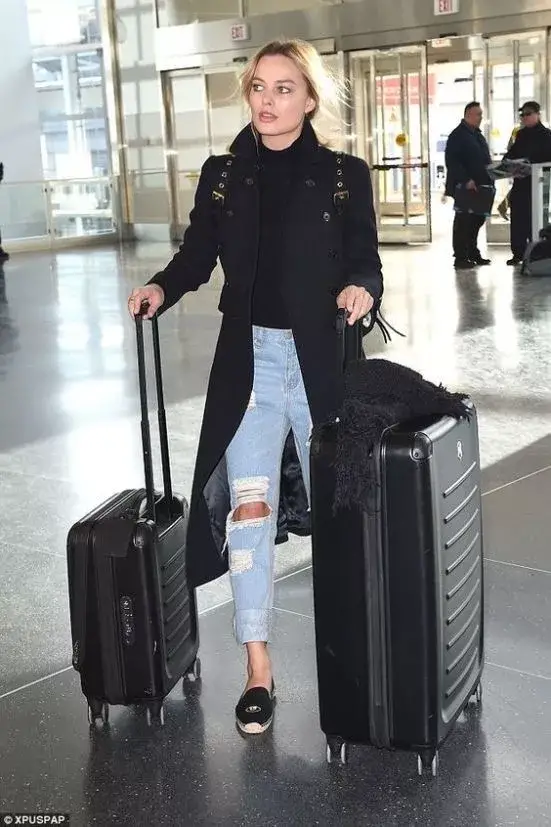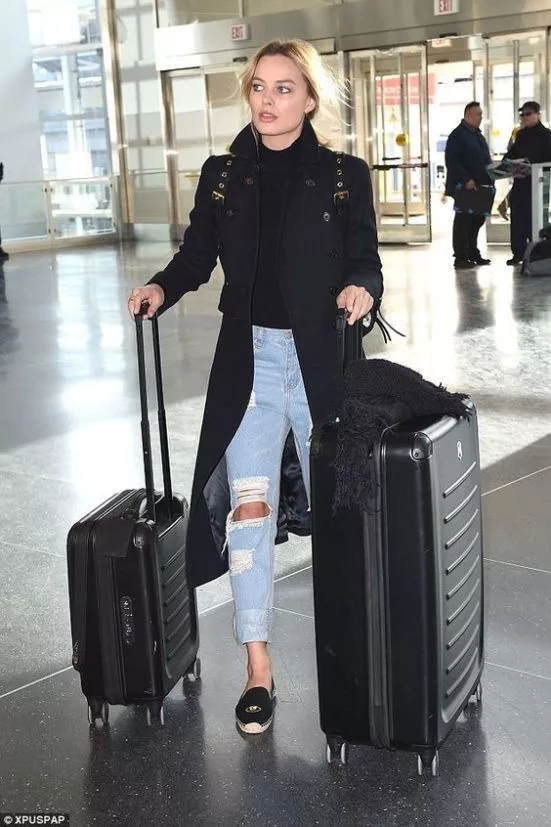 Oversized Sweater with Jeans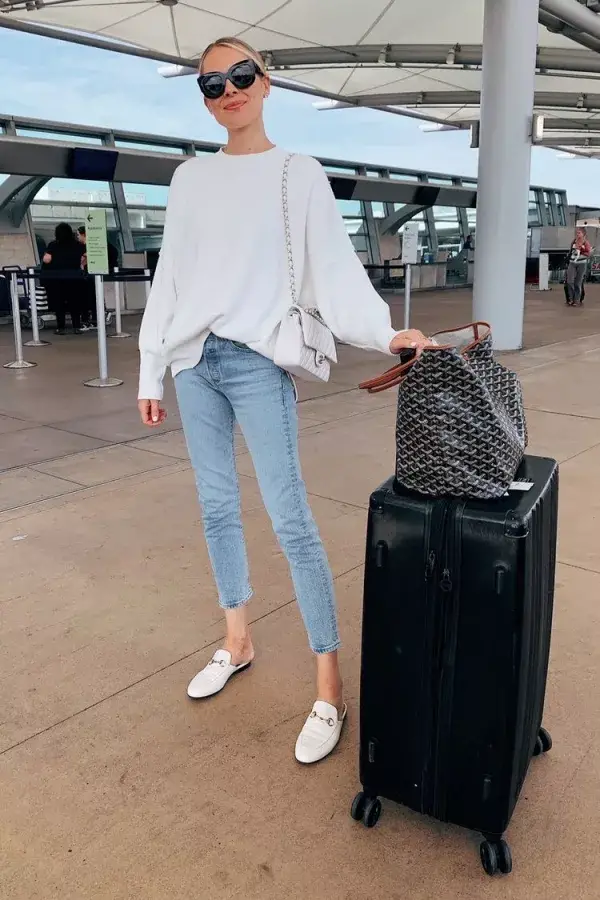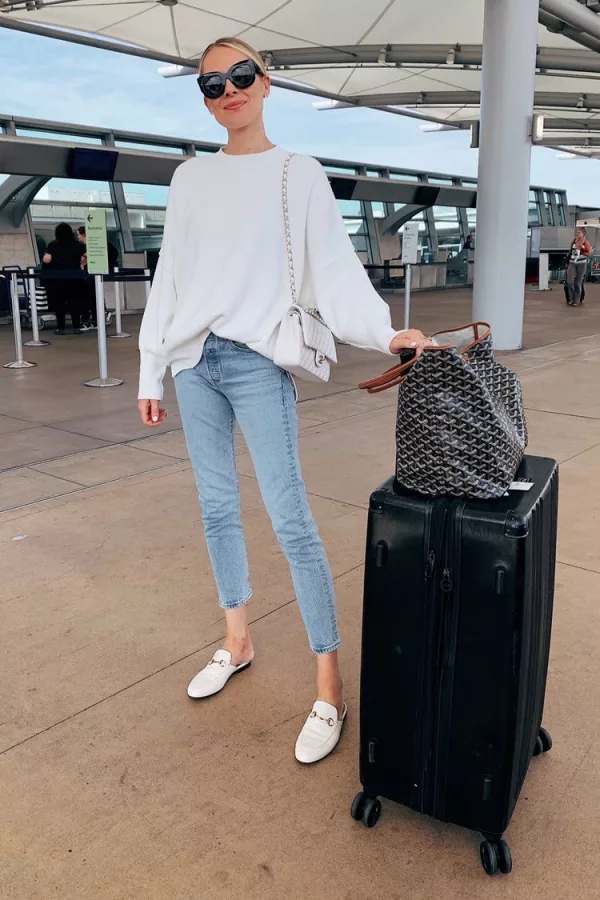 Open Front Cardigan with a Camisole and Jeggings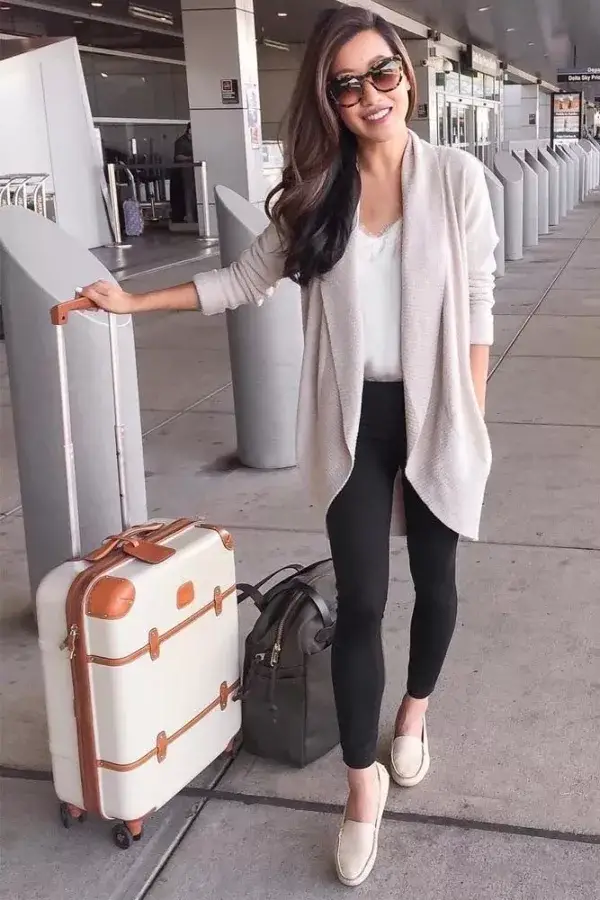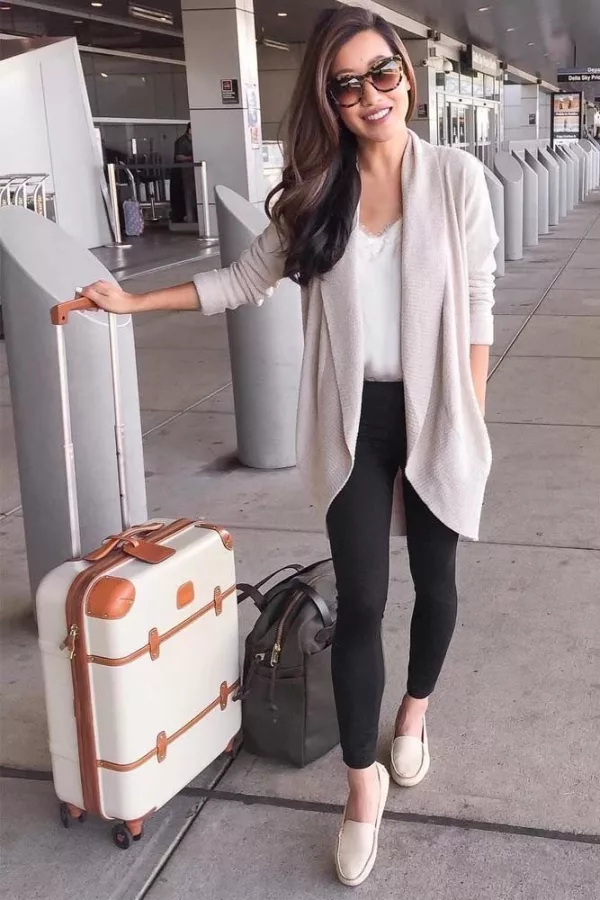 Trench Coat with Jeans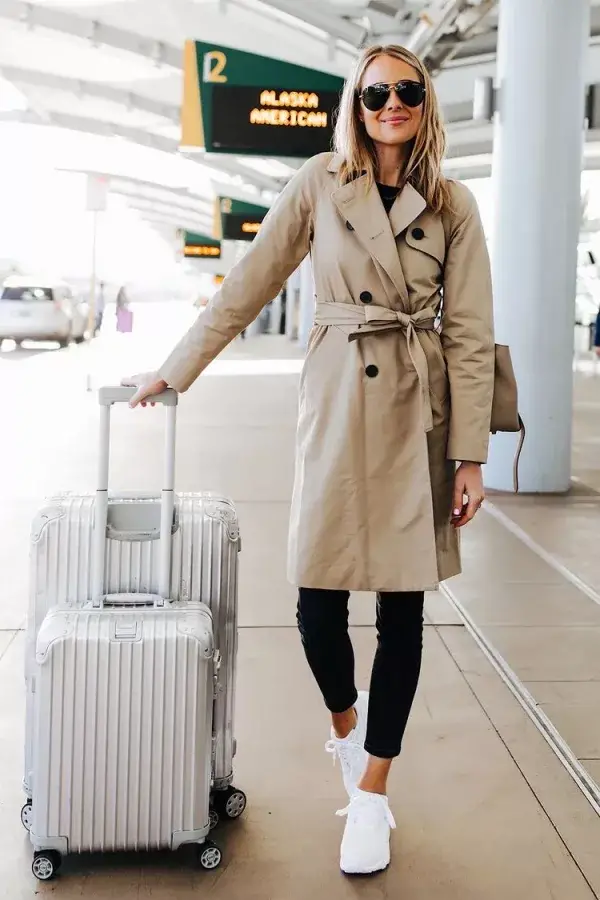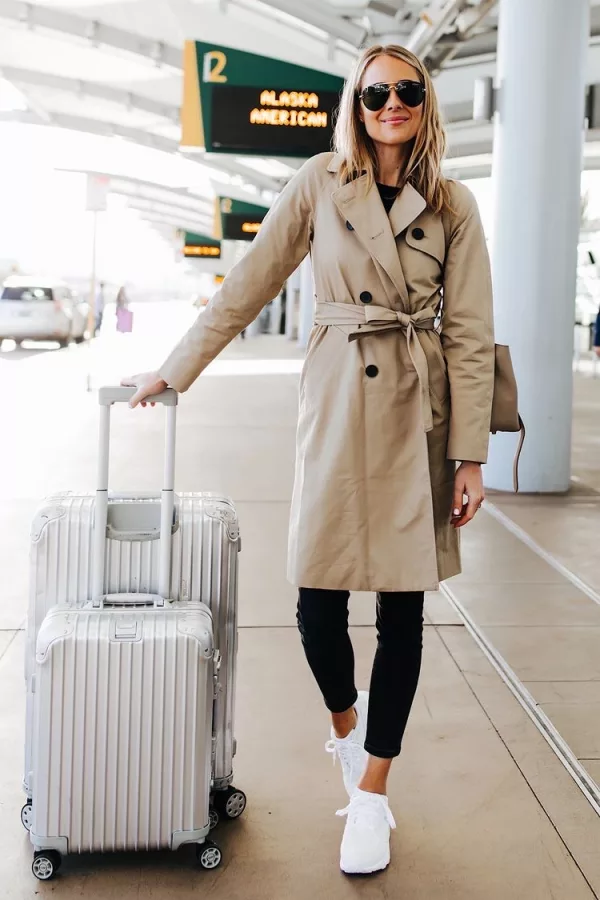 Wrapping Up The Best Outfits For The Airport – Cute Airport Outfits
Traveling can be exhausting, and wearing the wrong outfit can make it even more challenging.
When you're headed to the airport, comfort is key, but that doesn't mean sacrificing style.
Finding the right outfit for your travel day doesn't have to be a hassle.
We have covered some effortless outfits for the airport to inspire your travel wardrobe and make your next trip a breeze.
What are your favorite types of airport outfits?
Shop Editor's Picks

Shevy
Hi! I'm Shevy! I'm the Founder and Managing Editor of Travel Beauty Blog est. 2016. I am also the Founder of Shevy Studio Marketing Agency where I work with entrepreneurs and bloggers on SEO/Content Strategy, Web Design and Consultancy.