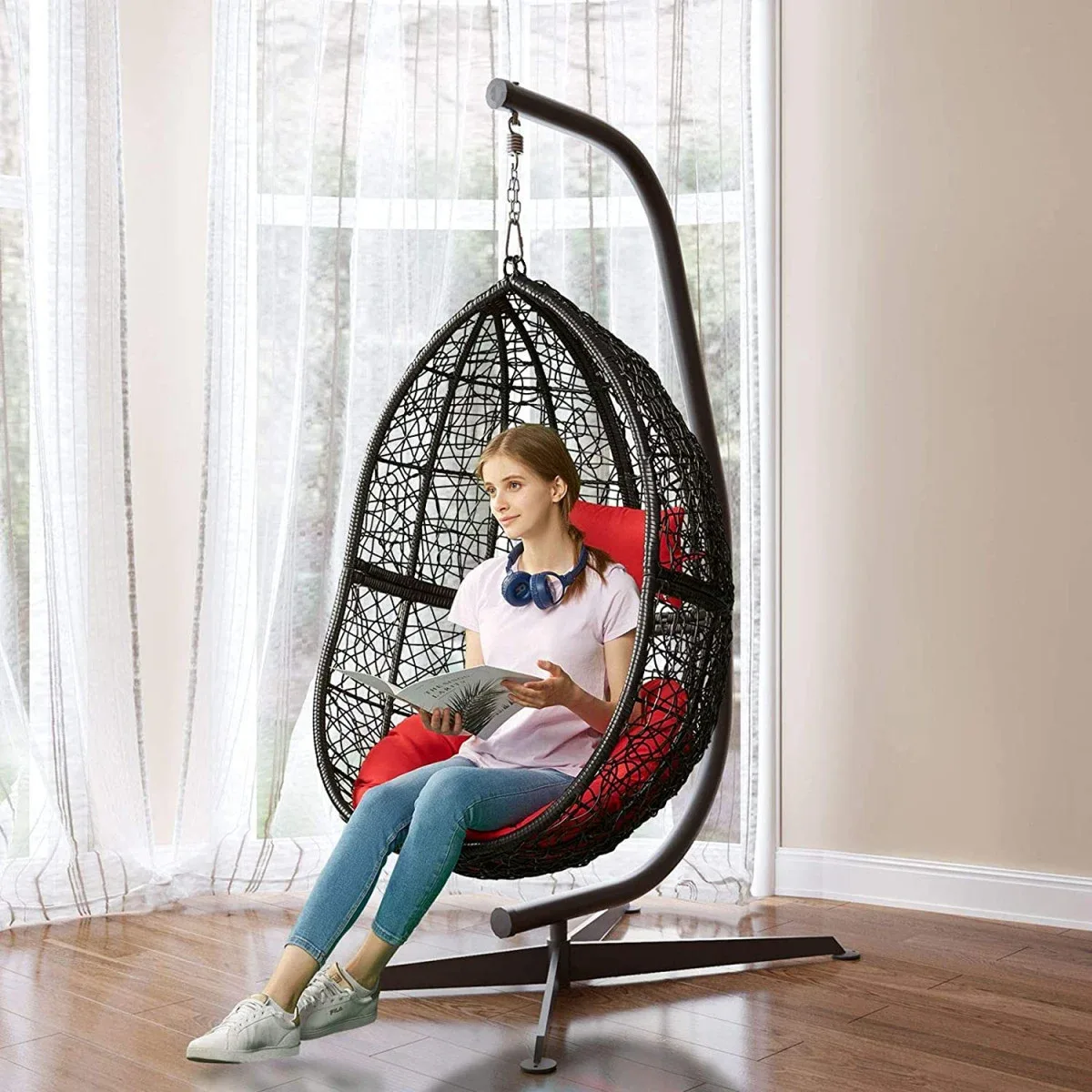 Last Updated on 6 months by Shevy
Luckily for you, we've already done the research and came up with the 9 best cheap egg chairs to decorate your living room, bedroom, patio, garden, and backyard without breaking the bank.
Having an egg chair in your house is like owning an exquisite piece of statement furniture that has an antique style with a modern twist.
Egg chairs are also not the typical furniture that you expect to find in every home. They are high end furniture that you are more likely to see in vacation villas and in luxury homes.
We are a participant in various affiliate marketing programs and may earn a commission for any purchases made through these links at no extra cost to you. Read full disclosure here.
They tend to have a high price tag and can run into thousands of dollars, so a lot of research should go into finding the right egg chair for your space, before investing in one.
Related: Surprisingly The 13 Best Things People Are Buying On Amazon
But don't let those things deter you because you're in the right place to find cheap egg chairs. So let's dive right into the top 9 cheap egg chairs to adorn your home!
Shop Cheap Egg Chairs
Upgrade your patio with this modern style Santino Wicker Teardrop egg chair from Target. It has a sturdy metal frame to offer good back support and cozy plush cushions for satisfying comfort.
Looking for cheap egg chairs with legs? Then this one might be perfect for you!
Main benefits and features of the Santino Wicker Teardrop Egg Chair
a teardrop shape with an intricate grid design
gives your patio a modern look
comes with a plush cushion that offers incredible comfort
you can enjoy hours of relaxation whenever needed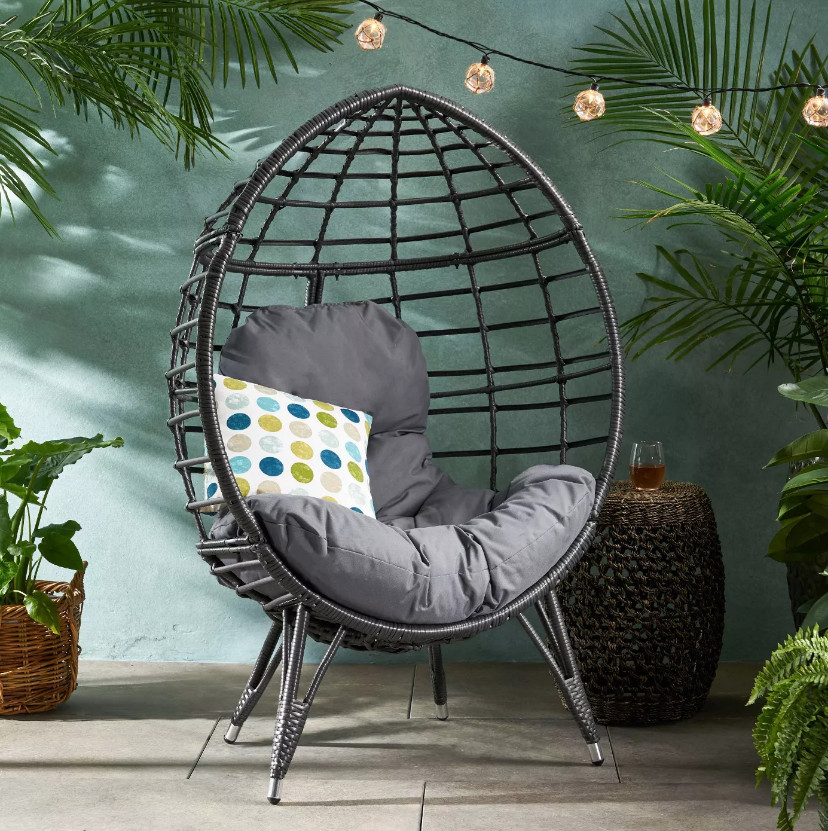 Pros
Comes with water-resistant cushions
Weather resistant and can be used both inside and outside
Durability due to its sturdy iron construction
Can hold up to 250 pounds
Easy to clean
Cons
It requires some skills to assemble the chair correctly
Egg Chairs Amazon – Indoor Outdoor Hanging Swing Egg Chair
How about a swinging egg chair from Amazon? Perhaps you don't have quite enough space for an indoor hammock so here's a hanging egg chair that can give you that satisfaction.
What we love most about this hanging egg chair is that it can be hung indoors or in your backyard, and it doesn't look out of place.
Main benefits and features of the Egg Swing Chair
Water and weather-proof so it's great for indoor and outdoor use
The seat cushion and headrest pillow are made of polyester material and polyester fiberfill cores for comfort
Complements your patio, deck, garden, yard, backyard, porch, bedroom, living room etc
It's sturdy and constructed of polyethylene rattan resin wicker wrapped around an aluminum frame
Comes with a nylon rope at the back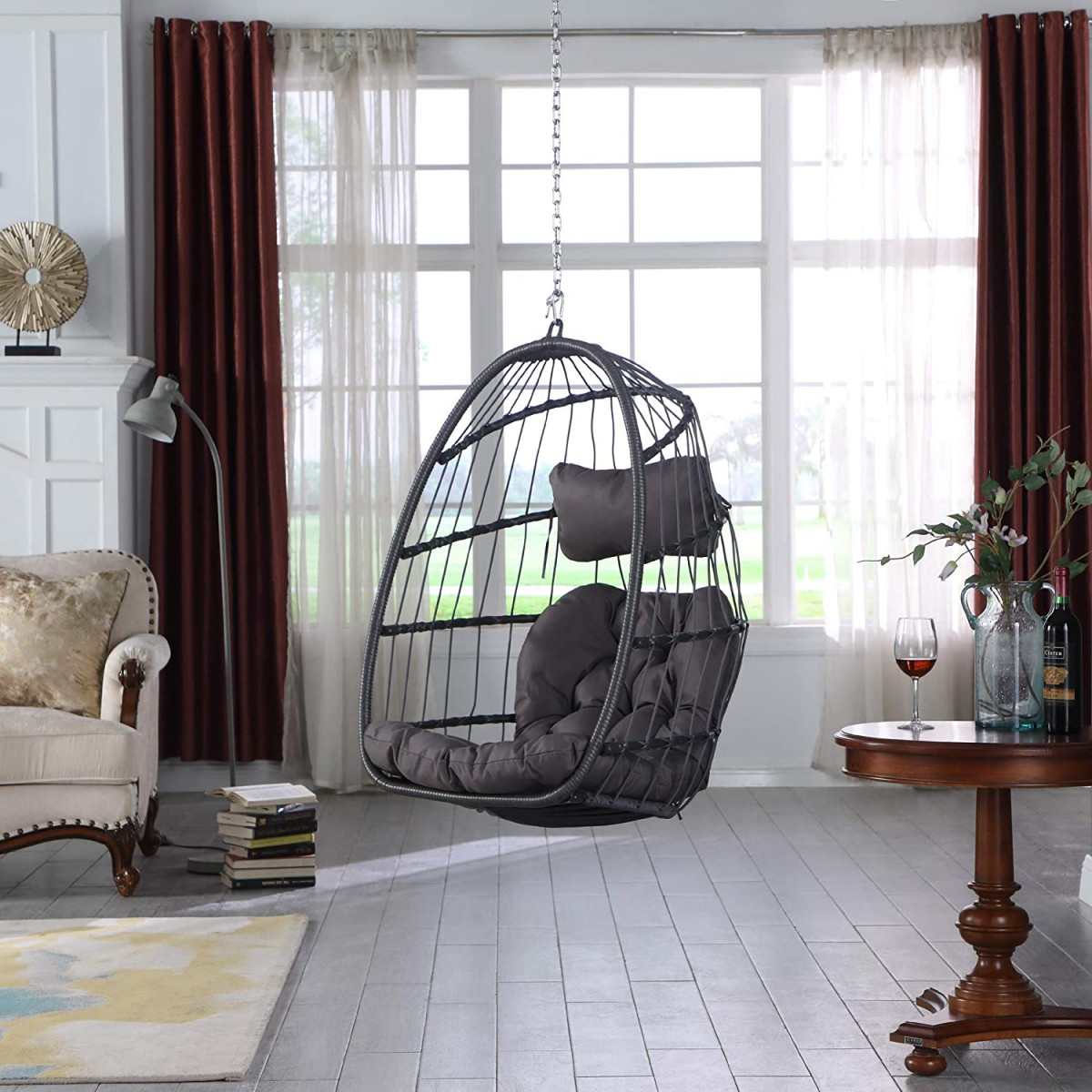 Pros
Doesn't require having to permanently install it into the ceiling
This egg chair can be folded which makes it easy to store
Easy to install as it only takes a few minutes and doesn't require special skills
Easy to hang from ceiling, tree, or any sturdy overhang that can support your weight
Lightweight and portable to take anywhere with you
Related: The Best Most Affordable Rosegold Home Decorations
Get ready to enjoy a good cup of coffee or tea while reading your favorite book on this white wicker patio egg chair. Cheap egg chairs doesn't necessarily have to look cheap.
This quality egg chair will add a unique and eclectic addition to your garden, courtyard, or indoor living area.
Main benefits and features of the Wicker Patio Egg Chair White
Comes with extra-padded cushions to provide maximum comfort
Made with weather-resistant fabric
Constructed with a sturdy wicker exterior, and a steel frame
Lightweight which makes it easy to pick up and move around in your home or outdoor area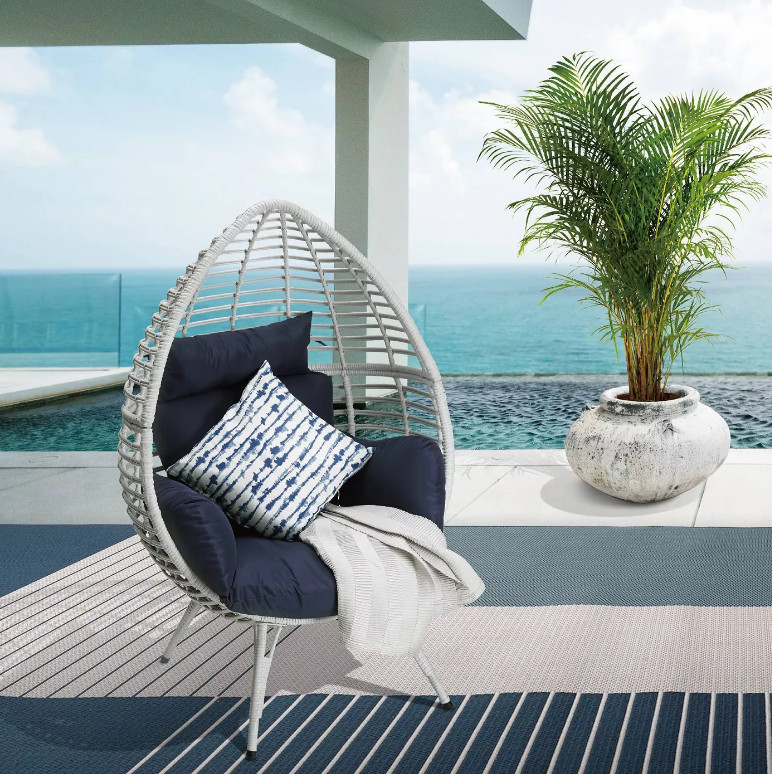 Pros
Durability as its built with a sturdy wicker exterior and a steel frame
Cushion covers are designed to be easily removed for a hassle-free cleaning
Lightweight so its easy to move it to your home
Water-resistant fabric for indoor and outdoor use
Can hold up to 250 pounds
Cons
Requires some skills to assemble
Egg Chairs For Sale Cheap – Rattan Wicker Swing Hanging Chair
This large rattan wicker egg chair is beautifully designed for your backyard patio, deck, a sunroom or garden, near a pool or outdoor bar. 
What stands out the most with this particular rattan egg chair is that the design has been tested to fit the curve of the human body and reduce fatigue.
This is an egg chair with stand but its sold separately.
Main benefits and features of the Rattan Wicker Swing Hanging Chair:
Its made with high quality materials so its perfect for inside and outside
The comfortable cushion and pillow are super easy to remove and clean
Can be suspended from the ceiling or you hung on the hammock swing stand (sold separately)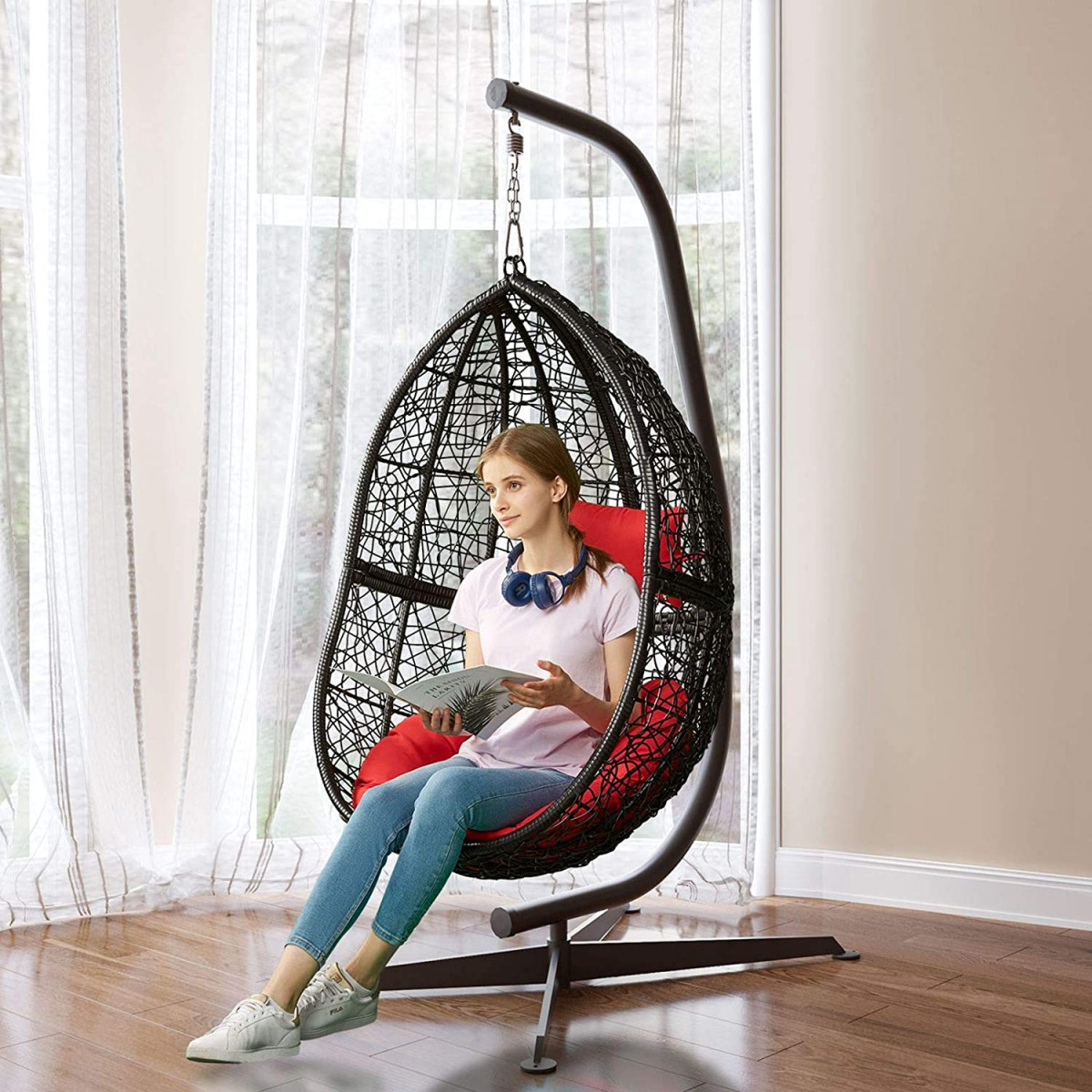 Pros
Easy to assemble
Can hold up to 300 pounds
Water and weather resistant
Practical and easy to clean
Can be suspended from the ceiling or hung on the hammock swing stand
Tested to fit the curve of the human body and reduce fatigue
Cons
May require more than one person to assemble
You may need an extra back pillow for better support
There is the possibility of having to order other accessories as well as the hanging kit for it to be fully functional
Amazon Egg Chair – Barton Luxury Wicker Hanging Egg Chair
If you're in search of cheap egg chairs with a luxury-look and feel, then look no further than this Barton luxury wicker hanging chair. It's perfect for getting cozy as it comes with a 6″ thick cushion.
Although this egg chair was created for outdoors use, it can also be used indoors.
You can purchase the Barton luxury egg chairs with stand for a little more or without the stand if you don't wish to hang it.
Related: The Best Gift Ideas For The Home
Main features and features of the Barton Luxury Wicker Hanging Egg Chair
It comes with a soft deep fluffy cushion, perfect for you to snuggle in on a warm and sunny day, with a book and a cup of cold brew or wine
Constructed from polyethylene rattan resin wicker wrapped around a steel frame for durability
Weather-resistant protection
Detachable design so its easy to move around
Easy to install and disassemble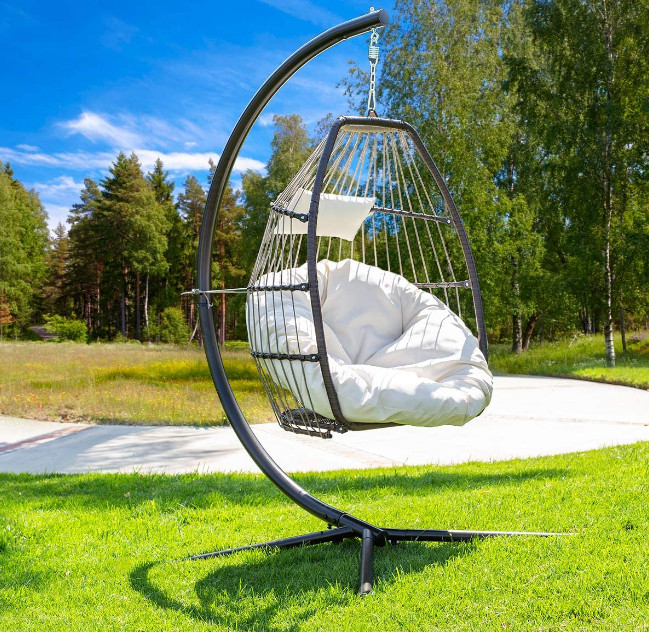 Pros
Great for indoors and outdoors
Easy to assemble and put together
Comes with a durable steel stand
Has a powder-coated finish that resists rusting for greater longevity
Can hold up to 265 pounds
Cons
Could be a bit noisy when someone sits in it
May not be ideal for sitting up straight
Not as sturdy as it should be
The Palazzo outdoor stationary egg chair has an eye-catching modern look and comes with a large vibrant orange cushion.
Built for outdoors with sturdy back support, this teardrop egg chair is water and weather-resistant to ensure durability while still maintaining its lovely look.
Main benefits and features of the Palazzo Outdoor Egg Chair
Wrapped in outdoor polyethylene rattan wicker for sturdy support
The cushion is made with water-resistant material to withstand any weather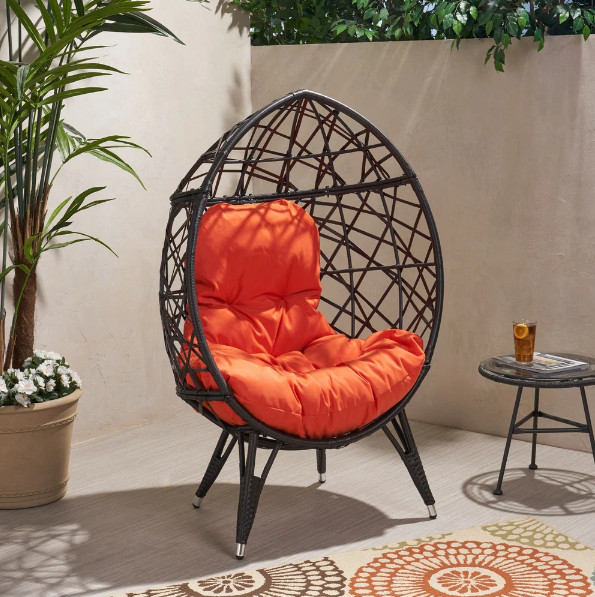 Pros
It has a breezy resort look that's easy to love
Comes with a large orange cushion to add a splash of boldness to your outdoor decor
Elegant teardrop shape for maximum coziness and comfort
Has a long-lasting woven finish
Easy to assemble following the instructions
Sturdy and comfortable
Cons
The back of the cushion may have to be tied to the chair in order to stay up firmly
The cushion flattens out quickly
In the mood for some Vintage egg chairs? How about this basket shaped swing egg chair from Wayfair?
It is is constructed with beautifully wrapped wicker weave and a sturdy frame, to offer hours of leisure whenever you need it.
Main benefits and features of the Rutherford Swing Egg Chair
It has a cozy basket shape egg chair that encapsulates your body to provide the utmost coziness and comfort
Rattan made egg chair featuring a long-lasting woven finish
The handcrafted details of the material makes it easy to blend seamlessly with your outdoor decor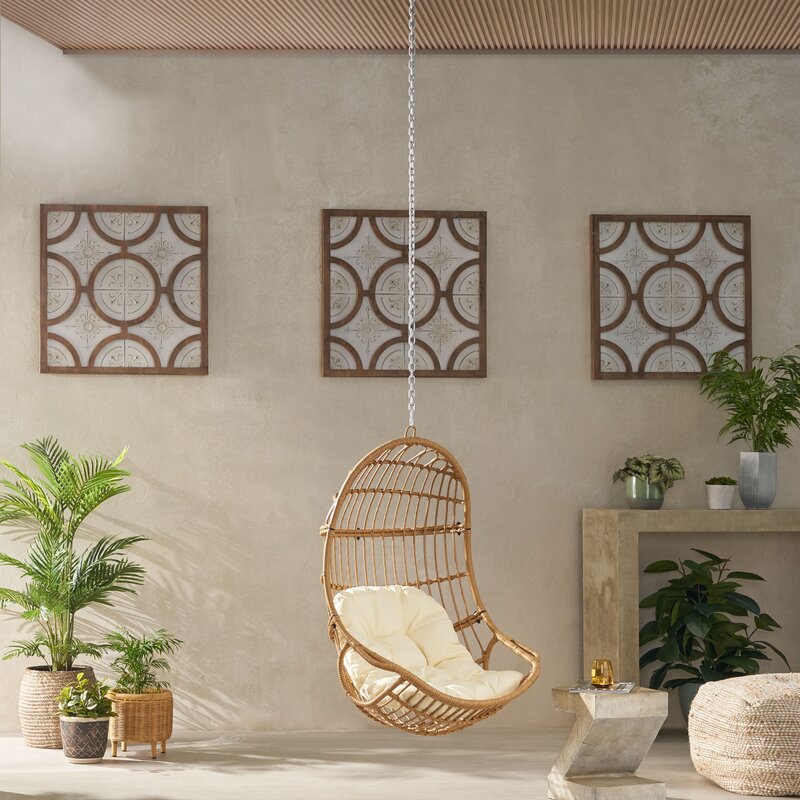 Pros
Best suited for indoors and outdoors as it provides a versatile appearance
Made with quick-dry and weather-resistant material for durability
Gives hours of comfort
Can hold up to 300 pounds
Cons
Requires professional installation
Not suited for children under 12 years
Need an egg chair with a stand that's not sold separately? Then you're in luck! The Manor Park Rattan egg chair from Walmart comes with the chair, cushion and stand together.
This rattan egg chair will quickly become a staple piece in your living room or patio.
Related: Fall Decor Ideas – How To Beautify And Cozy Your Home For Fall
Main benefits and features of the Manor Park Boho Rattan Egg Chair
Has a modern, eclectic and unique hanging design
Comes with comfortable cushions
Constructed with resin rattan and powder-coated metal frame
It is safely suspended by a durable rope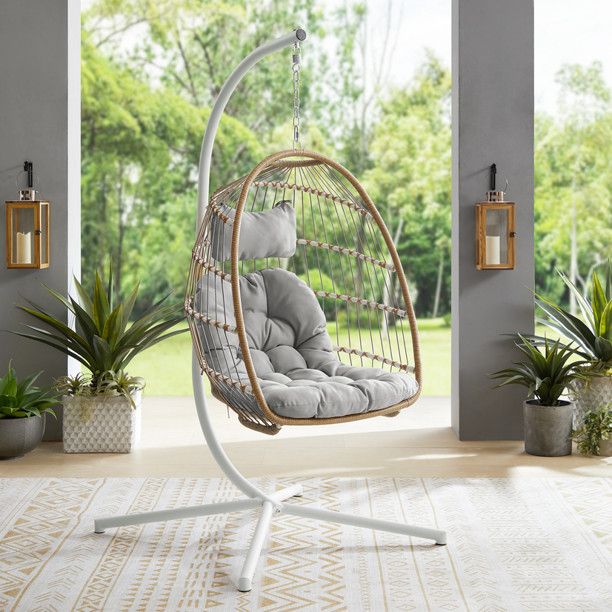 Pros
Collapsible build for easy storage
Can be used inside and outside
Comes with fabric ties for pillow and seat cushion to keep them upwards
Built to weather various outdoor conditions
Easy to assemble
Cons
This product comes with a declaimer warning that says it contains some materials that may be harmful to your health
If you're in need of a double egg chair then this could be it! This Brampton Espresso Cocoon Hanging Swing Egg Chair from Overstock is everything a family needs.
It features a double chair for snuggling up with your favorite person.
Main benefits and features of the Brampton Cocoon Hanging Swing Egg Chair
Built with an aluminum frame
Comes with a PVC wicker seat
Includes beige fluffy cushions for the best comfort
Has a double seat to fit 2 persons
It has a beach aesthetic to it
Comes with a circular sled base for hanging on chains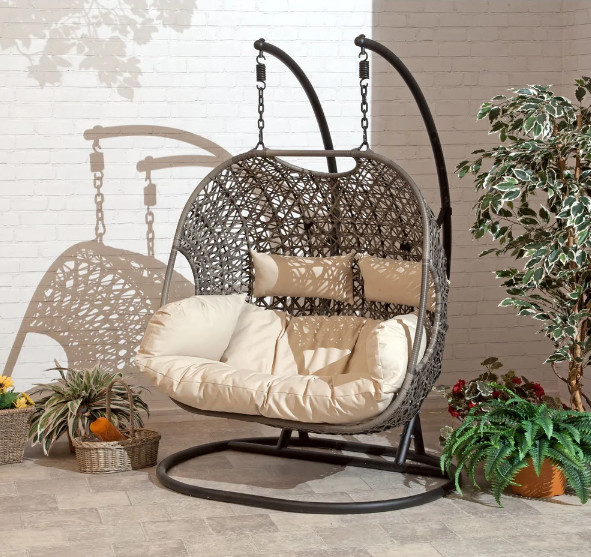 Pros
Hanging cocoon design for optimum coziness and relaxation
Seats up to 2 persons
Water and weather resistant which makes it ideal for outdoors
Includes hanging chains
Solid built and comfortable
easy to set up
Cons
Cushions are not stain resistant and gets dirty easily
Cushion cover is not waterproof so it absorbs water which may cause it to smell and discolor
Some Things To Consider Before Investing In An Egg Chair:
Whether its suitable for indoor or outdoor or both – this depends on the purpose for which you are buying it
Can it be assembled by yourself or does it require professional assistance
Up to how much weight can it hold
Is it sturdy and durable
Does it provide sufficient back support (depends on if you want to sit up in it or not)
can it swing
Do you want to mainly sit up or cuddle in it
Is it a stationary egg chair or does it hang or swing
Does it come with hanging accessories such as the chain, rope and hammock stand or are they sold separately
It is suitable for adults only and / or is it safe for children
Does the cushion provide sufficient comfort and does it wear out quickly
Does the pillow and cushion hold up on its own or needs to be secured
Is it water-proof, water-resistant and weather-resistant
What materials is the egg chair made of and does it contain harmful ones
Related: How To Create A Home Office On A Budget
These are some of the questions that you need answers for, before buying an egg chair. Hopefully we were able to answer most, if not all of them, based on the comprehensive review of the egg chairs listed above.
Cheap Egg Chairs On Sale – FAQs
Where can I buy cheap Egg chairs?
Some of the best places to buy cheap egg chairs are:
Walmart
Amazon
Overstock
Wayfair
Target
Why are egg chairs so expensive?
Most egg chairs are made of rattan which is like a woven material. The wicker technique is used for making these hand-woven rattan egg chairs, which makes them more complex to make. So that explains the hefty price tags.
Are Egg chairs comfortable?
Yes egg chairs are comfortable. It depends on if you want to sit up straight in it, cuddle up or both. If that is the case then purchase one that will meet your needs.
Are hanging egg chairs worth it?
Yes hanging egg chairs are worth it. They are a great alternative to having a hammock especially if you do not have much space to work with.
How much is an original egg chair?
The cost of a good egg chair starts from upwards of US $200 (two hundred) dollars.
Which is the best hanging egg chair?
The best hanging egg chair would be the one that suits your needs the best! There are various factors to consider before investing in a good egg chair.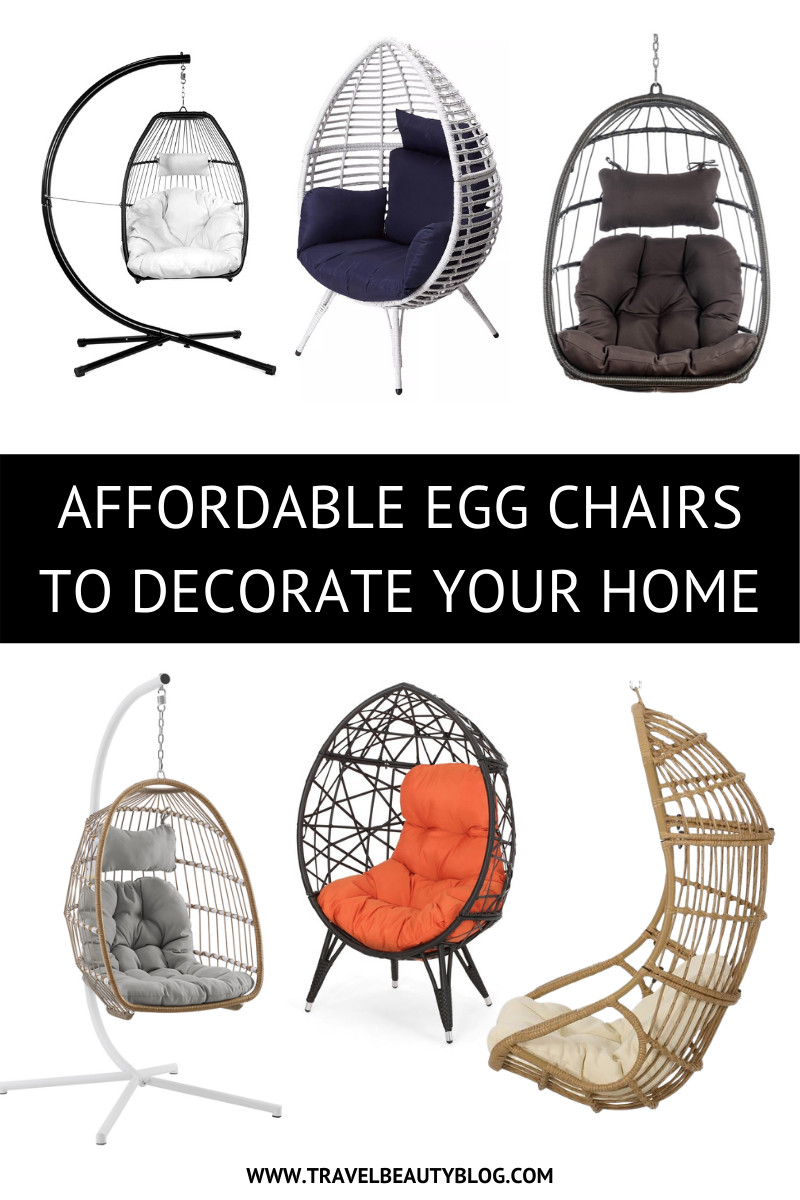 Conclusion
These 9 cheap egg chairs listed in this post are priced well under $500 and they are some of the cheapest egg chairs available on the market. With the exception of the double egg chair which is suitable which can hold up to 2 persons.
We highly recommend that you evaluate the pros and cons of each chair and choose the one that suits your needs best. That concludes our roundup of the best 9 cheap egg chairs to decorate your home in 2023!
Shop
Shevy
Hi! I'm Shevy! I'm the Founder and Managing Editor of Travel Beauty Blog est. 2016. I am also the Founder of Shevy Studio Marketing Agency where I work with entrepreneurs and bloggers on SEO/Content Strategy, Web Design and Consultancy.