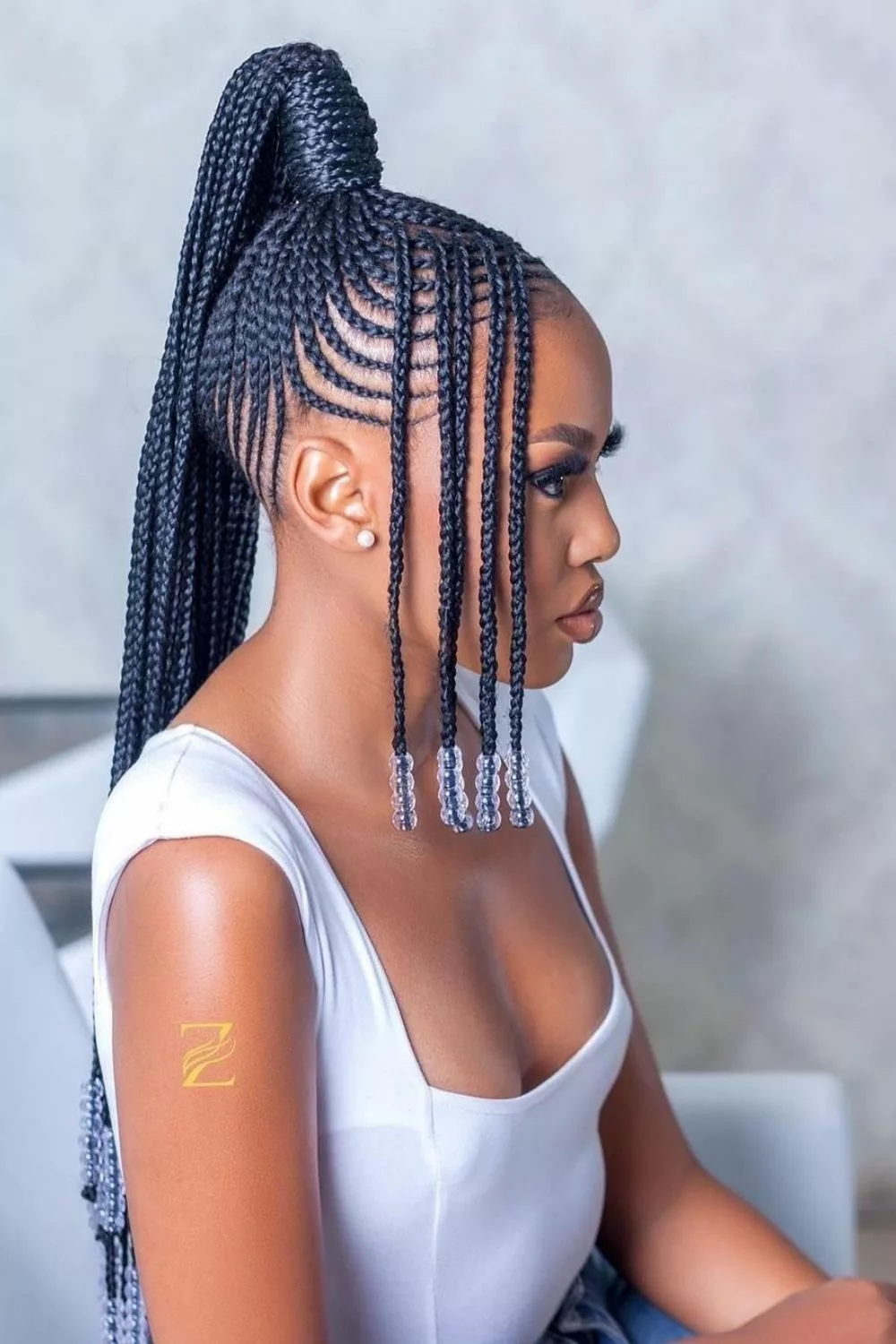 A Guide to Different Types of Braids for Every Hair Type
Are you tired of the same old hairstyle and looking to add some flair to your natural hair?
Look no further!
In this comprehensive guide, we will explore different types of braids and braided hairstyles for various hair types. 
Whether you have straight, curly, or textured hair, there is a braid style out there that will suit your personality and add a touch of elegance to your look.
We are a participant in various affiliate marketing programs and may earn a commission for any purchases made through these links at no extra cost to you. Read full disclosure here.
From classic French braids to trendy fishtail braids, we will explore a variety of braiding techniques and types of braids that are sure to inspire you.
Not only are braids a great way to get a rest from combing your hair everyday, but they also protect your natural hair from damage.
Related: The Best Co Wash Under $15 For Natural Hair
So, its time to unleash your creativity and transform your hairstyle with our ultimate guide to different types of braids for all hair types.
Get ready to turn heads and leave a lasting impression wherever you go!
4 Benefits of Braiding Your Hair
Braiding your hair offers a multitude of benefits that go beyond just looking stylish.
Here are some reasons why you should consider incorporating braids into your hairstyle routine:
1. Versatility
Braids can be styled in various ways, allowing you to experiment with different looks and express your individuality.
Whether you prefer a sleek and polished braid or a messy and bohemian-inspired one, there is a braid style that will suit your taste and personality.
2. Convenience
Braids are a practical hairstyle choice as they keep your hair out of your face, especially during hot summer months or when engaging in physical activities.
Additionally, braids can be worn for several days, reducing the need for constant styling and allowing you to focus on other tasks.
3. Protection
Braiding your hair provides protection against environmental factors that can cause damage, such as sun exposure, wind, and pollution.
By braiding your hair, you minimize the risk of split ends and breakage, keeping your locks healthy and strong.
4. Low Maintenance
Once braided, your hair requires minimal daily maintenance.
All you need to do is gently undo the braids and style them as desired.
This saves you time in your daily routine and allows you to enjoy more free time without compromising on style.
22 Types Of Braids for all Hair Types to Try Now
Classic braids are timeless and suitable for all hair types, making them a great choice for those looking for a versatile and elegant hairstyle.
Here are 22 types of braids and braided hairstyles that you can try:
1. French Braid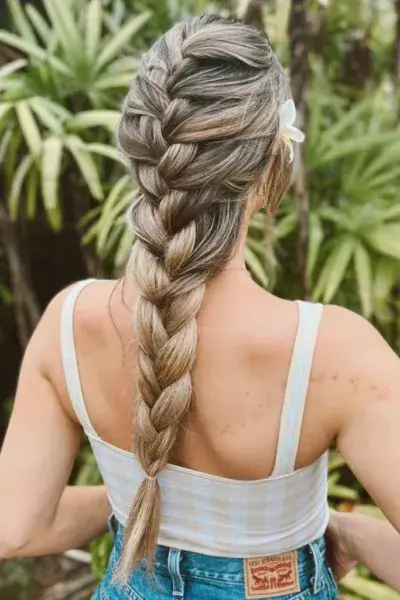 The French braid is a classic and sophisticated hairstyle that works for all hair lengths and types.
The name "French braid" is more of a misnomer, as the style is not exclusive to France, and its origins are not linked to the country.
It is believed that the French braid, as we know it today, likely originated in North Africa or the Mediterranean region.
To create a French braid, divide your hair into three sections at the crown of your head and gradually add more hair to each section as you move downwards.
Secure the braid with a hair tie at the end, and you're ready to go!
2. Rope Braid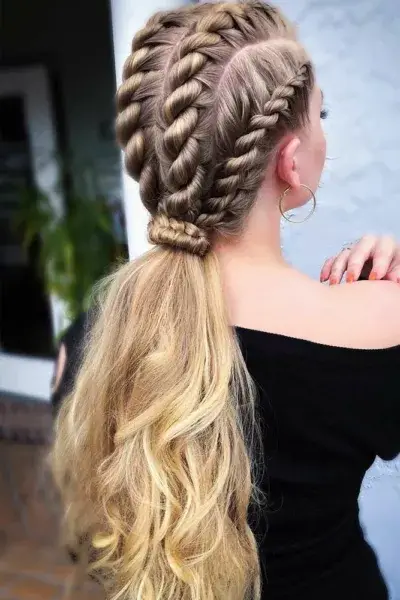 The rope braid is simple yet eye-catching, formed by twisting two sections of hair around each other.
This style adds texture and dimension to your hair, and it's suitable for all hair types.
In the natural hair world these types of braids are called flat twists.
Flat twists are a popular hairstyle for natural hair, particularly among individuals with coily, curly, or textured hair types.
They are a variation of the traditional two-strand twists but are done much closer to the scalp and lay flat against the head.
3. Types of Braids: Dutch Braid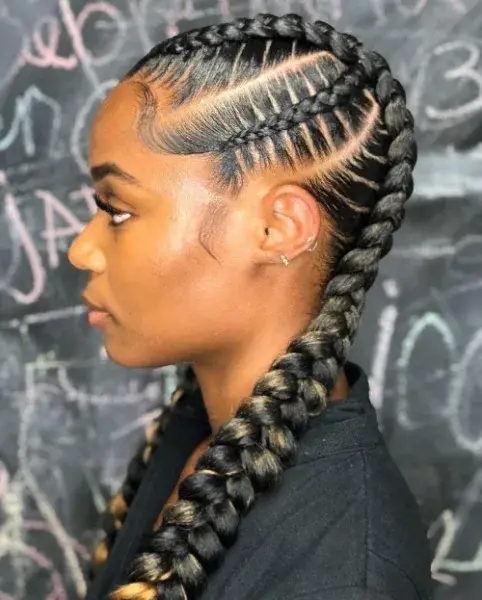 The Dutch braid is a close cousin of the French braid, with the key difference being the direction in which the hair is crossed over.
Instead of crossing the sections over the middle, you cross them underneath, creating a braid that appears raised.
The Dutch braid, also known as the "reverse braid" or "inside-out braid," has its origins in the Netherlands (Holland).
Hence, the name "Dutch braid" which refers to its association with the Dutch culture.
This braid style adds volume and texture to your hair, making it perfect for those with fine or thin hair.
4. Pull-Through Braid
The pull-through braid is a creative and trendy choice that creates the illusion of a braid without actual braiding.
Instead, hair is tied with elastic at intervals, giving the appearance of a braid.
5. Types of Braids: Fishtail Braid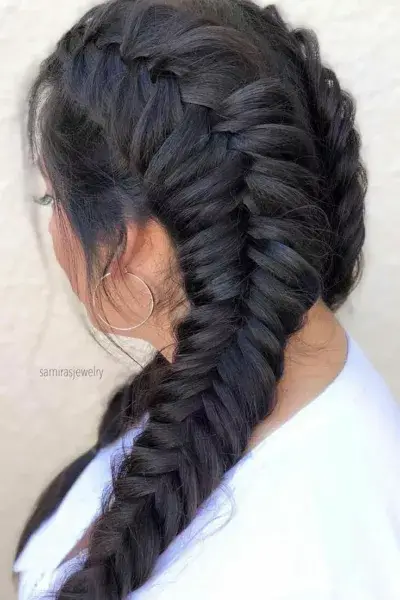 The fishtail braid is a trendy and eye-catching style that looks intricate but is surprisingly easy to create.
To create this braided hairstyle, divide your hair into two sections, then take a small strand from the outer part of one section and cross it over to the opposite side.
Repeat this process, alternating sides, until you reach the end.
Secure the braid with a hair tie, and you'll have a stunning fishtail braid!
6. Feather/ Waterfall Braid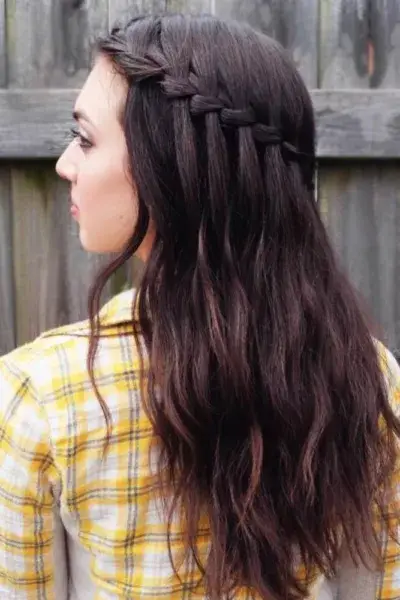 The Feather/Waterfall braid style creates the illusion of cascading strands, resembling a beautiful waterfall of hair.
This braided hairstyle involves dropping certain sections of hair as you weave the braid, resulting in a delicate and dreamy appearance.
It's a perfect choice for those with long hair, as the cascading effect is more pronounced, but it can be adapted for shorter hair as well.
To achieve this style of braids, by taking a small section of hair near your temple and divide it into three strands.
Cross the top strand over the middle, then drop the bottom strand and replace it with a new section of hair.
Repeat this process, incorporating new sections of hair, until you reach the desired length.
The Waterfall/Feather braid is an excellent option for weddings, proms, or any special occasion, as it exudes an enchanting and whimsical vibe that enhances the overall allure of the hairstyle.
7. Double Braided Ponytail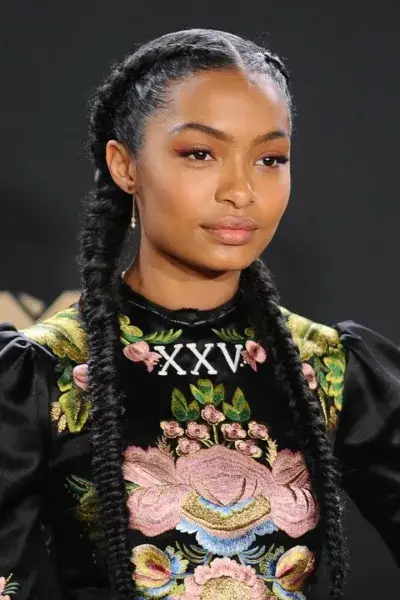 For a fun and playful look, try a double braided ponytail.
Divide your hair into two equal sections and braid each section separately.
Then, gather both braids together and secure them with a hair tie to create a stylish and voluminous ponytail.
8. Types of Braids: Halo Braid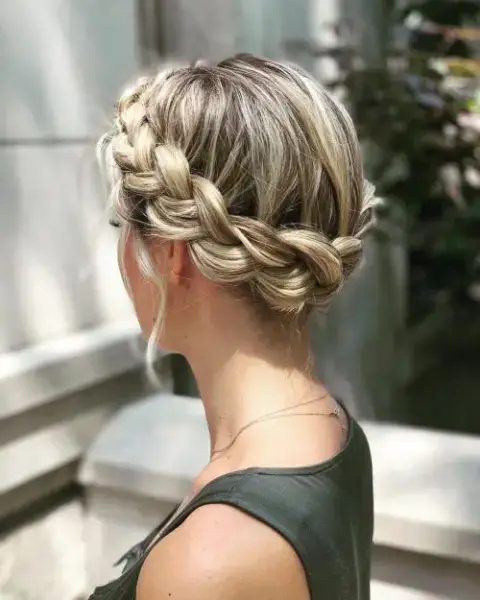 The halo braid is a stunning and ethereal hairstyle that creates the illusion of a crown made of braids.
Create this braid hairstyle by parting your hair down the middle, then create two French braids on each side, starting from the front and moving towards the back.
Once both braids meet at the nape of your neck, secure them with hairpins.
This hairstyle is perfect for special occasions or when you want to feel like a goddess.
9. Types of Braids: Viking Braids
Viking braids, also known as Norse braids or shieldmaidens' braids, are a powerful and striking hairstyle that pays homage to the fearless warriors of ancient Norse culture.
Inspired by the legendary Vikings, this braid style features multiple braids woven together to create a strong and fierce statement.
Typically, two braids run on either side of the head, while a third braid intertwines through the center, forming an intricate and textured look reminiscent of Viking braids.
This hairstyle represents strength, bravery, and individuality.
With their bold and empowering aura, Viking braids have transcended time and continue to be a popular choice for those seeking a unique and attention-grabbing hairstyle that embraces the spirit of the ancient Norse warriors.
10. Senegalese Twist Braids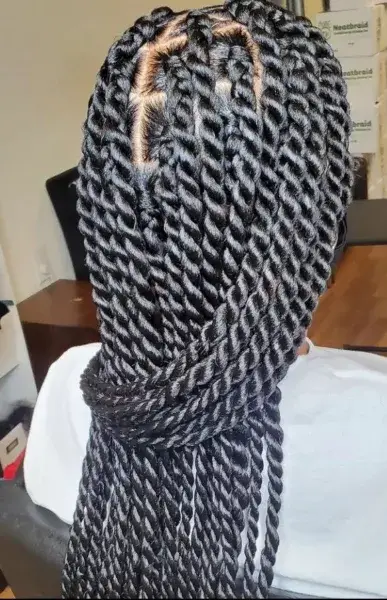 Senegalese Twist Braids are a stylish and popular protective hairstyle that originated in West Africa.
This braiding technique involves adding hair extensions to the natural hair using a two-strand twisting method.
The extensions are often made of synthetic or human hair, providing versatility in length and texture.
Senegalese Twist Braids are beloved for their elegance and low-maintenance nature, making them a fantastic option for those looking to protect their natural hair while still having a chic and trendy look.
Related: The Best Way To Wear The Hair Barrette Trend
They can be styled in various ways, from simple and neat twists to more elaborate updos, making Senegalese Twist Braids a versatile choice for any occasion.
Whether you prefer thick, chunky twists or smaller, more intricate ones, Senegalese Twist Braids offer a timeless and beautiful hairstyle that celebrates the rich African hair culture and heritage.
11. Box Braids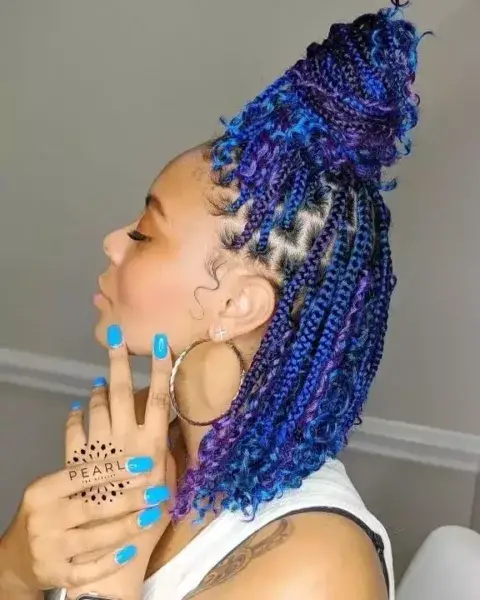 Box braids are a classic and versatile protective style that involves braiding your natural hair with synthetic or human hair extensions.
They can be styled in various lengths and sizes, providing endless possibilities for creativity.
Box braids offer low maintenance and protect your natural hair from environmental damage.
12. Types of Braids: Cornrows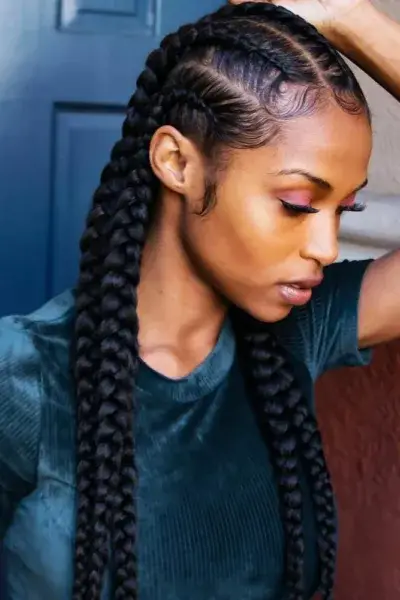 Cornrows are a traditional and timeless hairstyle that involves braiding the hair close to the scalp in straight lines.
They can be worn in various patterns and sizes and are particularly popular for their versatility.
Cornrows offer protection and allow for easy styling with accessories such as beads or cuffs.
13. Single Ponytail Braided Hairstyle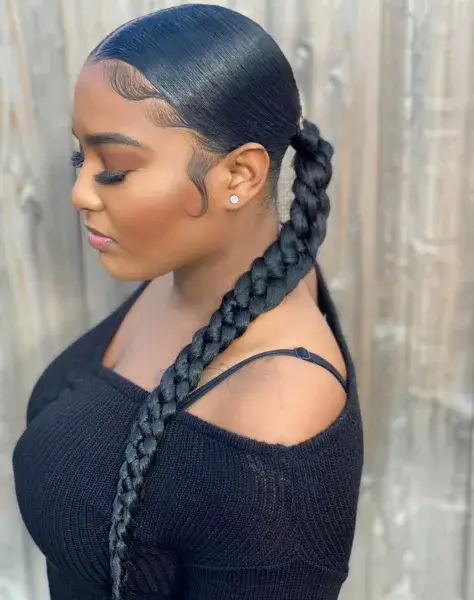 The Single Ponytail Braided Hairstyle combines the simplicity of a ponytail with the intricate beauty of braids.
To achieve this style, comb your hair into a low or high one, then feed the braids into your natural hair, into a single ponytail.
The braid serves as a stylish accent, adding texture and dimension to the overall look.
The Single Ponytail Braided Hairstyle works well for all hair types and lengths and the ponytail can be long or short depending on your preference..
Whether you're heading to the office, a casual day out, or a formal event, this braided ponytail is a go-to option for a chic and polished appearance that is both timeless and effortlessly stylish.
14. Messy Crown Braid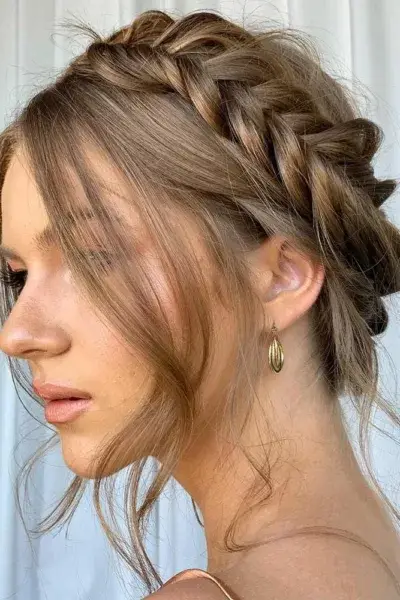 The messy crown braid is a relaxed and romantic hairstyle that is perfect for summer days or music festivals.
Start by creating a loose French braid along your hairline, starting from one side and moving towards the other.
Once you reach the end, secure the braid with bobby pins, leaving some strands loose for a messy and undone look.
15. Boho Fishtail Braid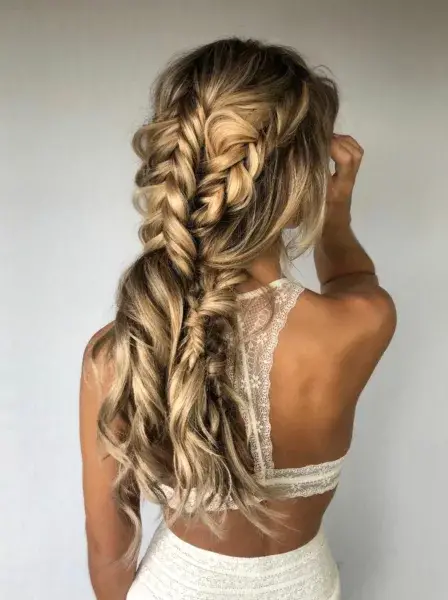 The boho fishtail braid combines the elegance of a fishtail braid with the carefree bohemian style.
Start by creating a fishtail braid, but instead of keeping it tight and polished, pull on the strands to loosen them and create a messy and textured effect.
This braid is perfect for adding a touch of boho chic to your everyday look.
16. Types of Braids: The Mohawk Braid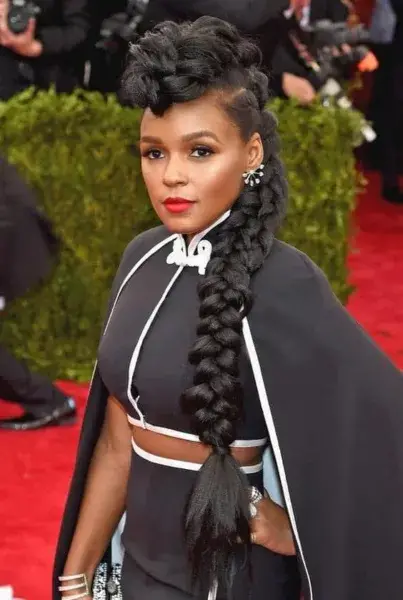 The mohawk braid is a striking and unconventional hairstyle that combines a braided section down the center of your head with shaved or undercut sides.
This edgy style adds an element of rebellion and uniqueness to your look.
17. Snake Braid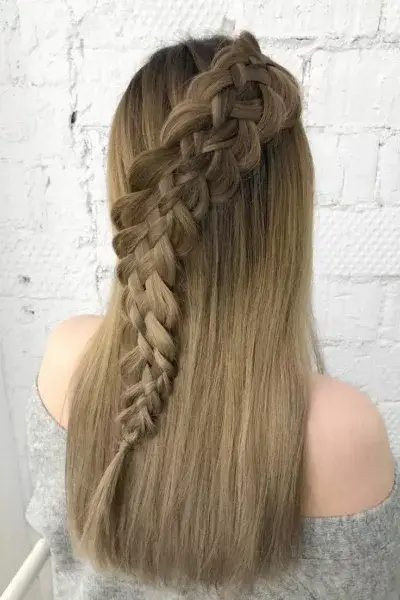 The snake braid is a visually captivating hairstyle that resembles the scales of a snake.
Start by dividing your hair into three sections and braid them tightly.
Then, pull on the edges of each section to create a rounded and raised effect, resembling the body of a snake.
This braid is perfect for those who want to make a statement and stand out from the crowd.
18. Classic Three-Strand Braid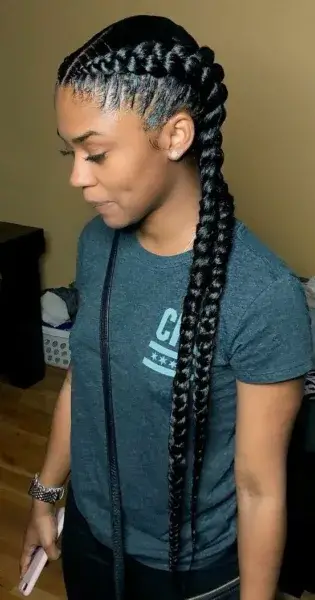 Let's start with the foundation of most braided hairstyles – the classic three-strand braid.
Simple yet elegant, this braid involves intertwining three sections of hair over each other to create a traditional look.
It's suitable for all hair types, making it a go-to option for everyday wear or even formal events when dressed up with hair accessories.
19. Goddess Braids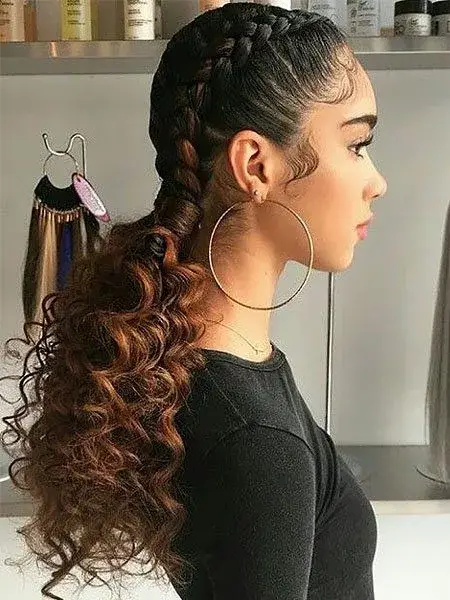 The name "Goddess Braids" reflects the divine and majestic aura that these braids exude, giving the wearer a sense of confidence and empowerment.
This protective hairstyle not only celebrates African heritage but also offers versatility and low maintenance, making it a favorite choice for women with textured hair.
To create this braided look, create a Dutch braid on each side of your head, starting from the front and moving towards the back.
Once both braids meet at the nape of your neck, secure them with hairpins.
Whether you're attending a formal event or looking for a chic everyday style, Goddess Braids are a captivating and timeless option that showcases the beauty and strength of African cultural traditions.
20. Braided Half-Up Half-Down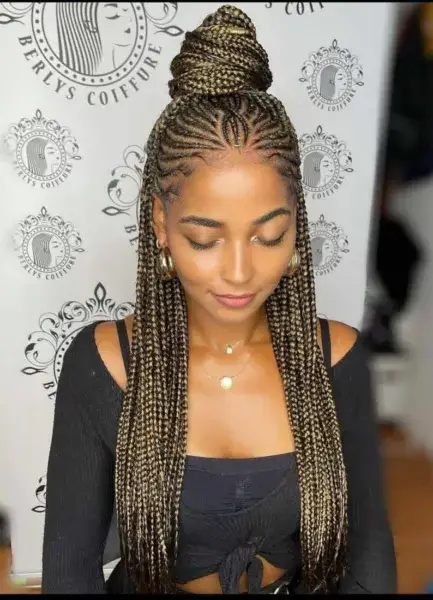 The braided half-up half-down style involves braiding a small section of hair (usually at the front) and securing it on top, while the remaining hair cascades freely.
This style is a versatile and romantic hairstyle that works well for both casual and formal events.
21. The 5-Strand Braided Hairstyle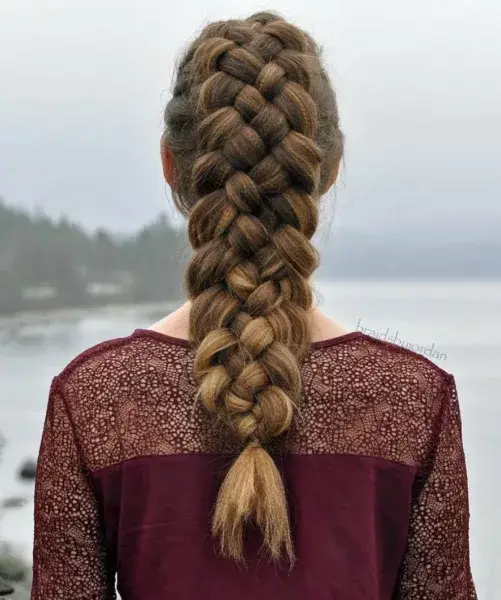 The 5-Strand Braided Hairstyle is an intricate and eye-catching look that takes braiding to the next level.
Unlike the traditional three-strand braid, this hairstyle involves weaving five strands of hair together to create a beautifully complex pattern.
The process requires a bit more skill and practice, but the end result is well worth the effort.
The 5-Strand Braided Hairstyle offers a unique and sophisticated appearance that stands out from more common braid styles.
Each strand weaves over and under the others in a specific sequence, creating a stunning plait that showcases the texture and length of the hair.
This braided hairstyle is a fantastic choice for special occasions, formal events, or when you want to make a statement with your hair.
22. Types of Braids: Bubble Braids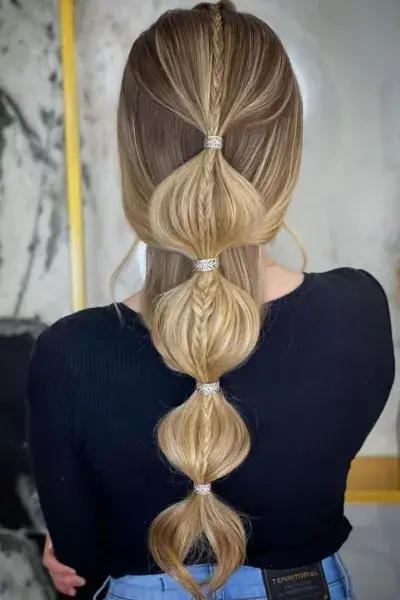 The bubble braid hairstyle involves creating multiple small, distinct "bubbles" along the length of the braid, achieved by securing each section with an elastic band or hair tie.
The result is a series of adorable and puffy bubbles that give the braid a unique and eye-catching appearance.
This braided hairstyle is versatile and works well with different braid types, such as a French braid, Dutch braid, or fishtail braid.
It's a fantastic option for casual outings, parties, or festivals, where you want to stand out and express your playful side.
The best part is that the bubbles add volume and texture to your hair, making it suitable for various hair lengths and types.
3 Tips for Maintaining and Styling Braided Hair
Now that you've discovered a variety of braided hairstyles for every hair type, it's important to know how to maintain and style your braids to keep them looking their best.
Here are some tips to help you maintain and style your braided hair:
1. Keep your scalp clean
It's essential to keep your scalp clean and free from product buildup while wearing braids.
Use a gentle clarifying shampoo and focus on massaging your scalp to remove any dirt or residue.
However, be careful not to scrub too harshly, as this can cause frizz and disrupt the braids.
Alternatively you may use a dry shampoo to clean your scalp.
2. Moisturize your hair
Braids can sometimes cause your hair to become dry, so it's important to moisturize regularly.
Use a lightweight leave-in conditioner or hair oil to keep your hair hydrated and prevent breakage.
Related: The Best Oils For Natural Hair In 2023
Apply the product to your hands and gently smooth it over your braids, focusing on the ends.
3. Protect your braids while sleeping
To prevent your braids from getting tangled or frizzy while you sleep, wrap your hair in a silk or satin scarf or use a silk or satin pillowcase.
This will help to retain moisture and reduce friction, keeping your braids looking fresh and intact.
Wrapping Up Different Types Of Braids For Every Hair Type
Braids offer an endless array of options to express your individuality and style, no matter your hair type or texture. 
From the classic three-strand braid to intricate fishtail braids and trendy box braids, there's a braid for every occasion and personal preference.
Experiment with different styles and accessories to elevate your braided hairstyles and create head-turning looks.
Embrace the art of braiding and step into a world of creativity and elegance with these diverse and beautiful braided hairstyles that will leave you feeling fabulous and confident!
Shevy
Hi! I'm Shevy! I'm the Founder and Managing Editor of Travel Beauty Blog est. 2016. I am also the Founder of Shevy Studio Marketing Agency where I work with entrepreneurs and bloggers on SEO/Content Strategy, Web Design and Consultancy.