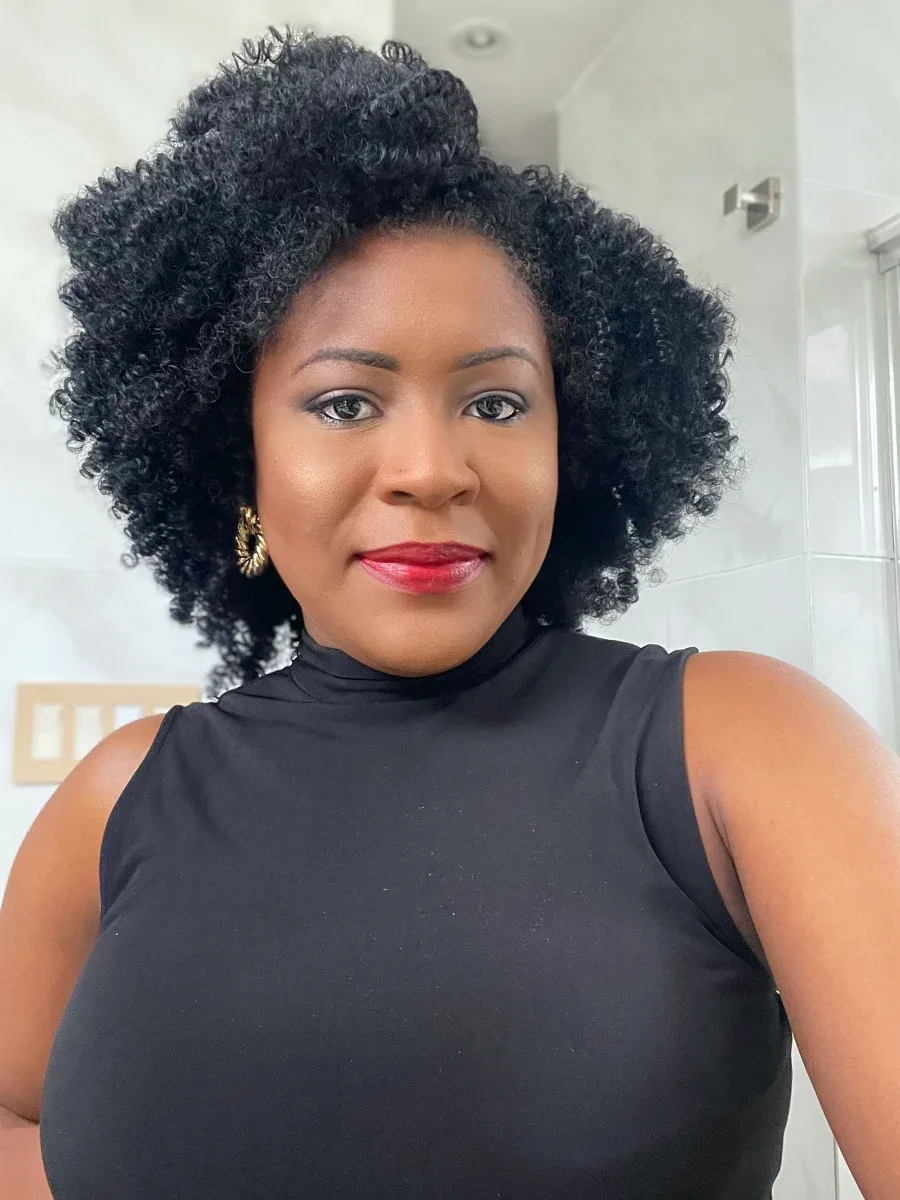 Last Updated on 10 months by Shevy
How To Pick A Lipstick Color For Your Skintone
Lipstick is an important part of any makeup routine. It adds color to your face and helps define your lips.
Choosing the right lipstick shade is easy when you know what you're looking for. But which colors look good on you? And which ones will last?
Read on to discover how to pick a lipstick color and the best lipsticks for different skin tones!
We are a participant in various affiliate marketing programs and may earn a commission for any purchases made through these links at no extra cost to you. Read full disclosure here.
There are so many different kinds of lipsticks available today, and each one has its own unique benefits. But the two main types of lipsticks are matte and satin.
You might think that only certain colors work well with your complexion, but when choosing a new lipstick, there are several factors to consider.
Such as your skin tone, hair and eye color, lips shape, lifestyle and personal preference. A good rule of thumb is to choose a shade that complements your skin tone.
NYX PROFESSIONAL MAKEUP Matte Lipstick - Perfect Red (Bright Blue-Toned Red)
Smooth and Plush Matte Lipstick: Load your lips with the plush, pigment rich matte colors of this shockingly smooth...
Creamy and Dreamy: This matte lipstick is never dry feeling, always creamy, dreamy and matte; Now available in a range...
Lip Products For The Perfect Pout: Doll your lips in plush, creamy, perfection; Try our complete line of lip products...
How To Pick A Lipstick Color and Factors To Consider:
The perfect lipstick color depends on your skin tone, eye color, and hair color. Here are some tips on how to pick a lipstick color that's the right shade for you.
Determine which shades suit your skin tone
First, think about what kind of lip color suits your skin tone best.
If you're fair-skinned, you'll want a lighter pink or coral shade. You may even want to try a bright red.
If you're olive-toned, try a medium brown and if you're deep toned, opt for a dark red or berry shade.
Lip shape
When choosing a new lipstick color, think about what kind of lip shape you have. If you have a thin lips, you'll want a matte lipstick; if you have fuller lips, you'll want a glossy one.
Formula: Matte or Glossy
Next, decide whether you prefer matte or glossy finishes. Matte formulas are usually darker than glosses, provide more coverage and tend to be long lasting.
While glossy lipsticks usually contain more oil and shine, are lighter and easier to apply but wear off faster.
Ingredients
There are three main ingredients that go into making a lipstick: waxes, oils, and pigments.
Waxes help keep the lipstick smooth and shiny. Oils moisturize the lips and protect them from drying out. Pigments give the lipstick color.
You'll want to make sure that the lipstick doesn't contain harmful ingredients or ones that you're allergic to.
Color preferences
Do you prefer bold colors or soft pastels? Think about the color lips you prefer.
Do you like bolder, brighter hues? Or would you rather go for softer, subtler tones?
Think about what you wear daily and how you feel while wearing different colors.
Lifestyle
Consider your lifestyle. Do you work outside often? Or do you spend most of your day indoors?
If you're very active during the day, you might want to opt for a matte lipstick that won't smudge.
If you're going to be spending lots of time outdoors, opt for a waterproof formula. Otherwise, stick to a moisturizing lipstick that won't dry out your lips.
Budget
Contemplate your budget. You can find inexpensive lipsticks at drugstores, department stores, and beauty supply shops.
There are many websites where you can buy high-quality cosmetics at discount prices online.
However, if you have more disposable income to spend on makeup and want something high end, go to a pro makeup store or shop luxury brands online.
Brand
The brand of lipstick is not an important factor but it is still something you'll want to think about. Do you have a particular brand of lipstick that you already like? If so, then by all means stick to that.
If not then you can explore with some drugstore brands first before committing to higher end lipsticks.
Desired look
Finally, think about what kind of effect you want to achieve. If you're looking to add some color to your complexion, go for a bright red or orange.
Or if want to create a dramatic look, opt for a deep plum or berry. The best thing to do is try on several different shades until you find ones that works well with your skin tone.
Sale
Bobbi Brown - Luxe Lip Color - Soft Berry 8-0.13 oz / 3.8 g - Full Size
Luxe Lip Color - # 8 Soft Berry, Ideal for anyone who wants the ultimate in color and treatment benefits in a lipstick
Its formula also helps to visibly reduce the appearance of lip lines
Relieve lip flaking. Plus, just one swipe delivers maximum-coverage color, A luxurious, intensely rejuvenating lipstick
$40.01
Buy on Amazon
Price incl. tax, excl. shipping
How to properly apply lipstick
Line your lips with a lip pencil in a color that matches or complements your lipstick.
Then use a lip brush to apply a small amount of lip primer onto your lips. A good primer will help make your lipstick last longer by preventing it from drying out. It also makes your lipstick more comfortable to wear as it prevents chapping.
Next, apply a thin layer of lipstick onto your lips.
Finally, blend the edges of the lip line with your lipstick using a lip brush, until your lips are completely filled with the color.
Optionally, finish off with a coat of lipgloss.
Related: The Best Skincare Dupes For Popular High End Brands
Choose Between Bold Eyes or Bold Lips
Although some people do both, it is not typical that you go for bold eyes in conjunction with bold lips. Unless you want to achieve a glam look.
Instead, pick between a neutral eye look with bold lips or bold eyes with natural lips. If you want attention drawn to your eyes then that is where you want to be bold.
Conversely, if you want to draw attention to your lips that is where the focus should be.
How To Pick A Lipstick Color For Your Skin tone:
Cool Lipstick Tones for Winter and Summer vs Warm Lipstick Tones for Autumn and Spring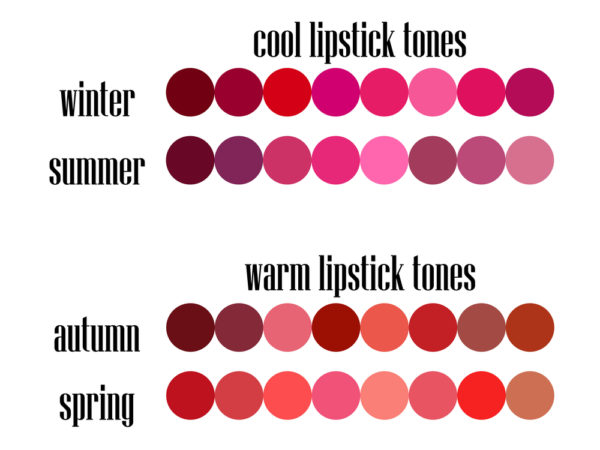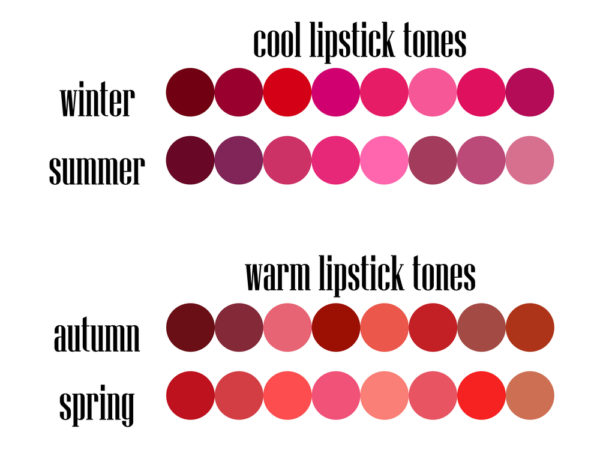 For pale or fair skin, the best lipstick for you would be:
If you have medium skin-tone the best lipstick for you would be:
For dark or deeper skin tones, your perfect match lipstick would be:
Deep plum
Red browns
Red
Dark beige
If you need professional help with finding your perfect match lipsticks, I suggest visiting a pro makeup store in your area.
They can test different shades on you so that you find the perfect shades that not only suits you well but that you feel comfortable wearing.
After experimenting with different products, you'll eventually find your staples.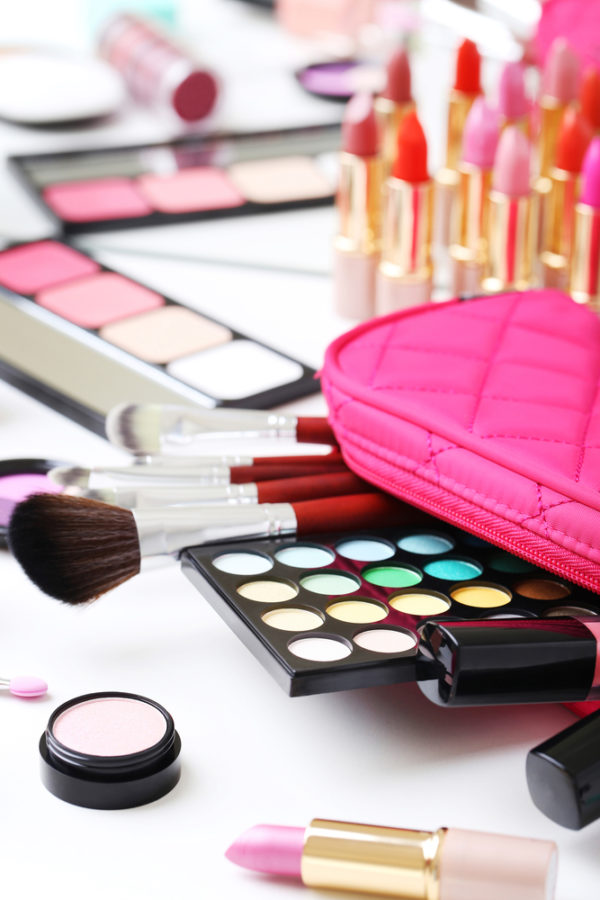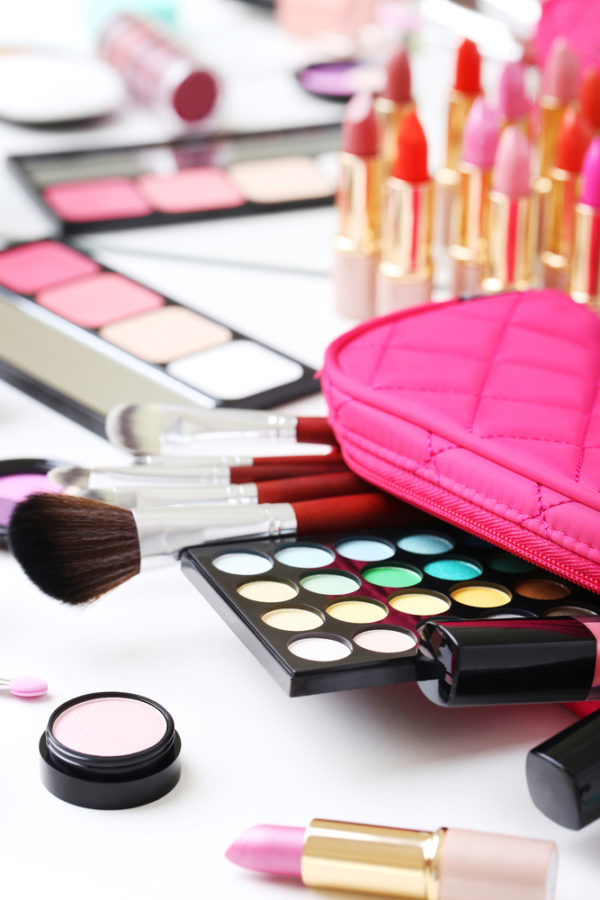 Different Types Of Formula Lipsticks: Textures & Finishes
Apart from wearing the right shade of lipstick, equally important is the texture. Some common lipstick formulas to choose from are:
Matte
Metallic
Creme / Butter
Satin / Sheer
Glossy
Liquid
Tinted Balms
You can pick a type of lipstick depending on the occasion, whether you want long-lasting or prefer one that can be reapplied every couple of hours.
For instance, if you are going to dinner it may be safer to wear a satin lipstick or lipgloss as opposed to a matte lipstick.
There was this one time where I made the mistake of putting on a plum matte liquid lipstick to go out for dinner and ended up looking like I ate my lipstick afterwards.
How To Pick A Lipstick Color To Match Your Outfit
Knowing how to pick a lipstick color to coordinate with your outfit can be a game changer! Sometimes in order to choose the best lipstick, you've got to let your mood guide your decisions.
Here are some lipstick color ideas for the type of outfit you are wearing:
Girly Look outfit – pale pink and peachy shades
Minimalist look – nudes and browns
Edgy & Cool fit – deep purple, chocolate brown, black, gray, bright pinks, orange, dark blue
Casual ensemble – mauve, lilac, purple
Executive/Classy – true red, burgundy, berries
The Best Makeup and Lipstick Brands For Black Women
Whether you're looking for a matte lipstick that will last all day, or a glossy lipstick that will give you a beautiful pouty look, check out our list of the best makeup and lipstick brands for women of color:
Maybelline
L'oreal Paris
Revlon
Best Places to shop for Lipsticks
Wrapping Up How To Pick A Lipstick Color
There's no doubt that the color of your lips will play an important role in how you feel about yourself.
If you're looking for something subtle, then go with a neutral shade. However, if you're feeling bold, try a bright red lip.
Remember your lip colour doesn't necessarily have to be the same as your outfit, as long as it compliments it.
Hope this post was helpful in teaching you how to pick a lipstick color that's best for you. Share it with someone who you know would appreciate some good lipstick advice.
Shop Editor's Picks
Shevy
Hi! I'm Shevy! I'm the Founder and Managing Editor of Travel Beauty Blog est. 2016. I am also the Founder of Shevy Studio Marketing Agency where I work with entrepreneurs and bloggers on SEO/Content Strategy, Web Design and Consultancy.