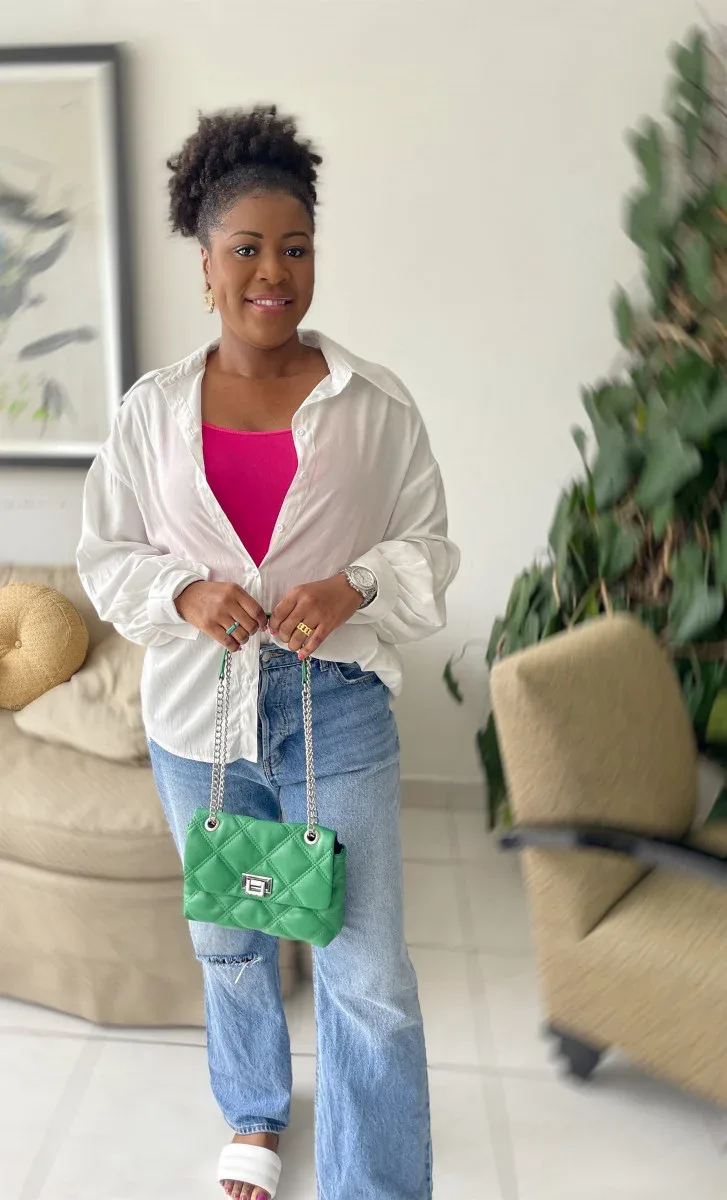 Last Updated on 6 months by Shevy
Mom Jeans: The Ultimate Fashion Trend For The Modern Mom
Whether you're going out or staying in, these casual outfits with mom jeans are sure to impress. Mom jeans are not just for moms and they are comfortable, easy to pair with other items in your wardrobe and versatile enough to wear on casual days and dressier occasions.
One of the main benefits of owning not just a pair of mom jeans, but denim in general, is that you can have them for several years as the same styles always come back around.
So its always good to have a couple pairs in your wardrobe to keep on rotation.
We are a participant in various affiliate marketing programs and may earn a commission for any purchases made through these links at no extra cost to you. Read full disclosure here.
Related: How To Wear A White Tee And Look Good
It doesn't matter if they are blue, black or white; skinny, straight cut, flare cut or high-waisted.
Denim is an essential wardrobe staple that everyone should have in their closet.
Pair your mom jeans with anything from a blazer to a shirt, jacket, or a coat.
What Are Mom Jeans?
Mom jeans refer to a type of jeans that have a high waist and are loose-fitting. They are supposed to fit very baggy around the crotch and legs, and are normally considered unfashionable and unflattering.
Related: What To Wear With Black Skirts
These stylish jeans are perfect for moms who love to dress up but don't have time to go shopping. They're comfortable, easy to wear, and they also look great on everyone!
Get inspired by our easy tips on how to style a casual outfit with mom jeans. Here's how to get it right…
Shop Mom Jeans

Add Jewelry and Accessories
To dress up your mom jeans, try adding a scarf, necklace, or bracelet to make your outfit pop. This will instantly take your ensemble from casual to chic.
Wear them in multiple colors
There's no need to limit yourself to just one color when choosing mom jeans. Don't limit yourself to just light blue, navy blue or black jeans. Wear them in other colors, like white and gray.
Pair with a Blazer or Jacket
If you're going to wear mom jeans, make sure you pair them with something fun. A blazer or jacket will give your outfit some structure and help balance out the casual vibe of the pants. You can also add a belt to draw attention away from the waistline.
Try different styles
You don't have to stick to just one style of mom jeans. Try mixing and matching different styles to find what works best for you.
If you prefer skinny jeans, opt for a wide leg cut. If you prefer bootcut, choose a straight leg. If you like cropped, go for a high waist.
Where To Shop for Trendy and Affordable Mom Jeans
American Eagle Outfitters
American Eagle has an amazing assortment of jeans for women of various shapes and sizes. Whether you're looking for mom jeans, boyfriend jeans, dad jeans or trendy 90's jeans, American Eagle is the place to go.
Personally, this is one of my favorite places to shop for jeans. Not only are they are affordable, but they fit great, are super comfortable and look very fashionable.
Old Navy
Old Navy is another great store for affordable, nice fitting jeans. They have various fits and styles of jeans that cater to women on a wide scale.
Levi's
Levi's is the ultimate and go-to brand for most people when it comes to jeans,. They set the standard for how jeans should look and feel when wearing them.
30+ Outfits with Mom Jeans + How To Style Them:
Smart Casual: Mom Jeans with a Camisole and Blazer
Light washed mom jeans with a beige camisole top and an oversized matching checked blazer. Decked off with a pair of nude pumps and a beige Chloe bag.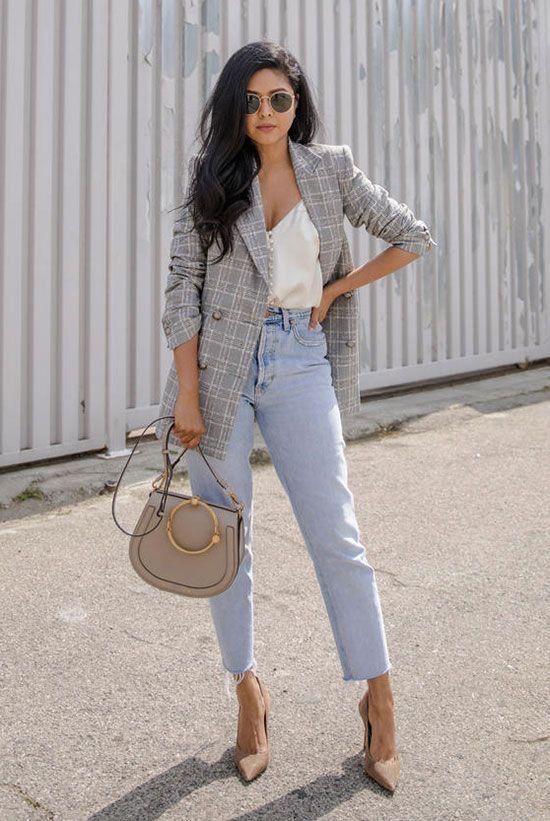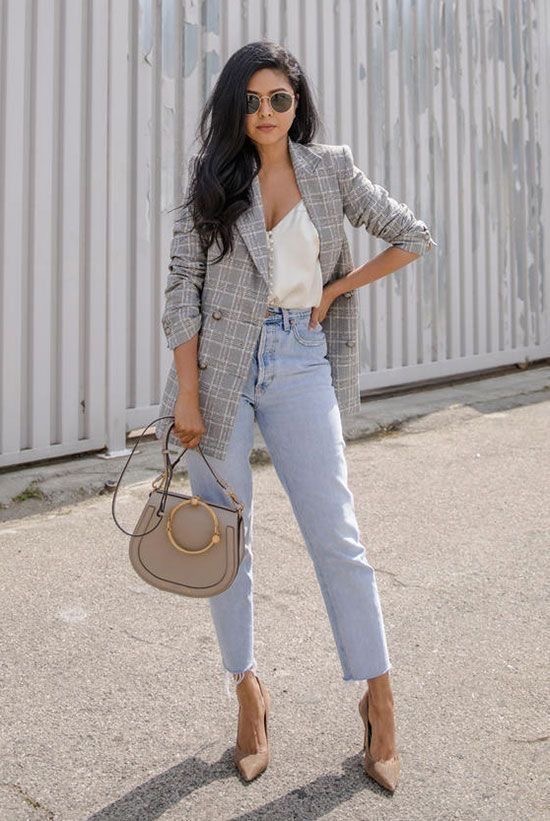 Tops to wear with mom jeans: Blue Oversized Striped Shirt
Mom jeans outfit black girl:
High-waited mom jeans with a blue and white oversized striped shirt, with lots of cleavage out for the summer.
Nicely put together with a blue oversized clutch bag and blue strappy sandals.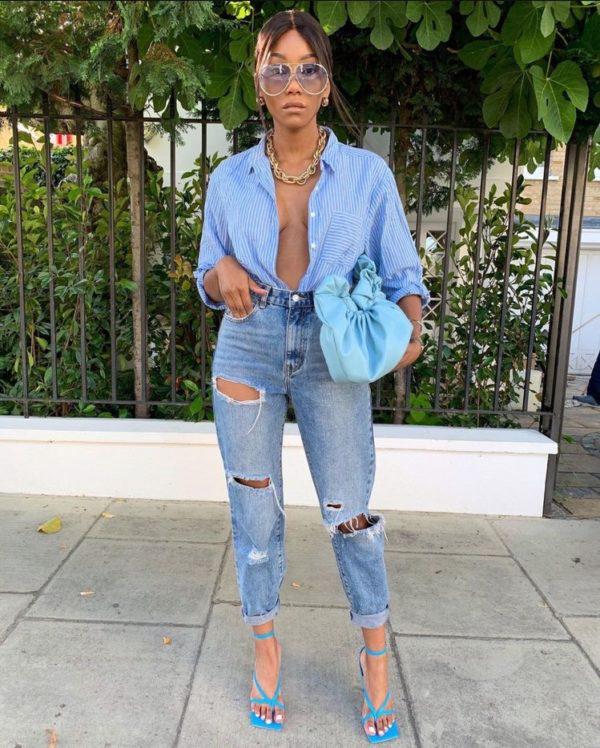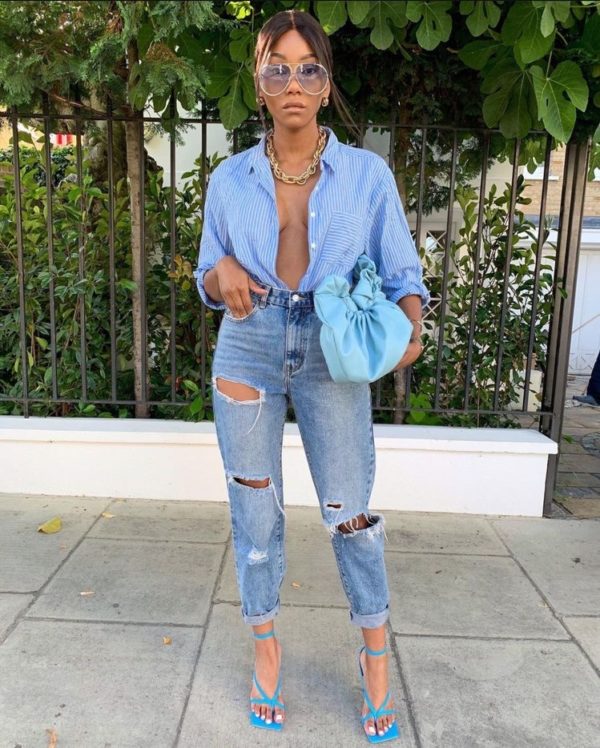 Mom Jeans with Black Tee and Black Pumps
Style your mom jeans with a black vintage tee and classic black mules for a chic look like this pair from Everlane.
Related: Shein Reviews (year) + Everything You Need To Know Before Ordering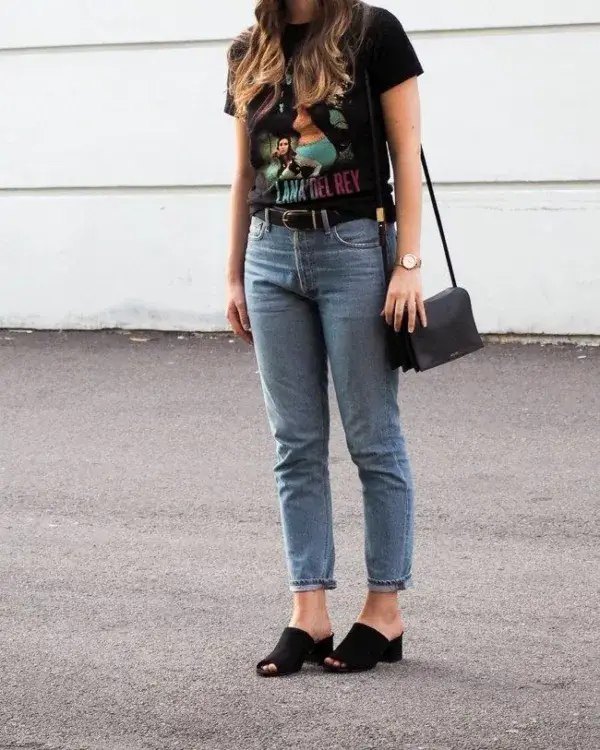 Mom Jeans with a basic White Tee
Nothing beats a high-waisted mom jeans with a plain white tee slightly tucked inside the front of the jeans.
Alternatively, you can switch out the white t-shirt for a graphic tee instead.
Complete the look with a pair of white sneakers and a brown tote bag to add a bit of contrast.
This outfit is great for running errands, or dropping off the kids to school, shopping at the mall or can be worn on any given day.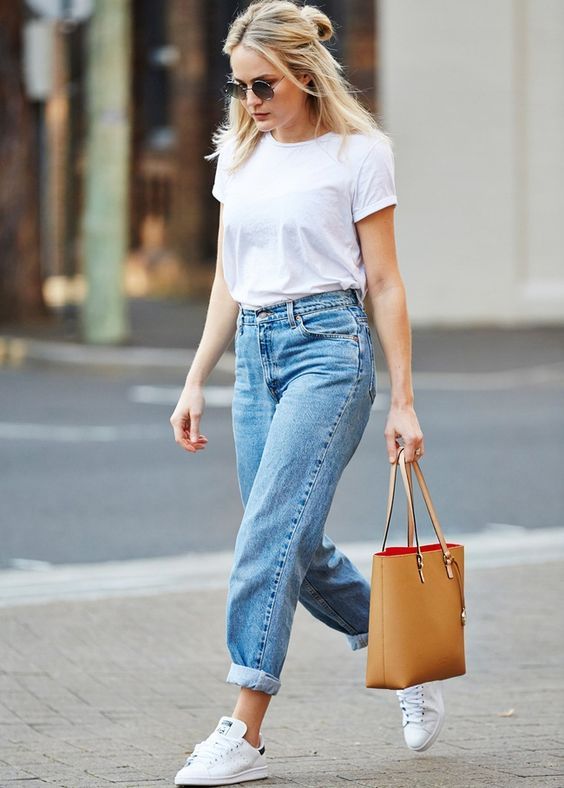 Black Cropped Jacket with blue Mom Jeans
A black cropped jacket layered over a white long sleeve button down shirt. With the sleeves slightly rolled up to show off the white sleeves.
Styled with a Chanel brooch, a denim Chanel bag and a pair of black and white platform pumps.
The cropped jacket can easily be replaced with a cropped bomber jacket.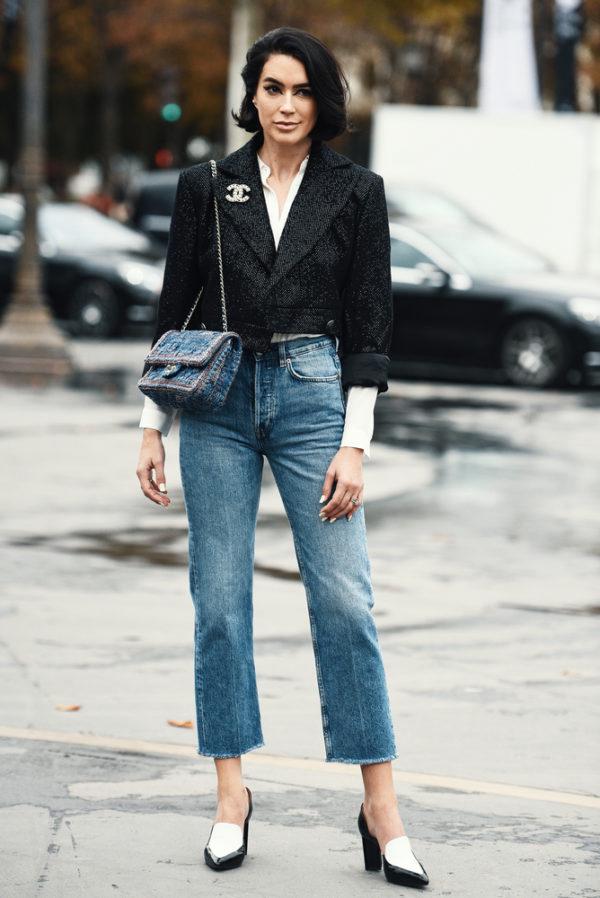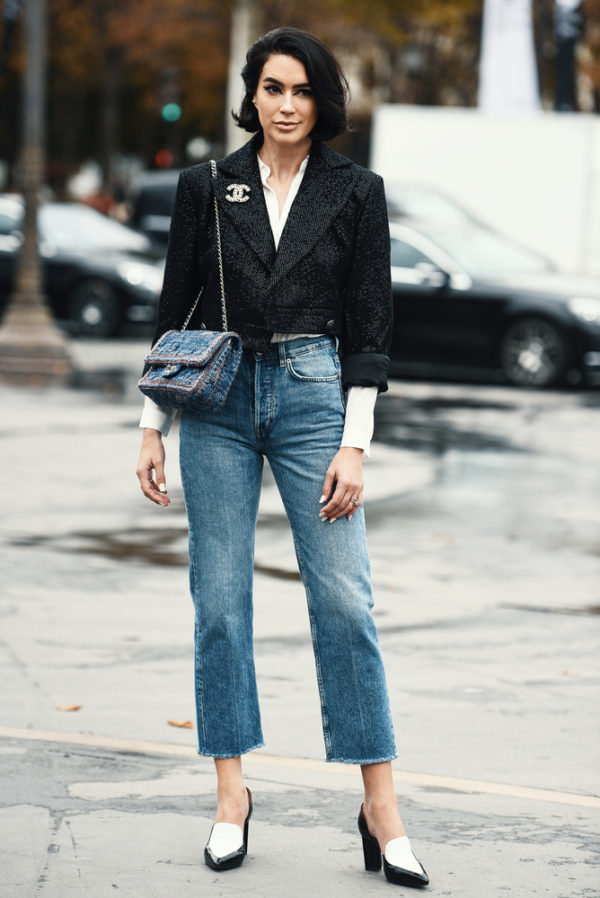 Jewelled Mom Jeans with Floral Blazer
Jewelled Mom Jeans with a navy blue floral print blazer and white jewelled t-shirt. Accessorized with a pair of yellow pumps and yellow clutch bag.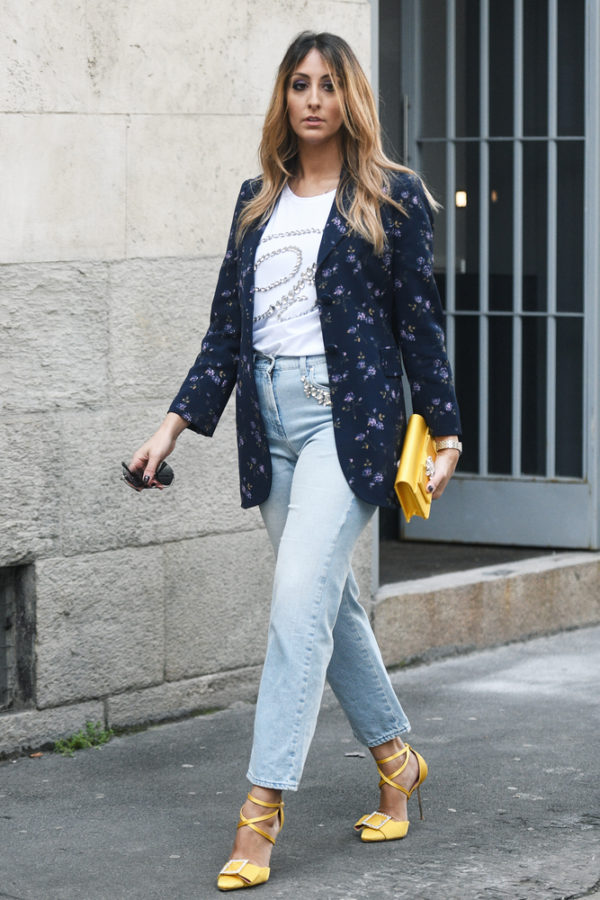 Mom Jeans with Graphic Tee
Nothing beats a pair of high-waisted mom jeans on a casual day styled with a graphic tee tucked inside it.
This is one of my favorite outfits with mom jeans. The graphic tee can be substituted for a plain white tee and vice versa.
Lian Galliard styled hers with a black crossbody chain bag, vintage sunglasses and black ankle boots.
Mom Jeans with White Button Down Shirt
Mom jeans with the classic white button down shirt. If you're looking for a casual yet polished look, try pairing your mom jeans with a white short sleeve button down shirt.
This will give you an easygoing vibe without sacrificing any of your fashion sense.
Add a beige handbag and a pair of pointed toe flat mules to complement the outfit.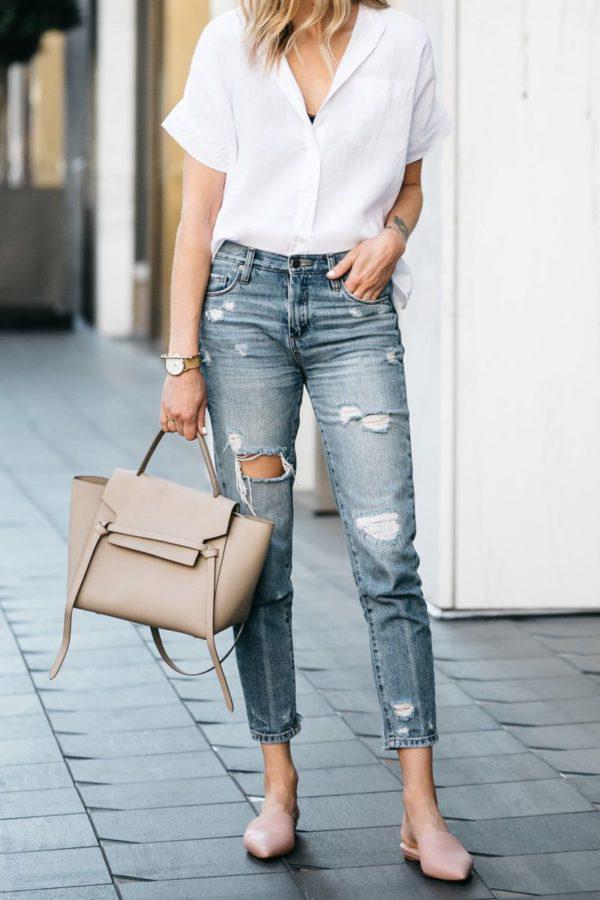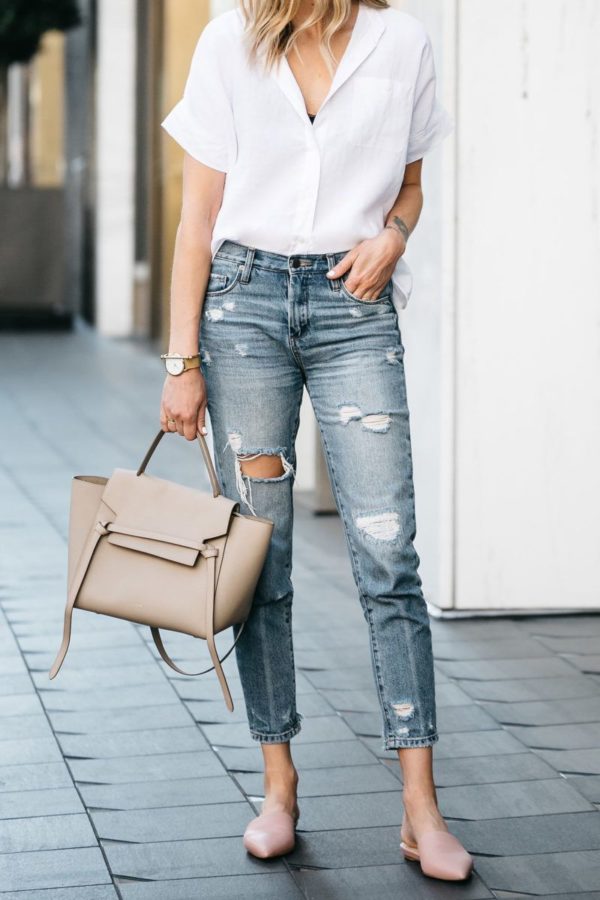 Mom Jeans with a Bralette and Jacket
Fitted mom jeans with a black bralette top with a black blazer to complete the look. Accessorize with black sneakers, black statement sunglasses and a mini handbag.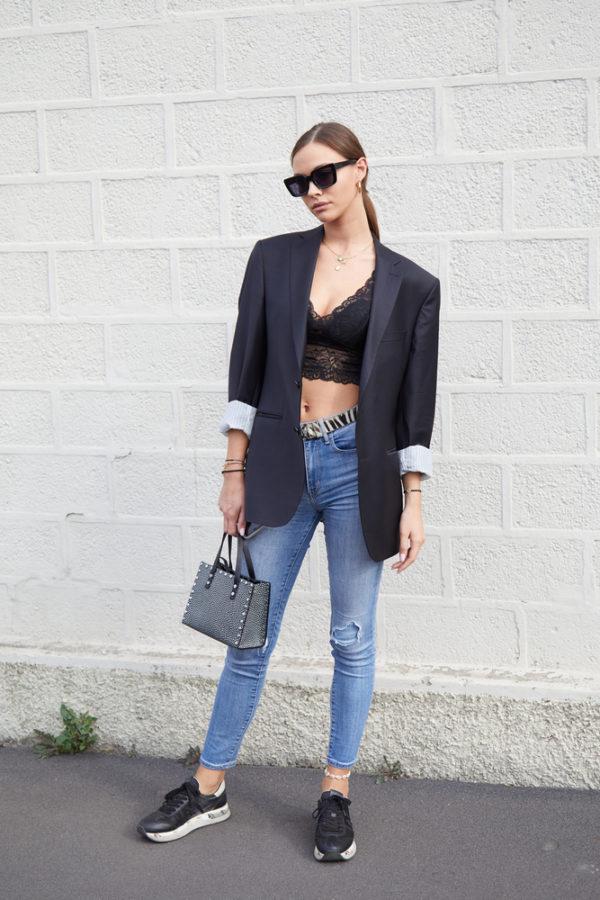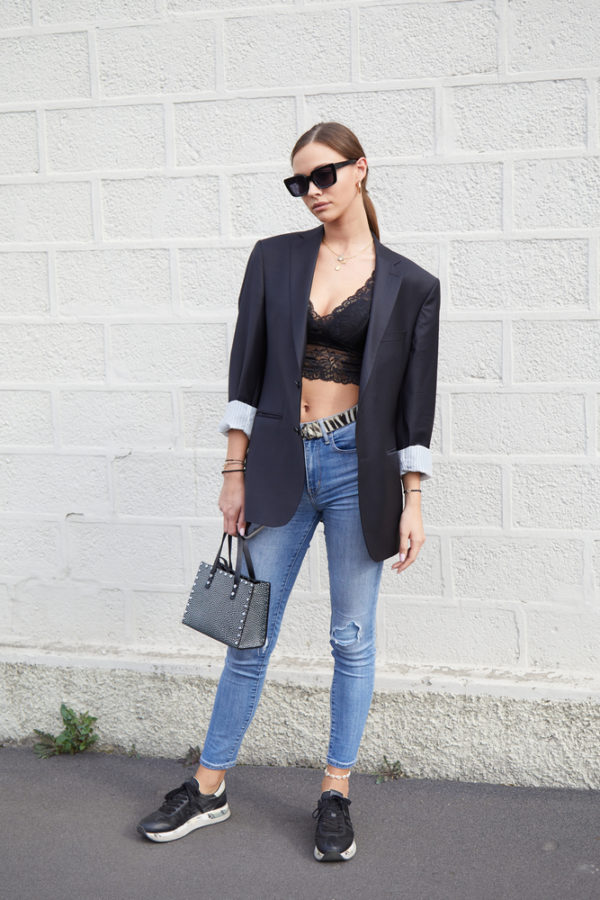 Classic Mom Jeans with a Long Sleeve Cropped Shirt
If you want to show a little skin during the hot summer months, go with a long sleeve or 3/4 white cropped cotton shirt.
A classic pair of mom jeans, dark sunglasses, a cobalt blue handbag and black strappy sandals.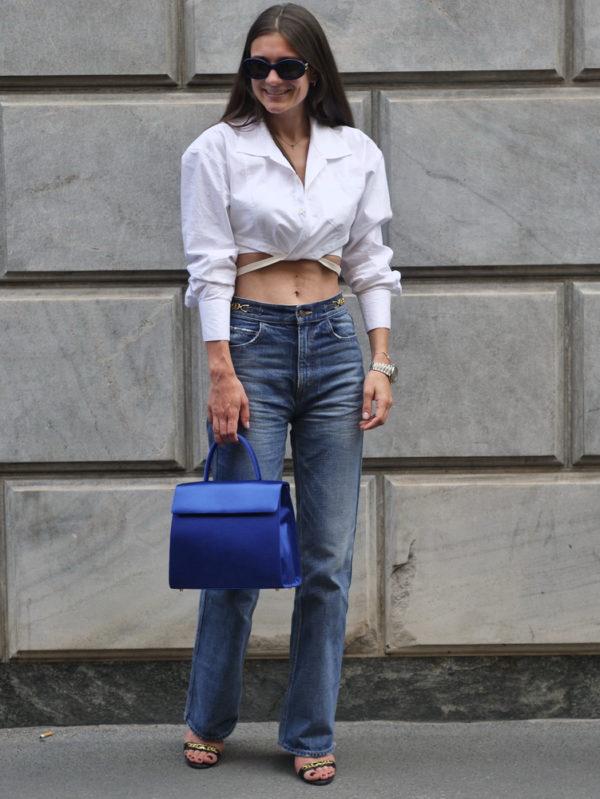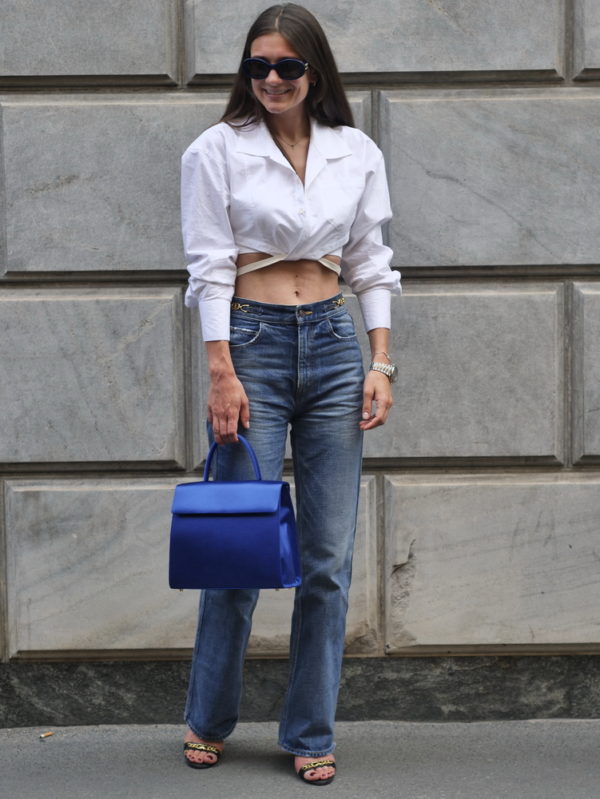 OUTFITS WITH MOM JEANS WINTER AND FALL IDEAS
Shop Blazers, Coats & Jackets

Mom Jeans with a Sweater and Booties
For the fall and winter months you can wear your mom jeans with a white cashmere sweater inserted slightly at the front of the pants with a pair of white ankle booties to match.
Additionally, go for an off white oversized clutch and a white cowgirl hat.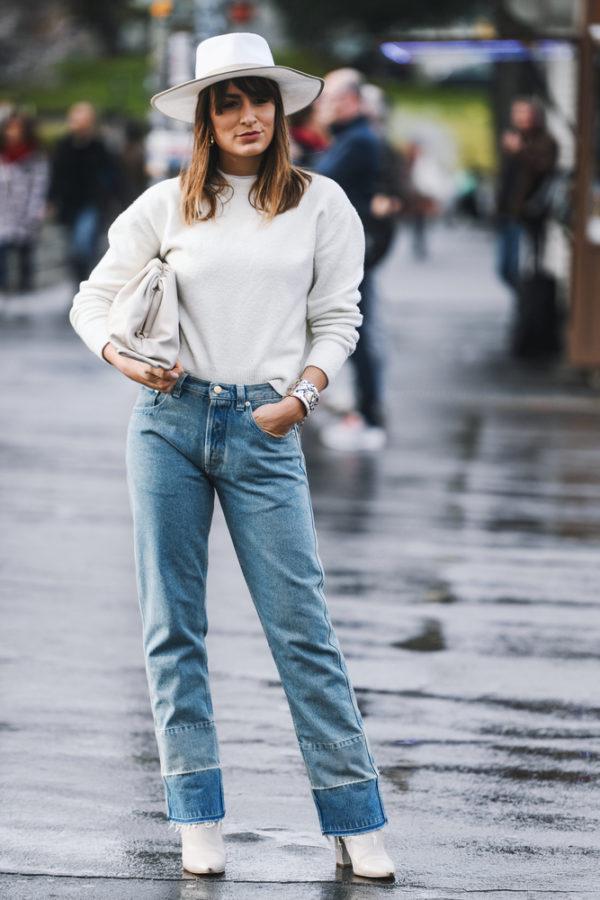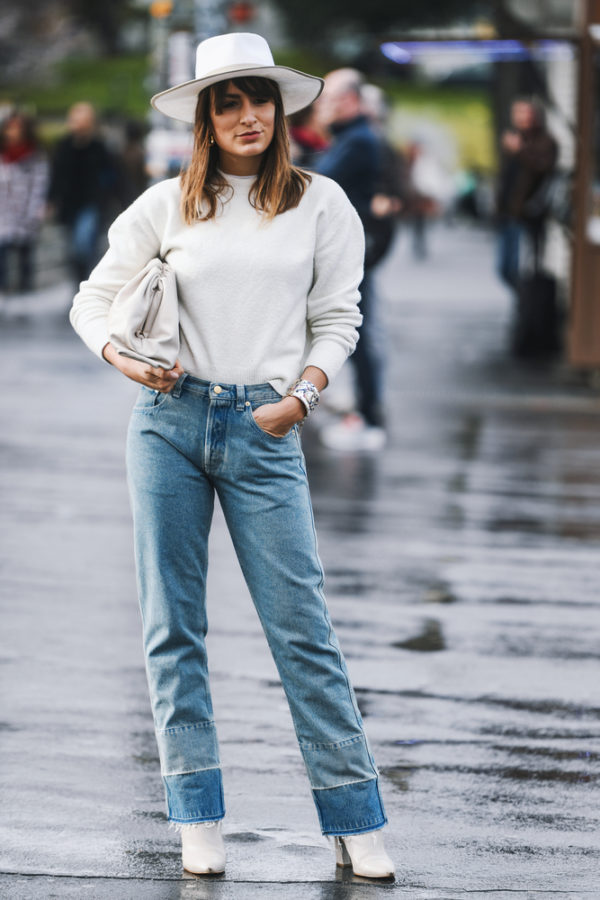 Baggy Mom Jeans with White Shirt and Red Coat
A pair of baggy mom jeans with a white button down shirt layered below a red trench coat.
This is a great way to wear outfits with mom jeans during the fall/winter months.
Completed with a mini red handbag and a pair of red heels to match the coat.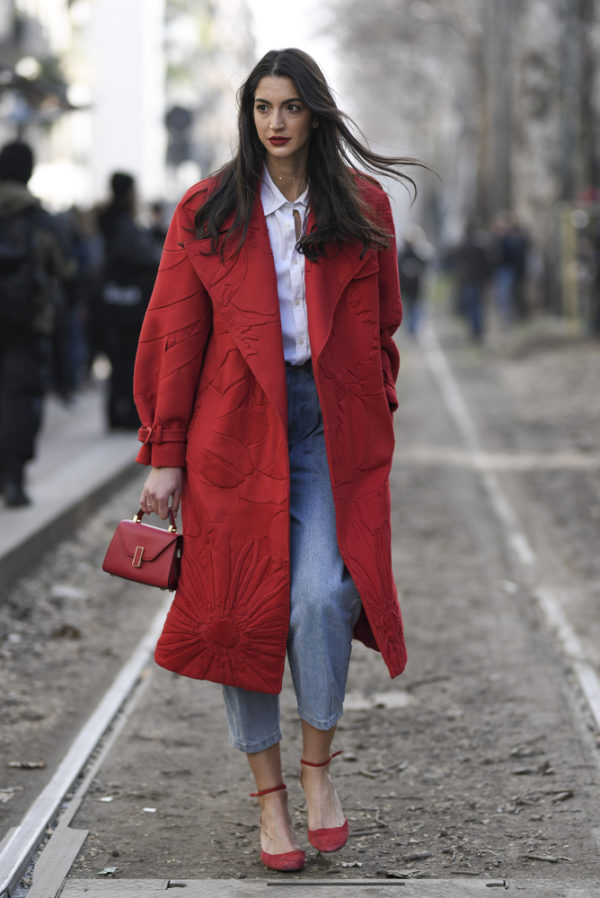 Wide Leg Mom Jeans: Denim on Denim
Pair your wide leg mom jeans with other denim pieces.
If you're looking for a more polished look, try pairing mom jeans with a denim jacket over a white t-shirt.
Optionally, you can finish the look with a sleeveless quilted vest coat.
The denim on denim look is an easy way to style your jeans when you are out of outfit ideas. Or, it can be the perfect ensemble for a chilly, cold or rainy day.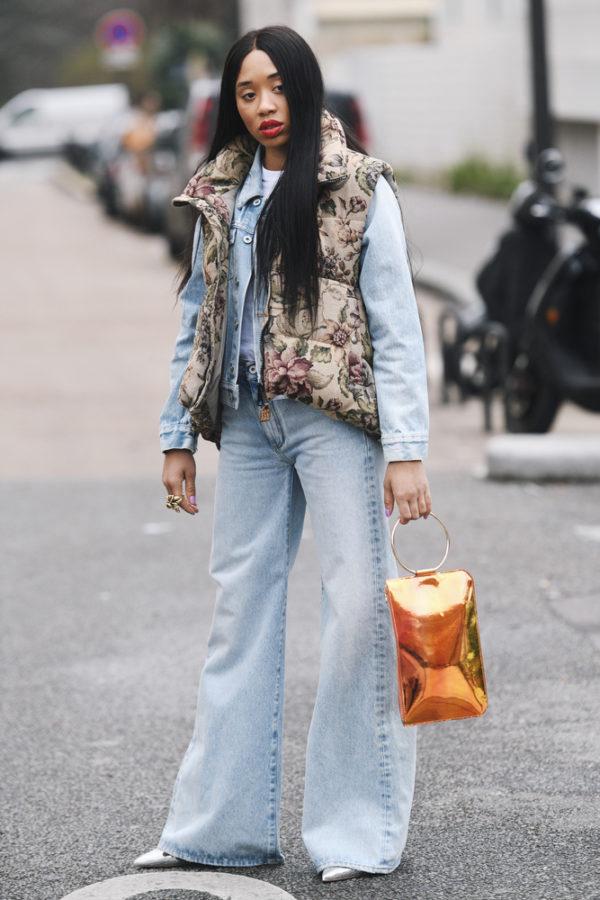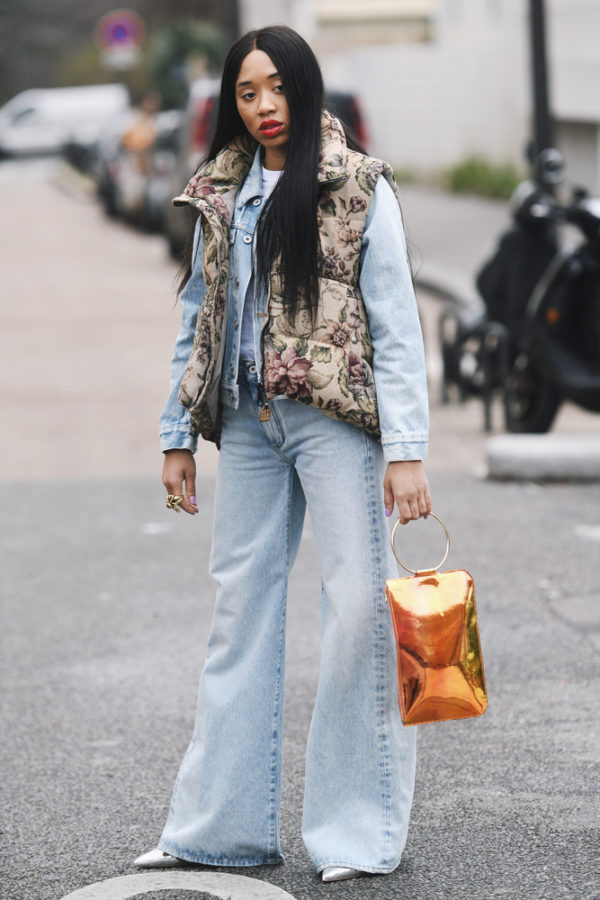 Mom Jeans with a Trench Coat
On a dressy occasion and for added style, you can throw an oversized solid colour trench coat over a black turtle neck top.
Alternatively, you can substitute your trench coat for an oversized blazer on warmer days.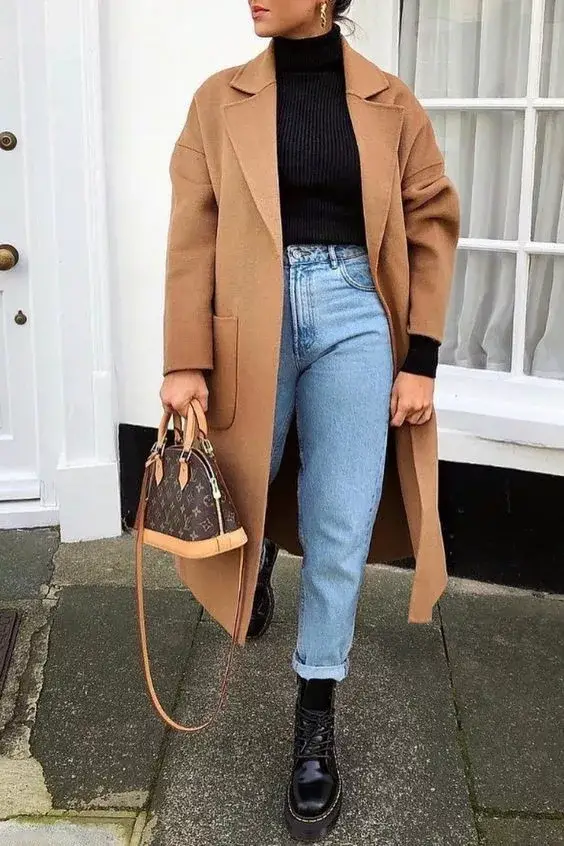 Mom Jeans outfit aesthetic: Cream off the shoulder Cardigan
Wear your mom jeans with a cream knit cardigan worn off the shoulder on one side for a chic look.
Take it to the next level with a brown and black designer handbag of your choice and a pair of natural ankle booties.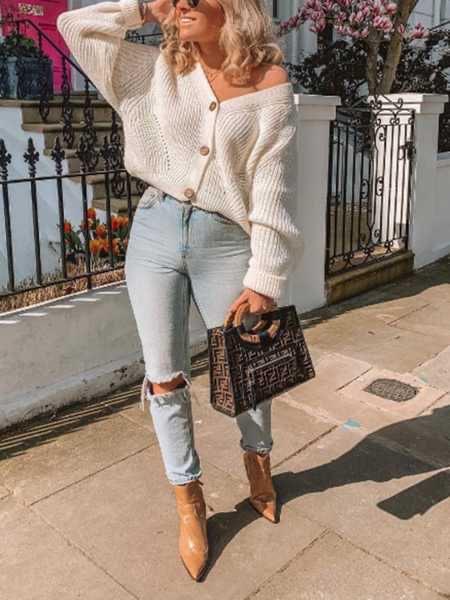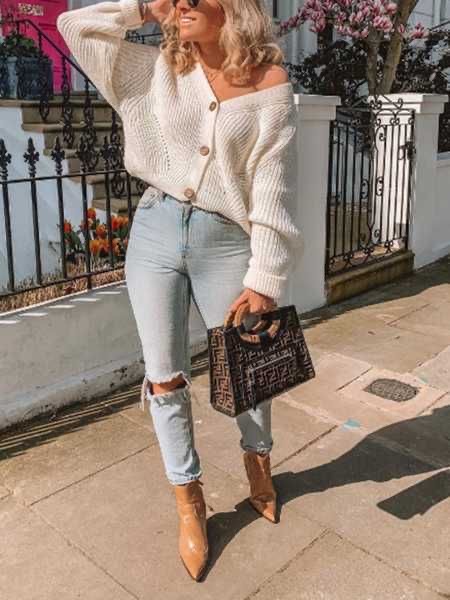 Wide Leg Mom Jeans with White Sneakers and Oversized Blazer
For fall or winter wear your wide leg mom jeans with a white long sleeve knit cardigan layered under a blush pink oversized blazer.
Complete your outfit with a pair of white sneakers and a bubblegum pink handbag.
I love the look of plain white sneakers with wide leg mom jeans slightly folded at the hem.
There's just something about this style that gives you that 80's or 90's vintage look.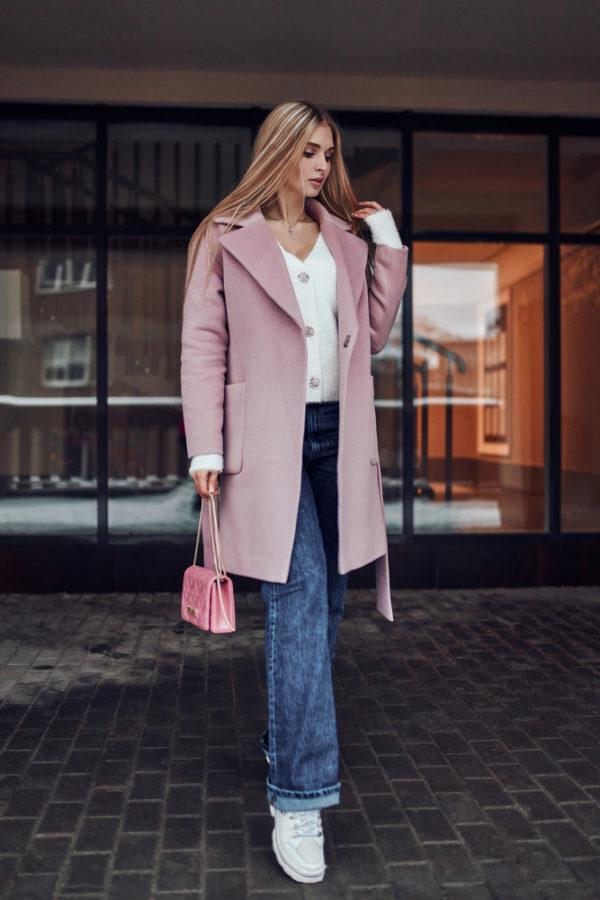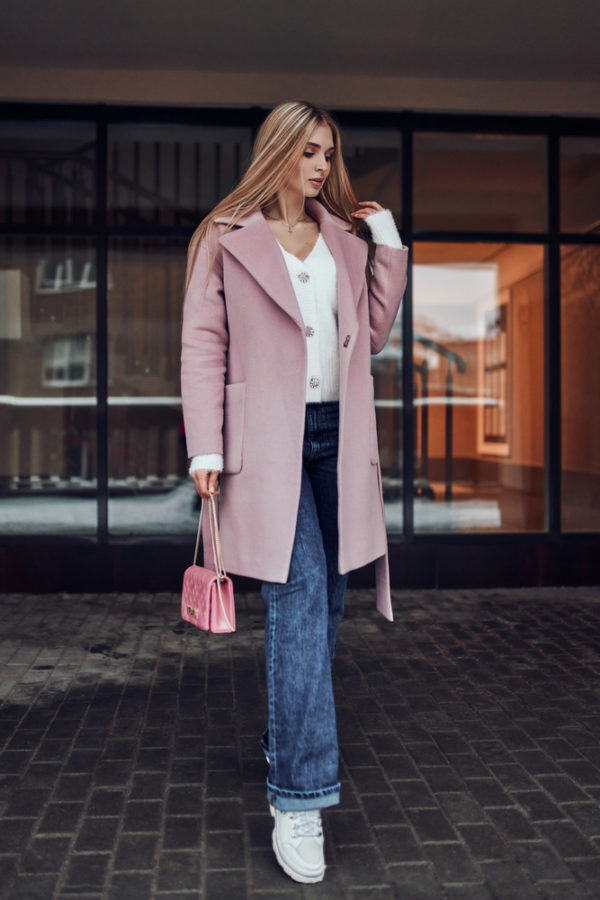 Mom Jeans with a Sweater
Blue Mom Jeans with a mint green sweater and a pair of white blocked heel mules. Topped off with green sunglasses and a yellow mini handbag.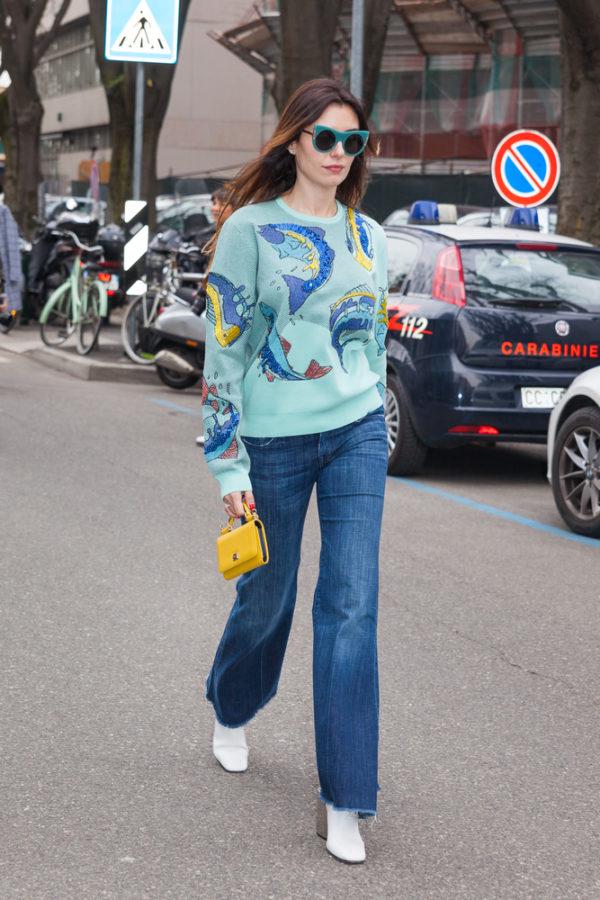 Mom Jeans Outfit 90s: Loose fit Mom Jeans with Colourful Blazer
This colourful blazer is giving disco ball which reminds me of the 90s and 80s vibe clothing. Complemented with a crossbody Loewe bag and brown ankle boots.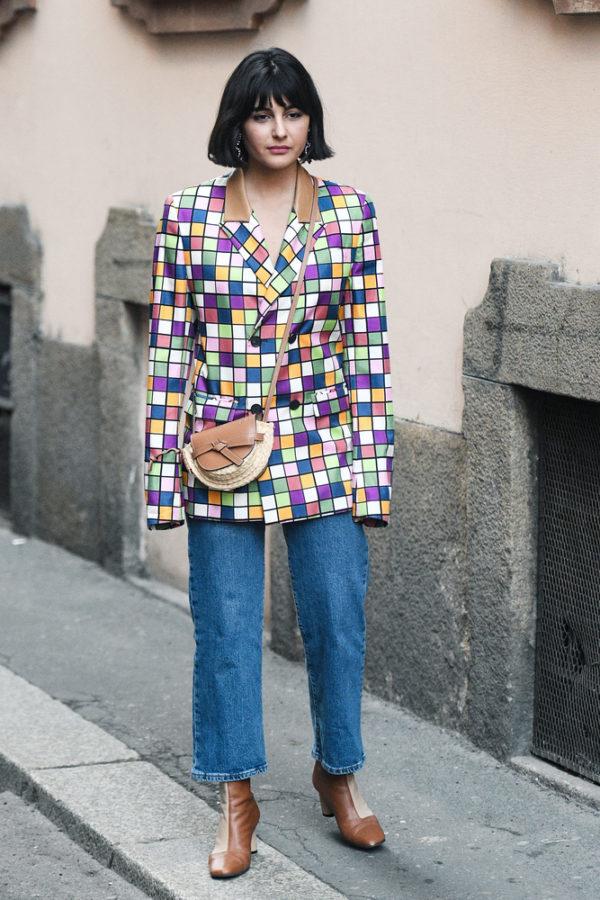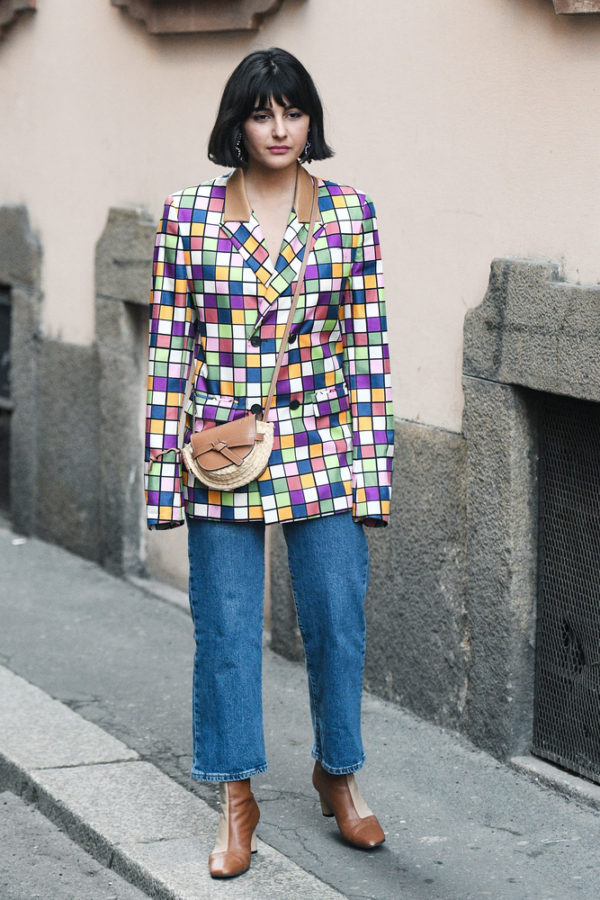 Mom Jeans with a Black Tweed Blazer
For a sophisticated look, dress up your outfits with mom jeans with a pair of neutral mules or kitten heels like this one here.
A 3/4 light wash mom jeans paired with a black tweed blazer. This style is great for the office on a chilly day, during spring/fall.
Completed with a Gucci chain strap crossbody bag and a pair of cap-toe kitten heels.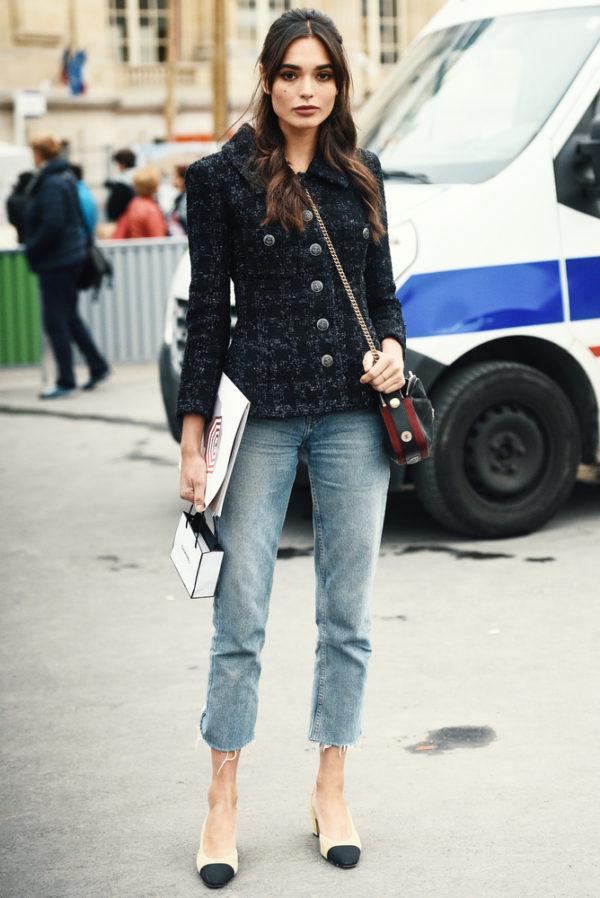 Mom Jeans with a Denim Jacket and Trench Coat
Denim on denim with a slight twist. Wear your blue mom jeans outfit with a matching denim jacket and white tee, with a green oversized trench coat.
Finish the ensemble with a black hobo bag, oversized complementary sunglasses and a pair of red strappy sandals.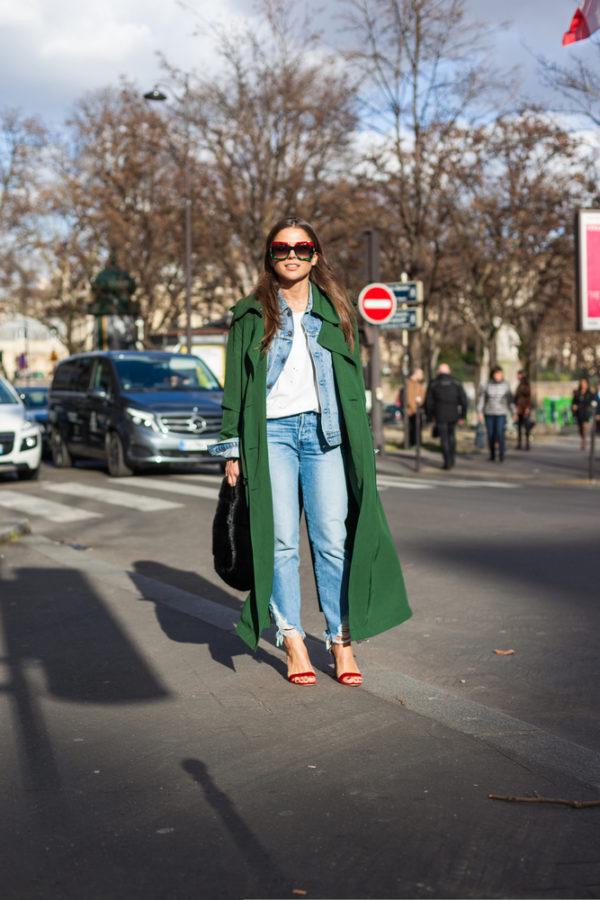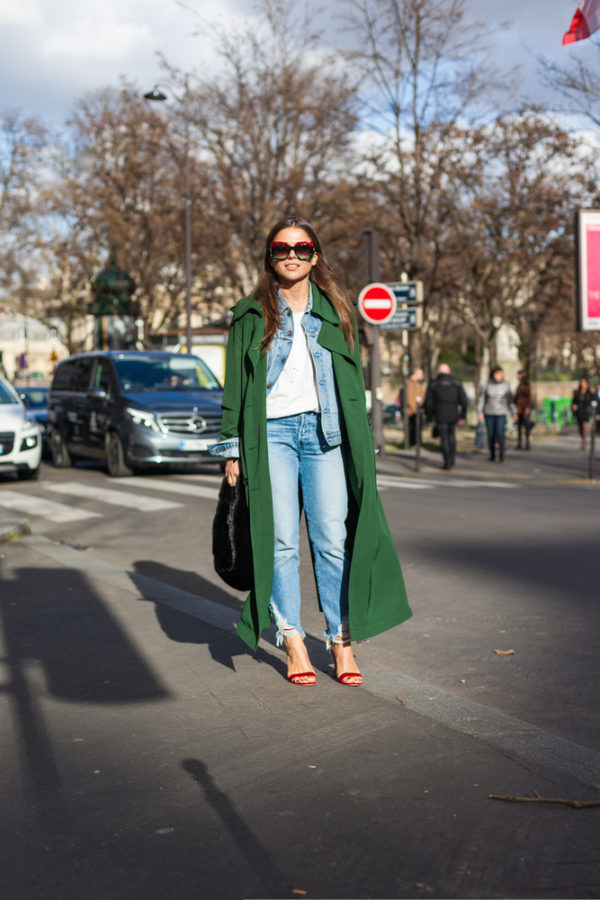 Mom Jeans outfit with sneakers and a Red Leather Jacket
Straight cut mom jeans with a white crop top and red leather jacket. A nice and stylish way to sport outfits with mom jeans during the colder months.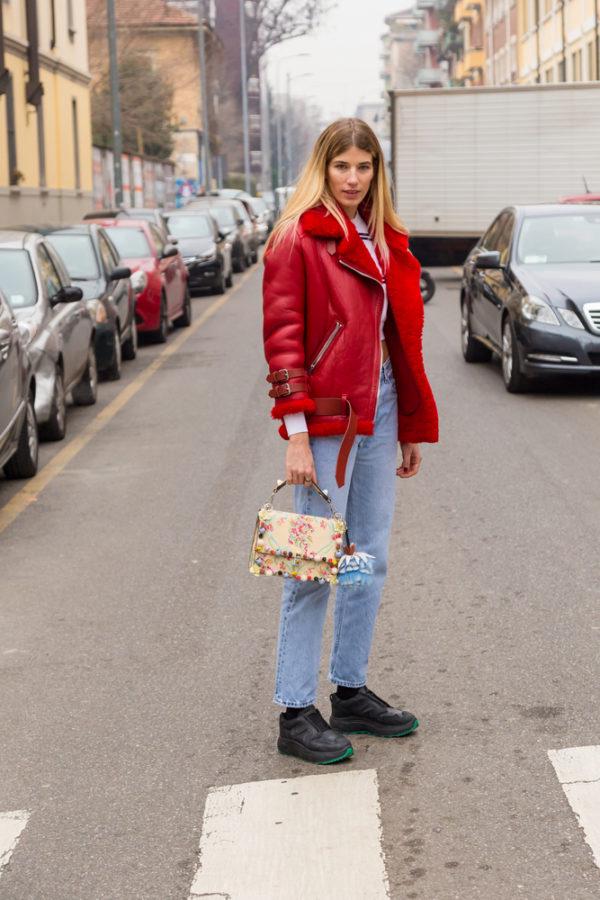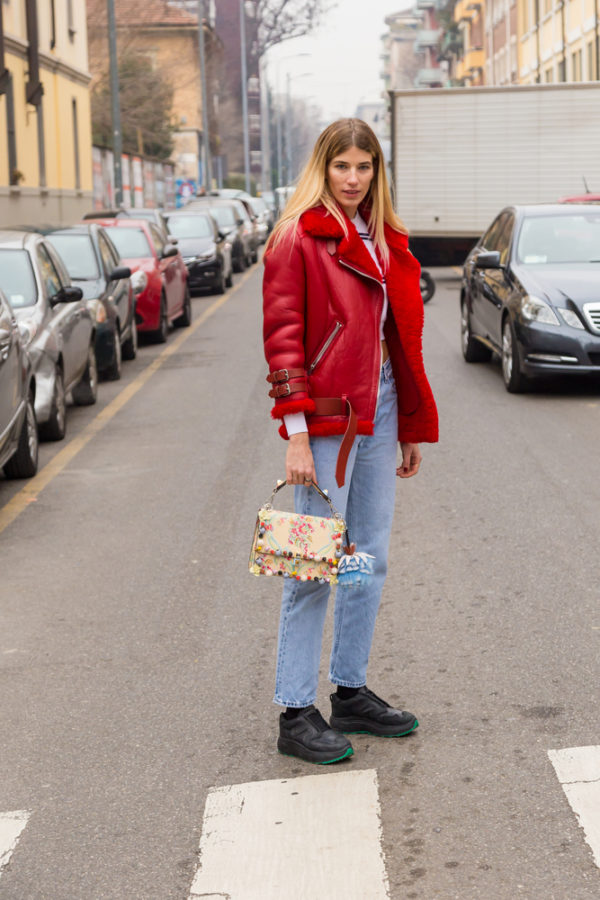 High-waisted Mom Jeans outfit ideas: White Blazer with white Bodysuit
A white bodysuit layered under a white oversized blazer with a light blue-washed, high-waisted mom jean.
An oversized brown sunglasses, a mini satchel bag and transparent plastic pumps.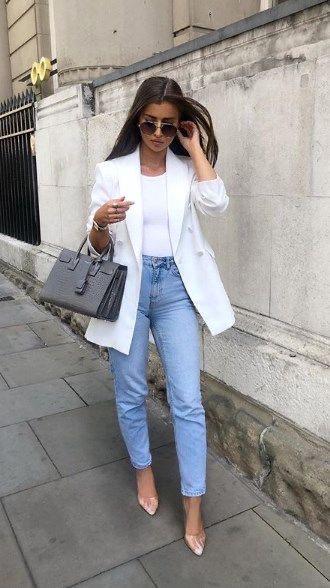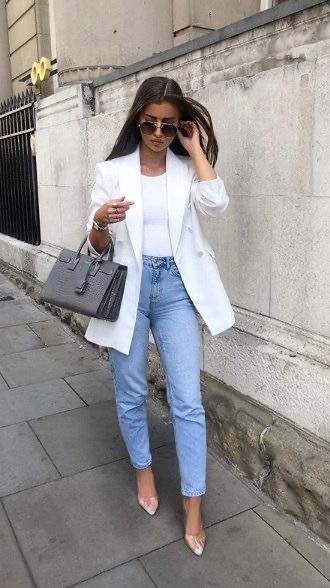 Semi Formal Outfits with Mom Jeans
If you're a bit hesitate to wear all white, try switching out your white blazer with an oversized black one instead.
Completed with large black sunnies, nude pumps and a black satchel bag.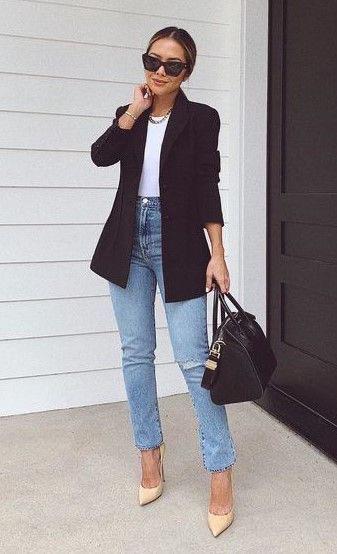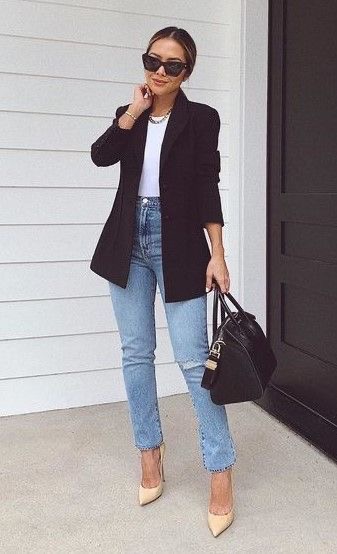 How To Wear Mom Jeans in your 40s: with an Oversized Trench Coat
Wide leg dark blue mom jeans with a white t-shirt and a brown oversized trench coat over it. This outfit is ideal for the fall months and winter seasons.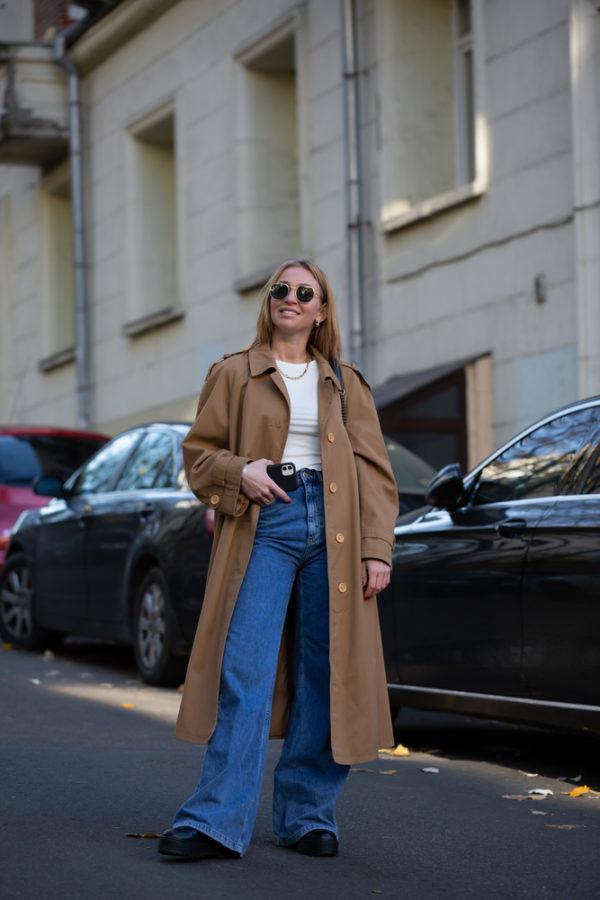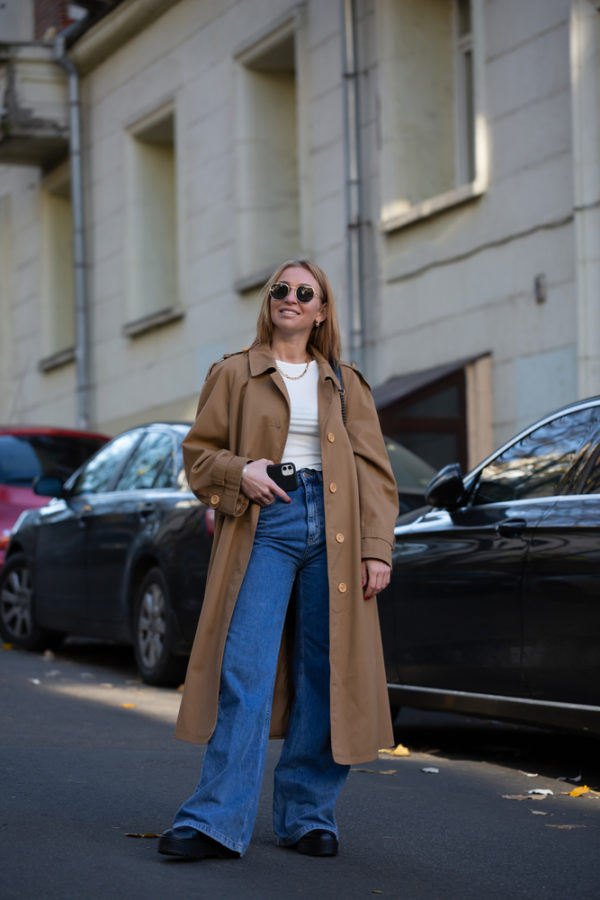 Black Mom Jeans with Classic Button Down White Shirt
Tired of wearing blue jeans? Try a pair of black mom jeans together with a classic white long sleeve button down shirt. Slightly rolled up at the sleeves for a more casual finish.
Complete the look with black square toe mules and a mini woven bag.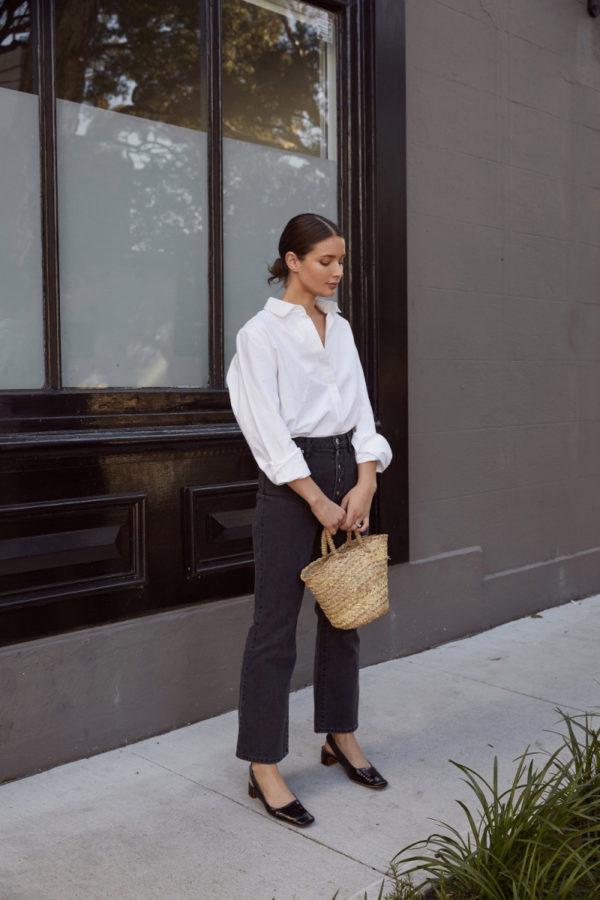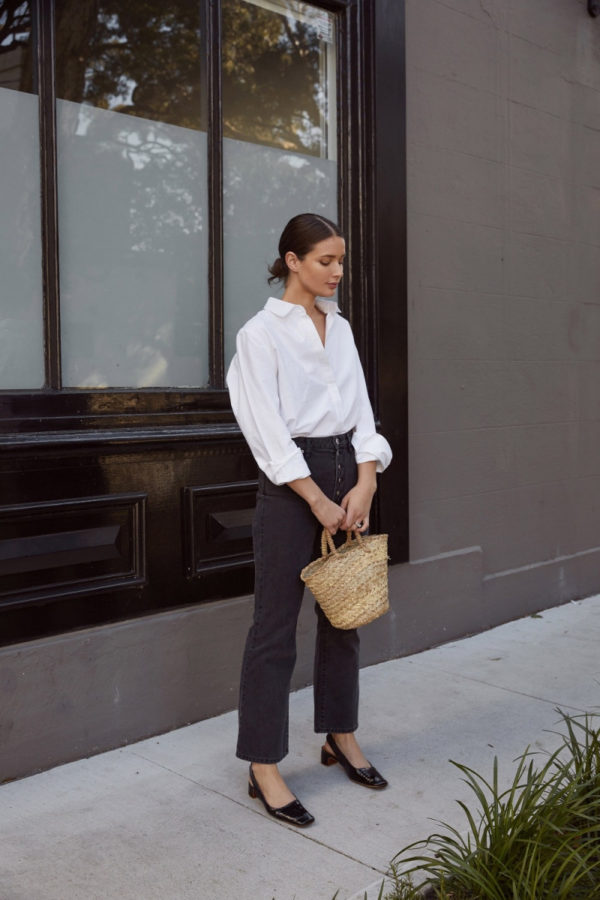 How To Accessorize your Outfits with Mom Jeans
Remember to finish off the look with cute accessories such as a brown or black leather belt. Additionally, a shoulder or mini crossbody bag, and some statement jewellery.
Read Next: How To Style An Oversized Shirt
These are the different ways in which I style my favorite pairs of jeans. Each style depends on what look I'm going for or how casual or dressy the occasion. My choice of brands is linked at the end of this post. What's your favourite way to style your jeans?
Wrapping Up The Best Outfits With Mom Jeans
If you're looking for something versatile, outfits with mom jeans will work well with everything from casual to business.
Due to the fact they come in so many different styles, you'll never run out of options.
It's easy to see why moms love mom jeans. They're comfortable, durable, and go with everything. Plus, they're perfect for everyday use.
When you need to dress up your wardrobe without sacrificing comfort, try pairing your favorite pair of mom jean with some fun accessories!
Shop My Outfit

Shevy
Hi! I'm Shevy! I'm the Founder and Managing Editor of Travel Beauty Blog est. 2016. I am also the Founder of Shevy Studio Marketing Agency where I work with entrepreneurs and bloggers on SEO/Content Strategy, Web Design and Consultancy.