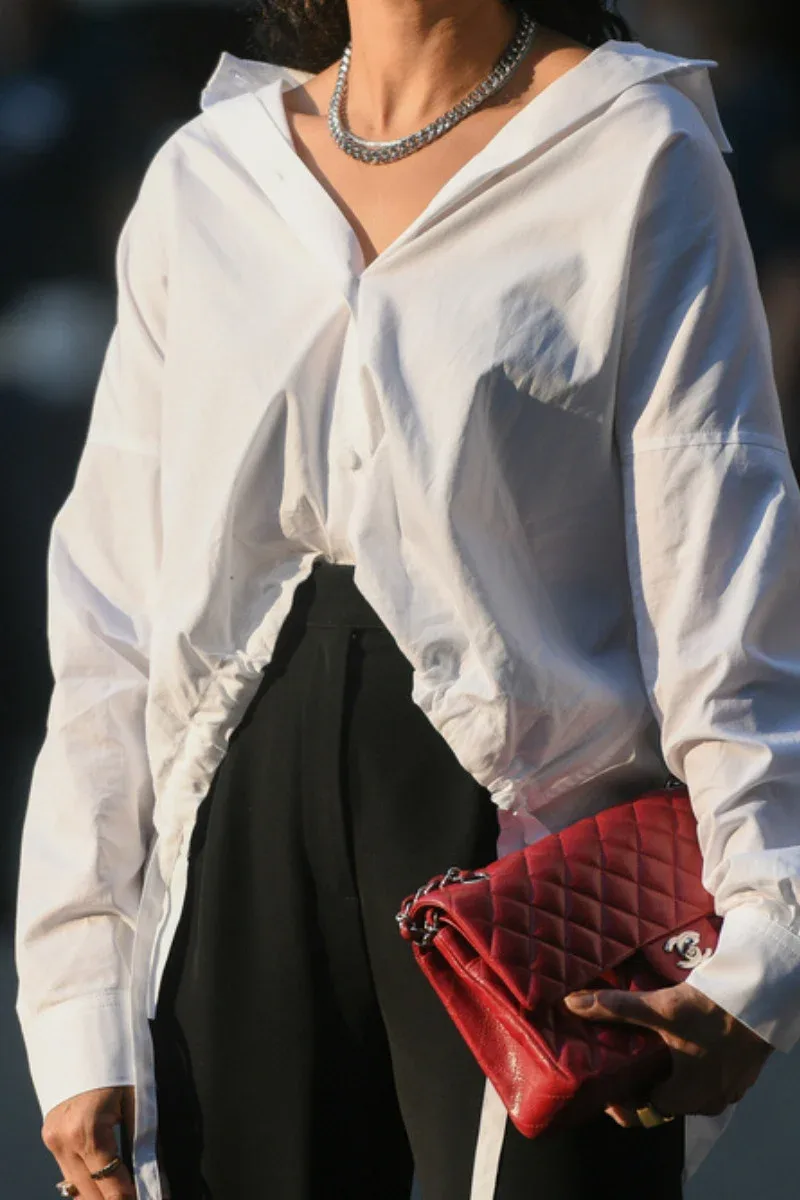 How To Style An Oversized Shirt + 32 Outfit Ideas For Inspiration
How to distinguish an oversized shirt or tee from a regular fit? An oversized shirt is baggy, loose fitting and usually falls below the waist for a relaxed fit. Ideally, it should be 2-3 sizes bigger.
They are no doubt wardrobe staples as they are very versatile pieces that can be dressed up or down depending on the occasion.
We are a participant in various affiliate marketing programs and may earn a commission for any purchases made through these links at no extra cost to you. Read full disclosure here.
Although most times this style alludes to the classic white button-down shirt, we have also incorporated some oversized blazers, sweaters, blouses and coats for inspiration.
Read along for some quick and easy styling tips on how to style an oversized shirt. From casual day time looks, to dressy, elegant styles for an evening or night out.
1. Oversized Shirt and Leather Shorts
How To Style An Oversized Satin Shirt:
For a minimalistic look, pair a white oversized satin shirt loosely tucked inside black leather shorts.
Accessorize with a black statement mini bag and sunglasses for day time wear. Finish off the look with a pair of black strappy heeled sandals or pumps.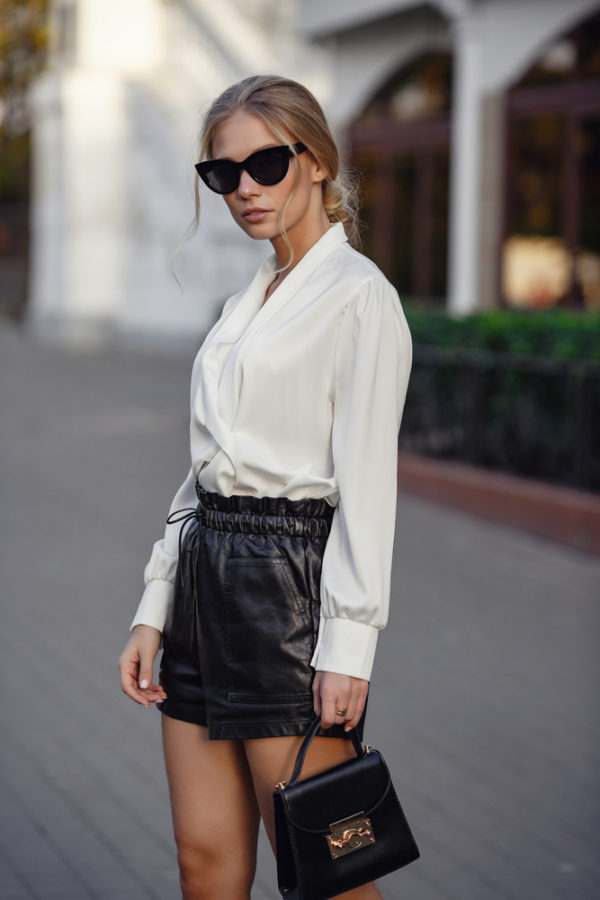 2. Oversized Fuchsia Pink Shirt with Black Jeans
How To Style An Oversized Shirt (Pink):
Bright pink oversized monogram print shirt fully inserted inside a pair of black jeans. This ensemble doesn't require much accessories as the fuchsia pink shirt is already a bold piece.
You may opt to wear a pair of gold or silver studded earrings, a black mini shoulder bag and a pair of pink heels.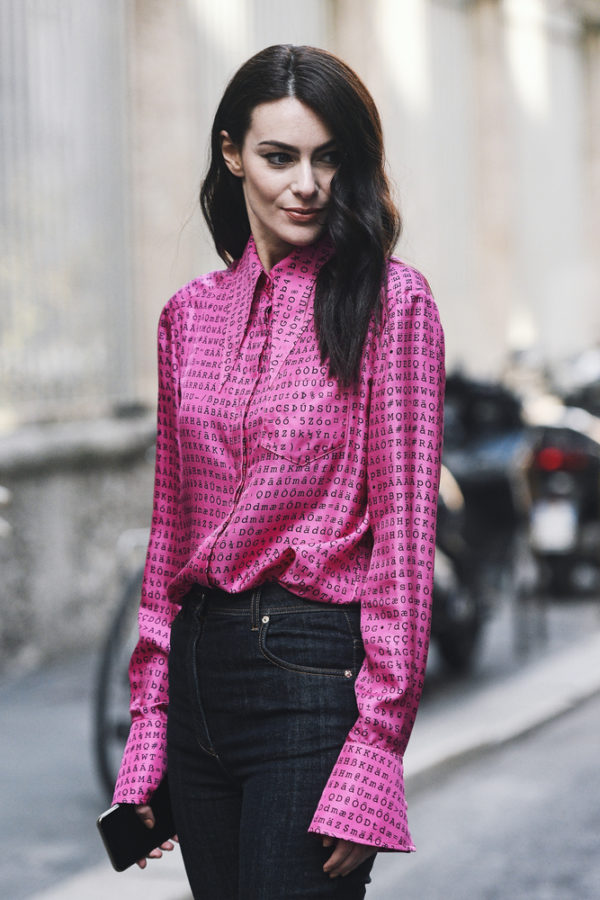 3. Oversized Asymmetrical Cardigan with Skirt
The oversized top trend is not only limited to the hot summer months. You can wear this trend during spring or fall too. An oversized asymmetrical cardigan with a black knee-high skirt and low strapped heels does the trick.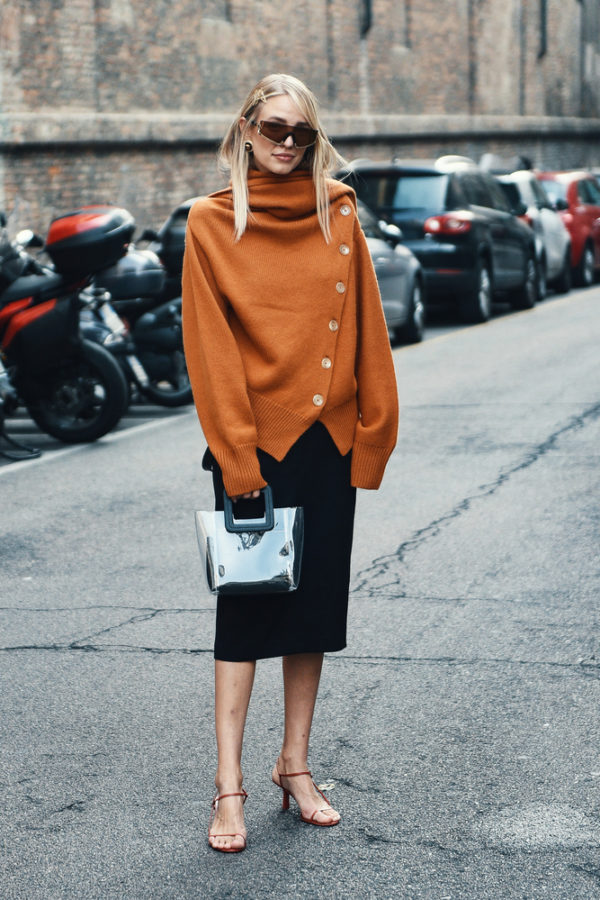 How To Style An Oversized Shirt (White):
4. Oversized Shirt and Biker Shorts
Baggy and loose fitting doesn't necessarily mean boring. Take things up a notch with an unbuttoned white oversized shirt and black biker shorts.
Show some skin, by dropping one of the sleeves below your bra, off the shoulder.
To accentuate your curves, fasten the shirt at the tummy with a wide black leather belt. Wear gold statement earrings, some gold bangles and a pair of heels to complement the outfit.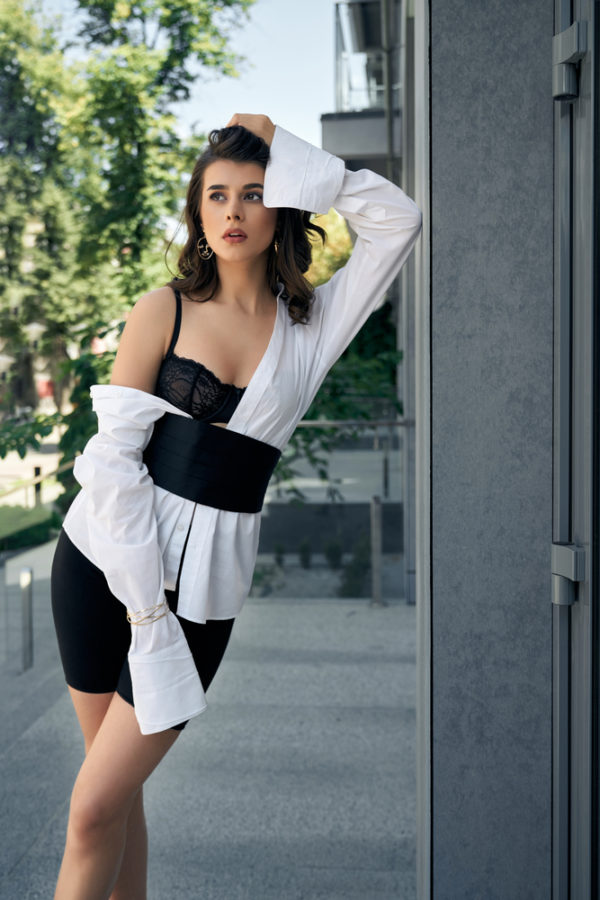 5. Oversized Denim Jacket with Denim Bottoms
Nothing beats a classic denim on denim look – one of my favourite ways to style an oversized shirt. There are multiple ways to sport the denim on denim trend.
Some options being: a blue oversized puff sleeve sweater with blue high waist denim shorts with blue denim ankle boots.
Or an oversized blue denim shirt with flower detail and straight boot cut jeans with blue denim ankle booties.
Lastly, oversized floral detailed blue patterned denim jacket with a mini blue denim skirt and black heels.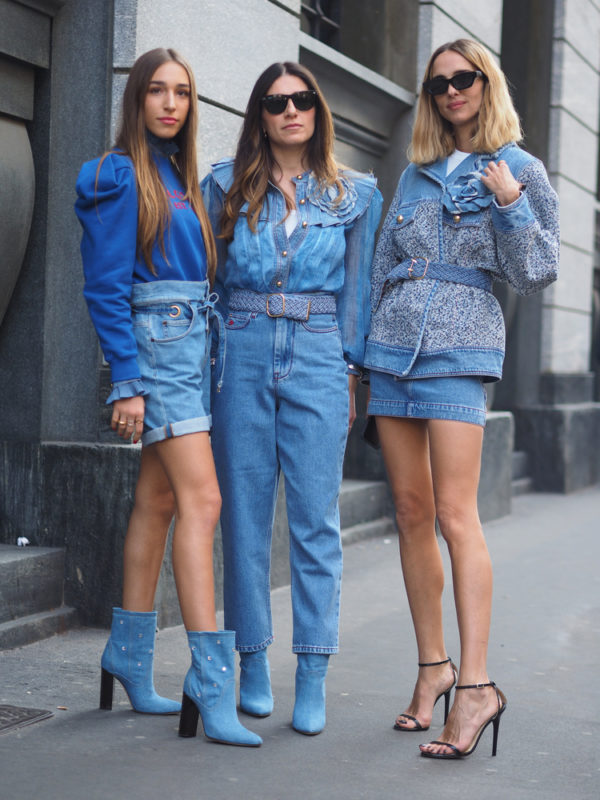 6. White Oversized Button Down Shirt with Red Trousers
How To Style An Oversized Shirt (White):
Working in corporate or have a business meeting to attend? This is a great way to dress up your oversized white shirt but still keeping it classy.
3/4 sleeves white oversized shirt appropriately buttoned down to the shoulders, chucked inside a pair of bright red trousers.
A silver necklace and a Michael Kors bag to top off the look.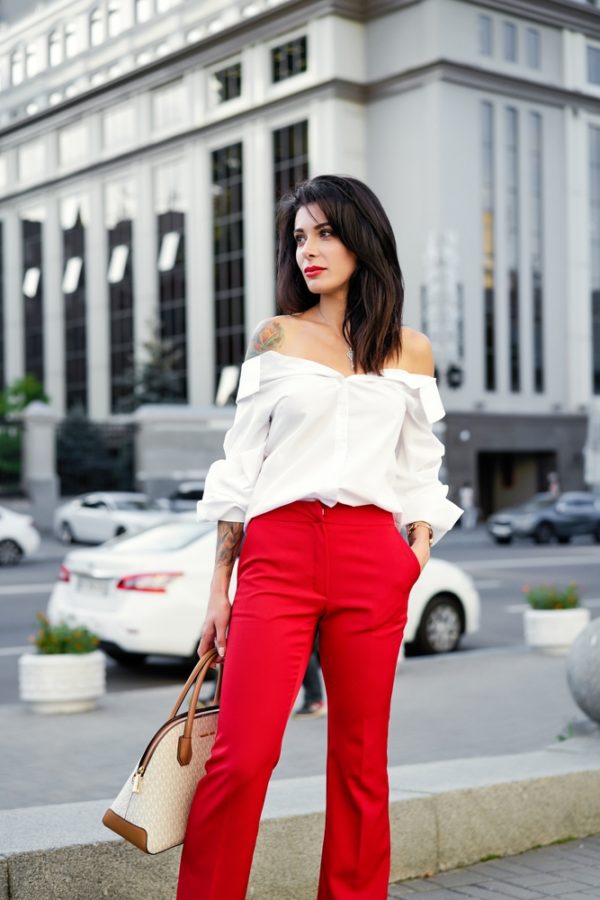 7. Cropped Oversized Jacket with Jeans Pants
Blush pink cropped oversized jacket layered over a beige camisole with a high-waisted light blue washed out denim pants. Add a pop of color by going with a pair of bright pink pumps.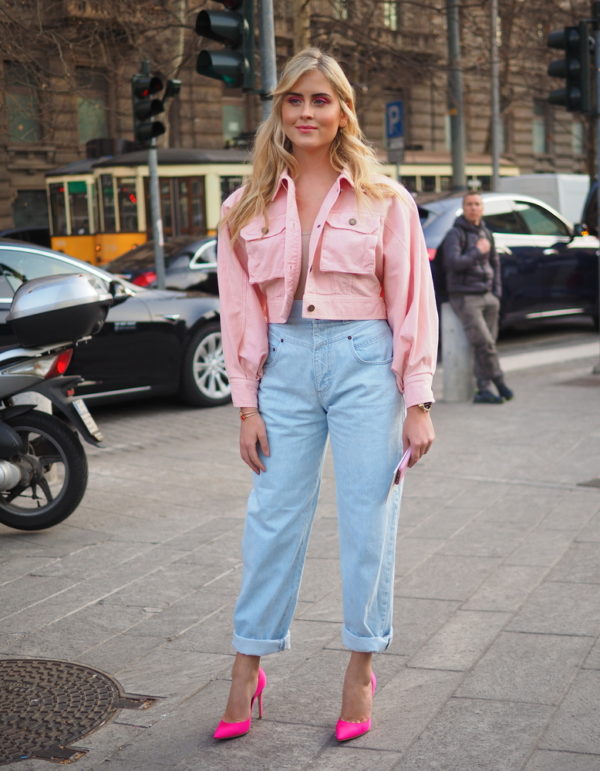 8. Oversized Shirt as a Dress
How To Style An Oversized Shirt (Silk Black):
If the oversized shirt is long enough you can wear it on its own as a dress. Slightly unbuttoned and worn off the shoulder on one side.
Coupled with a black buckled belt to draw attention to your shape and a black crossbody bag to accessorize.
This look is perfect for date night, an evening out with the girls or for heading to the club. Optionally, you may want to wear a black short pants or leggings to be less revealing.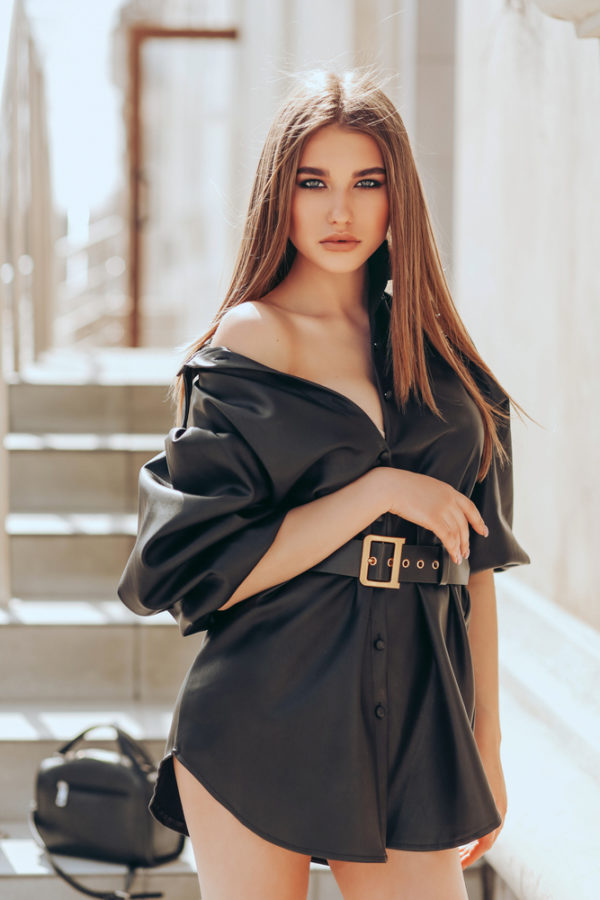 9. Oversized Lined Shirt Short Pants Suit
The perfect outfit for summer: a green oversized linen shirt and matching linen shorts with a white cropped camisole inside.
Enhance the suit with a black hat and dark brown shoulder bag.
10. Oversized Shirt with Blue Distressed Mom Jeans
How To Style An Oversized Shirt (White Cotton):
A white oversized shirt worn half up, half down with a light blue-washed distressed mom jeans.
To imitate this style, simply stick one front end of the shirt into the pants while the other side hangs out.
Roll up the sleeves midway up your arm, put on a pair of white sneakers and you're good to go.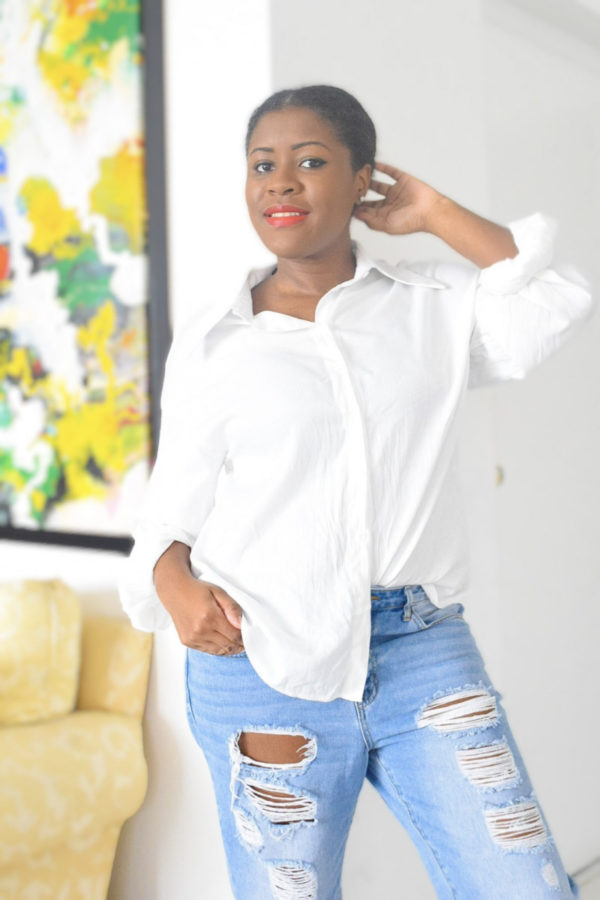 11. Oversized Coat with Biker Playsuit
Elevate your outfit from basic to stylish, with a bold yellow oversized trench coat.
Remix the fit: Instead of just wearing a boring black biker playsuit, dress it up with an oversized yellow coat, a pair of white sneakers and oversized sunglasses..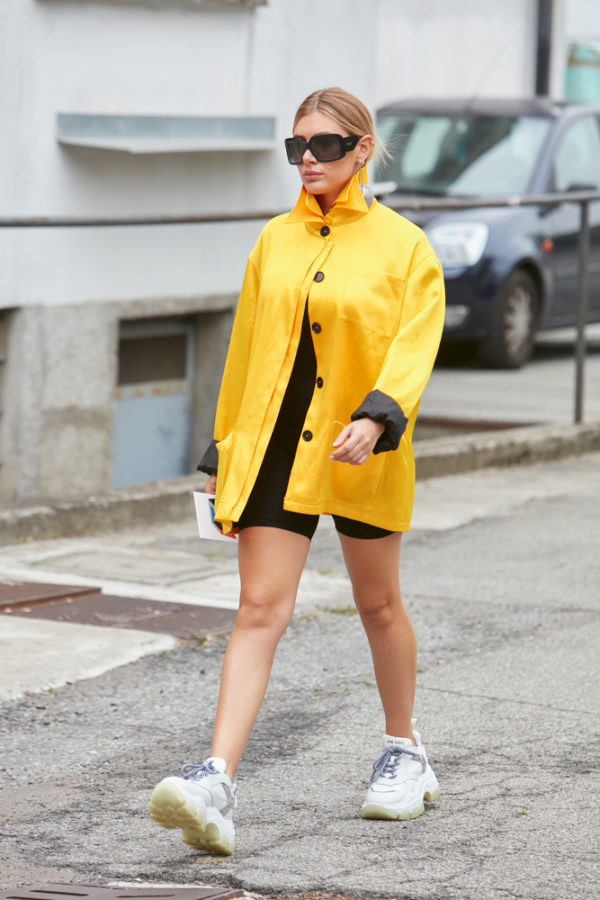 12. Oversized Cropped Shirt with Black Pants
How To Style An Oversized Shirt (Cropped/Striped):
This oversized shirt encompasses a lot of different qualities at the same time. Its striped, cropped, tiered and oversized with statement sleeves.
Since this oversized cropped shirt is very eye-catching. To keep the attention on it, dress it down with a pair of loose fitting black pants.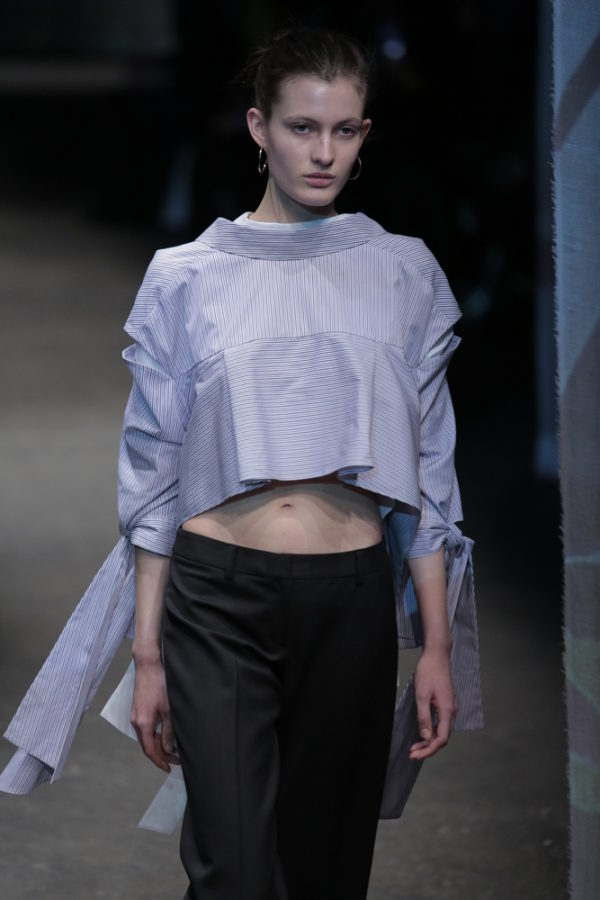 13. Oversized Blazer with Trousers
If you're wearing a blush pink one-button oversized blazer, style it with a complementary color tailored trousers.
Ideal for wearing to the office or to attend a business meeting. Additionally, complete the look with a small matching handbag and heeled sandals.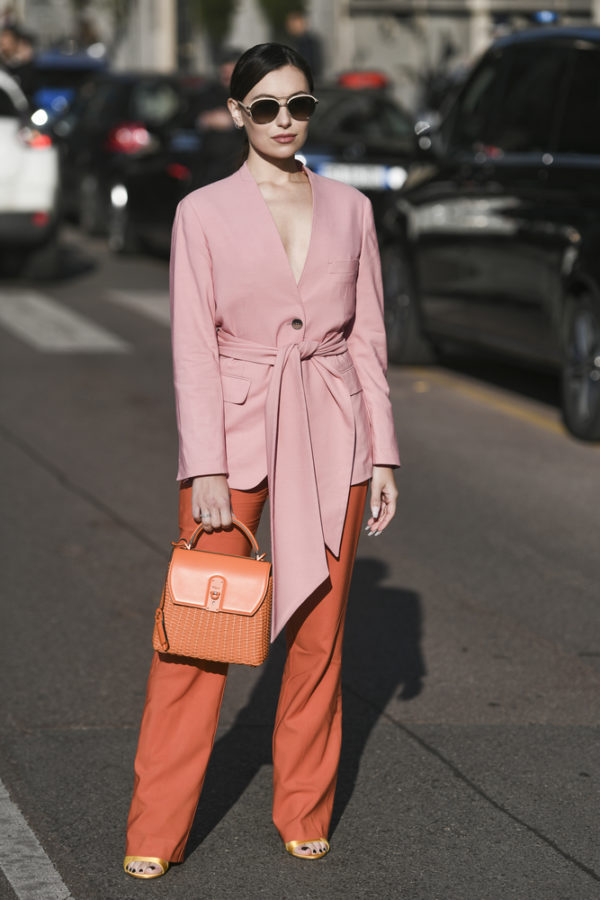 14. Oversized White Shirt with Double-breasted Vest
How To Style An Oversized Shirt:
Armless, black and white, double-breasted, tweed vest styled to perfection over a white oversized shirt. Jazz it up with black ankle boots and a clear Chanel bag.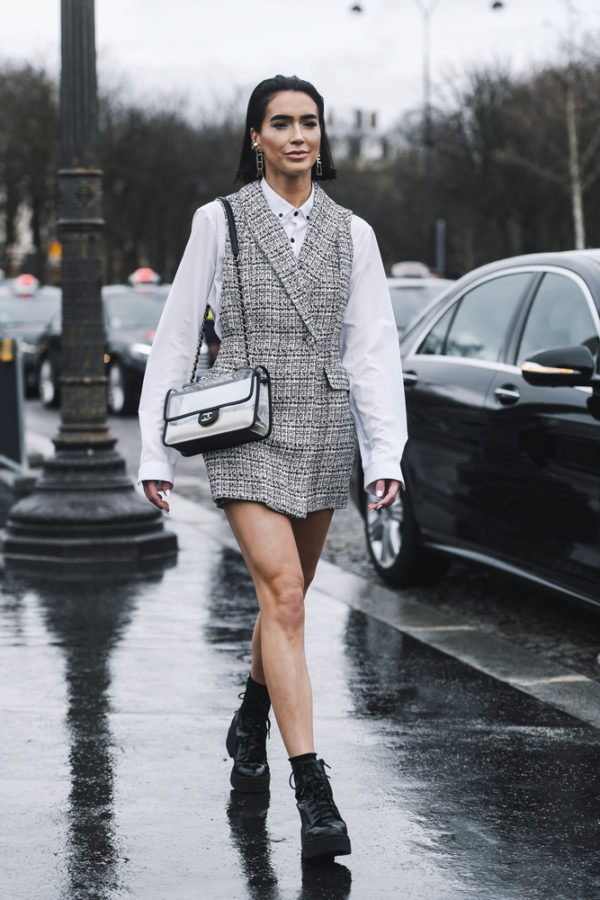 15. Oversized Armless Button-up Blouse with Khaki Trousers
Show off your shoulders in this light pink oversized, padded-shoulder, armless button-up blouse. Tucked inside a brown baggy khaki trousers or joggers, with a black statement belt and a light red bag.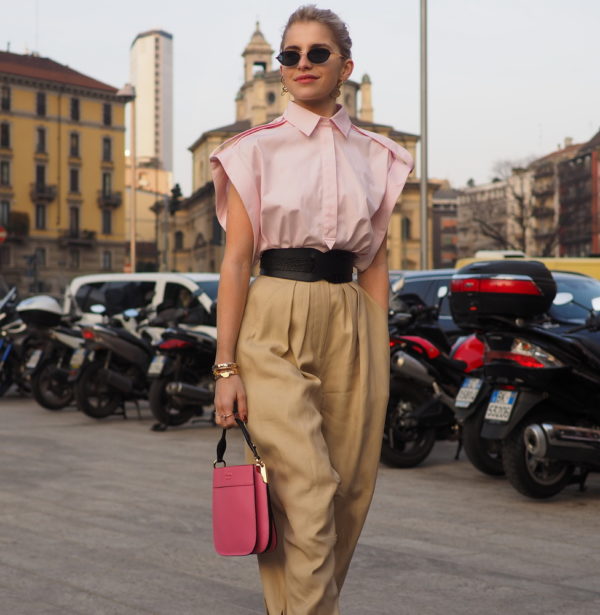 16. Oversized White Striped Shirt over a Turtleneck Top
How To Style An Oversized Shirt (Striped):
For the fall and winter months, throw a white striped oversized shirt over a black turtle neck top.
Complete the ensemble with silver statement earrings, red wide leg satin pants, black pumps, a mini handbag and sunglasses.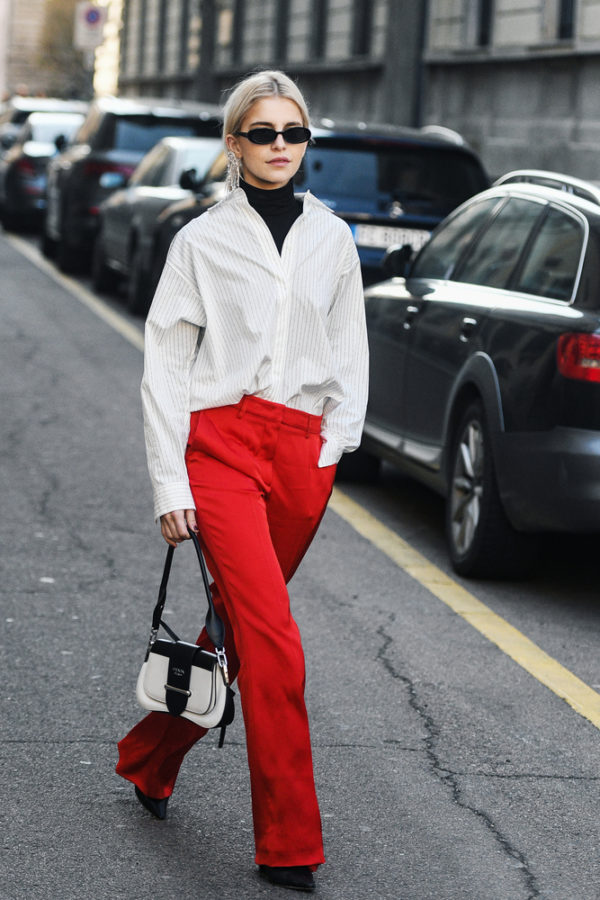 17. Super Oversized Coat with Oversized Pants
It doesn't get more comfortable than this super oversized purple coat matched with a neutral color cami top and blue baggy satin pants. Accessorized with oversized sunglasses and a Christian Dior bag.
This styling choice is definitely very laid back and cozy. Ideal for those days when you don't feel like dressing up – its like you're not wearing any clothes.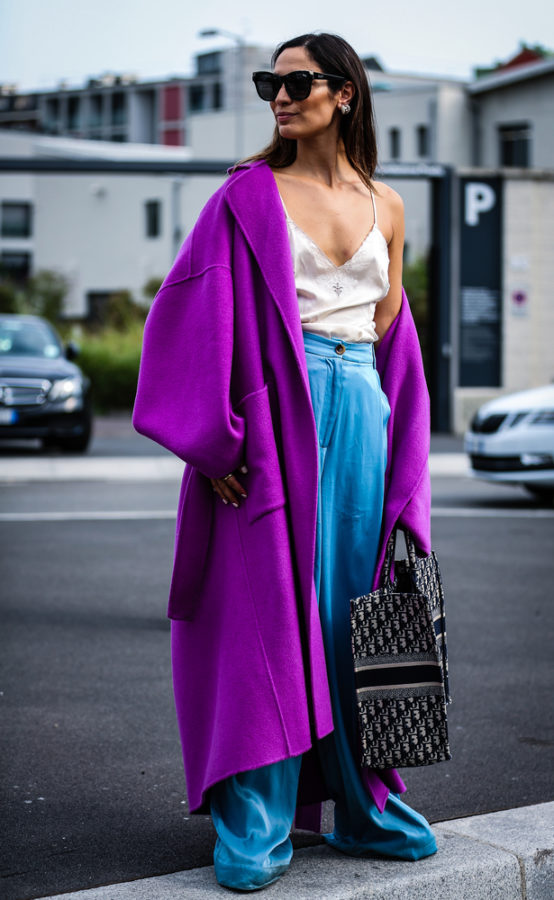 18. Oversized Bell Sleeves Shirt with Wide Leg Jeans
How To Style An Oversized Shirt (Bell Sleeves):
Tomboy style: A patterned Salvatore Ferragamo oversized shirt with black wide leg jeans. A matching Salvatore Ferragamo men's baseball cap turned backwards, a complementary Salvatore Ferragamo monogram bag and black patent platform shoes.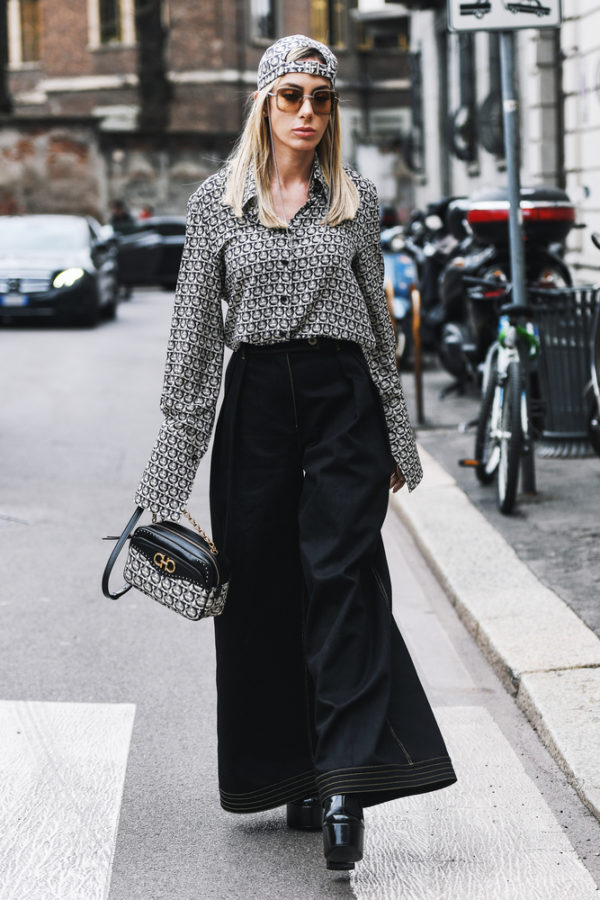 19. Blue Oversized Shirt with White Wide Leg Pants
How To Style An Oversized Shirt:
You can turn your oversized shirt into a cropped top by only utilizing 2-3 buttons, tied to the front while both sleeves are worn off the shoulders, like pictured below.
Complete the look with white wide leg pants and a pair of black pointy toe pumps.
20. All Pink Oversized Pants Suit
How To Style An Oversized Satin Shirt (Pink):
When you're going with bold colors like bright pink, use either white to highlight or black to tone down.
In this case, a cropped white mini top inside of a loose-fit fuchsia pink satin pants suit are bound to turn heads.
Take it further with black suede pumps, sunglasses and a white handbag.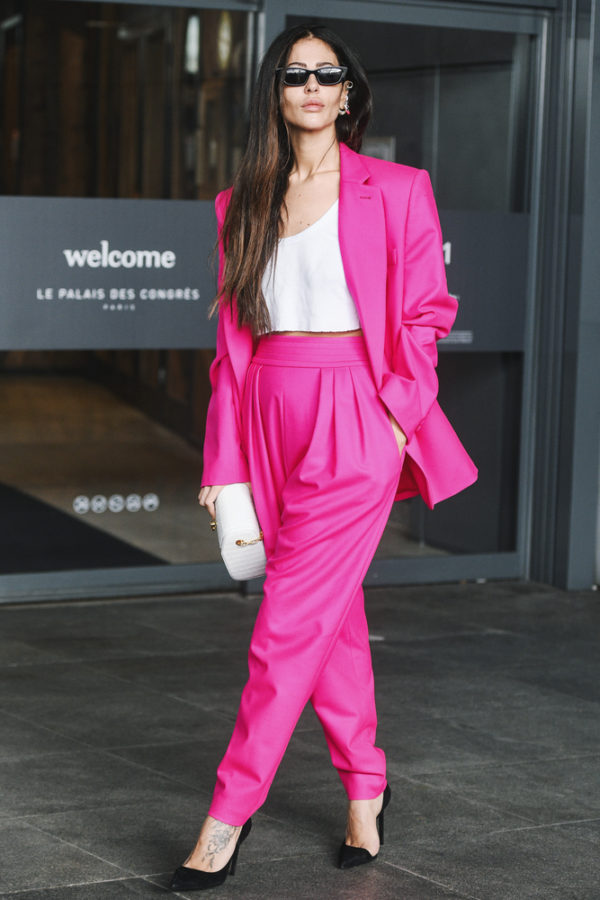 21. Cropped Oversized Shirt with Black Pencil Skirt
How To Style An Oversized Shirt (White/Cropped):
I think this cropped white oversized shirt and black pencil skirt makes a great office attire. You only need a pair of black pumps to finish this outfit.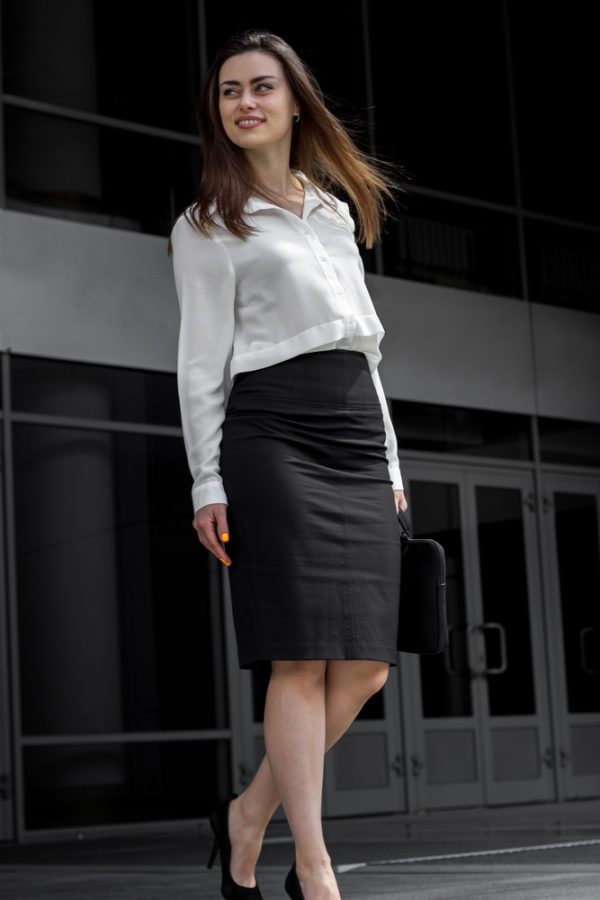 22. Oversized Jacket Pants Suit
How To Style An Oversized Shirt (Brown):
There are so many ways to get on board with the oversized shirt trend and that includes business attire as well.
How beautiful is this brown oversized jacket suit with matching brown pumps and a contrasting color bag.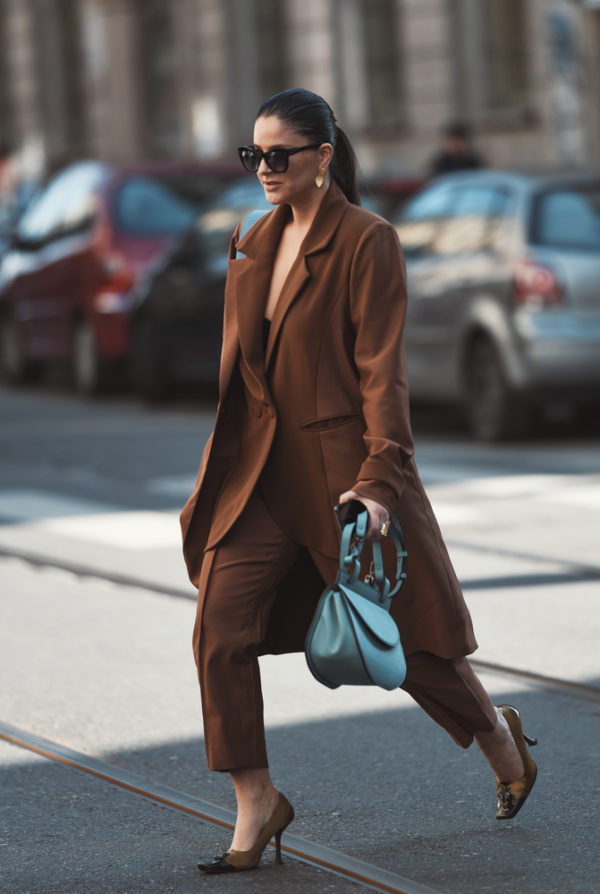 23. Oversized Orange Sweater
Keep it simple. Pair an oversized orange sweater with an orange baggy satin pants and a blue handbag.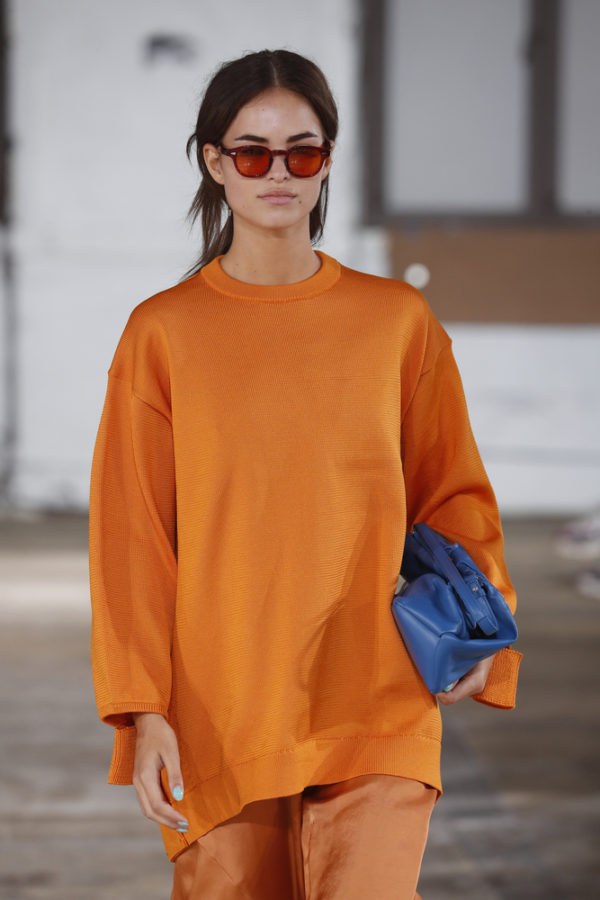 24. Oversized Blazer with Midi Skirt
How To Style An Oversized Shirt (Moss Green)
Show off a little skin for summer by wearing a moss green blazer over a dark green bra and a beige midi skirt.
Complement the ensemble with a pair of white Bottega Veneta sandals, white Dior bag and gold fashion jewelry.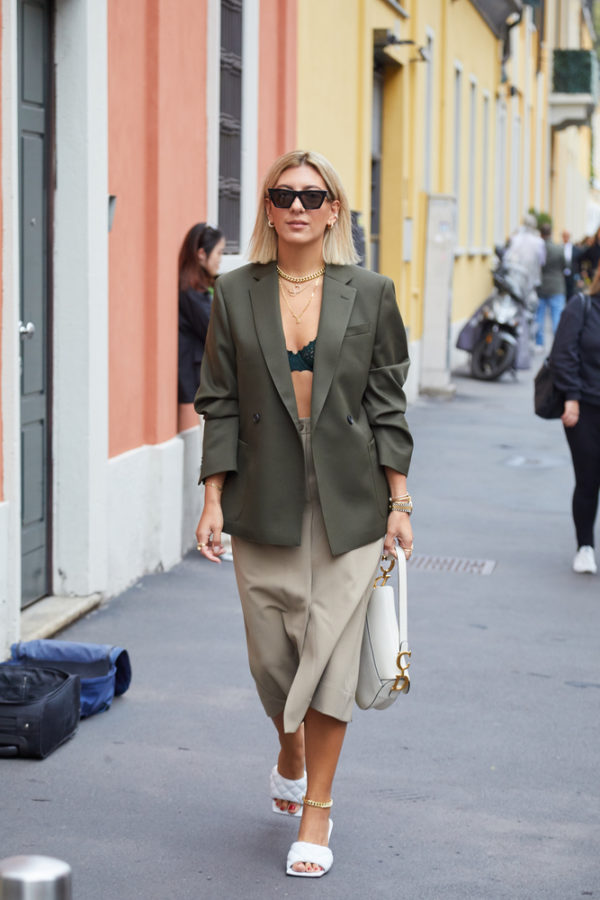 25. Pink Satin Shirt with V-Neck Dress
How To Style An Oversized Shirt (Satin Pink)
What another fun way to style a fuchsia pink oversized satin blouse; this time with a twist.
This one has a cowl neck with popcorn sleeves, styled below a black loose fitting v-neck satin dress.
Completed with sunglasses, a crossbody Dior saddle bag and matching fuchsia pink ankle heeled bootie.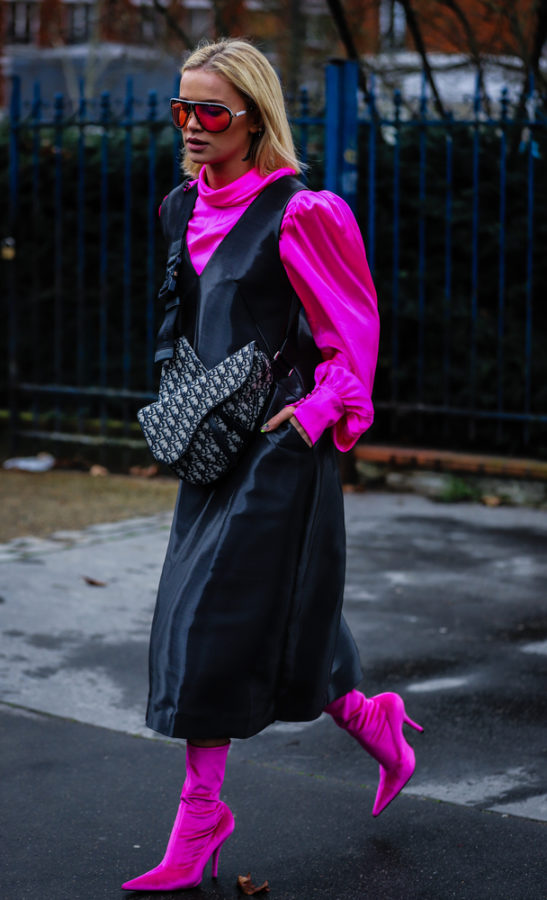 26. Oversized Checked Blazer with Biker Shorts
Black and white checked blazer with black biker shorts and a black slim belt slightly fastened at the waist. Another smart-casual look but not exactly appropriate for any formal business settings.
But you can easily switch out the biker shorts for a pair of trousers or a skirt if needed..
27. Oversized White Linen Shirt with Linen Shorts
How To Style An Oversized Shirt (White Linen)
An oversized white linen shirt with a white cami top and pair of brown linen shorts. Dressed up with gold hoop earrings, layered gold necklace and a brown handbag.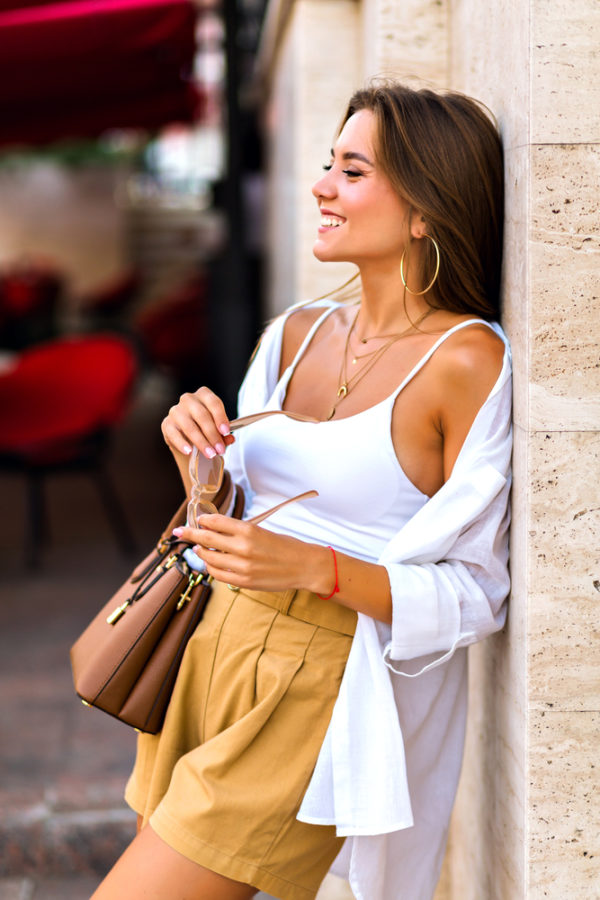 28. Oversized Cropped Cardigan with Long Pants
Baby blue off-the-shoulder popcorn sleeves cropped sweater with light blue roomy long pants. Suited with a mint green handbag and matching heeled sandals.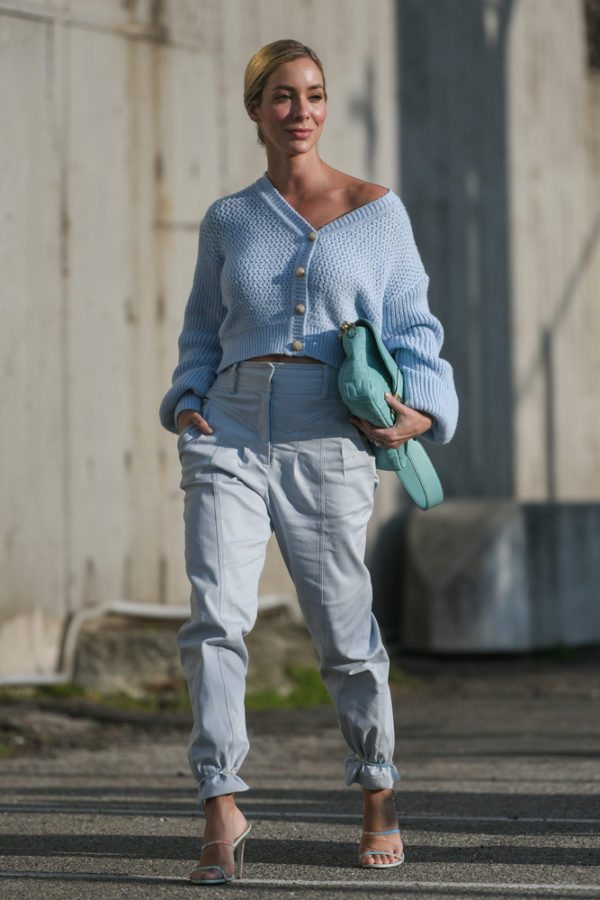 29. Oversized Baby Pink Shirt and Skirt
Create a sophisticated look by pairing up a baby pink oversized shirt popped inside a matching baby pink diaper waist, flowy mini skirt.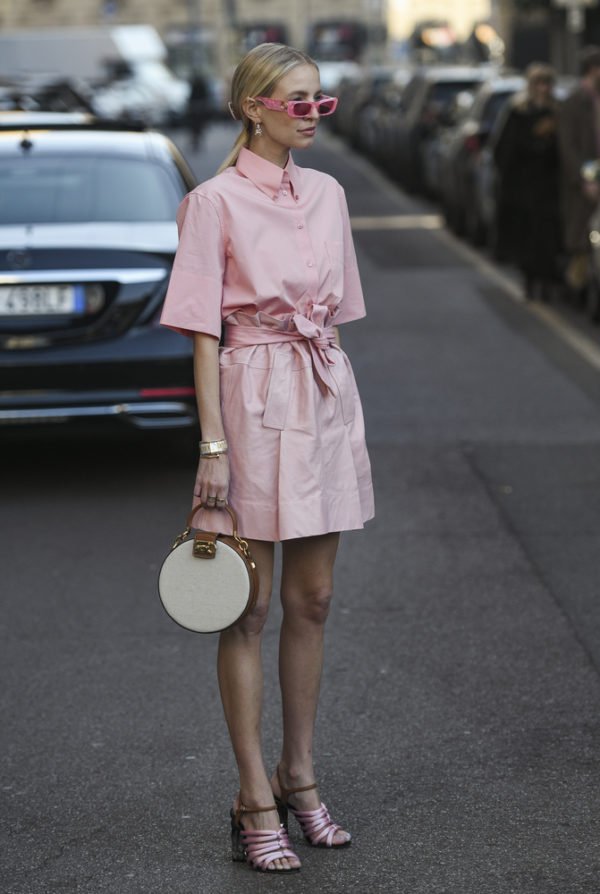 30. Oversized White Skirt with Animal Print Midi Skirt
How To Style An Oversized Shirt
White oversized shirt thrusted inside a brown snakeskin midi skirt. A vintage mini Fendi bag and black sandals to enhance the ensemble.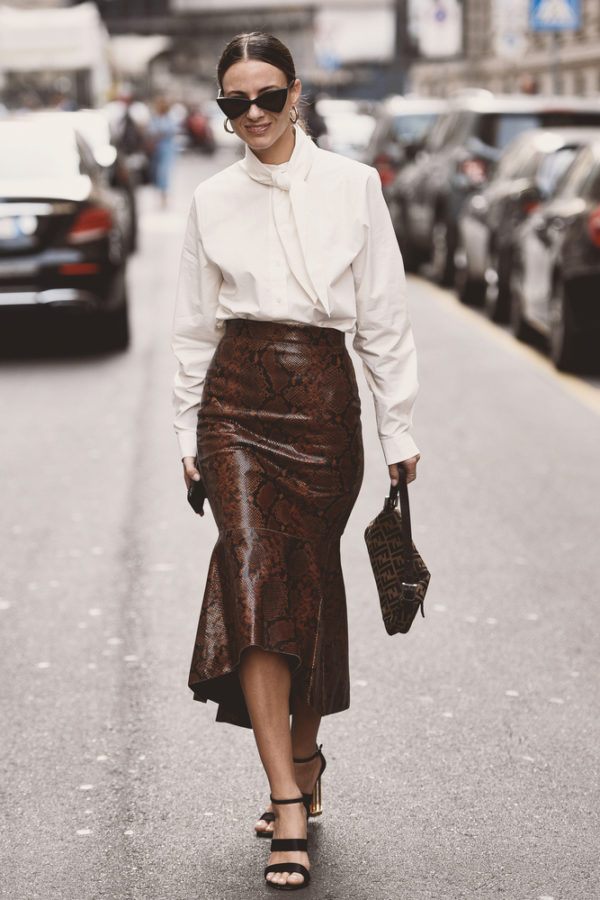 31. Classic Oversized Trench Coat
I love this oversized tan trench coat over a white vest, with blue mom jeans, a white bag and classic vintage Chanel color-block cap toe CC slingback shoes.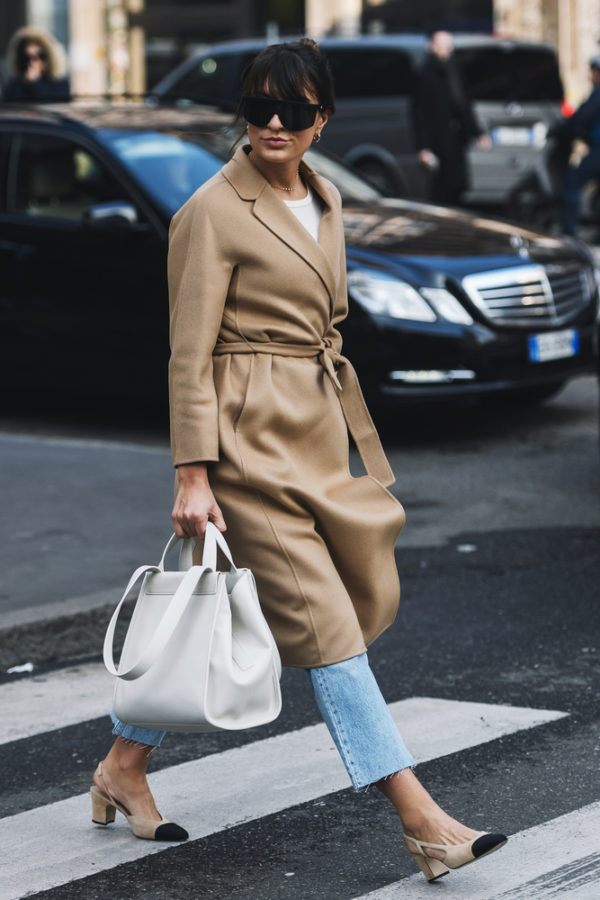 32. Oversized Shirt with Black Jeans Shorts
How To Style An Oversized Shirt
White oversized shirt unbuttoned, tucked into a pair of black jeans shorts. Styled with a simple shoulder bag and black ankle boots.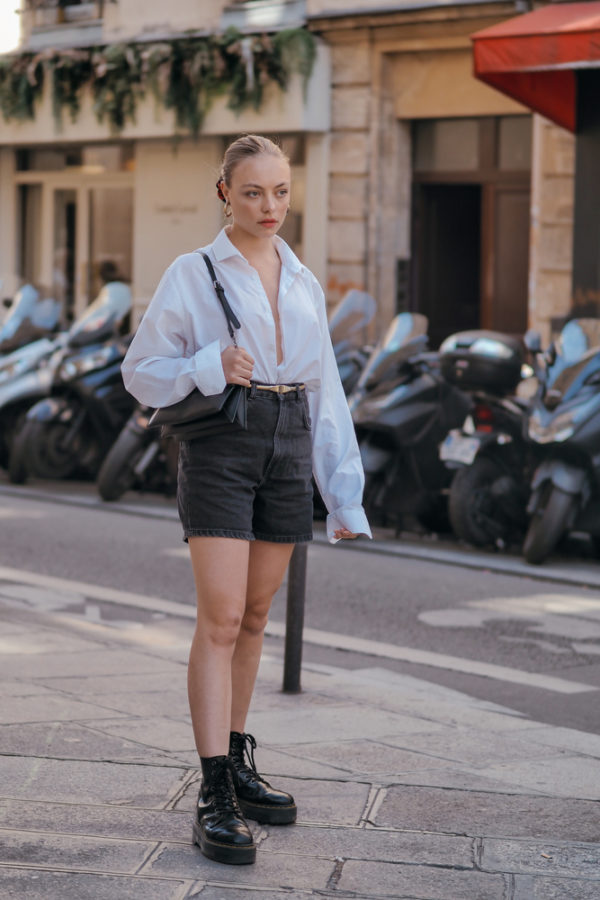 Wrapping Up How To Style An Oversized Shirt
Key pointers to remember when going for an oversized shirt look:
Don't limit yourself to a basic white shirt. Incorporate oversized sweaters, coats, tees and blazers. Include bold colors, detailed pieces and patterns.
Dress for the occasion. Keep it classy.
Size up your shirt appropriately – go 2-3 sizes up from your regular size so that it fits loosely around your waist and shoulders. This would also allow the shirt to be a few inches longer than a typical shirt.
Last Updated on 3 weeks by Shevy
Shevy
Hi! I'm Shevy! I'm the Founder and Managing Editor of Travel Beauty Blog est. 2016. I am also the Founder of Shevy Digital Marketing Agency where I work with new and upcoming entrepreneurs and bloggers.