Last Updated on July 18, 2021 by Shevy
The Best Outfit For Travelling – Comfy Airport Outfits
When it comes to determining the best outfit for travelling, it all comes down to personal style and a choice of style or comfort. On the other hand, everyone's perception of "dressy" and "casual" are viewed differently.
So the best outfit for travelling at the airport is based on the individual and what they deem suitable. Some people prefer to dress in sweats, leggings and joggers, while other opt for jeans and dresses.
What may be dressy for you may be considered casual for someone else and vice versa. However, personal preferences should not be frowned upon for choosing one over the other.
I earn a small commission if you purchase through any of my links at no extra cost to you. Read full disclosure here.
Related: 17 Stylish Summer Beach Bags For Women
Personally, I do both depending on the length of the flight and if I'll be at the airport all day or for just a few hours. The time of the flight also dictates what I wear. Day flights I dress up most times and at nights I keep it basic and comfy. 
Also, if its a long flight I wear comfortable clothes and if its a reasonably short flight then I dress up. Other times, it depends on what mood I am in. So now let's get into the 11 best outfit for travelling at the airport.
Shop The Best Outfit For Travelling – Comfy Airport Outfits
The Best Outfits For Travelling At The Airport In 2021 – Comfy Lazy Airport Outfits
Sweatpants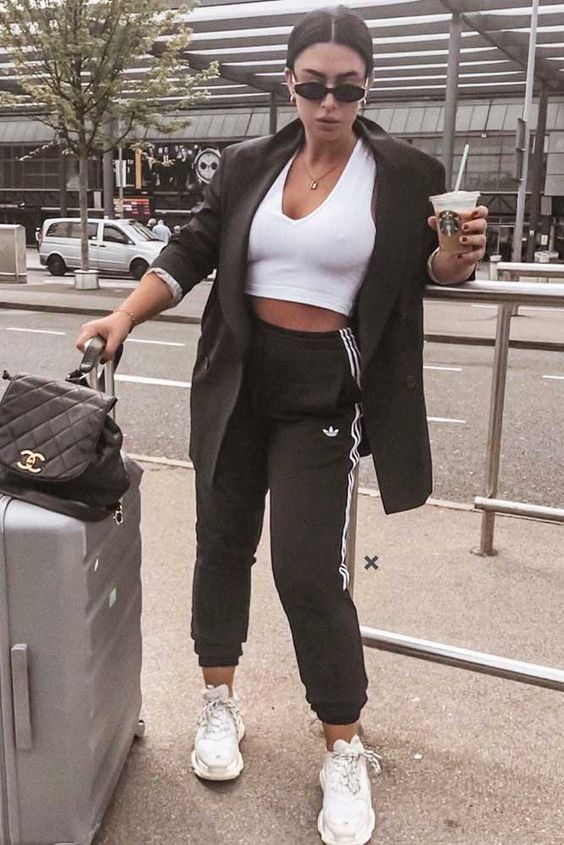 Can't go wrong with sweatpants and sweatshirts as they are comfortable and easy to slip on. You can wear them with a pair of sneakers or even heels.

Leggings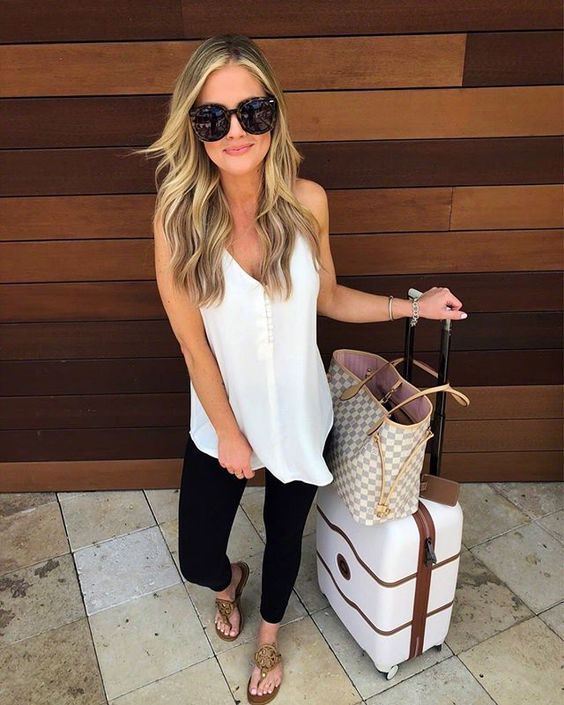 The next best thing after sweats is a pair of leggings. These are super lightweight and requires minimal effort to style. You can pair them with a pretty blouse, basic t-shirt, bomber jacket, denim jacket or a sweater.
Related: More Things To Complete My Summer Wishlist

Comfy Sneakers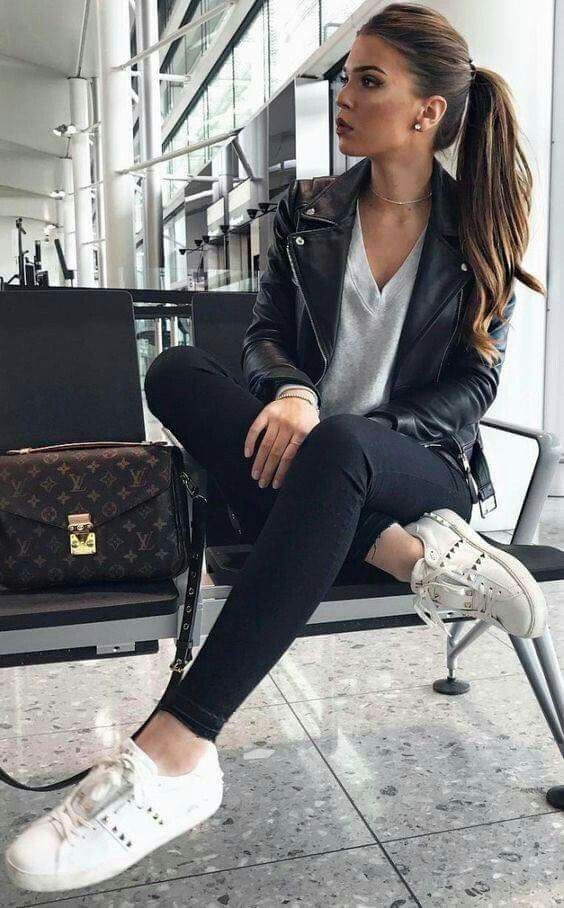 One of the best things you can do for yourself when travelling is wearing comfortable shoes such as sneakers. They are the most obvious shoes to wear because they are made for a lot of walking.
Related: 10+ Best Golden Goose Dupe Sneakers On A Budget
Apart from that they also keep your feet nice and cozy on a cold flight. My favourite pair to wear is my black and white Adidas sneakers, although a little heavy they are quite comfy. Or a pair of Golden Goose sneakers (my second choice).
Source: StealTheLookBR

Jeans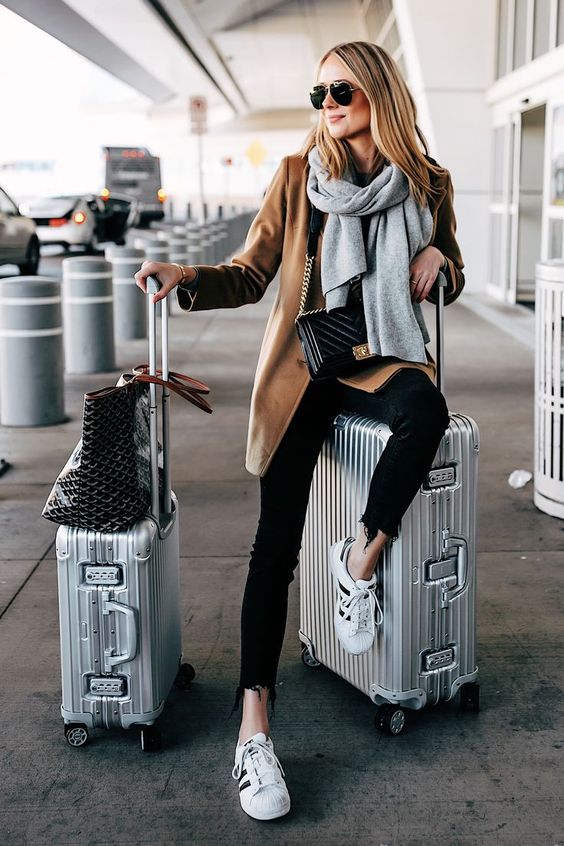 Denim outfits effortlessly deliver both style and comfort. Jeans are easy to style and matches with literally anything.

Joggers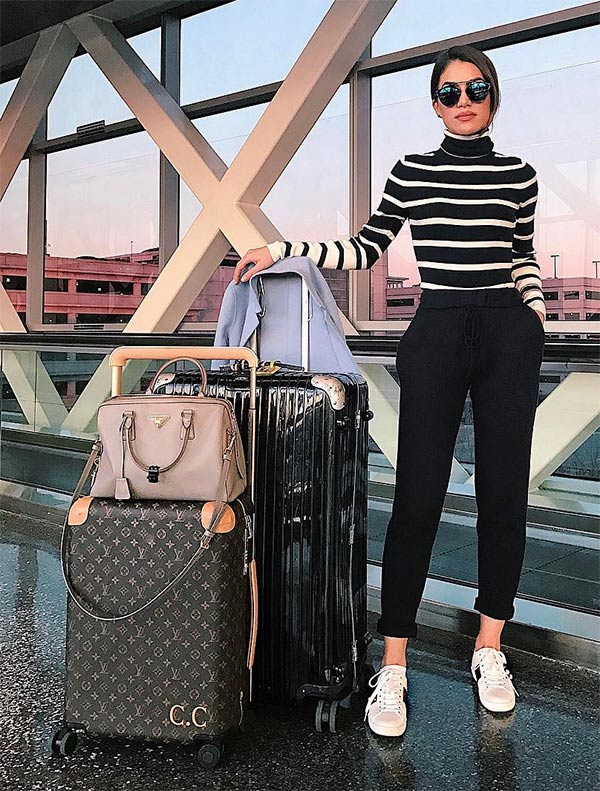 Not in the mood for sweat pants, jeans or leggings but want to be comfortable at the airport? Then your next best bet is a pair of loose fitting joggers.
Joggers make some of the best airport outfits and best outfit for travelling on the whole.

Ballerina Flats & Mules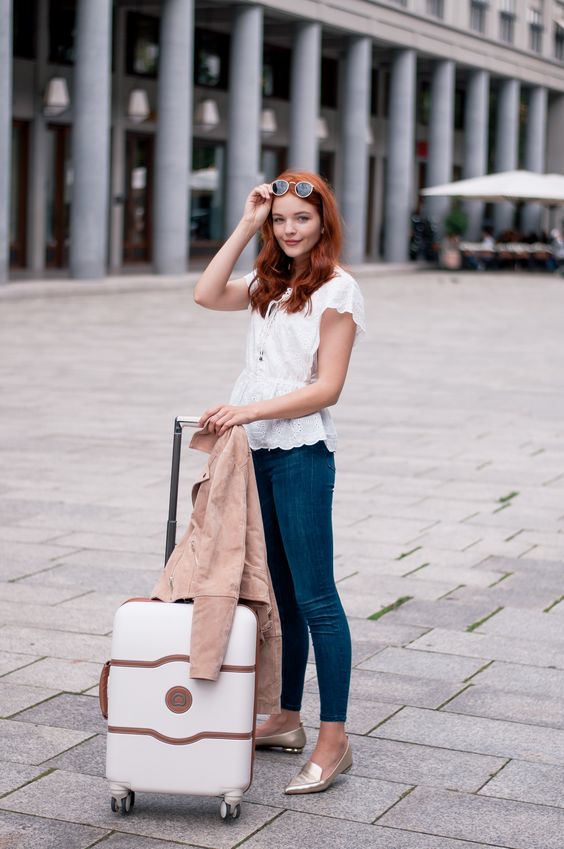 The next best thing to sneakers is flats. Flats or a pair of mules can be both stylish and comfortable. A great alternative to wear during the winter months is UGG boots.
Related: Best Ugg Lookalike Boots That Are Great Quality

Best Outfit For Travelling: Dresses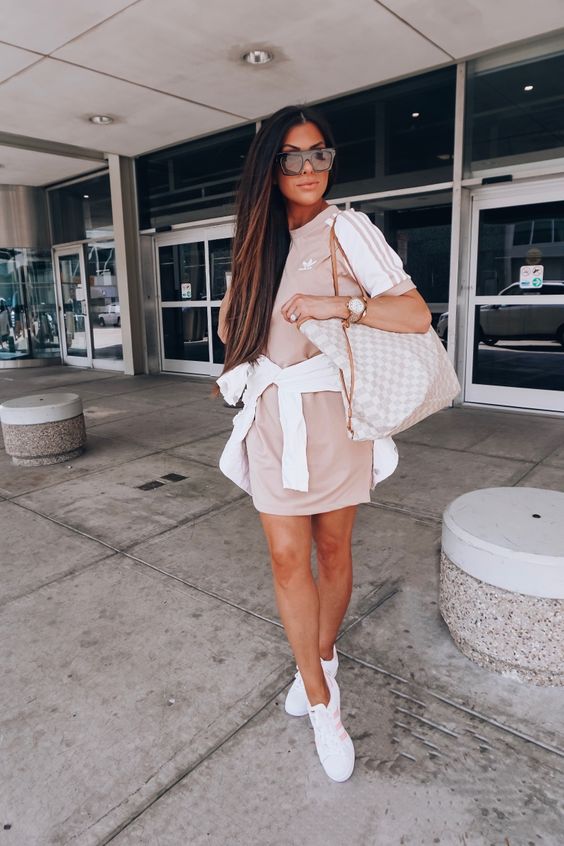 I love wearing cute short dresses and midi dresses when travelling. No need to dress like you are going to a wedding reception. Classy but simple and effective should be the main goal.
Related: How To Dress Elegantly To A Friends Wedding

Sweatshirts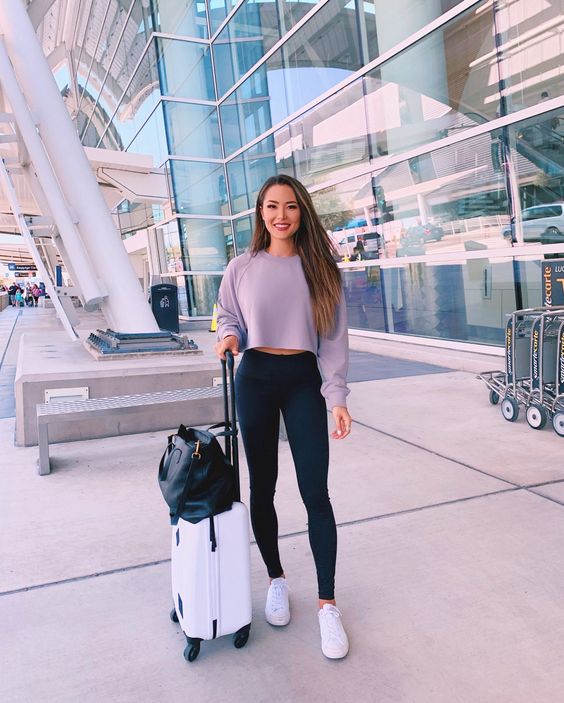 Airports are usually very cold as well as most flights. Wearing a long sleeve sweatshirt or sweater is a great way to be prepared if you did not carry a jacket with you.

Wedge Heels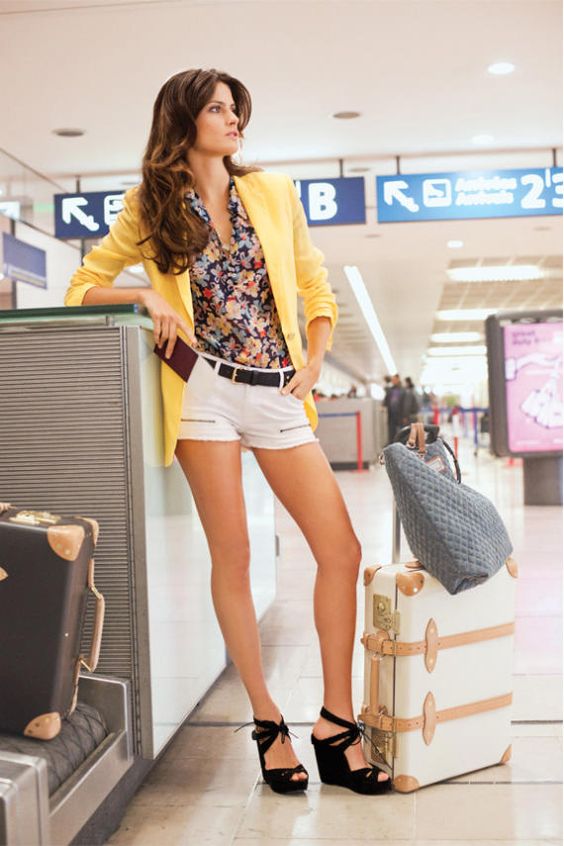 Wedges are dressy but comfortable enough for travel. Usually, I don't like to recommend any type of heels for travel but if you must then use wedges.

Tote Bag & Luggage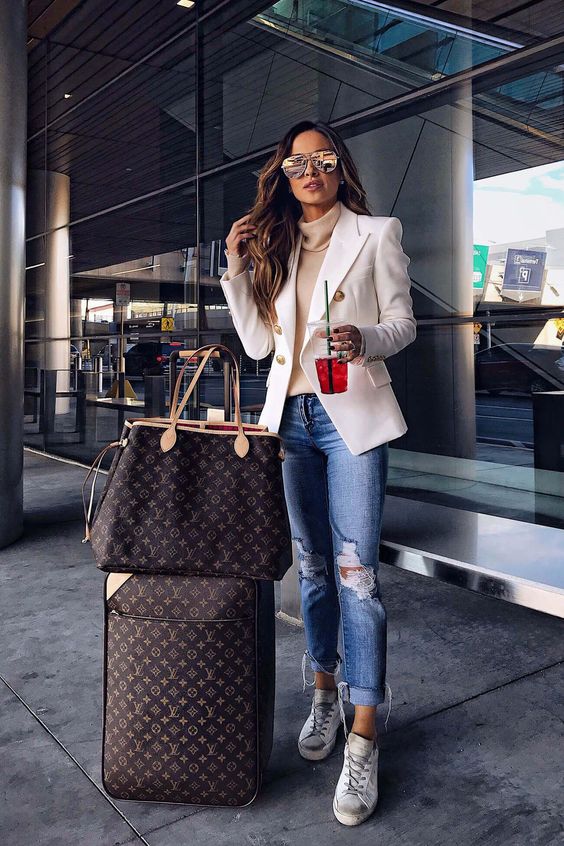 A large tote bag like the Louis Vuitton Neverfull which can hold all your essentials and more. Together with a luggage of course, because who travels without baggage.

Sandals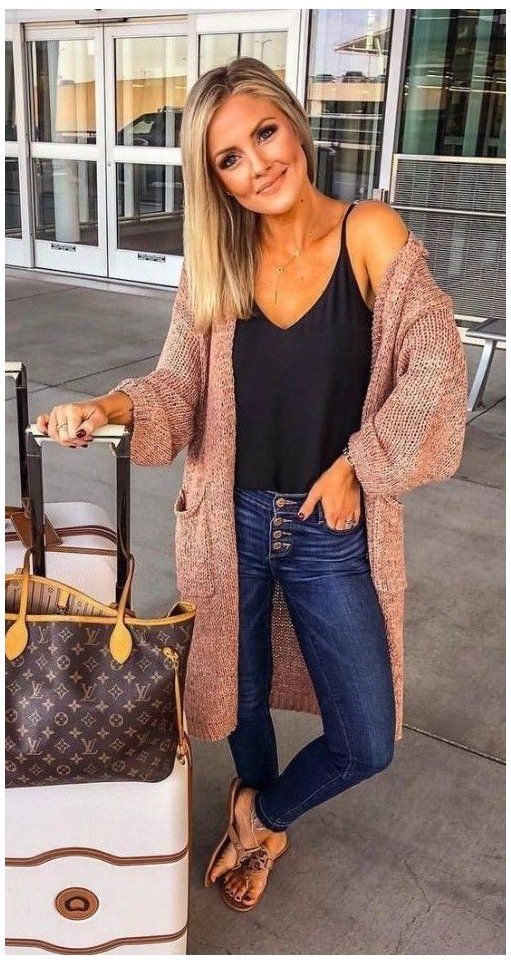 Instead of wearing flip flops try wearing a cute pair of sandals.
Related: How To Improve Your Look From Boring To Chic

Wrapping Up The Best Outfit For Travelling – Cute Airport Outfits:
That's it for my roundup of the best outfits for travelling in style and comfort. What's your favorite mode of travel and airport outfits?
0
Shop