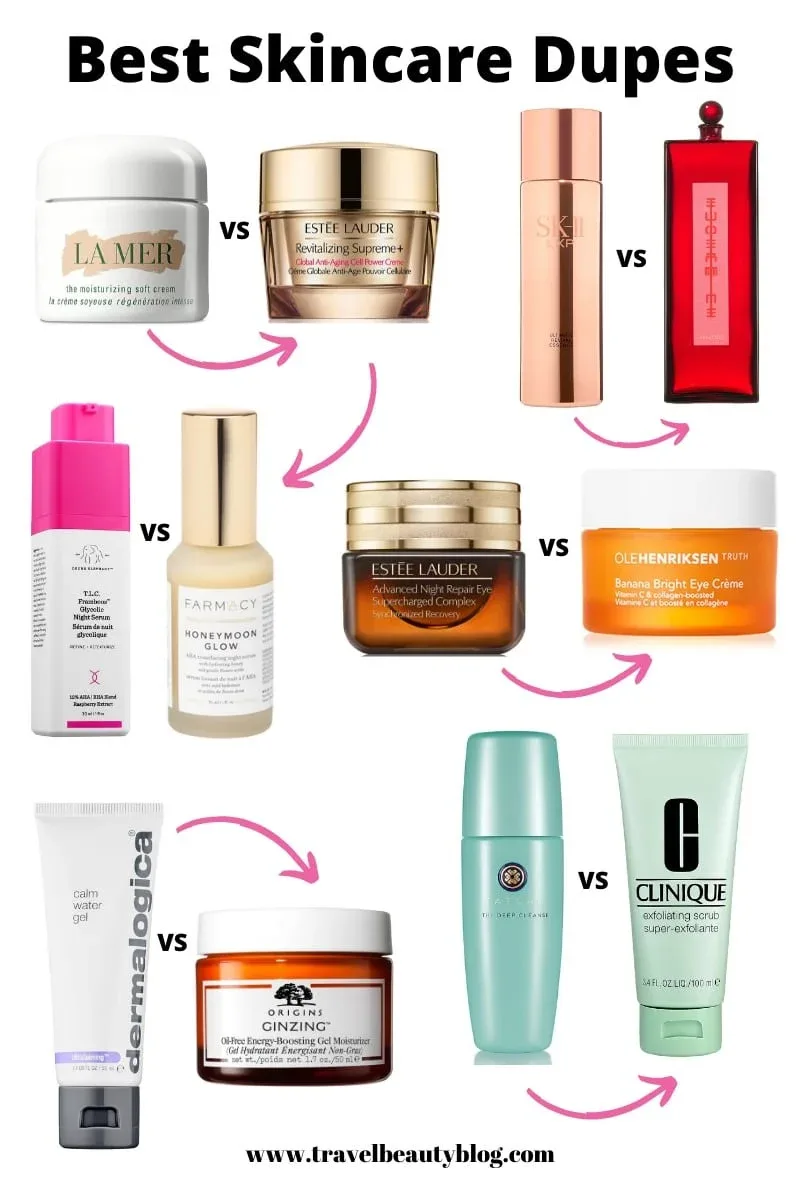 Last Updated on 7 months by Shevy
Best Skincare Dupes 2023
Did you ever wish that there were drugstore skincare dupes for some of the more expensive skincare products? In this post I am sharing the best skincare dupes for 2023 that you need to shop now!
Skincare dupes for popular high end products such as eye creams, moisturisers, cleansers, serums and their respective drugstore skincare dupes.
We are a participant in various affiliate marketing programs and may earn a commission for any purchases made through these links at no extra cost to you. Read full disclosure here.
Related: Awesome Results With Carols Daughter Wash Day Delight Shampoo
A perfect example is the brand La Mer which I have no doubt make excellent products that are well worth the price.
Granted, there are some people who will gladly splurge on high-end beauty products with their eyes closed, while some prefer to be economical.
So I want to help you ladies who want awesome skincare dupes without the hefty price tags.
In fact, if you have the time to research before making a purchase, you can quite a few from reputable brands that work just as well.
When it comes to skincare products I tend not to impulse buy because I like to know ahead of time what is going on my skin will agree with it. That may be unavoidable in some instances but at least I try to minimise the risks.
Related: 5 Beauty Hacks That Will Save You Time And Money
The Best Skincare Dupes 2023
Sometimes it's difficult to not get caught up in the beauty and skincare products hype. But when I do, I feel like as soon as I start using a product, shortly after another one comes out hot and takes over the spotlight.
Related: The Benefits Of And How To Use Garnier Micellar Water
So if you are not careful you can get sucked into the constant buying of skincare products to keep up with the Joneses. But remember that beauty products all have expiry dates and ideally you want to use up old products before buying new ones.
Anyways, here are some of the most popular skincare dupes that were on top of everyone's list and shelfies last year. These are also going to be some of the best dupe skincare this year as well.
La Mer Dupes / Estee Lauder Dupes

Imagine 1 ounce of this Creme De La Mer moisturizing cream cost a whopping $180. Creme De La Mer is said to have the power to visibly transform the skin, improve hydration and firmness while restoring radiance for a younger appearance. Although on the higher end, if you really want to give this a try it also comes in a 0.5 ounce bottle for $90.
It also tackles issues such as lines, wrinkles and large pores as they become less apparent and the skin looks ageless. While the product may not be for everyone, it is a favourite amongst celebrities as most of them boast about its awesomeness.
$180 Vs $58
Priced at only $58 for a 1-ounce bottle, $87 for a 1.7 ounce, and $105 for a 2.5-ounce bottle which is the largest size. You can comfortably purchase a medium size bottle or go all out with the large one and still have pocket change left.
Related: THE BEST CO WASH FOR NATURAL HAIR UNDER $15
Whether or not it will be as great as La Mer is unknown but you can be the judge of that. However, I can say that 95% of the time I am normally satisfied with the richness and results of Estee Lauder beauty products.
Sk-II Dupes / Shiseido Skincare Dupes

SK-II ultimate revival essence is for intense hydration, radiance, and younger-looking skin. Not only that but also tackles dullness and uneven skin tone, firmness, and uneven texture. It retails at a hot price of $305, but at that price, you get 5.07 ounces of product.
At that price, my expectations for visible results would be high. So if I were to splurge on this SK-II Ultimate Revival Essence, I would need to have flawless skin in at least a month.
$305 Vs $82
If you are into Japanese skincare then look no further than this Eudermine Revitalizing Essence. It's a lightweight lotion that instantly hydrates and visibly brightens skin without adding weight. One of Japan's most iconic product launches that was created for all skin types.
For best use, apply after cleansing your face so that it preps it for serums or moisturizers in order to penetrate deeper and faster. A 6.7 ounce bottle only costs $82 so that is a steal of deal in comparison to its competitor above.
Drunk Elephant Dupes / Farmacy Dupes

I've always wanted to try Drunk Elephant beauty products to see what all the hype is about. But I've since been told that it ain't all that, so for that reason, I haven't tried any yet. But back to this resurfacing night serum that costs $90 for a 1-ounce bottle.
Based on the 4 out of 5 stars review on Sephora, most people said its worth the price. You might want to add this to your skincare routine if you have skincare concerns such as dullness, uneven texture, large pores, and uneven skin tone.
$90 Vs $58
Farmacy Resurfacing Night Serum was one of the better skincare dupes I could find for the Drunk Elephant Resurfacing Night Serum. At a price of $58 for a 1 ounce bottle its definitely a budget-friendly alternative, if price is factor for you.
In case you're wondering why, it also delivers results for similar issues identified above i.e. large pores, fine lines, wrinkles, loss of firmness, and elasticity.
Estee Lauder Night Repair Dupes / Ole Henriksen Dupes

The first time I tried the Estee Lauder Advanced Night Repair was gifted to me a couple years ago but I can attest that its totally worth the price. The bottle costs $64 for only 0.5 ounce of product but a little bit goes a long way.
So even if you plan to use it twice a day, it can last a long time. One of my biggest skincare concerns is dark circles under my eyes and fine lines. It's great for those things as well as puffiness and wrinkles.
$64 Vs $39
Now if you want to get take care of your fine lines and dark circles but do not want to splurge, a great alternative is the Ole Henriksen Banana Bright Eye Creme. It was actually inspired by makeup artist secret, banana powder.
For less than $40 its worth giving a try to see if it will deliver similar results to Estee Lauder Advanced Night Repair Eye.
Best Drugstore Skincare Dupes
Dermalogica Dupes / Origins Ginzing Dupes

A weightless water-gel moisturizer that hydrates dry, sensitive skin and tackles redness, dryness, dullness and uneven texture. For being just a gel moisturizer the price is a bit high at $50 for a 1.7 ounce tube. Let's see how its close competitor does below.
$50 Vs $30
Unlike Dermalogica's calm water gel moisturizer, Origins gel moisturizer is strictly for dry skin concerns. It's an oil-free, energy-boosting gel moisturizer that helps wake up dull skin with hydration lasting up to 72-hours. Priced at only $30 for the same size bottle as its competitor above.
Tatcha Dupes / Clinique Dupes:
A daily gel cleanser with natural fruit exfoliant that thoroughly but gently lifts impurities and unclogs pores while leaving skin soft and hydrated. A little pricey at $38 as a face cleanser, but you get a full 5 ounces of product at that price.
$38 Vs $23
Everyone is familiar with the beauty brand Clinique. Its more of a mid-range pricing, drugstore beauty brand with exceptional quality beauty products.
In terms of usability, it can well be on par with its competitor, the Tatcha deep cleanse exfoliating cleanser. For $28 you get 3.4 ounces of product in the tube, which is well worth the buy.
Read Next: TOP EVERYDAY MAKEUP ESSENTIALS YOU NEED TO HAVE
Do you have any favorite skincare dupes that you use? Are any of these skincare dupes mentioned here, your favorite? If you enjoyed this post please share it to your favorite social media platform.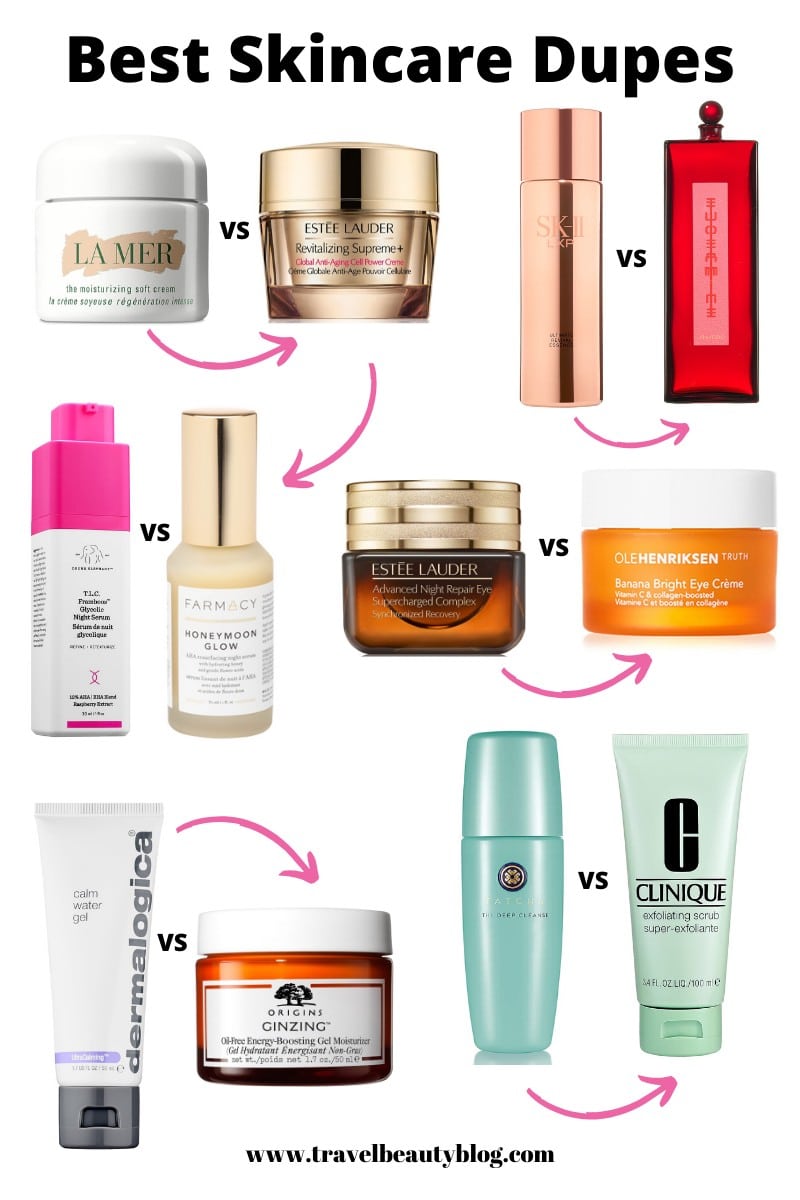 Shop Editor's Picks

Shevy
Hi! I'm Shevy! I'm the Founder and Managing Editor of Travel Beauty Blog est. 2016. I am also the Founder of Shevy Studio Marketing Agency where I work with entrepreneurs and bloggers on SEO/Content Strategy, Web Design and Consultancy.