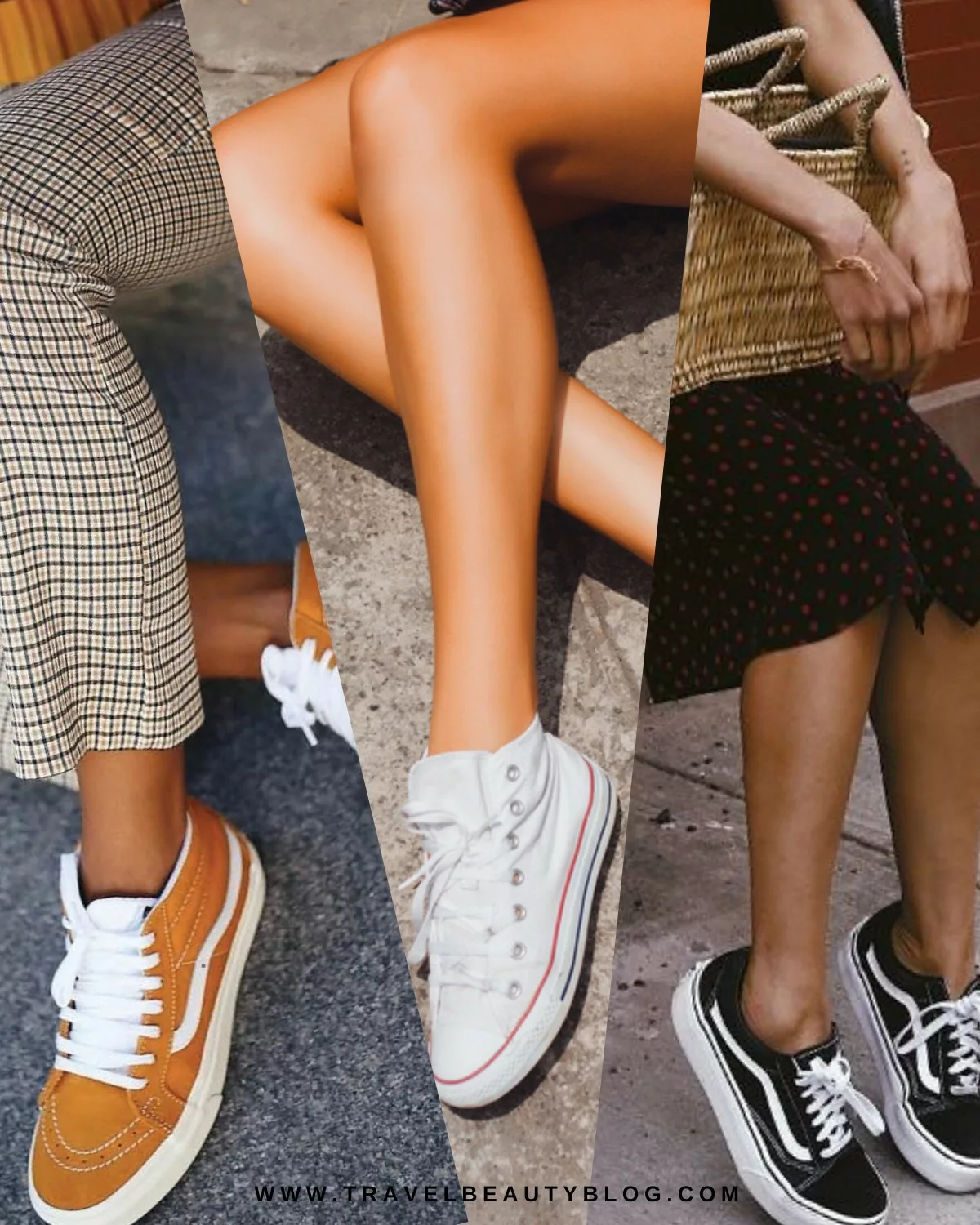 Kicks Clash: Vans vs Converse
When it comes to casual footwear, Vans and Converse are two of the most popular brands on the market.
If you're a sneakerhead or just someone who loves stylish footwear, you've probably asked yourself this question: Vans or Converse?
Both of these classic sneakers have been around for decades and have become icons of streetwear fashion.
But which one is right for you?
This guide will compare the features and benefits of each brand to help you make an informed decision.
We are a participant in various affiliate marketing programs and may earn a commission for any purchases made through these links at no extra cost to you. Read full disclosure here.
Vans and Converse both have rich histories and distinct brand identities.
Vans was founded in 1966 in California and is known for its skateboarding and surf culture roots.
Related: 15 Best Golden Goose Dupes, Lookalikes And Alternatives
Converse, on the other hand, was founded in 1908 in Massachusetts and is famous for its iconic Chuck Taylor All Star sneakers.
They have become timeless styles that have evolved with each generation.
What started as shoes for skaters and basketball players, respectively, have now become staples in streetwear fashion.
Understanding the history and brand identity of each company can help you decide which brand aligns more with your personal style and values.
Vans vs Converse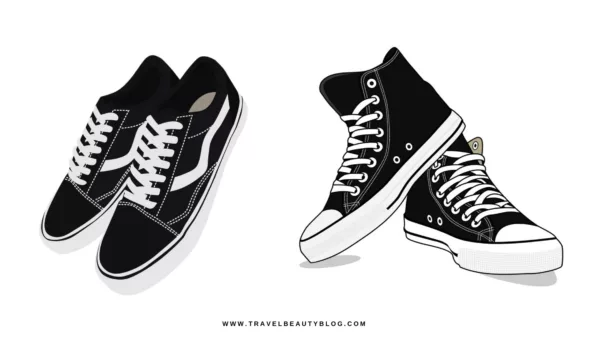 Shoe enthusiasts and fashion aficionados swear by Vans and Converse as two of the most iconic shoe brands of all time.
These classic kicks have become a staple in the wardrobe of many, and their timeless designs have been loved by generations.
In this comprehensive review, we will compare Vans vs Converse based on design, comfort, durability, and price.
When it comes to style and design, both Vans and Converse offer a wide range of options.
Both Vans and Converse have their unique features that make them stand out from each other.
It's a tough decision to make, but ultimately, the style and design options come down to personal preference and what fits your individual style.
Let's explore the pros and cons of each brand of sneakers and let the kicks clash begin!
Vans: The Iconic Skater Shoe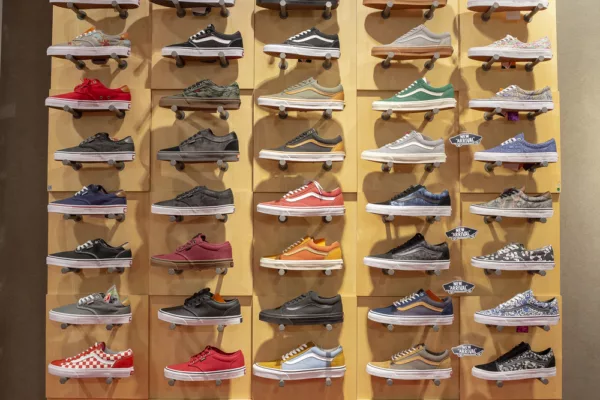 Vans is the go-to brand for those who love skateboarding and streetwear.
These shoes are designed to withstand the toughest of terrains, with their signature "waffle" sole that provides excellent grip.
Vans shoes are also available in a variety of colors and patterns, making it easy to show off your personal style.
Vans Pros
Vans is known for its classic slip-on and lace-up sneakers, as well as its iconic checkerboard pattern. Here are some pros of wearing Vans sneakers:
Durability – Vans are known for their waffle sole, chunky and durable design, giving skaters the grip they needed for their tricks. Its study construction allows it to withstand heavy wear and tear.
Cushioned insoles and supportive soles – providing ample support and cushioning for your feet.
Variety – Vans come in various colors and prints, giving you an edgy vibe.
Vans Cons
Heavy and Bulky – Vans can be heavy and bulky, making them less comfortable to wear for extended periods.
Variable lifespan – some Vans styles may have a shorter lifespan due to their thinner canvas material.
How To Style Your Vans Sneakers
Vans and Converse can be paired with almost any outfit, from casual to dressy.
If you're looking for a casual look, pair your Vans with a pair of jeans and a t-shirt.
For a dressier look, pair them with a skirt or dress.
Shop Bestselling Vans Sneakers

Converse: The Timeless Sneaker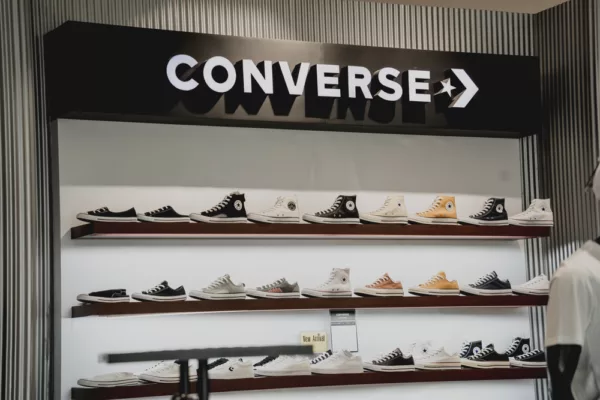 Converse is the quintessential sneaker brand that has been around since the early 20th century.
These shoes are known for their simplicity, versatility, and comfort.
They come in a variety of colors, including the original black and white, making them easy to pair with any outfit.
Related: The Best Dupe Doc Martens, Alternatives + Lookalike Boots
Converse has also released several limited-edition designs, making them a collector's item for many shoe enthusiasts.
Converse Pros
Converse is famous for its Chuck Taylor All Star sneakers, which come in a variety of colors and patterns. Here are some pros of wearing Converse sneakers:
Sleek and lightweight design – Converse has a sleek, slim look and may be more comfortable for those with narrower feet. Its lightweight design makes them comfortable to wear for long periods.
Minimalistic style – Converse's classic design is perfect for a minimalist style.
Flexibility and support – thanks to the rubber sole and canvas upper.
Converse Cons
Insufficient cushioning – Converse lack the support and cushioning that Vans provide.
How To Style Your Converse Sneakers
With Converse, you can pair them with a pair of shorts and a tank top for a summer look.
For a dressier look, pair them with a blazer and trousers.
Shop Bestselling Converse Sneakers

Vans vs Converse: Price and Value for Money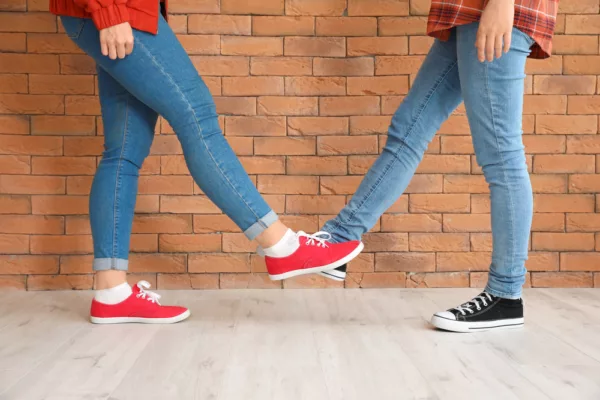 When it comes to price and value for money, both Vans and Converse offer affordable options for their customers.
Vans sneakers typically range from $50 to $100, with some limited edition styles costing more.
Converse sneakers are similarly priced, with most styles falling between $50 and $80.
Both brands also offer sales and discounts throughout the year, making it easier to snag a great deal.
In terms of value for money, it ultimately depends on what you're looking for in a sneaker.
If you prioritize durability and longevity, Vans may be the better choice.
If you value timeless style and versatility, Converse may be the way to go.
Vans vs Converse: Which Shoe is Best for You?
If you're a sneakerhead, you know that Vans and Converse are both essential sneakers to have in your collection.
They're versatile and can be worn with almost any outfit.
You can dress them up with a skirt or keep it casual with a pair of jeans.
Related: A Guide To The Best Knock Off Birkenstocks
Both sneakers have a unique culture surrounding them, and you'll find that other sneakerheads appreciate them just as much as you do.
If you're looking for a chunky and durable sneaker, go for Vans.
If you prefer a sleek and lightweight sneaker, choose Converse.
Whichever one you choose, both sneakers will make a stylish addition to your shoe collection.
Wrapping Up Vans vs Converse
In conclusion, Vans and Converse are both iconic shoe brands that have made their mark in the fashion industry.
From skaters to celebrities, these classic kicks have been loved by generations.
While there may be no clear winner in the kicks clash, we hope this article has helped you make an informed decision on which brand is the best fit for you.
So, go out there and strut your stuff in your favorite pair of Vans or Converse!
Shop Editor's Picks

Shevy
Hi! I'm Shevy! I'm the Founder and Managing Editor of Travel Beauty Blog est. 2016. I am also the Founder of Shevy Studio Marketing Agency where I work with entrepreneurs and bloggers on SEO/Content Strategy, Web Design and Consultancy.