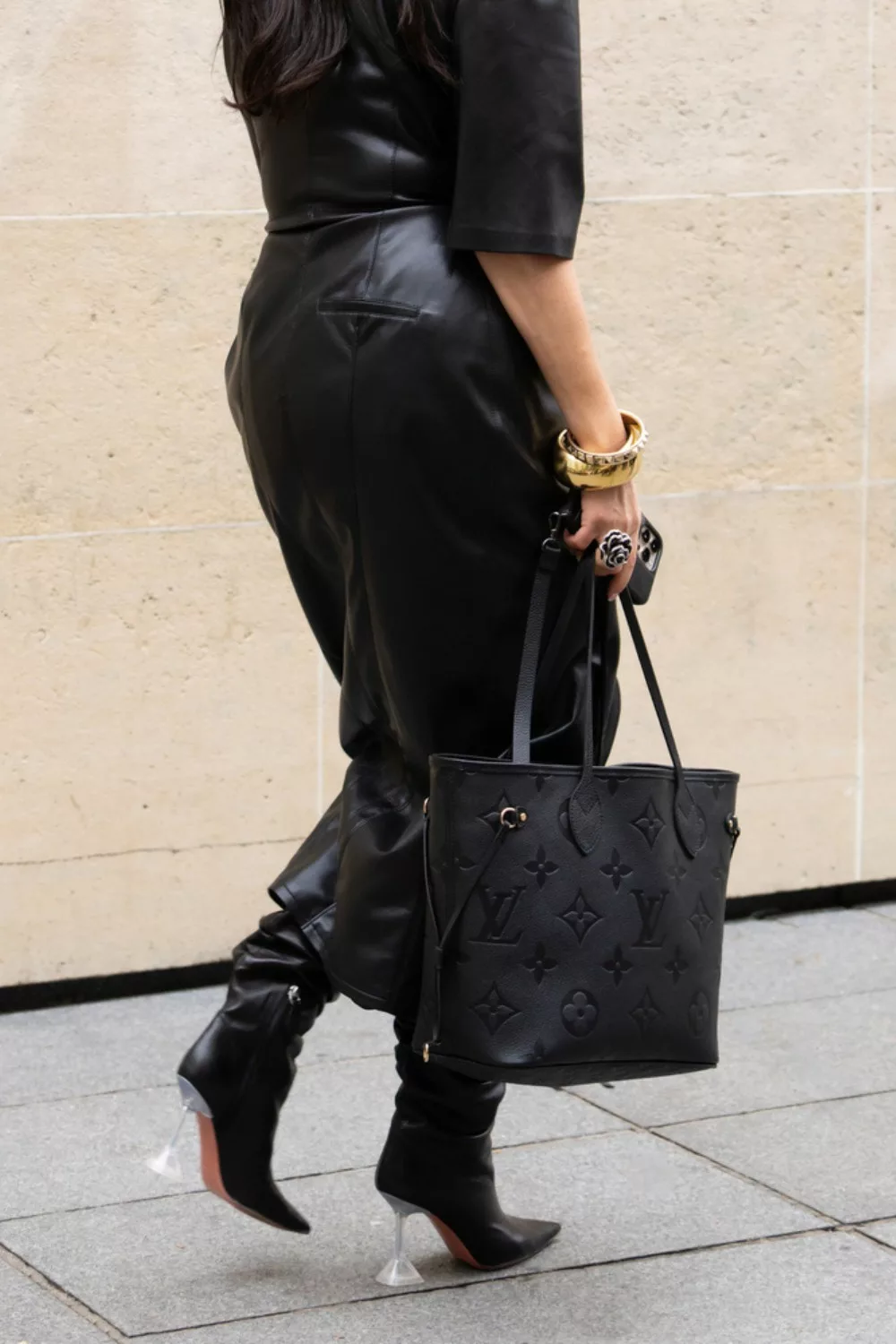 Last Updated on 8 months by Shevy
23 Of The Best Designer Bags For Work That's Worth The Investment
When it comes to work bags, fashion and function can coexist. After all, you need a stylish yet practical bag to carry your laptop, documents, and other essentials to the office.
If you're looking for the perfect bag to complete your work wardrobe, there are plenty of designer bags that offer both style and functionality.
Investing in a high-quality designer work bag not only elevates your professional image but also ensures durability and longevity.
From large tote bags that can fit all of your belongings to stylish, sleek satchels and classic top handle bags, you will discover some of the best designer bags for work.
We are a participant in various affiliate marketing programs and may earn a commission for any purchases made through these links at no extra cost to you. Read full disclosure here.
Related: The Best Kate Spade Bags On Sale
Explore our top picks for the best designer work bags that are worth the investment and have all the style you need for a traditional 9-to-5 look.
23 Gorgeous Designer Bags Perfect for 9 to 5 Gals At A Glance:
Whether it's for your daily commute, a business trip, or a social event, these stylish bags boast the perfect blend of luxury and practicality.
Carry your work essentials in style with these designer bags that are perfect for any 9-to-5 gal. Get ready to be the envy of your colleagues!

1. Classic Elegance: The Iconic Tote by Saint Laurent
Saint Laurent's classic shopping leather tote is an iconic piece that exudes elegance and sophistication.
Made of Italian leather and adorned with the brand's signature YSL logo stamp, this tote is spacious enough to fit all your work essentials without compromising style.
It comes in various colors, so you can choose the one that best suits your preference.
Whether you're wearing a power suit or a casual outfit, this YSL tote is a timeless piece that complements any look.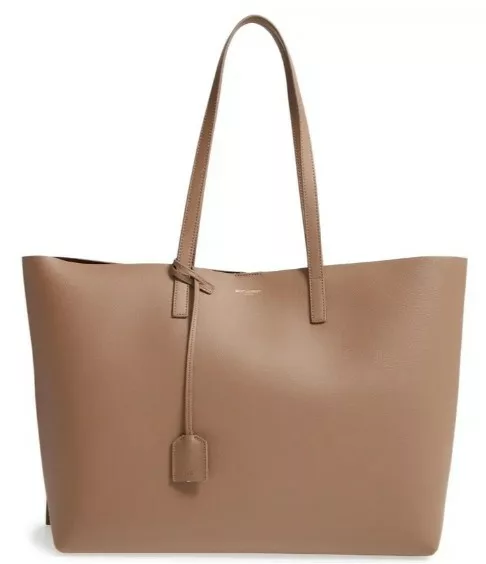 2. Tod's Logo Embossed Top Handle Bag
The Di Bag medium leather bag by TOD'S comes in tan and is made of calf leather with a grained texture.
It features a logo patch on the front, a top zip fastening, an adjustable detachable shoulder strap, two rolled top handles, and a main compartment.
Tod's top handle work bag is one of the best bags for commuting to work.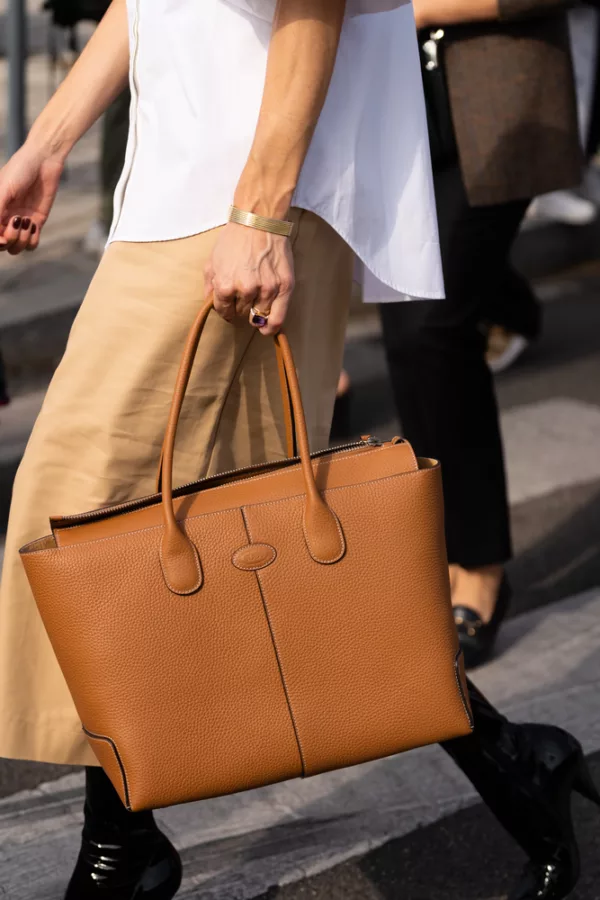 3. Michael Kors Marilyn Color-Block Saffiano Leather Satchel
Looking for a different option to the typical work bag?
Michael Kors' Structured Tote offers you the same fashion statement without the added weight.
Made of distressed leather, it boasts a sturdy form and striking gold-tone hardware.
It also includes a handy interior pocket for your daily essentials.
Additionally, its slim, detachable strap allows it to be carried as either a handbag, shoulder bag or cross-body.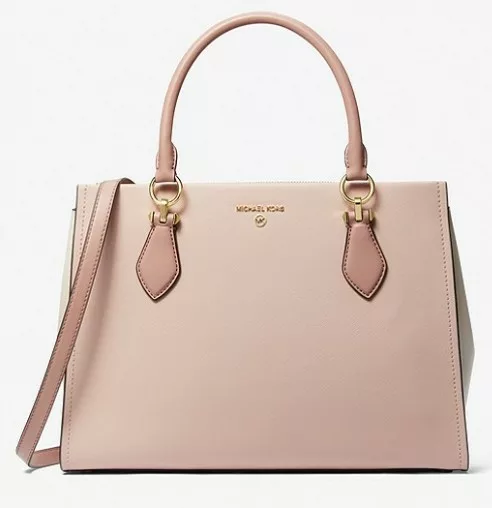 4. Louis Vuitton Lambskin Embossed Monogram Coussin
The Louis Vuitton Monogram Coussin shoulder bag is crafted from puffy lambskin in black and embossed with the brand's monogram, offering a supple and soft texture.
It can be carried as a clutch or with the gold hardware Edge Chain strap, or the adjustable black strap, making it versatile for wearing crossbody or on the shoulder.
Related: 22 Designer Camera Bags That Are Worth The Splurge
The three zippered compartments boast a pink microfiber lining.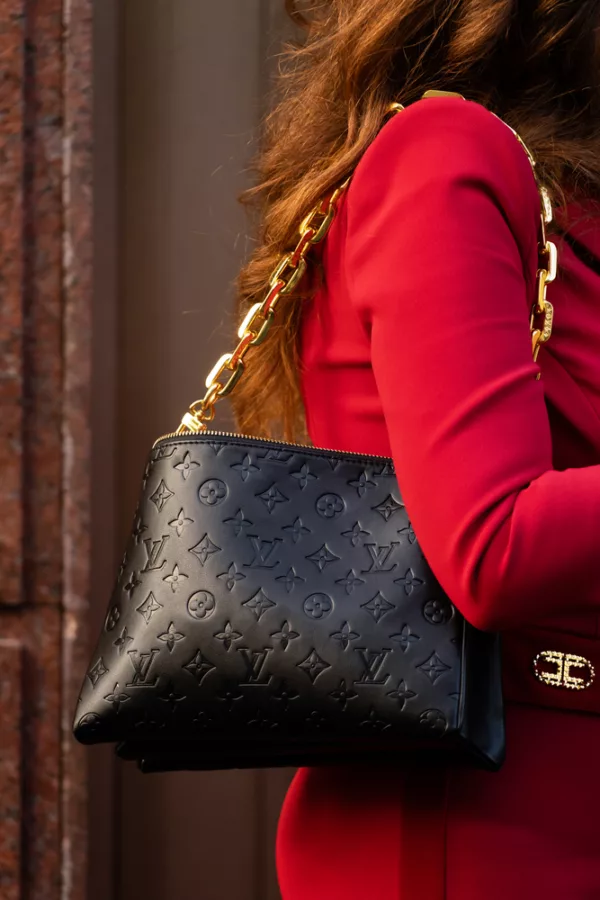 Prepare to make a bold impression with the Walker Leather Satchel from Tory Burch.
This bag boasts a sturdy frame, complete with textured calf leather, hand-painted edges, and the renowned double T logo.
Its smooth matte finish guarantees a refined appearance for any gathering or affair.
The interior zip section splits the bag into three compartments, making it effortless to bring along necessities.
With ample space for documents, folders, and your laptop, this designer satchel is ideal for any stylish professional.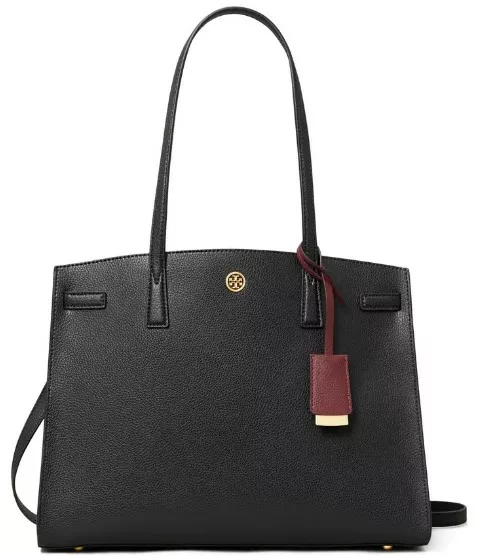 6. Gucci Diana Small Tote Bag
The concept of continuously evolving fashion is embodied by the Gucci Diana, which is a modernized rendition of the bamboo handle tote from 1991.
By skillfully manipulating traditional components, the design reintroduces renewed significance.
This version incorporates vibrant leather belts that replace the conventional bands that keep the bamboo handles secure.
Additionally, the collection now includes a novel selection of beige leather.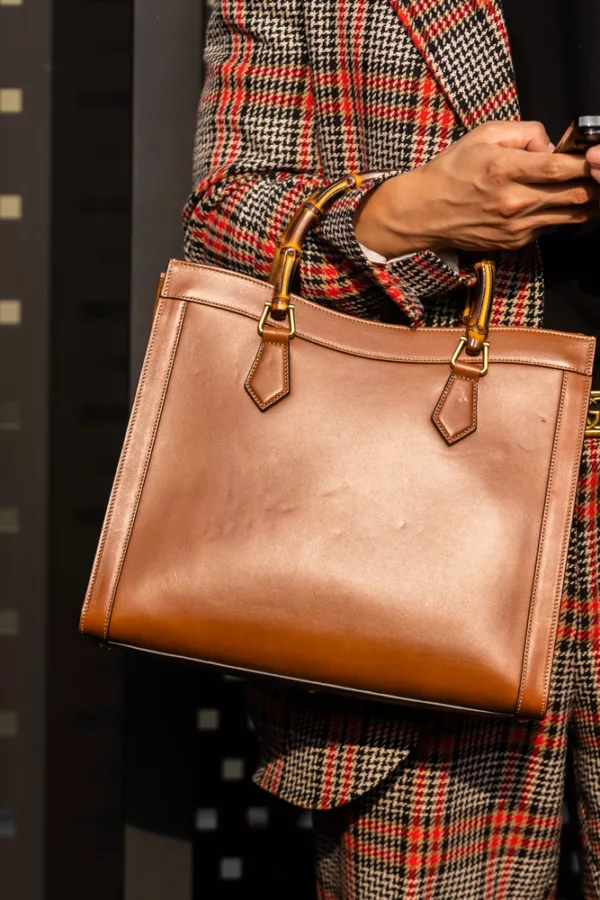 7. Louis Vuitton Vintage Monogram Neverful MM
Louis Vuitton's Neverful MM is a luxurious office bag that effortlessly transitions from day to night.
Made from the label's iconic Damier embossed canvas, its classic shape boasts metallic top handles and a detachable shoulder strap for comfortable carrying.
The roomy interior compartments make organizing your belongings a breeze, while external pockets keep smaller items secure.
This is a favorite and definitely one of the best designer bags for work that we recommend!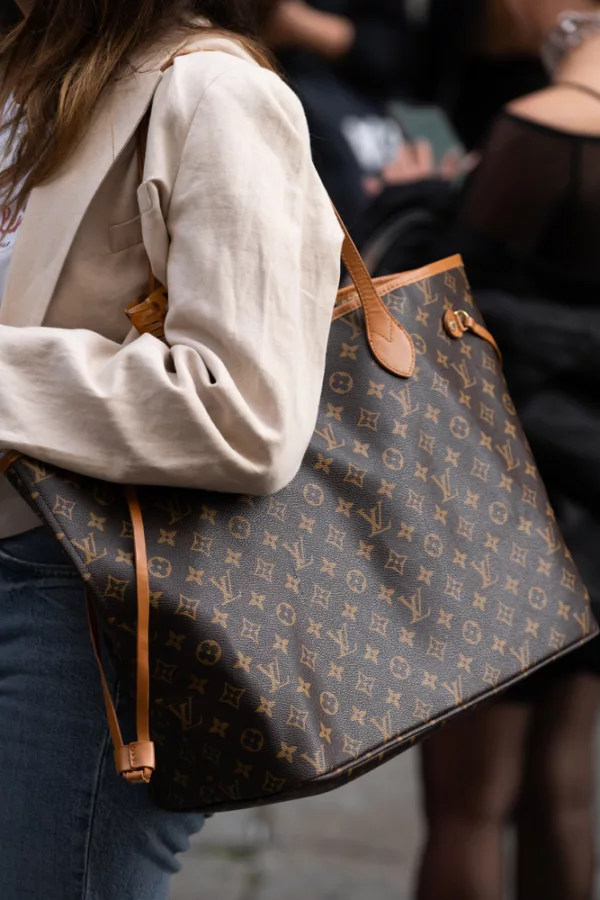 The Hermès Kelly bag is a timeless symbol of effortless class, luxury and modern glamour.
Originally introduced in the 1930s as the Sac à Dépêches, it gained global fame when Grace Kelly famously used it to shield her baby bump from the Paparazzi.
The demand for the "Kelly bag" exploded, leading to its informal name change. In 1977, Hermès made the rebranding official, solidifying the iconic status of the Kelly bag.
Today, it remains a symbol of elegance and style, with each bag being meticulously crafted by skilled Hermès artisans using only the finest materials, including luxurious leathers and palladium or gold-plated hardware.
Make a statement at work with this timeless Hermès Kelly bag.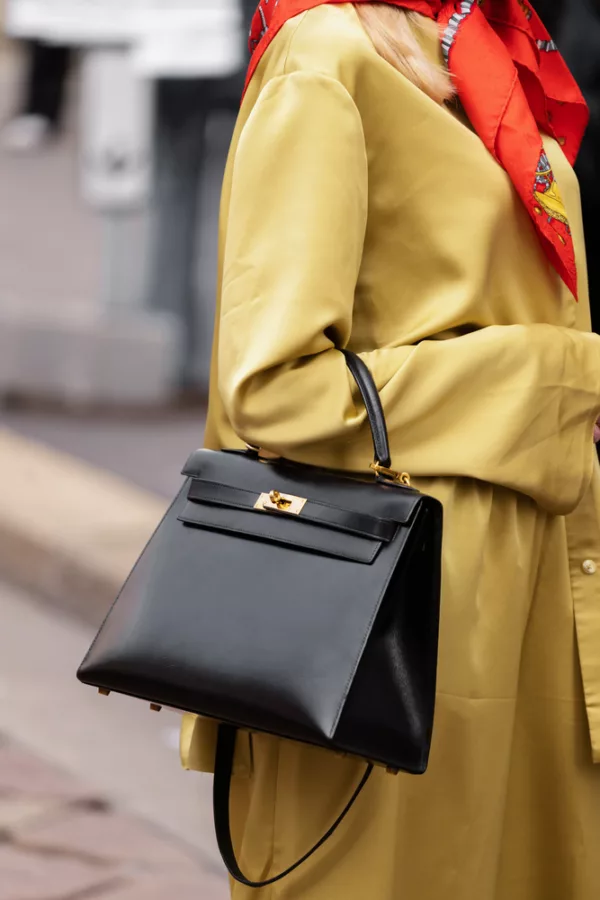 Prada, the Milanese fashion house renowned for its luxurious Italian heritage and exceptional artisanal skills, embodies a sought-after design aesthetic.
The Double tote bag in alluring red leather, made in Italy, boasts top handles, a snap button closure, and a capacious main compartment with an internal slip pocket.
Related: 15 Best Mini Designer Bags That Are Trendy Now
The gold-tone hardware, front logo plaque and hanging leather tag complete the chic look.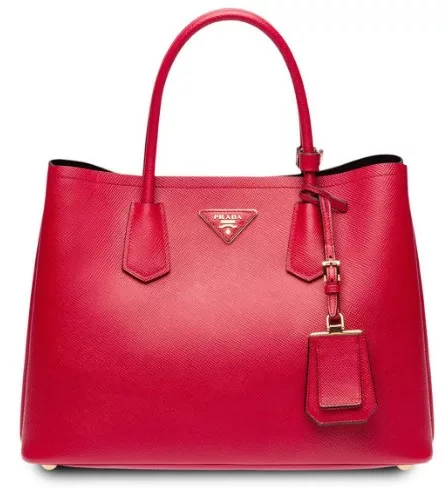 Look sophisticated and on trend with this Chanel Large Shopping Tote.
Made with black leather that is embossed with the well-known Chanel CC logo, this professional bag is not only fashionable but also includes two separate sections and an additional slip pocket to provide ample storage.
Moreover, it has a silver-tone handle and a removable shoulder strap for convenience while transporting.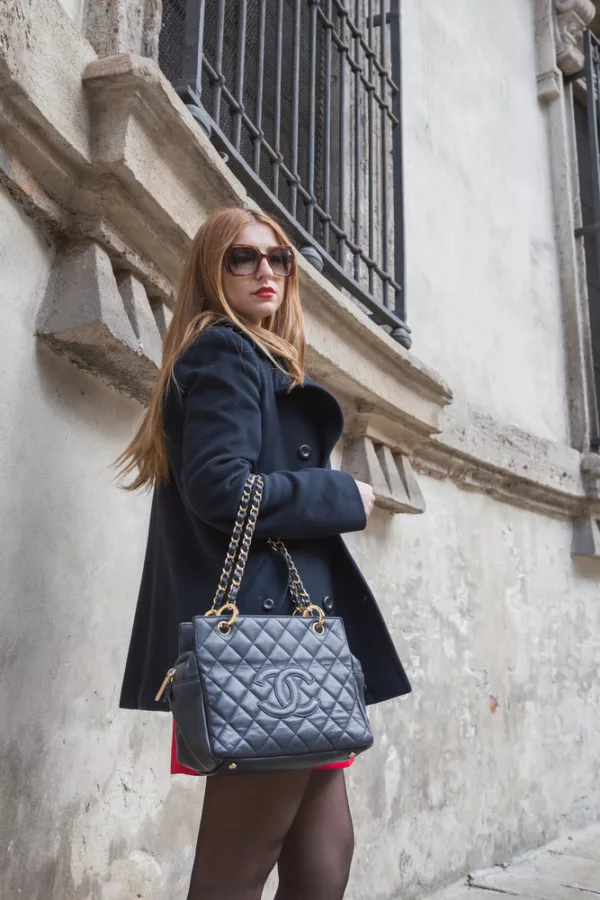 11. Celine Micro Bi-Color Luggage Tote
Celine's luggage tote bag is a minimalistic and timeless piece that never goes out of style.
Crafted from colorblock patterned leather and finished with the brand's signature Celine logo, this bag is understated yet elegant.
It has a spacious main compartment and an adjustable shoulder strap for comfort.
The clean design makes it a versatile piece that matches any outfit, from a tailored suit to a casual dress.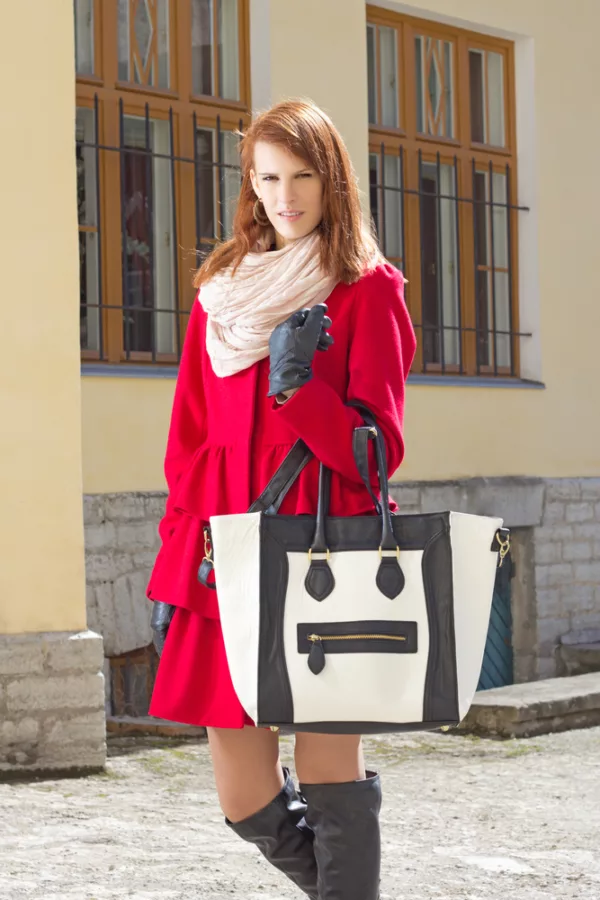 12. Salvatore Ferragamo Gancino Leather Tote
This chic Salvatore Ferragamo tote bag is the perfect option for fashion-forward professionals.
It's crafted from fine Italian leather and features two spacious compartments, with ample room for documents, laptops, and other essentials.
The bag also features an internal pocket that can be used to store smaller items, such as keys and wallets.
On top of all this, the removable strap makes it easy to switch between a shoulder bag or a handheld tote!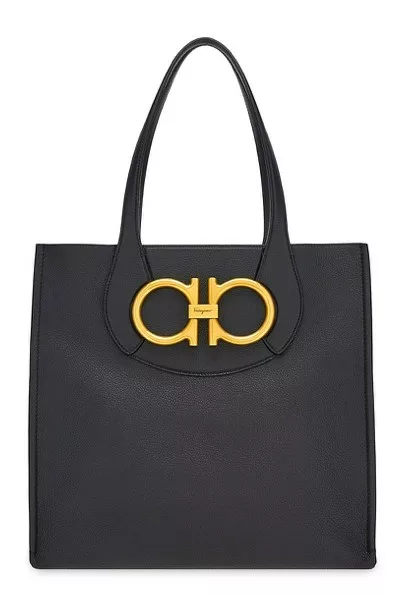 13. Chloe Medium Woody Linen Tote
Made from high-quality linen canvas and accented with topstitched leather trim, this scaled-down tote features Chloé's iconic logo prominently displayed on its sturdy straps.
The Chloe Woody Linen tote is designed with an open top, top carry handles, and an interior wall pocket.
Its structured silhouette and flat base ensure stability, while its unlined interior offers a minimalist aesthetic.
This tote is constructed with 100% linen and finished with fine leather detailing.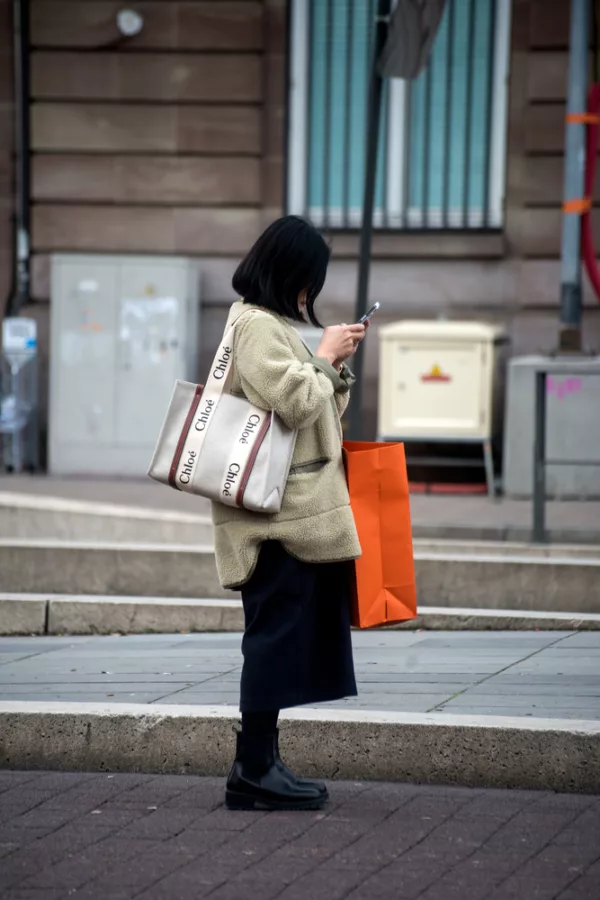 14. Bottega Veneta Intrecciato Side-Handle Tote Bag
Elevate your look from the everyday office tote with the Bottega Veneta Intrecciato Side-Handle Tote Bag.
Fashioned from luxuriously soft Intrecciato-embossed natural leather, this work bag oozes sophistication.
The spacious main compartment is complemented by two external pockets on either end — ideal for smaller items like keys and cards.
Sleek gold hardware and polished side handles complete the look of this timelessly stylish bag.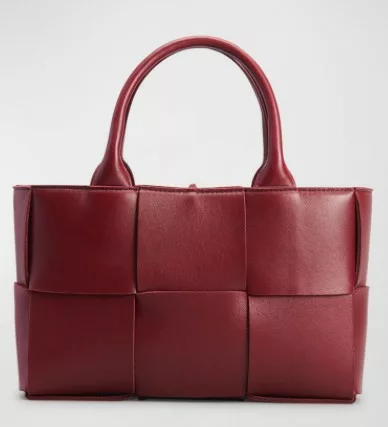 15. Christian Dior Lady Dior Cannage Two-way Bag
One of the most iconic styles of Christian Dior, Lady Dior, was made popular by Princess Diana and eventually named after her.
Black lambskin is used to craft this version, featuring the signature Cannage quilting and a polished gold-tone hardware Dior letters charm.
This is one of the best designer bags for work professionals who are also minimalists.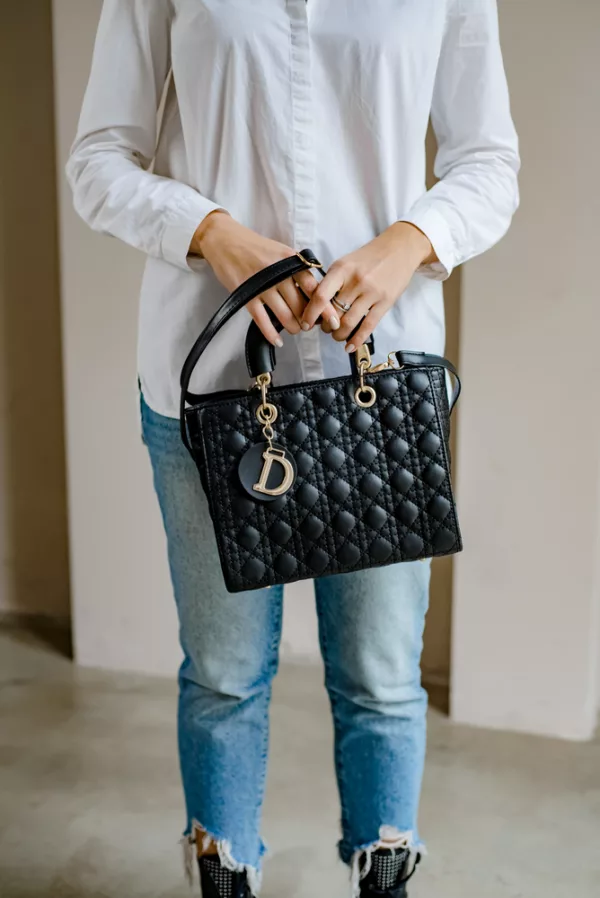 For something classic and timeless, the Gucci Padlock GG Supreme Canvas work bag is the perfect choice.
Crafted from GG supreme canvas, the medium-sized body of this designer work bag showcases Gucci's iconic heritage design through a decorative gold padlock at its center.
It boasts ample storage space with two internal pockets, an adjustable top handle, and a front slip pocket that has a magnetic closure for quick access to your daily essentials.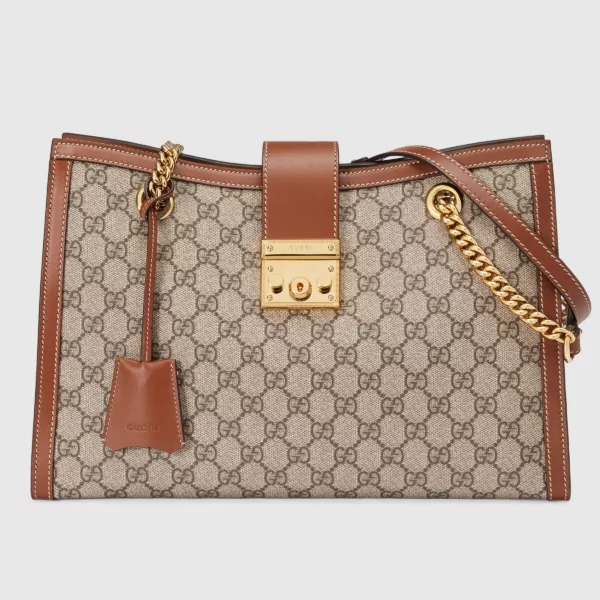 17. Coach Mollie Tote – Best Work Bags For Women
The Coach Mollie Tote is a double-faced leather bag that comes with an inside multifunction pocket.
It features one zip-top closure at the center, with a fabric lining. As well two side open compartments and handles with a 10 1/4″ drop.
The Mollie Tote is ideal for your everyday work essentials including enough space for a notebook, wallet, makeup bag, an umbrella and a 13″ AirBook or MacBook.
If you're looking for designer bags that fit laptops then this is the one for you.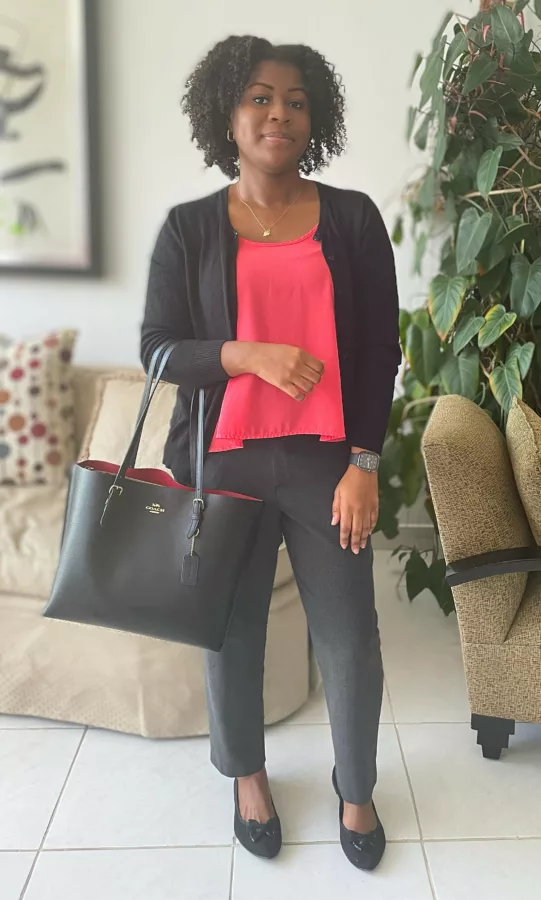 18. Furla Grained Leather Tote Bag
This is a light brown tote bag made of calf leather from FURLA.
It has a grained texture and is secured with a clasp fastening.
Related: 17 Stylish Summer Beach Bags For Women
The bag is equipped with two long top handles, a main compartment and silver-tone hardware.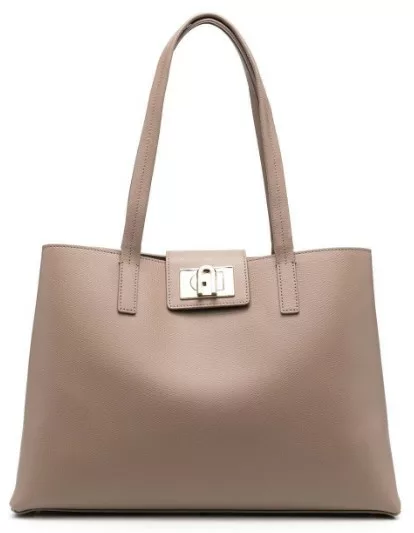 Givenchy's Antigona satchel, which is adored by street-style enthusiasts globally, has been revamped with dyed leather that adds a delicate touch to the structured design.
The compact and stylish bag features rolled top handles and an optional shoulder strap, making it highly versatile.
The top zip closure secures the bag, while the interior houses wall, zip, and smartphone pockets.
Additionally, the protective feet ensure the longevity of the leather.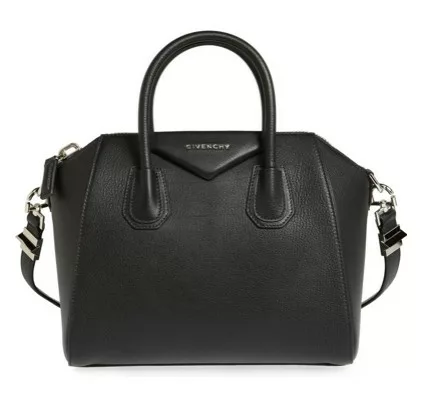 20. Burberry Title Mini Vintage Check Tote Bag
Crafted from vintage check canvas and grainy calf leather, the Burberry "Title" tote bag boasts top handles and a removable, adjustable shoulder strap with a 16.5″-18.9″ drop.
You can carry it by the top handles or on the shoulder, depending on your preference.
The tote bag also features hand-painted edges, polished metal hardware, and a belted open top.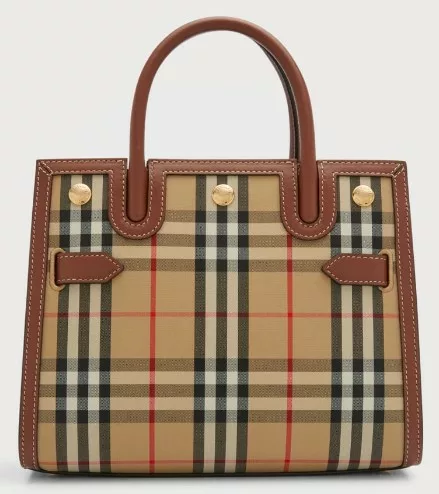 21. Business Chic: The Gucci Marmont Tote
Gucci's tote bag is a perfect blend of business and chic.
The structured silhouette, made of matelassé effect leather and adorned with the brand's iconic GG logo and chevron quilting, exudes sophistication and authority.
Related: The Best Designer Bag Dupes You Need
The bag features a spacious compartment, and and internal zip-fastening pocket. This Gucci tote is a statement piece that elevates any work outfit.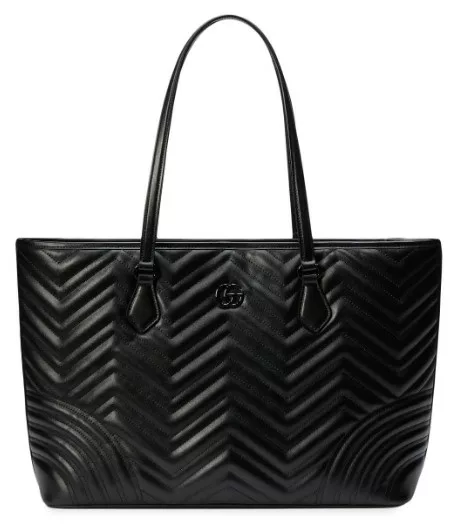 22. Kate Spade Knott Large Shoulder Bag
For a less structured bag that pulls your look together, turn to Kate Spade Knott shoulder bag.
Whether you're running errands or catching up with friends over coffee, this satchel keeps it real with the iconic cinch knotted side and multiple pockets to stash your essentials.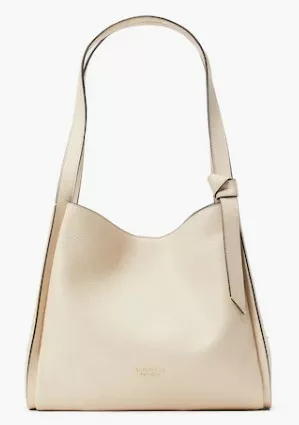 23. Calvin Klein Logo-print Tote Bag
The Calvin Klein tote bag is made of faux-leather, adorned with an all-over black logo print and silver-tone logo lettering.
It comes with silver-tone hardware, magnetic fastening, and a detachable shoulder strap.
The bag has two top handles, a main compartment, an internal zip-fastening pocket, and logo-print lining.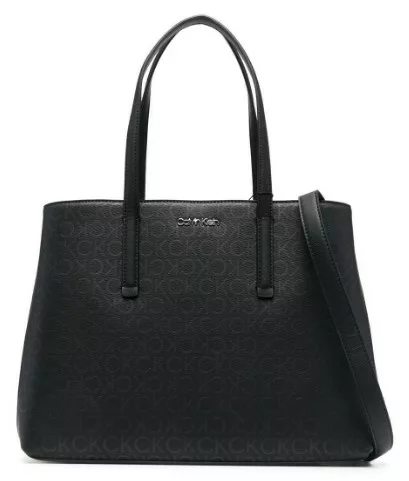 10 Factors To Consider Before Investing In A Designer Bag For Work
Identify your needs and make a list
To ensure that your new designer work bag has all the essential features, identify your requirements before commencing your search.
Consider if you require a bag to carry your laptop and notebooks or if you need additional compartments to organize smaller items.
Assessing these factors beforehand will guarantee that you find a functional and fashionable bag that meets all of your needs.
Compare different prices to find best value
After you've identified the features that are essential for your designer work bag, it's time to compare prices.
Don't just settle for the first bag you happen across — do some research and investigate the different options within your budget.
By making sure you compare prices from different vendors, you can be sure that you'll get the best deal to fit your budget.
Compare Different Brands and Bag Types
When choosing a work bag, it's important to compare different brands and types to find the one that meets your needs.
Know Your Materials
Before you purchase a designer bag for work, it's important to do some research and know your materials.
Look for bags made of high-quality material like leather, which has a classic look and is also durable.
Also, make sure the straps are strong enough to hold all of your important belongings without tearing or stretching.
Finally, pay close attention to the details in the design and make sure you choose a bag that can stand up to everyday wear and tear.
Choose the Right Size
When it comes to choosing the right size designer bag for workwear, think about what you will be carrying and how much space you need.
A large tote or shoulder bag may be better if you often carry laptop, documents, and other items.
If you don't need a lot of space, opt for an elegant clutch or mini bag that won't take up too much room but still looks stylish.
Balance Between Aesthetic and Functionality
When it comes to investing in a designer work bag, the key is to strike a balance between functionality and aesthetic.
Going for capable and functional designer bags that hold all your items but are also stylish can be difficult.
Keep in mind the look you want to create and choose a designer bag that will help complete your ensemble.
Consider features like zippered closures, adjustable straps, and spacious compartments for extra space.
Consider Business Features
When shopping for a designer bag, think about features like RFID protection and anti-theft zippers.
This can help you feel secure and offer extra protection against any pickpocketing or attempted break-in.
An adjustable strap is another must-have for a bag that will take you to the office and beyond.
Look for a bag with padded straps that provide extra comfort when carrying it for long periods of time.
Make Sure It Complements Your Wardrobe
It's important to find the perfect designer bag that complements your wardrobe.
When selecting a color and design, think about how the bag will accentuate your clothing.
Consider whether you want an everyday look with a neutral tone, or opt for something bolder.
Pay attention to materials as well—look for fabrics like leather or canvas that are both stylish and strong.
Narrow down your Options
It's important to consider the various styles of bags that you can choose from.
From briefcases, laptop bags, to messenger bags, there are many options available that are both stylish and functional.
To narrow down which type of bag is right for you and your lifestyle, consider what would be most convenient for carrying to and from work or on business trips for example.
Carefully read reviews before making a purchase decision
Taking the time to read through customer reviews can provide useful insight when making a purchase decision.
Reading reviews can help you find out what others like and don't like about the bag, as well as its general durability, quality of materials, and overall usability.
Taking into account all of these factors is important before deciding on a work bag that suits your professional lifestyle.
Wrapping Up The Best Designer Bags For Work
Investing in a designer work bag not only adds a touch of luxury to your professional wardrobe but also ensures functionality and durability.
Whether you're looking for a classic tote, a sleek backpack, a luxurious briefcase, a business satchel, or a timeless shoulder bag, these top picks offer a range of options for every style and need.
Look for materials that are both durable and stylish as well as features like adjustable straps and pockets for easy organization.
Additionally, consider how much storage space is needed for your laptop, notebooks, pens and other essentials.
Examine these factors when comparing different brands of bags to ensure you get the best one for your needs.
Choose the one that best fits your personality and work environment, and elevate your workday with a stylish and practical work bag.
Shop Editor's Pick

Shevy
Hi! I'm Shevy! I'm the Founder and Managing Editor of Travel Beauty Blog est. 2016. I am also the Founder of Shevy Studio Marketing Agency where I work with entrepreneurs and bloggers on SEO/Content Strategy, Web Design and Consultancy.