Last Updated on 7 months by Shevy
I earn a small commission if you purchase through any of my links at no extra cost to you
Best Co Wash Conditioners For Natural Hair
I'm rounding up the best co wash for curly hair women under $15. As a natural hair woman finding products for your hair type can be somewhat difficult at times.
Trying new hair products its always a trial and error for me until I find the ones that love my hair. Also, because natural hair is naturally dryer than other hair types, its not advisable to shampoo often.
Shampooing your natural hair frequently can lead to further dryness or worse, unhealthy hair.
Related: Review Of Shea Moisture Make It Last Wash N Go Primer
For this reason, using a co washing conditioner gives you the same results as a shampoo except, it doesn't strip your hair of moisture. Even if your shampoo is alcohol, sulphate and paraben free, it does strip your hair to an extent.
Here is why you should ditch your regular shampoo and replace them with some of the best co wash conditioners for natural hair. But first, I am going to answer some frequently asked questions about co washing conditioners.
Sale
$12.52
Buy on Amazon
Price incl. tax, excl. shipping
Is co wash better than shampoo?
Yes Co Wash is better than shampoo because it leaves your hair clean without stripping it of any moisture, unlike with a shampoo. Even if the shampoo is sulphate, paraben and alcohol free, there still tends to be some drying effect.
Does co wash replace shampoo?
Yes your co washing conditioner leaves your scalp clean, therefore it can replace your regular shampoo. However, based on my personal experiences, I advise shampooing your hair at least once per month, in addition to your regular pre-poo routine.
Related: THE BEST REMEDIES FOR CLEAR SKIN
Is co wash the same as conditioner?
No. Co Wash is not the same as conditioner. A shampoo will purify your hair and then you will need to use a conditioner to put back the moisture.
A Co Wash not only cleanses dirty hair but also adds back moisture to your hair at the same time. Therefore, after using a co wash, it is not necessary to use a conditioner.
Can I co wash curly hair everyday?
Yes you can co wash your curly hair everyday.
Related: TOP EVERYDAY MAKEUP ESSENTIALS YOU NEED TO HAVE
How often should you co wash natural hair?
You can co wash your natural hair as many times for the week as you like. I only co wash my hair once per week because I am a full-time employee. But when I am at home for a longer time, I tend to co wash my hair at least twice a week.
Related: AN OUTLINE OF THE BEST DRUGSTORE MAKEUP ALL UNDER $20
Do you wash co wash out?
Yes. You should always wash the co wash out of your hair.
What is a good co wash for natural hair? The best co washing conditioners that I have used are pictured below:
Creme Of Nature Creamy Hydration Co-Wash Cleansing Conditioner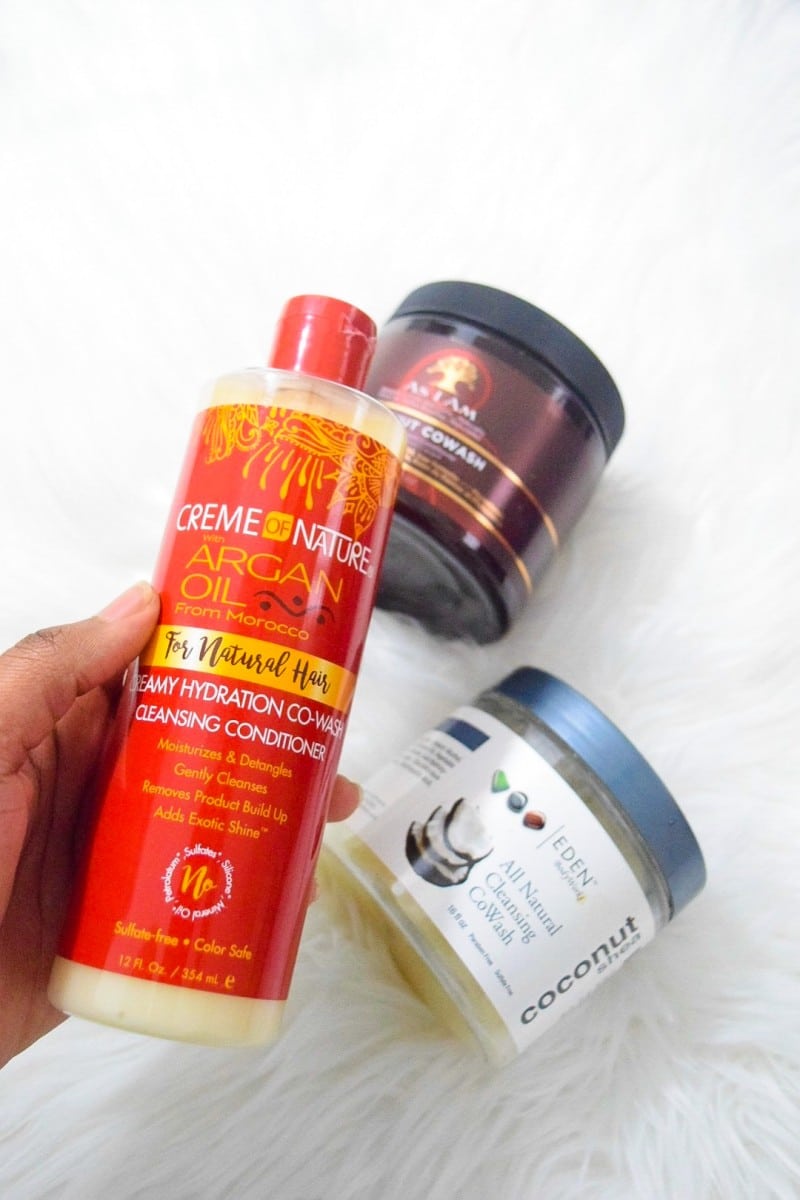 Pictured above are some of the best co wash conditioners for natural hair that I have used in the past. They are the best curly or kinky natural hair.
Let's dive right into the 11 best co washing conditioners for natural hair under $15.
Creme Of Nature Creamy Hydration Co-Wash
After washing my hair with this product it leaves my hair and scalp clean, soft and moisturised. It's actually been my go-to co wash conditioner for about 3-4 years now and definitely tops my list as one of the best co wash conditioners for natural hair.
Benefits:
The Creme of Nature Co Wash has many benefits such as Shine Enhancing, Color Protection, Frizz Control and Curl Enhancing. It's also:
• Ideal for cleansing many curl types
• Renews curls & adds Exotic Shine
• Infused with argan oil & argan butter from Morocco
• Sulfate-free, color safe & retains 90% of hair color after 10 washes
Hair Type:
Oily, Wavy, Color Treated, Dry, Curly, Thick, Damaged, Coily, All Hair Types, Relaxed, Frizzy, Fine, Mixed Texture, Straight
Eden Body Works All Natural Coconut Cleansing CoWash
Eden All Natural Cleansing CoWash
Right behind the Creme of Nature comes the Eden Coconut Shea Natural Cleansing CoWash. Which does an equally amazing job at cleansing the hair and scalp, leaving it feeling soft, with plenty of moisture.
Benefits:
• The Cleansing CoWash conditions the hair between regular shampoos, bringing back moisture that may have been lost during styling
• Breaks down and cleanses residue so that the hair + scalp can maintain a healthy environment for growth
• Contains Coconut Oil, Shea Butter, Aloe, Avocado Oil + other great ingredients absorb into the hair and work together to hydrate the + seal that moisture in, keeping strands from drying out
• Detangles hair. After scrubbing the scalp, you can work product through the hair to provide slip and conditioning for easy detangling
• Sulfate-free
Related: THE BEST OF LANCOME SKIN CARE SOLUTIONS
As I Am Coconut Co Wash
As I Am Coconut Co Wash
My third favourite is definitely this As I Am Coconut Co Wash which gives similar results to the two co washing conditioners mentioned above.
Benefits:
Preserves and adds more moisture to your hair while helping hair to retain moisture until your next cleanse
Contains a special blend of natural ingredients that work to promote healthy hair growth from the follicular level
Spreads easily throughout hair
Gently cleanses hair and scalp
Makes detangling a breeze
Rinses easily from hair
Perfect for daily use
Safe for color-treated hair
Sale
$11.94
Buy on Amazon
Price incl. tax, excl. shipping
Sale
$15.90
Buy on Amazon
Price incl. tax, excl. shipping
Sale
As I Am Coconut Cowash - 16 ounce - with Saw Palmetto, Castor Oil, & Phytosterols -...
Deeply Nourishing Formula: Infused with a rich blend of Coconut Oil, Castor Oil, Saw Palmetto, Phytosterols and...
Revolutionary Hair Care: Move beyond traditional shampoos that strip your hair of its natural essence. Our Coconut...
Perfect for Curly Hair: Designed with curly hair in mind, this Cowash is a boon for those natural curls, coils, and...
$7.99
Buy on Amazon
Price incl. tax, excl. shipping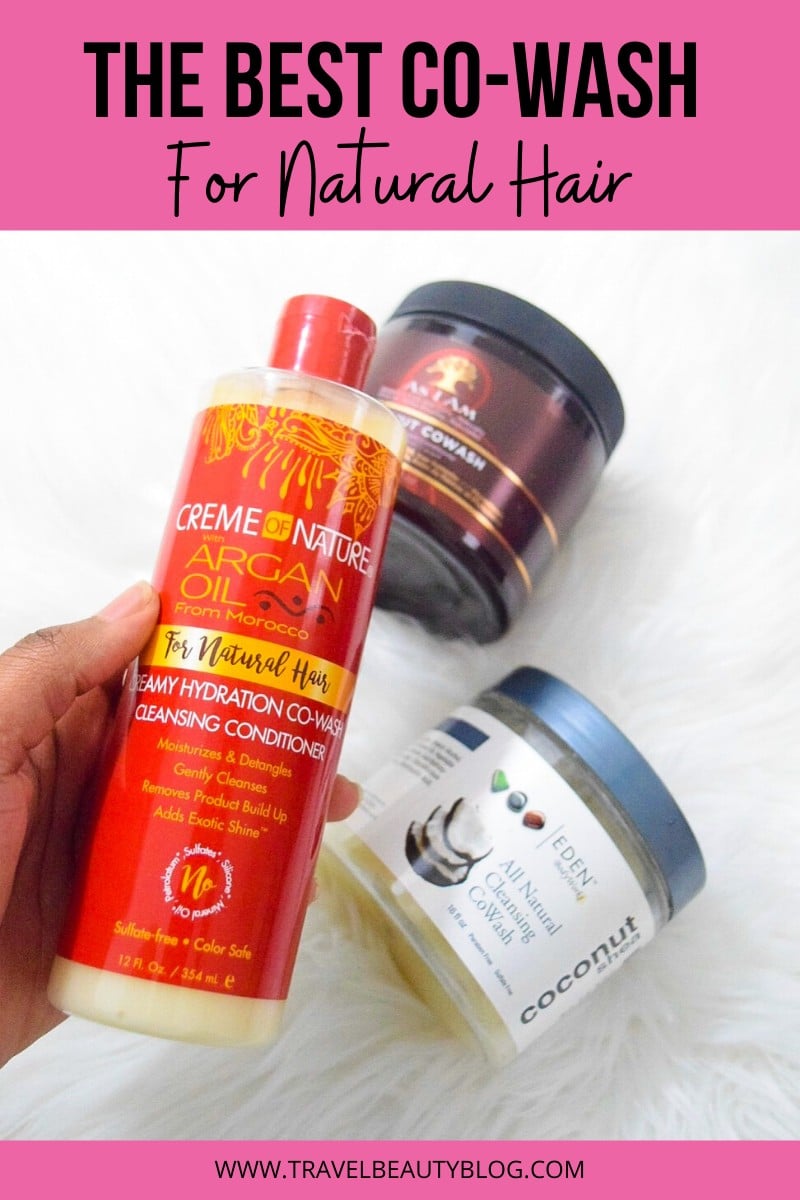 The Best Co Wash For Natural Hair 2020:
Cantu Complete Conditioning Co Wash
Benefits
• Detangles hair easily
• Won't tug or pull hair
• Works on all types of wet or dry hair
• Helps reduce hair breakage
• Soft bristle tips massage the scalp, promoting circulation
Benefits:
• Made with natural and certified organic ingredients
• Ideal for thick, curly hair
• Perfect for in between washes
• Lightweight moisturizers soften and control frizz in one easy step
Benefits:
• Rinses away impurities as it deeply moisturizes and quickly detangles curls, coils, kinks, and waves
• Detangles, moisturizes and conditions hair from root to tip
• Contains Vitamin B5 and Biotin which work simultaneously to strengthen hair
• Paraben Free, No Mineral Oil and No Artificial Colors
Benefits:
• PERFECT for curly hair
• Can be used to clean & moisturize curly hair between washes
• Infused with coconut & Australian jojoba oil
• Free of sulfates, parabens & stress
Bonus: It smells like strawberry, pomegranate & musk
Best co wash for dandruff
Benefits:
• Balances and restores scalp health* (*with regular use)
• Rich, cleansing conditioner gently cleans, relieves scalp dryness and gives you soft, moisturized hair
• Expertly designed scalp relief for natural, relaxed, kinky and coily crowns
• Free of parabens, sulfates and dyes
Bonus: It has a fresh coconut scent
Benefits:
• Preps and strengthens hair against damage, by detangling and softening curls
• Sulfate-free and dye-free formula infused with Argan Oil
• The gold standard in moisture, developed by Black scientists and perfected by Black hair stylists
STYLIST TIP: Apply two pumps and smooth through ends, detangle with wide-tooth comb and style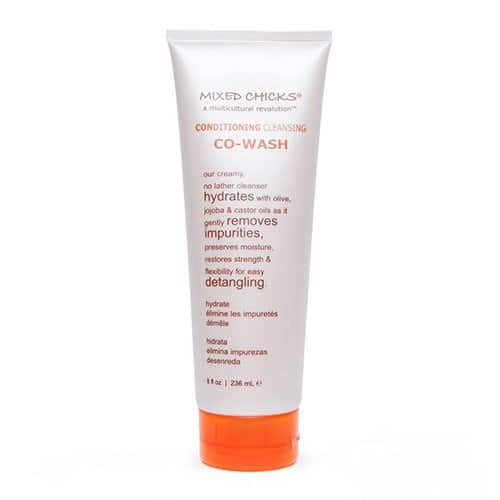 Mixed Chicks Conditioning Co-Wash helps build moisture which in turn will maintain the health and bounce of your curly, wavy, kinky or straight hair.
Benefits:
• This Co-wash cleanses and conditions in between shampoos and spares the loss of the much needed natural oils to over-shampooing.
• Contains jojoba and castor oils to help remove dirt and impurities while it adds hydration and detangles. The result is clean, shiny tresses that are not stripped.
• Infused with the natural goodness of Coconut, Castor, Jojoba, Wheat Germ and Olive oils Co-Wash goes beyond cleansing and delivers much needed nutrients to hair and scalp.
TIPS TO MAXIMIZE BENEFITS: Can be used in conjunction with Mixed Chicks Clarifying Shampoo.
Renpure Coconut Creme Cowash Cleansing Conditioner
Benefits:
• Coconut oil helps protect by lubricating each hair strand
• Does not contain any sodium chloride, sulfates, dyes, harsh salts, parabens or gluten
• Restore strength and leave beautiful smooth shiny hair
Related: COVER FX POWER PLAY FOUNDATION REVIEW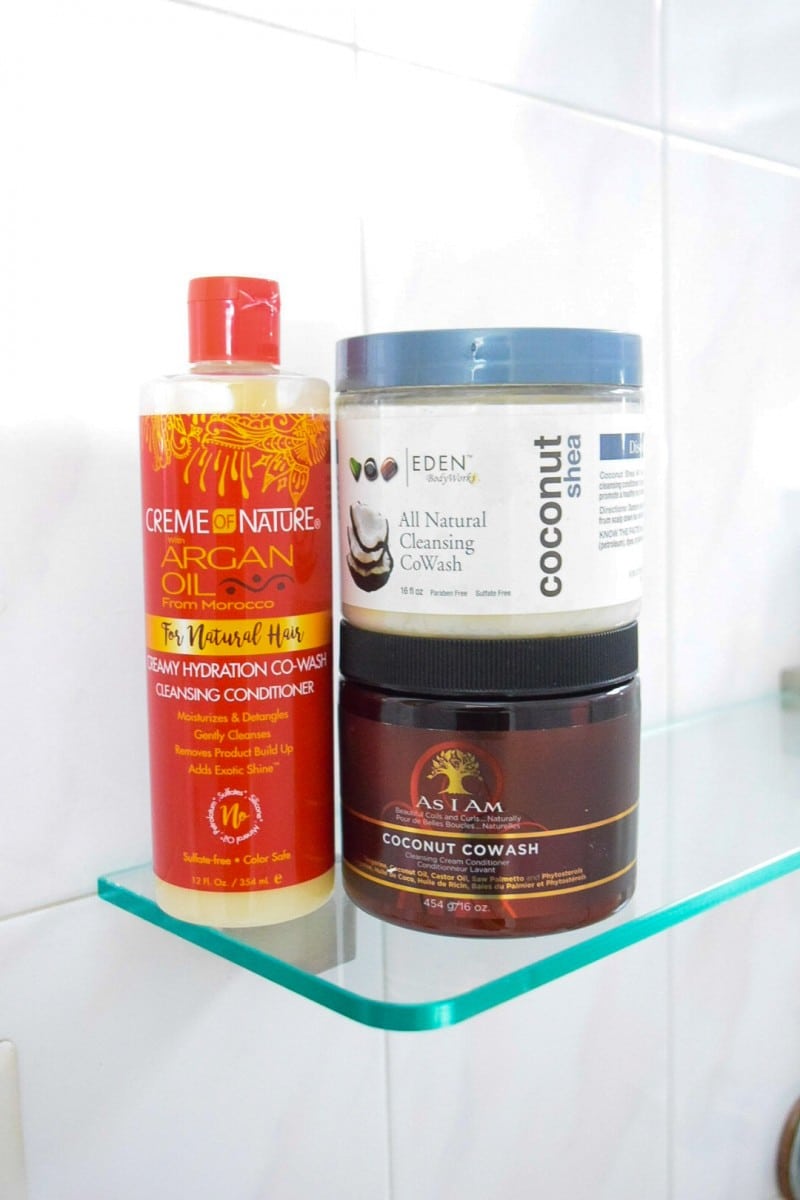 Answering some more questions on the topic of the best cleansing conditioner for natural hair
Do you use co wash before or after shampoo?

If you decide to use both a co wash and shampoo, you should definitely shampoo first. The reason being that, the co wash will add back moisture to your hair after shampooing.
Do you co wash on wet or dry hair?
You use co wash as you would a shampoo, on wet hair.
Related: MORPHE BROW PENCIL REVIEW AND WHY I AM DISAPPOINTED
Can I use co wash as a leave in conditioner?

No. It is not advisable to use co wash as a conditioner. You should always rinse the co wash properly from your hair before styling.
What is pre poo and co washing?
Pre Poo and co washing are basically the same. Some companies give their products different names but the same process applies. They are commonly called:

• Pre Poo
• Co Wash
• Co Washing Conditioner
• Cleansing Conditioner
• Conditioning Cleanser
Some people will pre-poo with a co wash before using a regular shampoo. While others may only pre-poo with a co wash, which replaces their shampoo, then use a conditioner. It comes down to personal preferences but they are one in the same.
Do you have to wash out Cowash?
Yes you should always wash out the co wash from your hair before styling.
Related: 5 BEAUTY HACKS THAT WILL SAVE YOU TIME AND MONEY
Conclusion
If you are in search of the best co wash for natural hair you have many options to choose from above. While every hair type is different and most products may have a different results for each.
These are indeed some of the best drugstore conditioner for co-washing. The best part is that they are all curly girl approved products that work really well for all naturals.
Shevy
Hi! I'm Shevy! I'm the Founder and Managing Editor of Travel Beauty Blog est. 2016. I am also the Founder of Shevy Studio Marketing Agency where I work with entrepreneurs and bloggers on SEO/Content Strategy, Web Design and Consultancy.