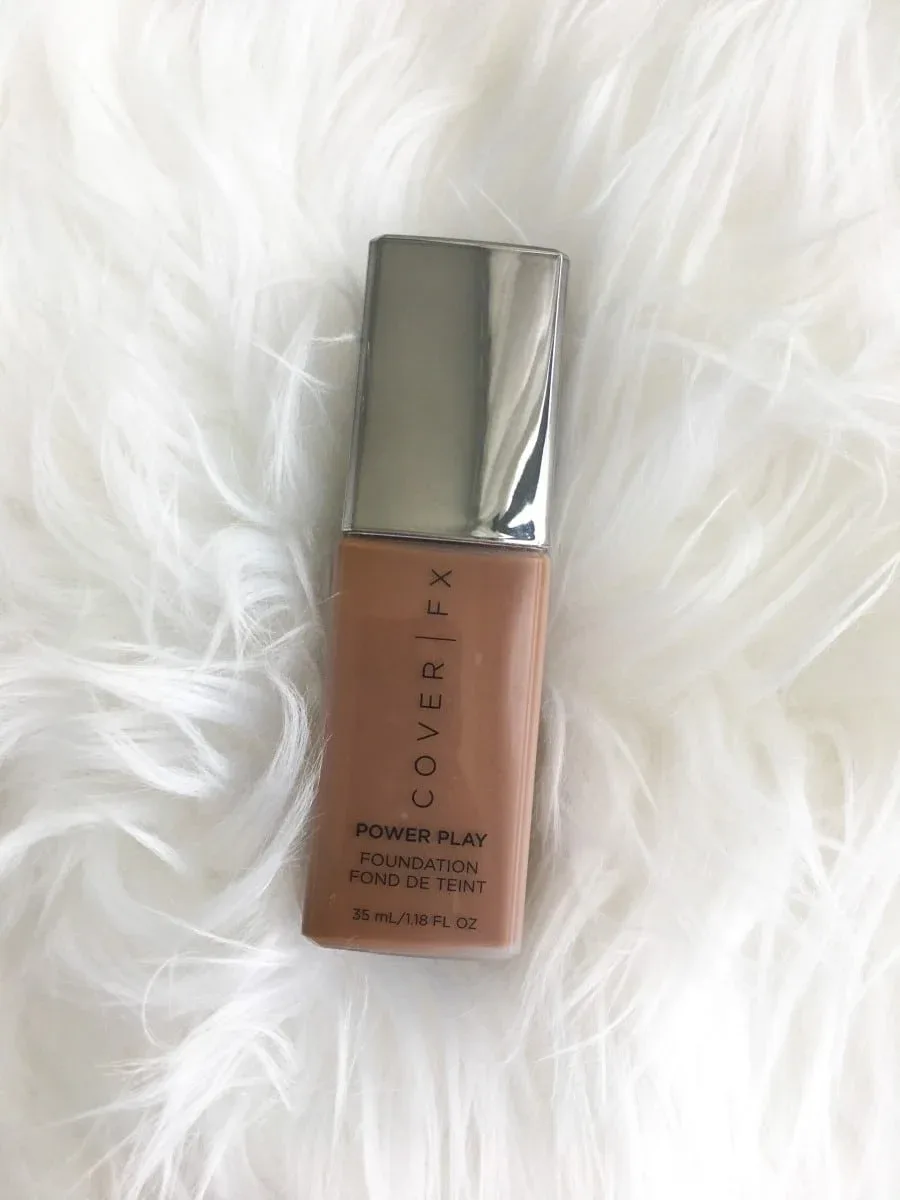 Last Updated on 10 months by Shevy
Cover FX Power Play Foundation
I was ecstatic to receive both the Cover FX new Power Play Foundation and matte setting powder to review. Mainly because I had always wanted to try products from Cover FX but had not gotten the chance to do so. It's been a few weeks now since I got the products and started using them. So I figured now is a good time to do a review. First I'll talk about the foundation then I'll do a quick review of the setting powder as well.
*I earn a small commission if you purchase through any of my links at no extra cost to you. The Cover FX Foundation and Setting Powder were gifted to me by Influenster for review purposes. However, all opinions expressed are my own.*

Is The Foundation Any Good?
The Cover FX Power Play Foundation is considered one of the best foundation in the game. It comes in 40 different shades and are sweat proof and transfer free. The formula provides all-day coverage, a weightless matte finish and powerful pollution defence. It absorbs oil and sweat from skin without stripping moisture and provides a creamy texture for easy blending.
Related: THE BEST SKINCARE DUPES FOR THE MOST POPULAR PRODUCTS
Does It Oxidises?
No the foundation does not oxidise so you can definitely get it in the shade you normally wear.
Is It Suitable For Oily Skin Types?
Yes. Even if you have oily skin or a combination, you can still use the foundation because it offers a semi-matte coverage. 
Does It Clog Pores?
No it does not. It is non comedogenic and oil free, therefore it has been formatted to avoid the clogging of pores.
How Long Does It Last?
How long it lasts depends on how long you keep it on your face. Personally, the longest time I've worn it was about up to 8 or 10 hours. At the time of removal, my face did not look much different than when I had applied it earlier in the day. According to company, it promises coverage for at least 12 hours.
What's The Formula Like?
According to Cover FX, it is a liquid foundation that provides all-day waterproof, sweat-proof, transfer-proof coverage, a weightless matte finish and powerful pollution defense. The formula is made with an ultra-fine powder trio to blur the appearance of pores and a fermented algae extract to protect against free radicals.
Related: THE BENEFITS OF AND HOW TO USE GARNIER MICELLAR WATER
Key Ingredients
Fermented Algae Extract: Helps defend the skin against urban pollutants and environmental stressors.
Rice Hull Powder: Absorbs oil and sweat from the skin without stripping moisture.
Rice Bran Wax: Provides a creamy texture for easy blendability.
Suitable For Which Skin Types?
All their products are recommended for all skin types and every skin tone imaginable. Normal, combination and oily.
Related: 5 Beauty Hacks That Will Save You Time And Money
The Cover FX Power Play Foundation Shade Range
As you can see from the swatches of all 40 shades below, it starts from light and goes all the way to deep.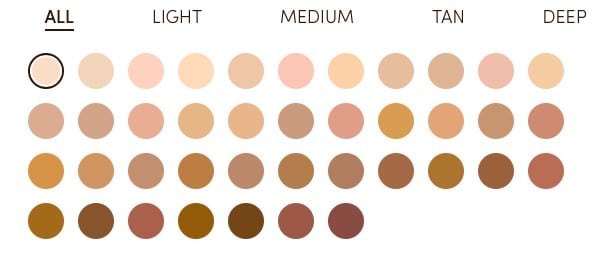 Photo cred: coverfx.com
What Shade Do I Use?
Prior to receiving these products, I have never used anything from Cover FX. Having to choose a foundation shade online for the first time can be a little challenging. For first time foundations, I prefer going directly to the stores for them to test my complexion and thereafter order them online.
But in this instance, I was given an e-chart to select my best match and I chose N100. Which happens to be smacked in the middle of TAN and DEEP. Honestly, its not too far off from my MAC NW45 but its just a bit too dark for my liking. Although visibly a bit darker than my usual shade, I can definitely get away with using it.
If I have to repurchase this foundation I'll surely get the G90 which is the first shade under TAN, as I think it would be a closer match. So if you are my complexion and use MAC NW45 you can consider this as well.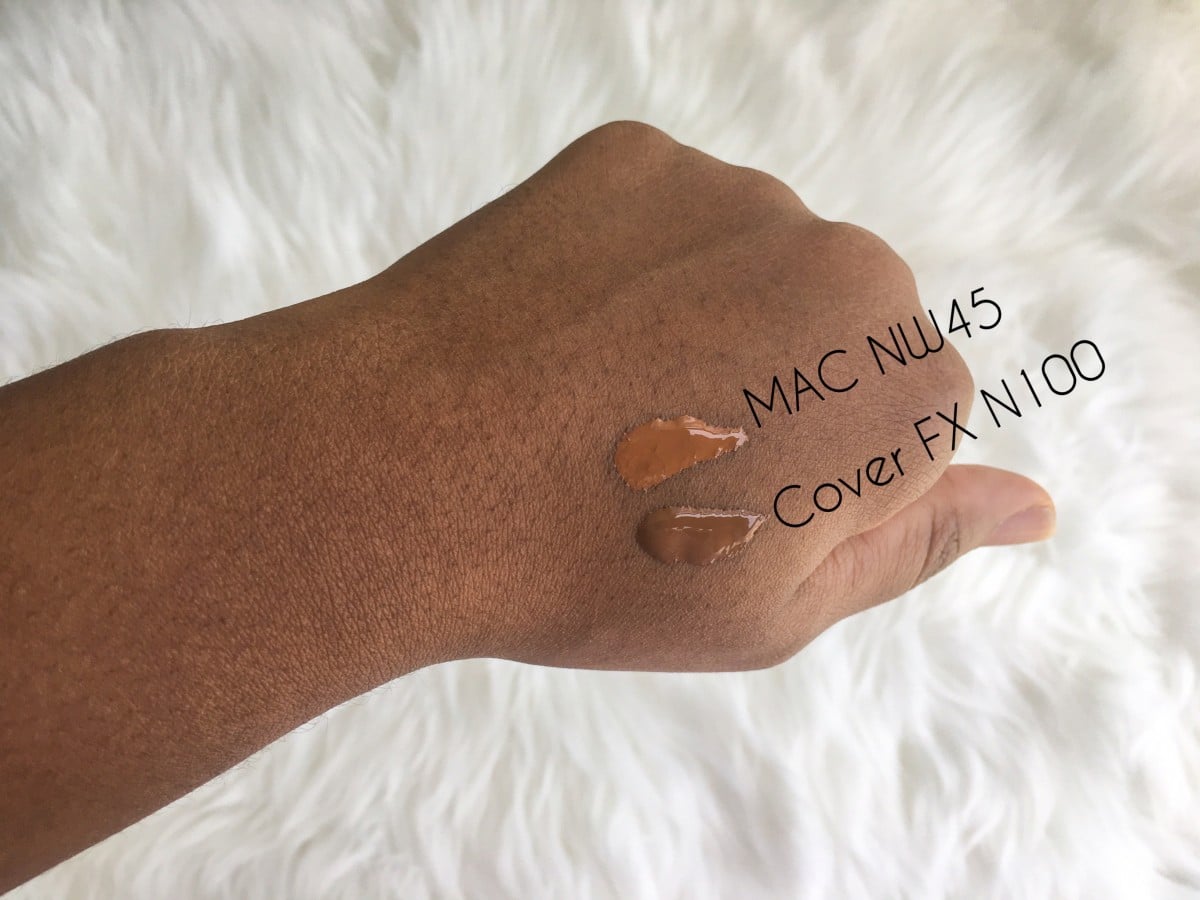 Cover FX Power Play Foundation Review – Size & Price:
Size: 35ml / 1.18 full oz of product
Cost $44
Packaging
The foundation comes in a plastic bottle with a nozzle like head. It requires you to lightly squeeze the bottle in order to retrieve the product. This doesn't bother me at all because its a controlled way to get just enough product without any spills. I also don't mind that the bottle is plastic and not glass, because that makes it easier to take it with me in my makeup bag.
Related: THE ULTIMATE GUIDE TO THE BEST SUMMER BEAUTY PRODUCTS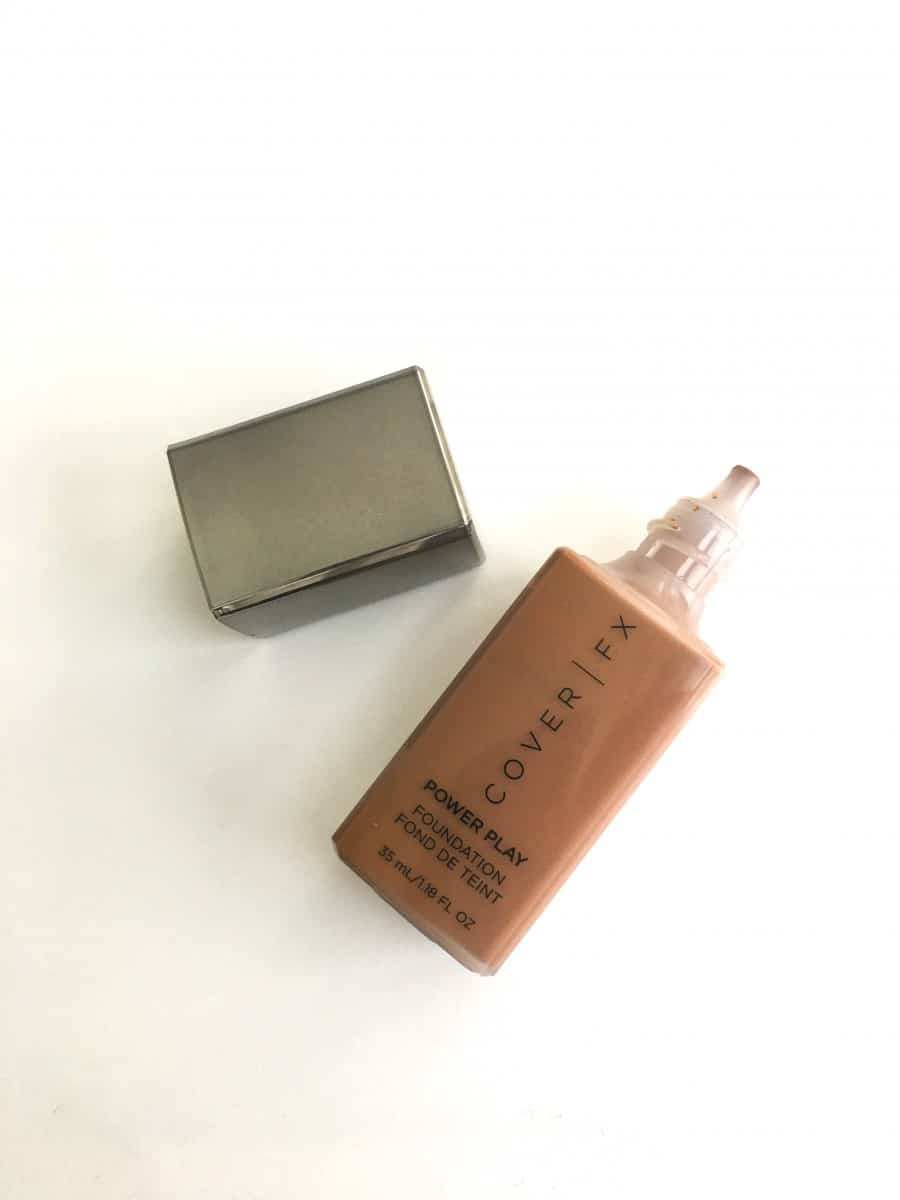 How To Use Cover FX Power Play Foundation:
Shake well before use.
Apply to face using a foundation brush, sponge or fingertips and blend until smooth.
Layer to build coverage as desired.
How To Apply The Foundation:
[videos file="https://www.youtube.com/watch?v=-wsjFjEfZig&feature=emb_title"][/videos]
Is It Worth The Cost?
Yes it is worth the $44 price tag in terms of quality. For me, product quality comes first, followed by packaging and ease of use. However, at that price it does not have a luxury feel or look when compared to the MAC liquid foundation for instance. Considering that Cover FX is not a drugstore brand, they could have made it look and feel like you paid $44 for it. But as I said, this is not a big issue for me at all.
Does Cover FX Use Clean Makeup?
One thing I love about Cover FX is that they use clean ingredients for their beauty products. Their products are chemical free. Free of paragons, talc, fragrance, mineral oil, gluten, sulphates and phthalates. In fact, they are both cruelty free and vegan, so what more could a girl possible ask for in a makeup brand?
Related: AN OUTLINE OF THE BEST DRUGSTORE MAKEUP ALL UNDER $20
My Cover FX Power Play Foundation Notes:
Buildable medium-full coverage foundation even with a little bit of product applied to my face
The foundation is definitely long-wear therefore I do not need to reapply at any time during the day
There are 40 shades of foundation to choose from so that's a plus
Products are matte and keep my face matte even after sweating profusely
On par on quality and pricing when compared to foundations from similar makeup brands
Both foundation and setting powder goes hand in hand and can be used on all skin types
The packaging is light-weight which makes it great for travelling, as it is made from hard plastic as opposed to glass
A little bit of product goes a long way
The nozzle on the foundation bottle makes application easy without getting products everywhere
Consistency of the foundation is not too thick neither not too runny
Weightless formula, feels natural on my face and doesn't cake.
Read Next: Best Summer Beauty Products

---
Cover FX Matte Perfect Setting Powder Review
In addition to the foundation, I was privileged to have received the setting powder as well. I got it in DEEP, which is the darkest of the three shades. It is a loose powder that instantly sets makeup without settling into fine lines and minimizes shine while imparting a matte finish.
Features Of The Setting Powder
Retails for $35
Size: 10g / 0.35 oz of product
Shades: Light, Medium, Deep
Skin Type: Normal, Combination, Oily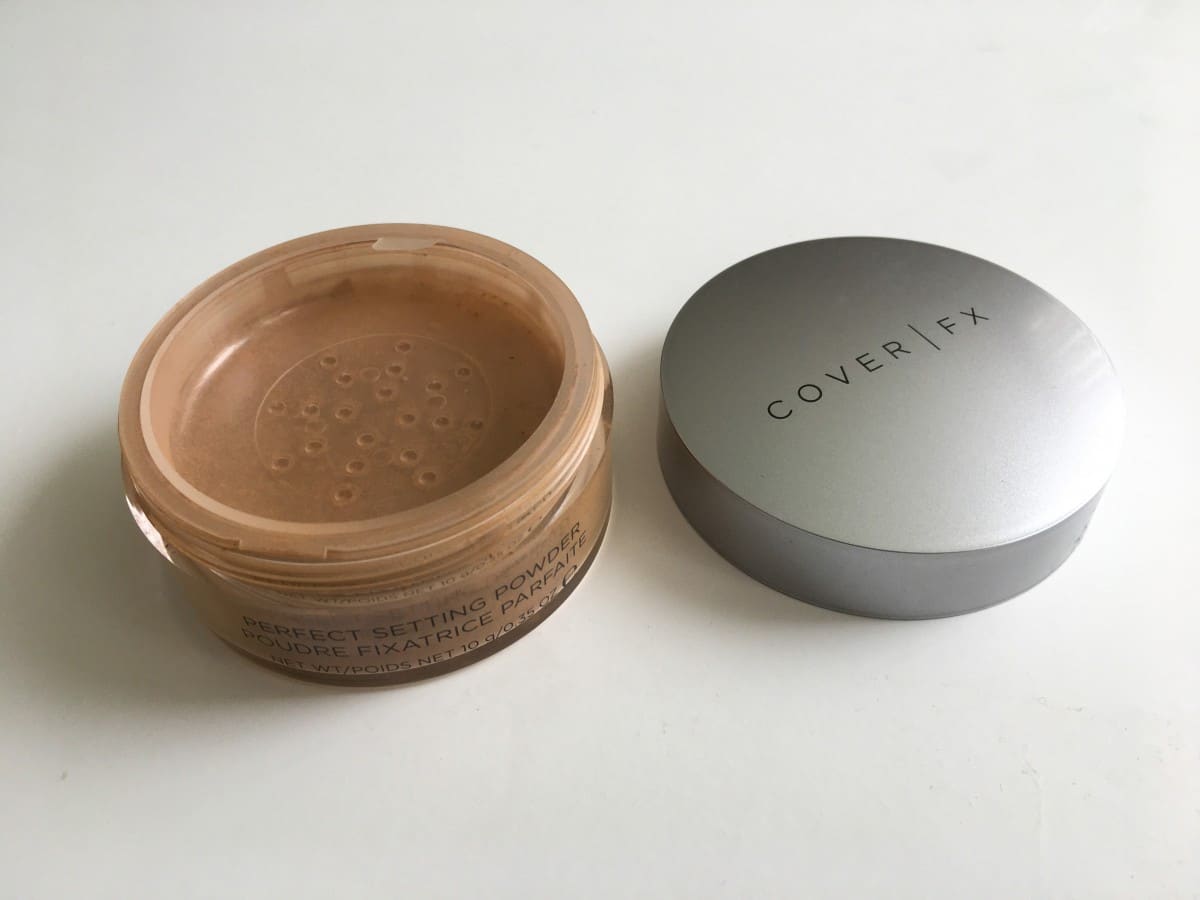 Key Ingredients Of The Perfect Setting Powder:
Micronized Green Tea Leaves: Soothe skin and help protect against free radicals.
Kaolin Clay: Minimizes shine, absorbs excess oil and blurs the appearance of pores.
Vitamin C, Vitamin E and Vitamin F: Provide rich antioxidant defense to help protect against environmental stressors.
Related: 5 BEAUTY HACKS THAT WILL SAVE YOU TIME AND MONEY
How To Use It
After applying makeup, pick up powder using a powder brush and tap off the excess.
Press, roll and lightly sweep across the face for an instant matte finish.
My Experience With Using It
Similar to the Cover FX power play foundation, this setting powder was an exact match to the foundation. I believe the medium would have been a better match for my complexion. Other than that, I had no issues with the product and it works just as great as other setting powders from other brands. My go-to is the Sacha Buttercup Setting Powder by Sacha Cosmetics and it retails for US$25.
Where To Purchase Cover FX Products?
You can purchase the foundation and setting powder directly from Cover FX website or from makeup retailers like:
Ulta
Sephora
Selfridges
Liberty London
Look Fantastic &
Beauty Expert
Related: HOW TO START A MAKEUP COLLECTION: WHAT YOU NEED
How Long Does Cover FX Take To Ship?
Your order will arrive approximately 3 – 10 business days from date of purchase, excluding statutory holidays. Coverfx.com currently ships to Canada and the United States only.
Other Products I Want To Try Next From This Brand:

Summary
If you have never used products from Cover FX before I highly suggest that you try the foundation and setting powder together. Since I got them I gave my other foundations a rest and that doesn't happen often. That's it for my Cover FX Power Play Foundation and Setting Powder Review.
Hope you enjoyed it and that it helps with your future purchasing decision should you decide to invest. Remember to hit the share button below and also subscribe to my blog so that you never miss an update.
Customer Reviews
For more customer reviews about the Cover FX Foundation you can check them out here on Makeup Alley.
Shevy
Hi! I'm Shevy! I'm the Founder and Managing Editor of Travel Beauty Blog est. 2016. I am also the Founder of Shevy Studio Marketing Agency where I work with entrepreneurs and bloggers on SEO/Content Strategy, Web Design and Consultancy.