Last Updated on 9 months by Shevy
Styling A Leopard Print Skirt Outfit
There are different ways you can style a leopard print skirt outfit to make it look classy and chic. A trend that you can wear for spring, summer fall and even during the winter months.
We are a participant in various affiliate marketing programs and may earn a commission for any purchases made through these links at no extra cost to you. Read full disclosure here.
The animal print trend has rightfully gained its place as a classic and timeless wardrobe staple. So in this post I am going to show you how to style your leopard print skirt outfit without looking frumpy. I am also going to answer some common questions that people normally ask with regards to styling leopard print skirts.
Related: HOW TO STYLE LEATHER LEGGINGS IN 5 EASY WAYS
Where To Shop The Best Animal Print Skirts Online
I'll share the links to the best leopard print midi skirts I managed to find in stock online. This leopard print midi pleated skirt that I'm wearing is from Boohoo but it's currently out of stock there.
However, I found a few which were a very close match and are still in still in stock. It's a hot trend that literally sells out in minutes so you've got to get it whenever you see it. Check out how I styled this animal print pencil skirt here all the way back in 2018.

How To Make A Leopard Print Skirt Outfit Look Chic
You can style your leopard print skirt outfit to look chic, by adding the right accessories to compliment it. Here's how to style a leopard print pleated skirt without looking frumpy:
Wear Minimal Jewelry
Fashion jewellery has a way of transforming any ensemble from looking basic to classy. Keep it simple by wearing a small pair of earrings, preferably gold, silver, cream or white. Add a dainty matching necklace and a nice wrist watch in a similar colour.
Wear Luxury-Look Sunglasses
To spice up your cute skirt outfits, add a pair of luxury-look sunglasses. The one I'm wearing is an old pair from Quay Australia but Illesteva also has some nice affordable ones too.
Use A Statement Bag
Use a Designer-Look or statement bag. Check out this really cute Bottega lookalike clutch I found on Amazon for under $30. It's a mini clutch crossbody bag. There is also this bigger bag which can be handheld or used as a crossbody as well.
Wear A Leather Belt
Cinch the waistline with a black Gucci Leather Belt or Gucci dupe belt like this one here.
Knott Your White Tee
Pair your leopard skirt with a plain white tee and tie a knot to the front of it or at the side. My tee is from Amazon basics line – see the white crewneck t-shirt here and the white v-neck t-shirt here.
Related: HOW TO WEAR A WHITE TEE AND LOOK GOOD
Wear Strappy Heels
Finish off the look with your favourite pair of strappy heels sandals. If you scroll down, you'll see I've linked some cute shoes that you can style with your animal print skirt outfits for spring or summer.
Styling Tips For: Spring, Summer, Winter and Fall
During the Spring/Summer months this look would be ideal with t-shirts, sandals and slides. However, if you decide to wear the leopard print skirt outfit during the fall and winter months then you can substitute the tee for a good cozy knit sweater.
Likewise with the shoes, you can wear ankle booties or a pair of knee high boots to keep your feet nice and warm.
Related: WHERE TO GET THE BEST SUMMER OUTFITS FOR CHEAP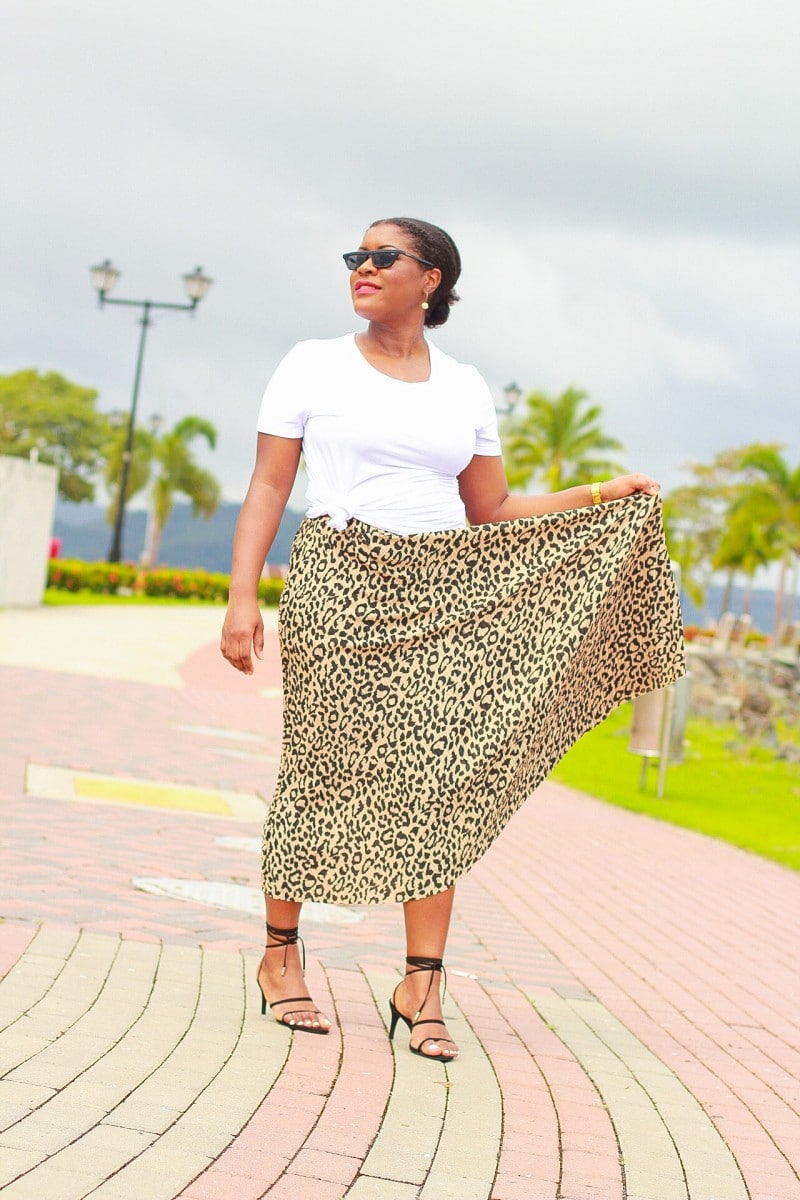 Answers To Common Questions About The Animal Print Trend
Is Leopard Print In Style 2023?
Yes, the leopard print is a classic and timeless style that you can wear all year long. So, yes you can still wear the animal print trend in 2023, as it is not going anywhere. It's just one of those pieces that you will have for many years.
Is Leopard Print Trashy?
No. The leopard print trend is not trashy. Women and men of different caliber wear the trend. Even celebrities have been spotted wearing animal prints. The leopard print is a classy and trendy wardrobe staple for individuals of different walks of life.
What Kind Of Woman Wears Leopard Print?

Leopard Prints tends to be associated with sex appeal and femininity. Essentially, fierce women with a modern sense of style, who appreciates a good classic staple and wants to make a fashion statement will gravitate towards the print. Grab a copy of Jo Weldon's Book "Fierce: The History Of Leopard Print" to learn about the history of leopard print patterns.
What Shoes Go With Animal Print Skirts?
When it comes to choosing the right pair of shoes to go with animal print skirts, the possibilities are endless. You can wear them with whatever shoes you're most comfortable wearing. But these are just my suggestions on the best shoes to wear with midi skirts:
Lace-up Sandals
Loafers
Sneakers
Wedges
Boots
Mules
Strappy Sandals
Booties
Slide Sandals
Flip Flops
Ankle Pumps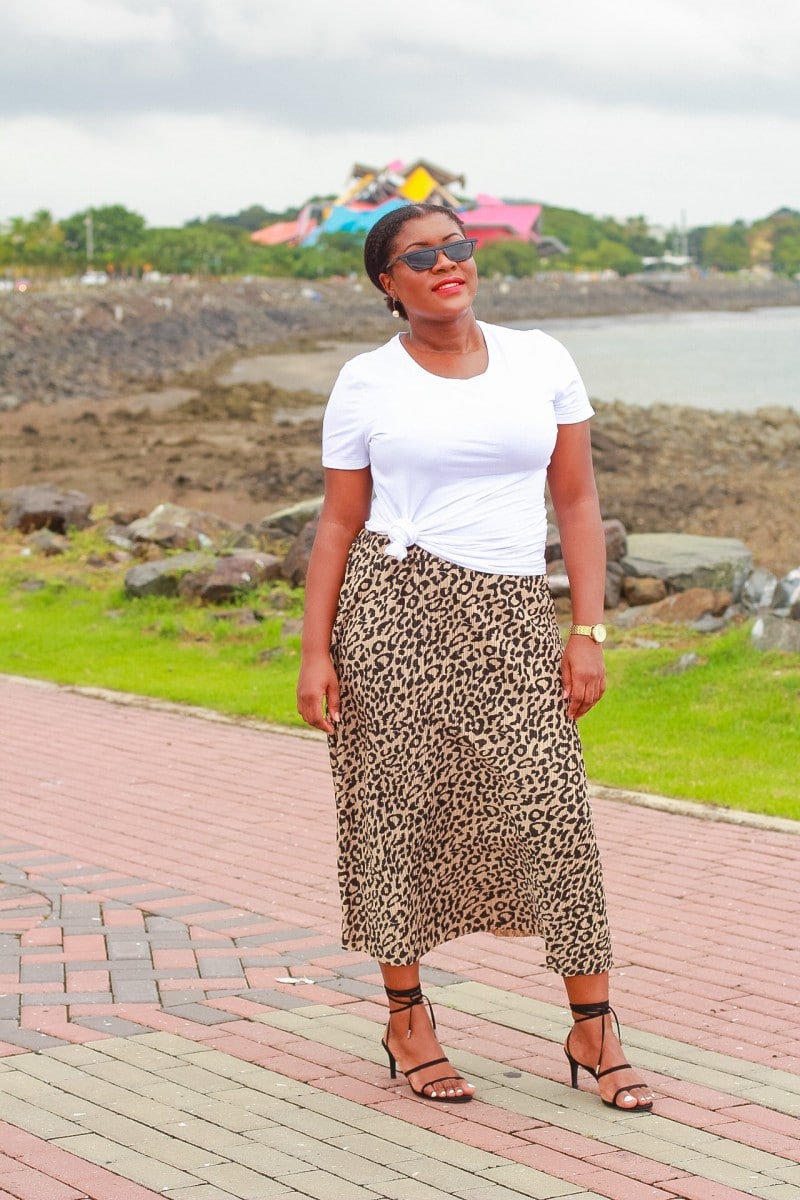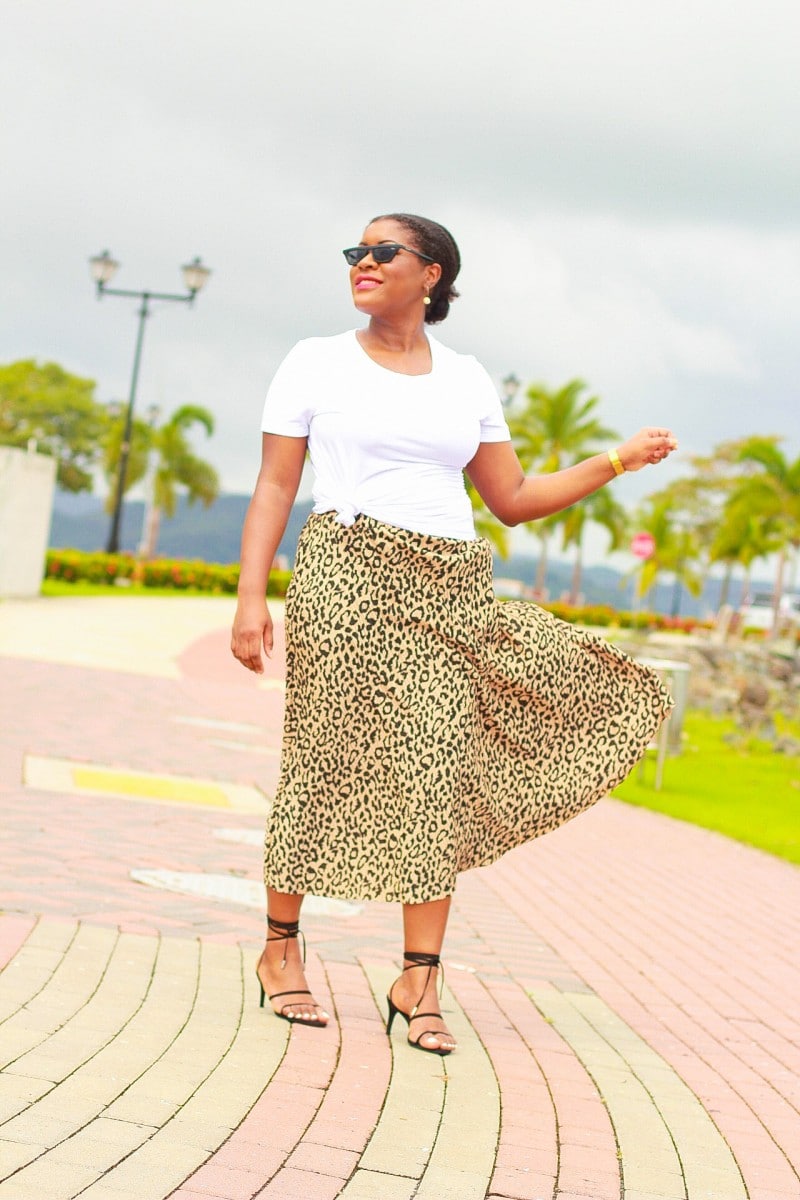 What Colors Can You Wear With Leopard Print?
Well it depends on the colour of the leopard prints you are wearing. As you know, the original colour is brown and black but you can find them in other colours such as green, red, black and white, purple and orange just to name a few. In terms of the traditional colour, its best when you wear the trend with blue denim, white, black, neutrals, burnt orange, green, yellow or red.
Related: HOW TO MAKE A STATEMENT WITH RUFFLED BELL SLEEVES DRESS

What Tops Go With Leopard Print Pleated Skirts?
You can wear your leopard print skirt outfit with a plain white tee, like I did mine. You can also style them with blouses, button-up shirts, sweaters and denim jackets.
What Are The Different Styles Of Leopard Print Skirts
More Outfit Ideas To Style Your Animal Print Skirt Outfit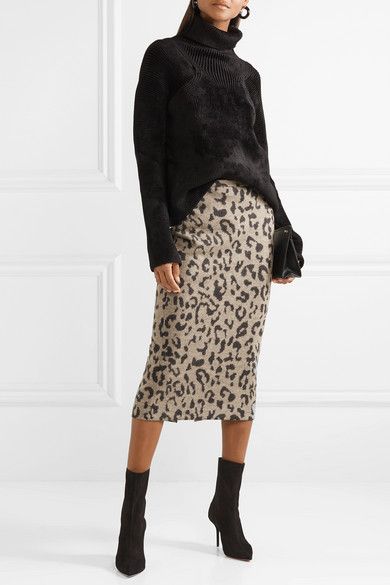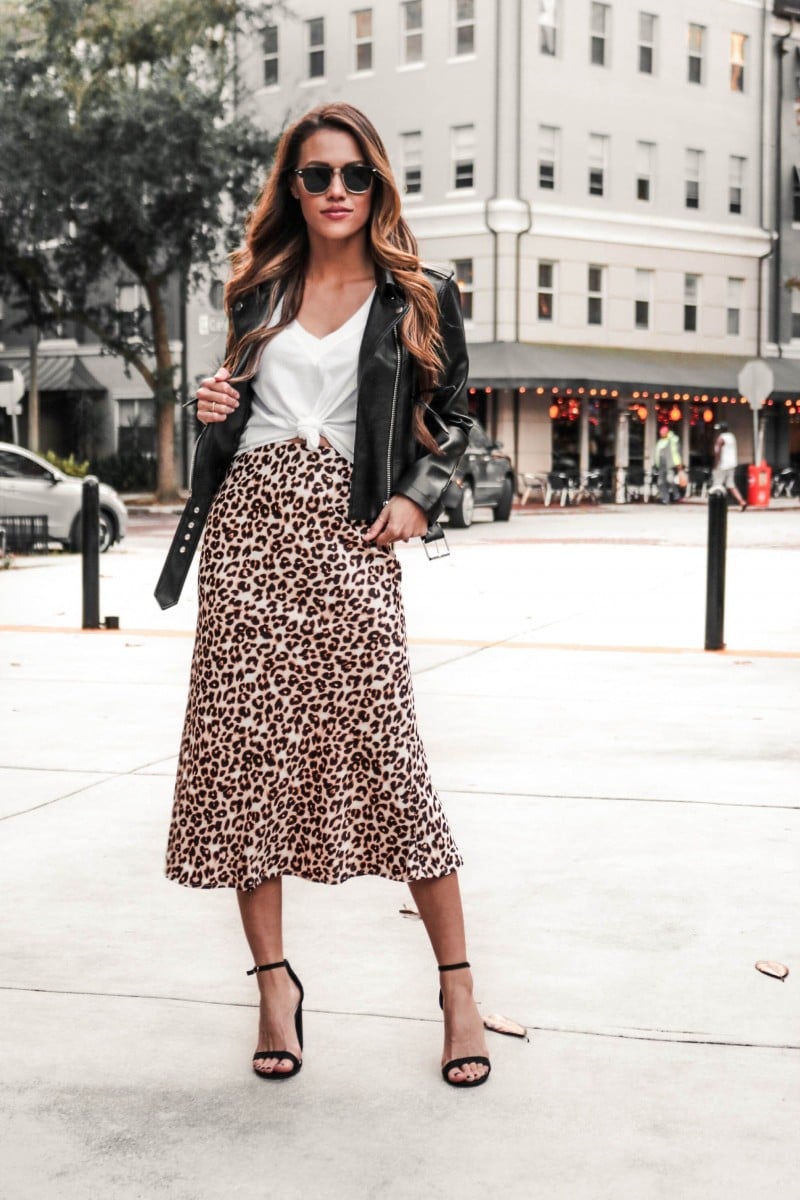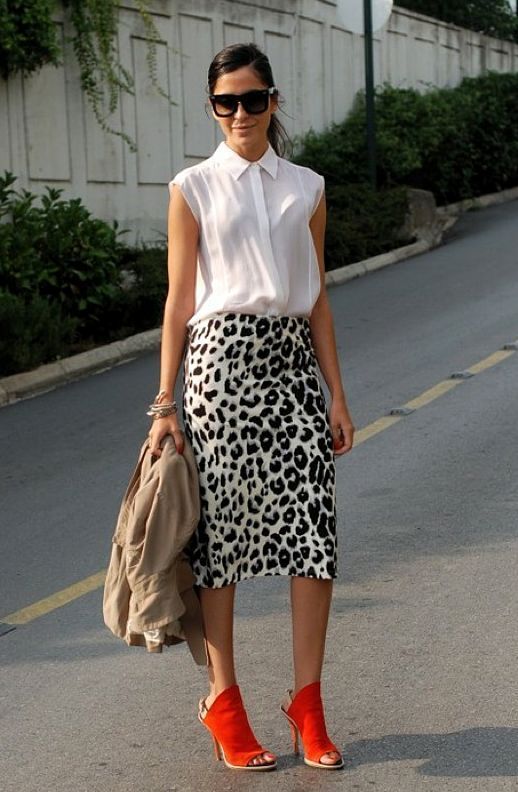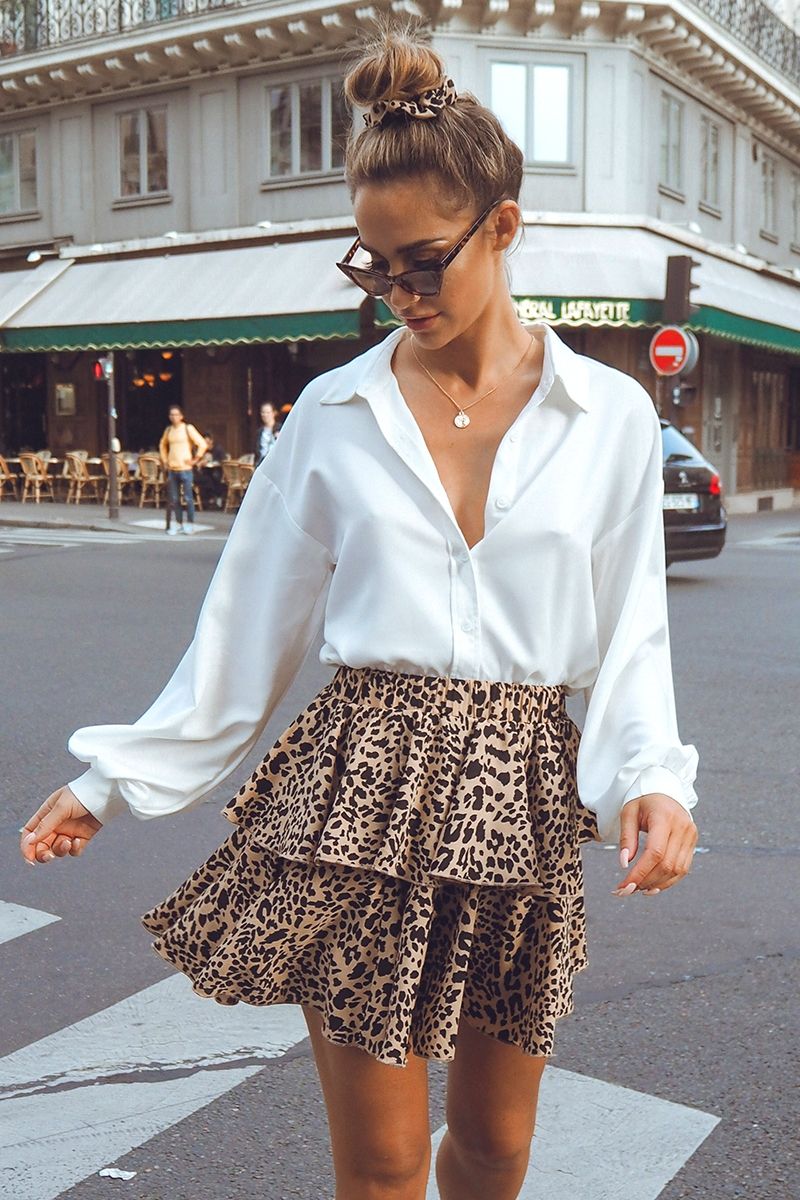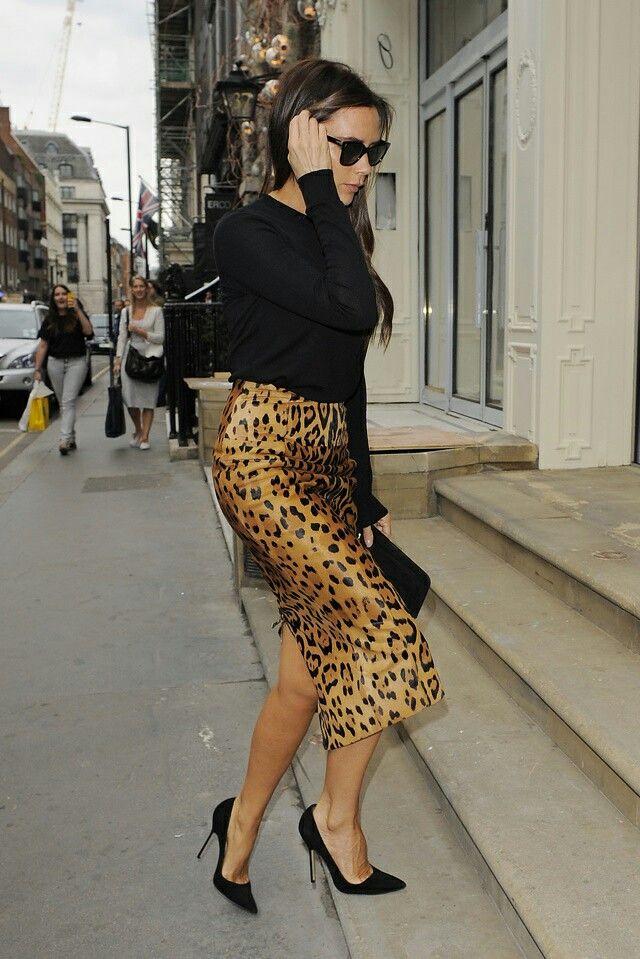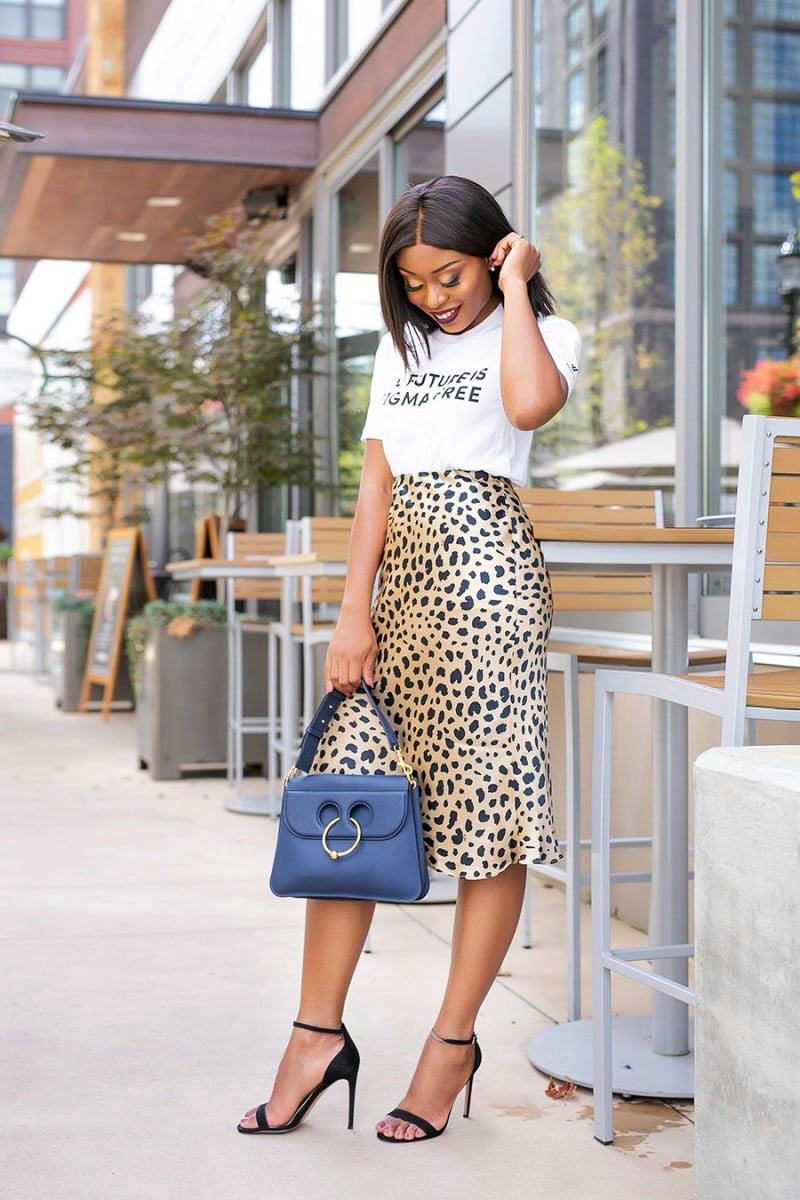 Photo sources: Pinterest.com
Shevy
Hi! I'm Shevy! I'm the Founder and Managing Editor of Travel Beauty Blog est. 2016. I am also the Founder of Shevy Studio Marketing Agency where I work with entrepreneurs and bloggers on SEO/Content Strategy, Web Design and Consultancy.