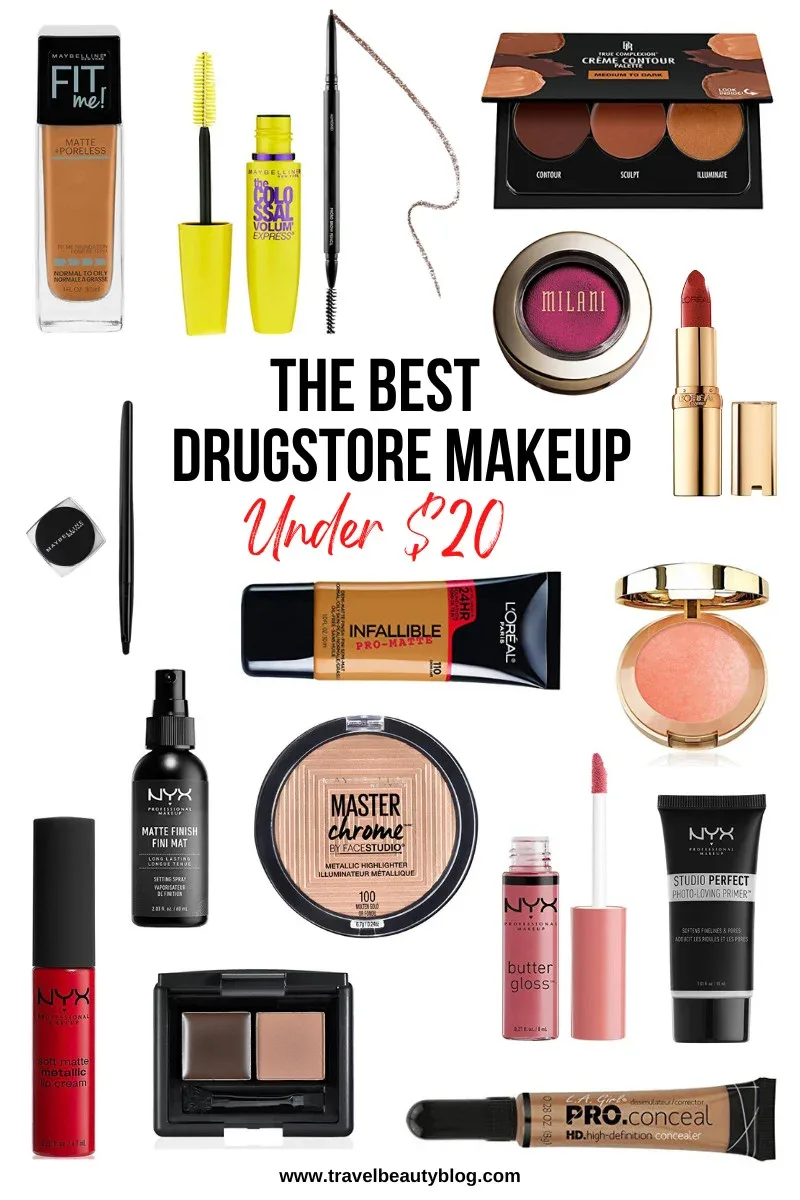 Last Updated on 9 months by Shevy
The Best Drugstore Makeup For Less
I've rounded up the best drugstore makeup that won't break the bank. From foundation to concealer, these budget-friendly picks will give you flawless coverage for less!
The best drugstore makeup from brands that I swear by, like Maybelline, Loreal Paris, NYX, L.A. Girl and much more!
We are a participant in various affiliate marketing programs and may earn a commission for any purchases made through these links at no extra cost to you. Read full disclosure here.
When it comes to using makeup, I love having a variety of both high end and drugstore makeup.
Related: Cover FX Power Play Foundation Review
So don't hesitate to try the lower priced drugstore makeup because you may be surprised to know that some of these drugstore beauty products hold up better than their more expensive counterparts.
So Exactly What Is Drugstore Makeup?
Before we get into the list of the best drugstore makeup, let's figure out what exactly is considered as drugstore makeup.
Drugstore makeup as the name suggests refers to makeup that you can purchase at drugstores, pharmacies, department and convenience stores. However, these are not the only places they can be found, as they are also sold by retailers such as Amazon, Sephora, and Ulta.
Drugstore makeup are not considered to be high-end or luxury and usually cost less.
Related: Best Of Lancome Skincare Solutions
Have you ever gone to the supermarket or a department store and when you got to the cashier there were a bunch of makeup near to the cash register or on top of the counter?
Those are perfect examples of drugstore makeup although they are not the only locations where you will find them.
Which Are The Best Drugstore Makeup Brands?
Here are some of the best drugstore makeup brands that I use and recommend:
Maybelline
Cover Girl
L'oreal
NYX
Rimmel
Wet n Wild
E.L.F Cosmetics
L.A. Girl
Black Radiance
L.A. Colors
City Color
Milani
Revlon
Almay
Those are some of the best drugstore makeup brands that you will find in almost every drugstore, department store or retailers like Amazon, Walmart, Target, Walgreens, Ulta, Sephora etc.
5 Benefits Of Using Drugstore Makeup Over Pro Makeup
Drugstore makeup are easily accessible to most people and can be found on almost every convenience store/pharmacy/drugstore.
Drugstore makeup is very economical, therefore, you do not need to think twice before committing to purchase.
With drugstore makeup you can achieve the same look as you would with a higher end brand.
Drugstore makeup does not require to have a lot of knowledge on how to use it properly, and are relatively easy to apply.
You can use your drugstore makeup for every day use and save your high-end makeup for special occasions.
The Best Drugstore Makeup 2023: Foundation
What Is The Best Drugstore Foundation?
In my opinion one of the best drugstore foundation is the Maybelline Fit Me Liquid Foundation.
A lot of people I know have used the Maybelline fit me liquid foundation in matte poreless or dewy smooth. Over 3,000 customers have reviewed it on Amazon with a 4.5 out of 5 ratings.
The only thing I don't like about this product is the way the bottle head is. It has less to do with the product itself, and more so to do with the packaging.
Its hard not to get product everywhere when you have to pour it from the head like that. Maybelline should have put a little more thought into their packaging.  
A lot of product comes out all at once and things can get messy if you are in a rush or not careful. They should really consider making pumps which would be more manageable.
The Best Drugstore Makeup of 2023:
It took me a very long time before I went out and purchased this Fit Me Matte Poreless foundation.
Although I had seen enough reviews to persuade my purchasing decision I still decided to wait.
Now, this foundation has officially been added to my daily makeup collection. Its great when you can find a reasonably priced product that gives similar results to a higher-end product. In this way, I can use my expensive makeup on special occasions only.
PROS
lightweight
long-lasting
full coverage
costs less than $15
thick consistency
CONS
bottle does not come with a nozzle or pump
The Best Drugstore Makeup:
What is a makeup routine without highlighting, contouring and concealing because I honestly do not know? Well this is what I use the LA Girl Pro H.D. Concealer for.
I use the lighter shades for highlighting, a foundation-match colour for concealing and a darker shade for contouring. Nonetheless, for contouring, I prefer to use a light-weight powder or a contouring powder palette.
Related: 5 Beauty Hacks That Will Save You Time And Money
Also, I use the lighter shades to clean up my brows after filling them in and over my eye lids as an eye shadow primer. 
It's such a useful multi-purpose product and a staple for even the most popular beauty bloggers and YouTubers. A must-have staple for your beginners makeup kit.
The Best Drugstore Makeup:
While some people prefer the Maybelline Big Shot Blackest Black Washable Mascara, I love the Volum' Express. Personally, I have used both and they produce more or less the same results. They are jet black and creates long, full lashes that are difficult come off easily with just water.
The Best Drugstore Makeup:
If you are a woman of colour and have a hard time finding contour palettes then I highly recommend this Black Radiance palette.
The Best Drugstore Makeup:
For those of us who have a hard time applying liquid liner, the Maybelline Long Lasting Drama Gel Eye Liner is a great alternative. It is jet black and waterproof so it's smudge proof and extremely difficult to come off on its own.
The Best Drugstore Makeup:
Have you ever tried any of NYX's lip glosses? They are so creamy and nice, not too thick nor too thin which makes them irresistible.
The Best Drugstore Makeup:
Single eyeshadows are the best for travelling and this beautiful purple Milani eyeshadow is a must-have.
The Best Drugstore Makeup:
A must have for my makeup bag is this NYX Soft Matte Metallic Lip Cream.
The Best Drugstore Makeup:
Using a primer on your face before applying makeup not only gives you a flawless finish but also protects your pores from getting clogged.
The Best Drugstore Makeup:
L'oreal lipstick, it doesn't have to be this exact colour but this one is the color Blazing Lava Red. Such a beautiful red lipstick that is perfect for everyday wear.
Related: YSL Mini Lipstick Review
The Best Drugstore Makeup:
A metallic highlighter that has almost the same effect as a high-brand and highly rated by many.
The Best Drugstore Makeup:
E.L.F. Eyebrow kit is one of the best alternatives to the Anastasia Beverly Hills no fade brow kit.
The Best Drugstore Makeup:
For a matte shimmery highlight finish, I recommend getting the Milani baked blush and this one is called Luminoso.
The Best Drugstore Makeup:
Read full review of Morphe Micro Brow pencil here.
This retractable mirco brow pencil by Morphe with double-ended mechanical pencil fills will define and shape your brows like nobody's business.
The Best Drugstore Makeup:
Not many people use setting sprays. However, if you are one of those who uses them, be sure to include NYX matte finish setting spray in your makeup kit.
The Best Drugstore Makeup:
This is my first city mini palette purchase from Maybelline. Normally I do not give into the social makeup hype but I had to support my girl Shayla on her collaboration.
Related: THE BEST SKINCARE DUPES FOR THE MOST POPULAR PRODUCTS
She is one of my favourite Beauty Bloggers which I've been following on Instagram for years. With that being said, I just wanted to support a fellow successful black woman.
MY INITIAL REACTION OF THE CITY MINI PALETTE
This paletter is giving smokey eyes vibes and knowing a little bit about Shayla, I was not surprised when I saw the colours she chose for this palette. If you are also a fan of hers you would also know that it contains some of her favourite shades.
It contains all the colors that can give you both a day look and a smokey eye look (another one of her go-to looks).
Four of the 6 shades are shimmery and the other 2 are flat. However, all of the colors are highly pigmented and that is why I love this palette so much.
SWATCHES OF THE CITY MINI PALLETTE
PROS
budget friendly; cost less than $15
highly pigmented
great for travelling due its compactness
multiple makeup looks can be achieved
no fall-outs when applying
Maybelline and Shayla did a good job in putting this together and I honestly do not have any cons. In my opinion it was well thought-out and properly executed.
The Best Drugstore Makeup:
Another holy grail foundation without the scary price tag and works just as good as high-end. L'oreal infallible foundation is longwear and it gives a full coverage face.
A lot have been said about this foundation by L'oreal and the consensus seems to be all positive reviews.
I mainly use this foundation is in the shade 112 or for highlighting, I use 109 which is about 2-3 shades lighter than my skin tone/foundation. Sometimes I mix 109 with my darker shade YSL foundation to create a perfect match for my face.
There were a few times when I did apply this Infallible Pro-matte foundation on its own just to see how it works. You should also know that it stays on and is very difficult to remove with just water.
Related: Everything You Need To Know About Fenty Beauty
I suggest using makeup remover wipes, micellar water, a deep cleansing oil or an exfoliating face scrub. Depending on your coverage needs or the type of finish you prefer, you also want to check out the Infallible Fresh Wear Liquid Foundation.
PROS
reasonably priced for a professional product
medium to full coverage
long-lasting
a little bit goes a long way
nice thick consistency
lightweight
can be used as a highlight as well
Maybe in the future I will purchase my shade and use it as a foundation as opposed to a highlighter. But my only problem is that I rarely use full-coverage foundations.
Earn Cash Back When Shopping For The Best Drugstore Makeup / The Best Drugstore Beauty Products
You can shop any of these beauty products through Ebates and earn cash back on all orders. If you always buy makeup then you have nothing to lose by signing up if you have not already done so.
There are tons of retailers and brands on there too so it doesn't have to be only makeup.
Well, that concludes the best drugstore makeup but be sure to let me know which ones are your favourites.
Good luck creating your own collection of the best drugstore makeup on the market.
Shevy
Hi! I'm Shevy! I'm the Founder and Managing Editor of Travel Beauty Blog est. 2016. I am also the Founder of Shevy Studio Marketing Agency where I work with entrepreneurs and bloggers on SEO/Content Strategy, Web Design and Consultancy.