Last Updated on 5 months by Shevy
11 Transitional

Summer To Fall Outfits

+ Ideas
It's time to start thinking about what you'll wear when the weather starts getting cooler. Which means you should start planning your summer to fall outfits.
So, if you are you looking for some outfit ideas for summer to fall transition, we have compiled a list of trendy outfits for you!
We are a participant in various affiliate marketing programs and may earn a commission for any purchases made through these links at no extra cost to you. Read full disclosure here.
The cold weather is inevitable but its better to be fashionably prepared for what's ahead.
However, that doesn't mean that you'll have to spend a lot of money or go out of your way to look stylish.
The idea is to welcome this transitional period and invest in pieces that will work now and when it gets colder.
These tips will not only help you to transition your wardrobe from summer to fall, but also, give you inspiration for creating your summer to fall outfits.
Summer To Fall Transition Clothing Tips
When planning your summer to fall outfits, you want to keep things simple and comfortable. This means wearing layers that you can take off and put on easily.
It is best to wear light colors and loose clothing. Avoid bright colors and patterns if you can and instead, choose neutrals and earth tones.
Start with a Clean Slate
If you're looking to make a big change in your wardrobe, try starting with a clean slate.
This means that you should take everything off your closet shelves and drawers before making any new purchases.
Once you've done that, you can begin shopping for new pieces if required, or putting together the ones you already have.
Build a basic wardrobe
If you want to look chic without spending a fortune, try starting with a basic wardrobe.
You can add accessories later, but if you're going to invest in new clothes, you might as well get something that you can wear year round.
A basic wardrobe is one that includes items that fit into three categories:
1) basics,
2) transitional pieces, and
3) statement pieces.
Basic clothing should be versatile enough to last through multiple seasons.
Transitional pieces are those that can be worn throughout the year.
Statement pieces are those that make a bold fashion statement.
Add Layers
While layering, you still want to be able to move around freely. Start by choosing a few colors that work well together then layer them into outfits.
You can change your look based on the weather.
On warmer days, layer a lightweight cardigan or jacket over a tank top or shirt, paired with a skirt, jeans or trousers. Finish off the look with a hat or sunglasses.
If it's cold outside, you could wear a sweater with a scarf, add a hat or beanie, and opt for a pair of jeans or faux leather leggings.
If it's raining, you could throw on a raincoat and boots.
Incorporate Accessories
Accessories can also play a role in your summer to fall outfits. They are a quick and inexpensive way to add interest to any outfit.
You can add accessories such as necklaces, earrings, scarves, sunglasses, belts and hats to create a cohesive outfit.
Try wearing a fun belt with a simple dress, skirt, or jeans.
If you're feeling extra fancy, add some jewelry like a statement necklace with a casual blouse.
A necklace or bracelet adds instant style without taking away from your outfit.
Add Shoes: Boots, Booties, Sneakers
You can also accessorize with appropriate shoes. It might be a good time to switch out your sandals with heels, boots or sneakers.
Embrace Color
If you want to add some color to your fall/winter wardrobe, try adding a pop of red to your outfit.
A fun way to wear red during the fall/winter is to pair it with darker colors like black, navy or dark brown.
Related: The Best UGG Dupes Available On The Market
While most people tend to stick to warmer and neutral tones, its completely fine to incorporate your favorite colors with basic pieces.
Embrace Trends: Huge Bags or Tiny Mini Bags
You can incorporate vogue into your summer to fall outfits with trendy bags. This season you have a choice between extremely large bags or itty bitty mini bags.
Although mini bags are still a movement, enormous bags are slowly weaving their way through to possibly make a comeback.
Integrate Coats & Puffer Vests
Gradually integrate trench coats, shearling or teddy coats, puffer vests and jackets as they are great for keeping you warm and cozy.
Although a bit on the expensive side, they are timeless and look very flattering.
Outfit Ideas for Summer To Fall Transition
1. A Casual Dress with Sneakers or Sandals
The key to dressing well during the transition from summer to fall is to keep things simple.
You want to avoid wearing too many layers because you will be sweating profusely.
As it may still be hot outside, you can wear a casual dress with sneakers or sandals if possible.
If you are going to wear a dress, choose one that has a loose fit and is comfortable.
2. A Tailored Blazer with a Skirt or Denim Shorts
If you are going out to run errands or shop, then you can go with a simple blouse and denim shorts or skirt.
For tops, go for something lightweight and airy. Avoid anything tight fitting or clingy.
If you're going to wear a skirt, choose one that's relaxed and easy to move around in.
However, if you are going out for an evening, then you should definitely consider wearing a tailored blazer over your top. This will give you a more formal look.
3. Summer to Fall outfits: A Blazer with Trousers or Jeans
Try pairing a blazer with a pair of trousers or jeans. It is one of the easiest ways to dress up your casual wardrobe.
Pair a solid-color blazer with a pair of skinny jeans and add a belt to complete the look.
4. Summer to Fall outfits: A Sweater or Cardigan with Jeans
An easy yet stylish outfit idea is a sweater with jeans. If you plan on wearing a sweater with jeans, opt for a cotton sweater instead of one made of wool.
Cotton sweaters are much lighter than wool ones and won't weigh you down. This will give you a cozy feel while still being fashionable.
5. An Oversized Shirt with Leather Shorts
There are so many ways to sport an oversized shirt for the fall/winter months.
One of my favorite summer to fall outfits is an oversized shirt with a pair of jeans or shorts.
You can wear your oversized shirt with a pair of leather shorts, jeans, wide leg pants or with a denim shorts.
6. Summer to fall outfits: Animal Print Pleated Midi Skirt with Graphic T-shirt
It took me a long time to get comfortable wearing midi skirts but once I did I got hooked.
A great way to style an animal print midi pleated skirt is with a plain t-shirt or graphic tee.
It doesn't have to be animal print, it can be in a patterned design or solid color. Once it starts getting colder you can layer with a leather jacket, coat or denim jacket.
7. Summer to Fall outfits: A Trench Coat with Jeans or Faux Leather Leggings
As the weather starts to get colder its time to substitute the light cardigans and sweaters for heavier coats and jackets.
If you are looking for an easy yet stylish outfit idea for summer to fall transition, then try out a trench coat with jeans.
This will not only make you look chic but also keep you warm. You can pair this outfit with a pair of sneakers or boots.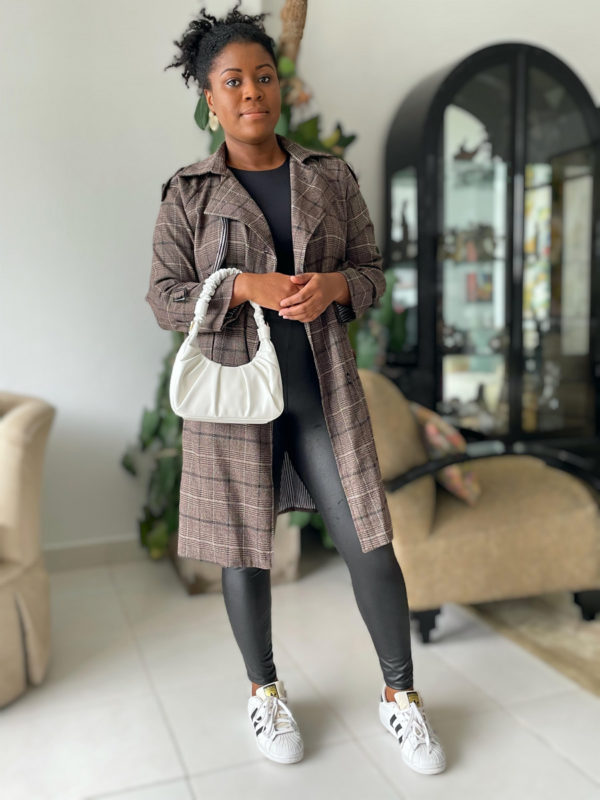 8. Check Shackets with Leggings, Jeans, Trousers or a T-Shirt Dress
Wear a regular sized check shacket with leggings, jeans or trousers. Or try an oversized shacket with a mini t-shirt dress or sweater dress.
Another way to wear this style is: a cropped top layered under a shacket with boot cut jeans.
Alternatively, replace the shacket with a check trucker jacket. For all looks, complete the ensemble with trainers or ankle booties.
9. Summer to Fall outfits: Denim Jacket with Tank Top
You can layer any basic outfit with a denim jacket. For instance, if you're wearing a tank top with jeans, a skirt or shorts, you can throw on a denim jacket.
10. Summer to Fall outfits: Cargo Trousers with Bold Knits
Who doesn't look forward to wearing all the cozy knit cardigans and sweaters?
They are all fall staples and due to this year's fall/winter trends, its completely safe to add some colorful sweaters to your summer to fall outfits / wardrobe.
Style your colorful knits with cargo pants, wide leg jeans or wide leg trousers, faux leather leggings, skinny jeans or with a skirt.
11. Summer to Fall outfits: A Turtleneck Sweater with Denim Jeans or Leather-look Pants
I love a good turtleneck sweater tucked inside a pair of denim jeans or leather pants. Another idea is to style the turtleneck sweater with a leather-look pants.

Wrapping Up Simple Transitional Summer To Fall Outfits
As women we love to dress up in different styles during the hot summer months. But as the summer comes to an end its time to start wearing heavier clothing.
A lot of these summer outfits can also carry you through into the cooler fall weather, if you wear them right.
This summer to fall outfits guide shows you exactly that – how to transition into fall fashion without sacrificing style.
Shop Editor's Picks

Shevy
Hi! I'm Shevy! I'm the Founder and Managing Editor of Travel Beauty Blog est. 2016. I am also the Founder of Shevy Studio Marketing Agency where I work with entrepreneurs and bloggers on SEO/Content Strategy, Web Design and Consultancy.