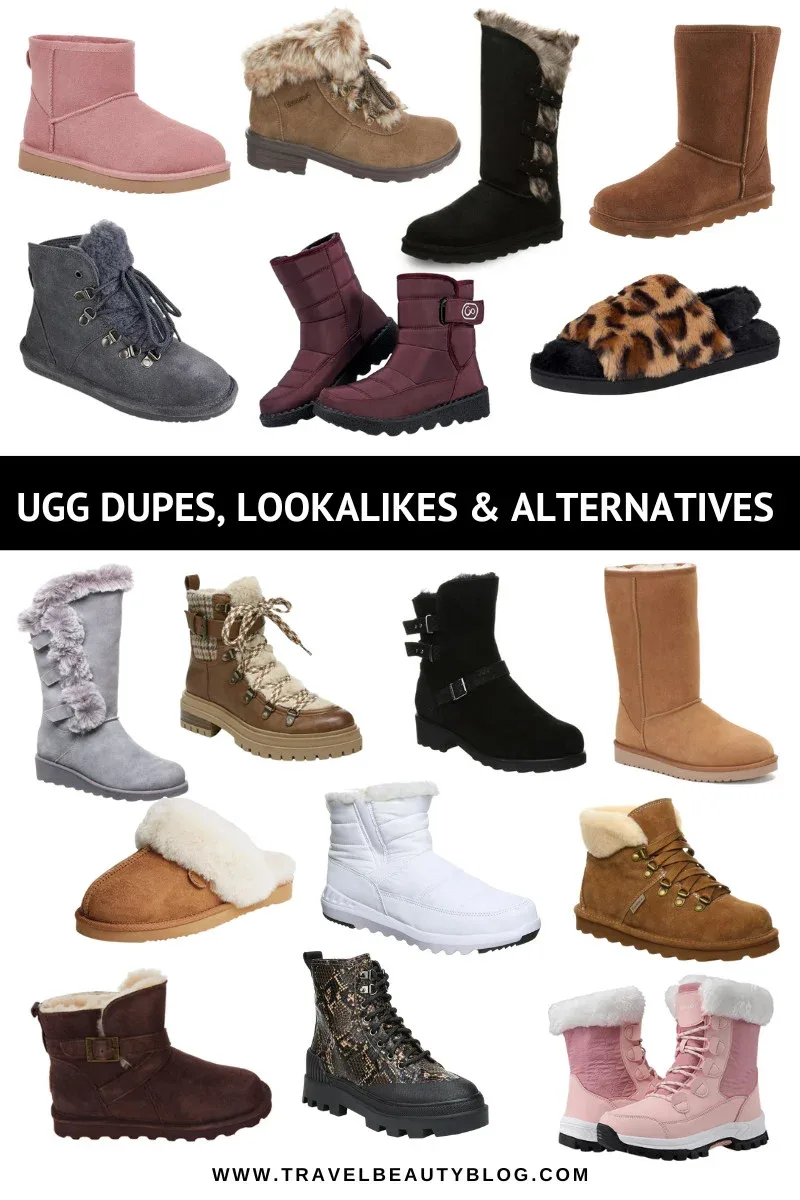 Last Updated on 2 months by Shevy
17 Best Ugg Dupes Look Alikes + Alternatives On The Market
UGGs is a household name when it comes to winter boots and indeed a favorite. However, UGG dupes are a great alternative to those expensive boots. The best part is that they are comfortable, stylish and affordable.
Not only that, but a lot of the Ugg look alike boots are also made with premium, authentic materials as well.
We are a participant in various affiliate marketing programs and may earn a commission for any purchases made through these links at no extra cost to you. Read full disclosure here.
If you're looking for some good Ugg dupes boots, then you should consider buying these ones.
They're very similar to the original UGG boots, so you won't even notice that they aren't authentic.
Related: A GUIDE TO THE BEST KNOCK OFF BIRKENSTOCKS
These UGG lookalike boots are perfect for those who love UGGs but don't want to spend $300 on them!
Ugg Look Alike Boots
This classic faux fur lining BearPaw suede boots was constructed for long-lasting use and to provide extra comfort without sacrificing style.
It is a round toe boots, has a padded footbed with plush collar and lining. It comes in 3 different colours and retails for under $130.
Check out its UGG rival here.
UGG Dupe Slippers
This cute pair of fluffy Ugg look alike slippers by Jessica Simpson is great for lounging and it looks identical to the UGG Slingback Sandal.
Related: Roundup Of The Best Affordable Valentino Dupe Shoes
It features a faux fur fabric, memory foam and a hard sole.
A beautiful pull-on boot designed to keep your feet warm and dry with the utmost comfort and style.
Never worry about your feet getting wet in this pair of boots featuring trimmed plush faux fur with genuine sheepskin footbed.

Boots That Look Like Uggs
BearPaw winter boots featuring plush faux shearling and wool blend lining. They provide exceptional warmth for your feet and are made for the cold weather.
Related: The Best Golden Goose Dupes From As Low As $50
The Lucy boot is 6 inch tall, suede, tough, yet cozy and stylish. It is accented with embossed suede trim and straps with metal post buckles and YKK zipper on medial side for easy on and off.
These Ugg dupes are treated with NeverWet technology for extra protection from the elements.
A touch of fluff gives detail and interest to the cozy Genevieve. This triple buckle with fur wrapped and elevated heel boot is designed to spruce up any fall wardrobe.
You'll want to take this BearPaw Puffy Boot on your next adventure! Comes in 3 colors, lightweight and crafted with sporty nylon upper.
Related: Brands Like Gymshark That Are Beautiful And Affordable
This Puffy Boot is finished off with cozy wool blend lining which makes it perfect for the winter weather. It has side goring for extra stretch and easy on and off.
These ankle boots are made of fine artificial short plush with warm comfortable lining which offers extra warmth and comfort for your feet.
It's non-slip rubber soles allows you to run and move casually on rainy and snowy days.
Related: The Best Kendra Scott Look Alike Jewelry
The construction of hook and loop is pretty convenient for you to put on and take off these winter boots.
These boots are perfect for all your outdoor needs: walking, shopping, trekking, climbing, camping or hiking.
Sometimes it can be difficult to find cheap Ugg style boots. This Kerri suede lace-up boots is a great and cheaper alternative to the look alike UGG bootie.
It is a modern winter boot equipped with plush sheepskin and wool-blend linings to keep your feet comfortable, dry and warm.
Sam Edelman shearling fuzzy hiking boots with a sporty-chic finish is grounded by a lug sole.
Related: How To Make A Leopard Print Skirt Outfit Look Chic
A hiking boot with zipper closure, a soft shearling panel and criss-cross lacing.
BearPaw classic suede slip on boot for those who are looking for Ugg alternatives. Designed with the ultimate warmth and comfort to keep your feet warm, dry and comfortable all winter long.
This classic Koolaburra by UGG short, pink winter bootie looks classy and cute. It features a durable suede construction which ensures lasting use with a warm plush faux fur shearling lining.
Keep your feet warm, comfortable and cool in the winter with these Ugg dupes Dearforms slides. Crafted with Australian sheepskin, it is lightweight and provides extra comfort under feet.
Sam Edelman's Indy boots blend rugged hiker style and waterproof versatility for an adventurous cold-weather outing.
COOJOY Waterproof Furry Mid Calf Snow Boots – UGGs Lookalike
This CooJoy waterproof mid-calf winter boot has an elegant lace-up finish. Created with soft faux fur lining, durable leather and windbreaker cloth.
Also has a comfy padded collar for an eye catching effect. These Ugg dupes are bound to keep your feet stylish, comfortable and warm in the cold winter weather.
Koolaburra by UGG Koola Winter Boots is a closet staple this winter and its perfect for keeping your feet warm and cozy all day long!
Get into the cozy feel of these soft BearPaw suede boots for a comfort you'll love when it starts getting cold.
Some FAQs About UGGs And Look alike Brands
More Ugg Lookalike & Ugg Dupe Brands
Shop BearPaw – Ugg Dupes
Shop Minnetonka – Ugg Lookalike
Shop Dream Paris – Uggs Alternatives
Shop More Ugg Dupes, Look Alikes and Alternatives
Wrapping Up Ugg Dupes
If you are still in search of the best UGG dupes and lookalike brands, you'll want to get a pair from BearPaw.
It is by far the top choice of UGG lookalike alternatives on the market that's on par in quality, look and price.
Shevy
Hi! I'm Shevy! I'm the Founder and Managing Editor of Travel Beauty Blog est. 2016. I am also the Founder of Shevy Studio Marketing Agency where I work with entrepreneurs and bloggers on SEO/Content Strategy, Web Design and Consultancy.