Last Updated on July 18, 2021 by Shevy
What Is A Summer Capsule Wardrobe?
A summer capsule wardrobe is made up of cute casual outfits that you love to wear all summer long. It consists of essential summer outfits and accessories that does not go out of style such as basic tees, shorts sandals and sundresses.
Building a summer capsule wardrobe for summer is a lot easier than most people think.
Your main goal should be finding the clothing items that can be easily mixed and matched to make cute outfits, and most importantly, can be worn on repeat.
I earn a small commission if you purchase through any of my links at no extra cost to you. Read full disclosure here.
Related content: WHERE TO GET THE BEST SUMMER OUTFITS FOR CHEAP
For each season, you can have a capsule wardrobe which is like a subset of your actual closet.
The main purpose of having a summer capsule wardrobe is not having to stress over what to wear.
What Are The Benefits Of Having A Capsule Wardrobe For Summer?
No time is wasted on picking and choosing outfits
It's much easier to remember what clothing items you have and put them to use
You save money by only buying the essentials
They are statement and timeless pieces which means they can be used repeatedly
You can actually enjoy dressing in the clothes you love
No stressing over latest trends and trying to keep up
 How Do You Build A Summer Capsule Wardrobe?
To build a summer capsule wardrobe you are going to need a mixture of clothing and accessories that you like and would want to wear all summer long. So the first thing you would need to do is to make a list of what you need and the color scheme of choice for your capsule wardrobe. Once that is done, you will need to source the items online or in store from your preferred retailer.
Related: THE BEST AMAZON SUMMER FASHION UNDER $100 RIGHT NOW
Where To Shop For Cute Casual Outfits For Summer:
Nordstrom
Nordstrom Rack
Amazon
Boohoo
Forever 21
& Other Stories
Urban Outfitters
What You Need To Build A Summer Capsule Wardrobe – 2021 Outfit Ideas
To build your summer capsule wardrobe you will need the following essential clothing items:
Basic Tees
Jeans
Shorts
Blouses
Graphic Tees
Dresses
Jumpsuits
Denim Jackets
Essential Accessories You Need To Build Your Summer Capsule Wardrobe
Straw bags
Hats
Sunglasses
Belts
Sneakers
Sandals
Birkenstocks
Espradilles
Mules
Related: HOW TO WEAR A WHITE TEE AND LOOK GOOD
Now that you've made a list of items that you need and have identified your favorite retailers, its time to get starting with putting together and creating your capsule wardrobe for summer. I'm going to itemize all the essentials but you can choose which ones to include. So let's get started!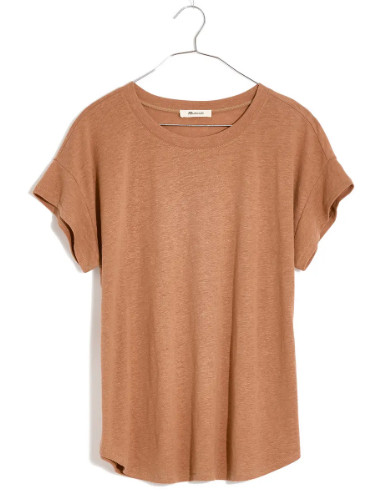 Having a couple of basic t-shirts incorporated into your wardrobe can come in handy on days when you don't feel like getting dressed up. They don't necessarily have to be in white.
Try adding some colours like pink, blue, taupe, gray, yellow, striped or even a fun graphic tee. Classic tees can be paired with jeans, skirts and shorts to make some of the best casual summer outfits.

ACCESSORIES YOU MAY INCLUDE IN YOUR CAPSULE WARDROBE FOR SUMMER
Capsule Wardrobe For Summer – Checklist
Summer Capsule Wardrobe Items Listed In The Above Graphic From Left To Right
TOPS
BOTTOMS
JACKETS
GRAPHIC TEES
SHORTS
DRESSES
SWIMSUIT
BAGS
SHOES
BELTS
SUNGLASSES
HATS
JEWELRY
Have you created your summer 2021 capsule wardrobe yet? If not, you can GRAB YOUR FREE COPY HERE.
Spring Summer 2021 Casual Capsule Wardrobe Outfit Ideas E-Book Preview: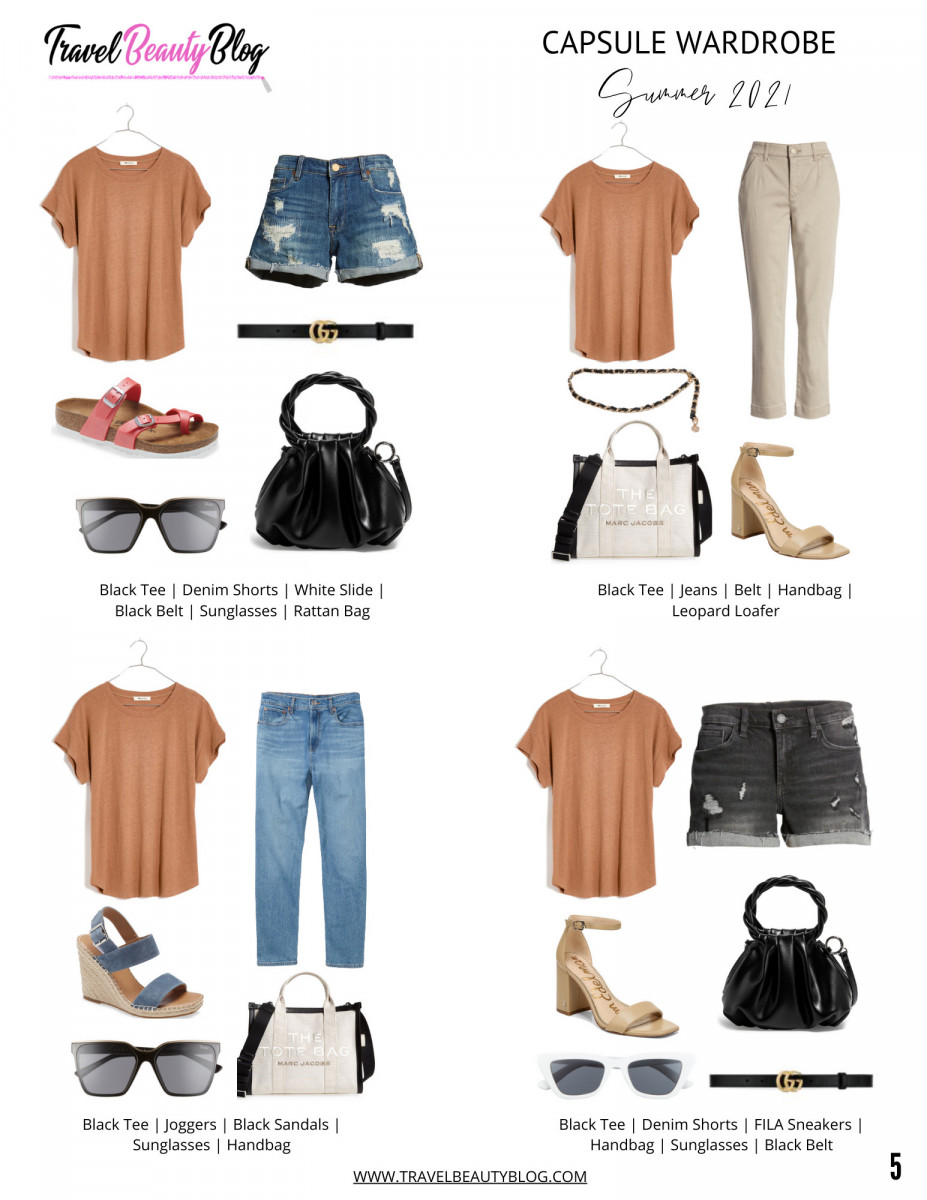 Get the complete E-Book here for more outfit ideas to build your capsule wardrobe for Spring/Summer 2021.
Wrapping Up Summer Capsule Wardrobe 2021
Remember, in making your summer capsule wardrobe, it doesn't have to be a black and white summer capsule wardrobe. You can mix and match with fun colours and prints. Additionally, you can turn it into your spring to summer capsule wardrobe.
Good luck creating your own capsule summer wardrobe and be sure to tag me in it. If you have not yet downloaded the FREE summer capsule wardrobe 2021 e-book you can do so HERE.
0