Rita Ora Wearing Vintage // Photo: Depositphotos
What Are Vintage Clothes + 6 Reasons To Love Them
What are vintage clothes? From the 1920s to the 1980s, vintage clothing was considered old fashioned. Today, however, people are embracing the retro trend once again.
Back then, Vintage referred to an item of high-quality materials and/or craftmanship, that was characteristic of a specific time period or artist, that was usually between 40 and 100 years old. – Source
We are a participant in various affiliate marketing programs and may earn a commission for any purchases made through these links at no extra cost to you. Read full disclosure here.
Today, the term "vintage" is often used to describe clothes that are at least 30 years old. Which means in 2023, anything dating back to the 80's and early 90's are now considered vintage.
Vintage clothing has been making a comeback in recent years. People love wearing clothes that were popular decades ago because they feel nostalgic for the past.
Let's learn about the history of vintage fashion and why it is more acceptable in the world today.
What Are Vintage Clothes?
The History Of Vintage Fashion: The Evolution Of Style
What are vintage clothes?
Vintage Fashion was thought to be worn by people who were not wealthy enough to afford new clothing.
But that couldn't be any further from the truth. In fact, before the increase in industrial manufacturing, the making of most pieces of clothing required extensive hand labor.
So, in order to maximize its value, clothing was repaired or layered with patches whenever it was worn or damaged.
Used clothing, in reasonable condition were usually tailored for a new owner.
When they became too tattered to repair, they were then used for scraps in a quilt or braided rag rug, or used as rags for cleaning or dusting.
What Are Vintage Clothes + Why Are They Popular In 2023
So what are vintage clothes?
To this day, vintage clothing is seen as an alternative to modern clothing and while it is still affordable, it also comes in more expensive styles.
Over the years more people are becoming socially conscious and are putting concerted effort into re-purposing old clothes and buying vintage.
Partly due to the negative effects of the fast-fashion industry on our planet. They are embracing sustainability and moving towards an eco-friendly and zero-waste lifestyle.
Whether that means purchasing less plastic containers, using recyclable grocery bags or boycotting the companies that are not practicing fair trade.
All these factors contribute to the way the world views vintage fashion and are the main reasons why it has been increasingly popular over the years.
What Are Vintage Clothes – Why Do People Love Vintage Fashion?
There are several reasons why people love to wear vintage clothes and these are some common reasons why:
First, they can be more affordable than new clothing however, that is not always the case.
Second, they offer a unique style that's different from what we see today.
Third, they're often associated with a certain era or time period. There's something special about wearing clothes from the past
Fourth, they're often associated as being fashionable and elegant. You get to relive history while looking stylish at the same time.
Fifth, their quality is often unmatched with what's currently available on the market.
Sixth, some people love vintage fashion because it reminds them of their childhood.
Some people simply enjoy dressing up in retro styles while others appreciate vintage clothing because it represents a different era in American history.
Whatever your reason for loving vintage style, there's no doubt that it's here to stay.
What Makes A Vintage Piece Unique
There are some things that set vintage pieces apart from other types of clothing. For example, vintage clothing tends to be unique.
Many people think that vintage clothing is old, but that's not always true. You may be surprised to know that a lot of vintage clothing is brand new.
Also, vintage clothing often has special features that make it different from modern clothing. These include buttons, zippers, pockets, and rivets.
Vintage pieces are usually made using older materials and techniques. This means that they tend to be less durable than modern items.
They also tend to be smaller in size in comparison to modern day pieces. However, there are some exceptions to these rules.
Some vintage garments are made out of silk, wool, or other luxurious fabrics.
How To Buy Vintage Clothes
Buying vintage clothes online is an easy way to save money while still getting high quality pieces.
Many people buy vintage clothes because they love the style and feel of them. Others buy vintage clothes as investments, hoping to sell them later at a profit.
Either way, buying vintage clothing online is a good option for those who want to save money.
If you want to buy vintage clothes, there are several things you should know.
First, you will need to do some research before buying anything. Make sure the store has a good reputation and that the items are authentic.
Second, make sure the price is right.
Third, you'll want to look at the condition of the item. You should be able to see if the fabric has holes or stains. If it's jewelry, check for discoloration or rusting.
Fourth, you should check the size of the garment. You don't want to buy something too big or too small just because it's vintage, if it won't fit well.
Fifth, you should consider the price. You don't want something that's too expensive or way out of your budget.
Sixth, you should try to find a store where you feel comfortable shopping. Whether its a brick and mortar store or online, do some research first.
If it's an unfamiliar place you would want to check out their customer reviews, location, website, social media accounts etc.
Finally, you should ask yourself if you really want to buy vintage items. There are other ways to express yourself than buying old/used stuff. It may not be for everybody.
Where To Find Vintage Pieces Online
Some people think that vintage fashion is expensive because it is rare and difficult to find.
However, there are several ways to find inexpensive vintage clothing. You can search online for thrift stores that sell used clothing.
If you're looking for some unique pieces to add to your wardrobe try online marketplaces like eBay, Poshmark, Threadup or Etsy.
These sites offer a wide variety of vintage and secondhand items at affordable prices.
For designer and high end brands check out The Real Real, Fashionphile, Vestiaire Collective and ReBag.
You'll find everything from brand name and designer dresses to shirts, skirts, pants, jackets, shoes, handbags, jewelry and accessories.
If you prefer to shop locally, you can check out your local thrift stores, consignment shops, garage sales, flea markets and at auctions.
Why Vintage Fashion Is Becoming The New In Thing?
Environmental Sustainability
A lot of people do care about the environment and how the fashion industry contributes to the increase in carbon emission yearly.
If this means buying second-hand clothing, handbags and shoes, they are prepared to do so.
Ever since I have become aware of these statistics, I have made a conscious effort to curating a capsule wardrobe and only buy what's necessary.
I believe that if more people are educated about fast-fashion and how it impacts our planet, it could make a huge difference.
See Also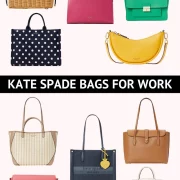 Although some fast-fashion stores have started towards the movement by offering sustainable collections I do feel that it won't make an impact until more brands get on board.
Until retailers like Shein, Mango, H&M, Zara, F21, BooHoo and the likes start to feel the brunt of our polluted earth, maybe then they will succumb to offering sustainable options.
Trend
While some people are becoming more socially aware, a large portion are still influenced by trends and what the masses are wearing.
Mostly due to fact that fast-fashion retailers are pushing out new products every couple of weeks, so they buy what's put in front of them.
At the time of this post the 90's nostalgia is making a comeback and proof of this was evident on the runways, at fashion weeks and on celebrities and fashion influencers.
Bargain
Everyone loves a bargain and getting amazing deals on vintage designer items are no exception.
Depending on where you thrift, you can definitely find mildly used items at discounted prices, based on its age and usability.
Why pay full price for brand new when you can get it slightly used at a lower price right?
The chances of scoring a beautiful vintage piece at a low price is a major reason to chalk up some vintage pieces.
Heirlooms
Vintage items like furniture, jewelry and handbags, can become family heirlooms.
For instance, all designer bags are made using the best materials, they last for decades and normally still look in great condition years later.
Gold and silver jewelry can be passed down to your children and grandchildren and eventually become heirlooms.
All while remaining intact and maintaining its main functionality even decades later.
Profit / Business
Some vintage items like handbags appreciate in value over the years. So if you have one and decide to sell it years later, you can auction it off at a huge price.
Alternatively, you can invest in luxury handbags now that may eventually become highly sought after vintage items.
Investing in the right designer items can definitely be rewarding in the long run.
They can also sell for a lot of money, even more than what you initially paid.
Rare Articles / Collectibles
A lot of designer products are manufactured in specific quantities and then they stop producing them.
From time to time they also make limited editions in some current styles which end up being hard to find and the most sought-after pieces.
Not everyone is willing to part with their "treasured gems" and so, they may eventually acquire a rare collection of vintage souvenirs and collectibles over time.
Wrapping Up What Are Vintage Clothes
In the near future, vintage style will be more popular than ever before.
The main purpose of this article was to clear up any misconceptions about what are vintage clothes and to provide in depth information on the history of vintage fashion.
Including its impact on the world and how it has revolutionized over the years. As technology has advanced, so too has fashion.
Nowadays, we wear clothes that fit our bodies perfectly, reflects our personality and style and, that are made from high quality materials.
However, some people still prefer to wear retro styles because they feel comfortable and confident in them.
The best thing about vintage fashion is that it's timeless. You can wear it now or anytime in the future.
If you want to embrace this style of dressing, you should try to incorporate some of the styles from the past into your wardrobe.
Last Updated on 2 days by Shevy
Shevy
Hi! I'm Shevy! I'm the Founder and Managing Editor of Travel Beauty Blog est. 2016. I am also the Founder of Shevy Digital Marketing Agency where I work with new and upcoming entrepreneurs and bloggers.