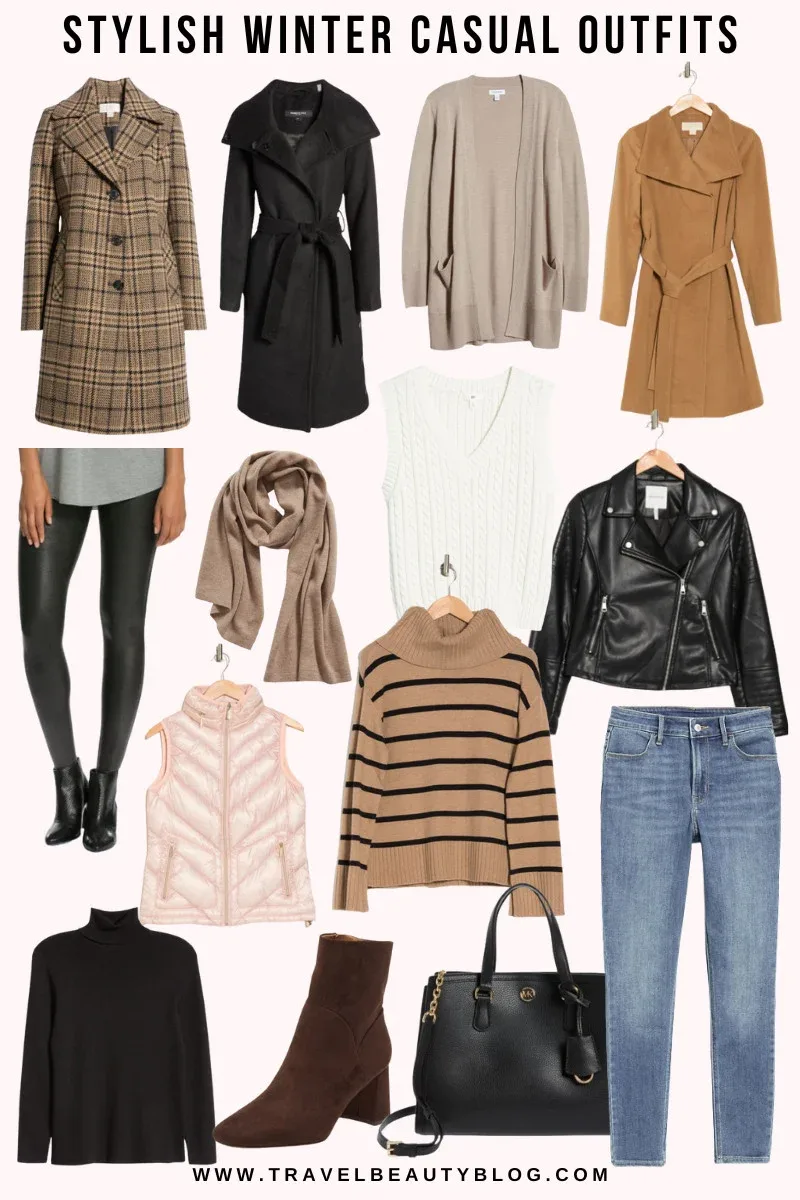 Last Updated on 7 months by Shevy
The Best Winter Casual Outfits For Fall/Winter 2023
Winter is quickly approaching which means it's almost time to bring out your best winter casual outfits and layers.
Whether you're looking for something chic or comfortable, these winter casual outfits will keep you stylish and warm.
We are a participant in various affiliate marketing programs and may earn a commission for any purchases made through these links at no extra cost to you. Read full disclosure here.
The coldest season of the year usually requires thick and bulky winter clothing – layers of them. Especially if you want to head out to run errands or meet your friends.
Related: THE BEST WINTER OUTFITS FOR THIS YEAR
Your regular winter outfit may be your go-to at the moment, but let's face it, they are most likely boring and heavy! 
So how about some stylish and classic winter casual outfits to spice things up? Get ready to look good and feel comfortable while staying warm this season.
Shop Winter Casual Outfits

Winter Casual Outfits & Ideas
Winter is probably the only season when you don't want to think about what to wear and by all means you should not have to.
After all, winter weather means layering, so you can easily switch between different looks without having to buy new clothes.
But if you think being fashionable while freezing is impractical, think again!
You can absolutely look your best without sacrificing your personal style, by opting for elegant winter casual outfits!  
If you want to look your best without the excessive layers, choose lighter winter casual outfits and that will do the trick for you!
Discover new ways to wear your favorite pieces this season with these sophisticated casual winter outfits.
Winter Casual Outfits with Long Sleeve Cropped Top
Your winter casual outfits should help you feel and look better while still keeping you cozy and comfy all day long.
Related: THE BEST 15 UGGS LOOKALIKE FOR CHEAP
Don't be afraid to layer your favorite cropped top during the fall/winter with a heavy trench coat.
Complete the outfit with black trousers, black boots, extravagant fashion jewelry and statement sunglasses.
Casual Outfits Winter: A Knitted Sweater with Booties
The key to wearing cozy knitwear during the cold months is layering. You can layer sweaters under winter jackets and trench coats.
If you want to keep things simple, try pairing a sweater with jeans and sneakers. Or, if you prefer something a little fancier, pair a sweater with a faux leather leggings and ankle boots.
Whatever look you choose, be sure to add accessories to complete the look. For example, throw on a scarf or a beanie to accessorize a sweater worn underneath a jacket.
Lastly, try styling your knitted sweater with a pleated skirt and a pair of ankle booties.
A Leather Jacket with Denim Pants
The leather jacket is a timeless staple that never goes out of style. You can pair it with everything from jeans to leggings, to skirts, and it works well with both formal and casual ensembles.
If you want to add a little edge to your look, try pairing a black leather jacket with denim pants for a casual yet trendy look.
Or if you prefer something a bit more laid back, go for a tan leather jacket paired with dark wash skinny jeans.
Alternatively style a black leather bomber jacket over a knit sweater or cardigan with black skinny jeans and black combat boots.
Winter Casual Dresses: A Turtleneck Sweater Dress with Over The Knee Booties
Wearing a turtleneck sweater dress during the spring, fall or winter seasons never gets old.
It is versatile enough to wear during the fall and spring seasons, but it really shines in the colder months.
If you're into turtlenecks try a turtleneck sweater dress, otherwise, a hoodie dress could be an alternative.
Match it with with leggings and a pair of faux leather over the knee boots with a trench coat.
To add some extra warmth to your elegant look, throw on a scarf or hat.
Cable Knit Sweater with Jeans
To keep things simple, match a cable knit sweater with a pair of jeans. Finish off the look with a hat and low-cut ankle boots.
A Leather Jacket Over A Blouse
There are so many ways to wear a leather jacket. Whether you pair it with a skirt, pants, or even jeans, the possibilities are endless.
If you want to look up to the minute during the colder months, then you should definitely consider wearing leather jackets over blouses.
The combination of a leather jacket and a blouse with a pleated midi chiffon skirt gives off a sophisticated vibe, while still being comfortable enough to wear throughout the day.
Plus, if you live somewhere where it gets really cold, you can always throw on a scarf, beanie or hat to top off your winter casual outfits.
Shop More Winter Casual Outfits

Smart Winter Casual Outfits With Leggings 
You can't go wrong with a simple pair of faux leather leggings for the fall and winter seasons.
Instead of wearing jeans which can sometimes feel heavy and rough on the skin, switch it up for a cute pair of stretchable faux leather leggings for a more comfy fit! 
Related: HOW TO STYLE LEATHER LEGGINGS IN 5 EASY WAYS
Leggings are much more versatile that you can mix and match with anything! They are a great investment and wardrobe staple that will last you for years.
Style them with a sweatshirt, or leather bomber jacket, with a pair of ankle boots, sneakers or booties.
Spice up your winter casual outfits with some cute jewelry to accentuate your look!
With leggings, you can easily elevate your look from basic to chic, according to the occasion.
Wear this trendy style to your holiday parties, Thanksgiving and Christmas dinners or New Years Eve parties.
Tailored Animal Print Coat with Jeans
If you want to stand out from the crowd, then try wearing something bold or fierce.
A tailored animal print coat is a classic and timeless piece that makes a simple casual winter outfit look chic.
Wear it over a black sweater, a pair of blue boot-cut jeans and ankle boots.
On the other hand, you can substitute the coat for a leopard print sweater which gives a less formal look.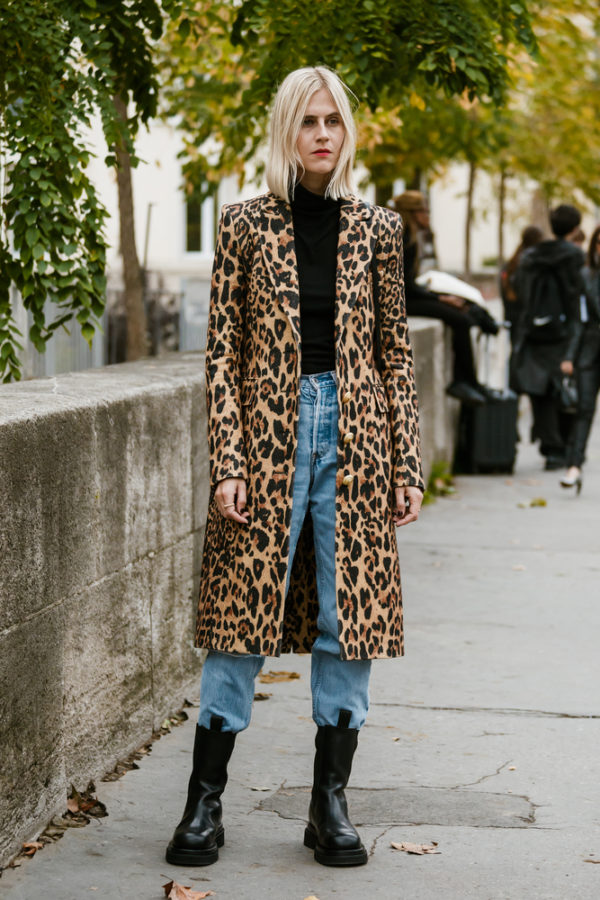 Winter Business Casual Outfits
Dressing up for work is already hard because of stipulated dress codes and with the winter season coming, it can be much more difficult.
How do you dress up for work without appearing too casual?  
The open-front blazer and pants combination is always current.
A perfect example is this collarless sweater blazer and Cameron slim cropped stretch pants styled together.
Tuck in an inner classic white shirt, add a timeless timepiece and finish off the look with a handbag.
The warm and earthy tones of this outfit are so pleasing to the eyes! 
A Turtleneck Sweater with Pants
If you prefer more casual looks, try pairing a turtleneck sweater with pants. You can also wear a turtleneck under a jacket or coat for a cozy look.
Attempt a grey turtleneck sweater with a pair of grey wide leg pants, statement sunglasses and a leather handbag.
Related: 20 Ways To Style A Wide Leg Pants Outfit
Oversized Coat with Turtleneck Sweater
This combination of an oversized coat + a turtleneck sweater is perfect for when its extremely cold.
If you decide to opt for a skirt with the coat, you can still keep your feet cozy with a pair of matching knee high boots.
Winter Casual Outfits with Cropped Trousers
You don't have to be stuck wearing the same old boring clothes to work during winter.
Make your look more interesting with a tan trench coat over a white or cream blouse, styled with cropped black trousers.
Winter Casual Outfits With Fur Coat
If you work outside a lot and need some extra warmth then you use a teddy or faux fur coat. This can be effortlessly matched with other casual styles too! 
Coats have been a fashion statement for many years and a classic capsule winter wardrobe staple.
You can match it with leather leggings, denim bottoms and midi skirts. 
A Long Sleeve Shirt Under An Oversized Jacket
Another combo to try is a long sleeve shirt or cashmere sweater under an oversized jacket.
The key here is to choose colors that go well together. You can wear a solid color sweater or tunic underneath a coat.
But if you want to add some interest to your ensemble, opt for a colorful scarf or knit hat.
Switch out the regular boots for a pair of white trainers instead.
Winter Fashion Trends 2023
Here are some 2023 winter fashion trends you can look forward to incorporating with your winter casual outfits:
Plain white tanks
90's minimalism
Flight jackets, Biker jackets, Bomber jackets
Corseted waists
Bright hues
Knitwear
Reinforced boots
Floor-sweeping maxi skirts and Dresses
Tennis skirts & Mini skirts
The oversized blazer
Skin-tight silhouettes and cut-outs
Leather everything
Tailored suits
Casual Winter Casual Outfit Ideas & Inspiration:
For some winter fashion inspiration, check out some of my favourite winter casual outfits from fellow influencers.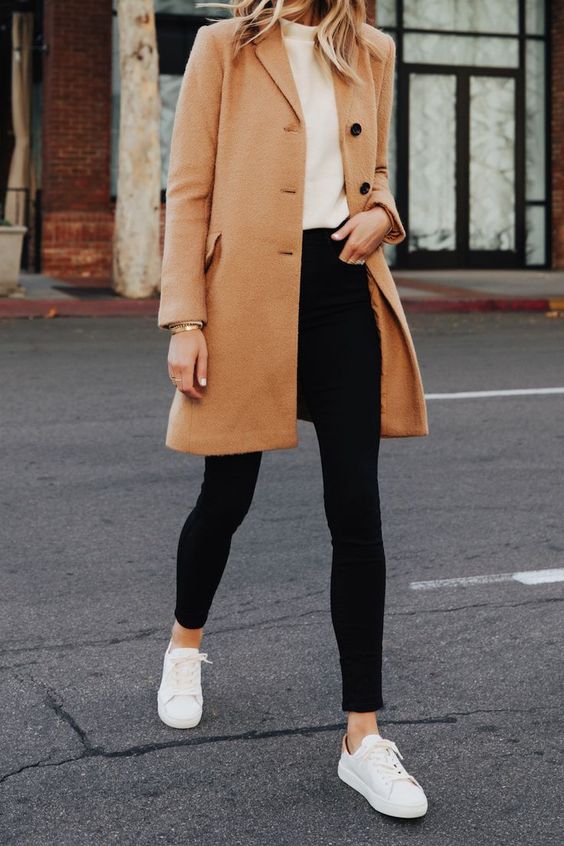 Camel coats are by far one my favourite timeless winter pieces and I love the way Amy styled hers with a pair of black jeans and white sneakers.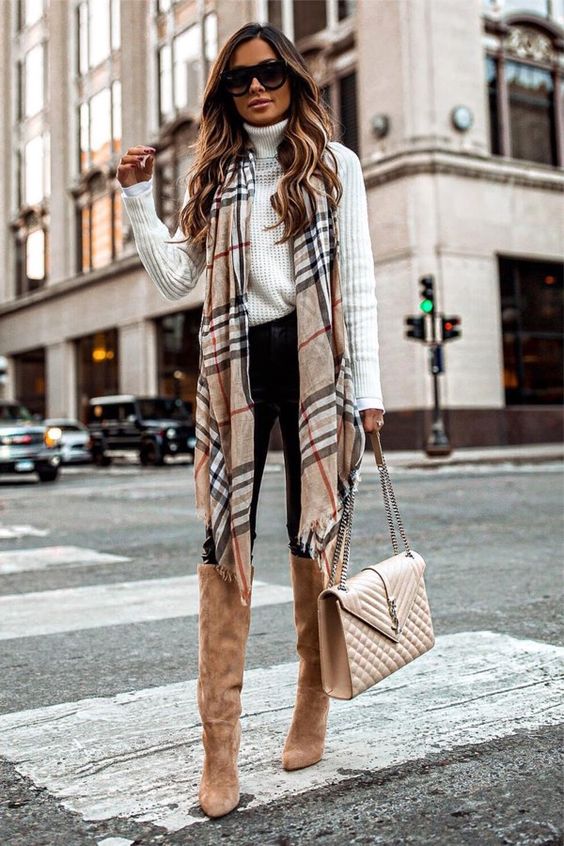 Of course, ankle boots and knee high boots paired with jeans or leggings and a turtleneck sweater with a scarf. As we can see in the picture above styled by Maria.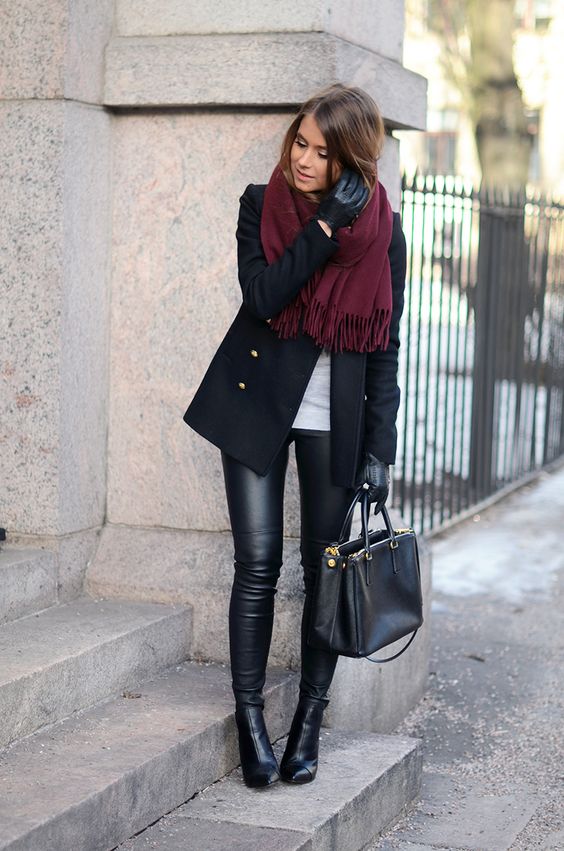 I love the way Marianna styled her faux leather leggings with black knee high boots, a black coat, a black handbag and a burgundy scarf for accent.
Shop Winter Casual Outfits

Winter Casual Outfits FAQs
What do you wear to a casual winter?
Turtle necks, cardigans, leggings, midi skirts, jeans and sneakers. Choose something that makes you warm, comfortable, and breathable. 
What clothes to wear in winter?
Sweatshirts, oversized knits, scarves, blazers, jackets and coats. I think they are must haves in every woman's winter wardrobe that they can wear on repeat all winter season long.
How can I stay warm and stylish in winter?
Look for two things when buying new winter outfits: the product material and the overall design. The latter is subjective, but if you think it's nice and fits you, then go for it. 
Are jeans good for winter?
Absolutely! I would probably choose leggings over jeans but if it works for you, then go for it. 
Wrapping Up Winter Casual Outfits
The winter season should not prevent you from dressing casually. Consider buying capsule items that you can still wear during the Spring and Fall seasons.
Wear whatever makes you comfortable. If you prefer leggings to jeans or sweatshirt to cardigans, then by all means wear what makes you feel confident.
Keep in mind that the staple pieces you wear during the cold months are investment pieces that you can use for years to come.
Shop Editor's Picks

Shevy
Hi! I'm Shevy! I'm the Founder and Managing Editor of Travel Beauty Blog est. 2016. I am also the Founder of Shevy Studio Marketing Agency where I work with entrepreneurs and bloggers on SEO/Content Strategy, Web Design and Consultancy.