Last Updated on
*I earn a small commission if you purchase through any of my links at no extra cost to you*
Weekly Roundup
Hey guys happy Saturday. Today I am back again with another roundup of the most wanted finds of the week. Not every single item is actually on my wish-list but some of them are cool random things I found on the internet. They may or may not be popular and trending but definitely something that will interest you guys.
Whenever I find cool deals I love sharing them with others such as you reading this post right now. There were two major sales happening this week that I wrote about here and here. Before I continue, special thanks to all of you who support me through my affiliate links as this is what maintains this blog. In case you missed last week's roundup of the most wanted things, you can read it here.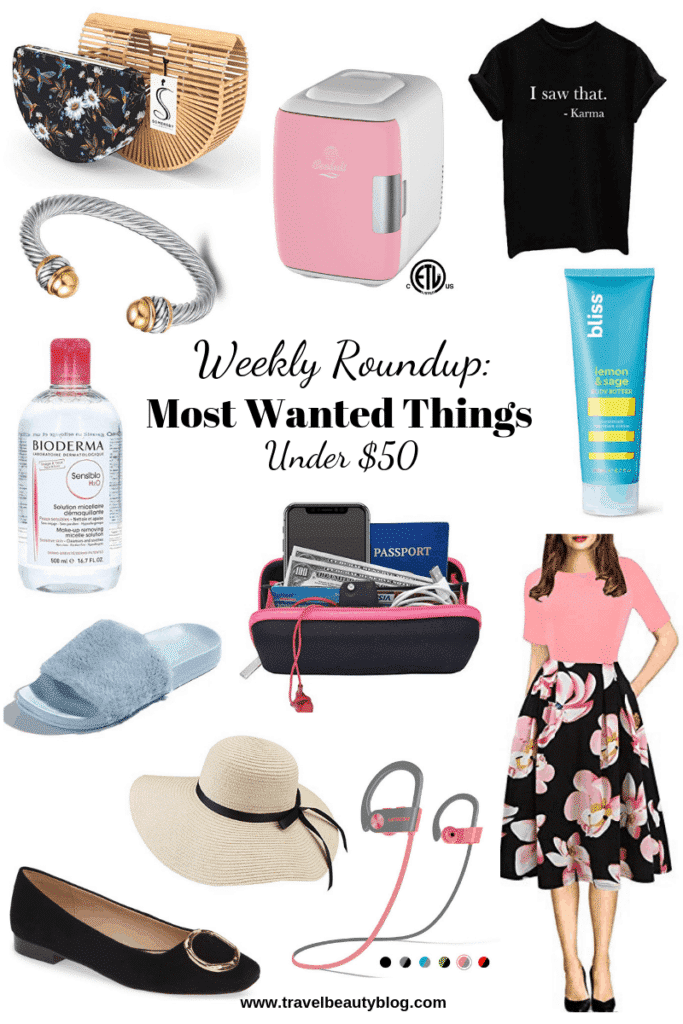 Roundup Of The Most Wanted Things Under $50
Clothing, Shoes & Jewelry
This pink and black dress very pretty and practical to wear during the spring season. It can be dressed up with a pair of pumps, sandals or even a plain black ballet flats. A pair of faux fur slides for walking around indoors because I do not like being barefooted. I saw that – karma t-shirt because I am so obsessed with graphic tees and this one is cute. By now you've probably realized that I am obsessed with David Yurman lookalike bracelets. They are the real deal especially by not having to pay full price (around $400) for a similar look.
Bags & Accessories
To protect my head from the excess heat and direct sun, I'm inclined to wear a wide brim straw hat. Especially on days when I am going to be outside all day or on my mini getaways. The bamboo basket bag with floral purse insert can take you from spring all the way to summer. My handbag for going to work has too many random things thrown around. Therefore using this organizer wallet would be able to keep them all together and I can also use it while travelling to hold my passport etc.
Beauty
When you are a beauty junkie, too much is still not enough. Bioderma Micellar Water, Cleansing and makeup remover is a popular favourite. Its a French brand that seems to be making its way on everyone's buy list lately including mine. Bliss lemon and sage body butter infused with all natural ingredients is also on my wish-list.
Other
In recent time I saw a lot of beauty bloggers using mini fridges for storing their beauty products. While I have not done any research to see whether this keeps the products longer, I do find they are cool to have. Last but not least, its been far too long since I needed a pair of wireless headphones. Ideal for the times when I need to go to the gym or walking because I can't afford to have avoidable incidents occur. Well, this concludes this week's roundup of the most wanted things and remember you can always view more of my curated items here.
0