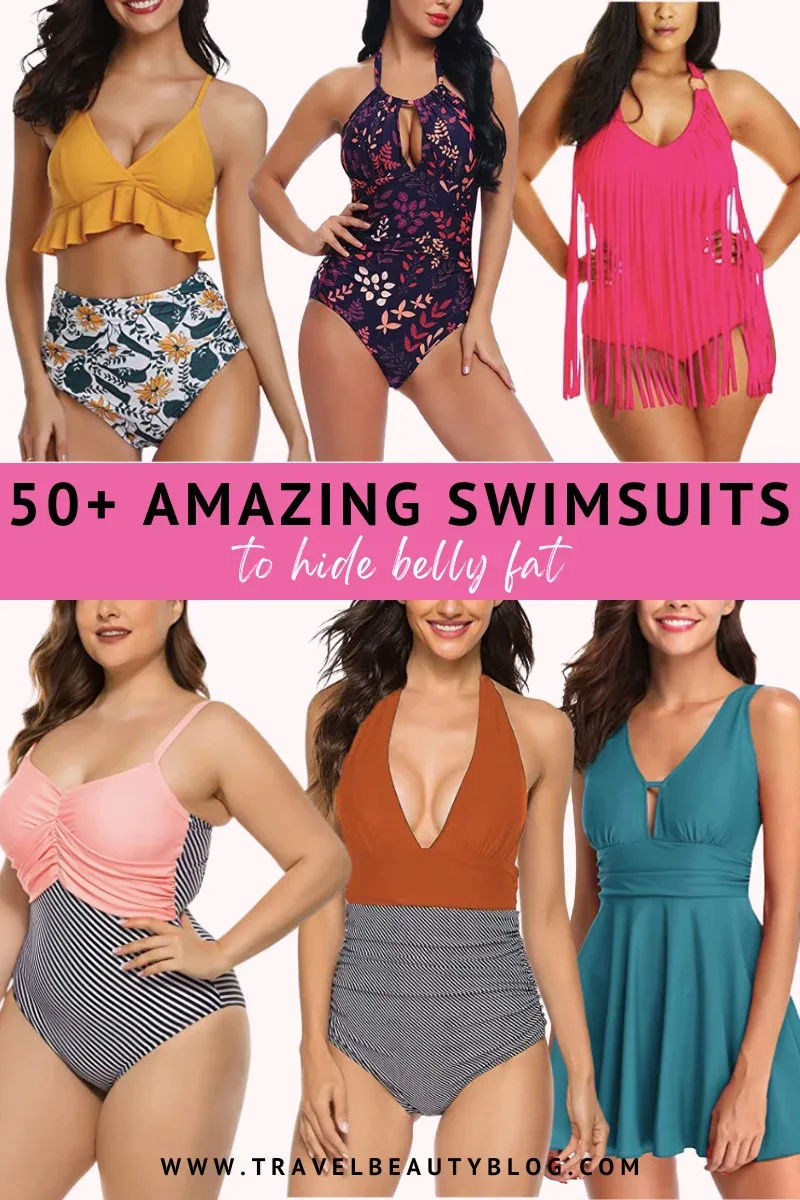 50+ Best Swimsuits To Hide Your Tummy Bulge
If you are in search of the best swimsuits to hide your tummy bulge then you are in the right place! Summer is just around the corner and you may not have had to time to get that summer beach body ready. Mainly because most gyms are still closed due to social distancing.
We are a participant in various affiliate marketing programs and may earn a commission for any purchases made through these links at no extra cost to you. Read full disclosure here.
As a woman, with a little belly pooch, it's been a struggle to keep fit during the past couple of months. Working out indoors is also not my thing so hiding my stomach fat is a must!
So have no fear ladies, we are in this together! I'm going to help you find the best swimsuits to hide tummy bulge but still look flattering on your body.
Related: How To Make The Best Summer Capsule Wardrobe Easily
You don't have to worry about hitting the beach this summer with your fat belly or stomach pooch outside.
There is swimwear specifically tailored with tummy control panels that are perfect for women of all shapes and sizes. Including the best swimsuits to hide tummy bulge plus size. So let's get right into the best swimsuits to hide belly pooch.
Best Swimsuits To Hide Belly Pooch In 2023 – From Amazon
How To Choose The Best Swimsuits To Hide Belly Pooch?
Before deciding on which swimsuit to buy, you should have a goal in mind. You can start by asking yourself the following questions and use the answers as a buyers guide to purchasing the best tummy control swimsuit for your needs:
Do I want to cover my entire body?

Do I want to hide just my belly pooch?

What areas of my body I feel most insecure about?

What parts of my body do I love the most?
What's my budget for buying a swimsuit?
What's my size?
What's my body shape?
Does the material matter?
What swimsuit would be best for my body type?
How many do I need/want and in what colours?
After you have answered the questions above, you can begin looking at potential swimwear. In order to figure out the best swimsuits to hide your tummy, I definitely recommend writing down your answers before moving on.
Best Swimsuits For Fat Belly
The Best Type Of Swimwear For Fat Tummy (What To Look For)
If you really want to conceal most of your tummy bulge, you would want to look for swimsuits that are ruched around the tummy and waistline. Not only do they don't reveal your stomach pooch, but they also make you look slimmer.
Another thing to look for in your swimwear is draping or pleating at the front, that will hide your tummy bulge without having to hold your breath.
If you want to show a little skin but with some tummy control, you can opt for a high-waisted bottom bikini that will cover up most of the belly area.
Alternatively, you may want to wear one-pieces, tankini tops, swim dresses or colorful floral print bikinis to disguise your tummy.
Tummy Control Swimsuit To Hide Belly Pooch – Plus Size
Michael Kors Tummy Control Swimsuit Bottom (plus size)
One Piece Swimsuit Tummy Control (Macy's)
Plus Size Tummy Control One Piece Swimsuit (Kohl's)
What Are The Other Types Of Swimwear To Hide Stomach Bulge?
Here are the different types of swimwear for women:
Bikini – the traditional 2 piece which consist of a bra top and an underwear
Tankini – a tank top and underwear or boy shorts
Monokini – a one piece suit which consists of a bikini top and underwear joined that tends to have cutouts
One Piece – similar to a monokini except that it covers your body and there are no cutouts
Training swimsuits – as the name suggests, its best suited for sporting activities and usually looks like a one piece
Wet suits – suited for profesional athletes
Swim dress / Skirtini – a mini dress with a built-in bottoms
There are also various styles of bikini tops such as:
triangle top
mesh top
bandeau top
tie front top
crop top
bralette
Various styles of bikini bottoms like:
bikini panties
boy shorts
thongs
high waisted panties
Related: WHERE TO GET THE BEST SUMMER OUTFITS FOR CHEAP
Best Swimsuits To Hide Your Tummy Or Hanging Belly
Is It Okay To Wear A Bra Under A Swimsuit?
No. It is not recommended that you wear a bra under your swimsuit. Always ensure that your swimsuit bra comes with sufficient padding and support before purchasing.
You can do so by double-checking it before leaving the store. Or if you are buying online, read the reviews from other persons who would have purchased the item.

How To Select A Swimsuit For Your Body Type?
The first step in selecting a swimsuit for your body type is knowing your body shape. Once you know your body shape, then you can decide which swimsuit is best for you.
Using the factors listed on this website, you can determine which swimsuit type will flatter your curves the most. You can feel confident knowing that there are tons of swimsuits that hide belly fat.
Justine Can Help You Find The Best Swimsuits To Hide Your Tummy Bulge
Swimwear To Cover Your Tummy Entirely
One Piece Monokini Swimsuits
Starting with the best swimsuits to hide your tummy without leaving any body parts outside: One Piece Monokinis. Although your body will be entirely covered, it doesn't have to look boring. These monokinis may not have the best tummy control but they are extra sexy and make you look great.
One Piece Ruched Tummy Control Monokini Swimsuits
These ruched tummy control monokinis are similar to the ones above. However, the ruched effect gives great tummy control and the overall design gives more coverage. Tummy control swimsuits helps define the waist, also shape your body and make you look more slimming. Due to the ruched design, they are perfect for hiding side rolls. They are the best swimsuits that cover stomach.
How Can You Hide Your Belly In A Swimsuit?
The best swimsuits to hide your tummy are the ones that offer the most tummy control. After determining your ideal bathing suit, you can then get the ones that come with a tummy control panel.
The best part is that the swiimstuits listed in this post are affordable and comes in a wide range of sizes too.
Here are 6 one-piece swimsuits that will help you look slimmer and hide your tummy bulge:
Boy Shorts Tankini Bathing Suits To Hide Belly
These boy shorts tankinis are similar to the two-piece swimsuits with high waisted bottoms. Except that they are boy shorts paired with longer tankini tops.
Tankini Sets With Bikini Bottoms
These are not the most flattering of bathing suits but they do a good job in hiding your tummy. If you are not too fond of the ones listed above with the boy shorts, these are a great alternative.
Swimwear To Hide Big Belly And Thighs
If you want to hide both your stomach fat and thighs, you can opt for wearing a swim dress. The pleated and flowy swim dress bottoms look very flattering and elegant. They come with a built-in bottom, have a conservative design with good coverage, and keep you feeling secure. These are the best swimsuits for hanging belly:
No products found.
Best Swimsuits That Can Hide Belly Fat While Revealing Some Skin
Two Piece Swimsuits With High Waisted Bottoms
Two-piece swimsuits with high waisted bottoms are ideal if you want to wear a sexy swimsuit. Great for revealing a little midsection while holding in your belly pooch. High waisted bottoms swimwear are my favorite because they are best for a small bust and big tummy.
No products found.
Conclusion: Swimsuits To Hide Belly Pooch
There you have it! 50+ best swimsuits to hide your tummy bulge in 2020! Nobody wants to be on the beach this summer with a tummy bulge so you can get yourself some nice ones that will hide your belly pooch!
Last Updated on 4 weeks by Shevy
Shevy
Hi! I'm Shevy! I'm the Founder and Managing Editor of Travel Beauty Blog est. 2016. I am also the Founder of Shevy Digital Marketing Agency where I work with new and upcoming entrepreneurs and bloggers.