Last Updated on 7 months by Shevy
18 Best Womens Winter Coats For Fall/Winter 2023
Whether you're looking for a classic or trendy style coat, we've got you covered. From cozy fleece to stylish leather, these best womens winter coats will keep you warm and stylish.
It is essential to have warm clothing and a proper winter coat can cost a couple of hundreds of dollars.
We are a participant in various affiliate marketing programs and may earn a commission for any purchases made through these links at no extra cost to you. Read full disclosure here.
Luckily, I was able to find these cute budget-friendly womens winter coats and jackets that won't break the bank.
Related: The Best Winter Causal Outfits To Keep You Stylish But Cozy
I'm talking trench coats, parka jackets, fur coats, shearling jackets and just about any other coats you can think about.
These women's winter coats come in all shapes and sizes, so finding the perfect coat can be tricky.
Here are our top picks for the best womens winter coats that will keep you warm this season.
The Classic Trench Coat
A classic trench coat is one of those pieces that never goes out of style.
It's an essential part of any woman's wardrobe because it looks good with everything, whether she's going to work or hanging outdoors.
If you're looking for a versatile piece that can be worn year round, then look no further than a classic trench coat.
These coats are timeless and easy to wear, making them a must-have for every closet.
The Peacoat
If you're looking for a versatile coat, then the peacoat is the better choice. It is a timeless style and versatile coat that works well with almost anything.
Whether you're looking for something to keep you warm during cold weather or something to add some color to your wardrobe, the peacoat will work perfectly.
You may be interested in: How To Style Leather Leggings In 5 Easy Ways
Unlike other coats, the peacoat doesn't require much maintenance. You can wash it in the washing machine without worrying about shrinking it.
It's lightweight, which makes it easy to move around in. Plus, it comes in a variety of colors and styles, making it easy to find one that fits your personal style.
Wear the peacoat with a scarf or hat, with a pair of jeans or leggings.
The Wool Jacket
If you want something that's both fashionable and functional, then a woolen coat is the way to go.
They're available in a wide range of colors, patterns, sizes, and lengths, so finding one that suits your personal style shouldn't be difficult.
If you're looking for a coat that's going to last, then a woolen one is the way to go because it's made from thicker materials than other types of outerwear.
The Leather Bomber
A leather bomber jacket is a classic piece of outerwear that's easy to throw on and go wherever you want.
Related: The Best Amazon Women Fall Fashion Finds Under $100
You'll find them at most department stores, but if you'd rather shop online, check out these leather bomber jackets.
Whether you're going out for a night on the town or attending a business meeting, a leather bomber jacket is sure to be a wardrobe staple.
The Puffer Coat
A puffer coat is a very popular style of winter coat for women. It's a short jacket that usually stops at the waistline and has a hood.
This style is perfect for cold weather because it keeps you warm without being too bulky.
The Modern Trench Coat
The modern version of the trench coat is sleek and stylish, making it a versatile option for every season.
You can wear it with skinny jeans and sneakers during the day, then transition into a dressier look for cocktails at night.
Related: 11 Simple Transitional Summer To Fall Outfit Ideas
If you want to add some edge to your look, try pairing a black trench coat with a pair of distressed denim and a statement necklace.
Whether you're going to work, running errands, or attending a party, you'll be able to find something to wear under your trench coat.
The 18 Best Womens Winter Coats For The Fall/Winter Season
Gallery Belted Wool Coat
This wool coat by Gallery features a matching belt and modern style. Completed with a removable hood for added versatility.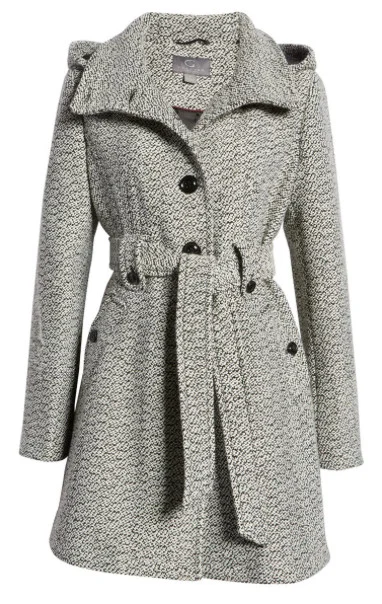 Lauren Ralph Lauren Women's Belted Wrap Coat
This this wool-blend coat by Lauren Ralph Lauren in a sophisticated below-the-knee length style, with a flattering waist tie.
Comes in 3 colours and was made to tackle the cold weather.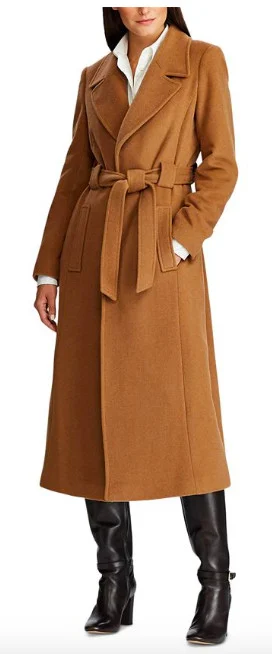 Best Womens Winter Coats: Anne Klein Belted Peacoat
A notched collar and a self-tie belt in a classic style on this single-breasted peacoat from Anne Klein.
Definitely a well made coat, suitable for the office or going out.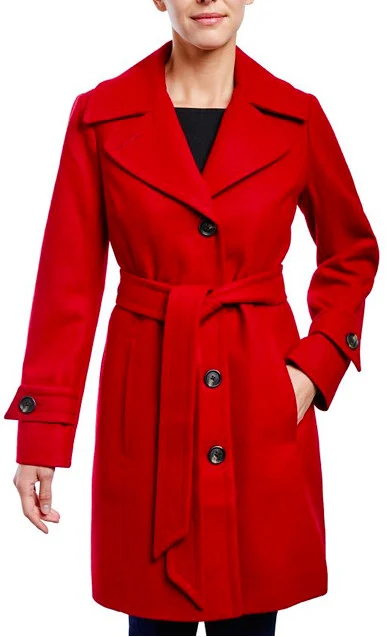 Ugg Gertrude Long Teddy Coat
A statement piece for the winter season, this Ugg double-breasted, faux-shearling coat offers cozy warmth while staying lightweight and comfortable.
Related: The Best Dupe Doc Martens, Alternatives + Lookalike Boots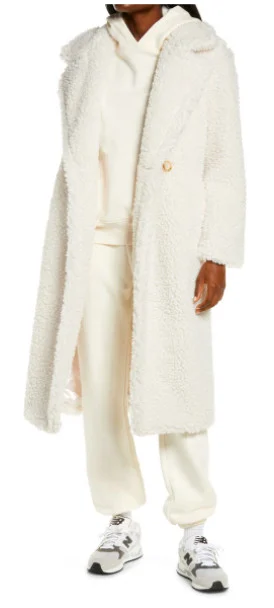 Best Womens Winter Coats: Via Spiga Rain Trench Coat
A classic double breasted trench coat that features a modern fit and playful waist ties with a water repellent fabric.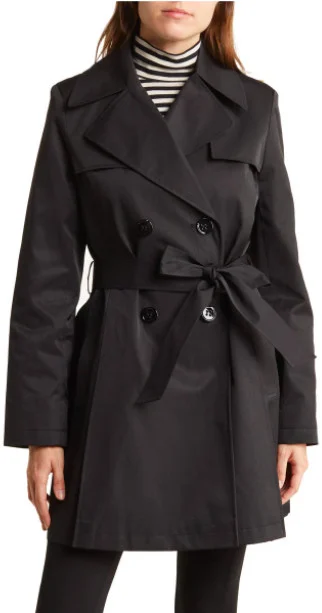 Cole Haan Hooded Down & Feather Jacket
Cole Haan baffle-box quilting locks in the down-hybrid insulation of this puffy parka, fitted at the waist and inset with an extra stand-collar placket.
Related: 20+ Ways To Wear A Wide Leg Pants Outfit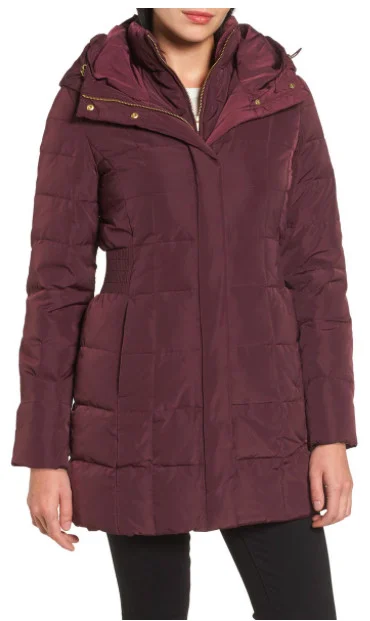 Burberry Kensington Cotton Trench Coat
Burberry's most popular trench is made from breathable, weatherproof cotton gabardine.
The collar was hand sewn using over 180 stitches and will reveal the brand's classic check design when popped.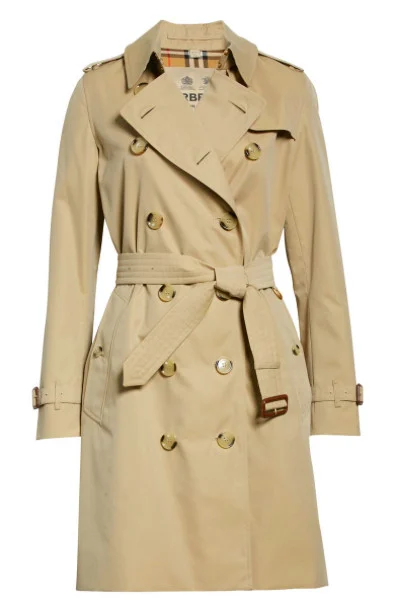 Best Womens Winter Coats: Kenneth Cole New York Jacket
Kenneth Cole New York Faux Fur Trimmed Quilted Faux Leather Anorak Jacket.
Faux fur lines the hood of this Kenneth Cole NY faux leather anorak jacket that will keep you warm while making a statement all winter long.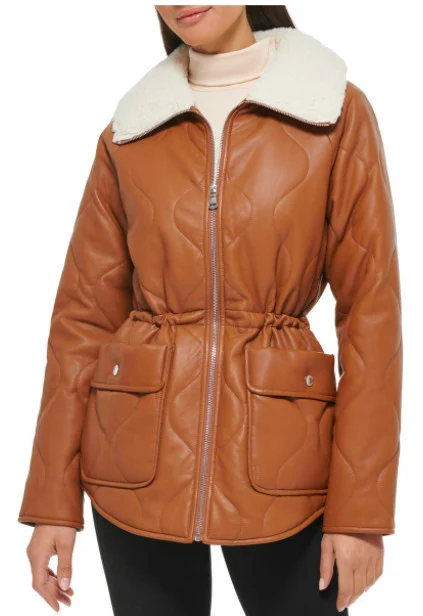 Sam Edelman Elongated Trench Coat
Switch out your classic trench-coat look with this Sam Edelman coat that's designed in a versatile mid-calf length.
Related: 20+ Timeless Outfits With A Jean Jacket To Replicate Now

Noize Hannah Faux Fur Trim Hooded Parka
The Noize parka features a faux fur trim along the hood, puff exterior, and multiple zip pockets which complements this coat well.
Marc New York Faux Leather Puffer Jacket
Stay cozy and look chic in this Marc New York faux-leather puffer jacket featuring a storm placket, ribbed cuffs and handy zip pockets.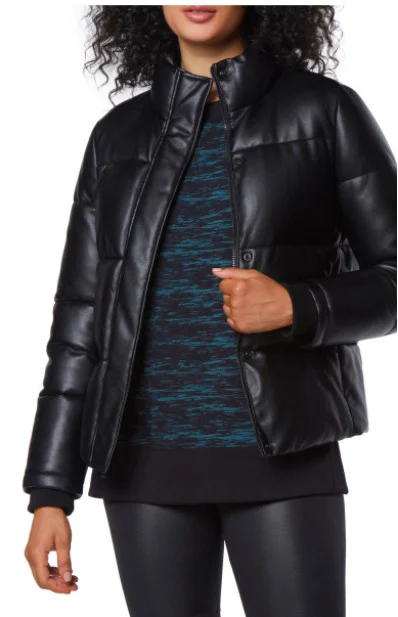 Best Womens Winter Coats: Michael Kors Belted Shawl Collar Coat
A wide, pointed shawl collar adds unique style to this essential wool blend coat.
This Michael Kors belted coat is one that you'll want to keep on rotation in your wardrobe during the winter season.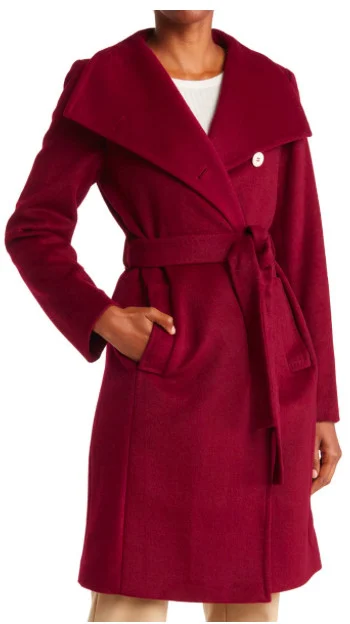 The North Face Arctic Down Parka with Faux Fur Trim
North Face Arctic Waterproof 550-Fill-Power Down Parka with Faux Fur Trim.
Related: The Best Ugg Dupes, Look Alikes + Alternatives
Soft faux fur trims the hood of this cozy, North Face down-filled parka with a waterproof finish, fully sealed seams and a durable shell.

Juneau Fleece Trucker Jacket
Ward off the season's cold in the high-pile fleece warmth of this ultra cozy, lightweight jacket from Nordstrom.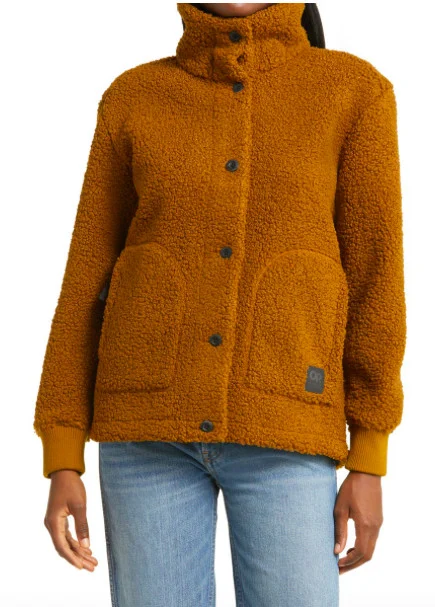 Avec Les Filles Single Breasted Peacoat
This Avec Les Filles peacoat features crisp notched lapels and a single-breasted design with streamlined styling.
A classic peacoat that's essential in the cooler seasons.
Treasure & Bond Leather Bomber Jacket
Treasure & Bond Leather Bomber Jacket with Faux Shearling Collar.
Related: 25 Stylish Outfits With Mom Jeans To Wear Now
Classic aviator style defines this effortlessly cool leather bomber finished with mixed pockets and a plush faux-shearling collar.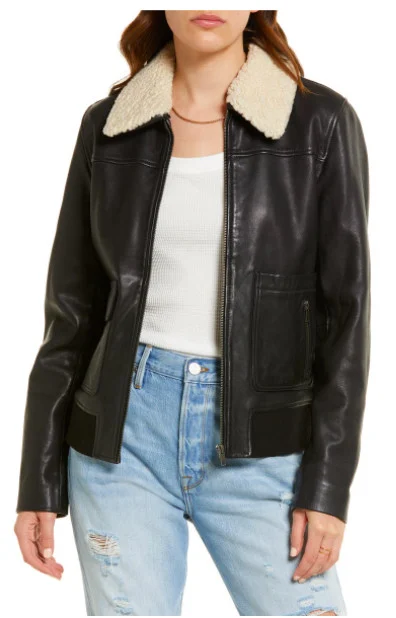 Best Womens Winter Coats: Lauren Ralph Lauren Belted Wool Blend Coat
Get extra cozy this winter with this Lauren Ralph Lauren heavy, wool blend, belted coat, topped with an oversized shawl collar.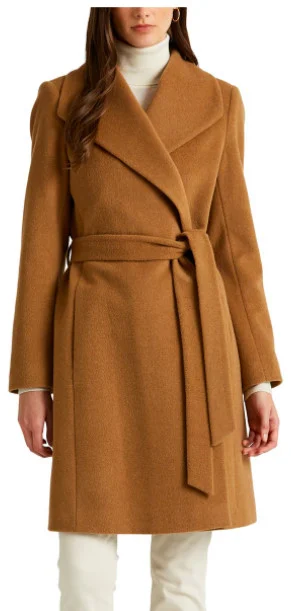 Calvin Klein Hooded Faux-Fur-Lined Raincoat
Calvin Klein Hooded Faux-Fur-Lined Anorak Raincoat.
An anorak-style, cozy raincoat from Calvin Klein with faux-fur lining for added warmth and a hood to complete the look.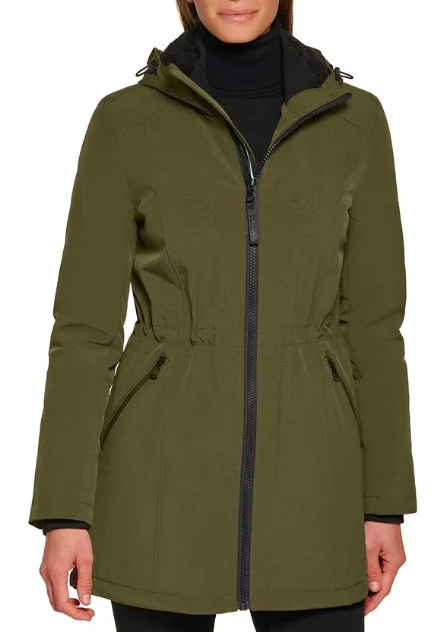 The Best Womens Winter Coats: What to Look For When Buying a Coat
Here are some things to consider when shopping for a new coat.
Durable Construction
The best winter coats for women are those that offer protection from the elements while still being stylish enough to wear during the day.
Some coats come with fur trim, which adds warmth without making them bulky. Others feature hoods, pockets, and other features that help keep you comfortable.
You should also consider the quality of the fabric used when choosing a winter coat.
If you're going to spend money on a winter coat, you want one that will last. A good coat should be made of durable materials like the ones listed below.
Good Quality Fabric
There are several different fabrics available, each with its own benefits and drawbacks.
Cotton is an excellent choice because it breathes well and dries quickly. It's also easy to care for, making it ideal for everyday use.
However, cotton tends to shrink overtime, so it's not recommended for coats that will be worn frequently.
Polyester is another popular option. It has a smooth finish and is durable, but it does tend to wrinkle easily.
Wool is a classic material for coats, as it keeps you warm without weighing you down. It's also naturally water repellent, making it perfect for rainy days.
Leather is another popular choice. It's soft and supple, but it does require maintenance.
The Right Style and Fit
If you're shopping for a winter coat, you should also think about what type of fit you prefer.
You might want a coat with a slim cut so that it fits close to your body. Or maybe you'd rather have a coat with a roomier cut so that it covers more of your body.
You'll want to make sure that the coat feels comfortable when you put it on. It should fit well without being too tight or loose.
A good fit is essential to wearing any type of clothing well.
Usability
When it comes to finding the right coat for the cold weather months, there are many factors to consider.
For example, if you live in a place where temperatures drop below freezing, you might want to look into purchasing a heavier jacket than one that would be appropriate for warmer climates.
You should also think about what kind of activities you plan to engage in while wearing your coat.
Will you be walking around town? Going shopping? Or maybe you're going to be doing some skiing or snowboarding?
In each case, you'll want to choose a coat that has enough insulation to keep you comfortable.
Personal Preference
When choosing a winter coat, you'll first want to decide whether you prefer a parka or a trench coat.
Parkas tend to be lighter weight and less bulky than trench coats, which makes them easier to wear.
However, they aren't always the most practical choice because they can get caught on things and snag easily.
Trench coats, on the other hand, offer a bit more protection from the elements. They're usually lined with fur or wool, making them warmer and more durable.
Wrapping Up The Best Womens Winter Coats
In your search for the best womens winter coats on a budget, there are plenty of styles of coats available. Ranging from classic trench coats to trendy parkas.
Whatever your preference, here are some things to consider when choosing a winter coat.
A durable coat will last longer than a cheap one. If you plan to use it as an outer layer, make sure it has a waterproof lining.
This will help keep water off your body, preventing any wetness from getting inside the coat.
You also want to avoid materials such as nylon, and acrylic. These fabrics tend to wrinkle easily and won't hold up well over time.
Instead, opt for natural fibers like wool, cotton, or leather.
Shop Editor's Picks

Shevy
Hi! I'm Shevy! I'm the Founder and Managing Editor of Travel Beauty Blog est. 2016. I am also the Founder of Shevy Studio Marketing Agency where I work with entrepreneurs and bloggers on SEO/Content Strategy, Web Design and Consultancy.