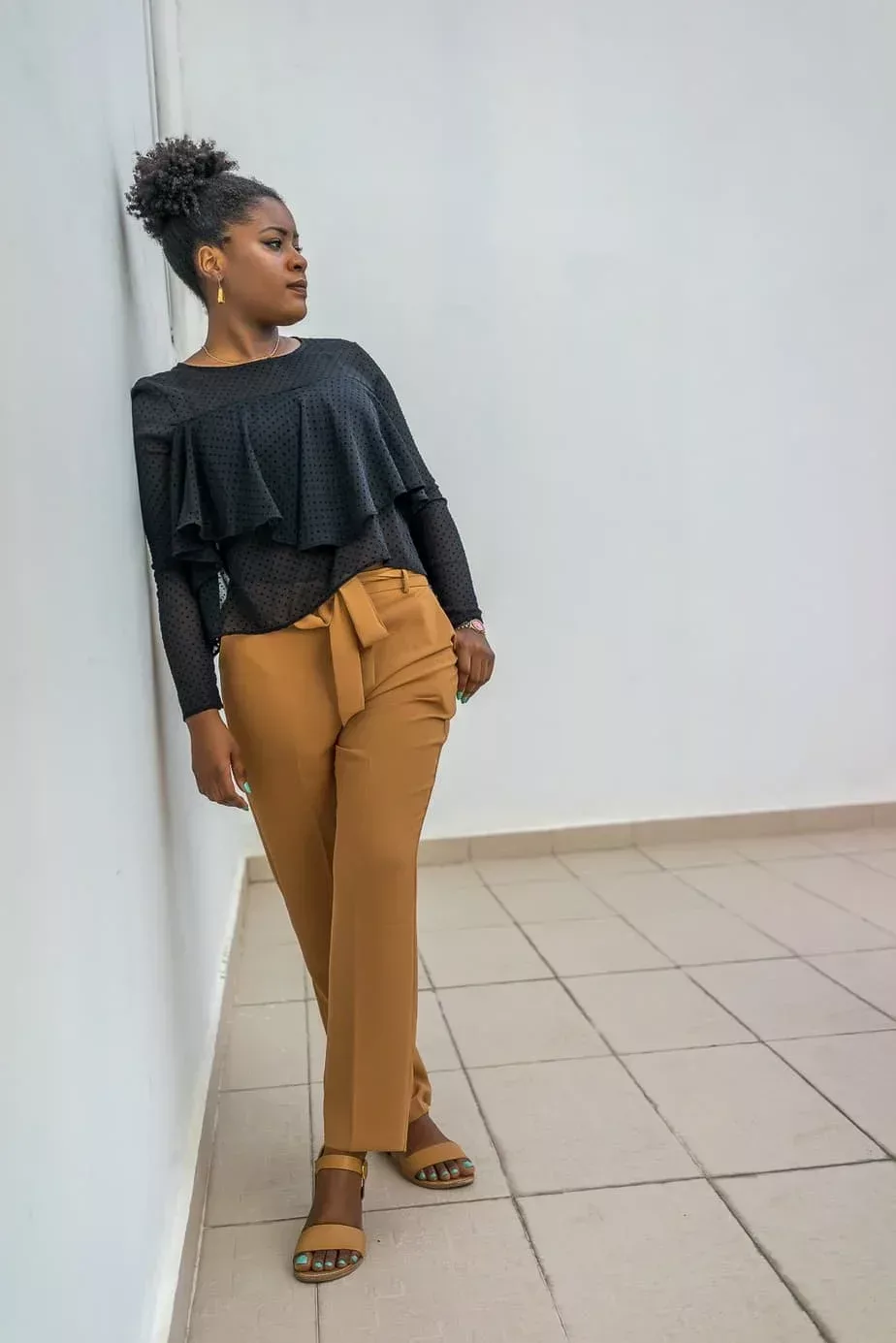 Last Updated on 10 months by Shevy
A Look That Can Transition From Day To Night
Finally I get to put together an outfit that can transition from day to night. My friend Kizzy had suggested this topic some months ago when I prompted my followers for blog topics. Not that I had forgotten about it but I couldn't come up with a fitting outfit sooner. This was one of those ensembles where I wasn't really feeling it at the moment but in the end it turned out okay.
Related: HOW TO MAKE THE BEST SUMMER CAPSULE WARDROBE EASILY
On the day of the photo-shoot I did put on pair of heels but then switched it out for sandals. Not sure if I was in a sulky mood or just wasn't feeling to have my photos taken. All I know is that I wanted to be comfortable and I always choose comfort over cute. After seeing how my photographs came out I realized it was ideal to transform from a day to night look.
This post contains affiliate links
Transition From Day To Night Wearing:
Trousers
The pants is sort of a mustard yellow with a banded belt waistline which I don't mind because I get a firmer fit around my waist. I wasn't sure if I wanted to wear it solid black or white but I had been going back and forth changing tops. One of the main reasons why I was in a bad mood doing this shoot.
Related: AMAZINGLY THE BEST SWIMSUITS TO HIDE YOUR TUMMY
Blouse
Frill design at the front of the top, extends all the way across below both arms and I love it. Its a sheer material with polka dots details through out. Also, its super chic and comfortable. Although its black its very lightweight so that means I don't have to worry about burning up in the sun too much.
Wear To Work
Can be easily transitioned into a work outfit by ditching these sandals and adding a pair of pumps and a handbag. For the sake of being decent at the office and being a see-through material, I'll have to put on a jacket.
Related: A GUIDE TO THE BEST KNOCK OFF BIRKENSTOCKS
Going Out
On an occasion outside of work I have the option of keeping on this pair of shoes or put on a pair of heels.
Read Next: THE MOST BEAUTIFUL LOUNGEWEAR FOR WOMEN YOU NEED TO HAVE
Save
Save
Save
Save
Save
Shevy
Hi! I'm Shevy! I'm the Founder and Managing Editor of Travel Beauty Blog est. 2016. I am also the Founder of Shevy Studio Marketing Agency where I work with entrepreneurs and bloggers on SEO/Content Strategy, Web Design and Consultancy.