Last Updated on June 29, 2020 by Shevy
*I earn a small commission if you purchase through any of my links at no extra cost to you*
How To Wear A White Tee And Look Good
Generally I am a simple dresser and I love graphic t-shirts. So I decided to dedicate a post on how to wear a white tee and still look good. If you read this post here you would know that white is not my favourite colour. But that does not mean that I do not or can't wear it, in fact I love how an all-white outfit looks.
So as I'm going through some of my photographs from my photoshoots thinking about how I can repurpose them. I came up with the idea for this post and decided I would use the photos in this post for another blog post as well. The other blog post is the one that I actually shot this look for. But I wanted to share that little detail to let you know that if you are a blogger, its quite okay to repurpose your photos.
Related: What To Wear When You Are Not Feeling To Dress Up
How To Wear A White Tee And Not Look Basic
Wearing white may not be as fun as wearing another colour because you always have to be so cautious about getting dirty. Trust me, it can be quite embarrassing to be walking around with food stains plastered all over your t-shirt. So I get it why a lot of people tend to stay away from white. However, I wanted to share some fun ways you can make a white tee look anything but BASIC.
Use A Bold Lip Colour
You want to draw attention to your face by going with a full face glam makeup look or bold lip. It's obvious why I said bold lips because from looking at my picture you can tell that I am wearing a bright pink lipstick. The colour I am wearing is All Fired Up and its from MAC cosmetics. MAC Cosmetics is still one of my go-to makeup brands.
Wear It With Blue Distressed Jeans
My second favourite way to wear a white tee is with a pair of blue distressed denim jeans. It doesn't matter if its dark washed or acid washed as the white would make it pop anyway.
Dress It Up With Heels
For a classy, girly look dress it up with a pair of bold colour or animal print shoes, whether it be wedges or pumps. On a comfy day or a more casual occasion, wear all white sneakers.
Accessorise
When it comes to accessories the possibilities are endless. Use dressy hang earrings such as this pearl one that I'm wearing or one if your choice. Additionally, I've chosen to accessorise my white tee with white sunglasses, a chain crossbody bag, designer belt and a dainty necklace. Alternatively you can up your look and mix in a designer statement piece such as a handbag.
Shop the necklace and other cute dainty jewellery here and use my code SHEVY15 for a discount. Check out this review I wrote of some of their pieces and they have added tons of new items since then. All outfits details can be found on my weekly edit page or from the Shop My Instagram page.
Layer With A Bold Solid Blazer
To add a pop of colour, layer your white tee with a bold, solid blazer. Those are my tips for rocking a white t-shirt and looking expensive. What are some of your favourite styling tips when it comes to wearing white?
Get the look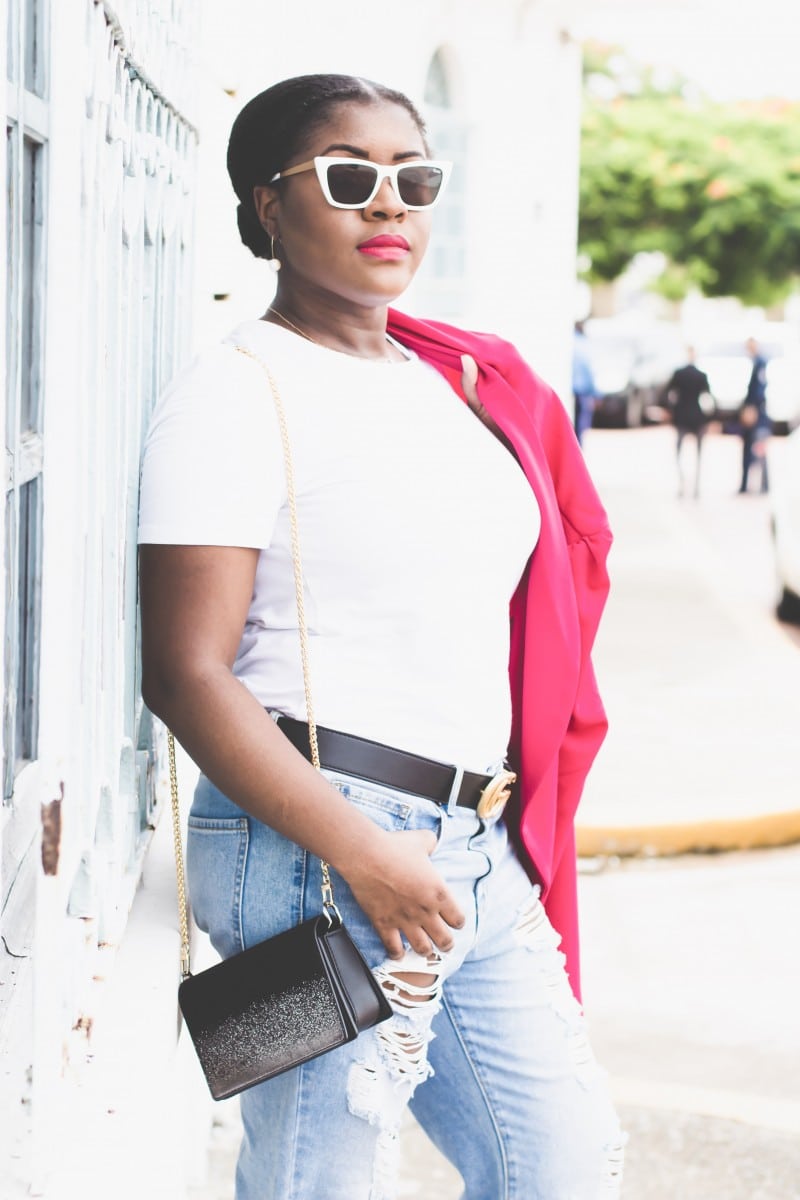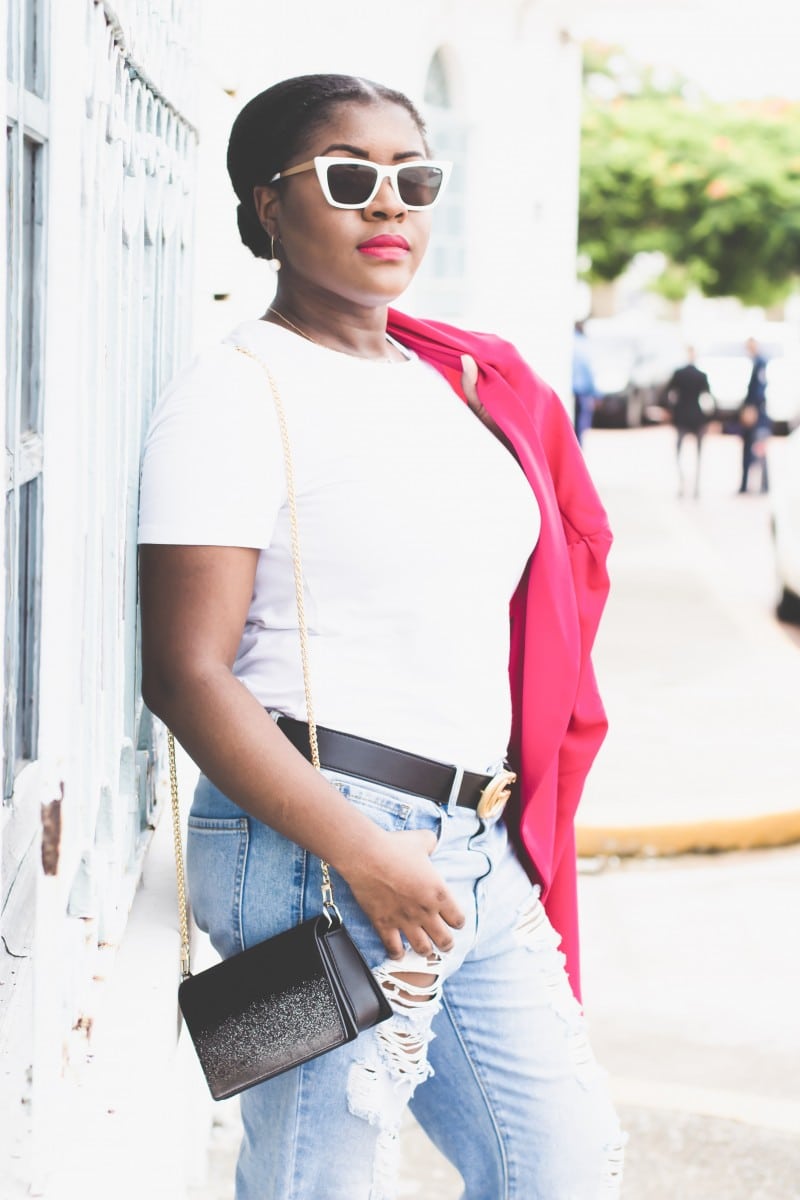 4