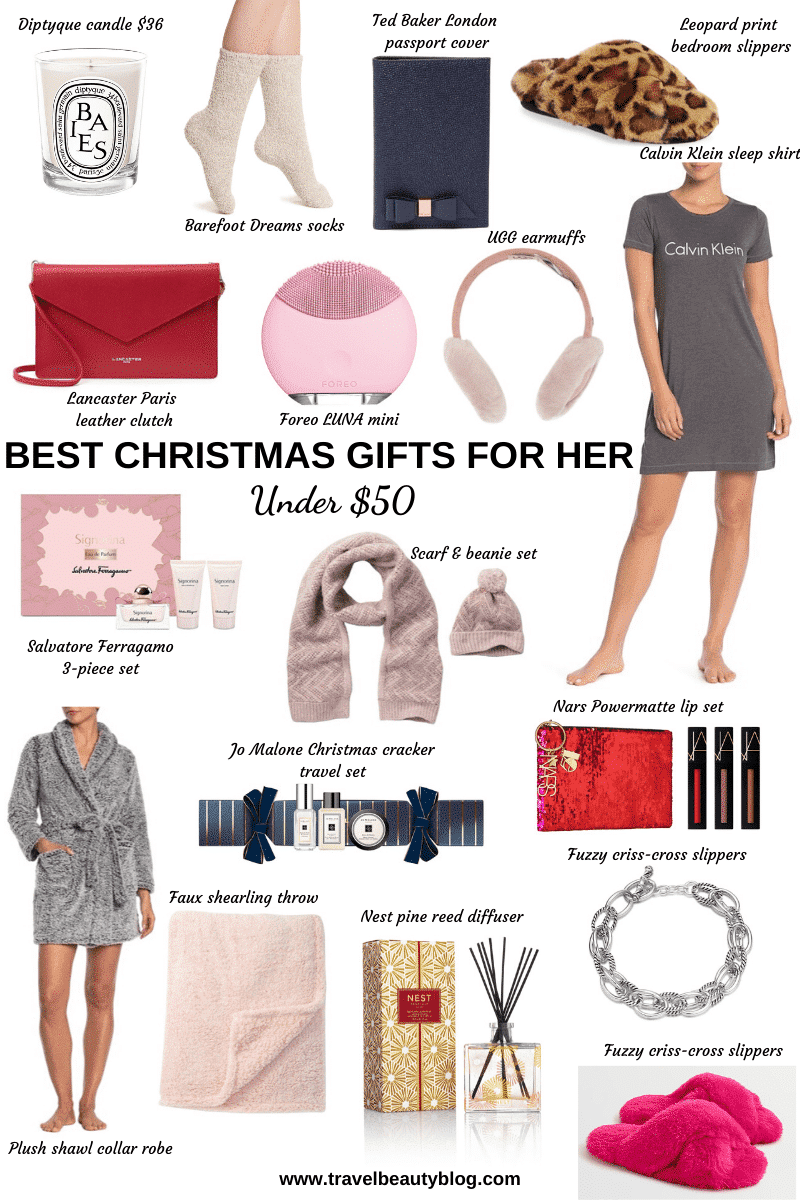 Last Updated on 3 years by Shevy
*I earn a small commission if you purchase through any of my links at no extra cost to you*
Gifts For Her Under 50
Its the holiday time and most people want to buy a gift for their family and best friends. That's why I'm rounding up the best gifts for her under 50 so that everyone can have a merry Christmas.
I know just how quickly a couple of items can run into hundreds of dollars and before you know it you're broke. I also understand how difficult it can be to purchase gifts for an entire household as well as for friends.
So the key to minimizing your expenses is to find budget friendly items that are worthy of giving. I've saved you a bunch of time and headache by putting together this list of gifts for her under 50 dollars.
But if you are interested in beauty products, you can read this post here. Or beautiful cozy gifts for her under $50 in this gift guide here.
You may also be interested in checking out more sales here.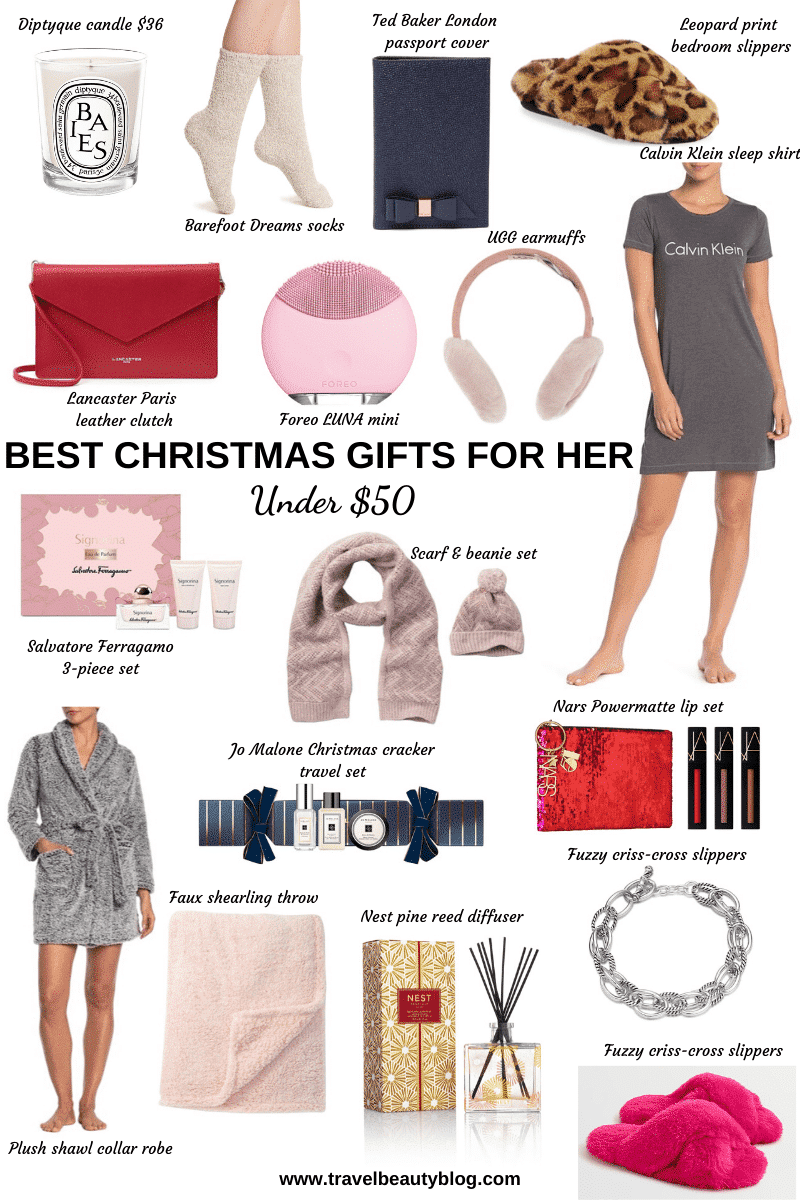 Roundup Of The Best Christmas Gifts For Her Under 50
Diptyque candles smell so heavenly and I particularly love this one. It has a mild fragrance that I can't quite explain but most people love it as well. The candle comes in a 2.4 ounce size for under $36 and an 6.5 oz size for $65.
Slip your feet into this Barefoot Dreams cozy socks for some extra warmth and softness for only $15.
Travel in style with this Ted Baker London luxury bow leather passport holder. Costs only $35 and is available in both black and navy blue.
A pair of bedroom slipper is something that is always needed regardless of the season. You can wear them indoors all year round and I love this leopard print one for $30. There are 4 other colours too including neon pink and neon green.
Lancaster Paris leather clutch is available in 5 different colours and only costs $45. Stylish and sleek, and can also be worn on the shoulder with its long straps as a crossbody purse.
Foreo luna mini facial brush in petal pink is perfect for the beauty lover. It's a facial cleansing brush that deep cleans, cleanses and transforms the skin by removing blemish-causing impurities.
UGG earmuffs comes in 3 pastel colours and only costs $40.
I love sleepwear and pajamas and this Calvin Klein is nothing short of cute and sexy.
This 3-piece set includes a 50ml parfum, a 50ml body lotion and a 50ml body wash.
A Steve Madden 2-piece chevron knit pom pom beanie and scarf set for under $25.
Chic, plush robe ideal for lounging at home. It features a removable waist tie closure and front patch pockets.
The set comes with a cologne, and a body and hand wash. Although these products are travel sizes they last quite a while and a little bit goes a long way. You can bet that the cologne lasts all day long. You should be careful not to apply too much because it can be overpowering. Jo Malone London's fragrances also tend to have a woody smell to it but it may vary by scents.
I've heard a lot of great things about Nest candles and I have no doubt that their diffusers are just as great smelling. Fill your home up with the aroma of a majestic winter forest, with the blend of white pine, fir balsam and birchwood over a base of rich musk and amber.
Faux shearling throw is available in 3 different colours and can be placed on your bed or sofa.
A Nordstrom-exclusive, limited-edition set featuring three full-size Nars products. They are presented in a nice sequin makeup pouch on theme with the holidays.
These fuzzy criss-cross slippers make a great gift and are bound to keep your feet nice and cozy in the cold weather.
Designer Inspired Antique Bracelet
Give the gift of fashion jewellery with this designer inspired antique bracelet.
That concludes my roundup of gifts for her under 50 dollars. Wish you guys all the best in finding the right gifts for your loved ones.
Shevy
Hi! I'm Shevy! I'm the Founder and Managing Editor of Travel Beauty Blog est. 2016. I am also the Founder of Shevy Studio Marketing Agency where I work with entrepreneurs and bloggers on SEO/Content Strategy, Web Design and Consultancy.