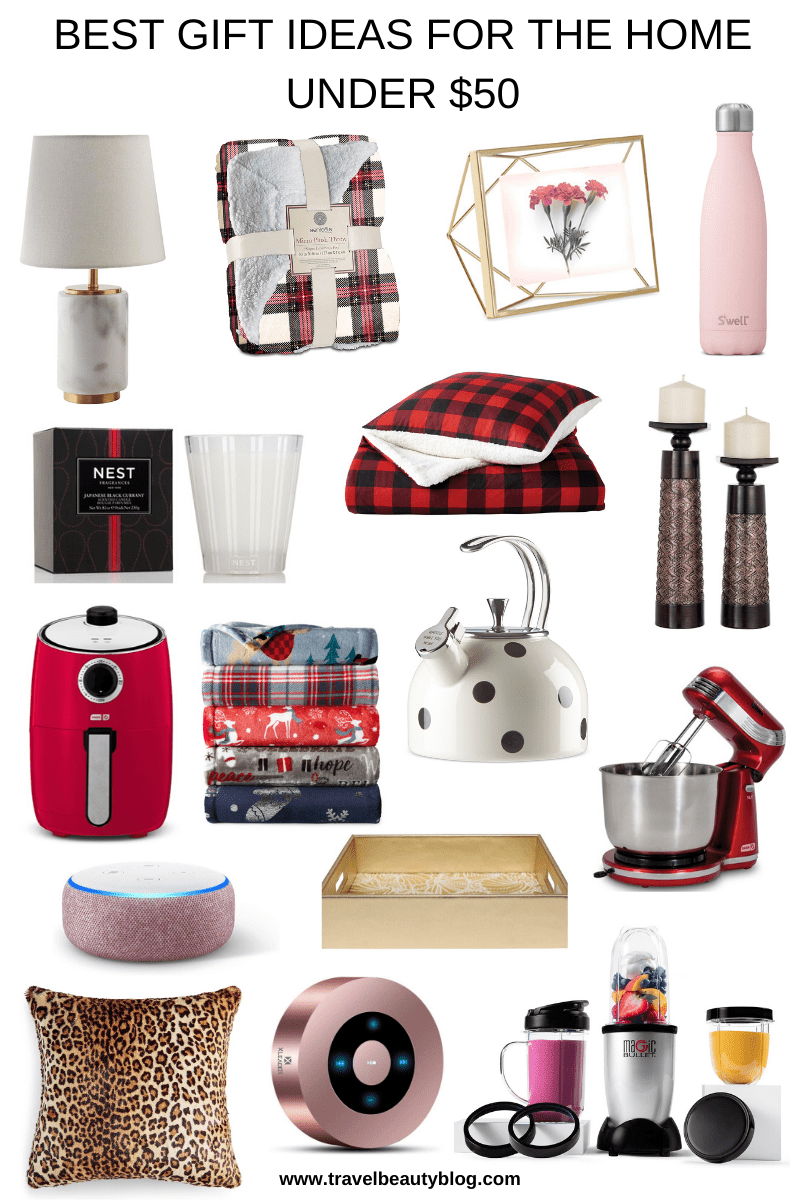 Last Updated on 3 years by Shevy
*I earn a small commission if you purchase through any of my links at no extra cost to you*
Christmas Gift Ideas For The Home
Normally I don't buy home decor for anyone as a gift unless I know they wanted something in particular. But for those of you who do, I'm linking tons of Christmas gift ideas for the home in this post. Let me tell you a little story as to why I don't buy home decor gifts anymore.
You may also be interested in: The Best And Most Affordable Rosegold Home Decorations
A Little Story
As a teen growing up, my sister and I used to save up money from our allowances. It wasn't much back then but we always made sure to save just enough to buy our parents Christmas presents. Usually we gifted our dad some clothing items and some ceramic ornaments for her mom, (my step mom at the time).
We did not buy the same things every year but it was a tradition to have ornaments in your house as a West Indian. Mind you, we were tasked to cleaning those very said ceramic ornaments almost every weekend. In hindsight it was like punishment to ourselves but boy did we come a long way lol. A couple of them would have broken by mistake from time to time and it was almost like losing a prized possession.
Fast track to today, I can't remember the last time I ever saw ceramic figurines at a store, outside of Christmas related ones. Unless it was at someone's house who have had them for years as a collection.
Times have changed in the world of home decor today and I don't think that trend would return in our lifetimes. These days there's just so much nicer home decor and in even more beautiful colours like gold and rose gold. Who knows maybe years from now even these trends may be a thing of the past.
Related: How To Beautify And Cozy Your Home For Fall
The Best Gift Ideas For The Home Under $50
Rivet Marble Table Lamp With LED Light Bulb
This mid century lamp is 14 Inches and its in a white marble and brass colour.
Tartan Sherpa Throw Plush Blanket (50 inches X 60 inches)
Love this tartan colour sherpa throw blanket and its only $30 with a 5 star rating.
Umbra Prisma Picture Frame
A photo display for desk or wall and you can frame a picture of your loved ones and give them as a gift. It comes in 6 different colours and in a range of sizes.
Stay hydrated in high style with a sleek, double-walled stainless-steel water bottle. The fabrication keeps cold drinks cold for up to 24 hours and hot drinks hot for up to 12. Each bottle features a wide mouth that makes it easy to fill, add ice cubes and clean.
You can't go wrong with scented candles because most women loves them. Candles are always included in my Christmas gift ideas for the home.
1 Buffalo check sherpa throw and 1 pillow for a steal of a deal under $50.
Decorative Candle Holder Set Of 2
Great for coffee Tables, mantle decor centerpieces for fireplace and living or dining room tables.
Enjoy the indulgence of crispy fried foods without the guilt. When using the Dash air fryer you use 80% less oil while enjoying equally delicious and healthy results.
Switch these out for your everyday plush throw to make the home feel like the holidays.
All in good taste deco dot tea kettle from Kate Spade is bound to add some spark to any kitchen.
Amazon Echo Dot Smart Speaker With Alexa – 3rd Gen
If she's into having a smart home she's going to love this Amazon Echo Dot Smart speaker.
Lilly Pulitzer Gold Letter Tray
Although this is a letter tray it can also be used in the home as a decorative tray.
If she's into baking you can get her one of these stand mixers. Its a cost-effective alternative to the Kitchen Aid mixer.
How cute is this leopard print decorative pillow. You don't need a special season to put this one out.
Portable Bluetooth Speaker 2nd Gen

  
LED Touch Design bluetooth speaker with 5W HD sound.
This Magic Bullet is a great gift for the fitness enthusiast.
That concludes my roundup of the best Christmas gift ideas for the home. Check out more gift guides here.
Shevy
Hi! I'm Shevy! I'm the Founder and Managing Editor of Travel Beauty Blog est. 2016. I am also the Founder of Shevy Studio Marketing Agency where I work with entrepreneurs and bloggers on SEO/Content Strategy, Web Design and Consultancy.