Last Updated on 3 months by Shevy
Beauty Products Gift Ideas for the Women In Your Life
This gift guide is packed with a lot of beauty products that you can give as a gift to the beauty and skincare lovers. Products that promote healthy skin, dry skin, fine-lines, dull skin, uneven skin tone, anti-aging concerns and acne.
We are a participant in various affiliate marketing programs and may earn a commission for any purchases made through these links at no extra cost to you. Read full disclosure here.
These products have been proven to be effective by the majority of persons who have used them including me. I can attest to some of these products as I have personally used them and seen amazing results.
Related: 5 Beauty Hacks That Will Save You Time And Money
The Best Beauty Products Gift Ideas For Her
Tula Skincare is a popular and highly-rated beauty and skincare brand and their products speak excellence. Essentials routine kit contains five full sized products that can be used independently or as a complete routine.
Use this 5-step kit if you want to achieve glowing, radiant, and smooth skin. It also comes with a beautiful cosmetic bag for storing your products. If you are on a budget you may opt for the discovery kit which contains four products and a cosmetic bag as well.
Related to beauty products: The Best Perfumes I Ever Used And Recommend
What I love about this Elemis gift set is that it comes with 12 different products which is a great way to experience their products. Especially if you want to try out a few items before committing to buying full sized products.
You may treat yourself with this luxurious set or give it to someone special. While most of the products are trial sizes, it does feature a full size skin-mattifying superfood berry boost mask. You can take it up a notch with the 25 days of beauty kit which features 25 skincare surprises.
Related: The Best Korean Moisturizers For Healthy Skin
Either way, it is an ideal present for ELEMIS lovers or anyone who wants to elevate their skincare routine.
Everyone knows Estee Lauder is famous for their makeup, skincare and fragrances. Smooth + Glow is a limited edition skincare set containing a full sized moisturizer and 3 other products.
Made to promote youthful skin, hydrate and rejuvenate. Feels smooth, plumped, baby-soft and fines and wrinkles appear reduced.
Anything from this brand would put a smile on her face and I also recommend trying something from the advanced night repair line. They also have the repair + renew kit if you are on a tight budget.
The Christmas Cracker travel set is a very tiny set indeed but the products lasts a while. I still have one of these that I got last Christmas however I only use them on occasion.
Jo Malone fragrances tend to be very strong and distinct since they are mainly colognes and they smell more on the woody side. Each set comes with varying scents so you can choose one that appeal to you the most.
You can't go wrong with T3's hair products and the high product ratings speak for themselves. If you are in the market for high-end hair tools then this is it.
I've only heard great things about the products in this set especially the face moisturizer and serum. Not only that but this set includes at least 10 beauty products and a cosmetic carrying case, all for under $100.
La Mer is one of the most expensive skincare products on the market but the price tag is worth it. However, the concentrate mini miracles set is not the most expensive or the cheapest one either.
It's priced at mid-range so that her skincare goals and wish-list can still come through with this La Mer set.
Women do love a good scented candle and if she loves eucalyptus she's going to love the scent of this candle. Its the perfect time to fill her home with the scent of pine for fall.
YSL holiday set comes with two fragrances featuring the scent of Libre—a reinvention of floral perfume. Also comes in a beautiful box that's suitable for giving as a gift. As a budget-friendly option you can get this
YSL libre set
instead.
Origins skin care essentials set to help you create the perfect nature-infused routine.
A limited-edition trio of full size Le Rouge lipsticks in three different finishes, presented in a chic travel makeup bag.
Estee Lauder's beauty essentials set has at least four sets of beauty products including, eye shadows, skincare products and lipsticks.
Nars lipstick are really pretty and this set is perfect for the beauty minimalist. The set contains three different lip products in colours that are perfect for the holidays.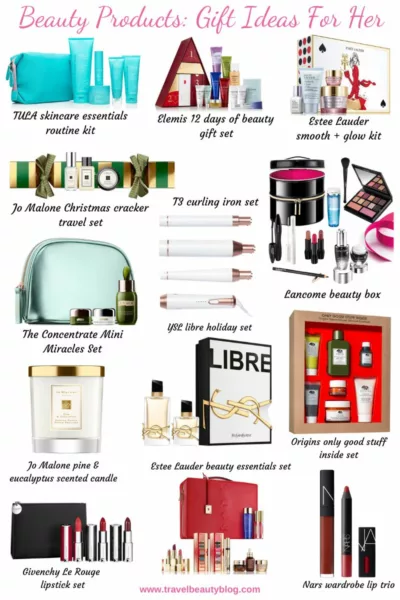 More Gift Guides:
The Most Beautiful Cozy Gifts For Her Under $50
This Years Christmas Gift Guide For Her
Shevy
Hi! I'm Shevy! I'm the Founder and Managing Editor of Travel Beauty Blog est. 2016. I am also the Founder of Shevy Studio Marketing Agency where I work with entrepreneurs and bloggers on SEO/Content Strategy, Web Design and Consultancy.