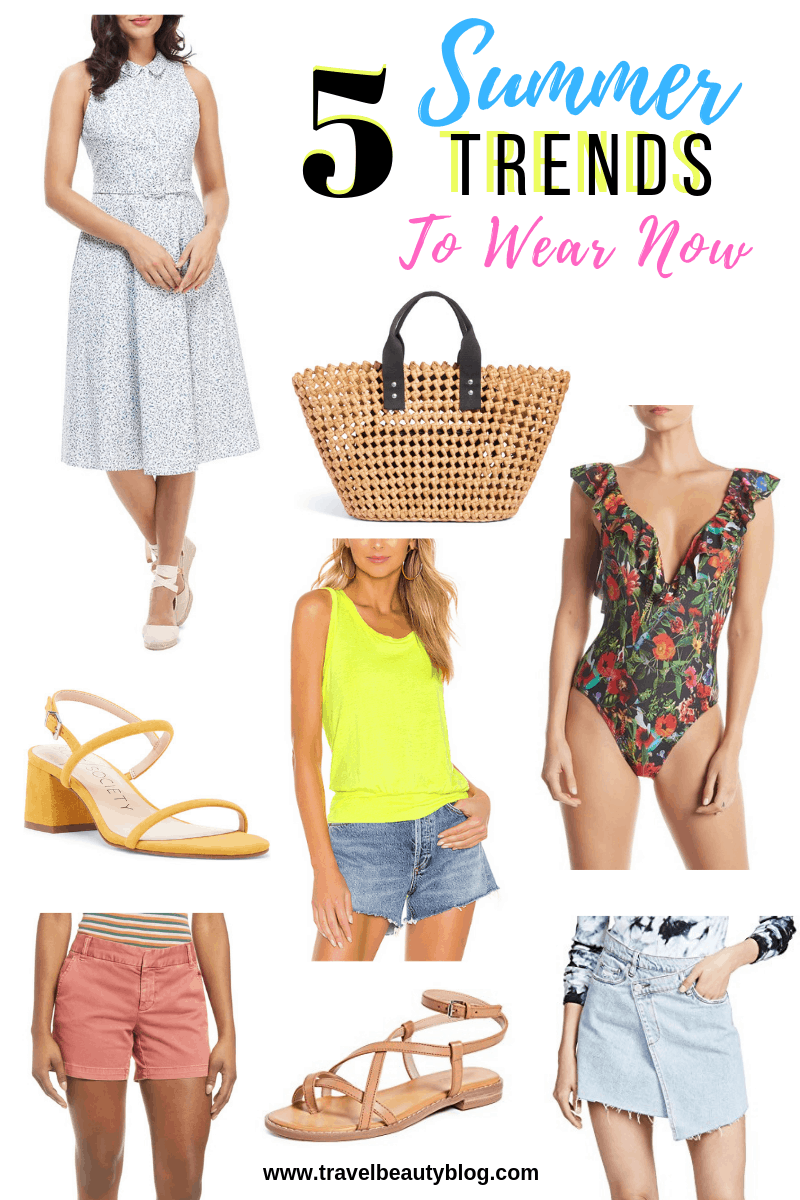 Last Updated on 10 months by Shevy
*I earn a small commission if you purchase through any of my links at no extra cost to you*
Summer Trends
Warmer climate is up ahead but you should not have to wait a couple more months before you can wear this year's summer trends. The 5 trends covered in this post can be worn from as early as Spring all the way into summer. This is also a great way to make the most out of the latest styles before they die down. At the beginning of the year, I wrote about the top trends that I am looking forward to wearing this year which you can read here. While some of them have already been laid to rest, there are still a few that will be on trend.
Related: How To Style Floral Print Top
5 Summer Trends You Need To Wear Right Now
Statement Dresses
This summer is all about statement dresses, whether they are solid colour, striped or florals that's up to personal preferences. However, midis, button ups and belted dresses seem to be the ones that would be popular in a few months.
Neon & Stripe Tops
The neon trend is heading straight into this year's summer. Some people tend to be timid when its comes to wearing bold colours and if you are one of them there is no need to be.  If you are more on the conservative side, you can find ways to tone down your look with darker colours. But if that is still too much for you then try using them as accessories to add a pop of colour to your outfit. Such as a neon colour belt, bag or pair of shoes.
Strappy Sandals
One of the summer trends I can never get tired of is the return of strappy shoes and sandals. These are the type of shoes that would take you from spring all the way into summer. For daytime looks you can opt for flat sandals and for evening and dressy occasions, wear a pair with heels.
Related: My Favourite Spring 2019 Trends
Denim Skirts
Denim never really goes out of style but short acid wash denim skirts in particular would be hot for summer. I like the asymmetrical style look on this one as it has that preppy but cool look. Should you require a bit more length, look at this one here.
Swimsuits
Whether you are already planning your mini spring getaway or summer vacation, you need to pack a couple swimsuits. Once you know there is going be to a swimming pool, sand, sea and sun then that goes without saying. One-piece swimsuits seem to be the summer favourite for this year.
Tailored Shorts
Not just any shorts but specifically tailored shorts are set to be back. These tend to be more dressy casual shorts that you can wear to go out when you want to switch up from your regular denim pants.
Related: Affordable Designer Bags To Invest In
Straw Bag
Straw cross-body bags and straw bucket bags are great for spring and summer picnics as well as for casual outings.  This one here is great for the beach and has the words "what the shell?" engraved on it.
Earn Cash Back
Have you been getting paid to shop lately? If not, then you can get cash back on all your orders by signing up to Rakuten network. Get access to thousands of retailers and brands and it doesn't matter if you shop in store or online. Simply download the app to your phone or the Chrome Browser extension on your computer.
Deal of the week: Shop Rebecca Mink Off Bags and shoes for as low as $75 on Nordstrom Rack for a limited time.
What trends are you excited to wear for summer?
Shevy
Hi! I'm Shevy! I'm the Founder and Managing Editor of Travel Beauty Blog est. 2016. I am also the Founder of Shevy Studio Marketing Agency where I work with entrepreneurs and bloggers on SEO/Content Strategy, Web Design and Consultancy.