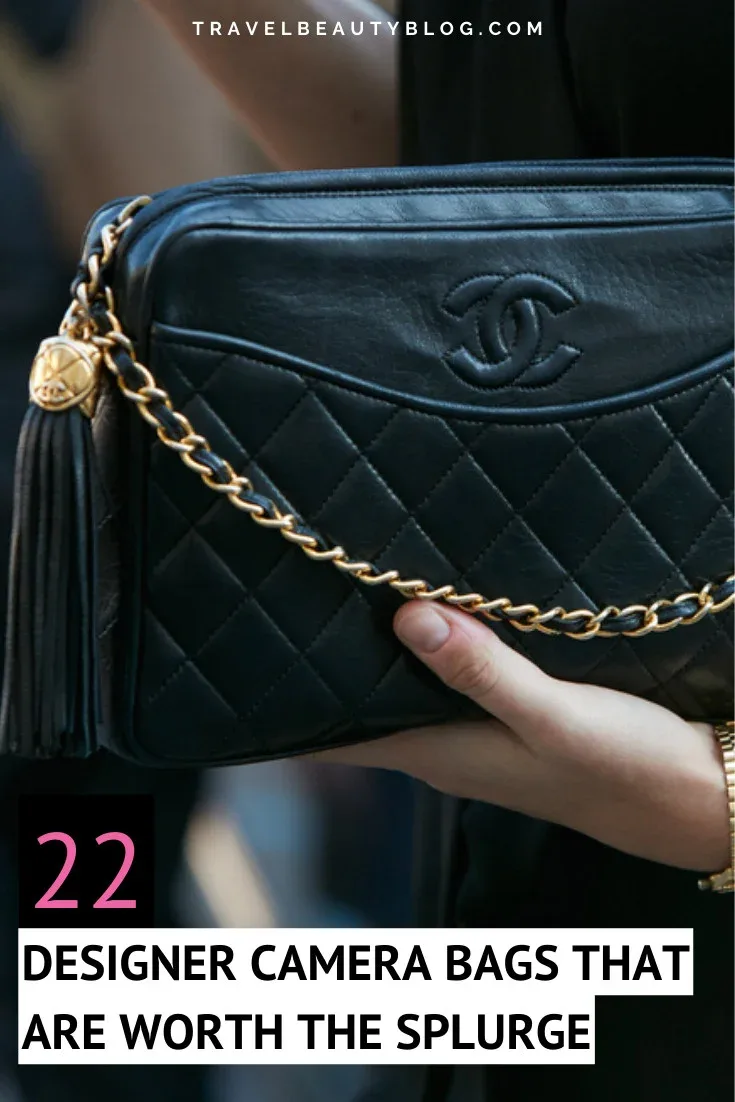 Last Updated on 1 year by Shevy
The Best Designer Camera Bags Of 2022
A stylish camera bag is an essential accessory for women who love fashion. Not only that but they are some of the most versatile pieces, as most of them come with an adjustable and or a detachable strap.
Making it easier to wear them in different styles such as a cross-body, mini or a shoulder bag.
What makes these designer camera bags special is that are all made from high quality materials and feature top notch craftsmanship.
We are a participant in various affiliate marketing programs and may earn a commission for any purchases made through these links at no extra cost to you. Read full disclosure here.
They feature multiple pockets and compartments to keep everything organized, which makes them a must have staple for your wardrobe!
Whether you're looking for a bag for everyday carry or one for traveling, these designer camera bags are sure to fit your needs.
They are durable, stylish and perfect for everyday wear or special occasions and also make great gifts for friends and family.
We have compiled a list of the best designer camera bags for women available on the market today. Discover the top 22 picks for 2022!
1. Marc Jacobs Snapshot Leather Crossbody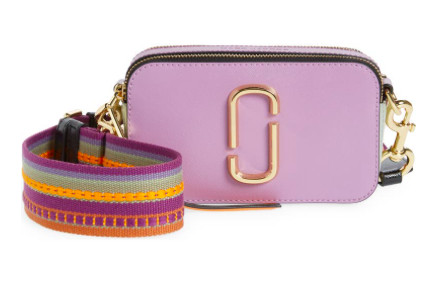 Marc Jacobs snapshot leather crossbody bag is one of the fashion house's most iconic bag to date.
It features a double zipper opening, the gleaming Marc Jacobs logo hardware at the front, and a statement-making detachable strap.
A budget-friendly designer camera bag, crafted in a beautiful color leather and can be worn as a crossbody or carried as a clutch.
2. Balenciaga Everyday Camera Bag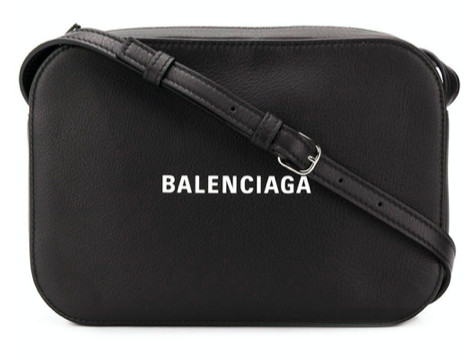 Balenciaga Everyday Camera Bag is a good match for a petite person who carries around minimal items. It is extra small in size, comes in classic black leather with an adjustable shoulder strap, and a top zip closure.
It is decorated with a white printed logo at the front. The perfect go-to bag for whenever you need to go fashionably hands-free. 
In addition to the its main inner compartment, it also includes a slip pocket, and a back slip pocket for more organization.
3. Michael Kors Ginny Crossbody Bag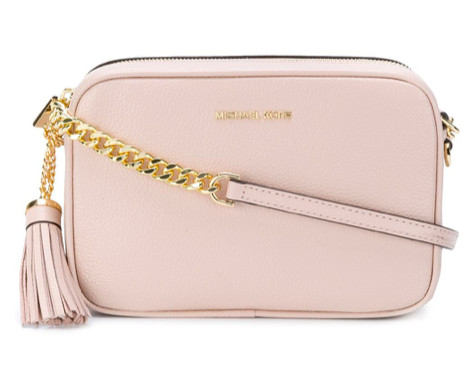 Whether you're heading out to do some shopping or getting ready for your next vacation. You'll want to take the Michael Kors Ginny Crossbody bag with you.
It is crafted from beautiful soft pink calfskin pebbled leather, featuring a chain and leather strap for multiple carrying options.
As well as a top zip fastening, an internal zipped pocket for extra storage and a hanging tassel, gold-tone hardware for added style.
This is by far one of the most popular designer camera bags for women and especially, an influencer favorite!
4. Golden Goose Star-Patch Camera Bag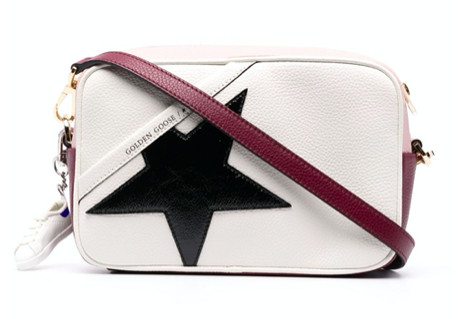 Golden Goose used to be known mainly for their sneakers however, they are slowly making their way into other areas and designer handbags are one of them.
The bag features their popular star-patch detail, a fine logo print to the front and gold-tone hardware.
To open the main compartment, it has a top zip closure and an adjustable detachable shoulder strap.
5. Saint Laurent Lou Matelassé Leather Camera Bag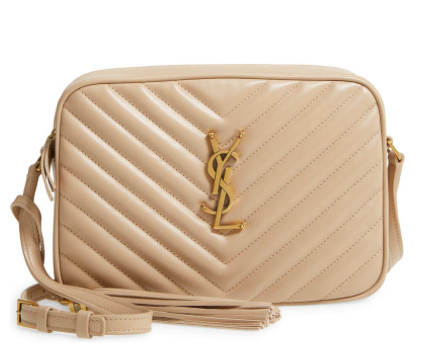 The Saint Laurent Lou Leather Camera Bag is another camera bag that is popular amongst style and fashion bloggers.
Rightfully so, it checks off a lot of boxes: modern, classy, chic and minimalistic – the YSL Lou Camera Bag pairs nicely with every possible outfit!
This is also one of my favorite designer camera bags on the list!
6. Tory Burch Kira Quilted Camera Bag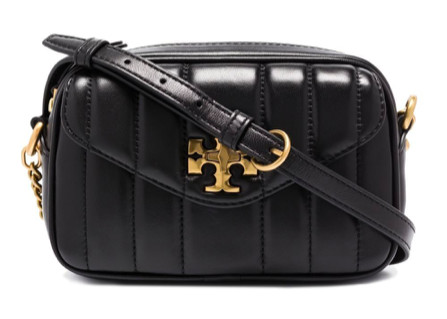 This black Tory Burch Kira Camera Bag is minimally detailed with the brand's Double T logo plaque at the centre in gold-tone.
It features a rear patch pocket, top zipper, a leather and chain-link shoulder strap that can be used interchangeably depending on the occasion.
7. Burberry Lola Leather Camera Bag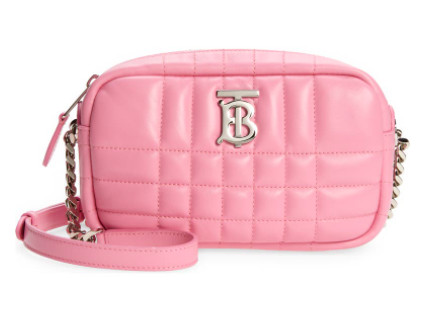 Burberry Lola Camera Bag in primrose pink leather. This box-quilted camera bag has a silvertone hardware which complements the rosy pink leather.
It comes with an adjustable strap, a top zip, pink lining and an interior slip pocket.
8. Gucci GG Marmont Matelassé Shoulder Bag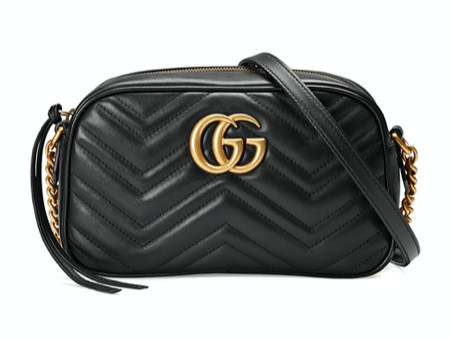 The small Gucci GG Camera Bag is crafted from black quilted effect leather and definitely a must-have.
This go-to shoulder bag also features a compact design and the signature Double G gold logo at the front which is very hard to miss.
It is a small, versatile bag that is suited for both day and night time wear. This just might be the number one designer camera bags of all time.
9. Bottega Veneta Classic Intrecciato Leather Camera Bag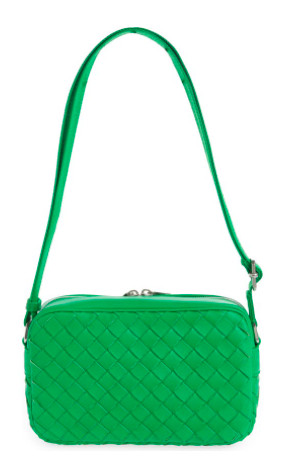 The Bottega Veneta Intrecciato Leather Camera Bag is a compact calfskin-leather bag that makes a major style statement.
This bold green camera bag is the perfect accessory to add a pop of color to your spring/summer outfit.
10. Love Moschino Quilted Cross-body Bag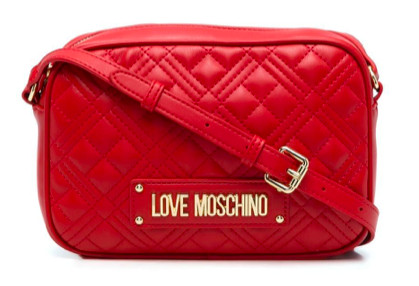 The Love Moschino logo-plaque quilted cross-body bag is such a beauty! It comes in a bright red quilted leather with a gold-tone logo plaque.
Also features gold-tone hardware, a top zip and an adjustable detachable shoulder strap.
Inside the main compartment has an internal slip pocket for staying organized. Get this camera bag if you're on a tight budget!
11. Chanel 1995 Diamond Quilted Camera Bag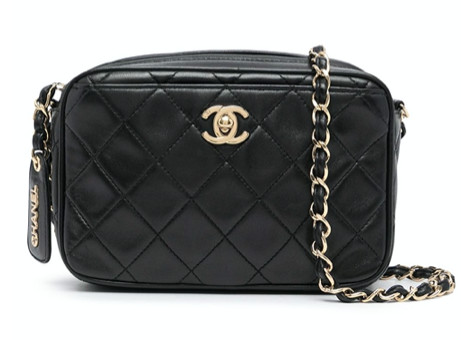 The Chanel Diamond Quilted Camera Bag is crafted from raven black lambskin and gold-tone punctuated hardware.
This 1995 crossbody bag places versatility right beside elegance with its iconic CC turn-lock and classic leather and chain-link strap.
If you're not on a budget, this is a classic and timeless piece that will last you for many years to come!
12. Prada Spectrum Crossbody Bag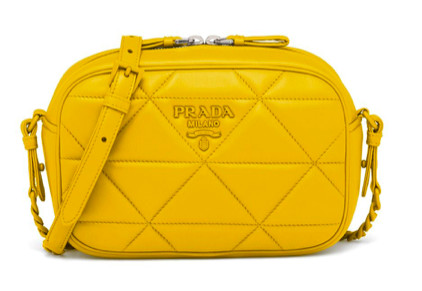 Prada Spectrum Crossbody Bag is crafted from quilted effect leather and was designed to hold just the essentials.
It comes in yellow leather – the perfect choice to brighten up your wardrobe and your day.
The front of the bag is detailed with Prada's signature tonal logo plaque and has an adjustable shoulder strap to use as a cross-body.
It also features a two-way zipper, the main inner compartment, an internal slip pocket, an internal logo plaque and a logo printed lining.
13. Off-White Striped Camera Bag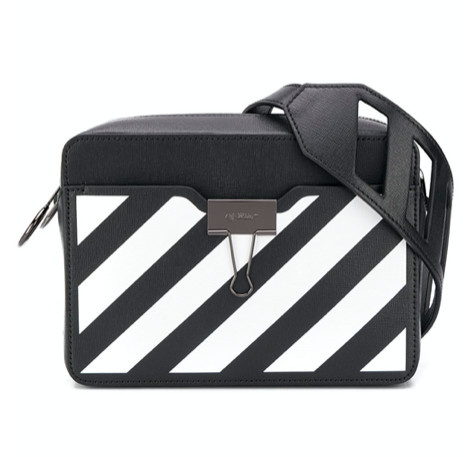 Off-White is better known for their slogan merchandise and yellow belt that looks like caution tape as well as their all-white "for walking" footwear.
This camera bag features an adjustable, detachable, shoulder strap that looks very similar to their style of belt and a black and white diagonal striped pattern.
It has a top zip closure, a clip detail and text details which is in line with their branding.
Pick this one up if you want to stand out from the crowd.
14. Furla Box Shoulder Bag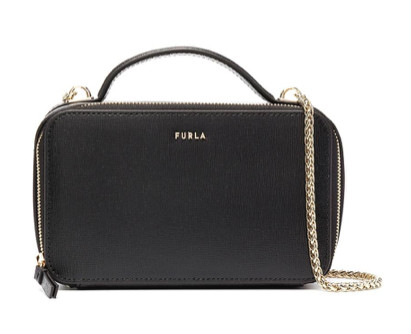 This black leather chain-link shoulder strap bag from Furla has a very minimalistic style.
It features an all-around zipper closure with a mini gold-tone logo at the front. For easier carrying in hands, utilize the single top handle.
15. Givenchy Logo Calfskin Leather Camera Bag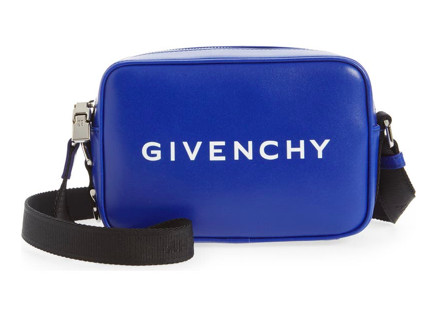 Givenchy ocean-blue leather camera bag is secured by a padlock-inspired shackle.
It has a high-contrast white logo which pops against the blue background for a defined look.
This bag features a 2-way zip around closure, an adjustable crossbody strap, an exterior slip pocket and an interior wall pocket inside the main compartment.
16. Jacquemus Le Baneto Crossbody Bag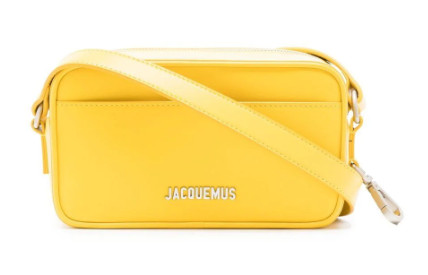 The Jacquemus Le Baneto crossbody bag crafted from soft yellow leather is giving spring/summer vibes.
It is in line with the brand's playful aesthetic accessory line, and can be worn across the body or on the shoulder thanks to its adjustable strap.
In addition to the main top zipper interior, it has front and rear patch pockets for extra storage and is decorated with a signature logo plaque at the front.
17. Alexander McQueen Lock Camera Bag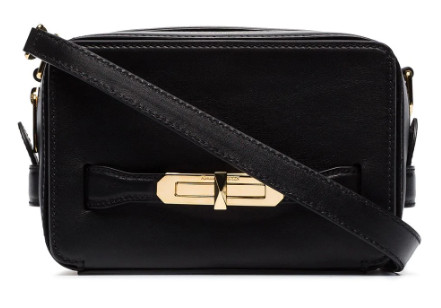 Complete your outfit with this black leather Alexander McQueen Lock Camera Bag. It was designed to carry all your daily essentials with extra space to take some treats too.
It has a detachable and adjustable shoulder strap, a printed logo, an engraved logo, a gold-tone twist lock fastening and a top zip closure.
What more could you possible want in an everyday designer camera bag?
18. Prada Flou Logo-plaque Shoulder Bag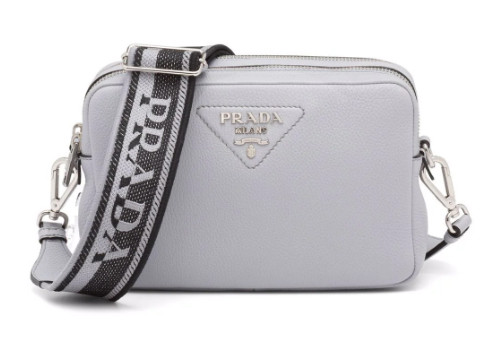 Prada Flou Shoulder Bag in its traditional but modern shape is crafted in a beautiful and timeless grey leather.
It is decorated with the iconic Prada triangle logo in silver-tone lettering at the front.
Completed with two detachable and adjustable straps to allow options to use as a shoulder or crossbody bag.
19. See by Chloé Signature Hana Camera Bag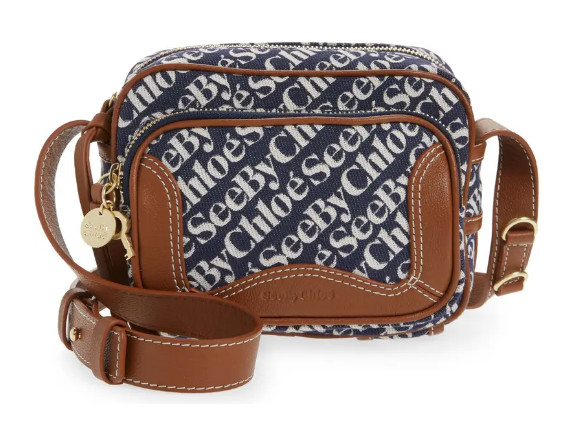 See by Chloé bold logo print camera bag would elevate the look of a compact camera bag.
The bag is equipped with a top compartment, a zippered front pocket, and an adjustable strap.
20. Coach Logo-strap Leather Camera Bag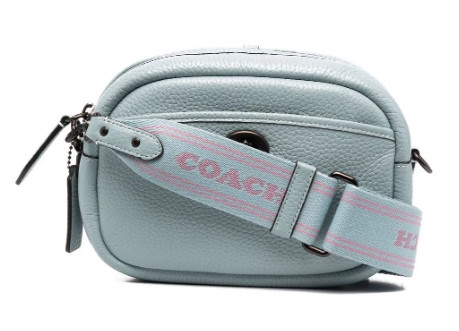 If you like Coach then this logo-strap camera bag is right on brand. It features a top zipper compartment which has an inner pocket for more organization.
It also comes with a twist-lock fastening pocket at the front for more storage and an adjustable detachable shoulder strap.
21. TOM FORD Camera Shoulder Bag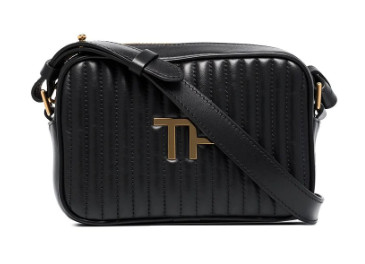 TOM FORD camera shoulder in a beautiful quilted black leather with a gold-tone logo plaque and an adjustable shoulder strap.
22. Dolce & Gabbana Leather Camera Crossbody Bag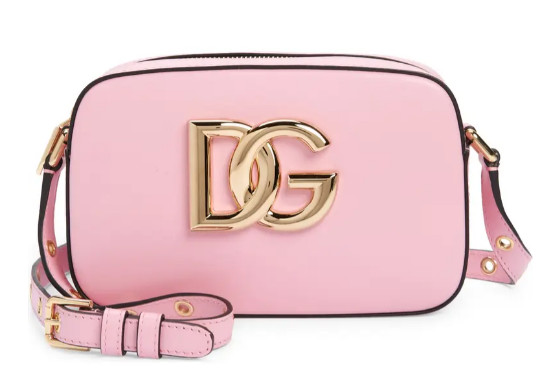 Dolce & Gabbana Leather Camera with interlocking logo initials gleam against the calfskin pink leather.
It is a beautiful, compact crossbody bag in a vintage camera-bag silhouette.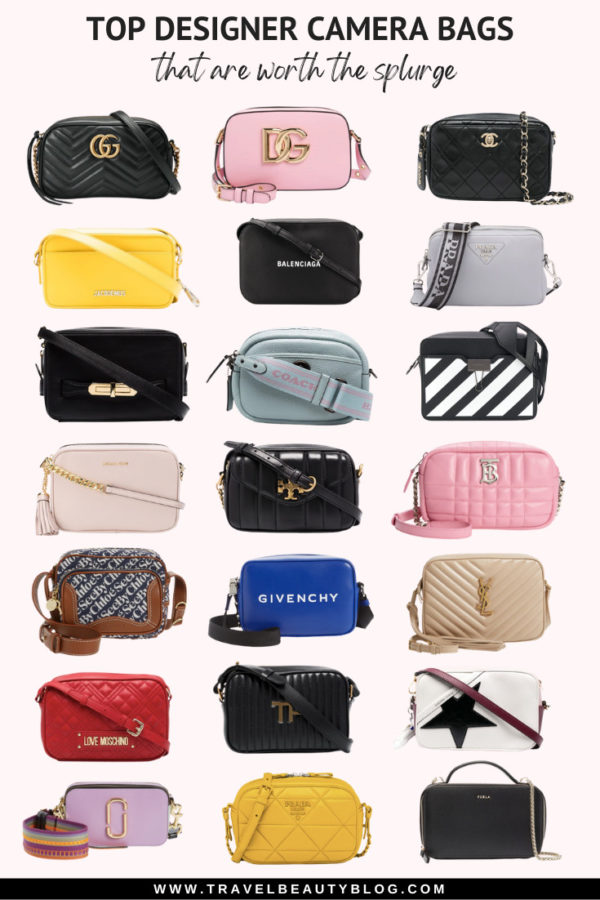 Wrapping Up The Best Designer Camera Bags Of 2022
In no particular order, that concludes our list of the 22 best designer camera bags of 2022 that are worth the investment.
What is your favorite designer camera bag from this list?
Shop Editor's Picks

Shevy
Hi! I'm Shevy! I'm the Founder and Managing Editor of Travel Beauty Blog est. 2016. I am also the Founder of Shevy Studio Marketing Agency where I work with entrepreneurs and bloggers on SEO/Content Strategy, Web Design and Consultancy.