Last Updated on 7 months by Shevy
What To Wear With A White Dress In The Spring/Summer
White dresses are classic, timeless, and elegant. They're also versatile enough to wear in many different occasions.
Whether you're going to a wedding, attending a formal event, or just hanging out at home, there are plenty of things you can pair this dress with.
We are a participant in various affiliate marketing programs and may earn a commission for any purchases made through these links at no extra cost to you. Read full disclosure here.
I've taken a chance on wearing this white cotton midi dress and have put together some tips on what to wear with a white dress.
While white is not my best colour, I am moving away from my comfort zone when it comes to fashion, as I said in a previous post.
Related: How To Look Good Wearing A White Tee
On any given day you can find me in a casual outfit like a graphic t-shirt and jeans. But I'm ready to take my personal style to the next level.
My dress is from Mango and its old so I'll link similar white dresses so you can recreate this look.
It Does Not Have To Be Summer To Wear A White Dress
While summer may be an appropriate time to wear a white cotton dress, it is not the only time you can wear it.
This dress is ideal for daytime wear but the blocked heel shoes can be switched out for an even evening event that is less formal.
Related: What Are Vintage Clothes: Vintage Fashion & The Evolution Of Style
Throw on a neck scarf to take it up a notch if required. You can apply these tips on what to wear with a white dress for various occasions and seasons.
What To Wear With A White Dress To Look Amazing
Statement Heels
If you're going out for a special occasion, then you'll need to make sure you wear the right shoes.
There's no point in showing up at a wedding in flat sandals when you could be wearing heels instead.
Depending on the occasion or season you can switch out the heels for a different type of shoe.
A Clutch Bag
If you're looking for something more casual, try pairing your white dress with a simple black clutch bag.
This will give your outfit an edgier feel while still maintaining its elegance. This works great if you're attending a wedding, a formal event or function.
Bold Lipstick
Wear a bold lip by using red lipstick. You have a choice between two main types of lipsticks – matte and glossy.
A bright red or pink lipstick would do well for an all white outfit. When it comes to choosing a red lipstick, I recommend my favourite red lipsticks: Ruby Woo and Russian Red, from MAC Cosmetics.
Related: How To Choose A Lipstick Color That's Right For You
They are matte lipsticks which tend to last longer than glosses, ones so that may be a better option.
Accessories
Dress it up with some dainty or statement jewellery, a nice bag and perhaps a belt. There are endless options when it comes to fashion jewelery.
For this look, you can go with simple dainty jewellery or statement jewellery pieces to compliment the dress.
Gold or silver earrings: If you're looking for something more subtle, gold or silver earrings are a good option.
They won't draw too much attention to yourself, but will still add a touch of elegance to your outfit.
Layer With A Denim Jacket
What to wear with a white dress + denim jacket: On a cooler or colder day you can opt to layer your dress with a cropped denim jacket.
Related: 20+ Timeless Outfits With A Jean Jacket To Replicate Now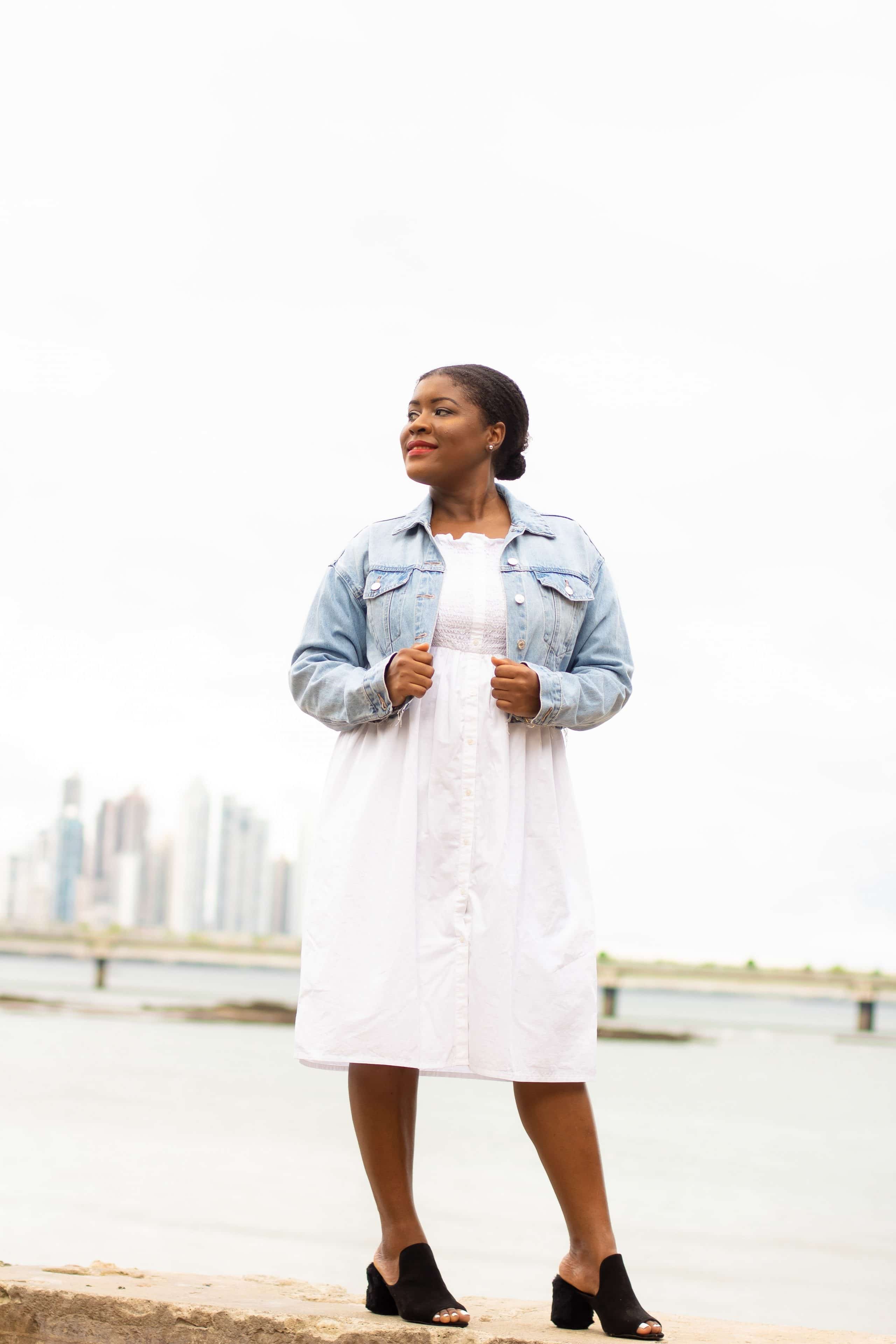 Wrapping Up What To Wear With A White Dress In The Spring/Summer Seasons
White dresses are classic, timeless, and elegant. They're also perfect for any occasion, whether you're going to church, attending an event at a restaurant, wedding, or just hanging out at the mall.
Read next: The Best Amazon Summer Fashion For Women 2023
Shevy
Hi! I'm Shevy! I'm the Founder and Managing Editor of Travel Beauty Blog est. 2016. I am also the Founder of Shevy Studio Marketing Agency where I work with entrepreneurs and bloggers on SEO/Content Strategy, Web Design and Consultancy.