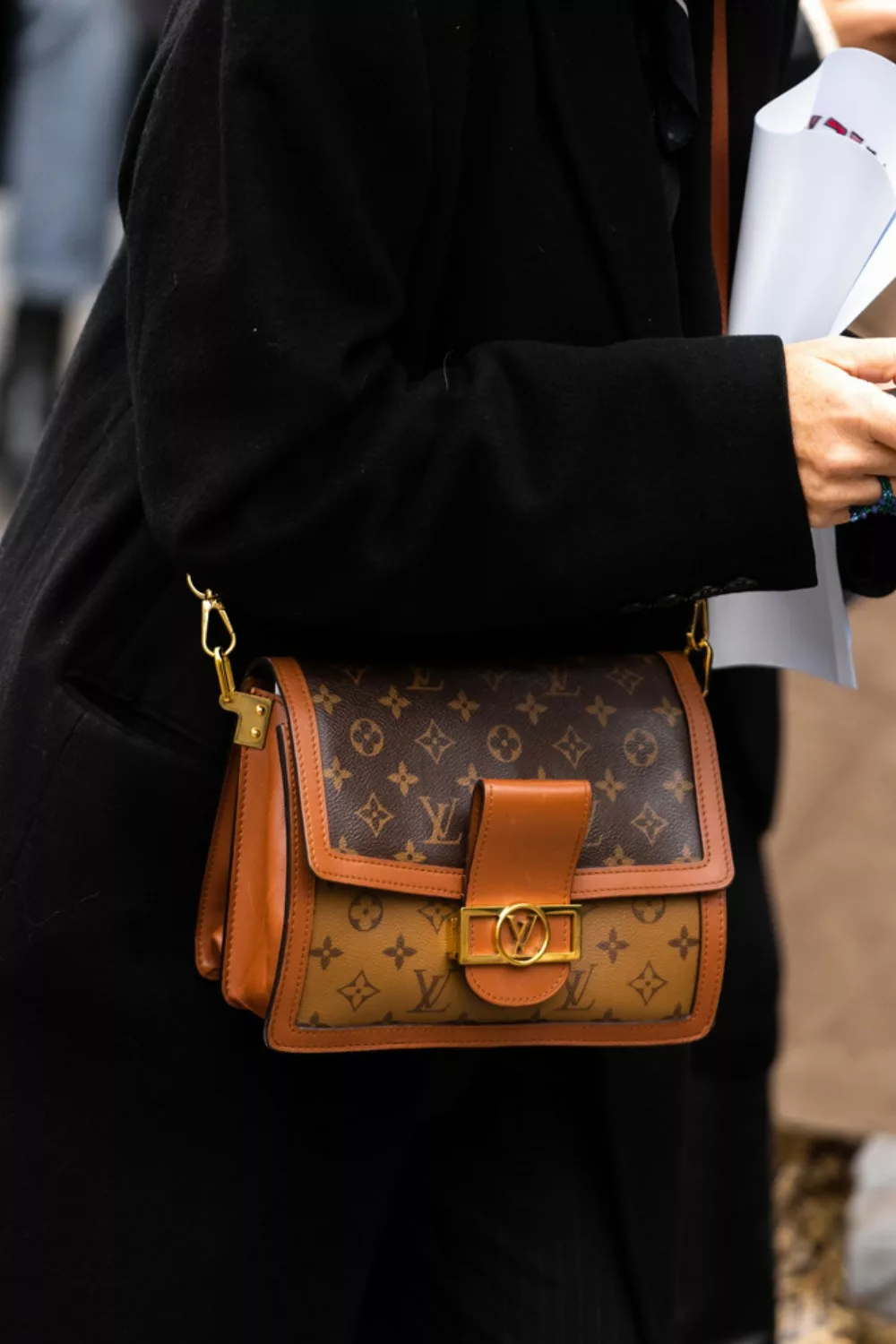 Photo: Depositphotos
14 Amazing Louis Vuitton Dupes, Lookalikes and Alternatives
If you adore luxurious fashion but don't want to break the bank, consider Louis Vuitton dupes.
These 14 remarkable LV dupes look strikingly similar to the real deal but come at a much lower cost.
Whether you're after a wallet or handbag, you can achieve the same LV style without sacrificing your budget.
We are a participant in various affiliate marketing programs and may earn a commission for any purchases made through these links at no extra cost to you. Read full disclosure here.
Designer handbags can be a major investment, but luckily there are plenty of high-quality dupes available for those who want the look without the price tag.
Related: 15 Best Mini Designer Bags That Are Trendy Now
If you're a fan of Louis Vuitton, we've compiled a list of high quality Louis Vuitton dupes on the market, so you can get the style you love without breaking the bank.
Shop The Best Valentino Dupes
Louis Vuitton Dupe Neverfull
The Louis Vuitton Neverfull tote is a highly coveted yet expensive handbag.
Luckily, there are numerous superb replicas available that mimic its timeless design.
The TWENTY FOUR Checkered Tote Bag is an exceptional option that closely resembles the LV Neverfull in both structure and style, but at a much more affordable price point.
Related: Functional Meets Style: The Best Designer Bags For Work
Crafted from high-quality PU leather, it is available in a range of hues and patterns to suit individual tastes.
Louis Vuitton Speedy Dupe
If you're interested in the iconic Louis Vuitton Speedy bag but find its price tag to be exorbitant, consider the RICHPORTS Checkered Satchel instead.
This alternative option boasts a similar shape and design to the Speedy, but at a more accessible price point.
Additionally, the lv dupe satchel with gold detailing is crafted from premium leather and includes a detachable shoulder strap, making it a versatile choice.
This is one of the best Valentino dupes available on the market right now!
LV Alma Bag Dupe
Although the Louis Vuitton Alma bag is a timeless classic, it is quite expensive.
If you're searching for a more cost-effective alternative, consider the Alma dupe handbag, which closely resembles the Alma in terms of shape and style.
Made from top-notch leather, it is available in diverse colors that blend with any outfit.
The detachable shoulder strap adds to its convenience.
The dupe Alma is an excellent method to incorporate a touch of luxury into your wardrobe without burning a hole in your pocket.
LV Pochette Metis Dupe
Although the Louis Vuitton Pochette Metis is a highly sought-after and multipurpose bag, it comes with a hefty price tag.
Fortunately, there are fabulous alternatives available that are identical in appearance.
The Dashing Gaza Checkered Bag is a prime example, featuring a comparable silhouette and style to the Pochette Metis.
Related: 10 Camera Bags That Are Actually Worth It
It is crafted from exceptional leather and offered in a range of colors, with numerous compartments for convenient sorting.
This dupe LV Pochette Metis bag is an excellent alternative to the Pochette Metis for those on a budget.
LV Twist Bag Dupe
Although the Louis Vuitton Twist Bag is a striking accessory, its cost can be intimidating.
Fortunately, there are excellent lookalikes available that can provide you with the same appearance for a fraction of the price.
The TWIST MM shoulder bag is one option, with a comparable form and style to the Twist Bag.
It is manufactured from top-notch leather and is available in various hues.
Additionally, it boasts a chain strap for extra flair.
This lv dupe purse is an excellent approach to achieving the Twist Bag's appearance without exhausting your funds.
LV Multi Pochette Dupe
The Louis Vuitton Multi Pochette is a popular bag which comes with a detachable cross-body strap and two pouches, making it a versatile accessory.
However, it comes with a high price tag, which might be unaffordable for some people.
There are many LV Multi Pochette dupes available in the market that offer the same style, design, and functionality as the original bag like this one from TWENTY FOUR.
The Multi Pochette lookalike is one of my favourite Louis Vuitton dupes!
Louis Vuitton Monogram Empreinte On The Go Bag Dupe
The Louis Vuitton Monogram Empreinte On The Go bag is a stylish and functional tote bag that is perfect for an everyday work bag, or as a stylish accessory for a night out on the town.
Related: The Best Designer Dupe Bags You Need
The bag is made from high-quality leather and features the iconic Louis Vuitton monogram pattern embossed into the material.
The bag has a spacious interior that is perfect for carrying all of your essentials.
The LV Monogram Empreinte On The Go bag features two leather top handles and a removable shoulder strap, making it easy to carry the bag in a variety of different ways.
It also features a discreet exterior zip pocket, which is perfect for keeping your phone or other small items close at hand.
The Mila Kate dupe LV Monogram Empreinte On The Go bag looks exactly like the real thing that the untrained eye would not be able to differentiate between the two.
This Louis Vuitton Monogram Empreinte On The Go dupe bag is a great lookalike and is sure to become a staple in your wardrobe!
Louis Vuitton Monogram Favorite MM Pochette Dupe
The Louis Vuitton Monogram Favorite MM is a medium-sized clutch bag made of the iconic monogram coated canvas.
It has a gold-tone chain strap that can be worn on the shoulder or across the body, or it can be removed to carry the bag as a clutch.
The bag has a flap closure with a magnetic snap and a red textile lining.
Inside the bag, there is a flat pocket and a removable leather strap with a hook for attaching keys or small pouches.
The LV Favorite MM Pochette is versatile and can be dressed up or down for various occasions. It is a popular choice among Louis Vuitton collectors and fashion enthusiasts.
You can save your coins and get the dupe LV Monogram Favorite Clutch at an unbeatable price.
Dupe Louis Vuitton Zippy Wallet
The Louis Vuitton Zippy Wallet is a classic and iconic accessory from the luxury French fashion house.
It features the signature LV monogram canvas, a zip-around closure, and a spacious interior with multiple card slots, compartments, and pockets.
The wallet is perfect for storing cash, cards, and other essentials, making it a must-have for any fashion-forward individual.
The Louis Vuitton Zippy Wallet is available in various colors and finishes, including Damier Ebene, Damier Azur, and Epi leather.
Although quite small, it comes at a hefty price tag but luckily you can cop the LV dupe Zippy Wallet for next to nothing.
Louis Vuitton Dupe Backpack
Louis Vuitton backpack is a luxury status symbol made from high-quality materials such as leather, canvas, and hardware, and features the brand's iconic monogram pattern.
They come in a variety of sizes and styles, from small and compact designs to larger, more functional bags.
Louis Vuitton backpacks are highly coveted and are often used as a fashion statement.
However, they can also be practical for carrying items such as laptops, books, and other essentials.
Related: 17 Stylish Summer Beach Bags For Women
This Louis Vuitton dupe backpack from RICHPORTS offers a similar style but at a fraction of the cost of the authentic bag.
Louis Vuitton Nice BB Toiletry Travel Bag Dupe
The Louis Vuitton Nice BB Toiletry travel bag is a must-have luxury accessory/fashion statement for individuals who love to travel in style and wants to keep their toiletries organized and easily accessible.
The bag features a spacious main compartment that can hold all your toiletries, including shampoo, conditioner, body wash, and other essentials.
It also has a zippered pocket and a flat pocket on the interior for added storage. The Louis Vuitton Toiletry travel bag is also designed for convenience during travel.
It has a wide opening that allows easy access to your toiletries, and it can be easily secured with a double zipper.
The bag also has a leather handle, making it easy to carry and transport.
It features the iconic LV monogram print, which adds a touch of luxury and sophistication to any travel outfit.
With the dupe Louis Vuitton Nice BB Toiletry Bag you're afforded a similar look for less.
Dupe Louis Vuitton Bum Bag
The Louis Vuitton Bum Bag is a fashionable and practical accessory that can be worn around the waist or across the body.
It features the iconic LV monogram pattern and is made of high-quality materials, such as coated canvas and leather.
The bag has multiple compartments to keep essential items organized and easily accessible.
It is perfect for the fashion-forward traveler or anyone who wants to keep their hands free while on the go.
The Louis Vuitton Bum Bag is a stylish and versatile accessory that is sure to make a statement.
What's even better is that you can make a fashion statement with the Louis Vuitton Dupe Bum bag as well.
LV Dupe Bag
Related: The Best Kate Spade Bags On Sale
Louis Vuitton Keepall Travel Bag Dupe
The Louis Vuitton Keepall Travel Bag is a luxurious and iconic travel bag designed by the French fashion house.
It is a spacious and versatile bag that features the brand's signature monogram canvas, leather accents, and gold-tone hardware.
The bag comes in different sizes and styles, ranging from the compact Keepall 45 to the larger Keepall 55 and Keepall 60. It also has different variations such as the Bandouliere and the Eclipse.
The LV Keepall travel bag is a statement piece that is both functional and fashionable, making it a favorite of celebrities, fashionistas, and jet-setters around the world.
Luckily, you don't need to spend thousands on a bag, by getting the Louis Vuitton Dupe Keepall travel bag.
Wrapping Up The Best Louis Vuitton Dupes On The Market
When it comes to LV dupes, there are a lot of options out there. But not all dupes are created equal.
We've done the research and rounded up our top picks for the best Louis Vuitton lookalikes on the market.
From classic monogram styles to trendy new designs, these dupes are sure to give you the designer look you want without breaking the bank.
Plus, we shared our tips for buying dupe Louis Vuitton bags to ensure you get the best quality for your money.
Don't break the bank on designer handbags – get the best Louis Vuitton dupes with this ultimate guide.
Shevy
Hi! I'm Shevy! I'm the Founder and Managing Editor of Travel Beauty Blog est. 2016. I am also the Founder of Shevy Studio Marketing Agency where I work with entrepreneurs and bloggers on SEO/Content Strategy, Web Design and Consultancy.