Last Updated on 5 months by Shevy
A Local's Guide To The Best Things To Do In Costa Rica San Jose
Situated in Central America, Costa Rica is a lively nation that boasts a varied selection of natural marvels, abundant biodiversity, and an active cultural ambiance.
San Jose, the capital city of Costa Rica, is a vibrant and bustling destination with plenty of activities to keep visitors entertained.
From exploring the city's rich history and culture to experiencing the thrill of zip-lining through the rainforest, there's something for everyone, from our list of the top 15 things to do in Costa Rica San Jose. 
We are a participant in various affiliate marketing programs and may earn a commission for any purchases made through these links at no extra cost to you. Read full disclosure here.
If you're short on time but eager to experience the best of Costa Rica, we'll guide you through an action-packed adventure, highlighting the must-see attractions and activities that will leave you with lasting memories of your time in Costa Rica.
We have also provided you with a 3-day itinerary centered around San José, the capital city, of the best places to visit and things to do while visiting.
Utilizing the itinerary is a great way to immerse yourself in the country's beauty.
How to plan your Itinerary for travel to Costa Rica
When planning your itinerary for a trip to Costa Rica, it's important to consider your interests and priorities.
Some must-see destinations include the Arenal Volcano, Manuel Antonio National Park, and the Monteverde Cloud Forest Reserve.
If you're interested in adventure activities, be sure to check out zip lining, white water rafting, and surfing.
For a more relaxed trip, consider visiting the country's beautiful beaches or taking a yoga retreat.
It's also important to factor in travel time and transportation options when planning your itinerary.
With careful planning, you can create a memorable and enjoyable trip to Costa Rica.
What to Pack for your trip to Costa Rica
When packing for your trip to Costa Rica, it's important to consider the climate and activities you'll be participating in.
The country has a tropical climate, so lightweight and breathable clothing is recommended.
Be sure to pack comfortable shoes for hiking and exploring, as well as swimwear for beach activities.
Related: 37 Cute And Practical Outfits For The Airport
Don't forget to bring insect repellent and sunscreen to protect yourself from the sun and bugs.
If you plan on visiting any religious sites, it's also important to pack modest clothing.
Lastly, don't forget to bring a reusable water bottle to stay hydrated and reduce plastic waste.
15 Interesting Things To Do In Costa Rica San Jose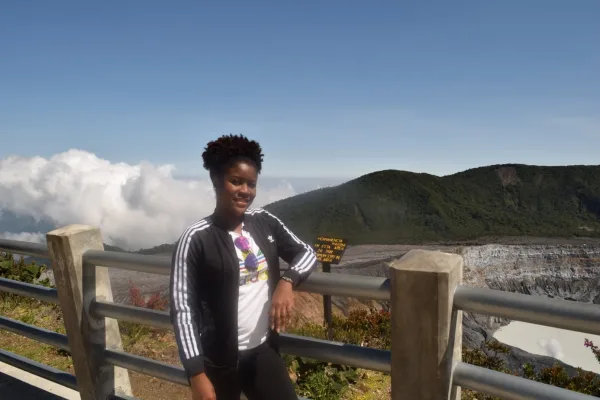 1. Visit the National Museum of Costa Rica
The National Museum of Costa Rica is a must-visit attraction for anyone interested in the country's rich history and culture.
Housed in a former military barracks, the museum features exhibits on pre-Columbian artifacts, colonial-era art and furniture, and the country's struggle for independence.
Related: 10 Top Activities To Do And Places To Visit In Panama City, Panama
Visitors can also explore the museum's beautiful gardens and enjoy stunning views of the city from the rooftop terrace.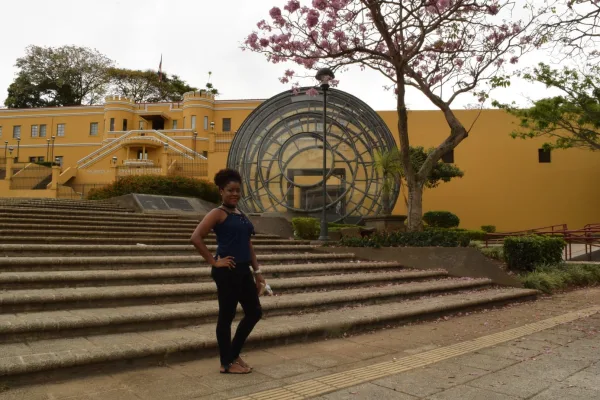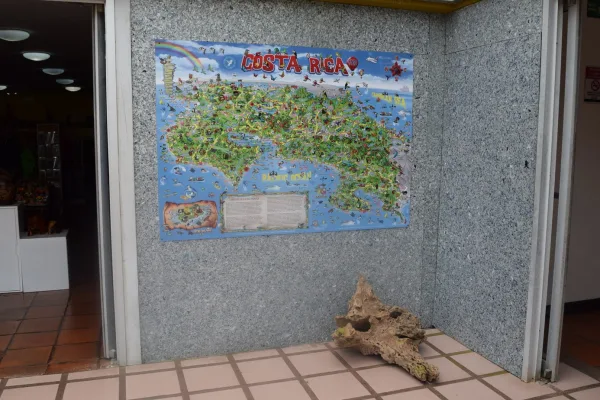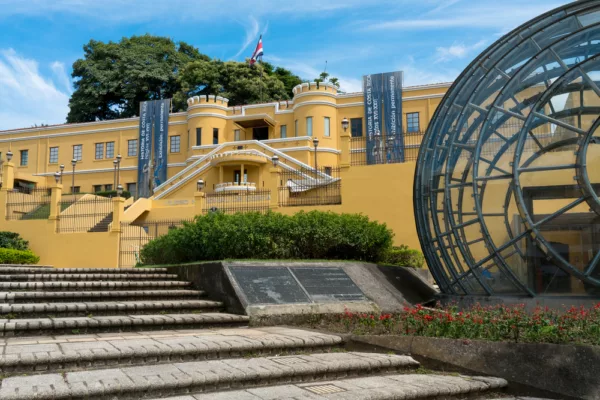 2. Take a coffee tour at Café Britt
Costa Rica is known for its high-quality coffee, and a visit to San Jose wouldn't be complete without a coffee tour.
Café Britt offers a variety of tours that take visitors through the coffee-making process, from bean to cup.
You'll learn about the history of coffee in Costa Rica, see the roasting process in action, and even get to taste some of the delicious brews.
Plus, the tour includes a visit to the company's chocolate factory, where you can sample some of their delicious chocolates.
Don't miss out on trying the world-renowned Costa Rican coffee.
3. Explore the Pre-Columbian Gold Museum
The Pre-Columbian Gold Museum is a must-visit attraction for anyone interested in history and culture.
Located in the heart of San Jose, the museum houses an impressive collection of gold artifacts from pre-Columbian times.
You'll learn about the indigenous cultures that created these beautiful pieces, and see intricate jewelry, figurines, and other objects that showcase their skill and artistry.
The museum also offers guided tours and educational programs for visitors of all ages.
4. Go zip-lining in the Rainforest
For an adrenaline-pumping adventure, head to the rainforest for a zip-lining experience.
As you glide through the treetops, suspended by sturdy cables, you'll witness the rainforest's vibrant ecosystem unfold beneath you.
The verdant foliage, cascading waterfalls, and glimpses of exotic creatures make each moment a feast for the senses.
Expert guides provide a safe and educational journey, sharing their knowledge about the rainforest's incredible biodiversity and cultural significance.
Some tours even include other activities like hiking, rappelling, and waterfall swimming.
Ziplining in the rainforest is more than just an adventure—it's an opportunity to connect with nature, to feel the pulse of the forest, and to create lifelong memories in one of the world's most stunning natural playgrounds.
So, gear up, embrace your adventurous spirit, and prepare to be awestruck as you zipline through the magnificent rainforest of Costa Rica.
It's a great way to get your heart racing and experience the natural beauty of Costa Rica.
Important Tip: Only book reputable tour operators and follow safety instructions.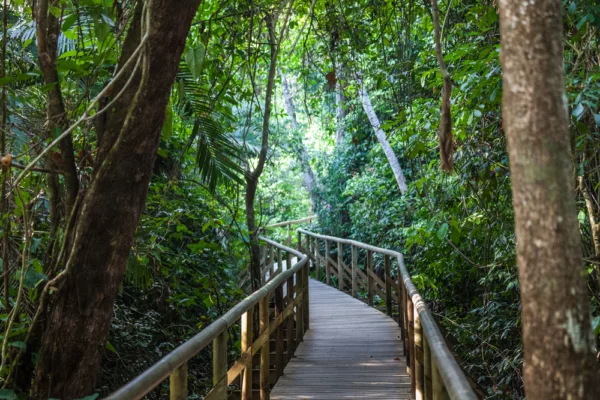 5. Visit the Central Market for local food and crafts
The Central Market in San Jose is a must-visit for anyone looking to experience the local culture and cuisine.
Here you can find a wide variety of fresh fruits, vegetables, meats, and seafood, as well as traditional Costa Rican dishes like casado (a typical meal with rice, beans, and meat) and gallo pinto (rice and beans).
Also sample ceviche, and tropical fruits. 
In addition to food, the market also offers a range of handmade crafts and souvenirs, including pottery, textiles, and jewelry.
It's a great place to immerse yourself in the local culture and pick up some unique souvenirs to take home.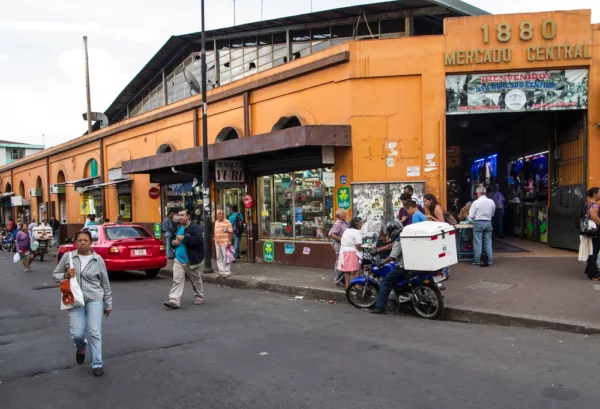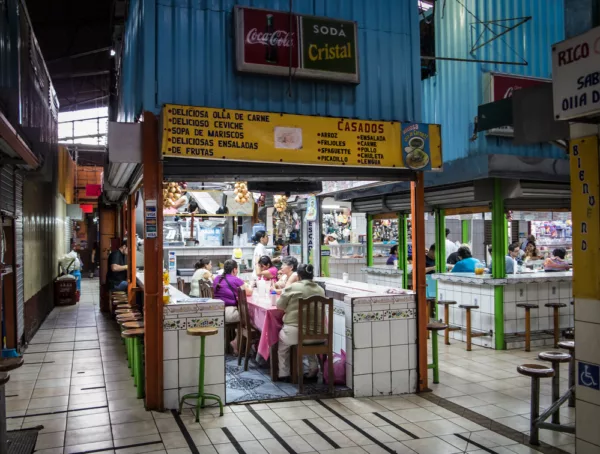 6. Explore the Biodiversity and National Parks
Costa Rica is a haven for nature enthusiasts.
Explore the country's incredible biodiversity by visiting national parks like Manuel Antonio, Arenal Volcano, and Corcovado.
Related: Here Is Why You Need To Visit The Panama Canal
Don't forget to bring a camera to capture the stunning landscapes and unique wildlife encounters.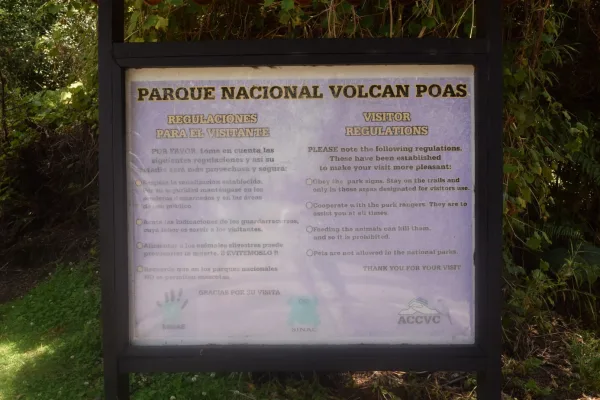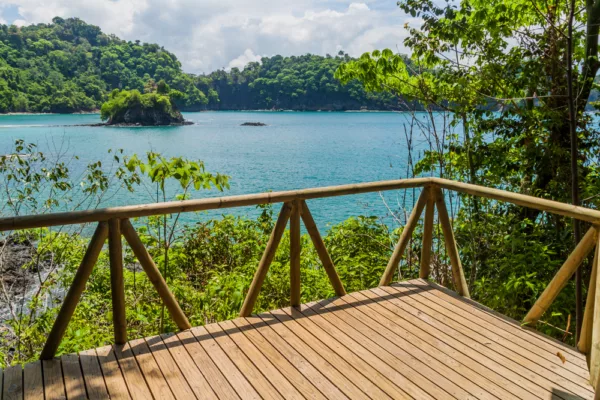 7. Visit the Countryside and capture the Painted Cattle Carts
While visiting the countryside of Costa Rica, you may be able to seize the opportunity and capture the scenery of live cattle and their painted cattle carts.
On the way to Poás Volcano, some people were spotted near the roadside, standing inside a painted cattle cart and taking pictures so I decided to hop out of the car and joined in the fun as well.
An elderly man, the owner, seemed just as delighted to see us and look on as we took photographs. 
This is not paid activity but you can ask the owner of the cattle nicely and give him a tip afterwards.
He didn't ask for money but it was a great way to show our appreciation for his kind gesture.
Seeing cattle and colourful carts is not an everyday scenery for me so the experience was a good one.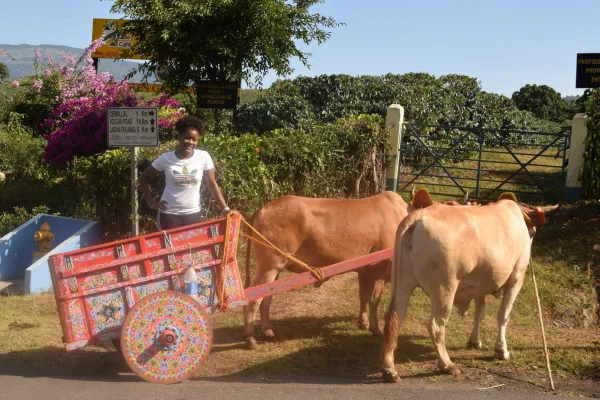 The History of Painted Cattle Carts in Costa Rica
In the picturesque countryside of Costa Rica, a cultural tradition comes to life through the vibrant and intricately painted cattle carts.
These captivating symbols of the country's rich heritage are a testament to the artistry and craftsmanship of the local artisans.
The tradition of adorning these carts with intricate designs dates back to the late 19th century when they were used to transport coffee beans across the country.
Today, these carts have evolved into works of art, displaying a symphony of vibrant colors, detailed patterns, and intricate motifs.
Each cart tells a unique story, as the motifs often represent local legends, historical events, or the daily life of the Costa Rican people.
The skill and dedication required to paint these carts are awe-inspiring, with the artists employing age-old techniques passed down through generations.
To witness the sight of a painted cattle cart rolling by is to experience a living piece of Costa Rican culture.
These colorful masterpieces not only serve as a nostalgic reminder of the past but also as a celebration of the country's vibrant spirit and artistic expression.
So, explore the streets and rural areas of Costa Rica, and let the painted cattle carts guide you on a journey through time, tradition, and the captivating beauty of local art.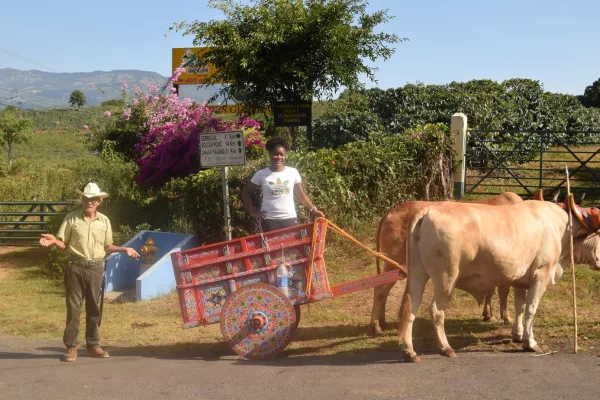 8. Go to Lake Botos
Lake Botos, located in the Arenal Volcano National Park of Costa Rica, is a hidden treasure that enchants tourists with its tranquil charm and pristine environment.
It is actually an inactive crater located near Poás Volcano, that offers a tranquil escape from the outside world.
The scenery of this place is so amazing that you never really want to leave until you capture every possible angle.
As you venture to its shores, you'll be mesmerized by the deep emerald hues of the lake and the lush greenery that encircles it.
The stillness of the water reflects the towering majesty of the Arenal Volcano, creating a picture-perfect backdrop that seems straight out of a postcard.
Explore the surrounding trails that wind through the dense rainforest, and you'll be rewarded with glimpses of vibrant bird species and exotic flora.
Whether you choose to kayak on the calm waters, take a leisurely hike, or simply sit by the lake's edge and absorb the peaceful atmosphere, Lake Botos offers a rejuvenating retreat in the heart of nature's paradise.
Soak in the tranquility, listen to the symphony of wildlife, and immerse yourself in the untouched beauty of Lake Botos—a hidden sanctuary that truly embodies the essence of Costa Rica's natural wonders.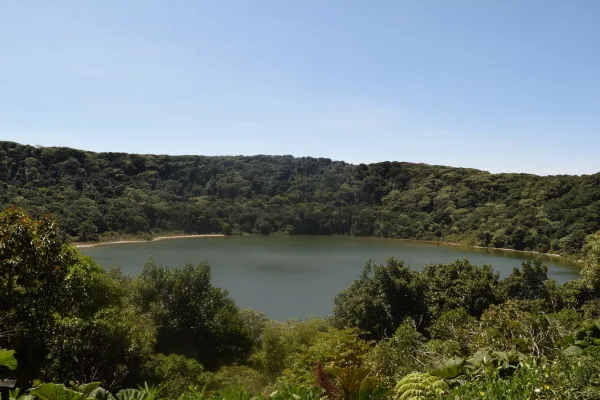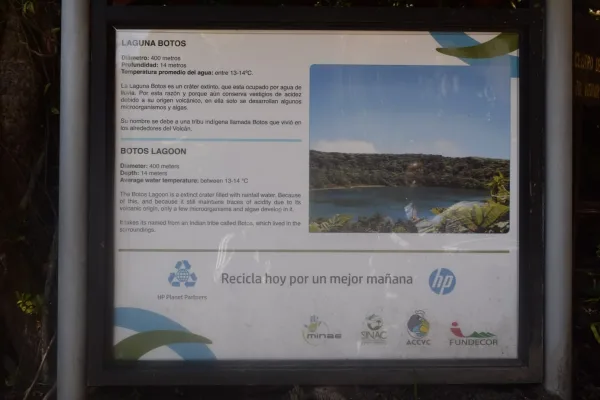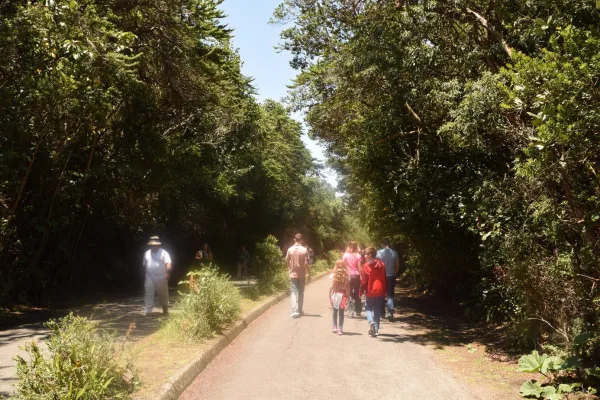 9. Eat At "Restaurante Mirador Del Poás"
After leaving the Poás Volcano we decided to stop at "Restaurante Mirador Del Poás" to grab a quick bite.
You should definitely eat here if you are on this side of town.
Delicious food, nice ambience and the owners are pleasant with foreigners.
Facing the back of the restaurant is a pasture land view, which can be seen from inside the restaurant.
Prices on the menu are listed in their local currency as well as at the other places that I shopped.
Even though the majority of stores accepted US dollars, they gave change in the local currency Colones.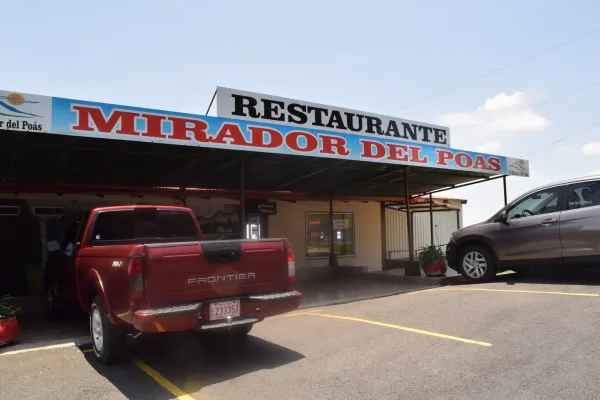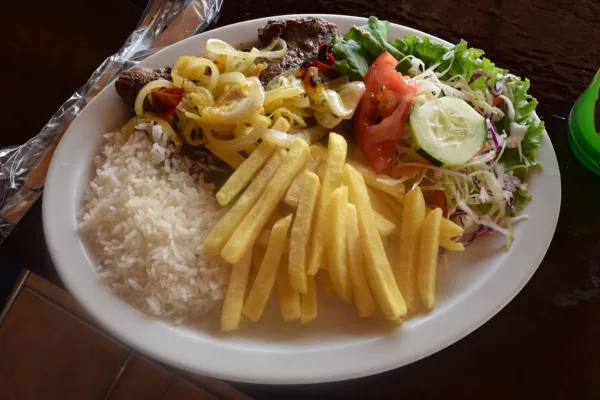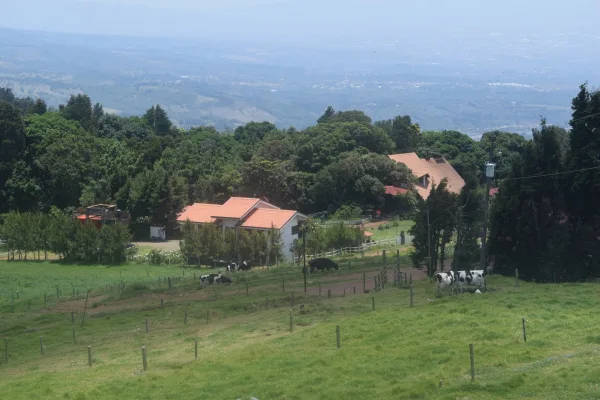 10. Take a Hike to Los Chorros Waterfalls (Grecia)
Los Chorros Waterfalls…A Tranquil Escape in Costa Rica's wilderness, is located in the dense rainforest of Costa Rica, captivate visitors with their breathtaking natural beauty, making them a hidden gem.
This serene paradise offers a tranquil escape from the bustling world.
As you navigate the winding trails, the symphony of cascading water and chirping birds guides you towards the magnificent waterfalls.
Witnessing the rushing water plummeting into crystal-clear pools below is a truly awe-inspiring sight.
The refreshing mist embraces you as you stand in the presence of nature's grandeur, surrounded by lush greenery and towering trees.
Dip your toes in the cool waters, take a rejuvenating swim, or simply bask in the peaceful ambiance that envelopes this secluded haven.
Los Chorros Waterfalls not only captivate the senses but also provide an opportunity to reconnect with nature and find solace in its raw beauty.
Whether you seek adventure, serenity, or a memorable escape, this hidden treasure in Costa Rica's wilderness promises an unforgettable experience that will leave you in awe of Mother Nature's wonders.
Important Tip: To get to Los Chorros Waterfalls you have to be prepared to take a mini hike from where you park your vehicle to where the waterfalls are.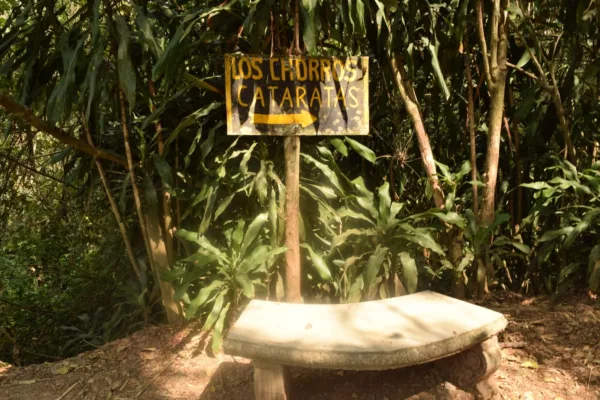 The difficulty level of this hike was intense especially on the way back because it was mainly uphill.
On a scale of 1-10 with ten being the most difficult, it could have been a 9.
Heading towards the waterfall was mainly downhill so that was easy but I struggled on the way back up.
My suggestion is, if you have to visit here go early because there are usually a lot of people.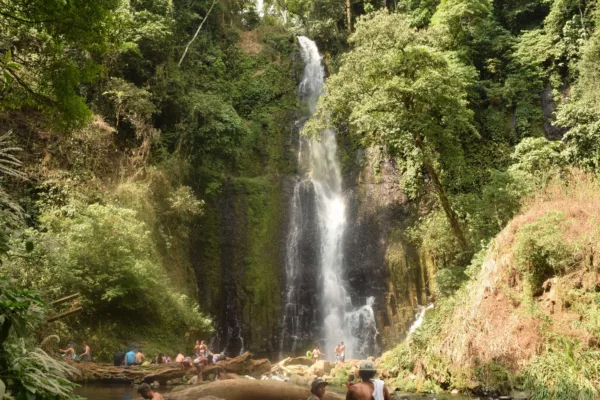 11. Go Downtown Costa Rica
Take a moment to stop out or drive through the city.
Downtown San Jose boasts a range of museums, art galleries, and cultural centers, offering a glimpse into Costa Rica's rich history and vibrant art scene.
The bustling streets are alive with the rhythm of urban life, adorned with a mix of colonial architecture and contemporary high-rises.
Related: My First Time In Miami And How I Survived
As you explore the city center, you'll discover an eclectic mix of cultural landmarks, charming plazas, and bustling markets.
Marvel at the grandeur of the National Theater, a magnificent neoclassical gem that stands as a testament to the country's artistic heritage.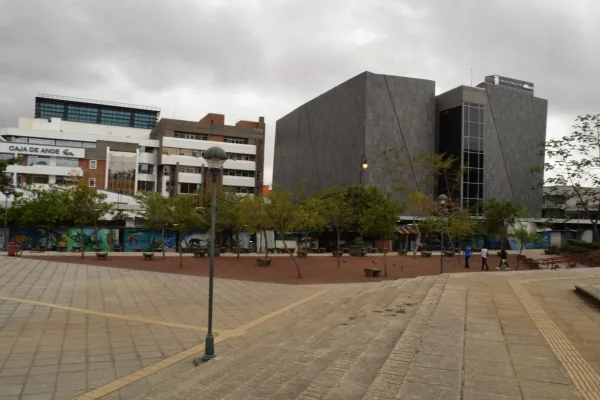 Stroll through the lively Central Market, where aromas of freshly brewed coffee and exotic spices mingle in the air.
Embrace the energetic atmosphere as you mingle with locals, savoring traditional cuisine or perusing local crafts and souvenirs.
Amidst the urban bustle, pockets of green spaces provide a tranquil respite, inviting visitors to relax and soak up the city's unique ambiance.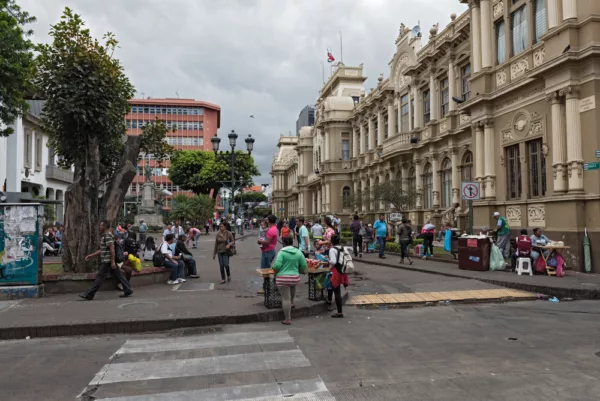 12. Visit the National Theater
Whether you're a theater enthusiast or simply curious about Costa Rican culture, a visit to the National Theater is an absolute must.
Hidden within the bustling streets of San Jose lies a cultural gem that captures the essence of Costa Rica's artistic heritage—the National Theater.
Since its grand opening in 1897, the theater has served as a beacon for the performing arts, hosting a myriad of theatrical productions, ballets, concerts, and opera performances.
Its grandiose neoclassical facade and ornate interior decor leave visitors in awe, showcasing the country's commitment to preserving and celebrating its artistic traditions.
It not only offers a delightful escape from the daily routine but also a window into the country's rich artistic tapestry.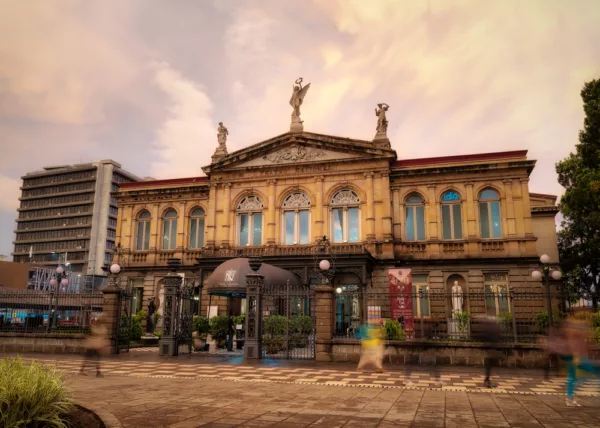 13. Explore Barrio Escalante
Nestled in the heart of San Jose, Barrio Escalante stands out as a vibrant and eclectic neighborhood that has quickly become a culinary haven in Costa Rica.
With its charming tree-lined streets and trendy ambiance, this neighborhood beckons food lovers and adventurers alike.
Walking through its bustling streets, you'll be captivated by the enticing aromas wafting from the diverse array of restaurants, cafes, and food stalls that line the area.
From local staples to international flavors, Barrio Escalante offers a cornucopia of gastronomic delights to satisfy every palate.
Whether you're seeking traditional Costa Rican dishes or daring to explore innovative fusions, the neighborhood's talented chefs and innovative entrepreneurs have got you covered.
Soak up the lively atmosphere as you indulge in delectable cuisine, sip on craft cocktails, or savor artisanal desserts.
With its culinary creativity and vibrant energy, Barrio Escalante is a must-visit destination for any food lover looking to experience the thriving gastronomic scene of Costa Rica.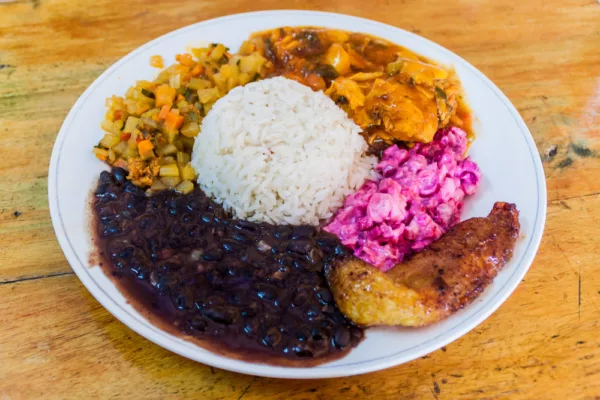 14. Go to the Manuel Antonio Beach
If you happen to visit the Manual Antonio National Park, then it makes perfect sense to head over to the nearby Manuel Antonio Beach as well.
This beach is situated in the Manuel Antonio National Park, abundant with scenic views, lush rainforests, and breathtaking sunsets.
As you step foot onto the powdery beach, you'll be greeted by a vibrant array of wildlife, from playful monkeys swinging through the trees to colorful toucans soaring overhead.
The beach itself offers a perfect retreat for sunbathing, swimming, and snorkeling, with its calm waters and gentle waves inviting you to take a refreshing dip.
For adventure seekers, nearby hiking trails lead you through the enchanting Manuel Antonio National Park, where you can discover hidden waterfalls, spot exotic wildlife, and immerse yourself in the raw beauty of the rainforest.
Whether you seek relaxation or adventure, Manuel Antonio Beach is a slice of paradise that promises unforgettable experiences and cherished memories in the breathtaking natural wonders of Costa Rica.
Playa Manuel Antonio is regarded as one of the best beaches to visit in Costa Rica and a true paradise for beach lovers and nature enthusiasts.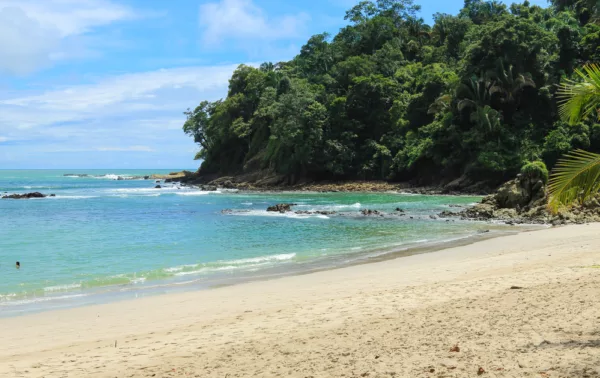 15. Take a Trip to the La Paz Waterfall Gardens Nature Park
The La Paz Waterfall Gardens is a beguiling haven that calls out to those who love nature and those who seek adventure, located amidst the verdant rainforests of Costa Rica.
This enchanting ecological reserve offers a breathtaking display of natural wonders, with towering waterfalls, meandering trails, and abundant wildlife.
As you embark on a journey through the gardens, you'll find yourself surrounded by the symphony of cascading waterfalls, their majestic beauty leaving you in awe.
Explore the network of well-maintained trails that wind through the rainforest, leading you to hidden treasures such as butterfly gardens, hummingbird sanctuaries, and serene ponds filled with colorful koi fish.
Immerse yourself in the vibrant biodiversity of the region as you encounter toucans, monkeys, and other fascinating creatures in their natural habitat.
For the adventurous at heart, exhilarating zip lines and hanging bridges provide an up-close and personal experience with the breathtaking landscape.
Whether you're seeking solace in nature, capturing stunning photographs, or simply indulging in the serenity of the surroundings, La Paz Waterfall Gardens is a must-visit destination that promises an unforgettable experience and a deep connection with Costa Rica's natural beauty.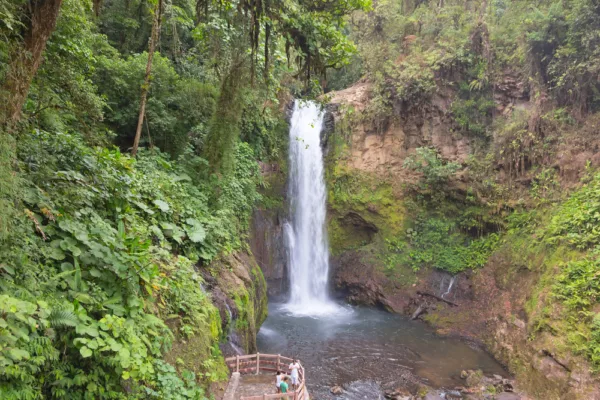 7 Essential Tips for Traveling to Costa Rica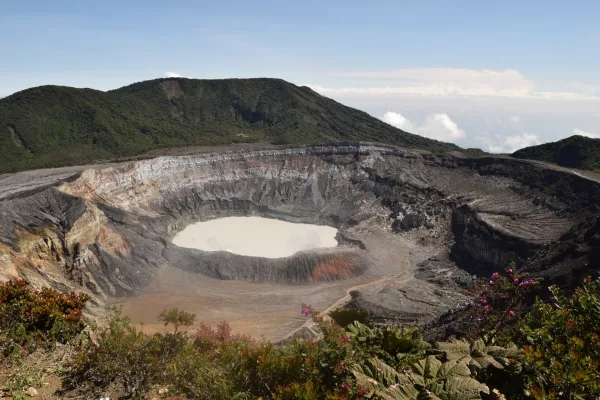 Costa Rica, with its lush rainforests, pristine beaches, and diverse wildlife, is a captivating destination that offers a unique blend of adventure and relaxation.
If you're planning a trip to this tropical paradise, it's important to be well-prepared to make the most of your experience.
From navigating transportation and packing smart to exploring the natural wonders and embracing the pura vida lifestyle, here are 7 essential tips for traveling to Costa Rica:
1. Plan Your Trip During the Dry Season
Costa Rica has two distinct seasons: the dry season (December to April) and the wet season (May to November).
To enjoy outdoor activities and explore with fewer chances of rain, plan your visit during the dry season when the weather is generally more favorable.
2. Pack Light and Smart
Costa Rica's warm climate calls for lightweight and breathable clothing.
Pack essentials like swimwear, comfortable shoes for hiking, lightweight layers, a hat, and sunscreen to protect against the tropical sun.
Don't forget insect repellent and a rain jacket or poncho for unexpected showers.
3. Embrace Sustainable Tourism
Costa Rica is renowned for its commitment to sustainable tourism.
Respect the environment by practicing responsible tourism, such as using eco-friendly products, conserving water, and supporting local businesses and community initiatives.
4. Learn Some Basic Spanish Phrases
While many locals in tourist areas speak English, knowing a few basic Spanish phrases can enhance your experience and help you connect with the local culture.
Learn greetings, thank-you, and common phrases like "¿Dónde está…?" (Where is…?) and "Por favor" (Please).
5. Stay Hydrated and Be Mindful of Water
osta Rica has generally safe tap water, but it's always advisable to drink bottled water, especially in more remote areas.
Related: Top 5 Things To Do In Trinidad and Tobago
Stay hydrated throughout your trip to ensure you have the energy to enjoy all the activities and adventures Costa Rica has to offer.
6. Be Aware of Wildlife Safety
Costa Rica is home to incredible wildlife, including monkeys, sloths, and exotic birds.
While it's exciting to encounter these creatures, remember to observe them from a distance and avoid feeding or touching them.
Respect their natural habitats and follow local regulations.
7. Relax and Embrace Pura Vida
Lastly, embrace the laid-back and friendly spirit of Costa Rica by embracing the concept of pura vida.
Slow down, relax, and enjoy the breathtaking natural beauty, warm hospitality, and the simple pleasures that this remarkable country has to offer.
By keeping these tips in mind, you'll be able to make the most of your trip to Costa Rica.
8. Be Prepared to rent a Vehicle
If you do not have someone to take you around while in Costa Rica it is much easier to rent a car.
As most of the tourist destinations are located outside of the city, around 2-3 hours of driving.
The best way to get around is by renting a car or hire a driver.
A 3-Day Itinerary Of Fun Things To Do In Costa Rica San Jose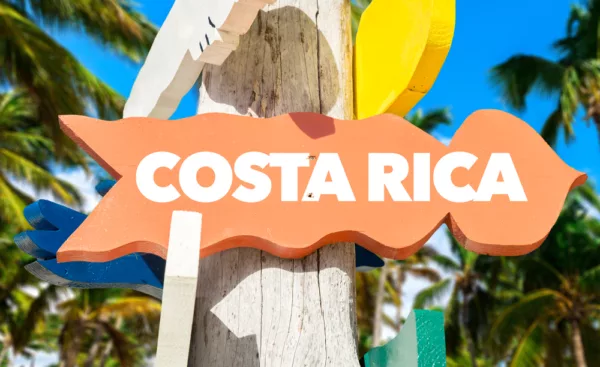 Day 1: Discovering San José's Cultural and Historical Treasures
Start your day by exploring the heart of San José, visiting iconic landmarks such as the National Theater, a stunning architectural gem known for its grandeur and historical significance.
Immerse yourself in the vibrant local culture by visiting the Mercado Central, a bustling market filled with colorful stalls offering fresh produce, local crafts, and traditional Costa Rican cuisine.
Head to the Jade Museum to admire a remarkable collection of pre-Columbian jade artifacts, providing insights into Costa Rica's rich indigenous heritage.
Take a stroll through the beautiful La Sabana Metropolitan Park, a vast urban green space ideal for picnics, leisurely walks, and enjoying the city skyline.
Day 2: Exploring Nature's Marvels in Costa Rica
Embark on a day trip to Poás Volcano National Park, located just outside of San José. Witness the awe-inspiring Poás Volcano, known for its active crater and stunning views. Take a walk along the trails and explore the unique flora and fauna of the cloud forest.
Visit La Paz Waterfall Gardens, a nature sanctuary that offers a chance to see breathtaking waterfalls, vibrant wildlife, and beautiful gardens. Don't miss the opportunity to hand-feed hummingbirds and explore the butterfly observatory.
Head back to San José and spend the evening at Barrio Escalante, a trendy neighborhood known for its vibrant culinary scene. Enjoy a delicious dinner at one of the many gourmet restaurants, followed by live music and a taste of the city's nightlife.
Day 3: Embracing Adventure and Nature in Costa Rica
Take an early morning flight or drive to Manuel Antonio National Park, renowned for its stunning beaches, dense rainforest, and abundant wildlife. Explore the park's trails, go swimming in the crystal-clear waters, and keep an eye out for monkeys, sloths, and tropical birds.
Participate in thrilling activities such as zip-lining through the treetops, horseback riding along the coast, or taking a guided kayak tour through the mangroves.
End your day with a relaxing sunset cruise along the coast, offering breathtaking views and a chance to spot dolphins and other marine life.
FAQs of Things To Do In Costa Rica San Jose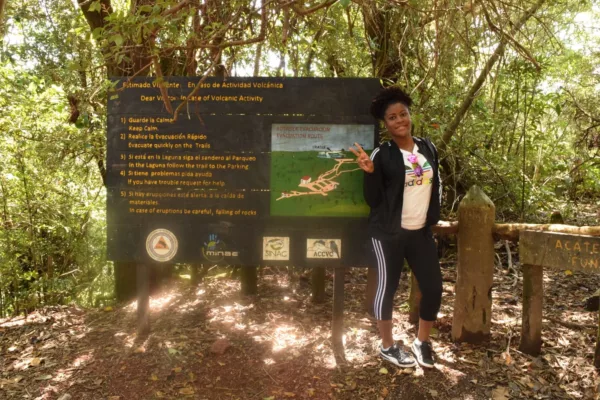 What Is The Best Time To Visit Costa Rica?
The best time to visit Costa Rica depends on what you want to do and see.
The dry season, from December to April, is the most popular time to visit as it offers sunny days and clear skies.
However, this is also the busiest time of year, so expect higher prices and crowds.
The rainy season, from May to November, is less crowded and offers lush green landscapes, but also more rain and potential for hurricanes.
If you're looking to surf, the best time to visit is from May to November when the waves are bigger.
Overall, the best time to visit Costa Rica is subjective and depends on your preferences.
What Are Top Destinations To Visit In Costa Rica?
Costa Rica is home to a variety of stunning destinations that are worth visiting.
Some of the top destinations include Manuel Antonio National Park, which offers beautiful beaches and abundant wildlife, Arenal Volcano National Park, where you can see an active volcano and enjoy hot springs, and Monteverde Cloud Forest Reserve, which is known for its unique ecosystem and adventurous activities like ziplining.
Other popular destinations include Tortuguero National Park, Corcovado National Park, and the Nicoya Peninsula.
Wrapping Up The Best Things To Do In Costa Rica San Jose
In just three days, you can experience the best of Costa Rica, immersing yourself in its rich cultural heritage, exploring its stunning natural landscapes, and indulging in thrilling adventures. 
From the historical and vibrant city of San José to the enchanting wonders of Poás Volcano, La Paz Waterfall Gardens, and Manuel Antonio National Park, this article provided a glimpse into the diverse beauty that Costa Rica has to offer.
Remember to embrace the pura vida spirit, take your time to savor every moment, and leave with cherished memories of your Costa Rican adventure.
Shevy
Hi! I'm Shevy! I'm the Founder and Managing Editor of Travel Beauty Blog est. 2016. I am also the Founder of Shevy Studio Marketing Agency where I work with entrepreneurs and bloggers on SEO/Content Strategy, Web Design and Consultancy.