Last Updated on
*I earn a small commission if you purchase through any of my links at no extra cost to you*
Rose Gold Home Decor
I know it is unusual for me to write often about home decorations and office things but a girl can dream sometimes. Ever since my obsession with rosegold stationery 4 years ago, it has since extended to home decor too. At the time it was new on the scenes and very popular so I got my iPhone in rose gold that year. Fast forward to today, I still can't have enough it. It's so pretty and it's like I want my entire house to have accents of gold and rose gold decor.
Related: Cute Stationery That Will Instantly Inspire Your Creativity
Also, I find a lot of them are overpriced and honestly, the hefty price tags can be very off-putting. But all is not lost because I found some of the best and most affordable rosegold home decorations on Amazon. Almost every woman I know loves a well-organized house with pretty furniture and decorations.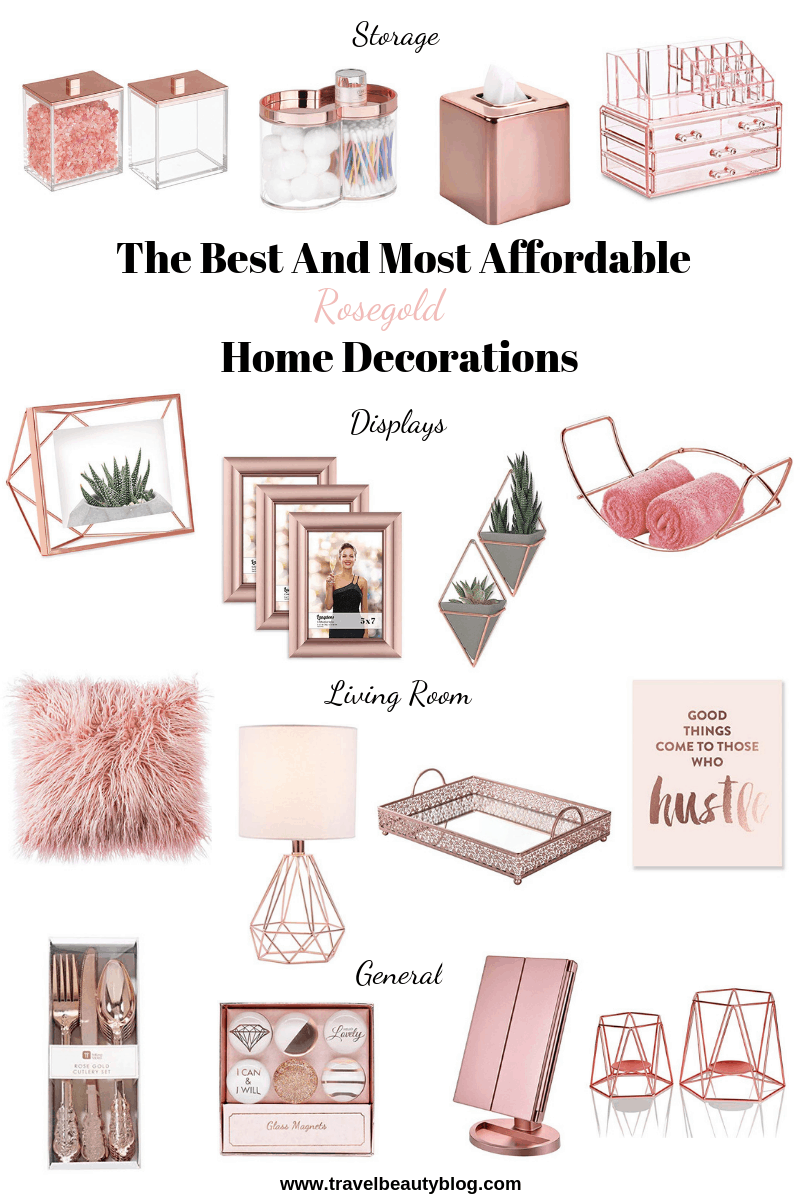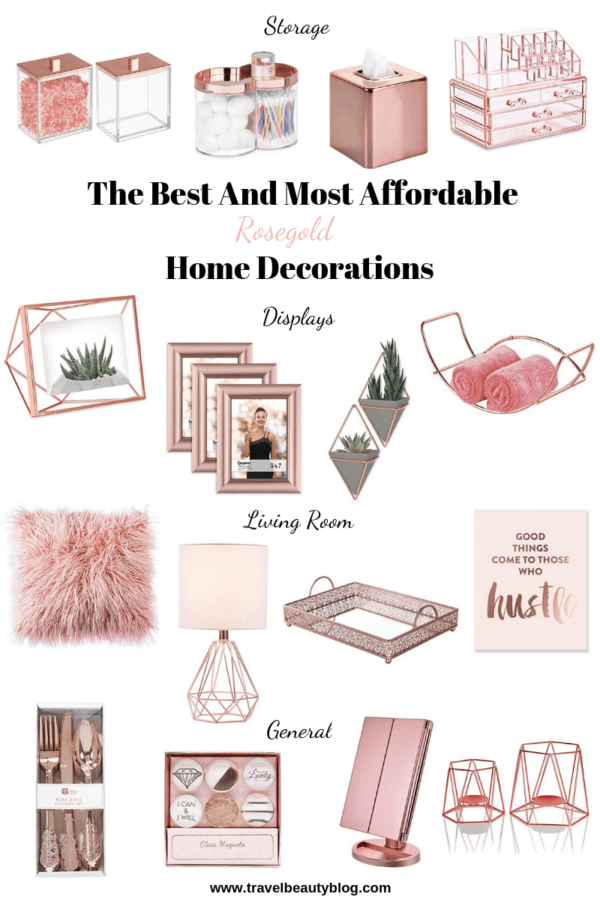 The Most Affordable Rosegold Home Decorations on Amazon
Besides, everyone trusts Amazon and its a plus when you are a Prime customer as you get free 2-day shipping. You can read my latest roundup post of the most wanted things under $50 here. If you are anything like me (home decor obsessed) then you know how shopping on Amazon can go. Most times I need 1 or 2 things and end up checking out with about 10 items (lol). It is one of my favourite places to shop online and when it comes to gold and rose gold home decor, the possibilities are endless.
In recommending products to you guys I always try to pick the ones that have the best ratings. Maybe in another life, I was meant to be an Interior Decorator because I get so passionate about putting a house together. So here are my top picks that won't break the bank:
Storage
Bathroom storage canister that can hold things like your q-tips, cotton balls, and bath salts. This one comes in a pack of 2 and I also like this double compartment jar that can also be used to store the same things or your beauty accessories. To match up with either one of those jars is this solid rose gold tissue box cover. Acrylic cosmetic storage display box can be placed on your vanity for storing your jewellery and makeup.
Displays
Prisma photo display like this one to add a personal touch to your desk space or work area. It doesn't have to be in an office as it can be used on your living room dressers or kitchen countertops. Pack of 3 wall picture display is perfect for family portraits like a picture of your wedding day. Another option for hanging is this geometric small planter trigg for synthetic plants or flowers. Metal wall mount towel rack organizer for washcloths, face and hand towels.
Living Room
Super soft decorative faux fur throw pillow in this pretty pink colour. To light up any small space you can opt for a white fabric lamp shade with rose gold base. Rectangular mirror top serving tray that can be used to actually serve your guests or be used as an ornament on a centre table. A motivational poster because everyone needs a little bit of inspiration from time to time. You can't go wrong with this minimalist pink blush paper quote that you can insert inside of a matching frame.
General Home Decorations
These are items you can use in various parts of the house, not specific to any one area. Rose gold plastic utensils that can be used at parties and this one comes in a set of 12. Your invitees will be totally blown away with these beautiful knives, forks, and spoons. Round glass fridge magnets like these can be stuck onto your refrigerator to give your kitchen an added touch of the same aesthetic. Touch screen led light vanity mirror because one can never have too many mirrors especially when it comes to applying makeup. Large geometric candle holders in 2 different sizes to accommodate scented candles and can also be used as wedding centerpieces.
That concludes my list of the best and most affordable rosegold decorations. Hope you guys have a wonderful day and remember to share this post with your bestie.
12