Last Updated on June 22, 2021 by Shevy
Tula Skincare Reviews 2021
At the beginning of last year I embarked on a new skincare routine, as I desperately wanted to try some new skincare products. I don't consider myself a skincare junkie but trying new beauty products was actually one of my new year resolutions.
My skin is far from perfect and I desperately needed to the take steps necessary to improve it. Back then I was eager to try some Tula skincare products for two reasons.
Related: THE BEST CO WASH UNDER $15 FOR NATURAL HAIR
I earn a small commission if you purchase through any of my links at no extra cost to you. Read full disclosure here.
Firstly, their products were popular on Instagram. At one point my Instagram feed from was filled with pictures of Tula products from other Bloggers/Influencers.
Secondly and the main reason why I was excited to try Tula products was due to the fact that the reviews were all mostly positive so eventually I caved in.
Disclaimer: Please note that the opinions expressed and the results are from my own personal experiences with using the products. Every product reacts differently to different skin types and skin conditions.
Related: THE BEST SKINCARE DUPES FOR THE MOST POPULAR PRODUCTS

My Skincare Concerns And Skin Type:
Normally my skincare concerns are to target fine lines, anti-aging, dry skin, acne and hyperpigmentation. I also have very sensitive skin so I use products that is supposed to agree with my skin.
Related: THE BENEFITS OF AND HOW TO USE GARNIER MICELLAR WATER
What Tula Products Did I Get?
There was a clash deciding between the Anti-Aging Discovery Kit which comes with 6 products, and the regular Discovery Kit. But judging from the title of this post you already know that I ended up purchasing the Discovery Kit which comes with 4 products.
It was during Tula's 2019 Black Friday sale when they were giving 30% off site wide, I made the purchase. After the discount it came up to under $40 so that was a steal of a deal as its normally priced at $52. Now onto the Tula skincare reviews…
My Personal Experience: Tula Skincare Reviews
Sad to report but the Discovery Kit was not a match for my skin type. It gave me bad breakouts after using it for a couple days. At first I was excited when I started using the products like I normally would be, with any new skincare product.
But my joy quickly turned into disappointment knowing that I was unable to continue using the product. As well as having to wait a couple more days before I got rid of the breakouts.
Related: HOW TO MAKE IT LAST WITH SHEA MOISTURE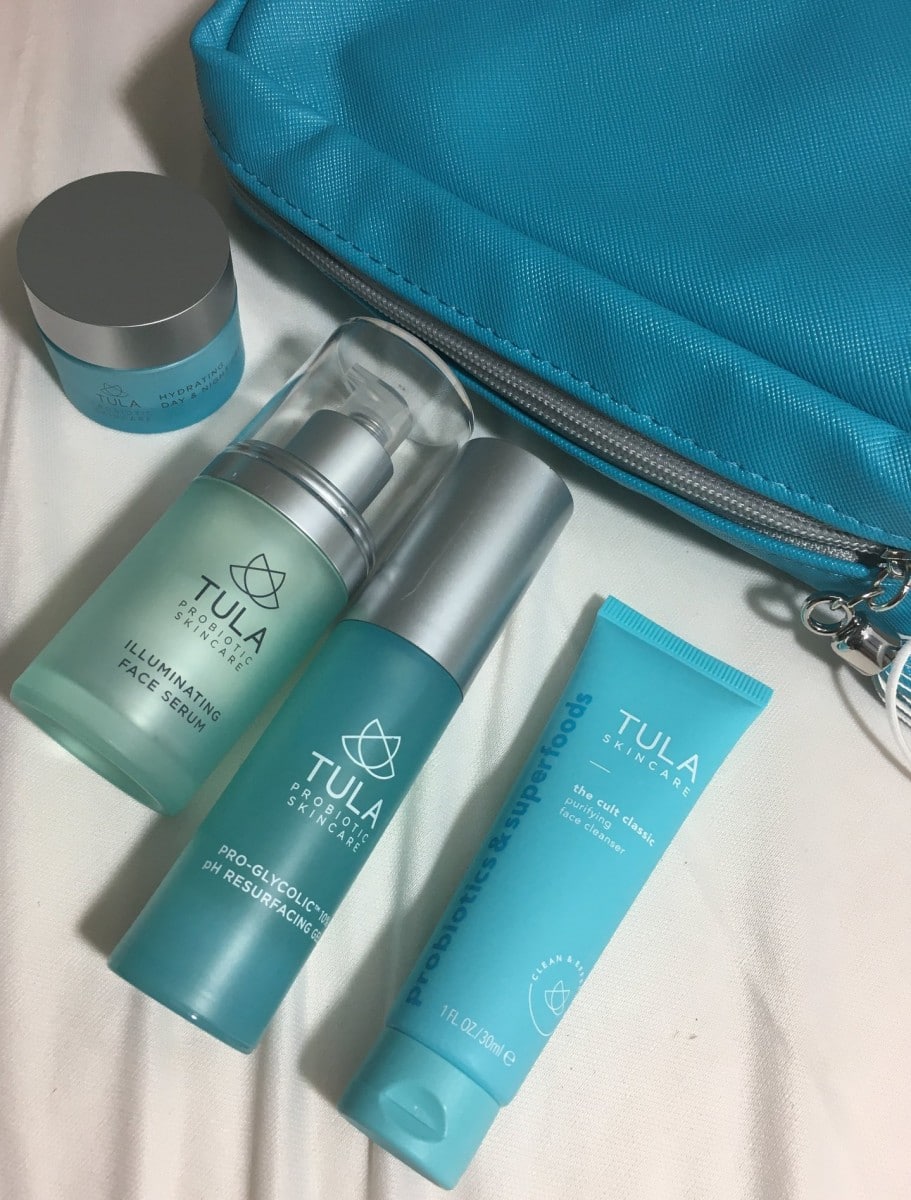 Price Of Tula Discovery Kit
You can make a one time purchase and get it for $52 or do a subscription and get it for only $46.80. Unless you already know how good a product works for you, I suggest only getting a single purchase until you are comfortable with the results. Then you can subscribe on a monthly basis which works out to be a saving of $5.
How To Use The Discovery Kit
Start with the Purifying Cleanser to remove makeup, dirt and cleanse pores. Apply Resurfacing Toner to a cotton pad and glide over face. Massage in a dime-sized amount of our lightweight Illuminating Serum to add glow. Follow with a thin layer of the Hydrating Day & Night Cream to hydrate and help protect your skin for a healthier complexion.
Related: THE MOST POPULAR AND BEST KOREAN SKINCARE PRODUCTS
The Discovery Kit Is Good For:
Vitamin E is an antioxidant that hydrates and fights free radical attack.
Vitamin C boosts skin's brightness and helps to fade the look of dark spots.
Blueberry Extract is a natural anti-oxidant helps to fight free radical damage.
Pro-Glycolic Complex is a proprietary blend of 100% natural lactobacillus probiotics and glycolic acid helps tone and exfoliate skin and removes excess oil and debris.
Probiotics hydrate and balance the skin, locking in moisture.
What Products Does Tula Discovery Kit Come With?
The Cult Classic Purifying Face Cleanser – 1 full oz
Get Toned Pro-Glycolic Resurfacing Toner – 1 full oz
Hello Radiance Illuminating Serum – 0.5 oz
24-7 Moisture Hydrating Day & Night Cream – 0.5 oz
Limited edition TULA travel makeup bag
Skin Types Suitable For:
Tula claims that the Discovery Kit is suitable for the following skin types:
Oily Skin
Combination Skin
Mature Skin &
Sensitive Skin
Related: Best Drugstore Makeup Under $20
Tula Skincare Reviews: Benefits Of The Probiotics Discovery Kit
Kit includes our core four-step comprehensive regimen to help nourish skin for a more youthful looking complexion.
Contains our signature probiotics to leave skin hydrated and balanced.
Suitable for all skin types and all ages – perfect for trial and travel.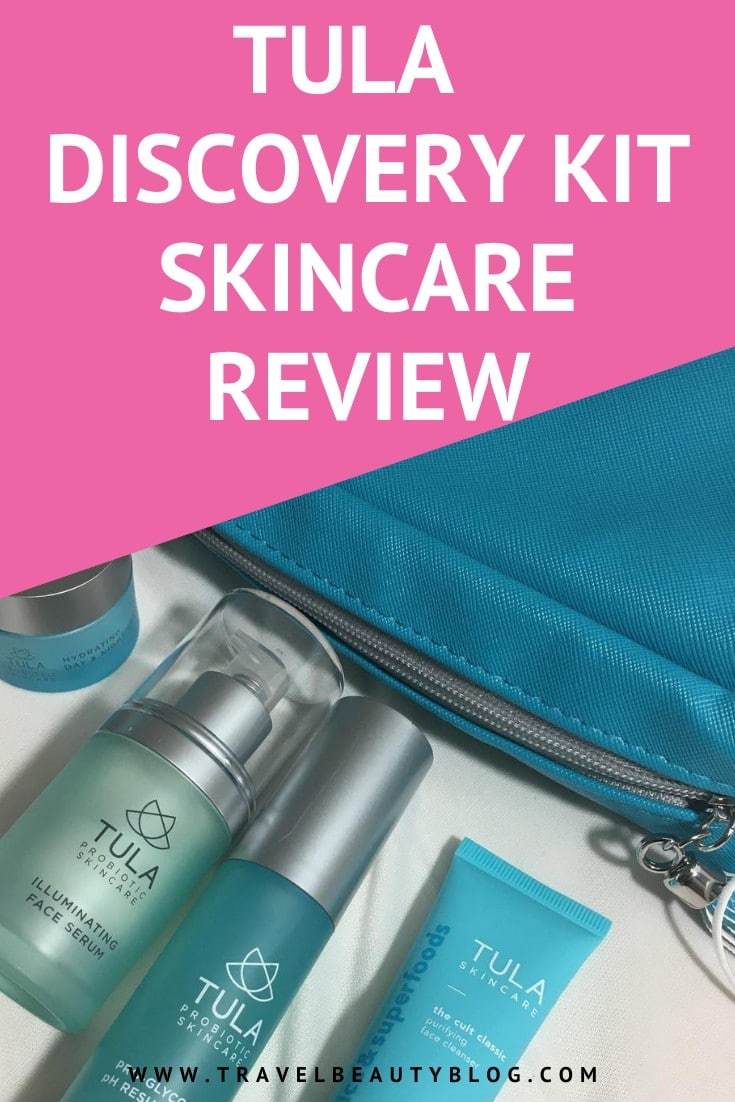 My Second Try – Tula Probiotic Skincare Reviews
Determined to give Tula a second chance and to prove my first experience wrong, I decided to try the products again. This time it was around the beginning of June 2020 during quarantine, so I had time to experiment.
I had every excuse as to why it possibly didn't react good to my skin on the first instance. So one morning I decided to apply the products from the Kit to my face again. Not only did I have a huge breakout, but this time the breakouts appeared later on the same day I used the products. Talk about another big disappointment!
That was it for me, I had given The Discovery Kit a fair chance of trying to work for my skin. Unfortunately it did not agree with my skin so I will not be using the products again in the future.
Will I try other products from the Tula Skincare brand? Maybe but that might take a miracle to happen first.
Bottom line is: I don't recommend this kit if you have sensitive skin but that's just my personal experience.
Shop Tula Skincare Products

Tula Skincare Reviews – Frequently Asked Questions
If you are not too familiar with Tula Skincare you can continue reading along where I answered some of the most frequently asked questions about the skincare brand.
Related: HOW TO CHOOSE THE BEST LIPSTICK FOR YOUR LOOK
What is Tula skincare?
TULA is a skincare brand built on the power of probiotics & superfoods. The ingredients which are good for your body are also great for your skin.
TULA actually means balance in Sanskrit! – source
What is probiotic skincare?
Probiotics is a natural ingredient that helps balance your skin. Applying probiotics to your skin has been clinically proven to protect skin from moisture loss, help calm the look of inflammation and irritation, strengthen the skin's barrier, and keep your skin microbiome balanced. 
How to use Tula skincare products?
A general rule of thumb is:
1. Cleanser
2. Exfoliant
3. Toner
4. Serum
5. Moisturizer 
Related: TOP EVERYDAY MAKEUP ESSENTIALS YOU NEED TO HAVE
Is Tula good for sensitive skin?
A lot of their products are suitable for all skin types but you should pay attention to each one based on your skin concerns.
Tula Skincare Reviews Final Thoughts
I really wanted to love these Tula products but clearly I could not. Who knows perhaps it will work fine for you. Now I am not saying that these are bad products and you shouldn't buy them.
As everyone will have a different reaction to the skincare products they use based on so many factors. However if you happen to have similar skin concerns as me, you may want to think long and hard before purchasing.
Tula Skincare Reviews: Unboxing Video Of The Discovery Kit
0