Last Updated on 7 months by Shevy
Part

 

Time

 

Jobs

 

From

 

Home
Are you working a 9-5 and are seeking part time jobs from home to earn some extra money? What if I told you, these work from home jobs does not involve completing hundreds of online surveys per day to only make $5. It also does not involve helplessly looking at random videos online in the hopes of making $1-$3 per video.
We are a participant in various affiliate marketing programs and may earn a commission for any purchases made through these links at no extra cost to you. Read full disclosure here.
With these part time jobs from home you get to decide on what terms you make money. Mostly passively and consistently every month and the best part is that you only need to work a couple of hours each day. So here are the most popular part time jobs from home that you can start in 2020.
Related: How To Start A Business With No Money

10 Of The Most Desirous Part Time Jobs From Home
Virtual Assistant (VA)
Virtual Assistant jobs are on the rise with the emerging of more bloggers and online businesses with the need to keep with social media trends. You can start off as a Virtual Assistant offering services such as Instagram, Facebook or Pinterest Management.
When starting out you can offer basic social media posting and scheduling. Once you gain some experience you can add on more tasks and increase your prices with every new client you get.
Determine an hourly rate for your services by calculating how much time each task will take and the cost per hour. However, in order for this to be more sustainable it is recommended that you charge a monthly rate.
Take your hourly rate and multiply it by the days per month that you will be working on each project. In this way, you will have a steady flow of income and know exactly how much money you are expected to make every month.
Social Media Manager
Perhaps you already have some experience as a Virtual Assistant and are ready to take it to the next level. Some people start off as an office VA and sometimes end up being a Social Media Manager as their clients' workload expand and subsequently giving them more tasks to manage.
Related: How To Be Productive While Working From Home
Social Media managers are usually managing most, if not all of their clients' social media accounts. As well as some other tasks like blog writing, email marketing and basic web design. Before accepting a job as a SMM, you should create a couple of tiered packages with monthly pricing.
When your Social Media Management business grows you can start outsourcing to other VAs who can help you with the bulk of the work. Eventually you can launch your own social media or marketing agency and delegate tasks to your VAs.
Consultant
You can offer consultancy services if you are skilled or have experience in a particular area. Such as giving advice and strategy on how to do marketing. Instead of doing the actual work for clients, they are the ones that will do all the implementation and content creation.
For this service you can also charge a fixed rate for a certain number of sessions per month. Example: four 60 or 90 minute sessions per month at a cost of $399. Charge based on your level of expertise and the expected results your clients should receive.
For instance, some small business owners are clueless about social media. So you can walk them through the process of setting up and strategies that they can implement to target and grow their audience.
Blogger
Out of all the part time jobs from home, this one may take the most time before you start earning an income. Some of the ways in which you can make money as a blogger are though ads, digital products, courses, affiliate marketing and sponsored posts.
Related: How To Start A Successful Side Hustle Blog
The method you choose will determine how fast you can start earning money. In my experience the fastest way is through the selling of your own digital product or online course. But the flip side to that is already having an audience to selling to such as a mailing list.
[mailerlite_form form_id=5]
Drop shipping / Online Boutique
If you have minimal capital, you can consider starting on e-commerce store such as print-on-demand, fashion boutique or a drop shipping store. Although it does not require much money to start, you do need cash to pay for things like a domain name and hosting.
Copywriter / Freelance Writer
With the rise in content marketing, copywriting is in high demand right now. There are many businesses and bloggers that do not have the time to write their own content and require this service. That's where you can come in, to help them with their blog content as a freelance writer.
Business Coach
Business coaching is similar to being a consultant, as you can sell your expertise at a higher price. As a business coach you are more on hands with clients to mentor them through a transformation.
For instance, you can teach women in the digital marketing space how to scale their business to 10k per month or how to create multiple 6 figure businesses. Coaching doesn't necessarily have to be in the business field either, for instance you can be a self-awareness coach.
Graphic Designer
If you are good at graphic design consider creating niche specific designs and selling them online. Graphic design are in high demand from Bloggers, digital marketers and other service based business.
Whether it be photographer, stock photos, info-graphics and social media templates, the possibilities are endless. Use tools like Canva, Photoshop, Adobe Spark and PicMonkey to create your designs. Then sell them independently on your own website or on a platform like Etsy or Creative Market who already have millions of users.
Virtual Bookkeeper
Do you have accounting skills that you can put to use as a side hustle? Perhaps that is a side job to consider because there are a lot of small businesses and e-commerce retailers that need help with their accounting. Apart from doing the accounting in their businesses, as a bookkeeper you can also offer financial consulting.
Related: 7 Ways To Make Money With A New Blog
Once you have built a relationship with your clients, you can pitch your services as a financial consultant as well. They already trust you with their business so they know that you are qualified to give them financial advice.
Proofreader
Do you have a keen eye for detail and a passion for spell checking? Proof reading is a great way to put those skills to use, while earning an income from doing it. Being a proofreader also doesn't require any special skills to get started. The best part is that you can do it right from the comfort of your home.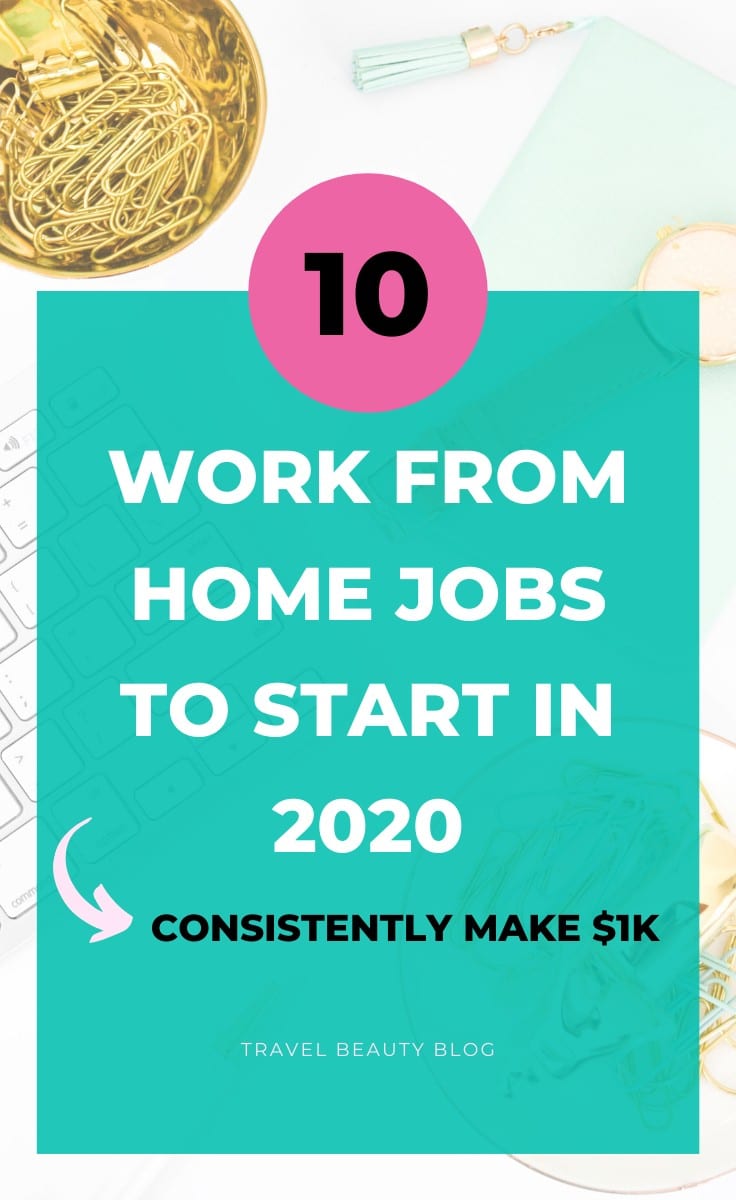 Earning A Fixed Income Every Month
Remember the key to earning a consistent income every month is by having retainer packages. Avoid hourly paid jobs because its usually hard to gauge how much time you need to complete any given task. Also, clients may demand a refund if the task takes less time or may even tell you that the job won't take so many hours to complete.
When To Outsource
Outsourcing becomes necessary when it reaches a point to where you can't manage all your clients. Some clients may have 2 Instagram accounts, a Facebook Group and a Facebook Page, Twitter, TikTok etc. As long as the work becomes too much to manage on your own, it may be time to outsource. There is no need to hire full-time employees either, just start off by hiring one Virtual Assistant.
These are the 10 most popular part time jobs from home that are in high demand in 2020. Hope you enjoyed this post and are ready to kick things off with your side hustle. Which ones are you desirous of getting started with?
Don't forget to share this post with a friend who may need it!
Shevy
Hi! I'm Shevy! I'm the Founder and Managing Editor of Travel Beauty Blog est. 2016. I am also the Founder of Shevy Studio Marketing Agency where I work with entrepreneurs and bloggers on SEO/Content Strategy, Web Design and Consultancy.