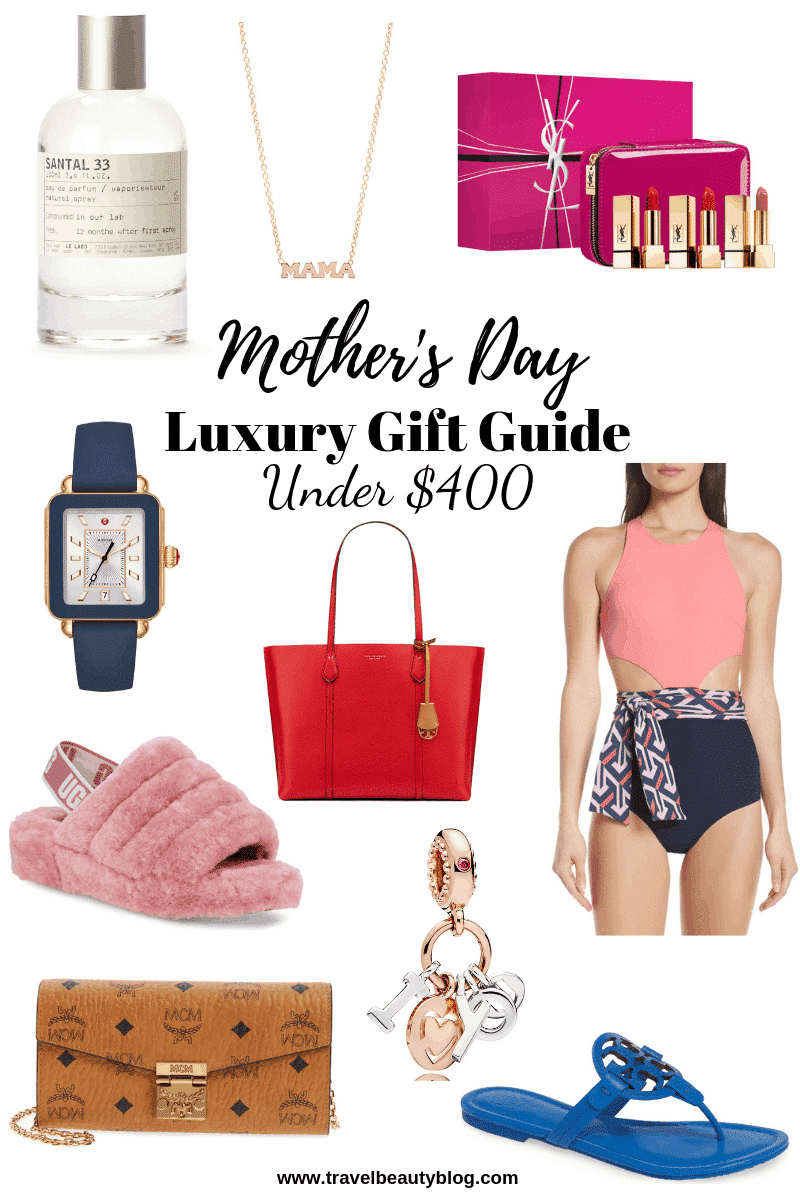 Last Updated on 3 years by Shevy
*I earn a small commission if you purchase through any of my links at no extra cost to you*
Luxury Gift Guide
From the title of this post I know you must be thinking what? A luxury gift guide for items under $400 how is that even possible. Well I kid you not, it was extremely difficult to curate these luxury items at such prices but it was possible. By chance, if you are looking for budget-friendly gifts then check out my early Mother's Day gift guide here.
Luxury Gift Guide
Santal 33 Perfume
Personally I have never used this Santal 33 perfume so I cannot speak to the fragrance, but its a popular choice to give as a gift. Its a unisex perfume so it may be a bit stronger than your ordinary lady fragrances.
MAMA Gold Necklace
14 karat pendant necklace in yellow gold is an effortless chic piece which was handmade by the designer Zoë Chicco.
Related: Luxury Things I'll Get If I Have The Money
YSL Couture Lip Trio
YSL Couture features three full-sized lipsticks unlike their mini lip trio lip gloss which I reviewed here. The lipsticks appear to be rich and has more reddish pinkish colours. Which makes them suitable for both everyday wear and on dressy occasions.
Michele Silicone Sport Watch
Now if you are familiar with the Michele brand you will know that their watches usually sell in the thousands bracket. Although this one is a silicone brand it still has a rich sporty finish and the band is interchangeable as well.


Tory Burch Tote Bag
This Tory Burch tote bag is great for carrying your laptop, tablet, books and other large personal items. Its lightweight and has a zipper at the center of the bag to keep your items organized.
One-Piece Cut-Out Sash Swimsuit
Some women prefer to keep their pooch tucked away and I love the fact that this swimsuit comes with a sash. Alternatively you can also use the sash as a head wrap if you want to show a little tummy.
Related: Spring 2019 Favorites
MCM Large Canvas Wallet
Wallet on chain canvas wallet by MCM for only $395 is unheard of. It can be used as a shoulder or cross-body bag and was made to hold all your essentials.
Pandora I Love You Charm
Rose I Love You Dangle Charm by Pandora is a cute little charm that can be added to a Pandora bracelet.
UGG Slingback Genuine Shearling Slipper
UGG never disappoints when it comes to style and comfort and this one is bound to keep your feet warm while indoors.
Tory Burch Flip Flop
Spring is in full swing and this pair of flip flop is perfect to take on your mini getaway or vacation.
Good luck finding mom the perfect luxury gift for Mother's Day!
Shevy
Hi! I'm Shevy! I'm the Founder and Managing Editor of Travel Beauty Blog est. 2016. I am also the Founder of Shevy Studio Marketing Agency where I work with entrepreneurs and bloggers on SEO/Content Strategy, Web Design and Consultancy.