Last Updated on 6 months by Shevy
11 Tips On How To Make A Home Office In Small Space
Are you trying to set up a home office in a small space?
From finding the perfect multifunctional furniture to maximizing your storage options, this step-by-step guide will teach you how to make a home office in small space.
We are a participant in various affiliate marketing programs and may earn a commission for any purchases made through these links at no extra cost to you. Read full disclosure here.
Have you ever seen some of those really cute home offices and glam rooms or living spaces while browsing Pinterest.
Then your minds wanders off and you're like: "I wish I had the perfect office in my home!".
Related: The Best Rosegold Home Decor On A Budget
But you're already convinced that you don't have the space in your tiny home or apartment? Well don't let that get you down!
Its quite possible and this guide will show you just how to make a home office in small space and help you to get the most out of whatever space you have.
Here are the steps on how to make a home office in small space:
Cut back spending on other things
If you really want to make your home office a reality then if possible, you want to cut back spending in other areas that may not be so important right now.
Also, you don't have to worry about spending extra funds to add a new room neither do you have to convert one of your existing rooms.
Make a list of all the basic items that are needed for your space
Make a list of all the items you need such as a study desk, stationery, paint, wall decor, a computer and a printer.
Related: 13 Amazing Things People Buy On Amazon
You may use what you already have instead of buying over new ones.
Making a list is critical so that you do not buy unnecessary things or forget the important stuff.
Decide on a budget
This step is extremely important, as it is very easy to get carried away (like I did at first) with more and more pictures and Pinterest Pins I looked at.
When you are doing your budget, if you find that it is too high, leave out the non-essentials for now.
Focus on the furniture and equipment first, then gradually add décor and stationery.
By doing you would be able to achieve your dream office more efficiently and without going over budget.
Shop around
Now that you know what you need to get and the budget you are working with, you can start shopping around both online and in stores.
There are tons of places where you can find reasonably-priced decor, storage and stationery for your new space. Such as Amazon, Target, Walmart, just to name a few.
Ditch IKEA and hire a Carpenter
Instead of buying ready-made cupboards and furniture, a low cost option might be to have a carpenter build your desk and or storage cupboards.
Show him a picture of what you are trying to accomplish and hire him if he can build it at a lower cost than the store.
Use a small corner of your living room instead of converting an entire room
Opt for decorating a small space in your living area, instead of outfitting an entire room or bigger space.
The main thing you may need space for is your work desk and some storage cupboards.
Get organized with storage solutions
Making a home office in a small space can be tricky, but organizing is key! Look for multifunctional storage options to maximize your space.
Related: THE BEST GIFT IDEAS FOR THE HOME
Consider investing in wall-mounted shelving, floating shelves, and floor-to-ceiling cabinets.
Keep only what you need within reach and store any extra items in the attic or basement.
If possible, purchase rolling carts to easily move items around when necessary.
Outfit the space for productivity
Make sure your office space is tailored to your needs by selecting comfortable and supportive furniture.
A comfortable desk together with an ergonomic chair will help keep your posture intact throughout the day.
If possible, position a window near your desk for added natural light – this can make all the difference in making you feel more productive during the workday.
Finally, add plants or artwork for extra color and personality.
Look for furniture that maximizes the available space
If you don't want to hire a carpenter you can purchase ready-made office furniture.
To make the most of your small home office, you'll want to look for furniture that is designed to conserve space.
Multi-functional pieces like wall mounted desks, foldable chairs, and stackable shelving units can help create a more efficient use of the room.
When furniture shopping, pay attention to dimensions and weight limits – you don't want something so large that won't fit in your designated space!
Utilize multi-purpose items when possible
Apart from multi-purpose storage, you'll want to also incorporate other multi-purpose items in your office set-up if possible, such as desks that double as storage units.
You can also consider items like ottomans, which can serve as extra seating or a place to store paperwork and files.
If you don't want clutter in your office space, look for furniture pieces with built-in shelving or cabinets.
This allows you to keep all of your materials within reach without taking up much room.
Make room for creativity and fun
An office doesn't have to be just a utilitarian workspace.
Personalize the space with some decorative touches like artwork, plants or other decorative items that inspire you and bring life to the room.
Adding items like a brightly colored rug or pillows can help to boost mood and make the work environment more enjoyable.
Add fun features like motivational quotes on sticky notes, bright colors around the desk, even a mini playground ball net under your desktop can make the space feel both productive and inviting.
Here are some of dreamy home offices to use as inspiration for creating your home office: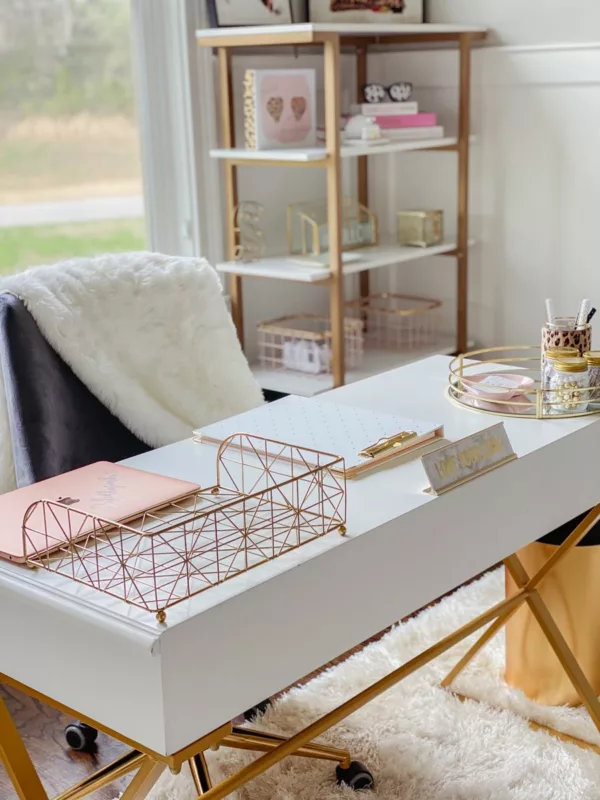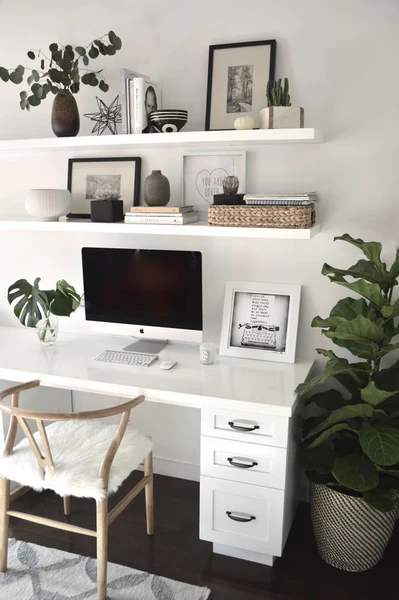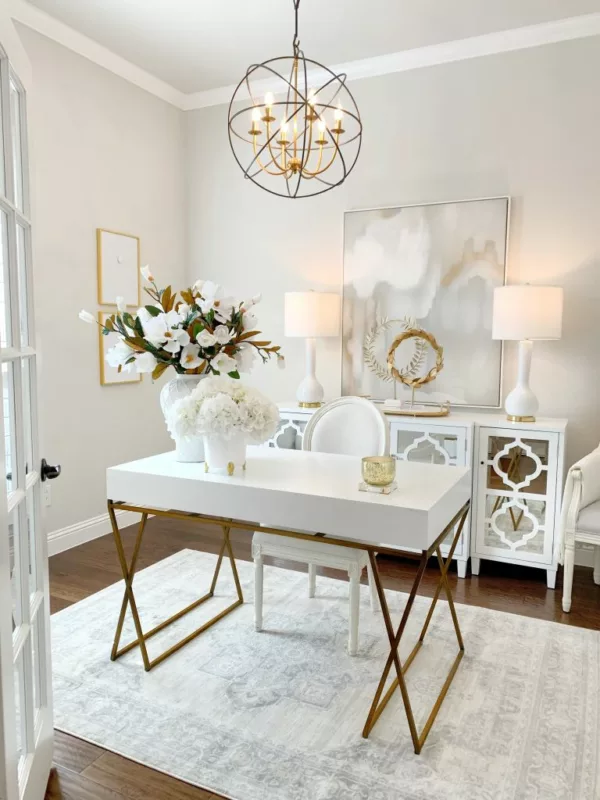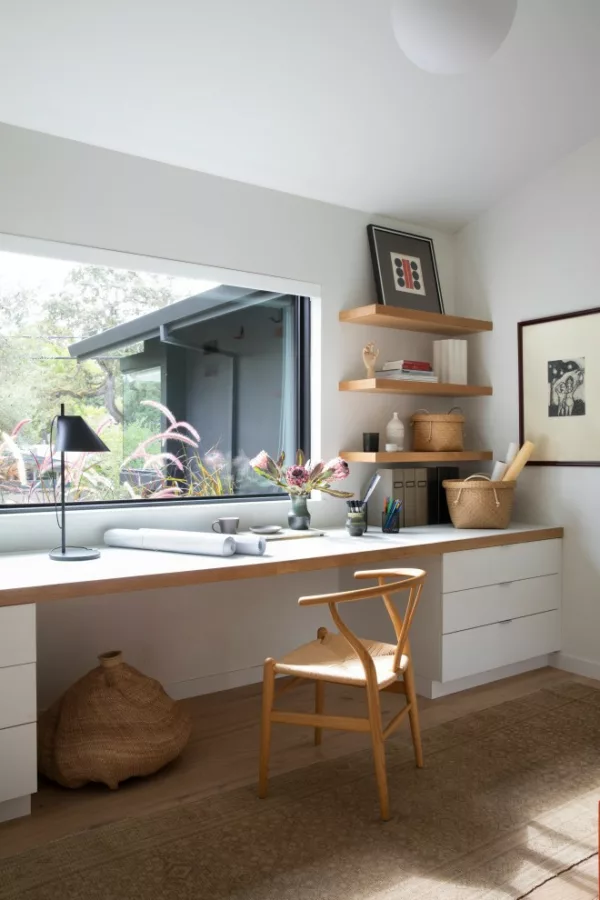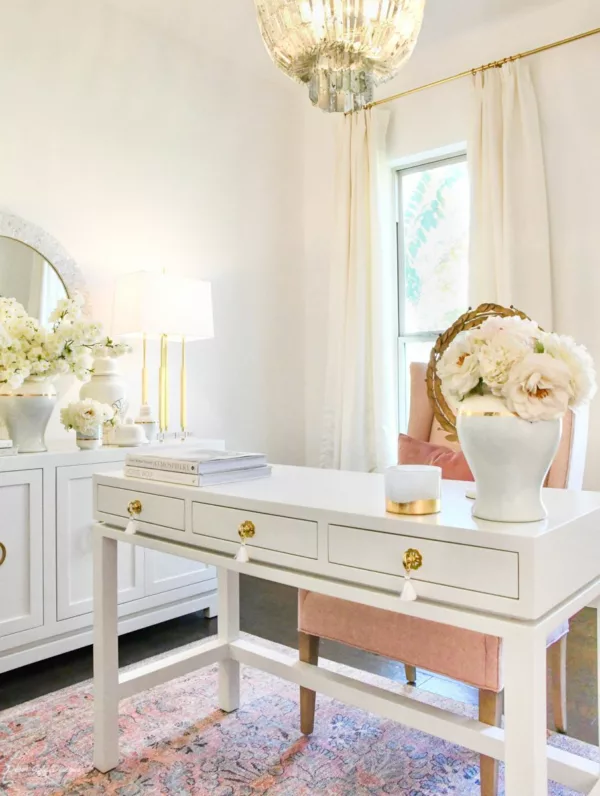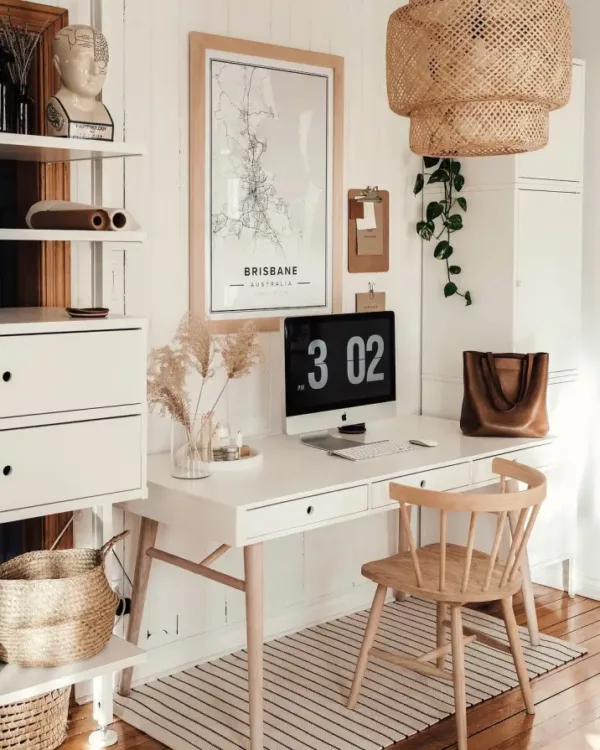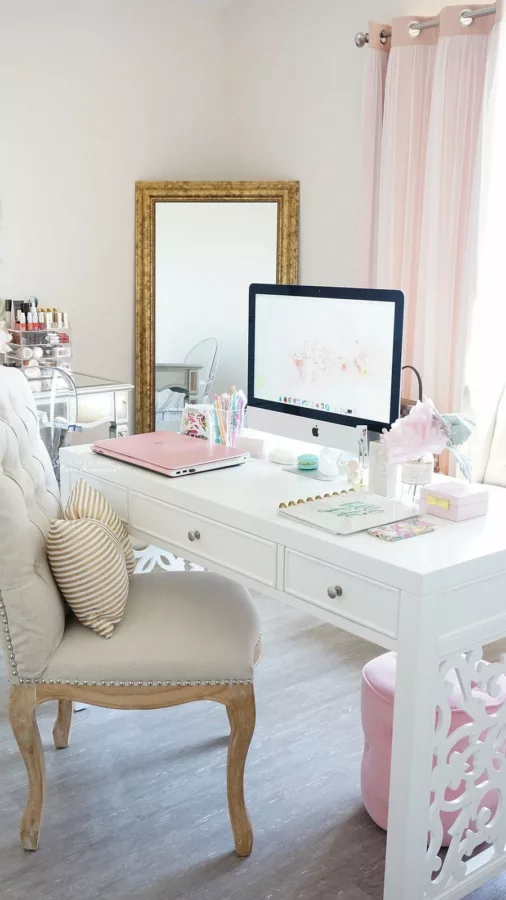 The Key On How To Make A Home Office In Small Space Work For Your Apartment or Home
Preparation
Before starting out, you are going to need to get creative and think about your work space requirements.
Whether you need to rearrange the existing living room; type of table and seating required as well as access to lighting, internet and electricity outlets.
Decide on storage needs, office supplies, paint/wallpaper and other decor you may want to incorporate.
Once you have all of this figured out then you can jump right into your DIY home office project.
Finding A Good Spot
Locate a corner of your home that you can create a mini division from the rest of your living space.
Ensure the space is adequate to add a small table or computer desk. When you have found your ideal spot, paint the wall that the table would be against.
This is the wall that would be facing you when you sit. A great idea is to use an accent colour paint that compliments the rest of the room.
Using a vibrant colour will help boost your mood and give you the much needed energy while at work.
Choosing Comfortable Furniture and Work Area
So now you have a secluded area with a bright painted accent wall and a desk to work with.
Now you should have a better idea of how you want your setup to look so go ahead and add a comfortable chair.
Either use one that is sitting around the house or invest in one that is more appropriate since you will be spending a lot of time in it.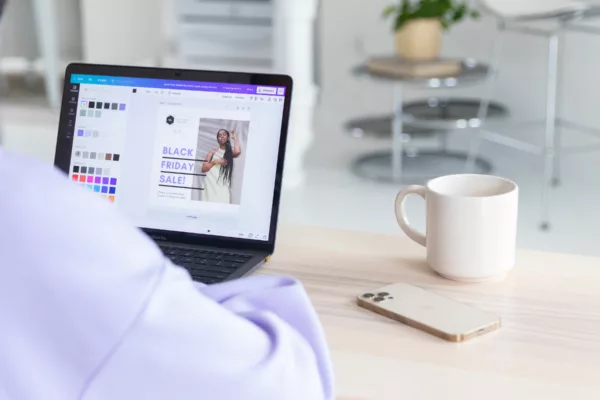 How To Make A Home Office In Small Space By Partitioning Your Existing Space
By now you should have a practical office however, this step is optional but highly recommended.
Get a folding room-divider to create a barrier between your office and the living room. These are available in various designs and materials as well as different textures.
Room-dividers are also good for blocking distractions from the TV or household members. They almost give you that privacy similar to that of a typical room/office.
Personalize Your Office
For your desk area, make sure that you have sufficient lighting like a desk lamp, especially if you have a central lighting system.
Additionally, you may wish to buy some storage containers and place them below the desk for the purpose of preventing clutter; or opt for using a desk with built in drawers.
Things like work files, supplies and stationery can be stored in them.
Decorate
Accessorize your office area with a mat or rug to prevent damages to the floor or tiles. More lighting may be required such as floor and standing lamps.
Requisite lighting is important for productivity as you do not want to fall asleep due to dim lighting.
Vision and mood boards for the accented wall is another great idea so that you are kept motivated and can keep track of tasks and goals.
Wrapping Up How To Make A Home Office In Small Space
This entire process will cost a lot less than building an actual room. Similarly to an office, productivity is guaranteed working from home in a comfortable work space.
Good luck with creating your home office and please come back and let me know if you tried it. If you enjoyed this post share it with someone who may find it helpful.
Share this post with a friend who is obsessed with interior designs or wants to learn how to create a home office.
Shevy
Hi! I'm Shevy! I'm the Founder and Managing Editor of Travel Beauty Blog est. 2016. I am also the Founder of Shevy Studio Marketing Agency where I work with entrepreneurs and bloggers on SEO/Content Strategy, Web Design and Consultancy.