Last Updated on 2 years by Shevy
*This post contains some affiliate links in which I may earn a commission at no extra cost to you.*
YSL Beauty Products Review
Before I begin the YSL Beauty Products Review, my go-to makeup Brands are MAC and Maybelline. The majority of my beauty products are from these 2 brands. Not that I have anything against other popular Brands. But this is mainly so because I am not one to experiment a lot. Also I can almost find anything to match my skin tone from these two.
Related: A Complete Review Of The YSL Mini Lipsticks
When it comes to trying new foundations and powders I like to stick with what works for me unless its a word-of-mouth recommendation. Unlike foundations and powders, eye-shadows and lipsticks are much easier to manipulate if I buy them and don't like them. Bottom line is makeup to too expensive just to try. Now let's get into the YSL beauty products review.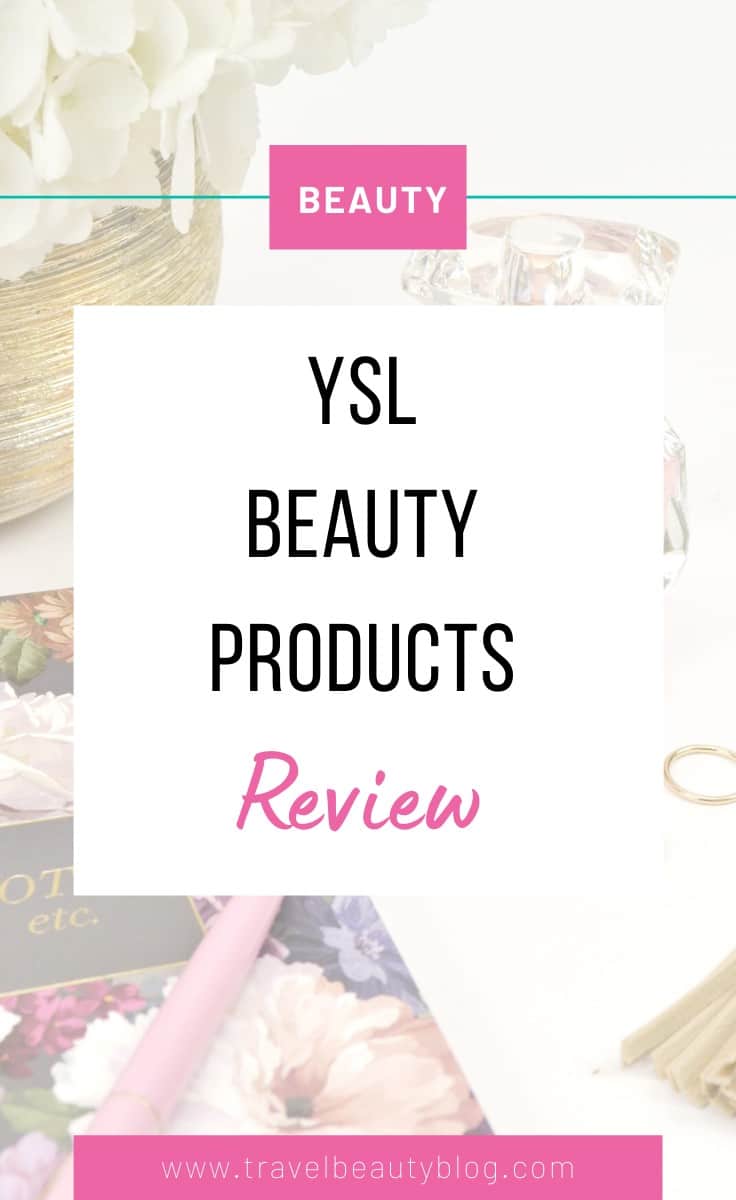 YSL Beauty Products Review
Touche Éclat Foundation in the colour B90 Ebony.
On a scale of 1-10 (10 being the best) I'll rate this an 8 because the Sales Representative at the Store tested a few shades on my face and gave me the darkest shade which is the B90 Ebony.
I hate it when they see a brown girl and automatically wants to give her everything in the darkest tone. When I got home and compared it to my MAC Studio Fix NW 45 which is my holy grail foundation, I felt as though the B80 Chocolate would have been the better match for my skin tone.
Related: Cover FX Power Play Foundation Review
The B90 Ebony makes my face look darker than it is and because of that I rarely use it. Sometimes I use it to contour my face. Other than that it is an okay foundation that gives full coverage. It is not recommended for everyday use unless you go to work with a lot of makeup on. I probably won't buy this again.
YSL Shocking Mascara Volume Effect in No. 1 Deep Black.
I rate this mascara 4 out of 5. If you don't wear a lot of false lashes like me then this would give you that full 3D bomb lashes look. For everyday use I only apply a little because it does give you a dramatic look when you apply a lot. When going out I tend to apply more product to give that "faux" lashes look. I have no issues with this product and I would most likely repurchase.
Rouge Volupté Shine Lipstick in the colour 03 violet incognito – old & sold out (similar here).
Very light weight lipstick with glossy glitter finish. I use this lipstick only on days when I don't feel like wearing a lot of makeup. The only bad thing I can say about this is that I don't like how it feels on my lips and that is probably because of the glitter.
Related: Best Drugstore Makeup Under $20
But if you can tolerate glitter on your lips then this might be a perfect fit for you. If I have to buy again it would have to be from the matte collection
I currently use and love this Black Opium Eau De Parfum Spray 3.0 oz.
One of my favourite perfumes all time. I only need a few spritz and I am good to go for the entire day. Smells really fruity and reminds me of Lancome's La Vie Est Belle which is also a favourite. I love fruity fragrances.
This concludes my YSL beauty products review. Have you ever used any YSL beauty products before? If so, which ones are your favourites?Save
Shevy
Hi! I'm Shevy! I'm the Founder and Managing Editor of Travel Beauty Blog est. 2016. I am also the Founder of Shevy Studio Marketing Agency where I work with entrepreneurs and bloggers on SEO/Content Strategy, Web Design and Consultancy.