Last Updated on July 20, 2021 by Shevy
Casual Winter Outfits
Winter is quickly approaching which means it's almost time to bring out your best casual winter outfits and layers. The coldest season of the year usually requires thick and bulky winter clothing – layers of them. Especially if you want to head out to run errands or meet your friends.
Related: THE BEST WINTER OUTFITS FOR THIS YEAR
I earn a small commission if you purchase through any of my links at no extra cost to you. Read full disclosure here.
Your regular winter outfit may your go-to at the moment, but let's face it, they are most likely boring and heavy! So how about some stylish and classic casual winter outfits to spice things up?
Check out these casual winter outfits to spice up your cold season!
Shop Casual Winter Outfits 2020

Winter Casual Outfits
Winter is probably the only season when you don't want to think about what to wear and by all means you should not have to. The cold weather is already depressing, so adding a winter fashion problem would be a double negative.
On the contrary, if you think being stylish while freezing is impractical, think again! You can absolutely look your best without compromising your personal style and comfort by opting for more casual winter outfits!  
Cute casual winter outfits, should help you feel and look better while still keeping you warm, cozy, and comfortable all day long.
Related: THE BEST 15 UGGS LOOKALIKE FOR CHEAP
While putting on random layers under your hoodie may warm you up a bit, does it actually make you feel great?
If you want to look your best without the voluminous layers, these light and modern yet warm and cozy winter casual outfits will do the trick for you!
Check out these quick and easy winter outfit ideas and discover new ways to dress in winter.
Shop More Winter Casual Outfits

Smart Casual Winter Outfits With Leggings 
You can't go wrong with a simple pair of faux leather leggings. Since it is wintertime, all we want is something to keep us warm and cozy. Instead of wearing pants which feels heavy and rough on the skin, switch it up for a cute pair of stretchable faux leather leggings for a more comfy fit! 
Leggings are much more versatile that you can mix and match with anything! They are a great investment and wardrobe staple that will last you for years.
Style them with a sweatshirt, or leather bomber jacket, with a pair of ankle boots or booties. Spice up your casual winter outfits with some cute accessories to accentuate your look! With leggings, you can elevate your look from basic to extra, according to the occasion.
Pair this cream Sam Edelman Notched Collar Wool Blend Coat and Spanx Faux Leather Leggings with an inner white turtleneck and match it with your favorite pair of boots to create the perfect smart casual winter look.
Wear this trendy style to your holiday parties, Thanksgiving and Christmas dinners or New Years Eve parties.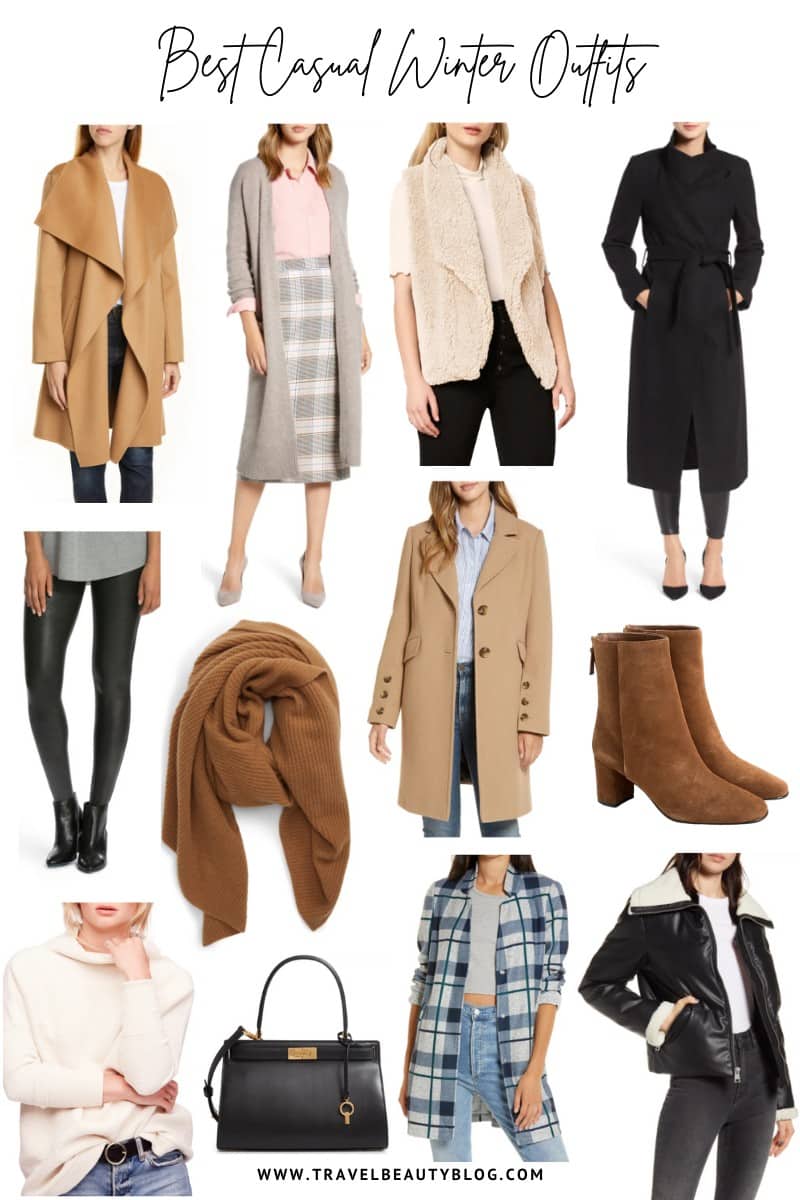 Winter Business Casual Outfits
Dressing up for work is already hard because of the restrictions and dress codes. But with the winter season coming, it is much harder. How do you dress up for work without appearing too casual? Well, that's easy. 
The open-front blazer and pants combination never gets old or goes out of trend. A perfect example is this Collarless Sweater-Blazer and Cameron Slim Crop Stretch Pants. Tuck in an inner shirt, add a classic timepiece and finish off the look with a black handbag. The warm and earth tones of this pair are so pleasing to the eyes! 
Related: HOW TO STYLE LEATHER LEGGINGS IN 5 EASY WAYS
Shop Business Casual Outfits For Winter

Casual Winter Outfits With Coat
If you want to add another layer of extra warmth and comfort to your casual style, then you need this Faux Fur Denim Coat. This can be effortlessly matched with other casual styles too! 
Coats have been a fashion statement for many years and a classic capsule winter wardrobe staple. You can match it with leather leggings, denim bottoms and midi skirts. 
Winter Fashion Trends 2020
According to this source, here are some 2020 winter fashion trends we can look forward to seeing:
Bright Colour Suits
Brown Leather Coats
Natural Tones
Wide Leg Trousers Tucked Into Boots
Cream Slouchy Boots
Tiger Prints
Chain Necklaces
Related: THE BEST MOST AFFORDABLE STATEMENT SLEEVE SWEATERS
Casual Winter Outfit Pinterest – Inspiration & Ideas
For some fashion inspiration, check out some of my favourite winter casual outfits from Pinterest.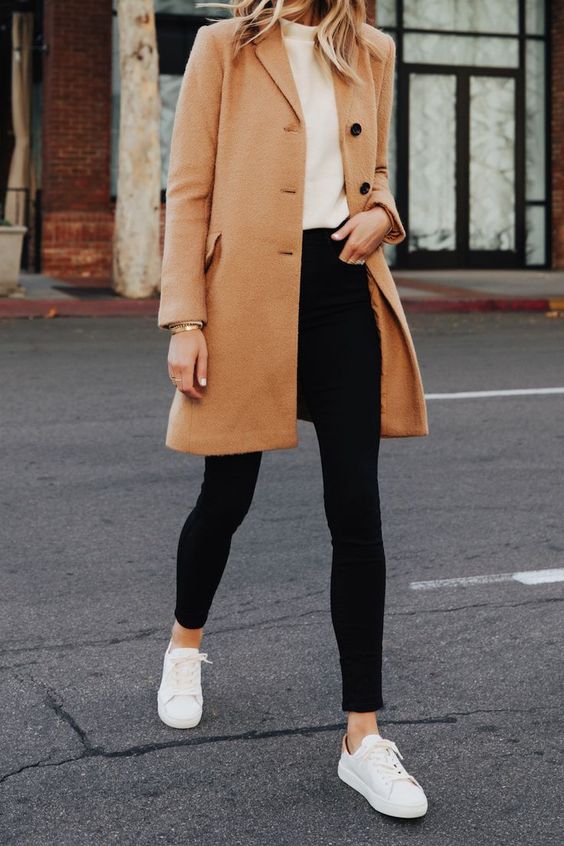 Camel coats are by far one my favourite timeless winter pieces and I love the way Fashion Jackson styled hers with a pair of black jeans and white sneakers.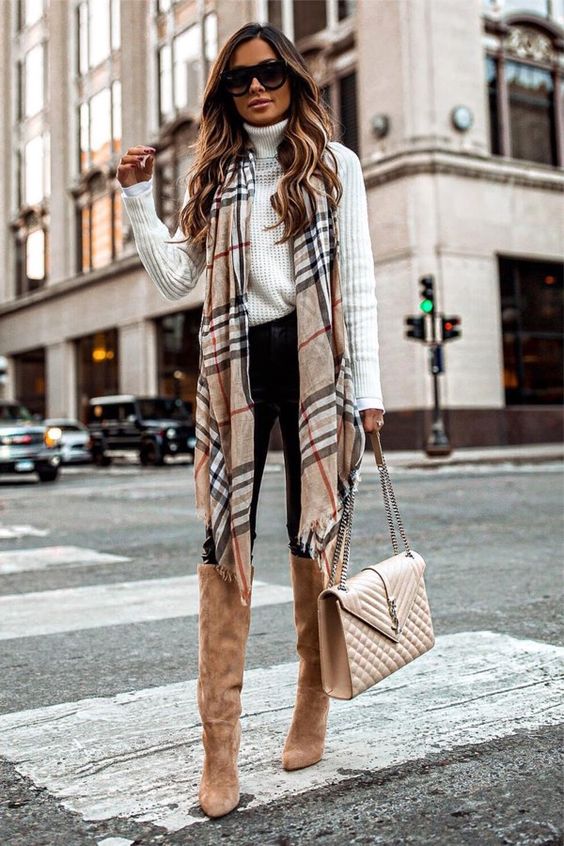 Of course, ankle boots and knee high boots paired with jeans or leggings and a turtleneck sweater with a scarf. As we can see in the picture above styled by MoodFlare.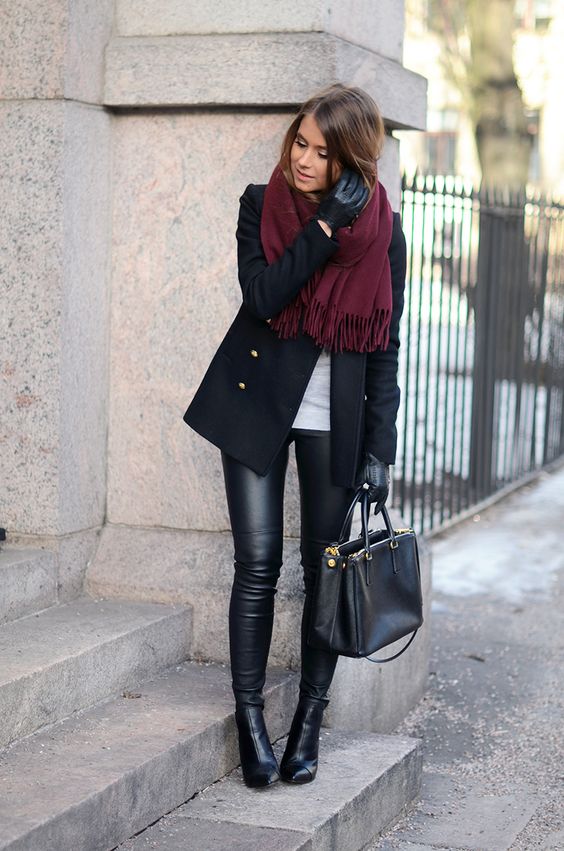 I love the way Marianna styled her faux leather leggings with black knee high boots, a black coat, a black handbag and a burgundy scarf for accent.
Shop Casual Winter Outfits 2020

FAQs
What do you wear to a casual winter?
Turtle necks, cardigans, leggings, midi skirts, jeans and sneakers. Choose something that makes you warm, comfortable, and breathable. 
What clothes to wear in winter?
Sweatshirts, oversized knits, scarves, blazers, jackets and coats. I think they are must haves in every woman's winter wardrobe that they can wear on repeat all winter season long.
How can I stay warm and stylish in winter?
Look for two things when buying new winter outfits: the product material and the overall design. The latter is subjective, but if you think it's nice and fits you, then go for it. 
Are jeans good for winter?
Absolutely! I would probably choose leggings over jeans but if it works for you, then go for it. 
Conclusion
The winter season should not prevent you from dressing casually. Consider buying casual items that you can still wear during the winter seasons.
Wear whatever makes you comfortable. If you prefer leggings to jeans or sweatshirt to cardigans, then by all means wear what makes you feel confident.
Keep in mind that the pieces you wear during the cold months are investment pieces that you can use for years to come.
Click On the image to shop the items
0