*I earn a small commission if you purchase through any of my links at no extra cost to you*
Weekly Roundup Of The Most Wanted Things
Last Saturday I posted my first weekly roundup of designer dupe shoes and it was a huge success. Prior to that, I had no idea that you guys would love it so much. Although I contemplated about doing another designer dupe roundup post this week, I decided against it.
Related: Luxury Mother's Day Gift Guide 
Perhaps in the coming weeks, I'll do a couple another roundup of designer dupes but in a different category.  Some people hate fakes and that is okay because I was once that person. However, with the rapidly growing demand for the same designer look but for less, has made me grown to accept replicas.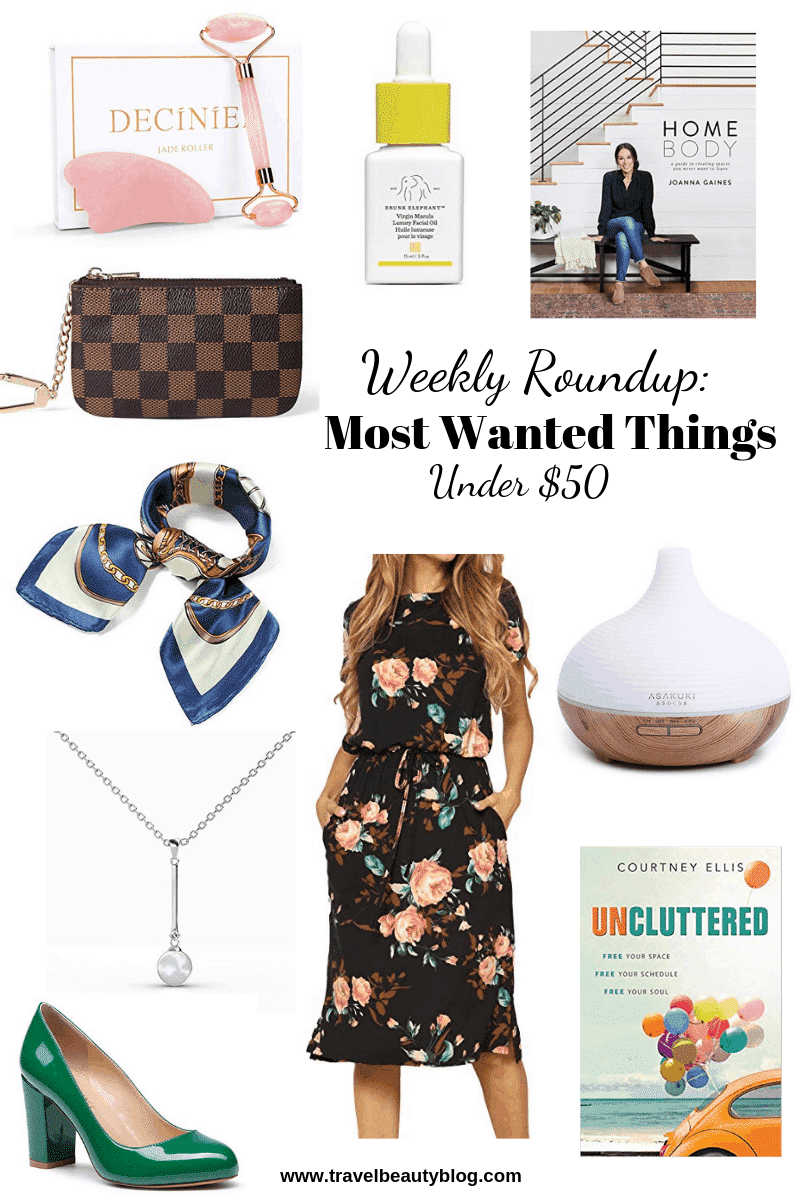 For The Home: Books
I've been a fan of Joanna and Chip Gaines for quite a while now and always wished to own one of her many books. If you don't know who they are they are a couple that flip old houses into dream homes. Joanna always blows your mind with her fabulous interior design skills while Chip focuses on the technical building aspects. Homebody is a #1 bestselling book that is about creating spaces that you never want to leave. Well, that is according to her and I have no doubt that it will do just that.
Uncluttered, another book that deals with space but more about the uncluttering of it and tidying up.
 Weekly Roundup Of Essential Oil And Diffuser
Essentials oils and diffusers have been trending for quite some time. But for some reason, I wasn't drawn to them prior to now. Actually, I still don't know where I stand with the idea of using a diffuser and if I would like them. Since I use Bath & Body Works wall plugs religiously, I would think that they are similar. Perhaps I may get more usage out of an essential oil diffuser since I had replenished the oils. If it's going to save me a ton of money instead of using the wall plugs then I'm ready to make that switch.
Beauty
Drunk Elephant Virgin Marula Luxury Facial Oil which is an anti-aging face moisturizer. That also happens to be both gluten-free and vegan. Pink Jade roller massager that is supposed to be an anti-aging tool.
Related: 5 Beauty Hacks That Will Save You Time And Money
Jewellery
This pearl pendant necklace in an 18k white gold plated finish with a solitaire pearl, could be a perfect Mother's Day gift to yourself. It's not too simple and has the right amount of elegance for a formal occasion. 
Shoes & Accessories
Absolutely love this classic pair of block heel round toe pumps in this beautiful colour green. It's very stylish, office-approved and comes in other elegant colours. Square satin neck scarf that can also be used as a silk head wrap. These make great gifts and comes in over 35 -different patterned colours. Luxury designer-inspired key chain pouch to hold your keys and other mini essentials. 
Weekly Roundup Of Clothing
What a coincidence to have found this midi floral dress that matches with the pair of shoes I discussed above. Together they make the perfect business or work outfit as the green elements compliment each other.
That's it for this week's roundup hope you guys enjoyed it and look forward to the next one. Happy Mother's Day in advance to all you mothers do have a wonderful day and make the best of it.
1