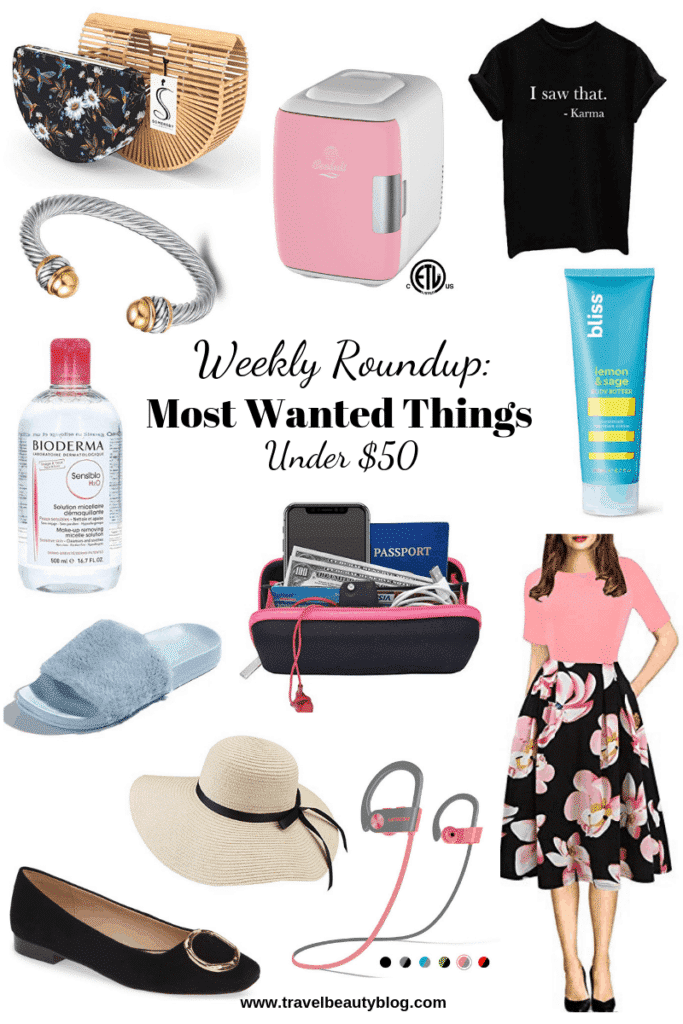 *I earn a small commission if you purchase through any of my links at no extra cost to you*
Weekly Roundup
Hey guys happy Saturday. Today I am back again with another weekly roundup of the most wanted finds. Not every single item is actually on my wish-list but some of them are cool random things I found on the internet. They may or may not be popular and trending but definitely something that will interest you guys.
Whenever I find cool deals I love sharing them with others such as you reading this post right now. There were two major sales happening this week that I wrote about here and here.
Before I continue, special thanks to all of you who support me through my affiliate links as this is what maintains this blog.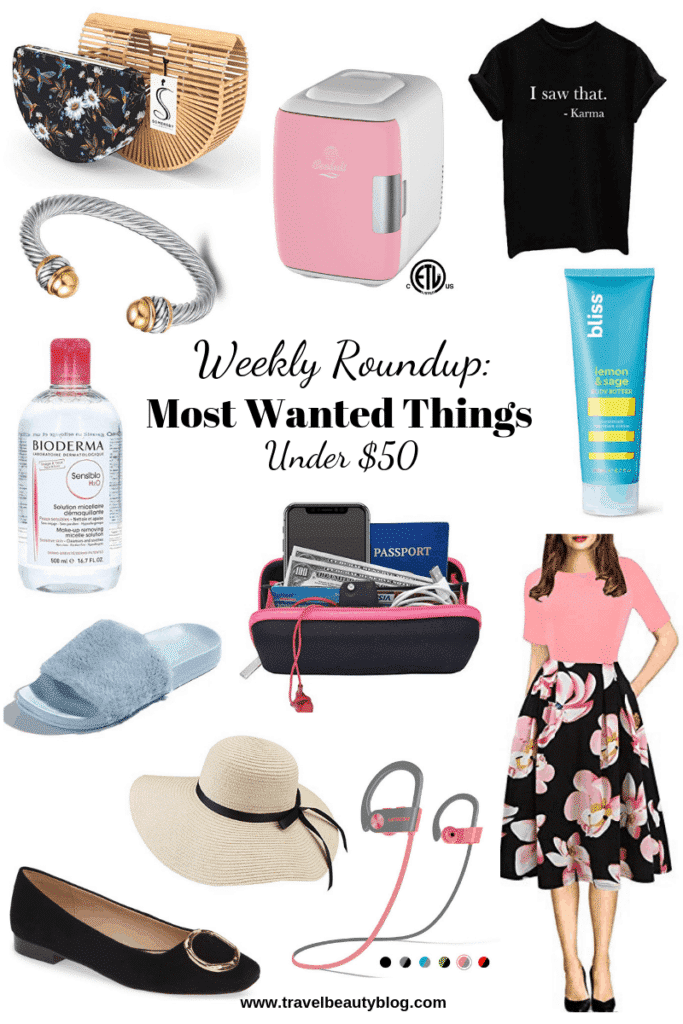 Weekly Roundup Of The Most Wanted Things Under $50
Clothing, Shoes & Jewelry
This pink and black dress very pretty and practical to wear during the spring season. It can be dressed up with a pair of pumps, sandals or even a plain black ballet flats. A pair of faux fur slides for walking around indoors because I do not like being barefooted.
I saw that – karma t-shirt because I am so obsessed with graphic tees and this one is cute. look.
Bags & Accessories
To protect my head from the excess heat and direct sun, I'm inclined to wear a wide brim straw hat. Especially on days when I am going to be outside all day or on my mini getaways. The bamboo basket bag with floral purse insert can take you from spring all the way to summer.
My handbag for going to work has too many random things thrown around. Therefore using this organizer wallet would be able to keep them all together and I can also use it while travelling to hold my passport etc.
Beauty
When you are a beauty junkie, too much is still not enough. Bioderma Micellar Water, Cleansing and makeup remover is a popular favourite. Its a French brand that seems to be making its way on everyone's buy list lately including mine. Bliss lemon and sage body butter infused with all natural ingredients is also on my wish-list.
Other
In recent time I saw a lot of beauty bloggers using mini fridges for storing their beauty products. While I have not done any research to see whether this keeps the products longer, I do find they are cool to have.
Last but not least, its been far too long since I needed a pair of wireless headphones. Ideal for the times when I need to go to the gym or walking because I can't afford to have avoidable incidents occur.
More Wanted Items
This is the 6th edition of my weekly roundup and it's going to be an Easter/Spring themed one. The very first weekly roundup I did which you can read here, is by far my most popular blog post for 2019. So for that, I am very grateful and have you guys to thank for that.
As well as for the other ways in which you all continue to support me and my blog. Had I known you guys would have loved these so much I would have gotten started sooner. However, I am glad I started despite having so many doubts prior to taking that first leap.
Before I forget, Nordstrom Spring Sale ends on Tuesday 22nd April and you can see some of my favorite picks here. Now let's dive right into this week's weekly roundup of the most wanted things under $50.
Weekly Roundup #2
Clothing
It's no doubt that Spring season and Easter time are popular for florals, and I am crushing over this embroidered midi skirt. Up to a size 10, cost $30 but the larger sizes cost a bit more taking it above my $50 ceiling price. Either way, it's a gorgeous skirt that will make the perfect statement in an office setting.
Some more options for floral skirts are here, here and here and prices may vary by size. Cotton pajama set which consists of a graphic t-shirt paired with pink camouflage bottoms. Super soft, comfortable and can even be worn at your girls' sleepover party. Essential tank tops to wear under my jackets and I am leaning towards pastel and cool colours.
Bags & Shoes
For some time now I have been in search of a beaded bag that cost under $50 and I am finally in luck today. If you have a spring wedding to attend I highly recommend this beaded handmade evening bag. A square, luxury look, comes in 7 different colours and great for parties as well.
They are all cute in their own way but I love the black one the most. An expensive alternative is this bag here which is also beaded and this brown ring bag is on my list. Circus by Sam Edelman floral flat sandal that is basic but stylish enough to wear on a casual day out.
Home
Cable knit accent pillow which I think is cool because it looks exactly like a cable knit sweater. DKNY metallic accent pillow is an equally nice option suitable for bedrooms.
Cinderose scented candle just to try something different from my usual Diptique and Bath & Body Works candles. Candles Reserve by Aspen Bay also has some great reviews and would be worth checking out.
Beauty
The more makeup and beauty products I buy is the more cosmetic pouches I need. Lancome Color Design Starlight Sparkle Eyeshadow Palette. A brand that is well known for its beauty products, such as the Rénergie lift multi-action firming mask.
I'll either get that one or the rose jelly mask because my night cream is almost out. However, it is the first time I have ever seen an eyeshadow palette from Lancome and the swatches look interesting.
Related: Luxury Mother's Day Gift Guide 
For The Home: Books
I've been a fan of Joanna and Chip Gaines for quite a while now and always wished to own one of her many books. If you don't know who they are they are a couple that flip old houses into dream homes.
Joanna always blows your mind with her fabulous interior design skills while Chip focuses on the technical building aspects. Homebody is a #1 bestselling book that is about creating spaces that you never want to leave. Well, that is according to her and I have no doubt that it will do just that.
Uncluttered, another book that deals with space but more about the uncluttering of it and tidying up.
Weekly Roundup Of Essential Oil And Diffuser
Essentials oils and diffusers have been trending for quite some time. But for some reason, I wasn't drawn to them prior to now. Actually, I still don't know where I stand with the idea of using a diffuser and if I would like them.
Since I use Bath & Body Works wall plugs religiously, I would think that they are similar. Perhaps I may get more usage out of an essential oil diffuser since I had replenished the oils. If it's going to save me a ton of money instead of using the wall plugs then I'm ready to make that switch.
Beauty
Drunk Elephant Virgin Marula Luxury Facial Oil which is an anti-aging face moisturizer. That also happens to be both gluten-free and vegan. Pink Jade roller massager that is supposed to be an anti-aging tool.
Related: 5 Beauty Hacks That Will Save You Time And Money
Jewellery
This pearl pendant necklace in an 18k white gold plated finish with a solitaire pearl, could be a perfect Mother's Day gift to yourself. It's not too simple and has the right amount of elegance for a formal occasion. 
Shoes & Accessories
Absolutely love this classic pair of block heel round toe pumps in this beautiful colour green. It's very stylish, office-approved and comes in other elegant colours. Square satin neck scarf that can also be used as a silk head wrap.
Weekly Roundup Of Clothing
What a coincidence to have found this midi floral dress that matches with the pair of shoes I discussed above. Together they make the perfect business or work outfit as the green elements compliment each other.
Well, this concludes this week's roundup of the most wanted things and remember you can always view more of my curated items here.
Last Updated on 4 months by Shevy
Shevy
Hi! I'm Shevy! I'm the Founder and Managing Editor of Travel Beauty Blog est. 2016. I am also the Founder of Shevy Digital Marketing Agency where I work with new and upcoming entrepreneurs and bloggers.