Last Updated on November 21, 2019 by Shevy
*I earn a small commission if you purchase through any of my links at no extra cost to you*
I'm back again with another sale roundup and this time its the best of the Old Navy sale. Prices are already marked down but you also get an additional 40% off at checkout.
Guys these deals are so good I'm glad they started early so that I can get ahead of the Black Friday mad rush. Do you get overwhelmed by the Black Friday sales as well or is it just me?
What a perfect time to get your shopping started without the hustle or the need to rush. These early sales have made my shopping so much easier that I can take my time without worrying about sold out items.
You may also be interested in: The Best Of The J Crew Factory Sale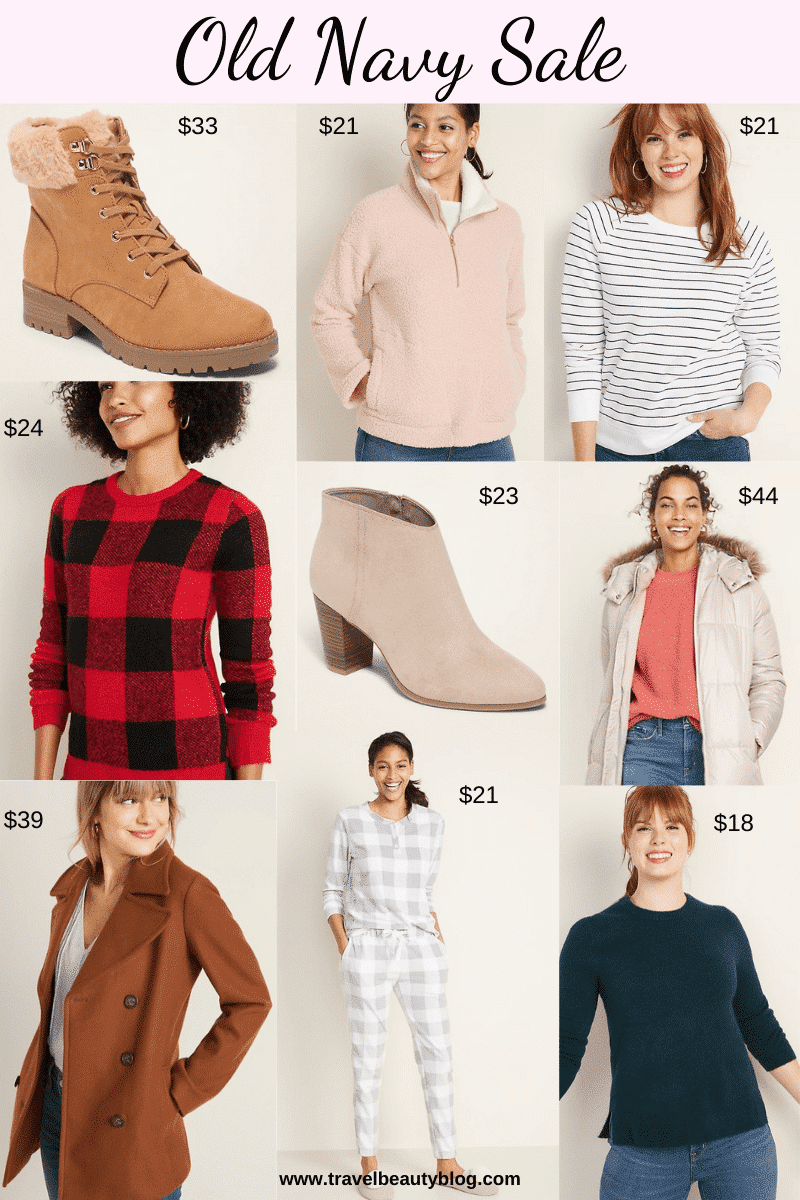 Love this suede faux fur trim boots in the caramel colour and it's available in sizes 6-10, including half sizes.
This sherpa pullover comes in 6 different colours and sizes XS to XXL.
This sweatshirt is ideal for the not so chilly fall days or can be used to layer during the winter season. It has a relaxed style, comes in 5 colours and runs in sizes XS to XXL.
Crew-neck sweater in red plaid is a hot seller so I suggest getting it without thinking twice. One of my favorite styles to wear this time of year is red plaid also called red buffalo plaid. Everything the pattern, speaks holiday and Christmas cheer to me.
Light taupe brown faux suede booties with high heels. It works out to only $23 after the 40% discount has been applied. Comes in all sizes and 4 colours at different price ranges.
This hooded puffer jacket costs only $44, comes in 3 colours and is available in sizes XS to XXL.
If you're in search of office winter staples, then you need to have this soft brushed peacoat. Available in 5 colours which are work-appropriate and all sizes are available as well.
Everyone and their mama wears pajamas and I love this grey plaid fleece set. It also comes in red and white stripes and green plaid.
A soft-brushed crew neck sweater that's perfect for layering under your coats and jackets.
That's it for my old navy sale picks. Are you planning on taking advantage of the Old Navy sale or you already got everything?
Shop More Sales:
The Best Of The J Crew Factory Sale
My Favorites From The Nordstrom Fall Sale
1